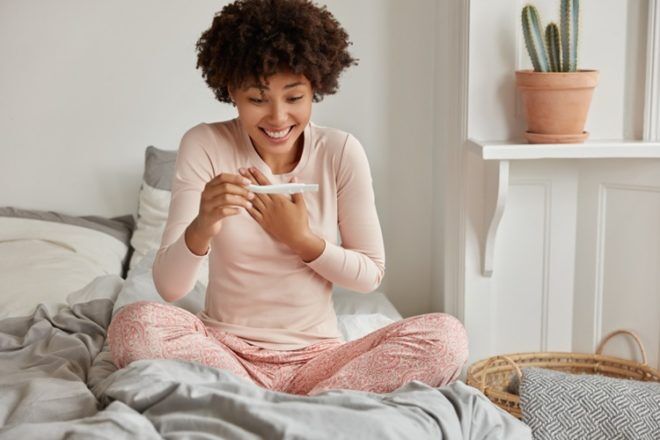 Finding out if you're pregnant is a life-changing moment, so make sure you have an accurate and reliable home pregnancy test on hand. While all pregnancy tests rely on testing for traces of a specific hormone in your urine, not all pregnancy tests are the same.
Most of us are super keen to know whether there's a bub on board, and there are early pregnancy tests that can be used before you've even missed a period. There are also digital options, some even let you know how many weeks pregnant you are.
If used correctly, early pregnancy tests are extremely accurate and can give you the news you've been waiting for long before you visit the doctor.
What to look for when buying home pregnancy tests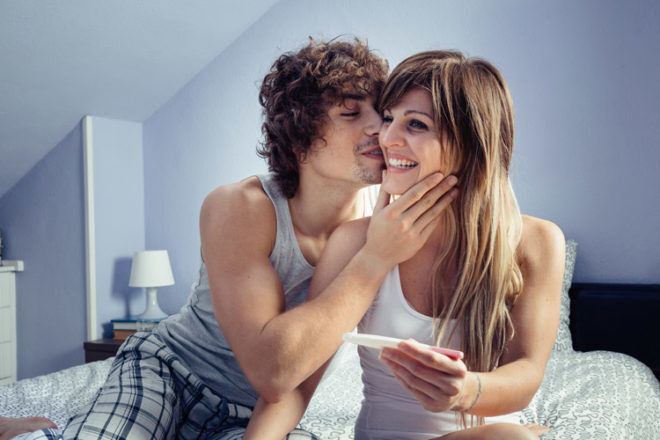 Every pregnancy test needs a drop or two of urine for the test, that's because when you're pregnant your body secretes human chorionic gonadotropin (HCG) and traces of this hormone can be found in your urine. When choosing a home pregnancy test there are a few things to consider:
Home pregnancy tests either come in either:
Digital pregnancy test: The result is written on a small digital screen – either pregnant or not pregnant. Some of these tests will tell you how many weeks along you are.
Testing stick: These have a section that needs to be held in your midstream urine as you wee on the toilet. The usual method is that one line will come up if the test is negative, two lines for positive.
Dip stick: This is a bit of an old-school method – your doctor will probably use this! You collect your pee in a cup and dip a stick in, which uses the same method as testing sticks, coming up with one line for negative and two lines for positive.
Accuracy: With all home pregnancy tests, the key is to read the instructions as some of them vary. Usually, it's best to use the first-morning urine for a more concentrated sample. Others claim to be able to test for pregnancy even before you've missed a period. According to Better Health, home pregnancy tests are up to 97 per cent accurate.
---
5 home pregnancy tests other mums recommend
We asked our Pregnancy and Baby Facebook Group members to recommend the home pregnancy tests they've used, and these are the five brands they recommend.
1. First Response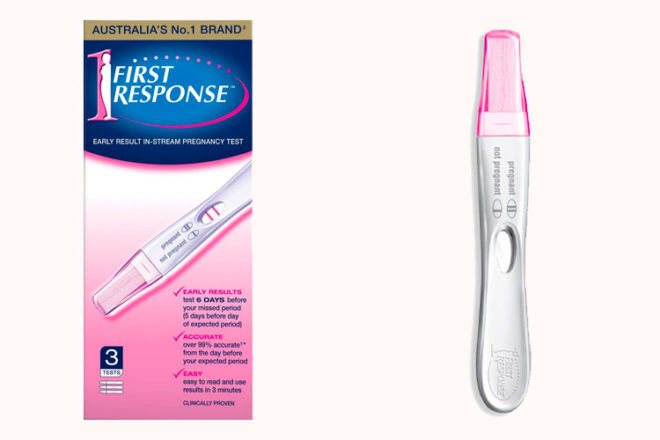 One of the most popular recommended early pregnancy test in our groups, First Response claims to be able to detect pregnancy up to five days earlier than a missed period, with more than 99 per cent accuracy.
"I used First Response brand at two weeks pregnant. Used another brand that was more expensive three days before it and didn't show up." – Jamie Brabeck
---
Clear Blue Digital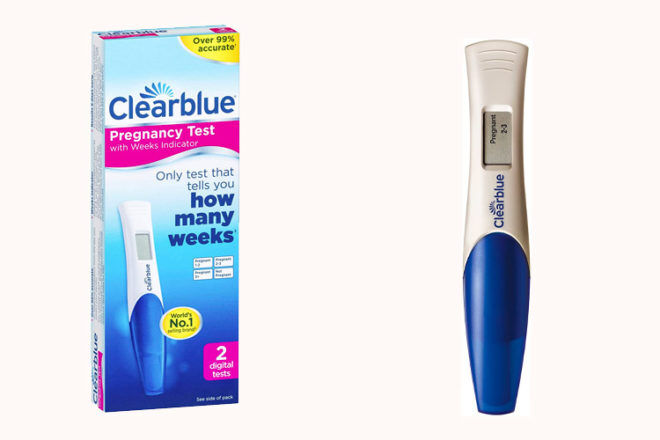 The only pregnancy test that tells you how many weeks since you conceived, either one to two, two to three or more than three weeks. Clear Blue Digital Pregnancy Tests claim to be more than 99 per cent accurate from the day you're expecting your period.
"Clear Blue Digital is great, if you have a positive reading it gives an estimate of how many weeks pregnant you are depending on the level of hormones present. –  Carley
---
First Response Digital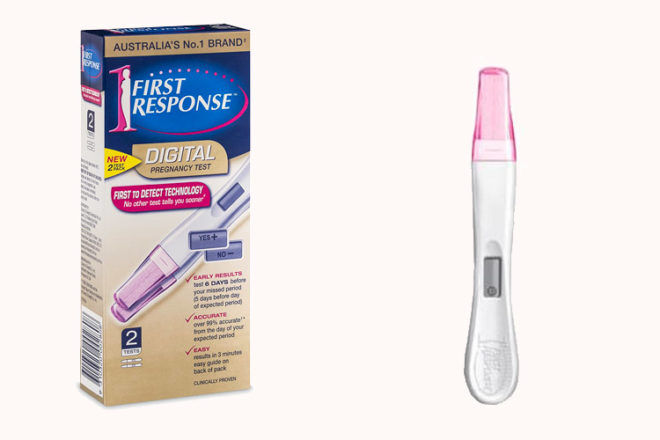 There's no trying to guess if there's one line or two when it comes to a digital test – the First Response Pregnancy Digital simply has Yes+  or No- on the screen. It claims to be able to detect pregnancy six days before a missed period with more than 99 per cent accuracy.
"I've had four babies. Every time I used the First Response. I then followed up with the First Response Digital, because I couldn't believe I was actually pregnant. With my fourth, my husband said I was pregnant about a week before my period was due. I took a test to prove him wrong, but he was right!" – Maddison
---
Clear Blue Pregnancy Test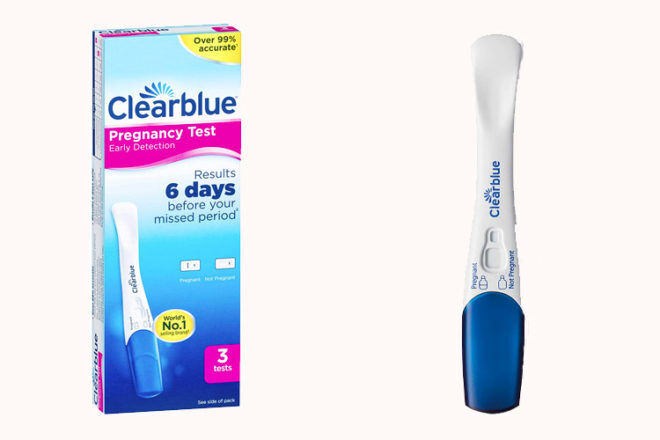 The Clear Blue Early Detection pregnancy test can be used six days before your missed period, which is the day after you expect your period. It has a colour changing tip, and is more than 99 per cent accurate from the day you expect your period.
"Clearblue worked for me really well. I've always gotten positives as early as 8DPO." – Georgia
---
Pregnosis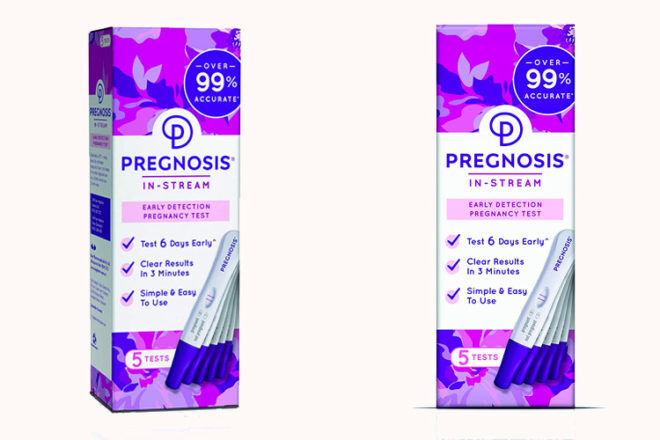 With results in as little as three minutes, this is as simple as they come. Just hold the tip in your urine stream for at least ten seconds and wait for either two lines or one.
---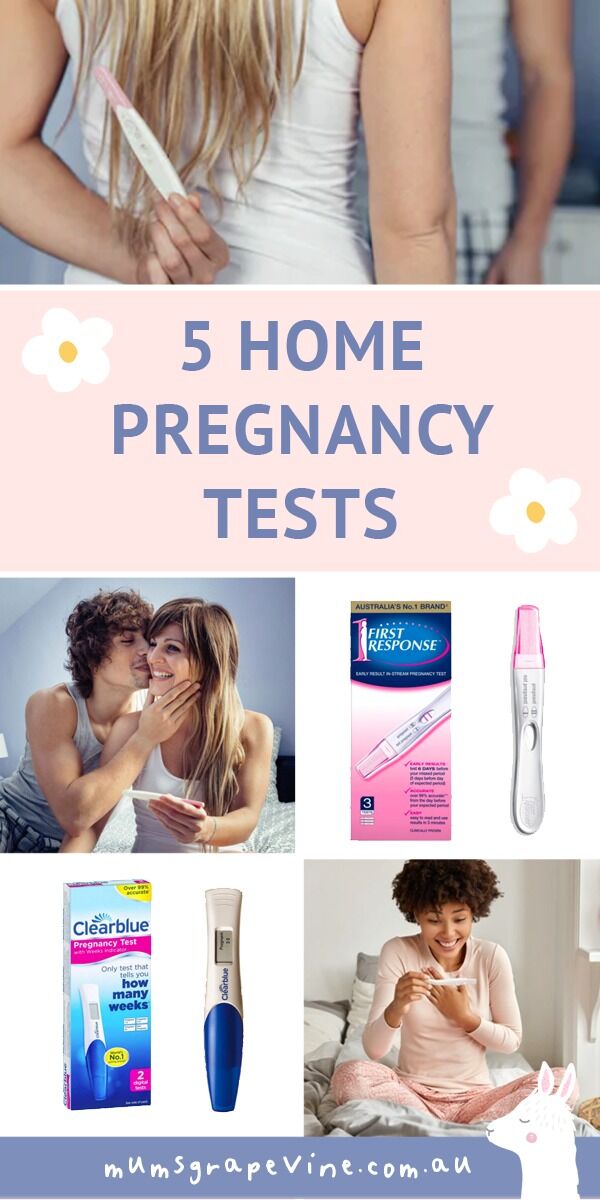 Know a brand of home pregnancy test we should add to our list? Contact us and let us know.
Read next …
Hoping to see two lines on your pregnancy test? Then you'll want to read these pregnancy articles next:
---

---
Expecting a baby?
Join one of the closed Mum's Grapevine pregnancy Facebook groups for non-judgemental support from other mums due at the same time as you.
Click below and join your due date group today.