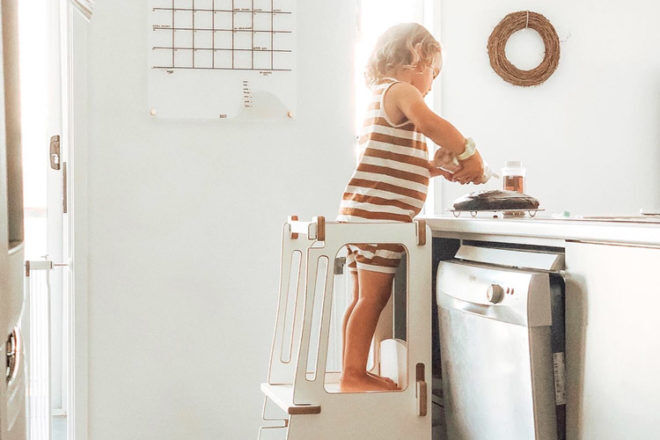 Toddlers want nothing more than to join in and feel part of whatever is happening, it's all part of their learning process. Instead of pulling a wobbly chair up to the kitchen bench so they can help with cooking or washing the dishes, invest in a learning tower so little helpers are safe and secure.
Learning towers, sometimes known as kitchen helpers, take their inspiration from Montessori learning, and give toddlers and little kids a safe way to get involved in everyday tasks. They are set at bench height so kids can watch dinner being prepped and cooked, while safely out of the way.
What to look for when buying a learning tower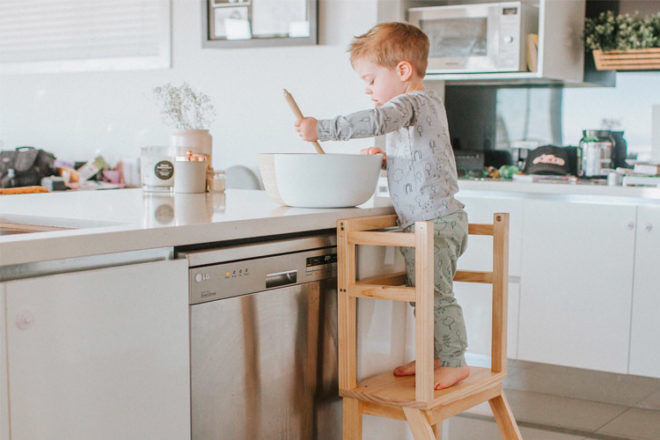 Here are some of the key features to look for when buying a learning tower.
Type: While they all look different, they are all crafted with a similar structure – a section to stand on and a section with a rail to keep toddlers safe and steady. Some are foldable, others have step sections that fold away. There are also height-adjustable options that grow as your child does.
Weight limit: Most have quite a large weight limited (up to around 100kg) but it's always worth checking.
Safety: There are no mandatory safety standards in Australia, but some Australian-based manufacturers adhere to voluntary standards, so check their product description.
---
6 sturdy learning towers for kids
To help you find the best learning tower we've compiled this handy list of brands to get you started in your search. In no particular order, here they are:
Little Partners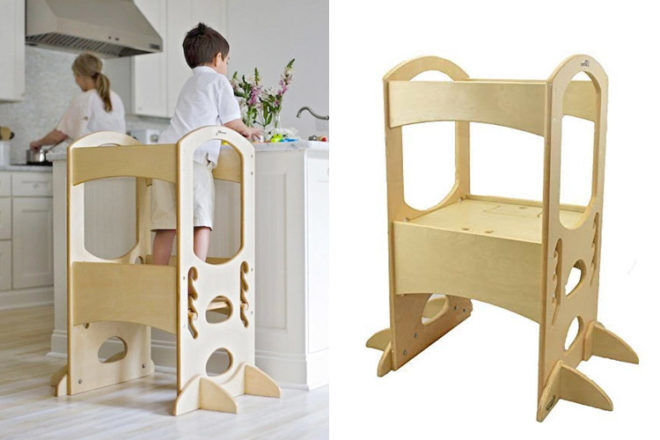 Designed for toddlers from 18 months up to big kids around six-years-old, the sturdy feet help keep it in place and the platform can be raised up or down depending on your child's height.

---
My Little Helpers
Australian designed and made from birch plywood, the newest My Little Helpers Learning Tower uses a simple interlocking frame – no screws or glue. That makes this handy home helper a cinch to set up and pack away. There's also a height-adjustable top step and removable safety rail, so it grows with your toddler.

---
MOOV Baby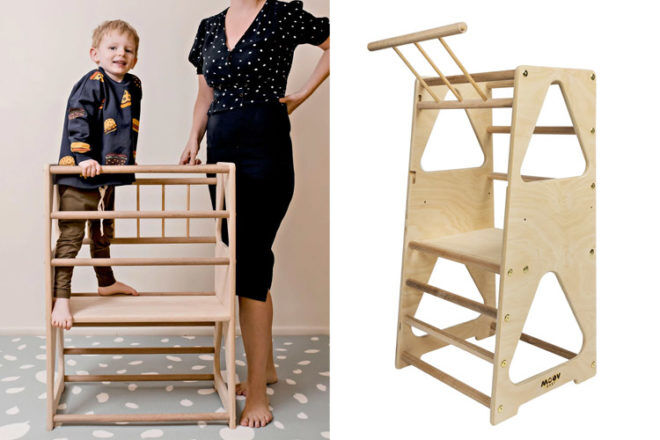 A lightweight tower that's easy to move around, the MOOV has a swing gate safety backing to make sure little ones stay put. The height is adjustable from the base, and tots are able to climb in and out on their own. 

---
Little Big Learning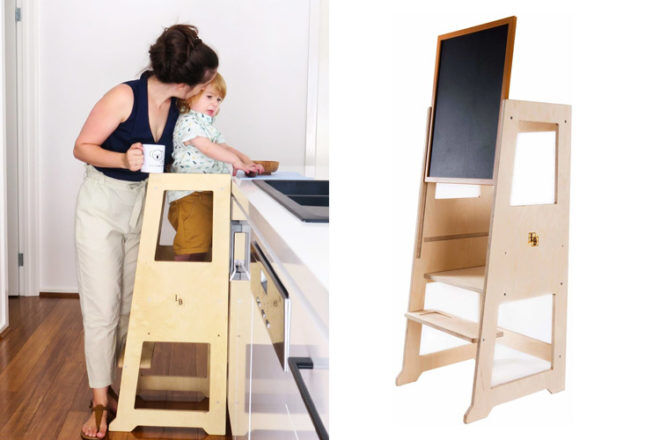 A compact footprint makes these perfect for tight spaces, and easy storage when not being used. It also has a removable chalkboard backing which doubles as a safety panel.

---
My Happy Helpers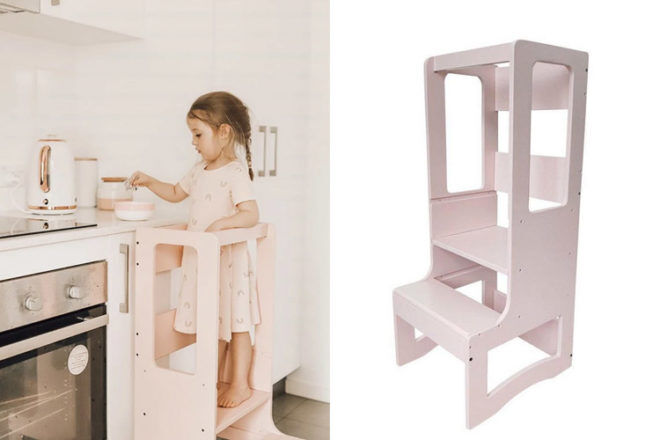 Height-adjustable and Australian designed, the My Happy Helpers tower is crafted to meet Australian safety standards. Its slim design is perfect for more compact kitchens and spaces and has a removable safety bar.

---
Little Partners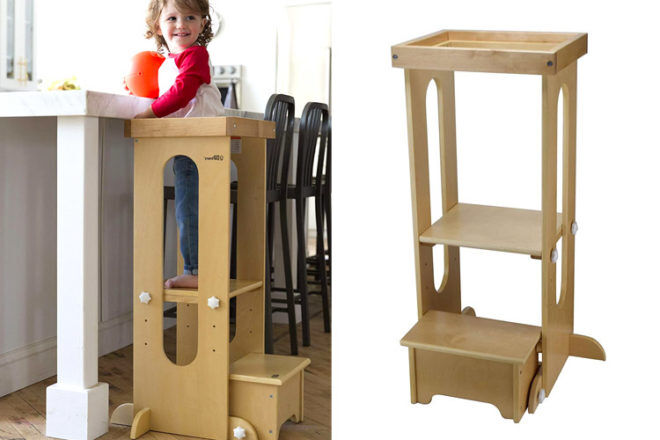 A fold-away step makes independence a little easier, while the three adjustable height positions allows it to grow with the kids.

---
BillerCraft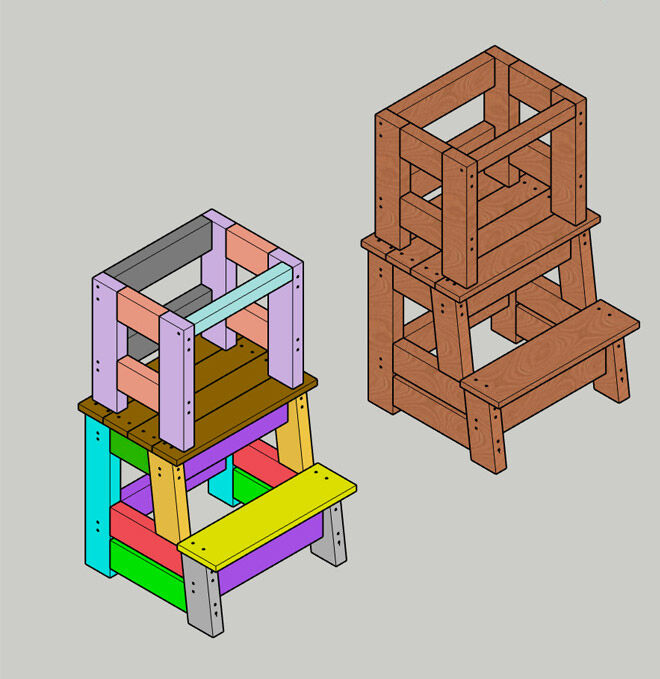 Feeling handy? Why not have a go at crafting your own learning tower with these plans. Using around $30 worth of materials and basic tools you could whip up your very own learning tower in a few hours. 

---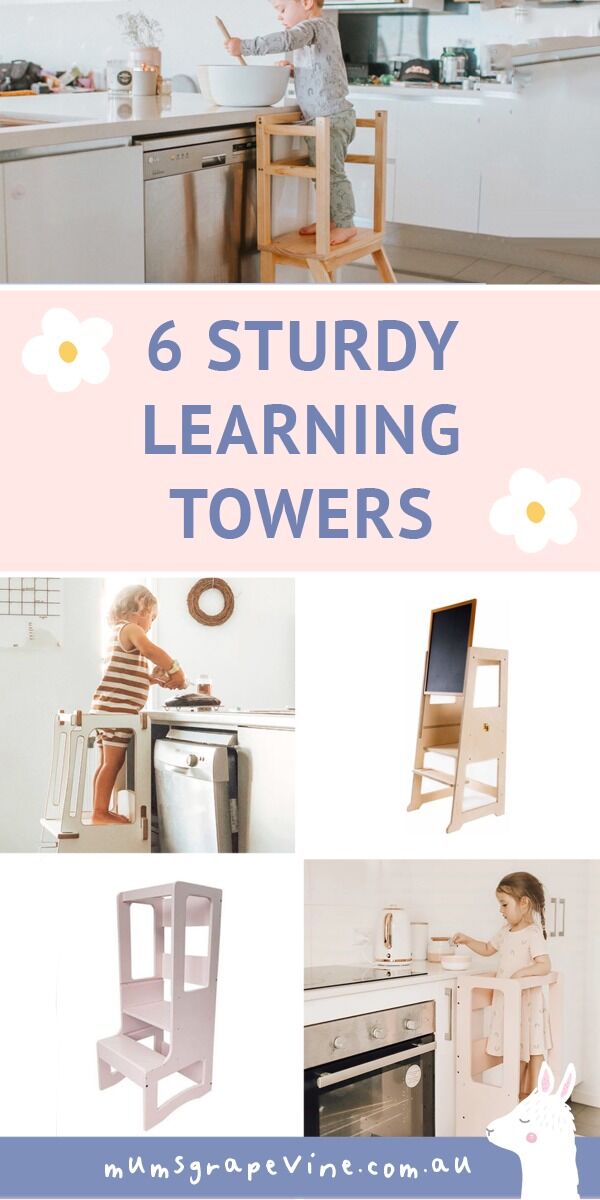 Know a learning tower brand we should add to our list? Contact us and let us know.
Read next …
Looking for other ways to guide your toddlers' learning? Read these articles next:
---
Continue your search for the best learning tower
Looking for a learning tower and still not sure if any of these are right for you? Continue your search online by jumping into one of our closed Baby Groups and ask thousands of other Australian mums what they recommend – 'What to buy' is the most talked-about topic.
Click and join your group today!