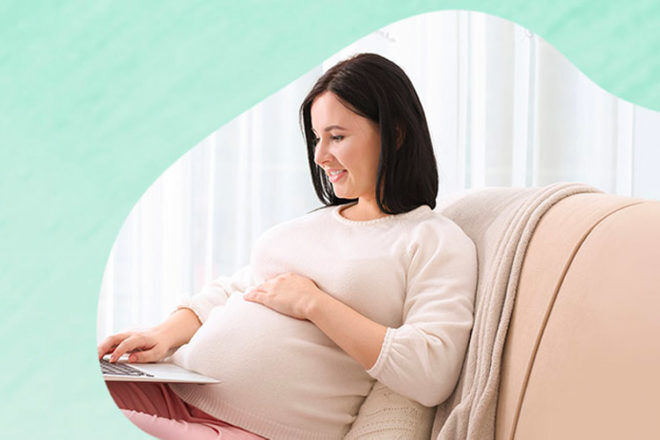 Keeping track of everything you need to buy for pregnancy and baby just got a whole lot easier, with the Amazon Baby Wishlist.
Like a wedding registry, but for your growing bundle of joy, simply create your Amazon Baby Wishlist by browsing the thousands of baby products online then send family and friends a link to your list so they know what you'd like.
Whether it be for sharing baby shower gift ideas or a place for you to keep track of the essentials you need, the Amazon wish list is a brilliant way to help new parents prepare for baby's imminent arrival.
Here's everything you need to know about creating an Amazon Baby Wishlist, and why you should create one.

Benefits of an Amazon Baby Wishlist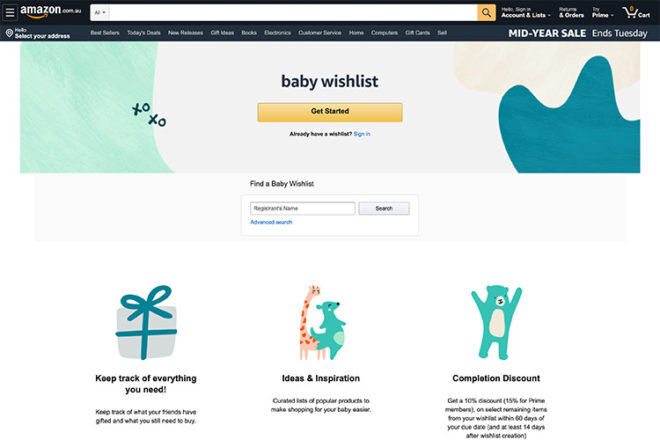 An Amazon Baby Wishlist is a curated list of maternity and baby products all kept in one spot for you to keep track of everything you need, and buy at a great price. Here's why you should get an Amazon Baby Wishlist:
1. The discounts
Just in case the thought of a digital baby list isn't awesome enough, if you create an Amazon Baby Wishlist, you're eligible for a discount on selected items on your Wishlist.
Here's how it works: Amazon will give you a link for 10% discount on selected remaining items from your Wishlist 60 days before your due date and up to 60 days after bub's arrival. Win-win!
Simply wait 14 days after your Wishlist creation and Amazon will send you a link once you're eligible.
To create your Amazon Baby Wishlist click on the banner below to get started.

2. Even more savings
Want even more savings? The 10% discount above increases to 15% for Prime Members. Thousands of the baby products listed on Amazon are eligible for free expedited delivery as part of the Amazon Prime Australia membership program ($6.99 a month or $59 for the year, and it also comes with a free 30-day trial).
It's a godsend for those living in rural areas, paying hefty delivery fees for every online purchase. And when you're talking about big-ticket baby items like prams and cots, a 15% discount with free shipping sounds pretty sweet.
To join Amazon Prime Australia simply click on the button below and enjoy fast, free delivery.

3. The products
Amazon launched in Australia three years ago and has built up a huge range in that time, with new brands arriving every week. It now has literally millions of products ready to shop online, at low prices. You also have access to thousands of reviews from other customers who've purchased directly from Amazon Australia.
You can get your hands on leading brands including Bugaboo, Maxi-Cosi, Huggies, Pampers, Tommee Tippee, Skip Hop, Bonds, Aden & Anais, Baby Jogger, The Gro Company, Boori, Boon, Baby Bjorn and Sophie the Giraffe and more, usually at a discount price.
And if that wasn't tempting enough, there are also free 30-day returns on most of the items purchased from an Amazon Baby Wishlist.
4. You can share it
Here's why the Amazon Baby Wishlist is so freaking brilliant – once you have created your list, you can share it with family and friends. Simply share via an email link that Amazon provides or copy and paste the link to your Wishlist across your social networks. Easy Peasy.
Forget the awkward discussions about budget, brand, colours and sizes – the link to your Wishlist is the perfect addition to your baby shower invite, making gift-giving nice and simple for everybody.
5. Let someone else take charge
Happy for someone else take the reins? If organising really isn't your thing, add a co-owner to your Amazon Baby Wishlist and let them take charge. Whether it be your partner, mum or baby shower host, the co-owner can edit, share and update the Wishlist as and when needed, without you having to lift a finger.
Plus, with the Amazon Baby Wishlist, they can manage your wishlist on their mobile, whenever and wherever they want to. Now that's handy.
6. Ideas and inspiration
Once you create your Amazon Baby Wishlist you'll see that there are heaps of curated lists of popular products so you know exactly what essentials you need.
---

---
How to get an Amazon Baby Wishlist
It takes just minutes to set up an Amazon Baby Wishlist. Here's how to do it:
Head to Amazon Baby Wishlist
2. Click 'Get Started'
3. Follow the on-screen instructions
4. Click on 'Create my Baby Wishlist' and start adding products. To add an item to your Wishlist, click Add to Baby Wishlist under the Buy box on the right-hand side of the item's product detail page.
5. The shipping address you select is confidential. People viewing your Wishlist will only see the name, city, and state.
How to share an Amazon Baby Wishlist
To share your Baby Wishlist with family or friends:
Go to your Baby Wishlist
2. Under the Menu, click Share under Share Wishlist. Just remember it can't be shared if it's a private Wishlist.
3. If you have made the list private, you'll need to go into your Wishlist settings to make it more accessible.
Create your own Baby Wishlist at Amazon Australia Baby Wishlist.