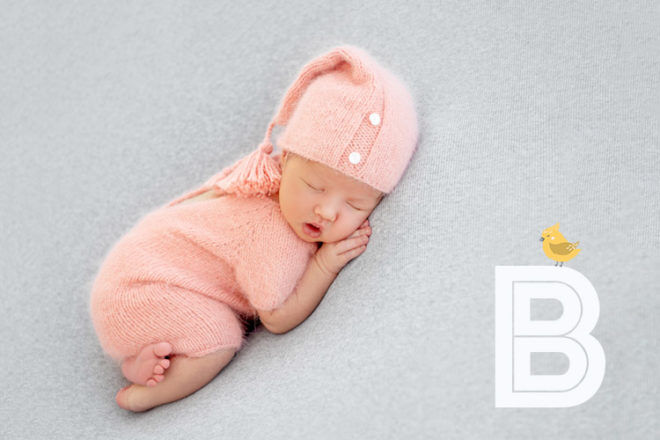 We're working our way through an alphabet of name perfection, and we've landed on a bunch of bouncing names that start with B.
To narrow down our search for the most exquisite names beginning with B, we asked the huge online Mum's Grapevine community to share their favourite boy names that start with B, and girl names that start with B. We're betting that with names including Bayda, Brinkley, Buzz and Bellamy there are a whole galaxy of names here you've never heard of.
If you're looking for a less common name for your tot you can't go past a B name with only four making it into the top 200 baby names of 2020; Billie (66), Bonnie (73), Benjamin (36) and Bodhi (86).
Botanical names that start with B are well represented with Balsam, Basil, Briar, Bryony, Bramwell, Bentley and Bay.
Celebrities are favouring B names with Cheryl Cole and Kate Winslet both naming their kids Bear; Tori Spelling and Emma (Baby Spice) Bunton named their kids Beau; Jessica Simpson has a Birdie; and Queen B herself named her daughter Blue.
Jump ahead for 208 girl names starting with B
Jump ahead for 588 boy names starting with B
---
---
208 girl names that start with B
Banging girl names starting with B are plentiful among the celeb crowd – from Billie Eilish and Blake Lively to Britney Spears and Beyonce. There's a huge array of 'B' girl names that work well for boys too, so it's worth browsing this list if you're on team green.

Babbett
Babe
Babette
Babita
Babs
Bader
Baila
Bailee
Baja
Bali
Ballona
Bambi
Banita
Barbel
Barbie
Barbra
Barinda
Barri
Barta
Bartha
Basha
Basille
Basima
Bastia
Batilda
Batista
Battina
Batya
Bauby
Bayda
Bayla
Bea
Beah
Beatrica
Beatrice
Beatris
Beau
Bebe
Bec
Beckah
Becky
Beatrice
Beatrix
Beeja
Begonia
Beige
Beki
Bel
Beliarosa
Belinda
Belisse
Belita
Bella
Belladonna
Bellanca
Bellette
Bellina
Bellissa
Bellita
Belva
Bena
Benadette
Benetta
Benicia
Benita
Benjamina
Benni
Benoite
Bente
Bentleigh
Berdie
Beret
Berna
Bernadett
Bernadina
Bernadotte
Bernetta
Bernice
Bernina
Bernise
Bernita
Berri
Berti
Bertina
Bertrice
Beryle
Beryn
Bess
Bessie
Beta
Beth
Betha
Bethanee
Bethanne
Bethie
Betia
Betiana
Betsy
Bette
Bettina
Bettine
Beulah
Bevany
Bevlyn
Bevvy
Beyonce
Bianca
Bibi
Bibianna
Bibyana
Biddy
Bidella
Biffy
Bijou
Bilee
Biljana
Billey
Billie-Jean
Billina
Bina
Bindi
Binny
Bionca
Bionda
Birdie
Birgitta
Birta
Bitta
Bizzy
Blaire
Blaise
Blake
Blanca
Blanche
Blanka
Blayre
Blessing
Blinny
Blondie
Blossom
Bluebell
Blysse
Blythe
Bobbie-Jo
Bonita
Bonnebell
Bonnie
Bora
Bowie
Bradi
Bradyn
Braelyn
Brandise
Brandy
Breana
Breanna
Breanne
Bree
Breehan
Breelyn
Breezy
Breiann
Breila
Breina
Brenda
Brendette
Brendie
Brenna
Breona
Brettany
Brettnie
Bria
Brianna
Briar
Bridee
Bridgot
Bridie
Brielle
Brienne
Brietta
Bright
Brigid
Briney
Brinkley
Briona
Briony
Bristyl
Britania
Britany
Brittina
Bronnie
Bronte
Bronwyn
Brookanne
Brooke
Brownyn
Brya
Bryana
Bryce
Brystol
Buffy
Bula
Bunny
Byna
588 boy names that start with B
Brash and bold, in celebrity circles boy names that start with B abound. From strong political characters like Barack Obama to actors and singers like Brad Pitt, Bruce Springsteen, Bruno Mars and let's not forget the ever-elusive artist Banksy. There are more than 500 names below you're sure to find one you both like.

Baako
Baasu
Babar
Babsen
Bacchus
Bachellor
Badan
Badar
Badger
Badir
Badru
Badu
Baha
Bahati
Bai
Bail
Baillee
Bain
Bainbridge
Baird
Bajardo
Baker
Balbi
Balbino
Balbo
Balder
Balderic
Baldev
Baldewin
Baldie
Baldwyn
Bale
Baley
Balfor
Balin
Ballard
Ballbo
Balraj
Baltazar
Balto
Ban
Bancrofft
Bandele
Bane
Banebridge
Banfield
Banjo
Bank
Banksy
Banning
Bannock
Baptist
Bar
Barack
Baraka
Baram
Barbour
Barclay
Bard
Barden
Bardo
Bardolf
Bardon
Bardou
Bardoul
Bardrich
Bardulf
Barek
Barend
Baret
Baris
Barker
Barklay
Barklie
Barksdale
Barlow
Barna
Barnaba
Barnabas
Barnabe
Barnabus
Barnard
Barnardo
Barnebas
Barnes
Barnett
Barney
Barnham
Barnhard
Barnhardo
Barni
Barnum
Barny
Baronet
Barr
Barratt
Barrclay
Barree
Barren
Barrey
Barrick
Barrington
Barrlow
Barrton
Bart
Bartel
Barten
Barth
Barthelemy
Bartho
Barthol
Bartholomew
Barthram
Bartin
Bartle
Bartlett
Bartley
Bartolome
Bartolomeu
Bartome
Barton
Bartow
Bartram
Baruchi
Baruj
Bas
Basiano
Basil
Basim
Bassam
Bassett
Bastien
Batchelor
Battiste
Baudilio
Baudoin
Baudric
Baumar
Bax
Baxlea
Baxley
Bayard
Baylen
Bayless
Baynbridge
Bayne
Bayou
Bayrd
Baz
Bazeel
Bazil
Bazz
Bazza
Beach
Beacher
Beacon
Beagan
Beal
Beals
Beaman
Beamer
Beamus
Beasley
Beatty
Beau
Beaudan
Beaudine
Beaufort
Beaumont
Beauregard
Beauvais
Beavan
Beavis
Becher
Beckett
Beckham
Bedall
Bedell
Bedrich
Beebe
Beecham
Beecher
Beechy
Beegan
Beegin
Beeman
Beemer
Beemon
Beirnie
Bela
Belden
Beldene
Belindo
Belisario
Bellamy
Bellarmine
Bellarmino
Bellden
Belldene
Belldon
Bellindo
Bellmont
Bellton
Bellvedere
Belmont
Belshazzar
Belton
Beltran
Beltrano
Bemis
Benci
Bendick
Bendt
Benedetto
Benedict
Benedicto
Benett
Beniamin
Benjamin
Benjamino
Benjey
Benjie
Benjiro
Benn
Bennedict
Bennett
Bennito
Benno
Bennt
Benson
Bentley
Bentlie
Benyamin
Benzion
Ber
Beresford
Berg
Bergeron
Bergin
Beric
Berillo
Berk
Berkely
Berkie
Berklie
Berky
Berl
Berle
Berlyn
Berman
Bern
Bernabe
Bernal
Bernald
Bernard
Bernardino
Bernarr
Bernd
Berne
Bernet
Bernhald
Bernhard
Bernhardo
Bernie
Bernis
Bernold
Bernt
Bertel
Berthold
Bertie
Bertil
Bertin
Bertle
Berto
Bertol
Bertold
Bertoll
Berton
Bertram
Bertran
Bertrand
Bertranno
Bertrem
Berwin
Berwyn
Bethlem
Betuel
Beuford
Bevan
Beverlea
Bevis
Bevon
Bevvan
Beyren
Beyron
Bhakati
Bharat
Bhaswar
Biagio
Bianco
Bickford
Bid
Bidal
Bienvenido
Biff
Bijay
Bill
Bille
Bing
Bingo
Binh
Binky
Birch
Birchall
Biren
Birgin
Birk
Birkee
Birkeley
Birket
Birkitt
Birkley
Birky
Birley
Birlie
Birly
Birney
Birnie
Birny
Biron
Birtle
Bishopp
Bivian
Bjorn
Black
Blackburn
Blackstone
Blackwell
Blade
Blagburn
Blagden
Blaine
Blais
Blake
Blakeley
Blakelie
Blakeman
Blakeney
Blakenie
Blanco
Blandford
Blandino
Blandon
Blaney
Blanford
Blanton
Blasien
Blasio
Blasius
Blayr
Blayse
Bligh
Bo
Boas
Bob
Boban
Bobbey
Bodin
Bodine
Boe
Bogaard
Bogart
Bogdan
Bogey
Bogie
Bogy
Bohdan
Boine
Bojan
Bollton
Bonami
Bonar
Bond
Boni
Bonner
Bono
Boone
Booth
Borak
Borbon
Bordin
Borg
Boris
Borja
Born
Borne
Borris
Bosleigh
Boswell
Bosworth
Both
Bourbon
Bourey
Bourke
Bourn
Bourne
Boutros
Bouvier
Bow
Bowden
Bowin
Bowman
Boyce
Boyde
Boyn
Boynton
Brad
Brad
Braddon
Bradey
Bradfurd
Bradley
Bradney
Bradshaw
Brady
Brae
Braedy
Brahim
Brahma
Brahvo
Braidie
Brain
Brainard
Braizer
Bram
Bramwell
Bran
Brandan
Brander
Brando
Brandon
Brandr
Brandt
Branko
Branlea
Branna
Brannen
Brannon
Brannton
Branston
Branten
Brantin
Branton
Branwell
Braser
Brasil
Bratumil
Braulie
Bravlio
Bravo
Brawleigh
Brawley
Braxton
Bray
Brayden
Braydie
Braynard
Brazier
Brazil
Breed
Brenan
Brendano
Brendin
Brendt
Breneman
Brennon
Brennt
Brentan
Brenten
Brently
Brentt
Brentton
Brevard
Brewer
Brewster
Brian
Briano
Briant
Bricio
Brick
Brickel
Bricker
Bridge
Bridgeley
Brien
Brigg
Briggham
Brik
Brindley
Brindly
Brinleigh
Brinly
Brion
Bristow
Britannicus
Brittain
Britto
Brizio
Broc
Brock
Brocklea
BrocktenBrod
Broddy
Brodee
Broden
Broder
Broderic
Brodey
Brodric
Brodrick
Brody
Broggan
Brok
Bromlea
Bromley
Bron
Bronco
Bronko
Bronsen
Bronson
Brookes
Broughton
Brown
Bruce
Bruno
Brunell
Brutus
Bryant
Bryce
Brye
Bryen
Bryent
Bryland
Brynly
Brynn
Bryon
Bryse
Brysin
Bubba
Buchanan
Buck
Buckey
Buckley
Bud
Buddy
Buell
Bufford
Bullet
Burch
Burchard
Burchell
Burdett
Burford
Burg
Burgess
Burke
Burleigh
Burlin
Burnard
Burnell
Burney
Burnis
Burns
Burr
Burrell
Burt
Burton
Buster
Butch
Butler
Buxton
Buzz
Buzzy
Byford
Byran
Byrne
Byrnes
Byron
---
Join the conversation
Looking for a name that begins with the letter B and still haven't found one on our list? Or want to ask other mums what they think of the B name you've chosen?
Head over to our social page, and take a look at the original post, there are over 500 comments.
---
Read next …
Looking for more baby name inspiration? Make your way through our alphabet of baby names:
---

---
Join our Pregnancy & Baby Groups
If you're expecting your own little miracle, you can join one of our closed Facebook pregnancy or baby groups and talk babies 24/7 with thousands of other mums all due, or who had babies, around the same time as you.
Click below and join your group today – don't miss out!