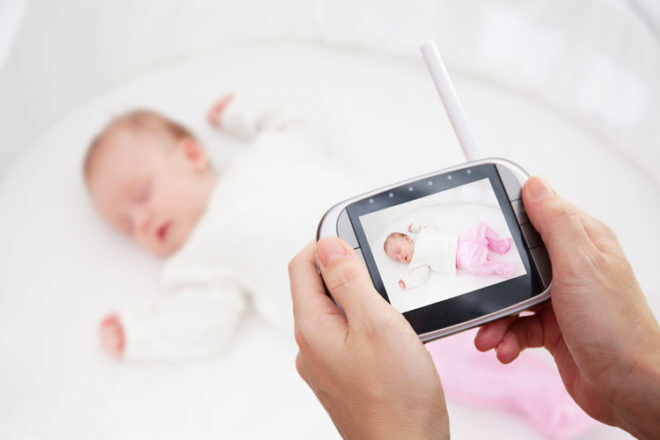 The first few months of baby being home are incredibly special, and as parents, we don't want to miss a thing. Thankfully, the best baby monitors in Australia allow you to watch your baby sleep 24/7 without disturbing those precious zeds.
Their first smile, those cheeky moments when they should be sleeping but aren't, those blissful occasions when they fall asleep within seconds – video baby monitors ensure you don't miss a thing.
From baby monitors with night vision capabilities to models with movement detection technology, there's a model to fit in seamlessly with every family's lifestyle and needs.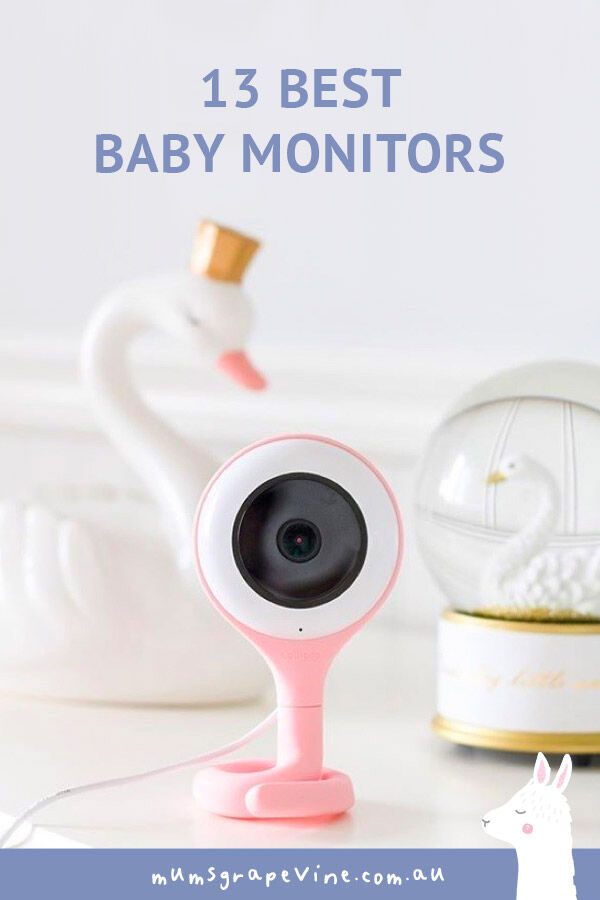 Features to look for in baby monitors
When choosing from the wide range of available baby monitors in Australia, there are many things to weigh up – some technical and others more to do with personal preferences. As our extra set of eyes, they need to be up to the task of alerting us when baby's not settling, and perhaps play a role in getting your child off to sleep.
We even created a handy baby monitor buying guide to help with the process.
Audio: Good monitors should have a strong sound quality even when the parent unit and camera are at opposite ends of the house. Monitors that use digital enhanced cordless communication (DECT) are more private and you'll find they have less interference.
Wi-Fi capabilities: Wi-Fi units allow the footage to be viewed anywhere with an internet connection, provided that the monitor is in range and has a good signal and the parent unit (or phone) also has Wi-Fi or in mobile network range.
Range: You'll need to take this into account when thinking about how far the monitor will be from the parent unit – especially if you have a double-storey or large house.
Infrared camera: For clear pictures at night. You'll find that most transmit black and white images once the lights go out.
Multi-camera option: The ability to add more cameras later on means being able to view the room from different angles, or set up cameras in other rooms like the playroom or another child's bedroom.
Camera mount: Depending on your nursery set up, look for either a clamp or wall mount, or the capability for the monitor to stand on a flat surface.
Screen size: You'll find monitor screens are usually measured in inches with some of the latest models boasting screens that are 5", which is more than 12cm.
Optional features: Some baby monitors come with additional features that make them nice to have.
SD card slot to record video
Password security
Mains power & battery option
Pan, tilt and zoom remotely
Baby breathing monitor
HD video and audio
Room temperature monitor
Visual soundbar
Music or white noise feature
Baby heart rate monitor
---
13 best baby monitors in Australia
To help you find the best baby monitor in Australia, we've compiled this handy list of brands and real baby monitor reviews to get you started in your search. In no particular order, here they are:
Oricom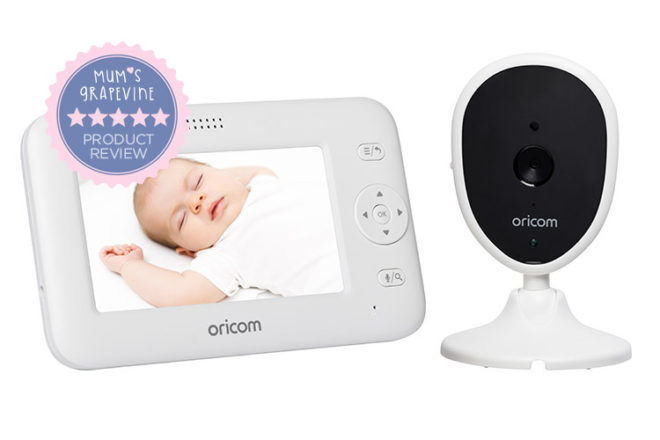 The super-sized screen and motion detection make this little unit a high-tech wonder. While the monitor is crystal clear during the day, it adapts beautifully to monitoring at night with infrared night-vision. It also lets you know if the room is too hot or too cold, and sounds an alarm if motion or sound is detected.
Screen size: 4.3″ colour display
Wi-Fi capability: No
Range: Up to 150 metres under optimum conditions
Extras: Motion detection, feeding timer and soothing lullabies
"Some really good things about this monitor are the big clear screen and the great quality of the picture… even in a dark bedroom. I love that the video camera measures the temperature in the room and displays it at the top of the screen. The range of the monitor is great. I've taken the screen outside into my backyard and the range did not drop out". – Carla T
Oricom Baby Monitor Sale:
Secure740 reduced to $149 until 31/5/21.

---
Vtech Owl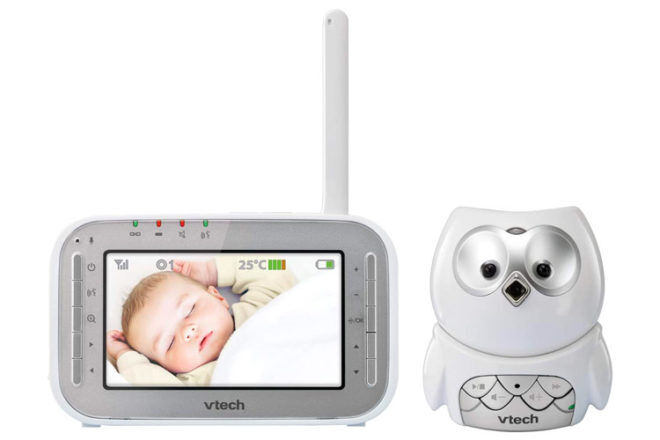 The VGA camera with a motorised tilt makes keeping an eye on a wriggly tot super simple. The camera's infra-red capability allows you to watch little night owls into the wee early hours while lullabies and natural sounds lull them to sleep.
Screen size: 5" colour display
Wi-Fi capability: No
Extras: Lullabies, temperature display and alert
"You can have up to four cameras, there's a talkback setting, nursery rhymes you can play and a tilt and pan camera." – Jess M

---
Lollipop
The unique design of this sweet monitor means it can attach to all sorts of spots. Pair to your smartphone for a live feed. Use the app to get notifications when bub cries, when the air quality drops or there's noise in the nursery. The camera can also be integrated with Alexa's voice controls.
Screen size: N/A
Wi-Fi capability: Yes
Extras: Sound machine, night vision
"My boy is starting in his cot tonight after a trail of day sleeps in there. I'm just using a video baby monitor. I have the Lollipop baby camera and it's amazing!" – Ashleigh P

---
Kodak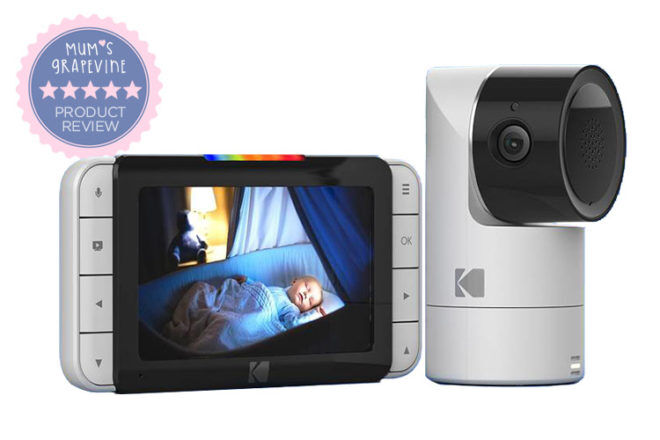 It's no surprise that a camera company knows their stuff when it comes to crystal clear imagery. The Kodak Cherish combines a large parent unit display with clever in-built features for a seriously clever baby monitor. With Wi-Fi and direct connect capability, parents can keep a watchful eye on baby wherever they are.
Screen size: 5″ Widescreen colour display
Wi-Fi capability: Yes
Extras: Video and snapshot recording, remote tilt, pan and zoom camera
"The video quality of the Kodak Cherish monitor is incredible – we can see baby so clearly. And I love the illuminated keypad… no more fumbling around with the monitor in the dark!" – Louise W
Kodak Baby Monitor Sale:
C525 reduced to $349 until 30/6/21.

---
Oricom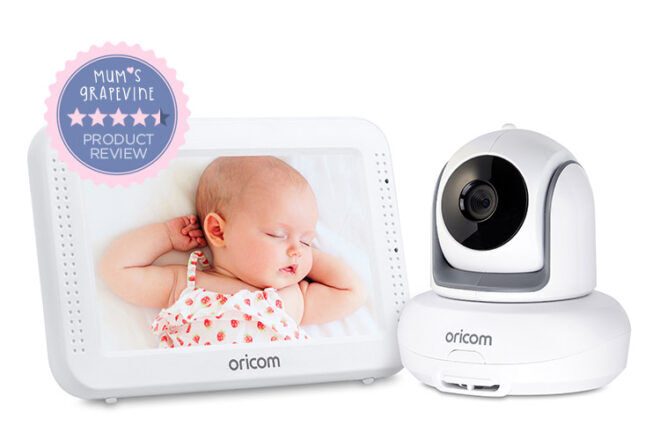 This feature-packed monitor does a lot more than just watch over sleepy babes. The pan-tilt camera is controlled by the touchscreen unit from anywhere in the house to give you the perfect vision of your babe, and the talk-back and lullaby features help with settling.
Screen size: 5″ colour display
Wi-Fi capability: No
Extras: Touchscreen, lullabies and white noise, thermometer, feed timer, night light, talk-back, VOX function
"The quality of the picture is so clear, even the night mode is just as clear as day mode. It has a motorised pan-tilt so you can look around pretty much the whole room." – Ashley W

---
Nannio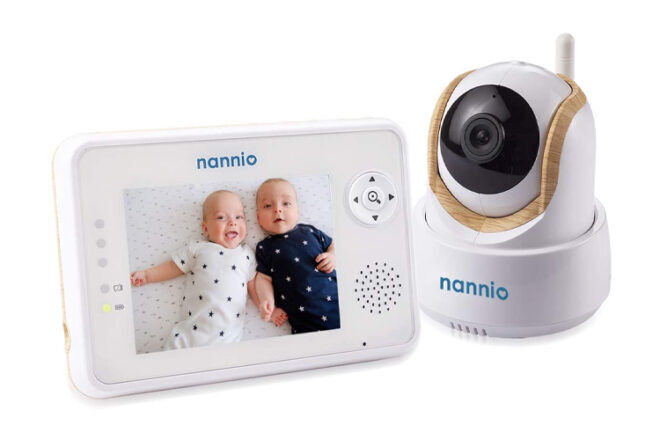 Equipped with smart voice detection activation, the Nannio Comfy automatically activates the camera when sound is detected. The long-life battery delivers eight hours of screen display and the huge viewing range gives you an extended vision of baby's space.
Screen size: 3.5″ colour LCD display
Wi-Fi capability: Yes
Range: 1000 feet
Extras: Feed timer, room temperature, VOX mode, night vision, lullabies

---
Uniden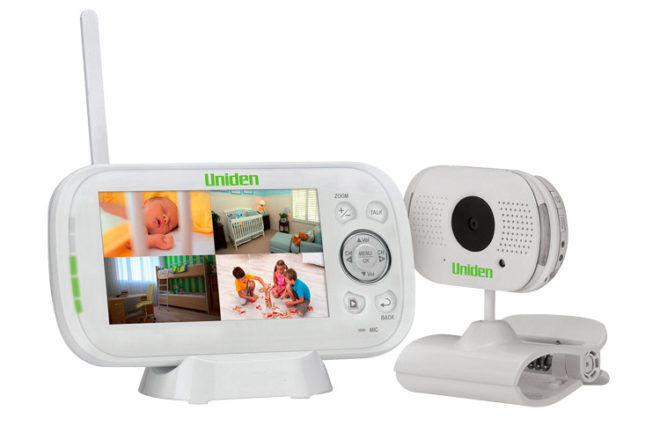 A great video monitor at a great price. Watch your baby sleeping from anywhere in the world thanks to it's Baby Watch feature. Talk and soothe your baby remotely with a 'walkie-talkie' like function and use the built-in lullabies and night light to assist you with nighttime settling.
Screen size: 4.3″ colour LCD display
Wi-Fi capability: No
Range: Unlimited with Smartphone App
Extras: Night light, temperature display and alert.
"I love my Uniden, I got one that I can add up to 4 cameras, which is great because I can add to it for the new baby." – Kate A


---
Luvion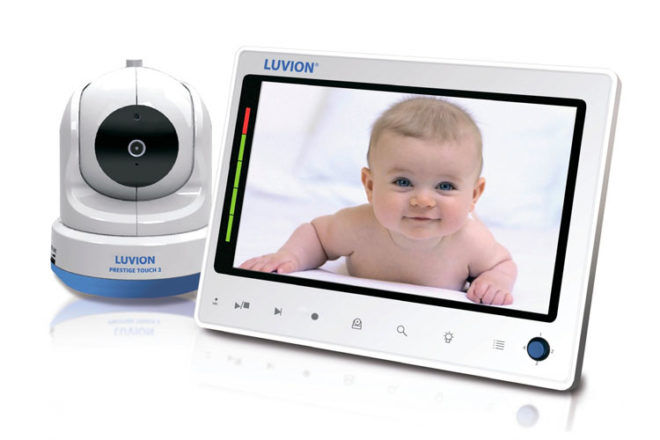 Boasting a 7inch LCD colour screen, dual technology means this can be used as a traditional video baby monitor and switched to Wi-Fi. Move the motorised panning and tilting camera remotely via the parent unit, and you can also snap photos and take video.
Screen size: 4.3″ LCD digital colour monitor
Wi-Fi capability: Yes, using an optional Wi-Fi bridge
Range: up to 300 meters (in a line of sight)
Extras: Five-metre night vision, 24 lullabies, two-way talk-back, room temperature display
"The Luvion monitors are very good, we have been stoked with ours. We went camping with friends who all had different monitors and our Luvion had the best range." – Steph S

---
Cubo Ai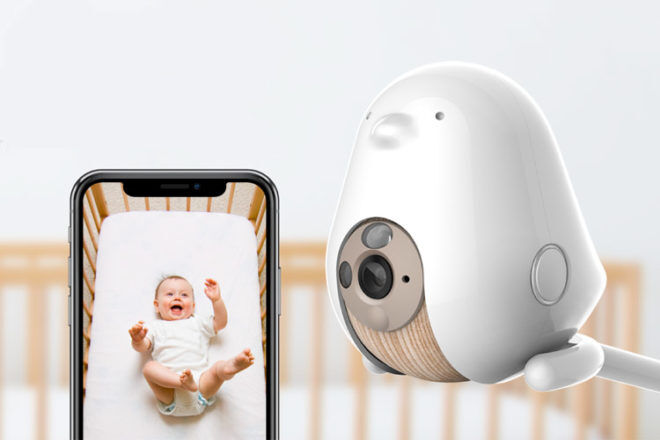 Clever and cute, the Cubo uses AI technology to detect if baby's mouth and nose are covered or if baby has rolled over. You're also able to define a danger zone area, and Cubo will alert you if bub ends up outside of the safe area.
Screen size: N/A
Wi-Fi capability: Yes
Extras: Night vision, auto photo capture, cry detection, two-way audio, temperature and humidity alert, digital zoom.
"Absolute love it! Would definitely say it's worth the money. We live in a two-storey house with very thick walls, do having the notifications is super useful." – Xenia E

---
iBaby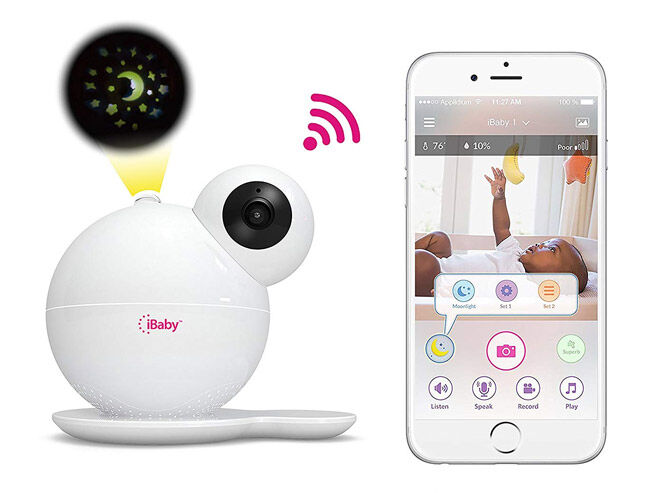 This adorable little guy looks like something out of Star Wars and is just as high tech. The iBaby can play lullabies and bedtime stories, listen and talk, take pictures, record video and has smart sound and motion alert. It will even let you know when it's time to change that smelly nappy! As an added bonus there's a projected moon and light show for babies who need visual calming tools. Use the free iOS or Android app to stream vision on your device.
Screen size: N/A
Wi-Fi capability: Yes
Extras: Air Quality Sensor (VOC) with graph, sound and motion sensors, nappy and feeding alerts.
"We had an iBaby for our first 5 years ago – loved it! I am a nurse, so it meant I could check in on my baby and watch. 360-degree vision and the ability to control it from my phone." – Lana M

---
Arlo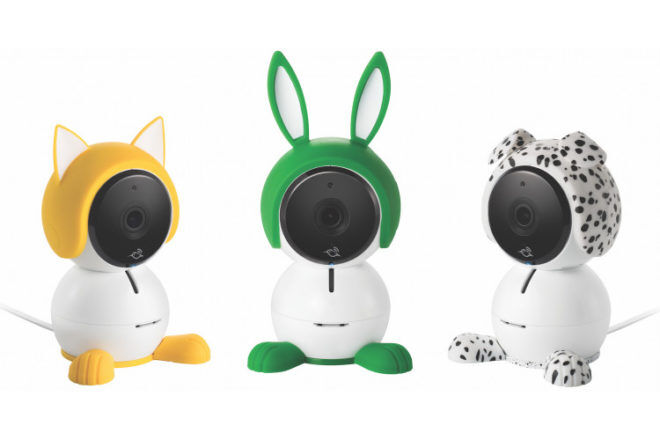 An all-in-one monitor that takes the guessing out of getting a good nights sleep. Get alerts on your smartphone, tablet or computer anytime and anywhere with the Arlo Baby. A high definition video and advanced night vision make it even easier to see the baby's movements in the dark. Take advantage of the 2-way talk feature and listen in and talk to your darling straight from your smartphone.
Screen size: N/A
Wi-Fi capability: Yes
Range: Adjustable motion detection up to 50 feet. Wireless range 300 feet line of sight
Extras: Smart music player, air sensors to monitor air quality, multi-coloured night light
"Arlo baby links up with all devices so we have it on our phones, tablet & smart TVs. Video quality is Amazing! It even shows the changing colours in our light clearly." – Elisha S

---
Motorola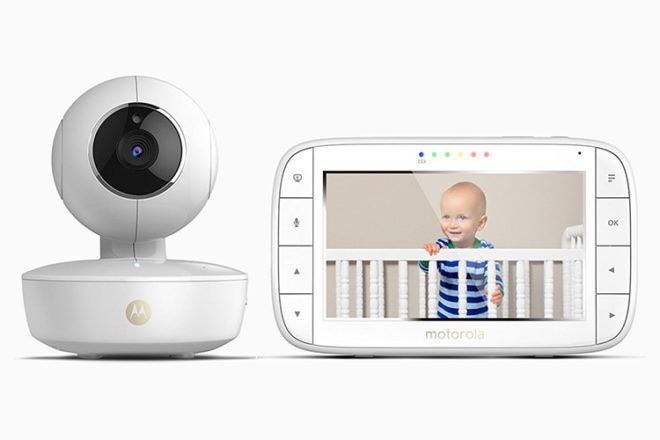 Motorised pan, tilt and digital zoom combined with a 300 degree viewing angle mean there aren't many little corners for bub to hide! High-quality sound, a colour display – which can be beamed to the TV with an additional cable and two-way communication all give parents peace of mind.
Screen size: 3.5″ colour TFT LCD display
Wi-Fi capability: No
Range: Up to 200-metre operation range
Extras: Lullabies, temperature display and alert, timer and alarm.
"I have a Motorola mbp36s and it's amazing" – Sheena P

---
Project Nursery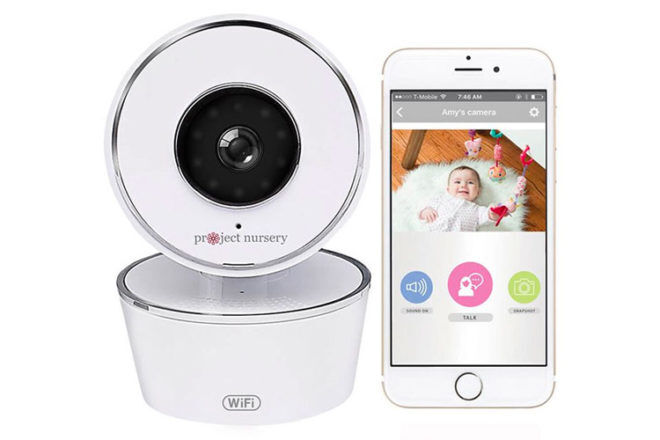 Pair this clever monitor with your Alexa device and hey presto – you now have a smart nursery! Connects to your smartphone or tablet so you can watch bub from anywhere, and use the remote pan/tilt/zoom camera movements to get a better view.
Screen size: N/A
Wi-Fi capability: Yes
Extras: Audio recording and two-way communication, record video and snap photos of the baby directly to your smartphone or tablet.
"Project Nursery is a great monitor, with good range. I have it and have no complaints!" – Chantelle B

---
Angelcare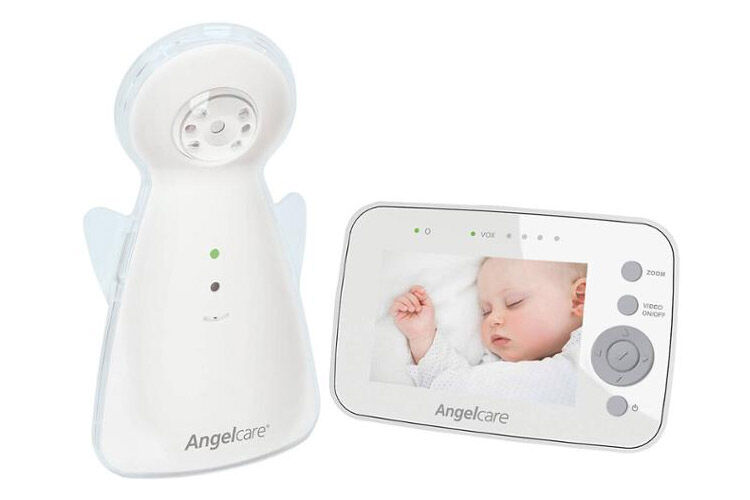 From the tinniest wriggle to the loudest cry, you won't miss a thing with this monitor. It's an ideal choice for parents wanting peace of mind.
Screen size: 3.5″ colour display
Wi-Fi capability: No
Range: up to 250 meters
Extras: Nursery night light and parent unit locator.

---
Owlet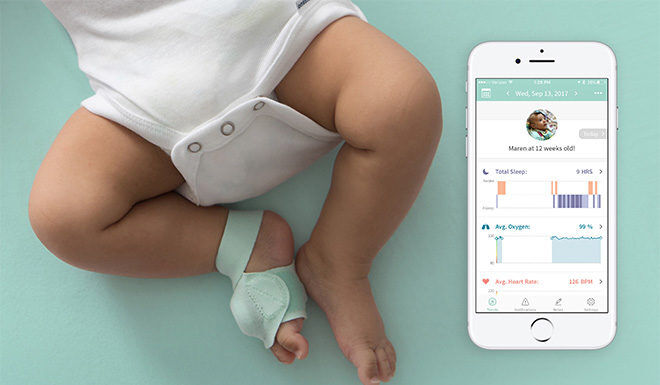 A genius device that records bub's oxygen levels and heart rate as they sleep – through a sock that attaches to their foot. The data is sent via wi-fi and Bluetooth to the base station and Owlet app for parents to check as and when so they can worry less and sleep better.
Screen size: N/A
Wi-Fi capability: Yes
Extras: Tracks heart rate and oxygen levels, three socks included.
"We had the owlet sock, it was the best. I have horrible anxiety and it helped me sleep knowing it was on her foot. I would take a quick peek at her oxygen levels on the app before feeling assured and going to sleep myself." – Racheal R

---
Baby monitor mounts
Want to be able to mount your baby's monitor wherever you want? Grab one of these handy mounts.
---
This article is curated by our Editors and includes affiliates and/or paid inclusions. See our Disclosure Policy.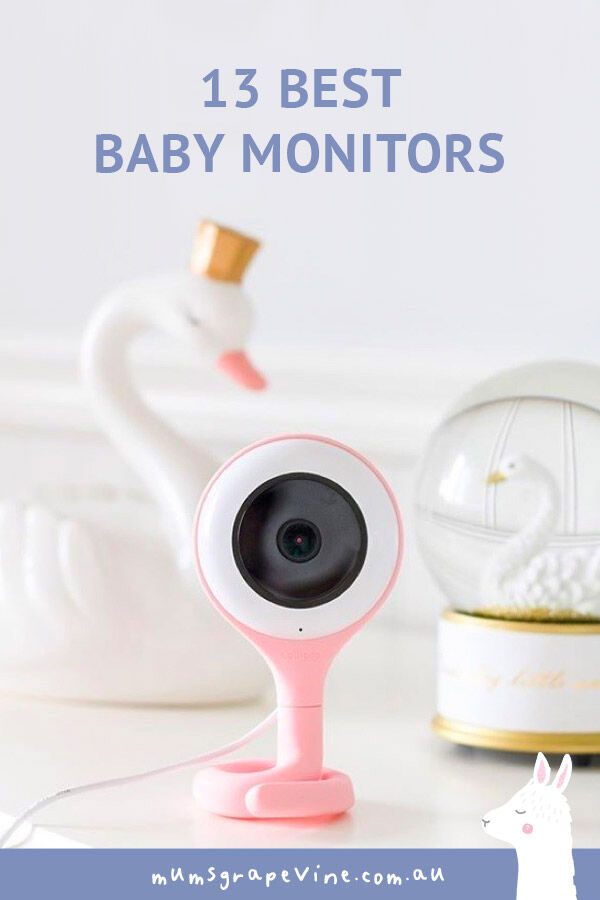 Know some other brands of baby monitors in Australia we should add to our list? Contact us and let us know.
Read these roundups next…
Continue your search for the best baby monitor in Australia
Looking for a baby monitor in Australia and still not sure if any of these are right for you? Search online by jumping into one of our closed Baby groups and ask thousands of other Australian mums what they recommend.
Click here >> Mum's Grapevine Facebook Groups  << to find your group today!