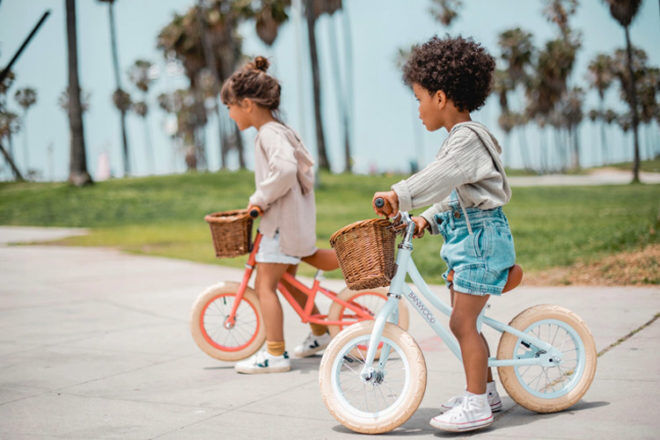 Balance bikes are brilliant. They teach little ones how to ride a bike (without the use of training wheels) and they're really safe for the tots to use too. While riding a balance bike, youngsters can practice their breaking, steering and using caution – all very important skills for life on two wheels.
To give your babe confidence behind the bars we've found 15 balance bikes to help get them ready for their first big bike.
15 balance bikes for first-time riders
Wishbone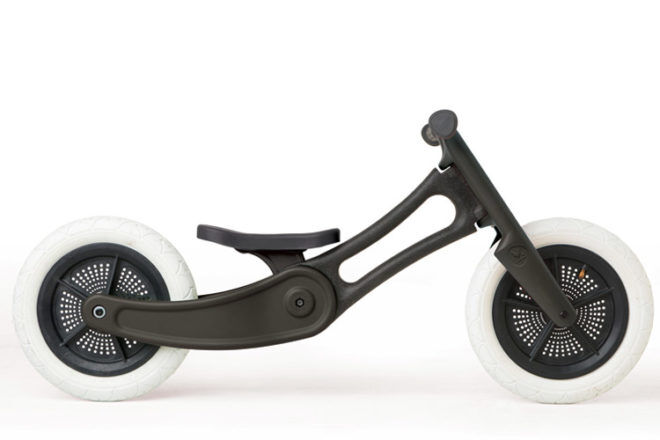 The Wishbone balance bike is one that will last. It starts off as three-wheel trike and converts to a two-wheel balance bike as tot's progress. The seat can also be lifted as the kids get taller. This Wishbone bike is made entirely from the recycled carpet so it's a win for the planet too.

---
Trybike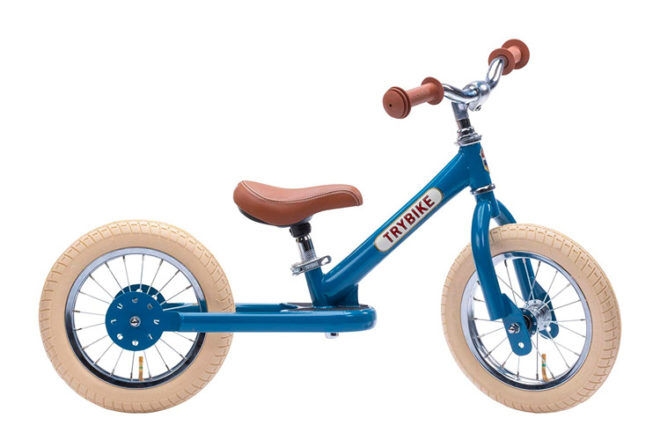 A vintage-style bike for a modern-day kid. The trike easily transforms into a balance bike when kids are feeling confident and ready. Extra-wide rubber tyes ensure a smooth ride and maximum manoeuvrability.

---
Kinderfeets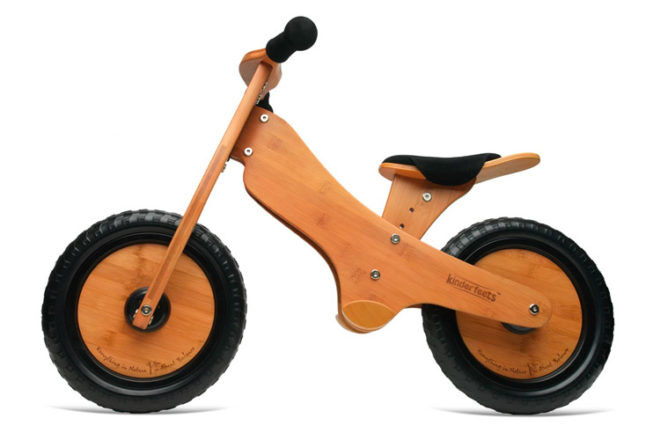 A cute balance bike with some clever features to boot. A low-step-through frame allows kiddie's feet to touch the ground and foot pegs on either side familiarize little ones with where their feet will go when they graduate to a big-kid bike.

---
FirstBIKE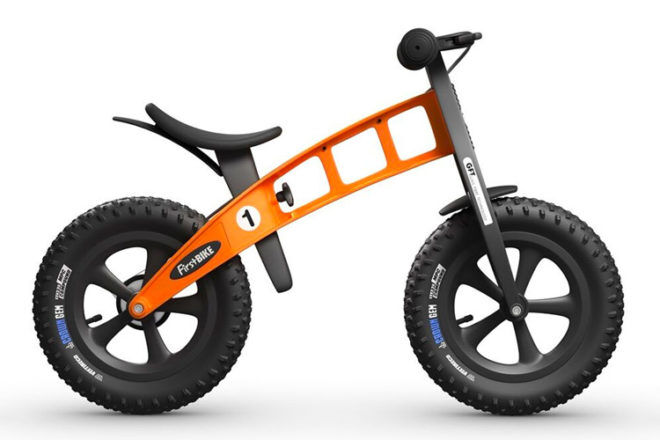 Available in a range of colours, the FirstBIKR is lightweight and adjustable, allowing kids as young as twenty months to give it a whirl. There's also a handy brake which allows kids to slow down on steep hills without using (and destroying!) their shoes.

---
Mocka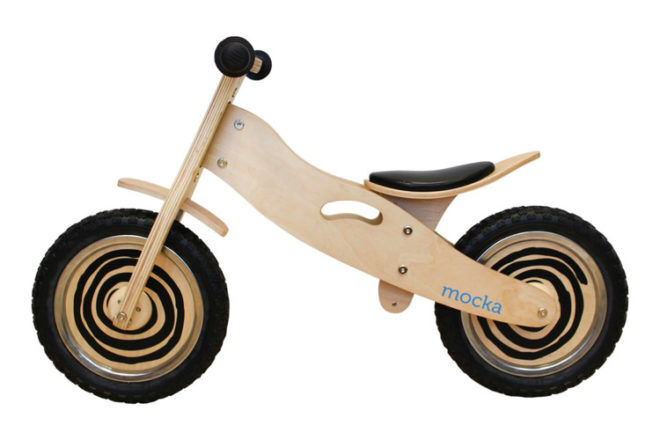 Perfect for ages two and up, the balance bikes from Mocka are a great place for kids to start their journey on two wheels. No pedals give them full control, learning balance and speed while bringing style to the streets.

---
Chillafish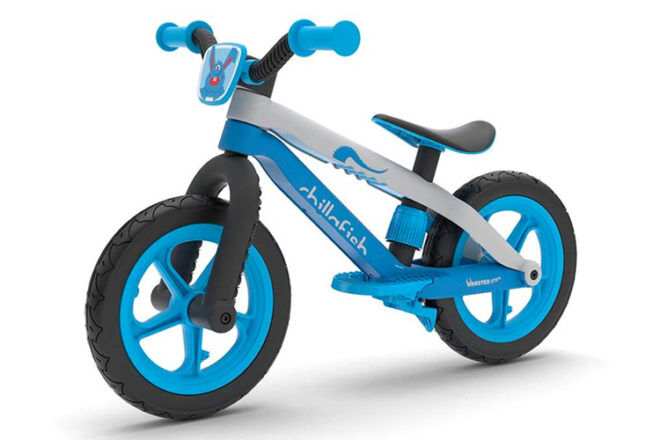 Know a wild child that wants to play BMX bandits the minute they get on a bike? This is the balance bike for them! It looks awesome and comes with a number plate, and stickers for some hardcore personalisation.

---
Banwood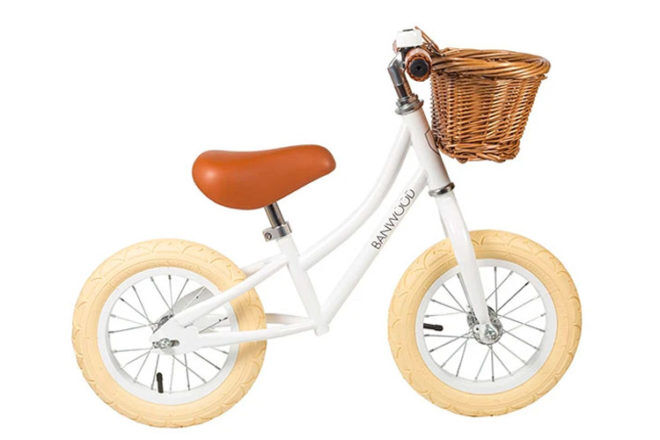 A high-end bike for the little one you love. More than just timeless beauty, the Banwood balance bikes tick all the boxes for safety too. With an adjustable handlebar and saddle in check, tots can enjoy this ride up until they're five years old.

---
Micro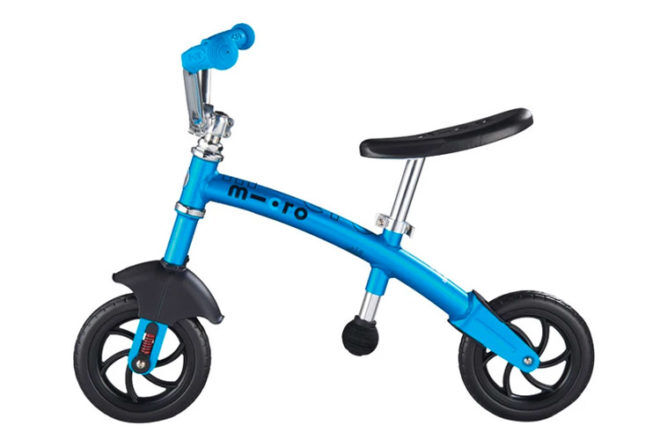 Suitable to use from two-years-old, the G-Bike Chopper it's extremely lightweight so it's easy for the young ones to push. An extra-wide handlebar is a great little feature to aid balance and coordination, and the addition of front wheel suspension ensures every ride is as smooth as can be.

---
Scool Bikes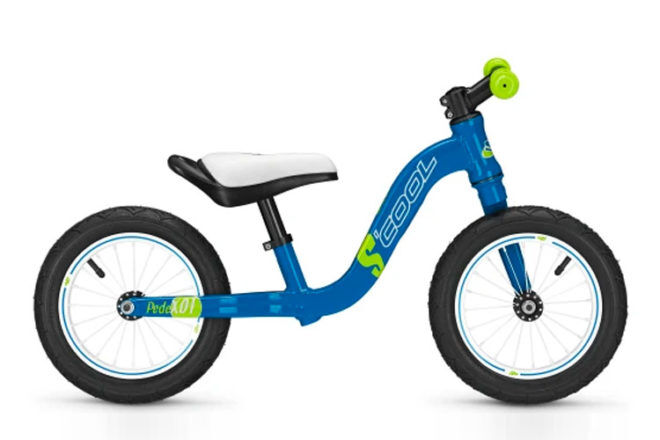 This bike is super lightweight (weighing only 3.3kg!) which makes it much easier for kids to ride when they're first starting out. Designed and engineered in Germany, the saddle on the PedeX can be adjusted so low that kids as young as one and a half can use it.

---
Apollo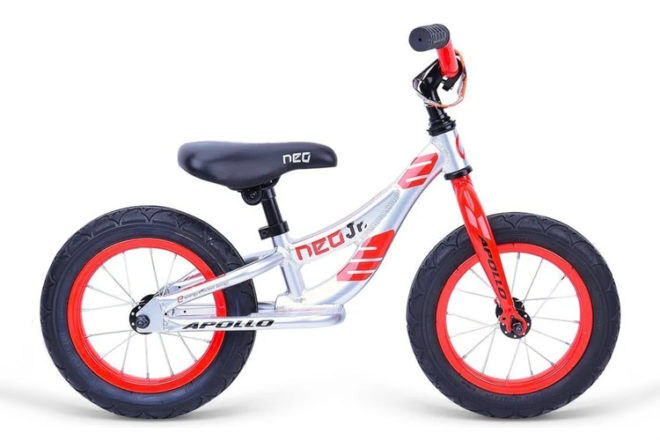 A cool colour combination and lightweight alloy frame make the Apollo Jnr a winner. Designed so kids are sitting in a better position to ride, getting their balance and progressing to their first bike will be easy as pie.

---
Eurotrike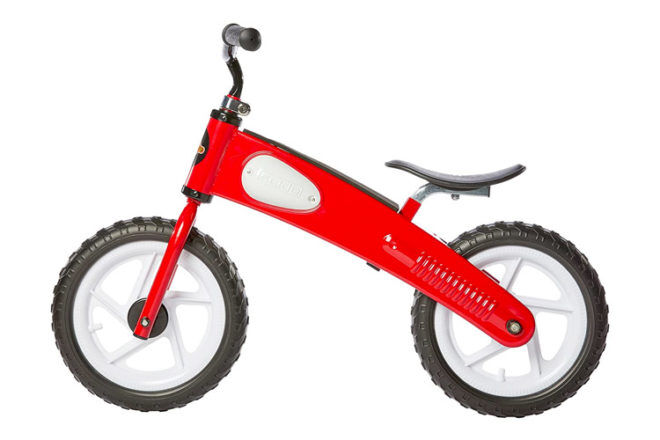 Perfect for kids aged three years and up, the Eurotrike has puncture-proof tyres which are perfect for those kids who like to head off-road. The seat is adjustable and the fade-resistant paint means it will always look flash!

---
B'twin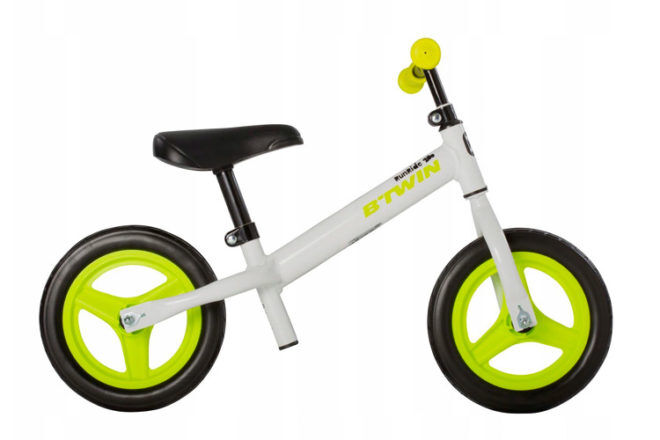 Light, robust and incredibly hard to miss, this zippy little number gives kids the confidence they need to learn at their own pace. Adjustable handlebars and saddle, and puncture-proof tyers are built to withstand hours of play, plus all bikes come with a lifetime warranty too!

---
Little Zoomer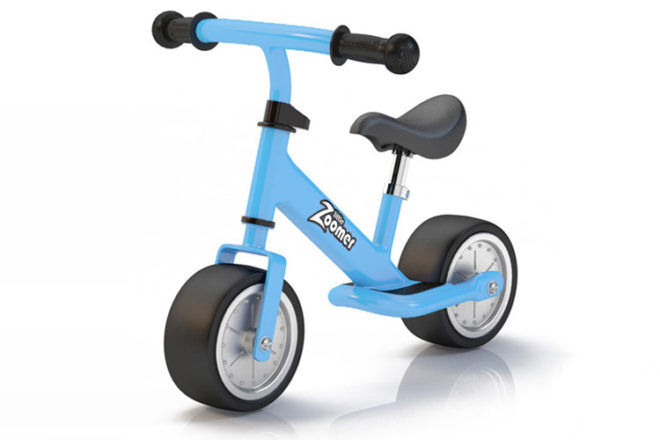 With extra-wide rubber tyres, kids not only get a smooth ride but they have more stability as they learn to balance. The Little Zoomers has an adjustable seat and footrests ready for when they have mastered the art of staying steady.

---
Mongoose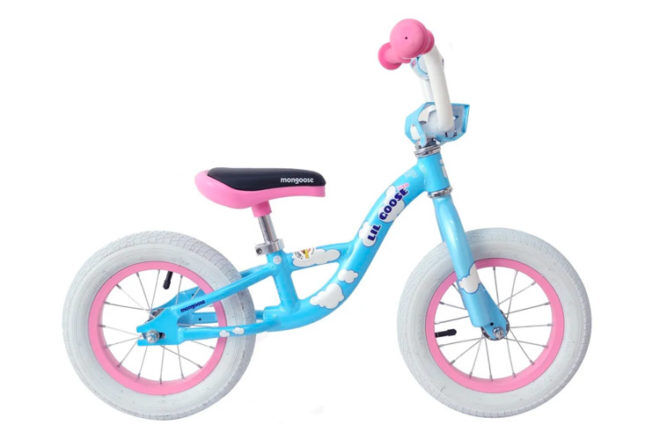 Mongoose was the brand that pioneered the BMX era and this cute little bike has that 40-years of experience in one little package. It's made with an alloy frame and adjustable seat, and pretty as a picture too.

---
Hip Kids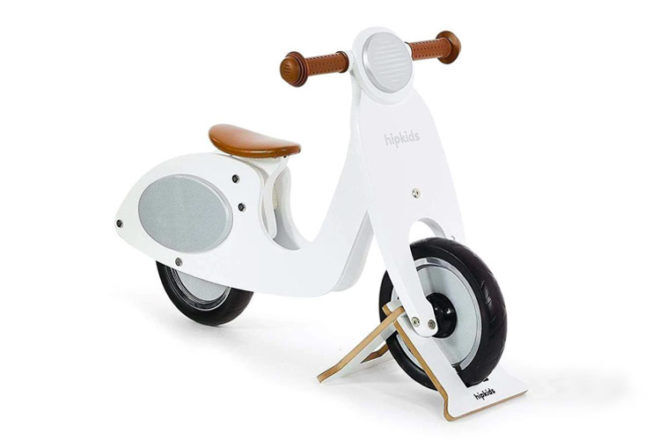 First-time riders get a taste of the Italian countryside on their own little Vespa. This beauty of a bike has a sturdy birchwood frame, padded seat and rubber wheels to help keep them on track. Suitable for indoor and outdoor adventures, it even comes with a bike stand for them to practice their parking. Bellissimo!

---
This article is curated by our Editors and includes affiliates and/or paid inclusions. See our Disclosure Policy.
Know a brand of balance bike we should add to our list? Contact us and let us know.
Read these roundups next ….
Continue your search for the best balance bike
Looking for a balance bike and still not sure if any of these are right for you? Search online by jumping into one of our closed Baby groups and ask thousands of other Australian mums what they recommend – 'What to buy' is the most talked-about topic.
Click and join your group today!