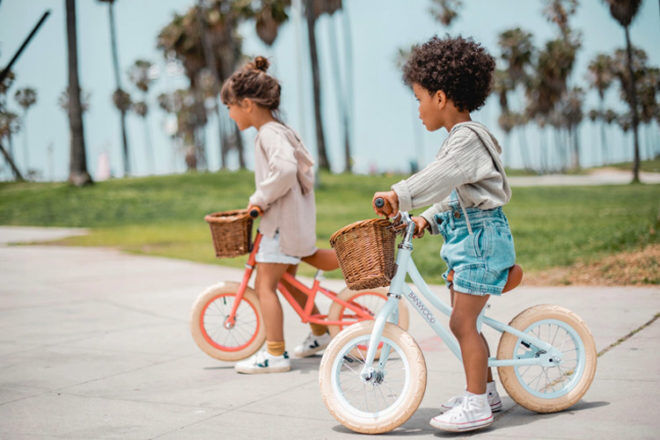 If you're looking for a great way to help your child become confident on two wheels, a kids' balance bike is the answer – and Australia's lineup of styles has never been cuter.
A balance bike helps youngsters practise their breaking, steering and using caution – all very important skills for riding any kind of bike. Best of all, they teach kids how to ride a bike without the need for training wheels and give your child complete control of their riding adventures.
With so many balance bikes out there, it's easy to feel overwhelmed when you're looking to buy one. We've helped by outlining the important features to consider before you make a purchase, and listing the top brands in Australia and where to buy them.
What to look for in a kids' balance bike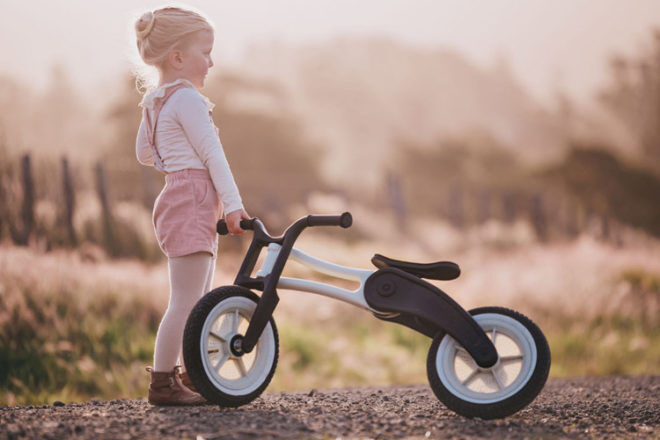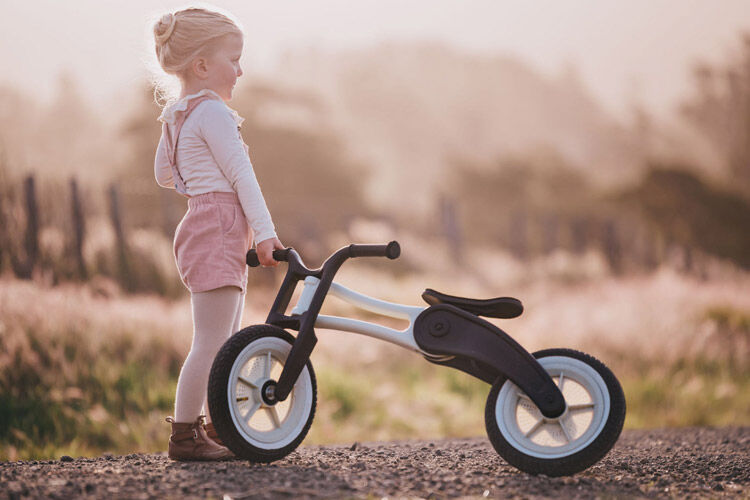 Ensure it is not too heavy for kids to manage. We all know young kids don't like to lug heavy things for long, so in the name of an enjoyable riding experience, look for a style with a lightweight frame that can be manoeuvred easily by little beings. The standard rule that bike stores often state is that the bicycle should not weigh more than 30% of your little one's weight.
Kids will need to be able to reach the ground. It's little feet that propel a balance bike along, so it's important that the height is correct for your child's age.
Check that there are no exposed bolts or chains. You want your child's first riding experience to be a safe and fun one, so avoid models with parts that might scratch little limbs and have you scrambling for band-aids.
Consider whether brakes are necessary for your child. Not all balance bikes in Australia come with brakes and it's really only for older toddlers and more experienced riders that brakes will be used. For children just starting out, it's their feet (well actually, their shoes!) that will be doing most of the braking for them.
An adjustable seat for growing kids. For longevity of use, it's great to have a seat that you can adjust when your child has a growth spurt. It's also an excellent feature if you want to be able to have kids share the bike, or pass it on to a sibling down the track.
Air tyres offer a smoother ride. Some balance bikes have foam tyres and this can result in a harder, bumpier ride for kids. Air tyres, like those on regular bikes, providing cushioning when little ones go over bumps.
15 best balance bikes in Australia
To help get your child riding confidently, we've curated a selection of the top brands in the country.
Here are 15 of the best balance bikes in Australia:
Wishbone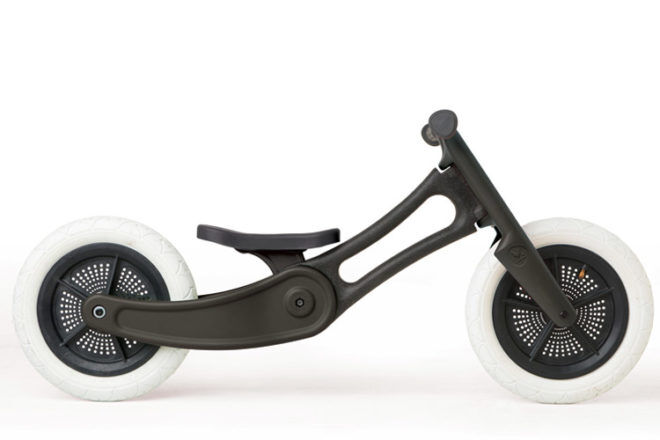 This Wishbone ride is one that will stand the test of time. It starts off as a three-wheel trike and converts to a two-wheel bike as tot's progress. The seat can also be lifted as your child gets taller. Made entirely from recycled carpet, it's a win for the planet too.

---
Trybike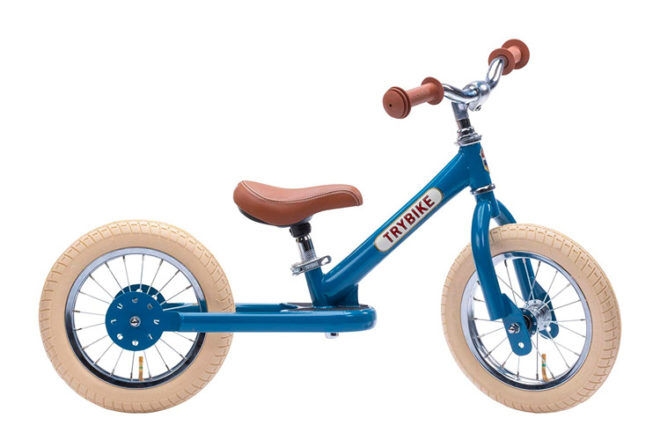 A vintage-style bike for a modern-day kid. The trike easily transforms into a balance bike when your child is feeling confident and ready. Extra-wide rubber tyes ensure a smooth ride and maximum manoeuvrability.

---
Kinderfeets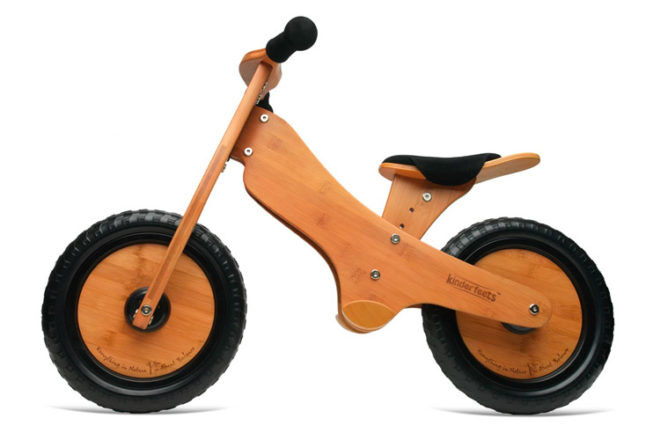 A cute ride with some clever features to boot. A low-step-through frame allows kids' feet to touch the ground and footpegs on either side familiarize little ones with where their feet will go when they graduate to a big-kid bike.

---
FirstBIKE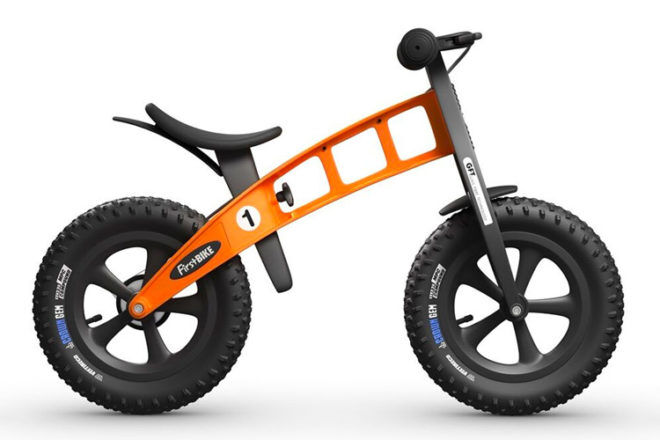 Available in a range of colours, the FirstBIKR is lightweight and adjustable, allowing kids as young as twenty months to give it a whirl. There's also a handy brake that allows kids to slow down on steep hills without using (and destroying!) their shoes.

---
Mocka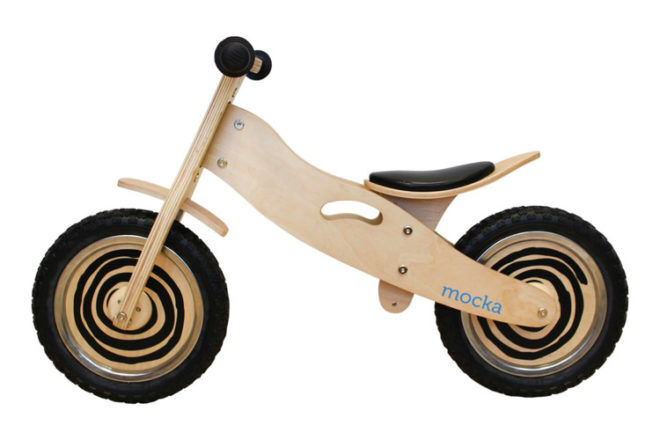 Perfect for ages two and up, this bike from Mocka is a great place for kids to start their journey on two wheels. No pedals give them full control, learning balance and speed while bringing style to the streets.

---
Chillafish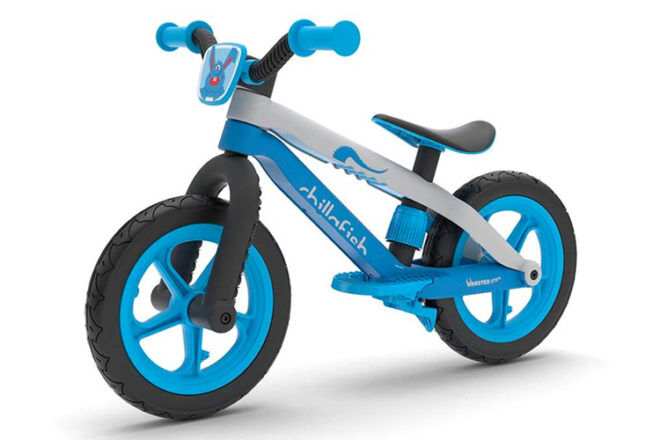 Know a wild child that wants to play BMX bandits the minute they get on a bike? This is the bike for them! It looks awesome and comes with a number plate, and stickers for some hardcore personalisation.

---
Banwood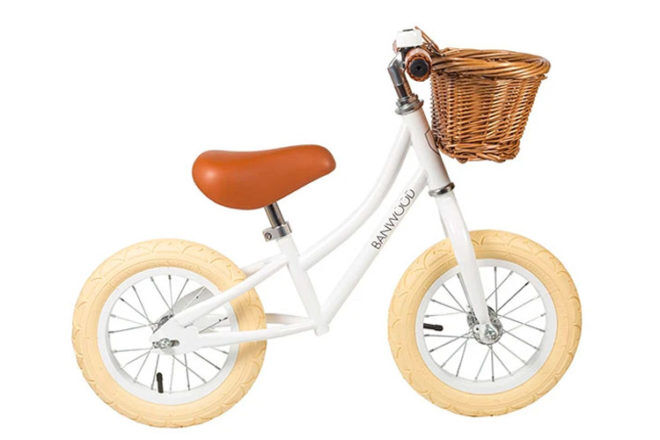 A high-end bike for the little one you love. More than just timeless beauty, Banwood bikes tick all the boxes for safety too. With an adjustable handlebar and saddle in check, tots can enjoy this ride up until they're five years old.

---
Micro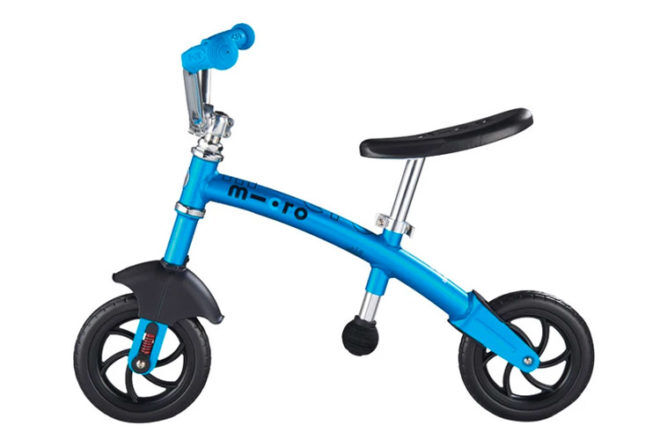 Suitable to use from two years old, the G-Bike Chopper it's extremely lightweight so it's easy for the young ones to push. An extra-wide handlebar is a great little feature to aid balance and coordination, and the addition of front wheel suspension ensures every ride is as smooth as can be.

---
Scool Bikes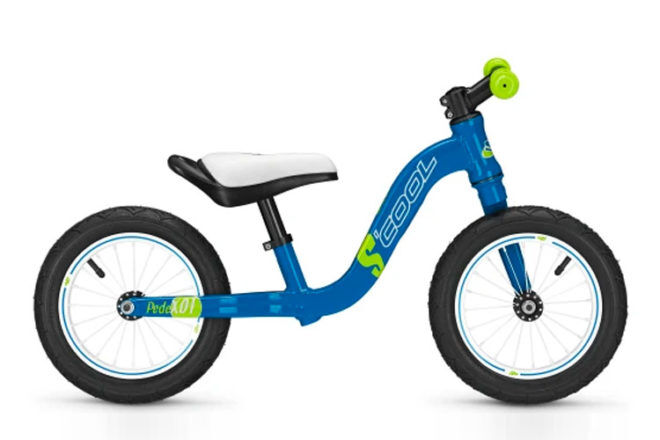 This bike is super lightweight (weighing only 3.3kg!) which makes it much easier for kids to ride when they're first starting out. Designed and engineered in Germany, the saddle on the PedeX can be adjusted so low that kids as young as one and a half can use it.

---
Apollo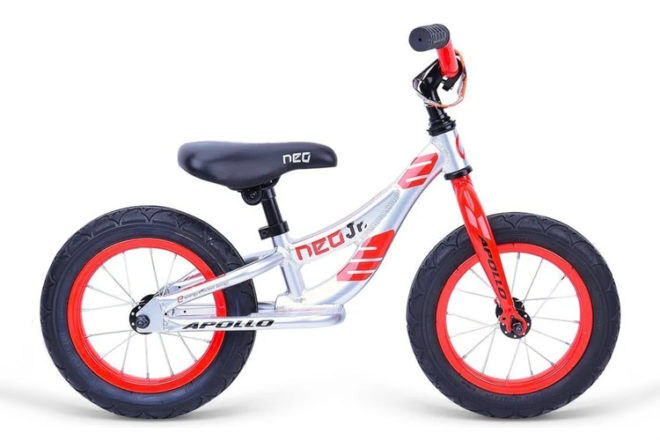 A cool colour combination and lightweight alloy frame make the Apollo Jnr a winner. Designed so that a child sits in a better position to ride, it will be as easy as pie to master the art of good balance and coordination.

---
Eurotrike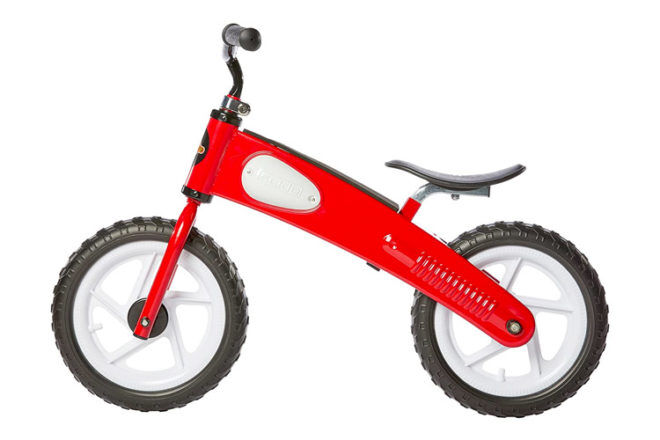 Perfect for children aged three years and up, the Eurotrike has puncture-proof tyres which are perfect for those kids who like to head off-road. The seat is adjustable and the fade-resistant paint means it will always look flash!

---
B'twin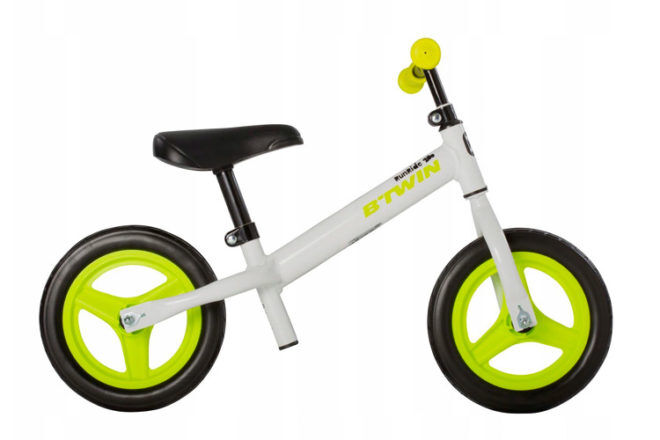 Light, robust and incredibly hard to miss, this zippy little number gives kids the confidence they need to learn at their own pace. Adjustable handlebars and saddle, and puncture-proof tyers are built to withstand hours of play, plus all bikes come with a lifetime warranty too!

---
Little Zoomer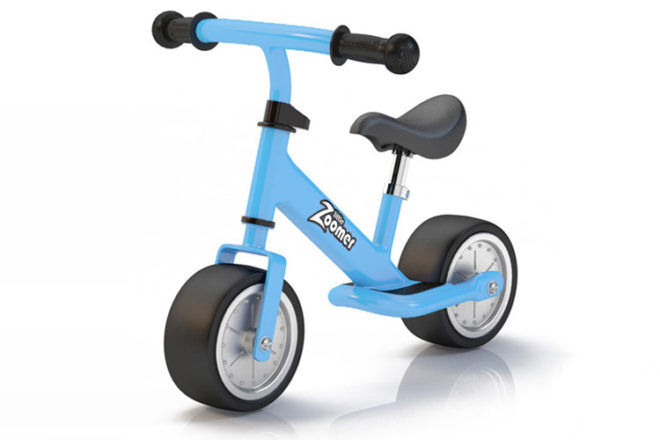 With extra-wide rubber tyres, kids not only get a smooth ride but they have more stability as they learn to balance. The Little Zoomers has an adjustable seat and footrests ready for when they have mastered the art of staying steady.

---
Mongoose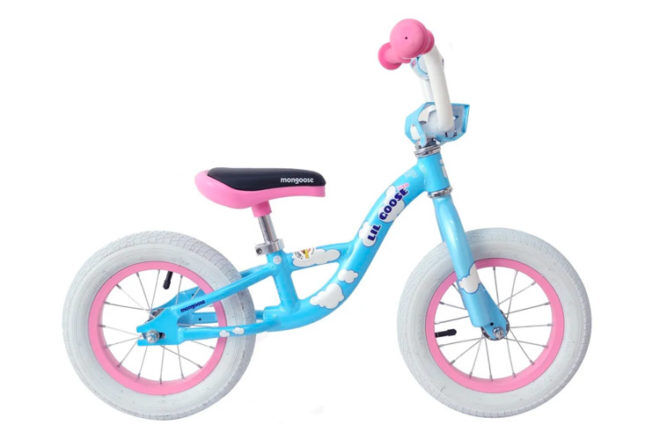 Mongoose was the brand that pioneered the BMX era and this cute little bike has that 40-years of experience in one little package. It's made with an alloy frame and adjustable seat, and pretty as a picture too.

---
Hip Kids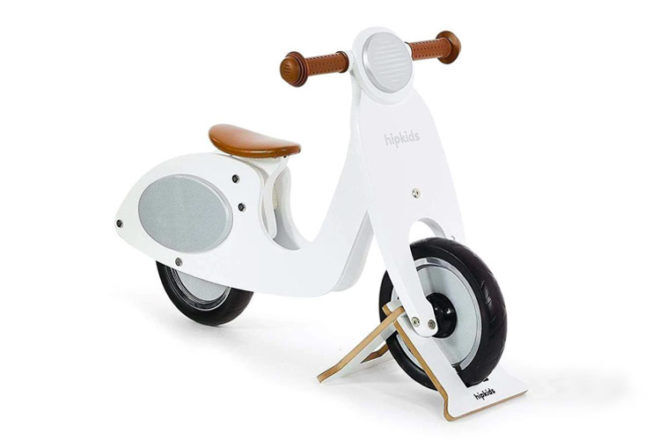 First-time riders get a taste of the Italian countryside on their own little Vespa. This beauty of a bike has a sturdy birchwood frame, padded seat and rubber wheels to help keep them on track. Suitable for indoor and outdoor adventures, it even comes with a bike stand for them to practice their parking. Bellissimo!

---
Balance bikes – Your questions answered
Buying any kind of ride for your child naturally comes with a lot of questions, especially when it's something we may not have used ourselves as kids. To help you with your decision-making, we've provided answers to some of the most commonly asked questions about kids' balance bikes.
What age can a child ride a balance bike?
Typically, many kids start riding from around two years of age and enjoy them for many years. But, it can depend on your child's age, their own stage of gross-motor development and the recommended age by manufacturers.
What is the purpose of a balance bike?
Balance bikes teach your child balance and coordination before they progress to pedal bikes. By using their legs to propel themselves along, they don't have tricky pedals to contend with and have the security of knowing they can use their feet to slow down and stop.
Many kids who start with a balance bike progress to pedal bikes without the need for training wheels.
How do you ride a balance bike?
A child rides by sitting on the seat and using their legs to push themselves along at a speed that's comfortable for them. When starting out, they usually walk along slowly as they get feel for the weight of the bike, and ultimately work up to sitting and gliding (and hooning!) as their skills of balance and steering improve.
Can you add pedals to a balance bike?
Most styles don't come with pedals. That said, there are some brands of convertible kids' bikes that can be adapted to pedal bikes or even trikes.
Do you need a helmet for a balance bike?
Yes, you should have your child wear a helmet to protect their head in case of falls. Check out our roundup below of the coolest kids' helmets around.
How much should you spend on a balance bike?
A balance bike can range from around $30 up to several hundred, and how much you spend really depends on how long your child will use it and the features you're looking for. In Australia, higher-quality balance bikes tend to be more expensive.
Are balance bikes better than tricycles?
A balance bike is excellent for teaching kids balance and coordination in readiness for their first big bike, whereas a tricycle can be great for learning to pedal. Many parents start with a trike and move on to a balance bike once little one's build up more confidence.
---
This article is curated by our Editors and includes affiliates and/or paid inclusions. See our Disclosure Policy.
Seen some more fab kids' balance bikes available in Australia? Contact us and let us know.
Read these roundups next …
Continue your search for the best balance bike in Australia
Looking for a kids' balance bike and still not sure if any of these are right for you? Search online by jumping into one of our closed Baby groups and ask thousands of other Australian mums what they recommend – 'What to buy' is the most talked-about topic.
Click and join your group today!