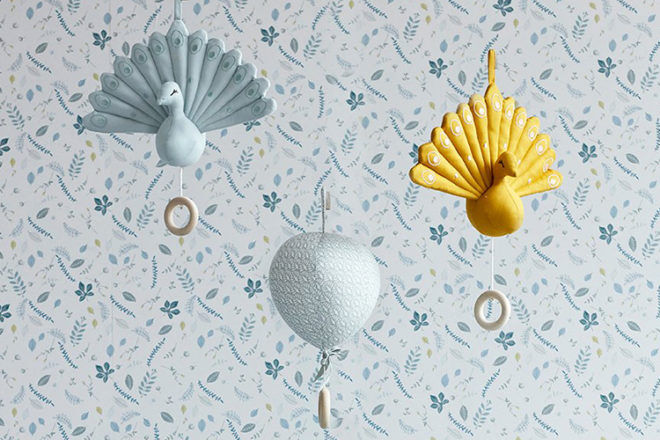 The trusted baby mobile has been providing little ones with sensory stimulation in the cot for decades, and these days, it also happens to make a magnificent piece of nursery decor.
From contemporary wooden styles to musical options and the sweetest of animals, you're totally spoiled for choice when it comes to choosing a nursery mobile in Australia – the only problem is picking just one.
We've searched far and wide to bring you a spectacular range of mobiles from boutique baby brands. Whether you're after a gift for a new mum or something special for your own babe's nursery, you're in the right place to find that perfect piece.
20 baby mobiles for the cot and nursery
In no particular order, here are 20 stylish baby mobiles to soothe bub and take the nursery to a whole other level.
Authentic Models
Bursting with vintage vibes, these breathtaking nursery mobiles perfectly capture the magic of balloon rides and the thrill of big adventures. Mobile Sets include five hot air balloons with expertly woven rattan baskets in a choice of bright or pastel colours.
---
Konges Sløjd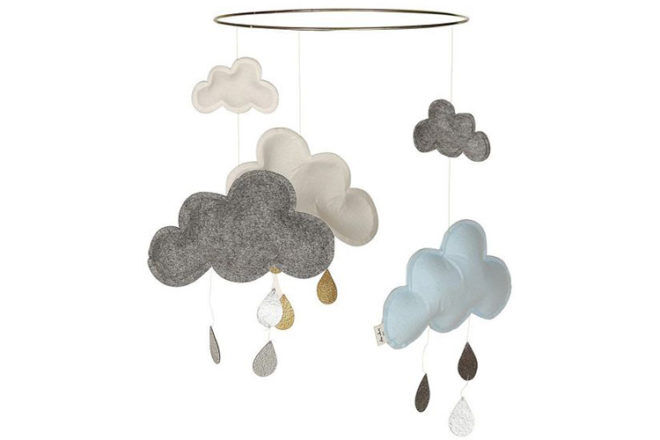 It's raining, it's pouring. With prettiness in spades, these handmade felt mobiles pair shimmery metallic droplets with puffy felt clouds in contemporary hues. Each cloud has been lovingly crafted from soft felt and hung from a metal ring to ensure even balance.
---
The Miniature Treasury
These exotic rattan baby mobiles conjure up thoughts of far-flung places and endless adventures, and we adore that they have been crafted from cane offcuts to reduce waste and support the environment. Designed by a talented Australian mum, this magnificent baby mobile is destined to become a family heirloom.
---
Flensted cot mobiles
Handmade in Denmark by artisans who have been crafting unique nursery mobiles since the '50s, this wooden trio of baby elephants is designed to maintain constant motion to soothe and amuse tiny tackers. You're never too young to develop an appreciation for these gentle giants.
---
Cam Cam Copenhagen
In grey, rose and mint, these organic-cotton peacocks are as dreamy as they are unique. Each is programmed with a soothing melody — Brahms, no less — which is activated by pulling the wooden ring. No doubt about it, these musical baby mobiles will mesmerise.
---
Pottery Barn Kids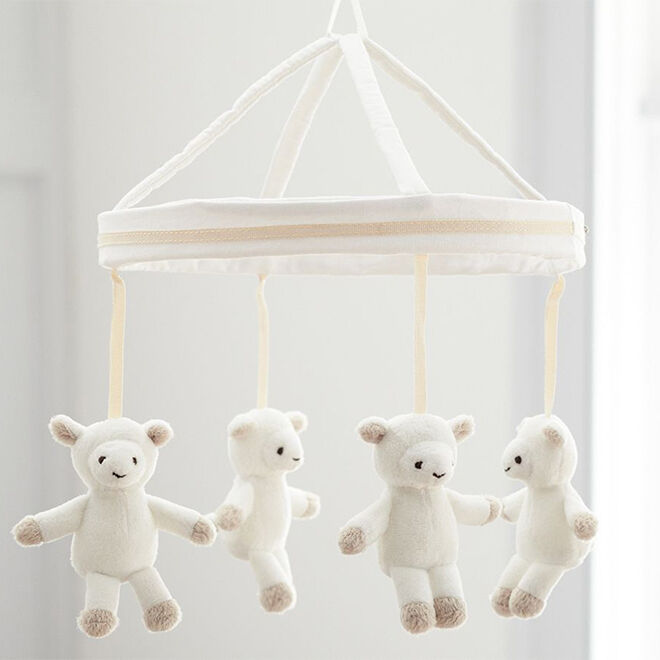 It's the sweetest little lamb baby cot mobile 'baa' none. This favourite from Pottery Barn's famous line of musical mobiles features four little farmyard friends in all their cuteness and plays 'Hush, Little Baby' as they soothe and sway.
---
Alimrose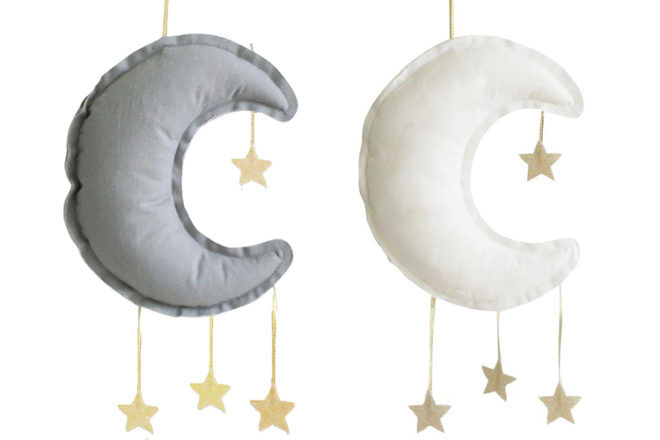 We know and love this brand for its magnificent dolls, but we're crushing just as madly on its linen moon cot mobiles. In a choice of ivory, pink, grey or butterscotch, and measuring 40 centimetres, they truly are statement mobiles for any nursery – and oozing sleepy-time vibes, they just might help littlies nod off sooner.
---
Bloomingville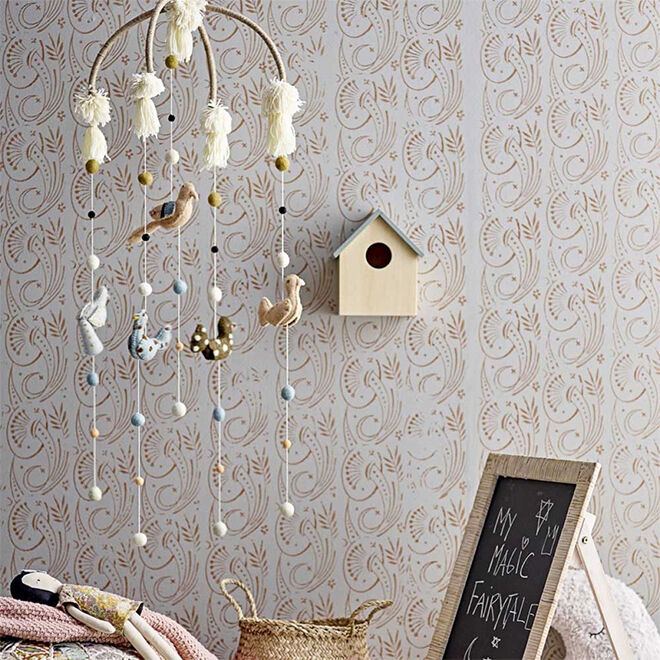 This Scandi brand constantly has us swooning, and this extra-long animal mobile is right up there on our lists of all-time faves. The use of wool and felt brings warmth and comfort to rooms, while the flock of birds gives little ones plenty to ponder as they settle in for nap time.
---
Jabadabado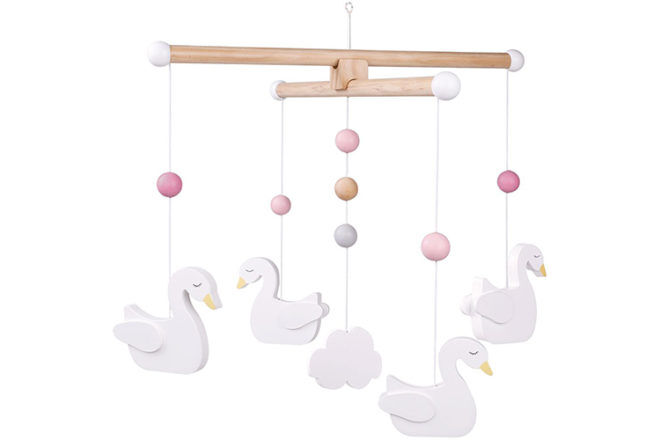 From their regal elegance to their perfectly white plumage, there's a lot to love about swans, and this baby mobile captures their beauty to a tea. Made entirely from wood, it also features coloured balls and a cloud for fabulous visual texture.
---
Littlephant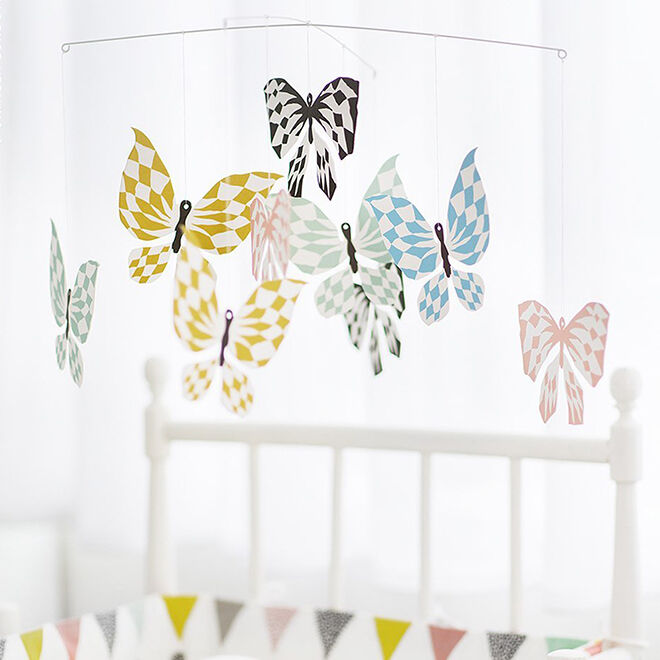 Made from 100% recyclable paper, these big, fluttery butterfly baby mobiles are both eco-friendly and fun. Whether you pop it above the change table, cot, or play mat, this mobile is going to be a constant source of enjoyment for curious babes.
---
Eguchi Toys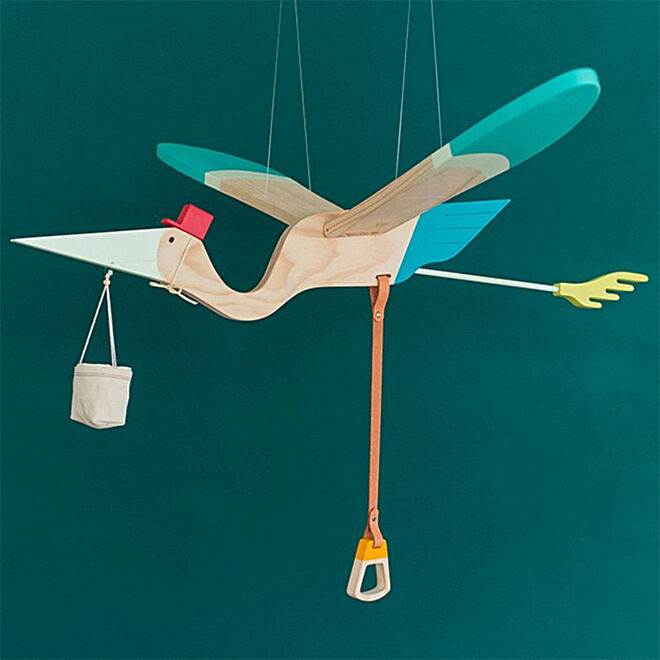 For a truly top-end and unique baby mobile that encompasses humour, colour and expert workmanship, this pelican is near impossible to top. Despite being made of solid wood, it's lightweight, and it features a handy pull-string for flapping those wings. Imagine the giggles!
---
Poppet & Wildflower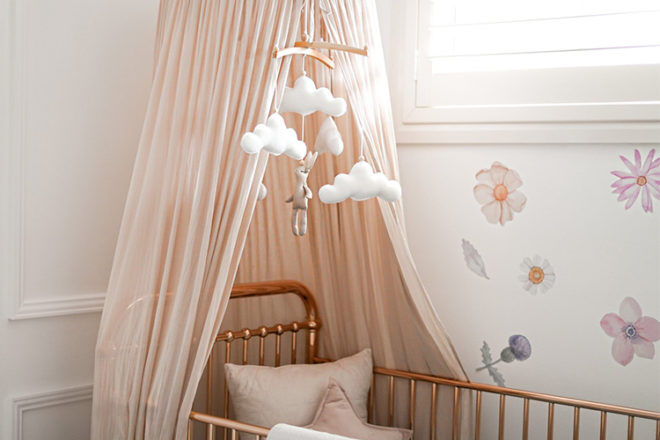 We don't know what we love more: the dreaminess of the pure-white clouds, or that fluffy little bunny tail. This is the perfect mobile for nurseries that already have a lot of colour going on, and it makes a stunning gender-neutral gift for a mum-to-be.
---
Numero 74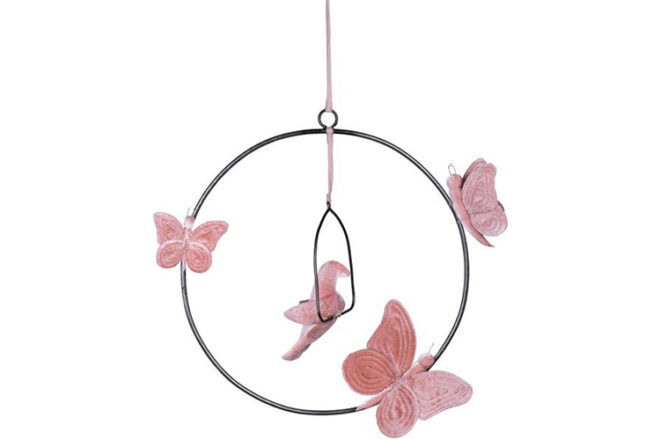 Be still our beating hearts…A. Pink. Velvet. Mobile! Designed by a French artist and crafted by Thai artisans, this unmissable statement piece brings prettiness, texture and a little touch of magic to Babe's room. The use of ribbon rather than string on this mobile really sets it apart from many others.
---
Kay Bojesen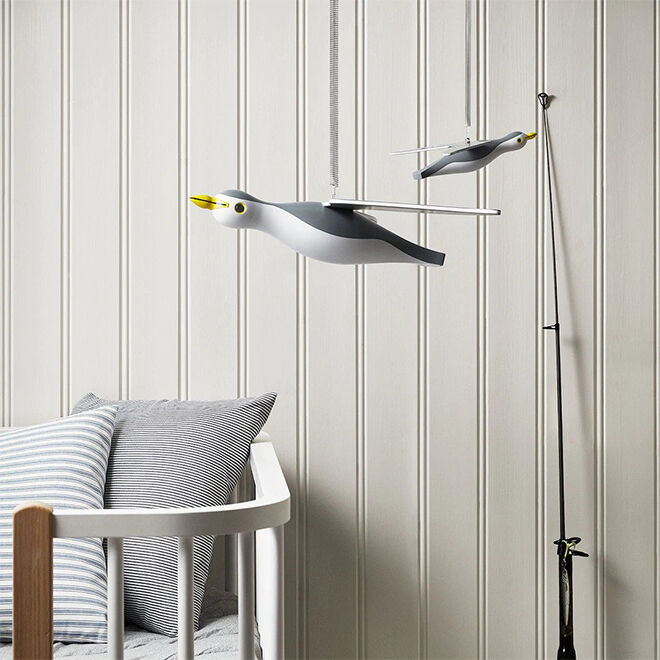 These cheeky Danish-designed seagulls come in three different sizes and bring bucket-loads of beachy vibes to nurseries. They're made from painted wood and hang on metal springs for lots of bouncy fun!
---
Nested Nursery
From a homegrown brand, these felt fishies have completely won us over for their simplicity and pops of colour. In a choice of pink, grey, multi-coloured or yellow, babies are going to adore watching these underwater friends 'swim' about all day.
---
Blabla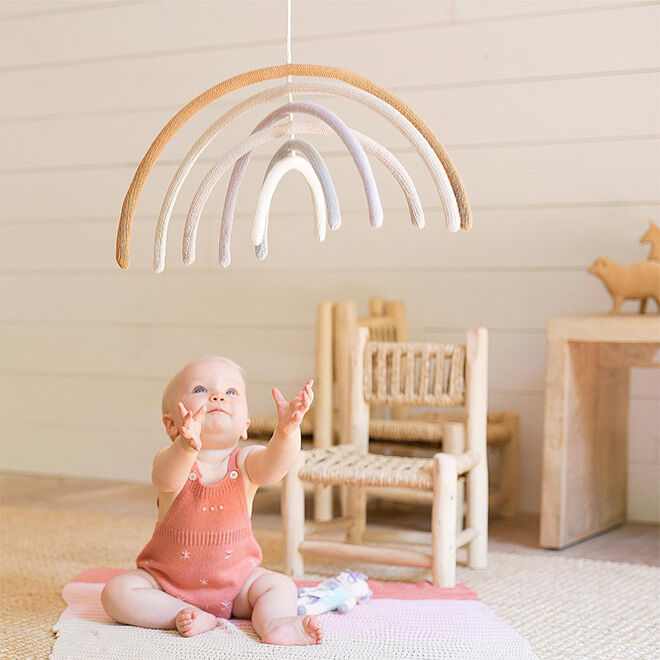 Handmade in Peru, these knitted-cotton rainbows are equal parts charming and versatile; arrange them as three-dimensional cot mobiles for the early years with Bub, and as flat wall hangings later on. They come in a choice of three colour themes, including 'tumbleweed' and vibrant 'cherry blossom'.
---
OYOY
Curly, swirly and colourful, this lollypop mobile brings a fab dose of vintage playfulness to nurseries. Each little lolly is crafted from 100% knitted cotton with a wooden frame. It hangs at 130 centimetres, so it's an excellent option for spaces with elevated ceilings.
---
Donsje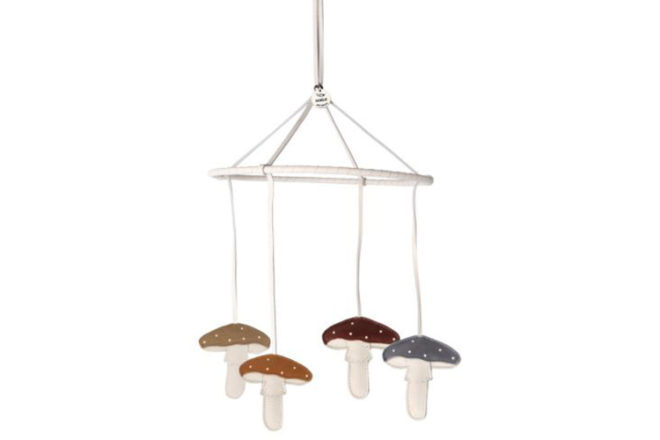 Plucked from the pages of a fairy-tale, these stunning handmade toadstools use high-quality leather. It's a baby mobile to stand the test of time and be passed from generation to generation.
---
Modo Creative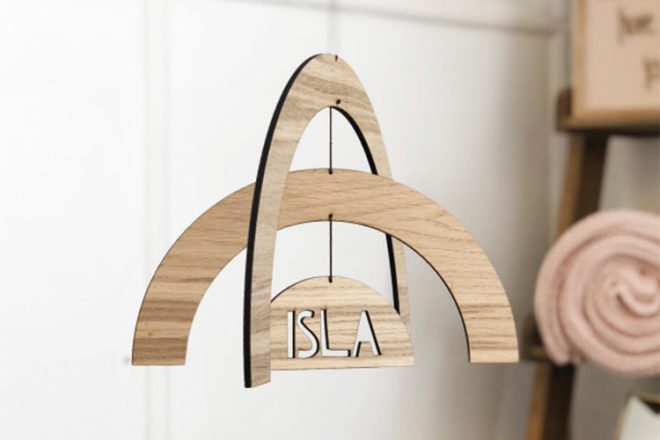 After a cot mobile that is 100% unique? Put Bub's name on it! This stunning oak-veneer rainbow has separated arches that sway and flow to help settle tired bubs. Packed with earthy goodness, this is going to look sensational amongst any décor style and colour themes you've got going on.
---
Scalaë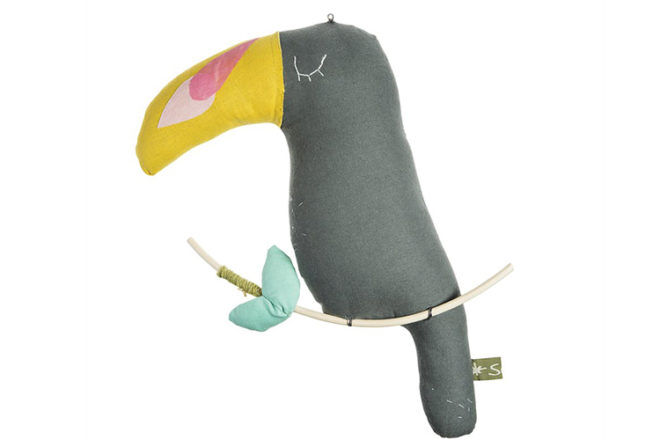 Meet Charlie. He's the sweet (if a little bit cheeky) toucan, handmade in Marseille, France – and he's bringing loads of tropical feels to the nursery. He's created from fine cotton and finished with hand-embroidered touches on the beak and eye. Perched above the cot, you can count on this guy being the cause of many-a-baby-giggle.
---
This post includes affiliates and/or paid inclusions. See our Disclosure Policy.
Know a nursery mobile we should add to our list? Contact us and let us know.
Find more beautiful nursery decor …
Continue your search for the best baby mobile
Looking for the perfect baby mobile and still not sure if any of these are right for you? Join one of our Baby Groups and ask thousands of other mums what they recommend. They are grouped together by baby's birth date so everyone is going through the same stages at the same time.
Click here >> Mum's Grapevine Facebook Groups  << and find your group today!