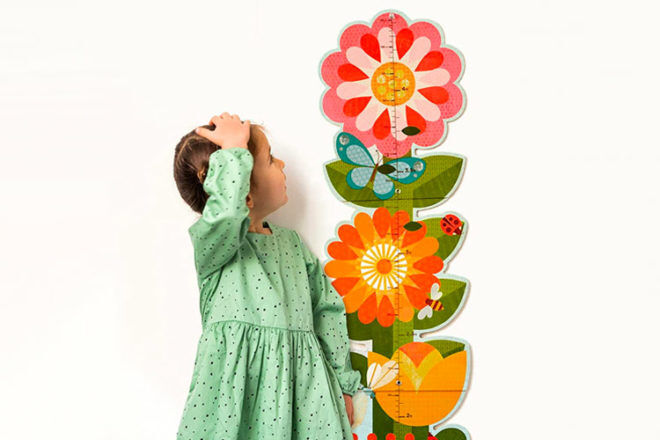 One minute they're a teeny-tiny human, the next they're peeking over the kitchen bench scouting out snacks. Kids grow fast, and a height chart is the décor gem that will help you track all of the growth spurts and milestones along the way.
We've collected 19 of our faves that are not only fab for keeping up with fast-growing kidlets but go a long way in sprucing up bare walls. In no particular order, here they are:
Made by Ellis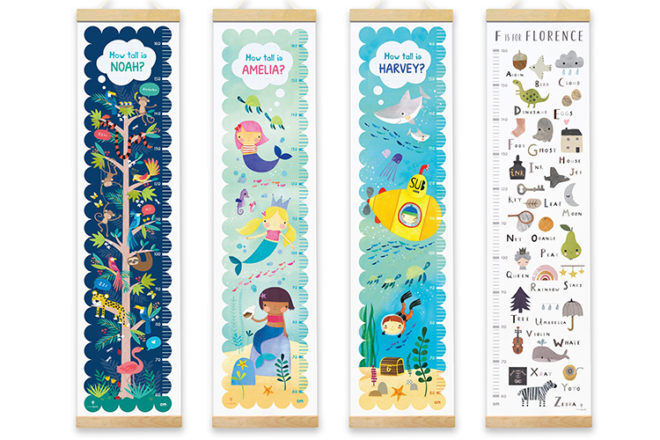 In nine different themes, there is a height chart for all personalities in this range. They're made from premium tear-proof canvas with sustainably sourced pine at the top and bottom for weight and balance. These charts can be written on with pens or markers and come in gift-ready cardboard tubes.
---
May and Belle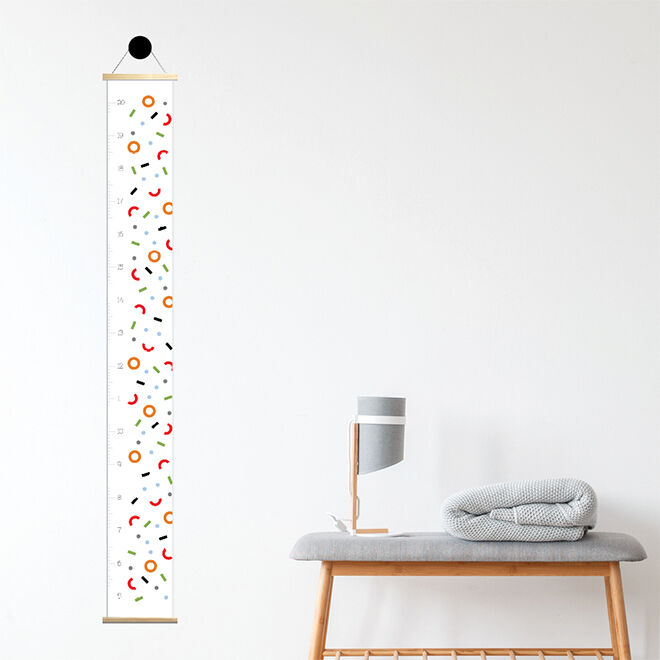 Prefer to do things in inches? These all-Aussie height charts track growth all the way up to 80 inches or 200 centimetres. With fresh, modern prints, including palm trees and sprinkles (yes, please!), these make fab options for older kids.
---
Words and Wood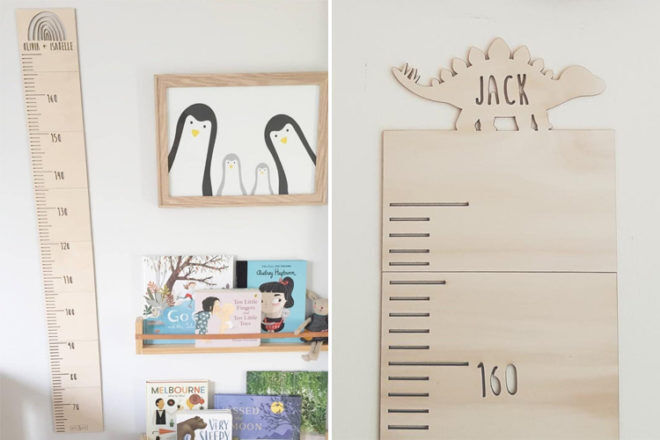 For a 100% natural height chart that doubles as a timeless piece of home décor, this Aussie-made birch beauty is a must-see. You have a choice of eight different styles, and each is completely customisable. In two sizes, these aren't just height charts, they're statement pieces.
---
Foolhouse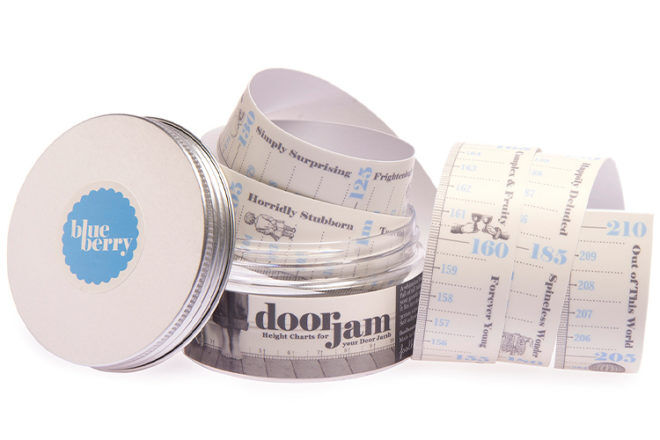 These inconspicuous paper tape measures are designed to be tucked away on door jambs, so they're brilliant for homes where space is an issue. With vintage illustration and laugh-out-loud idioms, they can be purchased in five 'flavours': Blueberry, Strawberry, Raspberry, Orange and Elderberry. Fittingly, each chart comes packaged in a jam jar. Delish!
---
Sticker Boy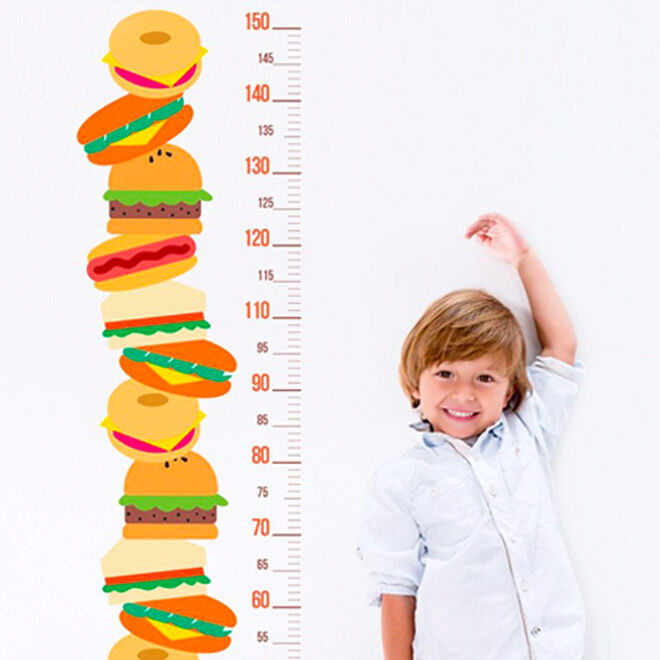 Tempt their tastebuds and measure their height at the same time. The delectable height charts from Sticker Boy come in two different styles for hungry hippos – burger stack and gelato. Made from the premium graphic film, these growth charts are 100% removable making them ideal for renters.
---
Co Creative Design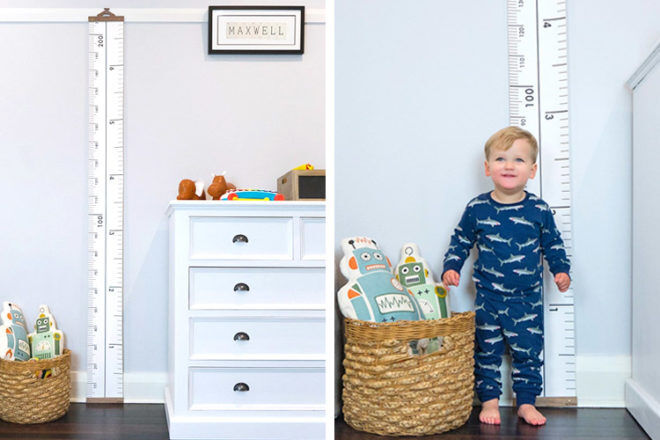 Printed on durable canvas, this portable growth chart rolls up for safekeeping. Ready to hang, simply use the Tasmanian oak wood top to hook into place. Starting from the floor, all the way up to an impressive 207 centimetres, it can be used well past those teenage years!
---
Vinyl Designs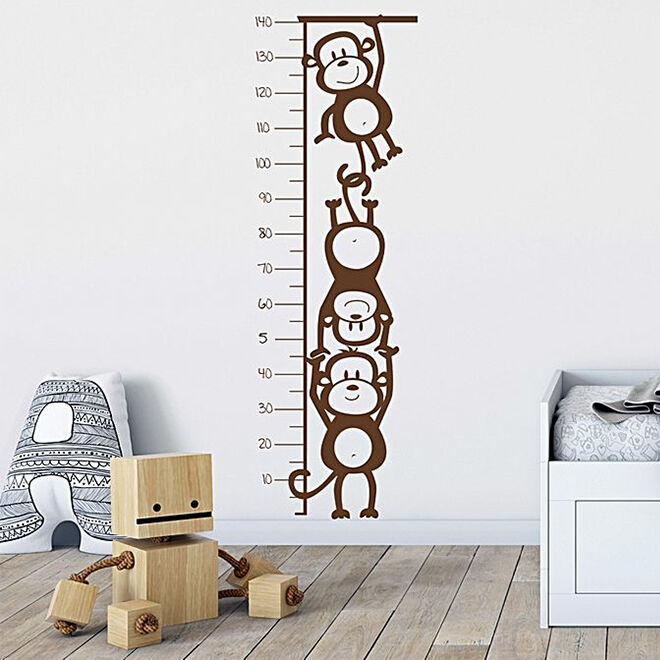 This is just the chart for keeping up your little monkey's growth milestones. Made of vinyl, it sticks directly onto walls and can be peeled off when they outgrow it. With 16 magnificent colours to choose from in this design, you'll totally find one to match your room's colour palette.
---
Bloomingville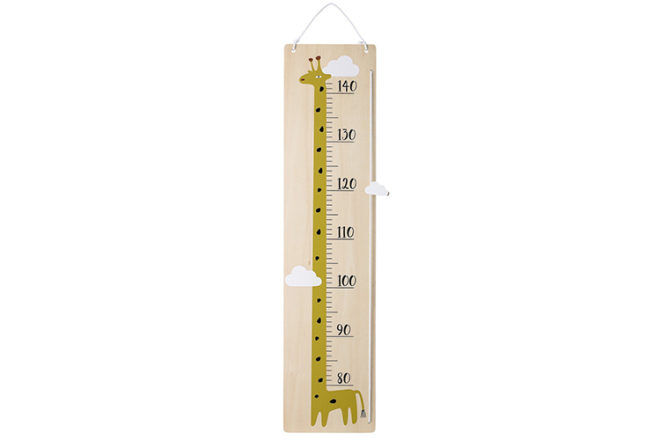 Oh, the cuteness! This loveable plywood giraffe is just the pal for keeping track of how the kids measure up in the younger years. It has a handy cloud-shaped slider for fuss-free growth tracking, and with oodles of Nordic vibes, it's going to look fab in bedrooms.
---
Adairs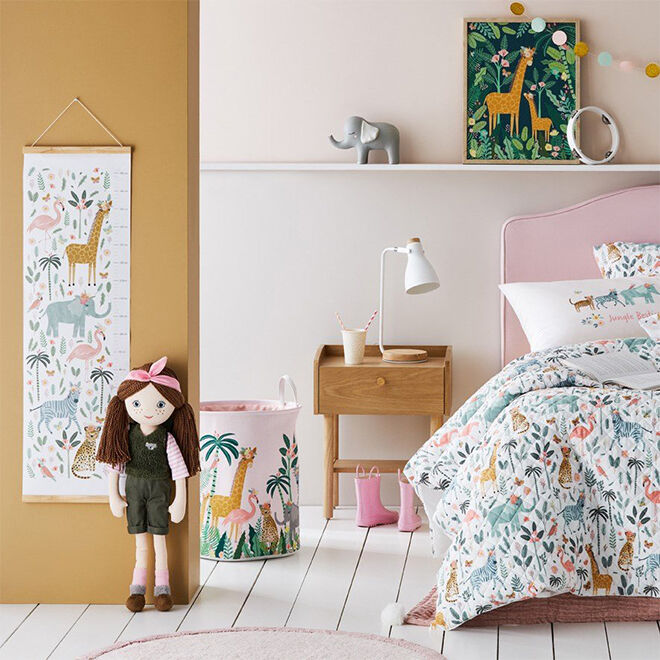 Not only do these stunning canvas height charts help to document kids' amazing growth spurts, but they can be teamed up with matching home décor for a bedroom that positively wows. Animal themes include a parade of jungle friends and a roundup of all-Aussie favourites.
---
Mocka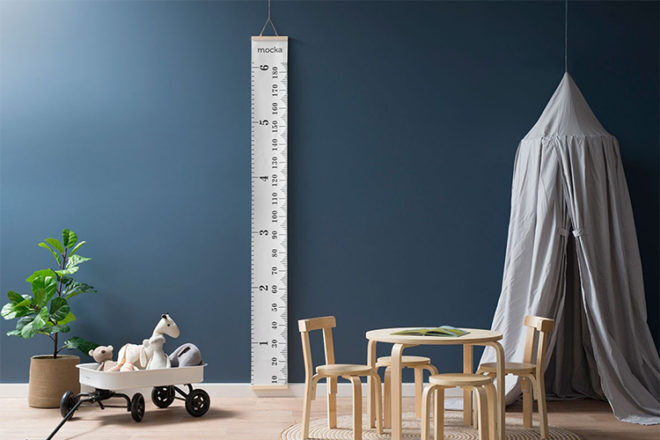 We adore this height chart for its crisp, contemporary design – and the fact that it reaches heights of 185 centimetres for life-long growth tracking. The chart itself is made of super-tough canvas and the dowels from solid pine.
---
Stuck on You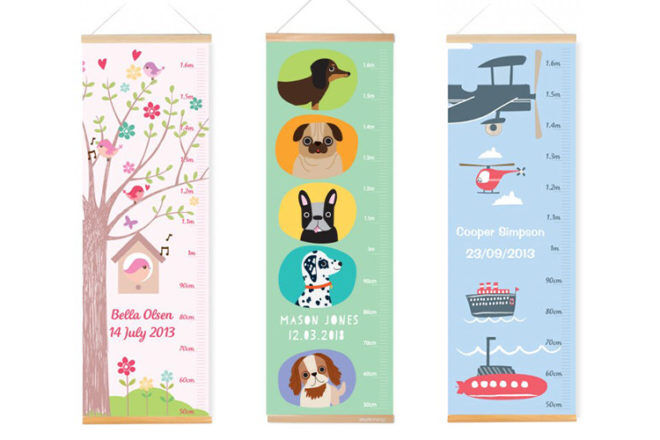 These gift-worthy canvas height charts can be personalised with your child's full name and their date of birth, plus they come with a pack of Stuck on You labels for marking major milestones. Put the kettle on and get comfy, because with 33 designs up for grabs, choosing may take a while!
---
Petit Collage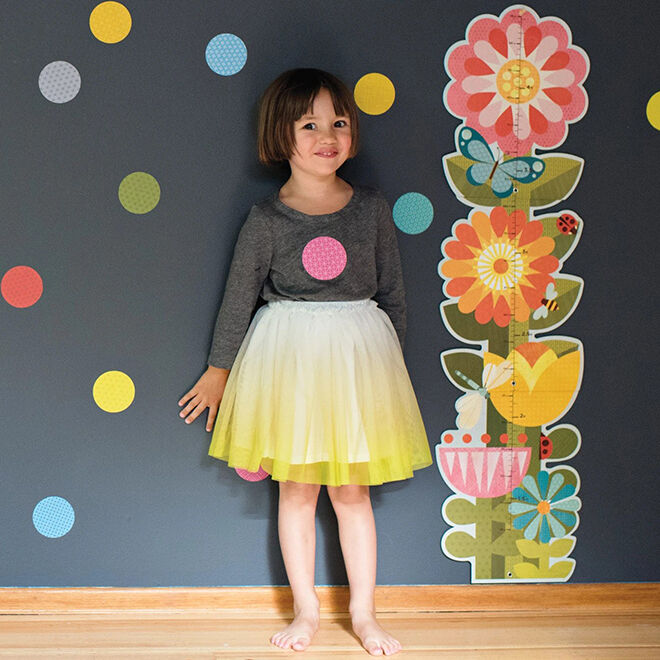 This stunning flower-filled chart is crafted from recycled paper and is as pretty as it is useful. Measurements can be taken in inches or centimetres and each chart comes with a pack of 20 stickers for highlighting all those special spurts.
---
Talltape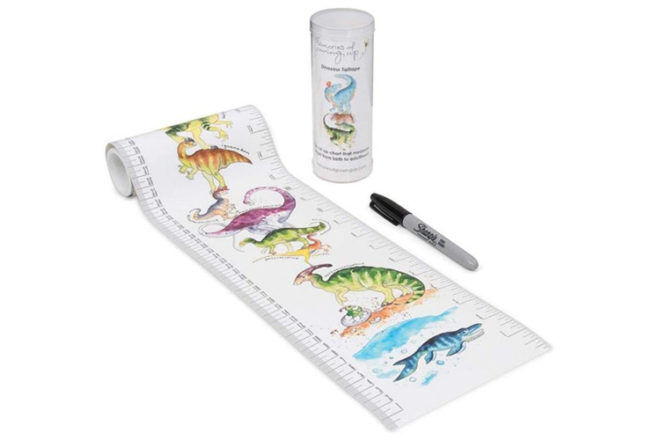 Designed by a mum, these are quite possibly the most portable height charts around. They come in eight styles and are made of PVC-free plastic that can be written on, roiled up and taken anywhere. In two sizes, each chart comes with a Sharpie pen.
---
JaBaDaBaDo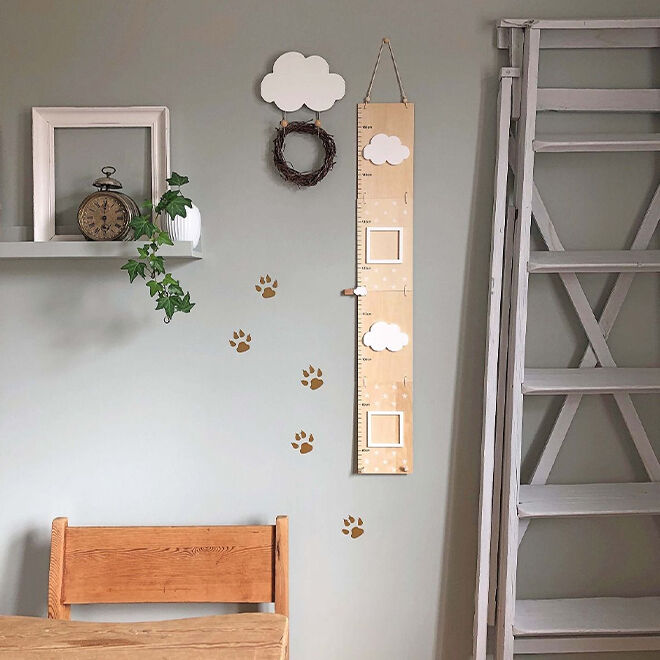 Are your littlies growing sky-high? In natural wood and bedecked with clouds and stars, this Swedish winner is the perfect tool for recording all that growth in the early years and even has space for two photographs. Say cheese!
---
Bright Star Kids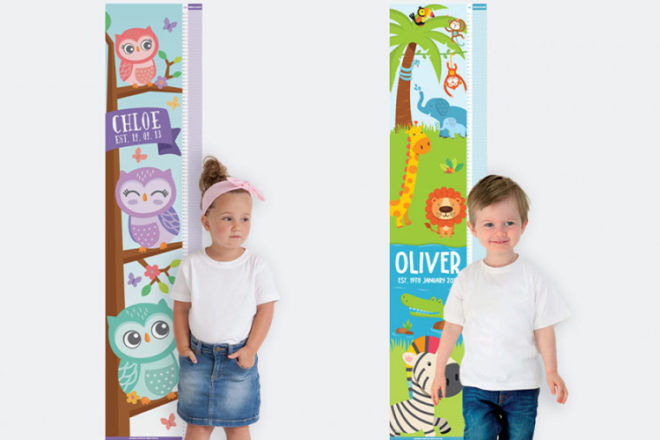 If you'd rather not have to hammer a nail into the wall to hang a chart, these great-value options are just the ticket. Made from heavy-weight poster paper, they come in a huge range of designs and can be hung with Blu-Tack or tape. Personalise them with a name and date of birth for fun and easy room décor.
---
IKEA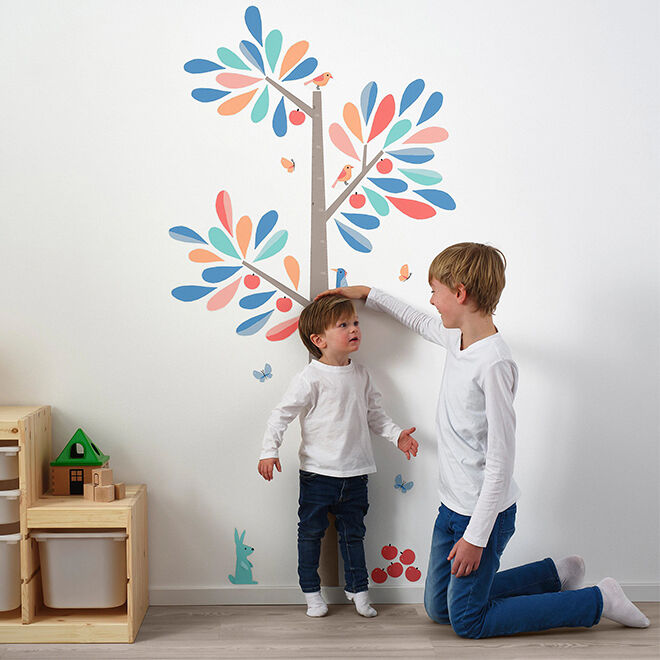 Cute and colourful, this height chart decal is an affordable and adorable way to spruce up walls while keeping up with fast-growing littlies. It measures heights of up to 160 centimetres and adheres directly to walls for a completely flat, smooth finish.
---
Tiny Me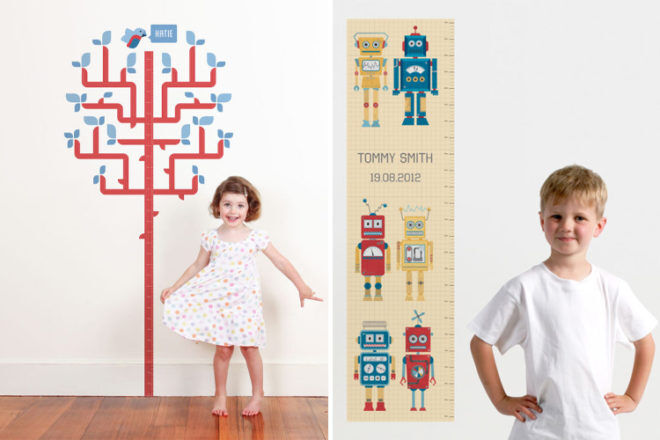 From road maps to rain clouds, these fun-filled wall stickers reach new heights of cuteness. Made from finely woven fabric, decals are completely removable and able to be repositioned, plus they can be paired with additional matching stickers for an entire wall mural!

---
The Décor House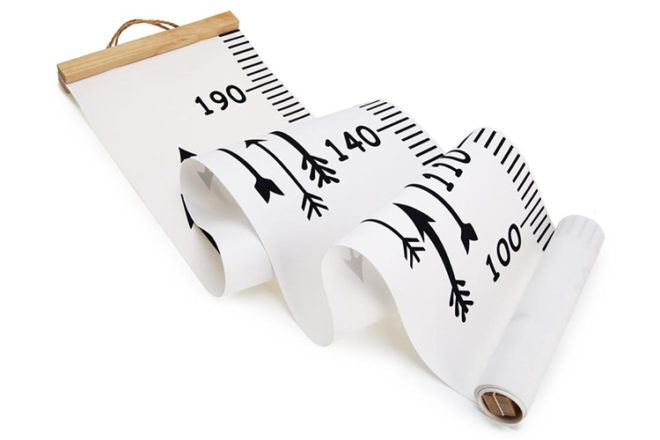 From a height chart that looks just like Daddy's tape measure to modern prints, you've got a number of high-quality options to choose from at this store. Each chart is crafted from thick cloth and weighted with natural wooden slats for a timeless look.
---
Spatz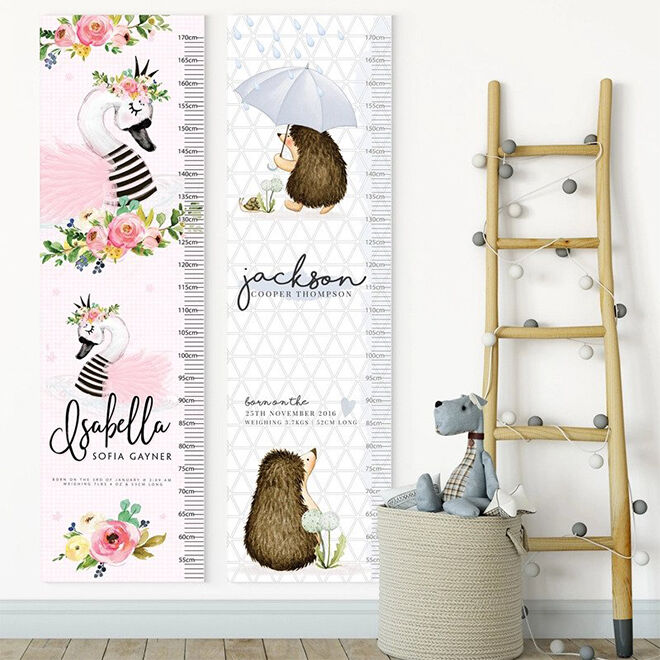 From floral delights to quirky woodland animals, these charts feature some of the sweetest artwork around. Charts can track growth up to 170 centimetres and are made from heavy-stock paper for fuss-free hanging. Pair these with a matching cushion or moneybox for a truly memorable gift.
---
Know a brand of kids height chart we should add to our list? Contact us and let us know.
Read next …
Looking for more stunning additions to the nursery? From gorgeous mobiles to swoon-worthy cot sheets, here are a few articles that you might like to read next:
Continue your search for the best height chart
Looking for a height chart and still not sure if any of these are right for you? Search online by jumping into one of our closed Baby groups and ask thousands of other Australian mums what they recommend – 'What to buy' is the most talked-about topic.
Click and join your group today!