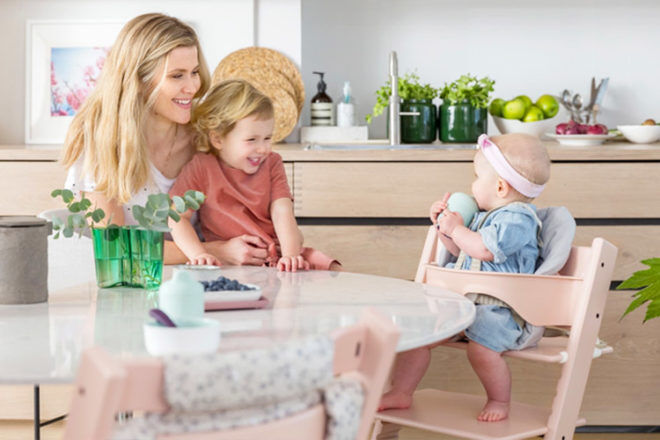 High chairs are right up there with cots and prams as one of the most important purchases for life with a baby. They free up parents' hands and provide a safe feeding space, plus they give tiny tackers a secure spot to sit as they explore tastes and textures – and do crazy things with spaghetti.
But given the mass of options out there, choosing that all-important high chair is no easy task, so we've scoured the country to round up 12 fab high chairs that stand out in the crowd.
What to look for when buying a high chair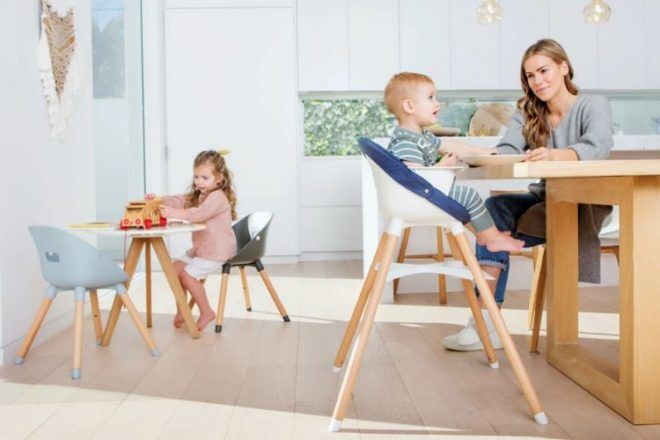 In Australia, high chairs can differ greatly in design, functionality and features. The considerations below will help you establish what type of high chair will work best for you and your babe.
Ease of cleaning: Ever watched a six-month-old eat yoghurt? Mess is major when it comes to feeding babies, and an easy-to-clean high chair is a godsend for busy parents. It also means you'll be more inclined to let Bub enjoy 'eating' those purees knowing that clean-up will be a cinch.
Adjustable elements: High chairs that are collapsible or have removable legs can be easier to move around the house and travel with, so they're particularly great for families on the move.
Weight: If your high chair is likely to be moved around a lot, look out for chairs made with lightweight materials and without excessive bulk.
Adaptability: After a high chair that will see you right through the early years? Many chairs can convert from high chairs to junior chairs and even adult chairs, extending the life of the item and saving you from making additional purchases.
Safety: It goes without saying that Baby's safety is paramount. When buying a high chair, ensure that it is stable, that little fingers won't get caught or pinched, and that it has a safety harness to keep babies from sliding.
---
12 modern high chairs for easy (and fun) meals
Ready to get organised for mealtimes? Here are 12 high chairs that have won us over for design, comfort factor and ease of use:
1. Nuna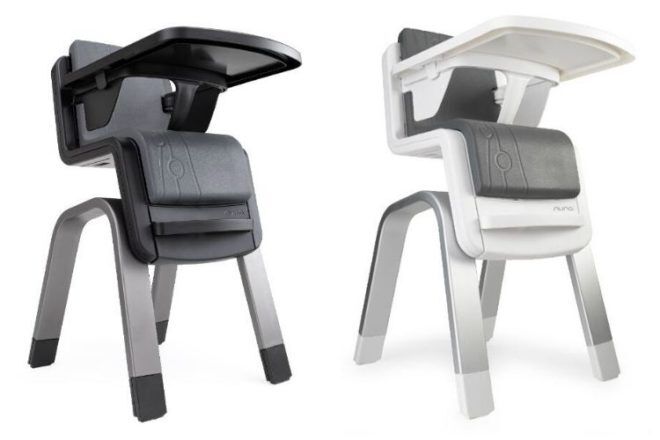 It's super compact, ultra-modern, and cleverly adaptable; this gem has been designed to make clean-ups easier and mealtimes more enjoyable. It has easy-clean surfaces, a hidden lift mechanism to make height adjustments quick and easy, and it can be converted to a kiddie chair in a matter of seconds. So smart.

---
2. Childcare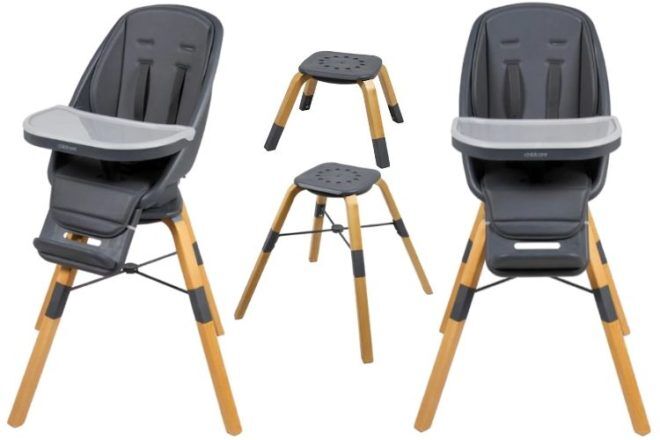 Fully loaded with exceptional features, this high chair includes a unique rotating seat with 12 lockable positions, so you can swivel Bub without any exertion. The chair comes with an adjustable tray and footrest and can be converted to a height-adjustable stool for the toddler stage.

---
3. Leander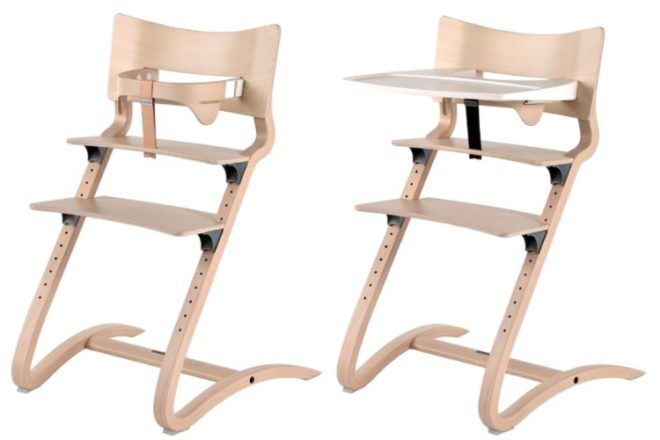 Designed and made in Europe, this ergonomic high chair is as striking as it is useful. It is made predominantly of timber for a sturdy structure that can hold up to 130 kilograms, and its clever design lends itself to use all around the house and throughout the many different stages of growth. Trays, safety bars and cushions are available separately.

---
4. Childhome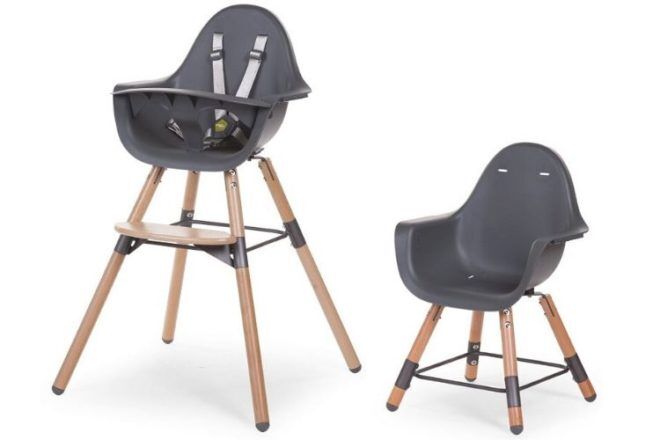 With an easy-clean moulded chair, buckets-loads of style, and all the versatility families need, this award-winning high chair is impossible to ignore. It has been designed to serve three stages: infant feeding, table feeding, and play – so it's going to see kids through many-a-food-filled-year. It comes complete with a footrest, safety bar and harness; food trays and long-leg extensions can be purchased separately.

---
5. Stokke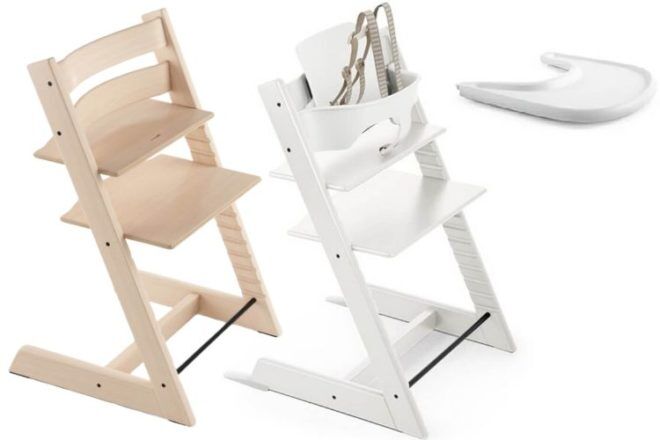 This Scandi winner is a high chair, junior chair, even an adult chair. It's as versatile as they come, and it even comes in an array of colours to suit whatever colour scheme you've got going on in the home. It has a height and depth-adjustable footrest and seat, and it can hold up to 100 kilograms. The 'baby set' and tray can be purchased separately.

---
6. Redsbaby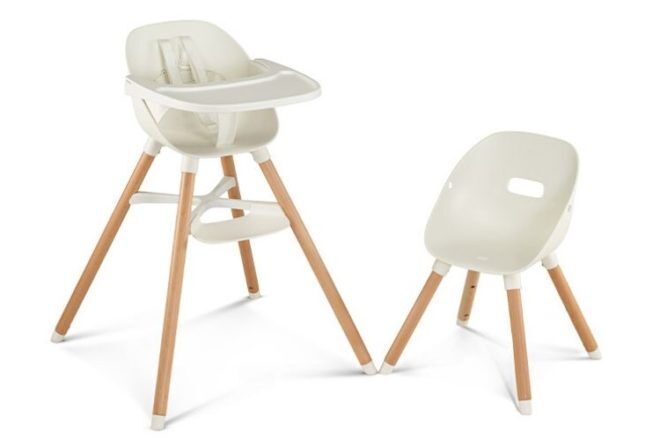 This contemporary chair system has been designed with Aussie interior styles in mind, and it serves families as a high chair, junior chair and an adorable play chair. You've got three glorious shades to choose from, and each chair comes with a harness, food tray and footrest.

---
7. Chicco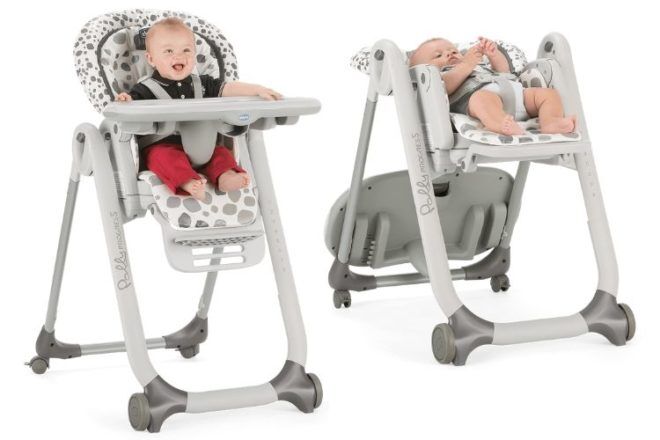 Despite that fact that Bub won't begin solids until around the six-month mark, this aptly named high chair is actually useful from birth. It begins as a padded newborn recliner and progresses to a feature-packed infant high chair as babies grow. Later, it can be converted to a toddler booster seat, and ultimately a youth stool.

---
8. Phil&Teds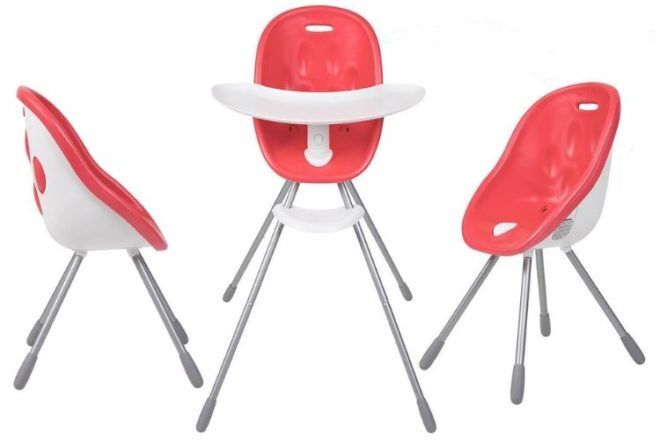 Crazy-cute, practical and affordable – the Poppy ticks all the boxes. What starts out a brilliant easy-clean chair —with curving food tray, no less — ultimately converts to a pod-like kiddie chair for years of snacking, playing and chilling. You've got four fun colour options to choose from including bubblegum, black, lime and cranberry.

---
9. Bloom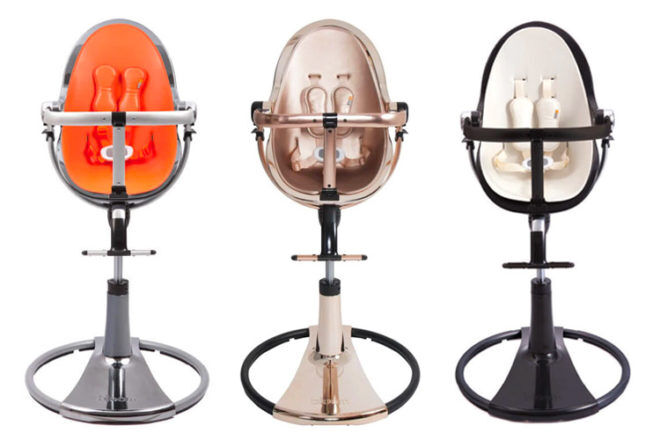 At first glance, it may look like a designer stool, but it's actually an infant high chair – and it is spectacular. Suitable from birth, thanks to the three-position recline system, this high chair will see kids right through to the school years and beyond. It has a 360-degree swivel, pneumatic height adjustment system, and dishwasher-safe tray. Oh, and did we mention that it can be ordered in metallic tones?

---
10. IKEA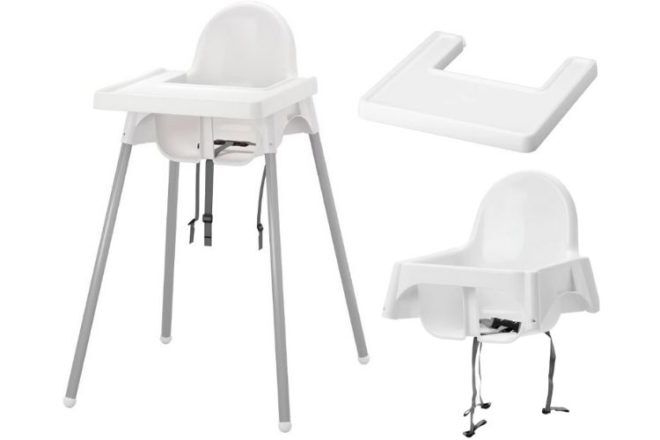 This high chair has achieved cult-like status around the world for the simple fact that it's such incredible value. It has removable legs, a kiddie-safe surface that is a piece of cake to wipe down and an adjustable safety buckle. A padded cushion insert is available separately for less than a fiver.

---
11. Star Kidz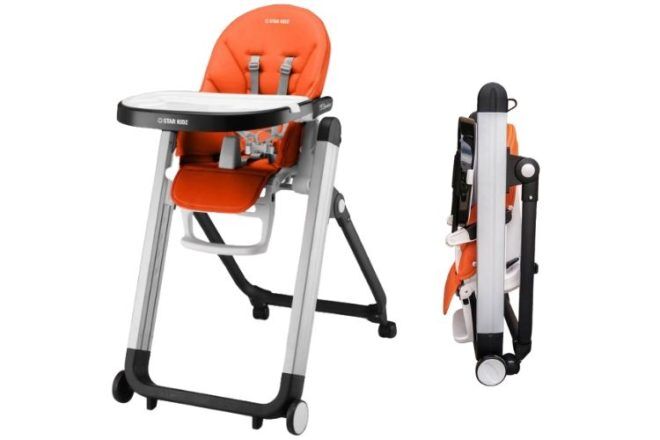 Luxury and convenience combine in this smartly designed high chair. It comes in a choice of silver, orange or dark grey colour schemes, and it can fold down into a compact unit when not in use. Thanks to its multi-recline backrest, this one can be used as a baby seat until it's time to embark on solids.


---
12. iCandy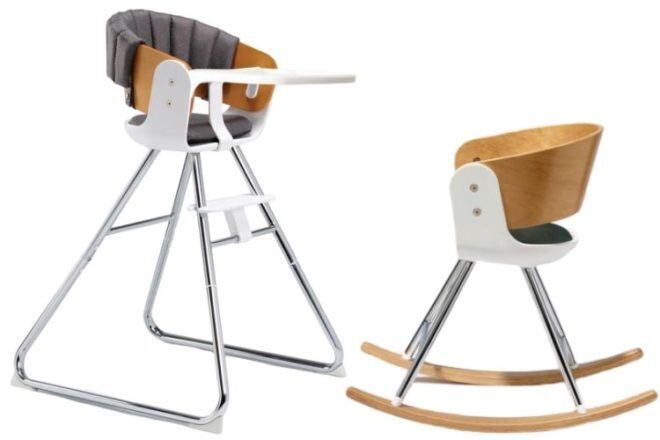 This beautifully crafted chair combines the natural tones of beech wood with ultra-shiny chrome for a totally unique piece of baby gear. But it's not all about looks with this one: it's easy to clean, has a dishwasher-safe tray, and it can be converted to a child's rocker for days and days of play.

---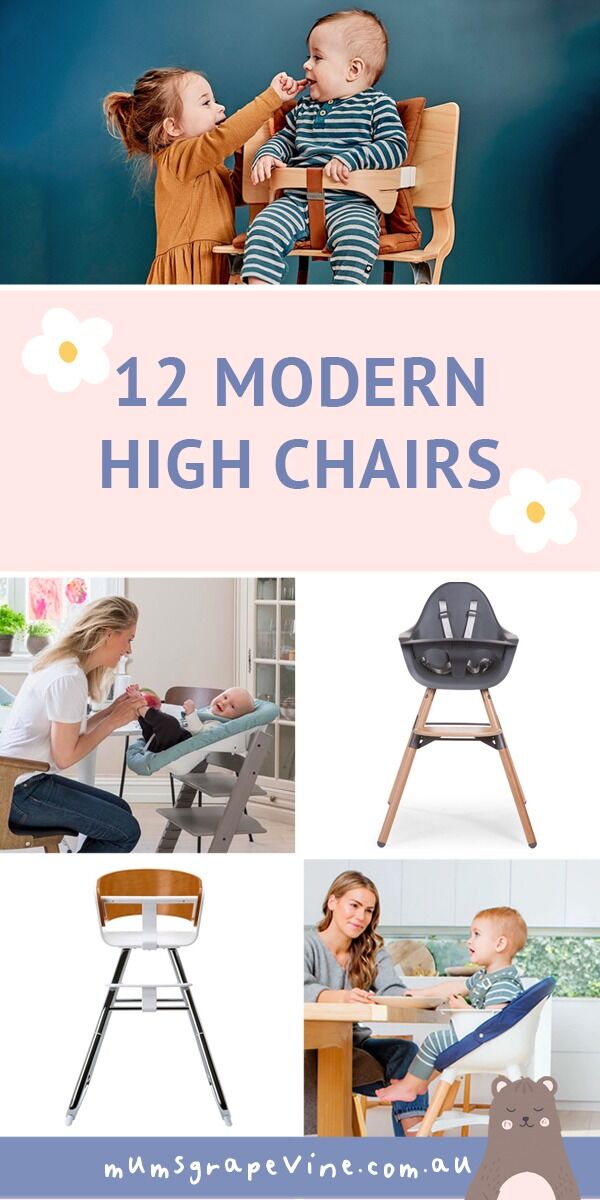 Know a brand of high chair we should add to our list? Contact us and let us know.
Read next …
Looking for more feeding essentials for life with a little one? From plates and cutlery to baby food processors, we list our favourites in the articles below:
Continue your search for the best high chairs
Looking for a high chair and still not sure if any of these are right for you? Search online by jumping into one of our closed Baby groups and ask thousands of other Australian mums what they recommend – 'What to buy' is the most talked-about topic.
Click and join your group today!