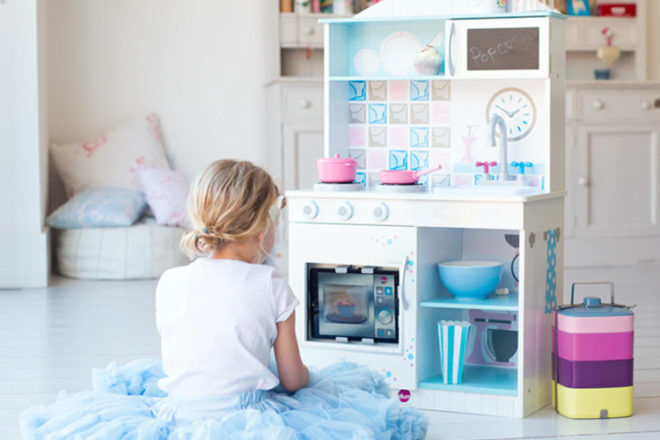 Is there a child around who doesn't love whipping up delectable (if completely bizarre) treats for the family to enjoy? Play kitchens are the perfect piece of toy furniture to facilitate kids' culinary pursuits, especially when paired with play food and cookware.
Check out our compilation of stand-out play kitchens for littlies. Some are simple, others are next-level wow, but all of them will see kids getting creative in the kitchen.
Oh, and brace yourself for a whole lot of wooden 'snacks'.
16 play kitchens for mini master chefs
To help you find the perfect little cooking station for your mini chefs, we've rounded up a selection of the top kids' play kitchens in Australia.
Here are 16 kids' play kitchens for little master chefs:
Fantastic Furniture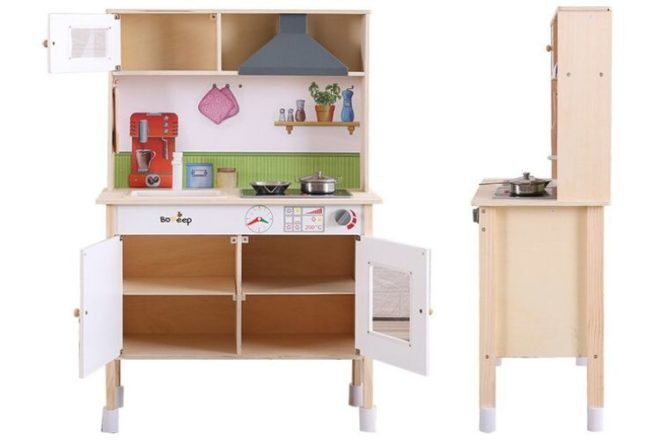 If you're after a modern toy kitchen without too many bells and whistles, this one is well worth a look-see. It has a painted background to really set the scene, an easy-turn dial, range hood, cooktop and microwave – but the best bit? There's plenty of storage space for all that play food.
---
Plum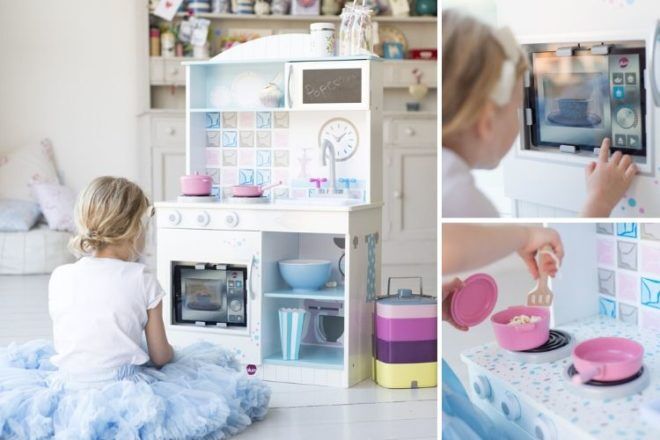 If your littlies love their tech as much as they love to whip up a 'meal', this kids' kitchen is hard to top. Completely interactive, it includes a designated iPad holder, and when used in conjunction with the Plum cooking app, kids can watch their creations come to life: popcorn pops and beans explode!
---
Blue Ribbon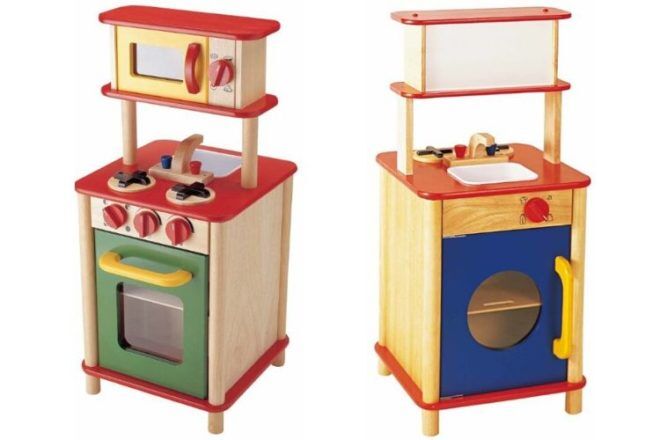 This clever little two-in-one toy has been purpose-built for the youngest of chefs to enjoy and measuring just 45 centimetres in width, it's one of the most compact options around. One side of the unit features a cooktop, oven and microwave; the reverse side has a sink and washing machine. This is a total winner for families that are low on space.
---
KidKraft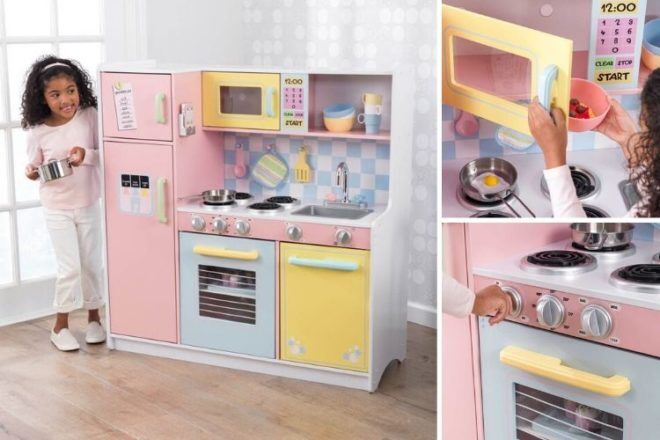 This brand is renowned for making sturdy wooden play furniture for kids, and this pretty-as-a-picture cooker is a firm favourite among little chefs. The microwave and oven both have see-through windows, and the fridge is big enough to store loads of toy groceries.
---
Kmart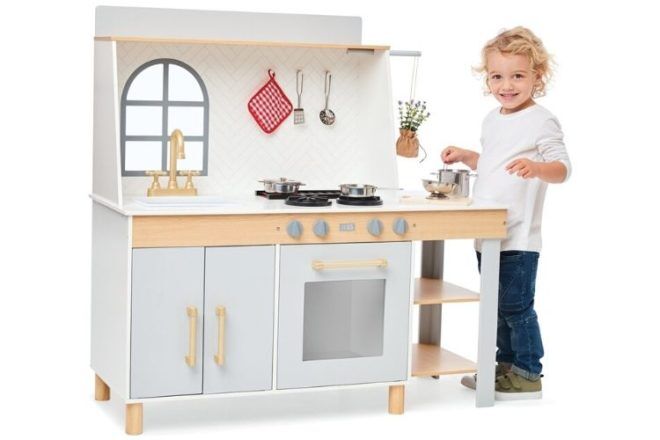 It's the toy kitchen with the lot. This set comes with stainless steel cookware and utensils, a chopping board and even a fake plant. Throw in a multi-burner stove, shelving, tap and sink and it's the perfect place for imaginations to fly.
---
Mocka
This modern, functional play kitchen has been finished in a neutral palette, so it's going to look great in any room regardless of the colour scheme. It has a built-in microwave, some very handy top-level shelving for all that play food, and it even comes with utensils – so kids can start flipping burgers from the get-go.
---
Hape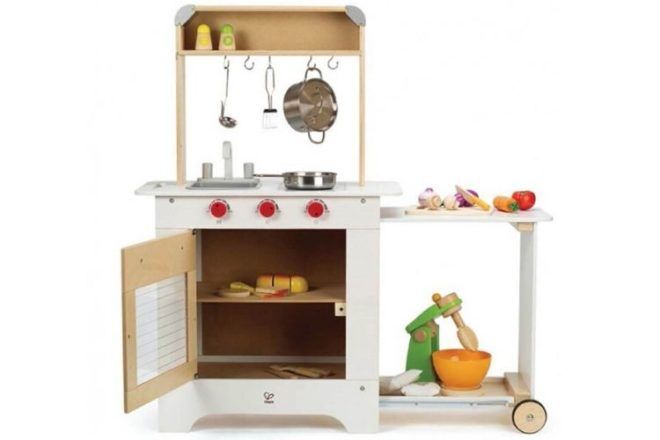 Prepare to be completely won over by this clever little unit because we sure are. Not only is it reversible, offering both kitchen and shop formats (complete with blackboard), but it also has an extendable counter that is going to come in very handy when there are extra cooks in the kitchen.
---
IKEA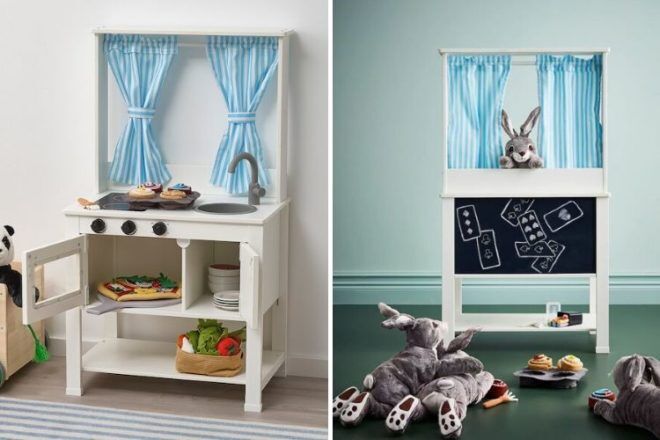 Just a kitchen? No siree – it's also a puppet theatre! This clever little dual-purpose play kitchen is loved around the world, and when you consider its low price and big functionality, it's easy to see why. The kitchen side of the unit features everything kids need to cook up a storm, while the reverse side has a blackboard panel for listing showtimes.
---
Lifespan Kids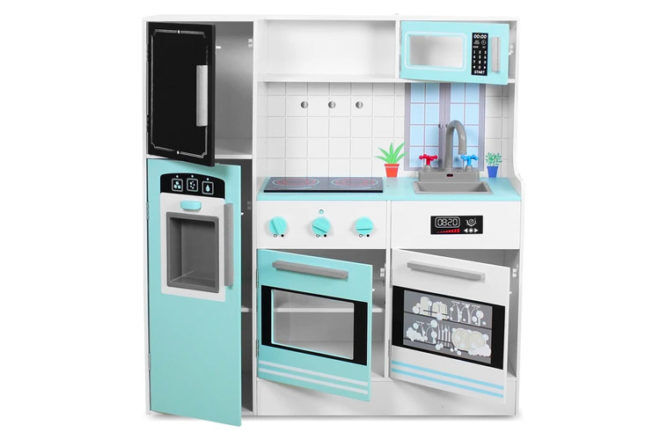 Big, colourful and packed with mod-cons that little cooks expect these days, this innovative kitchen is going to thrill kids (and parents) to bits. It comes with sound effects, interactive lights, clicking dials, fridge and roomy pantry. But our favourite feature has to be the ice maker – perfect for making cool drinks after a big day of play.
---
Indigo Jamm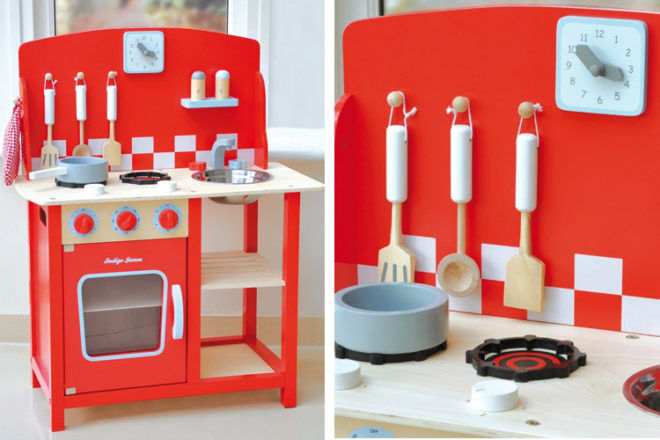 It's a little bit retro and lots of fun. This bright red play kitchen has a clock with working hands, a stainless-steel sink and chunky clicking knobs on the cooktop that are perfect for little hands. Accessories include kids' cooking utensils and super-cute salt and pepper pots.
---
Hip Kids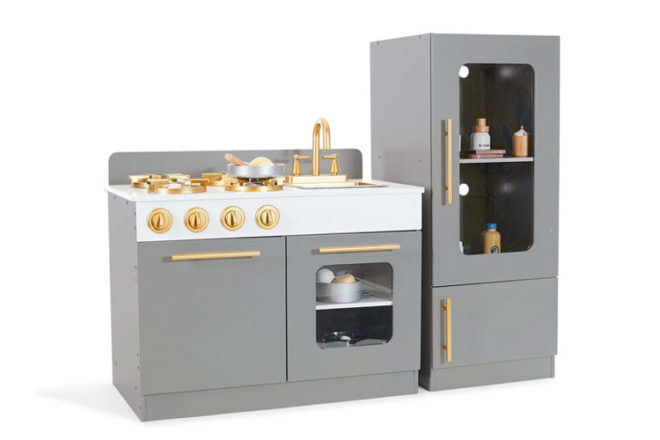 This showstopping take on a commercial kitchen is feature-packed, fun, and undeniably fancy. It has a four-burner cooktop with clicking dials, a sink with two taps, and an all-important dishwasher to help kids play out endless restaurant scenes. Loving that gold hardware.
---
Levede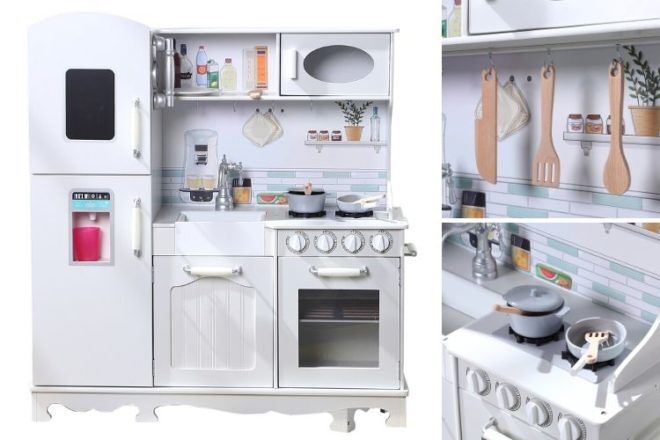 Generously sized to be big enough for multiple children to play with at one time, this country-style play kitchen gets the big thumbs up from us for its awesome extras. Not only does it have a stove, microwave and fridge with a drink dispenser, but there's also a cordless telephone and a dishwasher.
---
Le Toy Van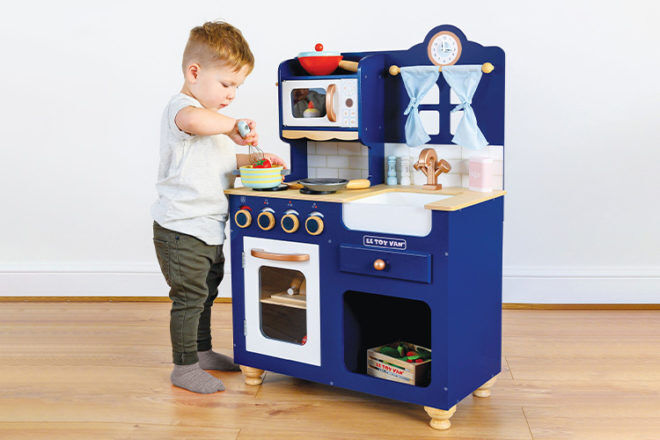 Whether you've got a blue theme going on in your child's room, or just want a toy kitchen with a pop of colour, this classic farm kitchen is a must-see. Constructed from sustainable wood, it's nice and solid, plus it comes with salt and pepper shakers, a spoon and a whisk sized just for little hands.
---
Glueckskaefer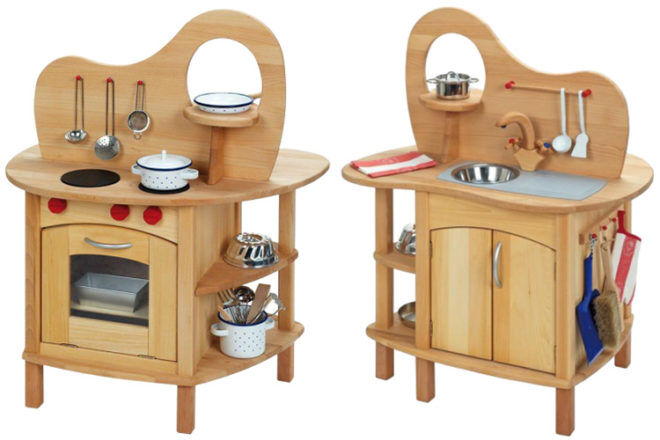 With 360 degrees of play and the sweetest little service window we've ever seen, this kitchen is perfect for lots of busy cooks to enjoy together. One side of this solid beech unit includes a sink and tap, the reverse side has a cooktop and oven. Built to last, this little number is one to pass on from generation to generation.
---
Big Fun Club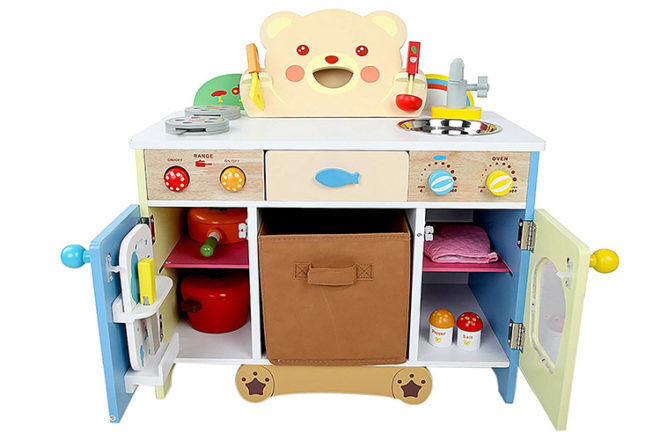 Loaded with accessories and sporting chunky knobs and handles for the tiniest of hands, this is the ideal play kitchen for kids to whip up colourful treats for the fam. It's made entirely of recycled wood and it features an adorable smiling bear to keep little ones company as they cook. Aww!
---
Lilypond Kids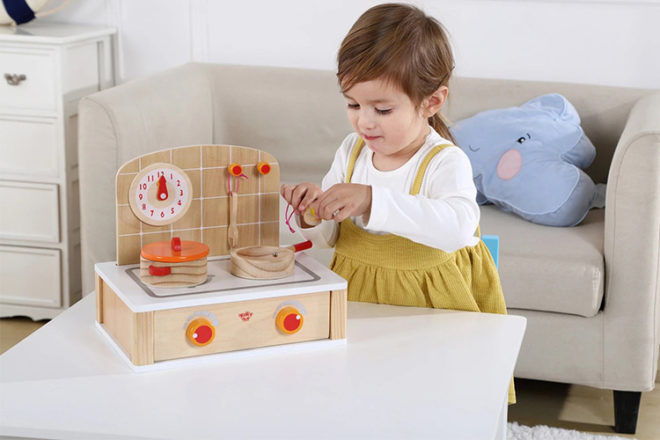 Lilypond Kids Cute Kitchen Set ($75)
It's the kitchen that kids can take everywhere and the solution to the age-old issue of space. This clever little unit has all the cooking features kids love in a play kitchen but is small enough to play with on junior tables, benches, or even on laps. It's been crafted from eco-friendly materials and comes with a fry pan, pot, fork and spoon.

---
This list is curated by our Editors and may include affiliates and/or paid inclusions. See our Disclosure Policy.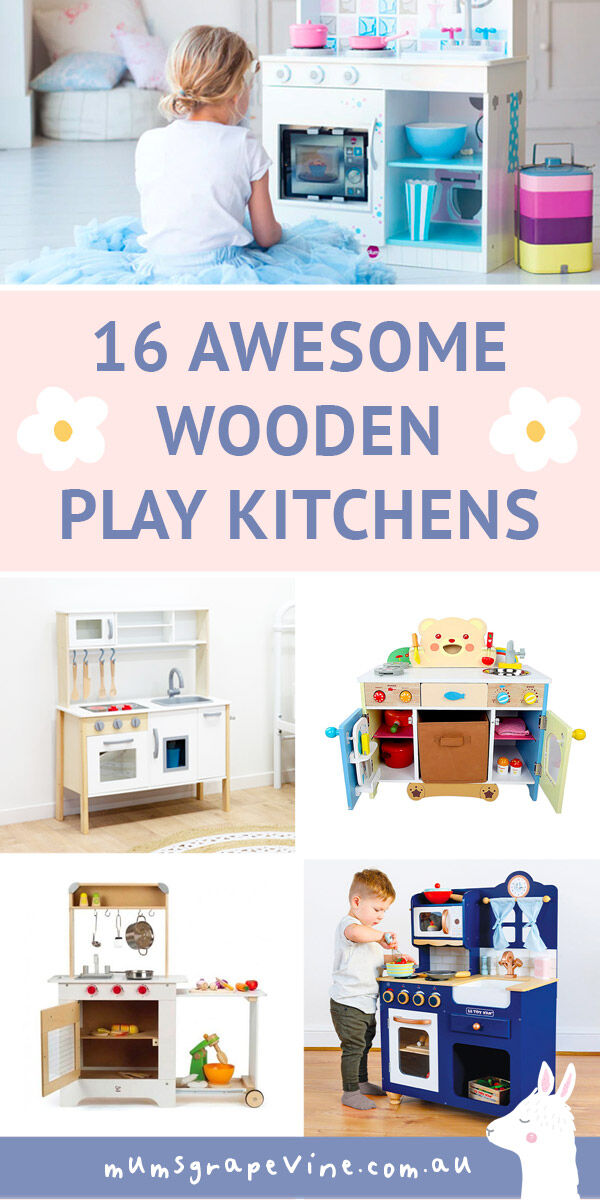 Know an awesome play kitchen we should add to our list? Contact us and let us know.