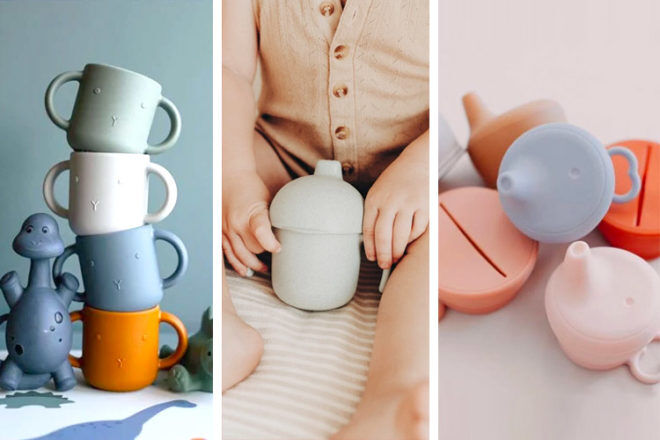 The baby sippy cup is the perfect thirst-quenching companions for little ones who have started drinking water or are transitioning from the breast or bottles. Not only do they help encourage a healthy habit of sipping water throughout the day, but they can be great for oral and fine-motor development.
When you're on the hunt for a first sippy cup, look for a kid-friendly design that's easy for little hands to grasp, and ideally one that is leak-proof. If your bubba and your bag come home dry, it's a win-win situation.
19 baby sippy cups for thirsty kids
We've compiled this handy list of brands to get you started in your search for a fab sippy cup. In no particular order, here they are:
Barel Designs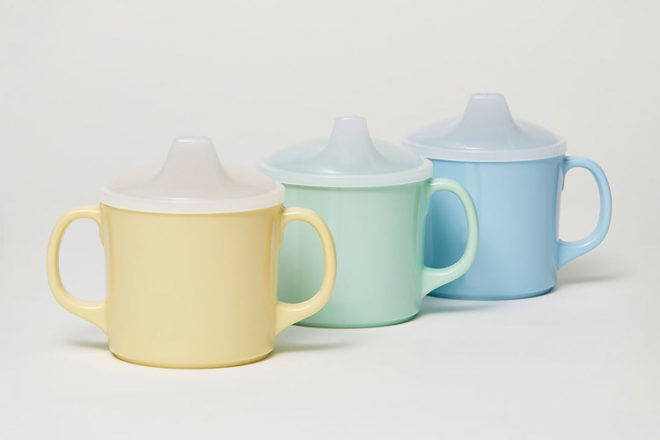 These scratch, break and stain-resistant kiddie cups are crafted from organic plastics and wood pulp to well and truly see you through toddlerhood. They're dishwasher safe and they come with silicone bases to keep them from slip-sliding around tray tables and benches. Pick a colour, any colour, and you'll find it in this range.

---
Liewood

This BPA-free silicone sippy is safe to pop in the microwave, dishwasher, freezer and even oven! In a choice of rabbit or cat designs, each cup has small studs on the base help to prevent toppling and two perfectly sized kiddie handles help the youngest of sippers to maintain good control.

---
OXO TOT
This clever little cup comes with an almond-shaped spout or straw that has been specifically designed to help bubs make an easier transition from the bottle or breast. Available in fab colours, these sippies can be used with or without handles depending on bub's vibe for the day.

---
Wean Meister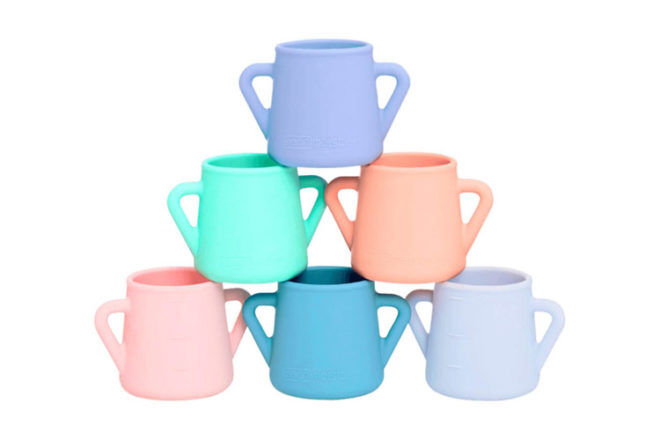 Fabulous for young teeth and gums, these soft silicone cups are fuss-free, hygienic and completely adorable – and we love that they come with measurement lines for keeping track of how much bub is sipping. With a wide base, these durable winners are both stable and stackable.

---
Cherub Baby

That's right: glass. But worry not, for this could just be the most smash-resistant glass cup on the planet, and in fact, it comes with a drop guarantee. Equally impressive is that the medical-grade, shock-absorbing silicone sleeves change colour if the contents of the cup is too hot!

---
Boon

Whether you have nowhere to store more sippy cups, or you'd rather bub uses the same cups as the rest of the family, these universals lids by Boon are the answer. Made of 100% silicone, they come with a comfy spout, and stretch to fit over any cup with a diameter between 6.35cm – 9.5cm. Genius!

---
Penny Scallan

Totally gift-worthy and sporting some of the sweetest prints ever seen on a sippy, these training cups are both gorgeous and practical. They're crafted from biodegradable, eco-friendly bamboo fibre and come with easy-grip handles and a weighted straw for successful sipping at any angle.

---
Eco Rascals

This contemporary cup is one to see you right through the toddler years and beyond. With two parts, it can be used as both a leak-proof sippy, and later, as a regular bamboo cup. Colours include pink, blue, yellow and green – and we want them all!

---
Design Letters

For designer personalisation and massive Scandi vibes, this sensational melamine sippy ensemble is impossible to beat. Cups feature your choice of letter (based on the renowned font by Arne Jacobsen) and can be used together with matching handles and sippy lids in rose, black or white. Each piece is available for purchase separately.

---
Arabella + Autumn

Made of pure silicone and available in some of the prettiest hues around, these sippy lids have been designed to fit snuggly around any cup between 7cm – 8cm. Rather than a spout sipper, these lids feature a straw design, so there's no need for bub to have to tilt the cup to take a slurp.

---
Bonnsu Miniware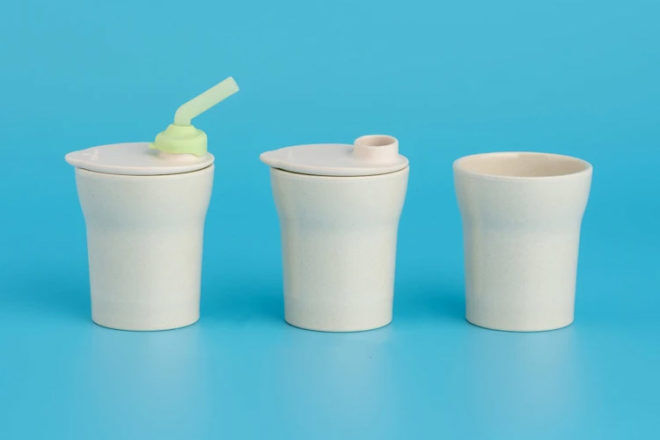 It's not just a cup, it's an entire training system. This eco-friendly set includes multiple parts for each stage of learning: use the straw in the early days, progress to a spout when bub is more confident, and use the bamboo-fibre cup on its own when the art of sipping has been mastered.

---
MT Kids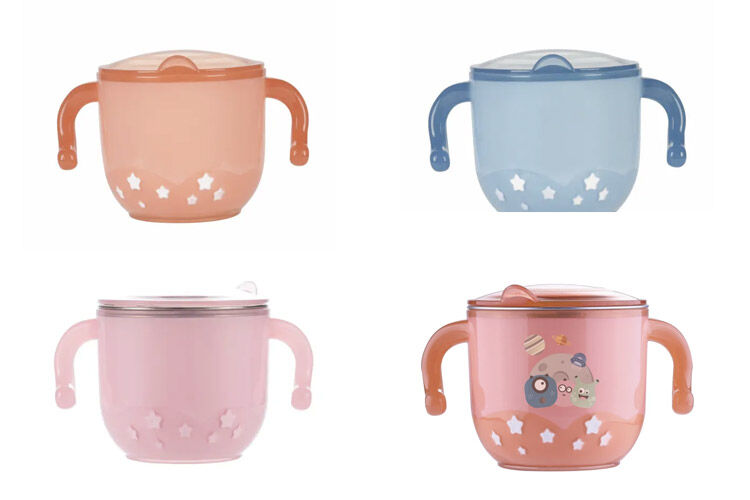 Perfect for tots who are ready to move on from straws and spouts, these sweet stainless-steel cups are double-walled to keep drinks at the right temperature. With side handles for easy grip and matching lids to keep those drinks secure, you can count on these being on high rotation.

---
Munchkin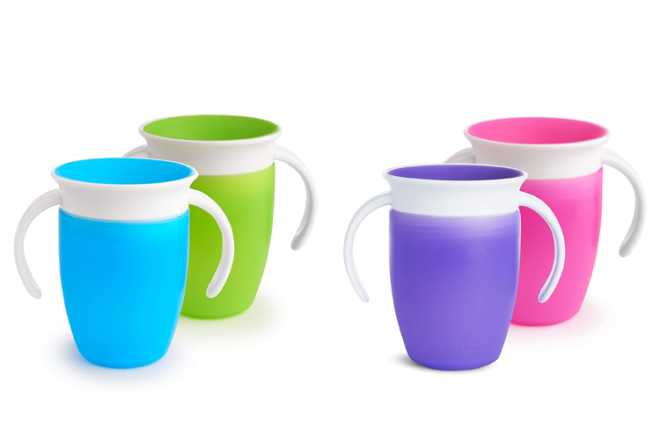 Backed by dentists for contributing to dental wellbeing, this aptly named winner enables bubs and tots to sip from any point around the rim, just like a regular cup. With a spoutless design and no straw, it's also super quick to clean.

---
b.box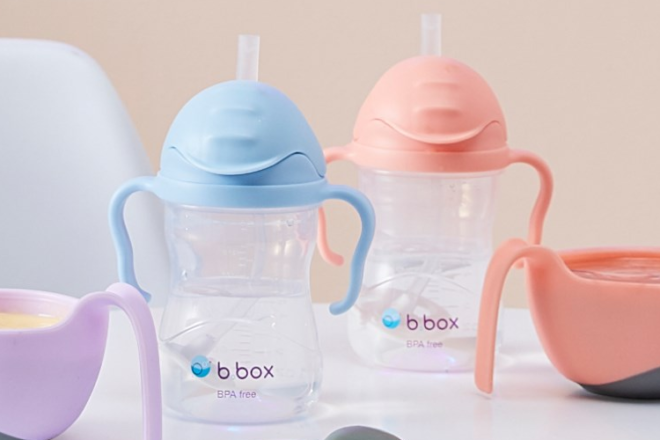 This next-gen b.box sippy comes in a rainbow of colours and boasts an innovative and award-winning design. The weighted straw means that littlies can sip from this at any angle, even when they're lying down, and the  two-way valve ensures there are absolutely no pesky leaks.

---
Haakaa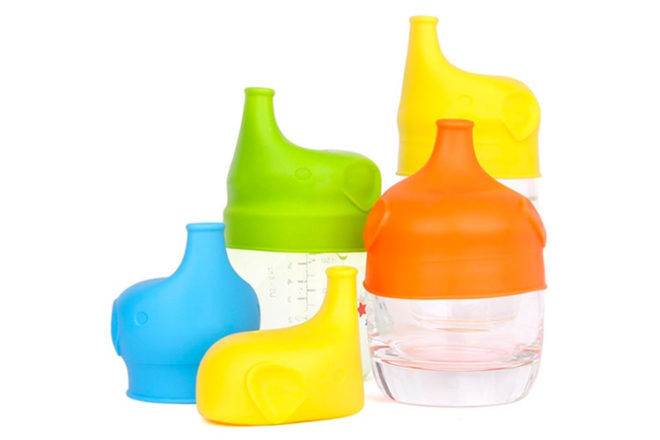 The Elephant Sippy Top transforms any standard cup into the perfect sippy cup for every kid. Made from 100% food-grade silicone, they're super easy to use: simply stretch over the rim of bubba's cup for a leakproof and lovable sippy-cup alternative.

---
Lion + The Lamb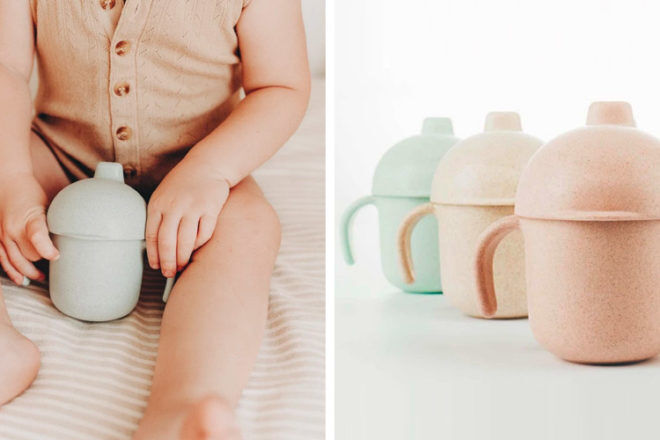 Made from compostable plastic, these pretty little sippy cups are sturdy, strong and ridiculously cute. Available in three muted shades (Rose, Oat and Sea), they're BPA free and suitable for bubs from six months and up. We love!

---
Tommee Tippee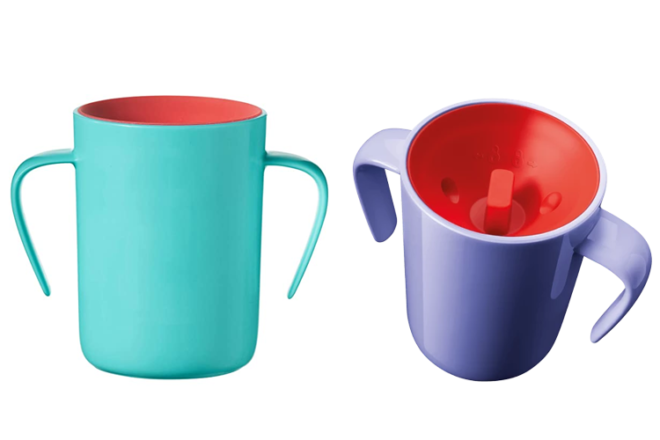 The Easiflow is a lip-activated cup that seals after each thirst-quenching sip. The no-spill design makes drinking throughout the day easy for little ones, and with only two sections, it's nice and easy for parents to clean. With no spout or straw, this clever little cup comes recommended by dentists.

---
Replay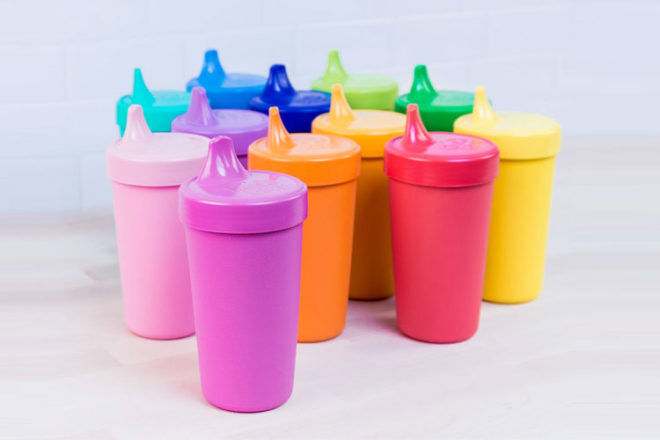 The replay sippy cup is a durable option for growing tots. Available in a wide range of bright colours, these classic cups have a removable silicone valve hidden inside. Despite being sans handles, these thin, tall cups are perfectly designed for little hands to hold.

---
Thermos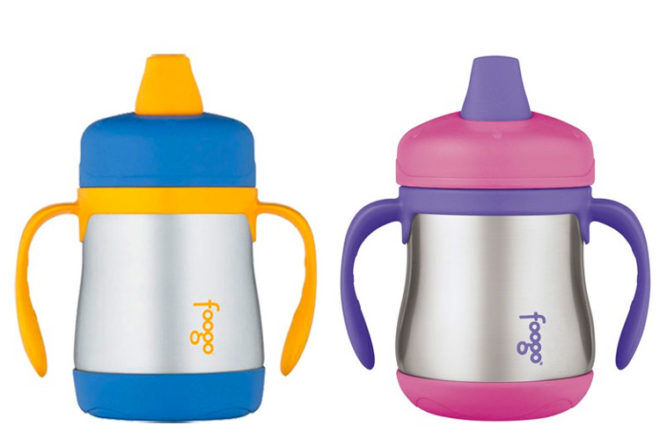 Behold the sippy cup that keeps milk warm or cold. This insulated winner has maximum temperature retention, which makes it perfect for road trips with tots in tow. Its soft spout is suitable from six months and the easy-hold handles are shaped perfectly for little loves. And yes, they have adult sizes too!

---
Little Baby Paw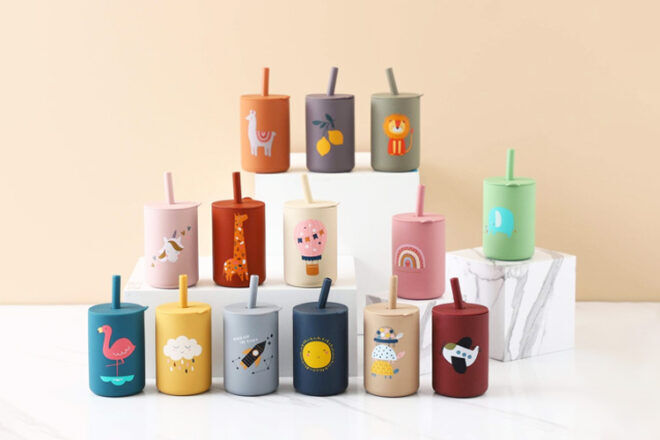 Decked out in adorable, unique designs, these are some seriously cute sippies indeed. Made from 100% food-grade silicone, they're mould-resistant, dishwasher and microwave-safe and totally shatterproof.

---
This post includes affiliates and/or paid inclusions. See our Disclosure Policy.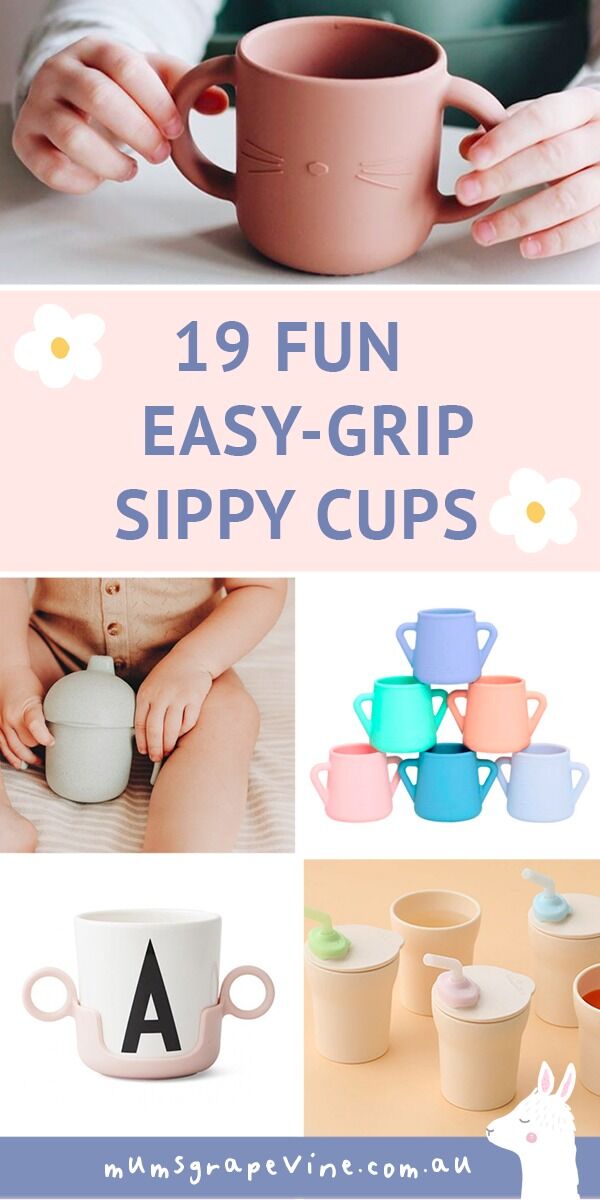 Know a brand of baby sippy cup we should add to our list? Contact us and let us know.
Find more fab products for bubs and tots…
Continue your search for the best sippy cup
Looking for a baby sippy cup and still not sure if any of these are right for you? Join one of our Baby Groups and ask thousands of other mums what they recommend. They are grouped together by baby's birth date so everyone is going through the same stages at the same time.
Click here >> Mum's Grapevine Facebook Groups  << and find your group today!