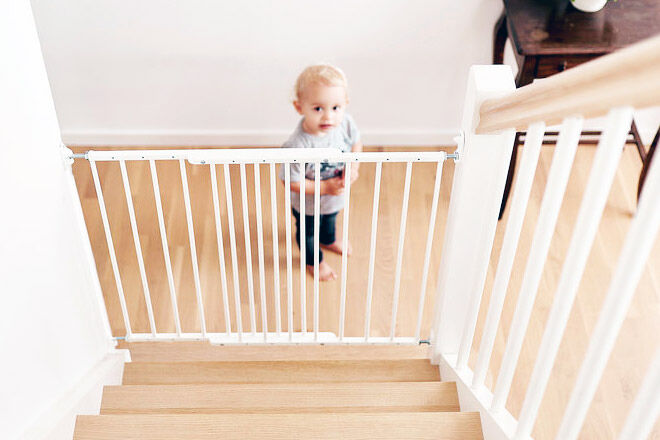 Toddlers love to roam, discover and stick their fingers into every nook and cranny. Which is simply delightful until they discover hot ovens, stairs, cupboards to jam their fingers in and every other hazard you can possibly think of.
Baby gates are a great way to minimise hazards and keep little explorers in a safe and secure space. Designed to fit doorways, hallways and extra-wide spaces, a modern baby gate is the multi-tasking safe keeper of the home.
What to look for when buying a baby gate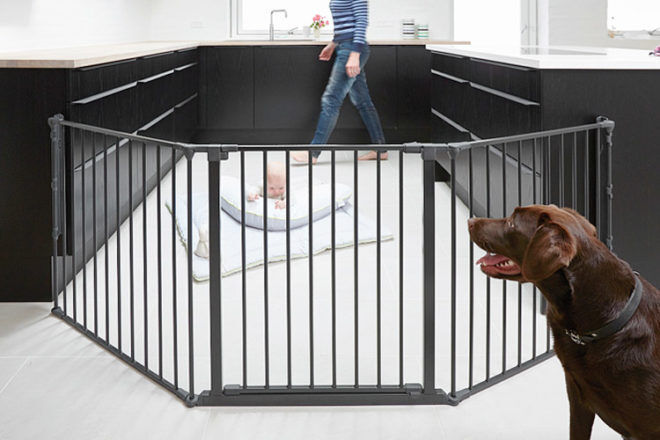 The type of gate: There are two main kinds of baby safety gates:
Hardware, wall-mounted safety gates attach with screws directly into a solid wall or wood post and are useful to block off high-risk areas such as stairs, fireplaces and kitchens. These gates are the safest option as they are more secure and have no crossbar at floor level (a nasty trip hazard). With these gates, you have the option to quick release/remove gate for events or between babies and they're great for grandparents too.
Pressure mounted safety gates are easy to set up and take down. The gate is tightened between two solid wall surfaces. These work well in doorways where there is solid wood construction, but they cannot withstand as much pressure as hardware, wall-mounted gates. Pressure mounted gates can be a great option for renters who can't make marks on the walls. Just remember they have a crossbar along the floor which is a trip hazard and therefore must be installed at least 1m away from the first step of a staircase.
Size: Gates come in all shapes and sizes, but you may need to buy extensions to make your chosen gate fit. Make sure you have accurate measurements on hand and you're aware of what extensions are available and how far they expand.
Height: Safety gates should be a minimum height of 60cm and should be at least three-quarters of your child's height to prevent accidents.
Slat space: Gate slat openings must between 50 mm and 95 mm so that babies won't be able to force their heads through the spaces. There should be no spaces in which a child can get their head or torso trapped. Gate slats must always be in a vertical position as children are surprisingly adept amateur mountaineers and love to climb.
Suitable for stairs: Some gates have a horizontal bar that crosses the floor beneath the gate, which could cause tripping when the gate is open. Never use a safety gate with a horizontal bar across the floor at the top of the stairs (at least 1m away from the first step).
Latch mechanism: The ideal latch should be one that you can use effectively and efficiently but your child cannot operate. Can you open it one-handed while holding a baby or a washing basket? Consider opting for dual-action latches that must be pushed down before swinging the door open, or latches that need to be squeezed or pulled. Never climb over a safety barrier, particularly when holding your child.
---
8 baby gates to help keep little ones safe
To help you find the perfect baby gate for your home, we've compiled this handy list of brands to get you started in your search. In no particular order, here they are:
BabyDan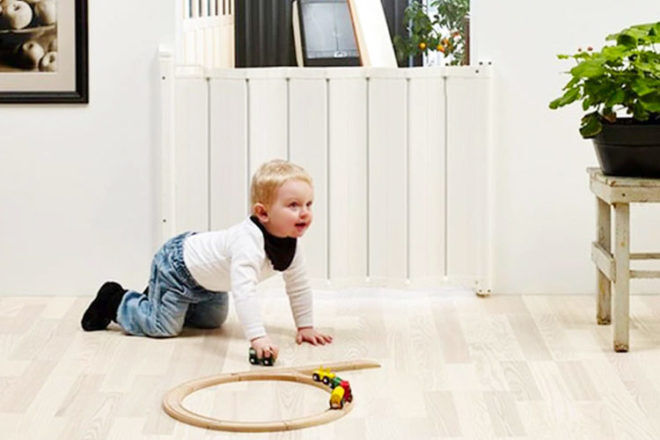 This retractable baby barrier folds back to one side rather than swinging open or closed. Its unique design makes the baby safety gate great for spaces that only sometimes need to be fenced off, as it retracts out of the way when not in use.

---
Dreambaby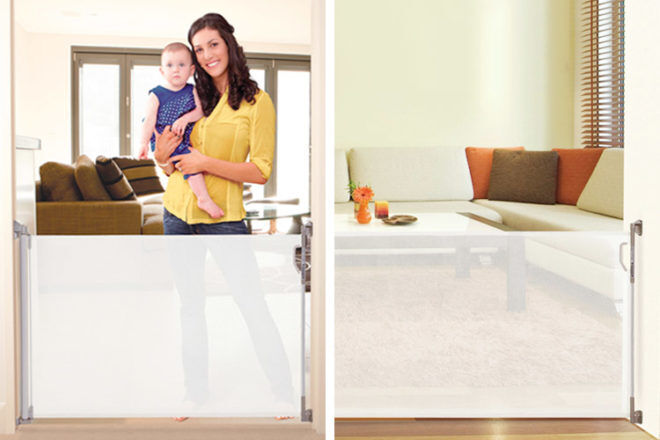 Using durable mesh rather than standard bars, this retractable baby safety gate is ideal for cornering off modern homes. Designed to retract fully when not in use, it takes up very little space and reduces the trip factor some parents know far too well!

---
Lindam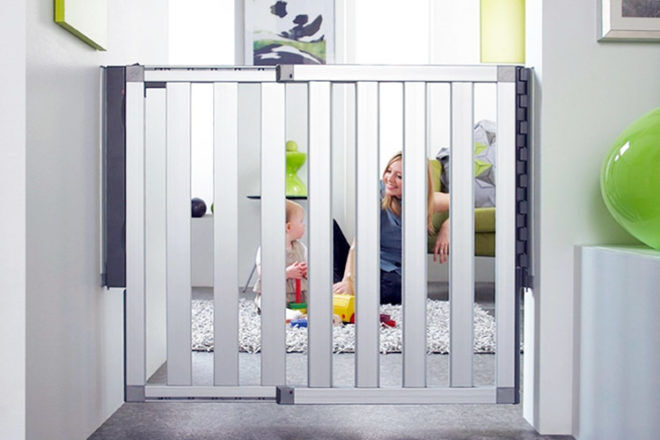 The great thing about this clever baby gate is that it simply slides onto – and locks into – a wall so that the gate can be removed in seconds. No screws, no fuss! Perfect for high traffic areas that need to be accessed quickly when little ones are sleeping. It's also pretty slick, with a cool aluminium finish.

---
Childcare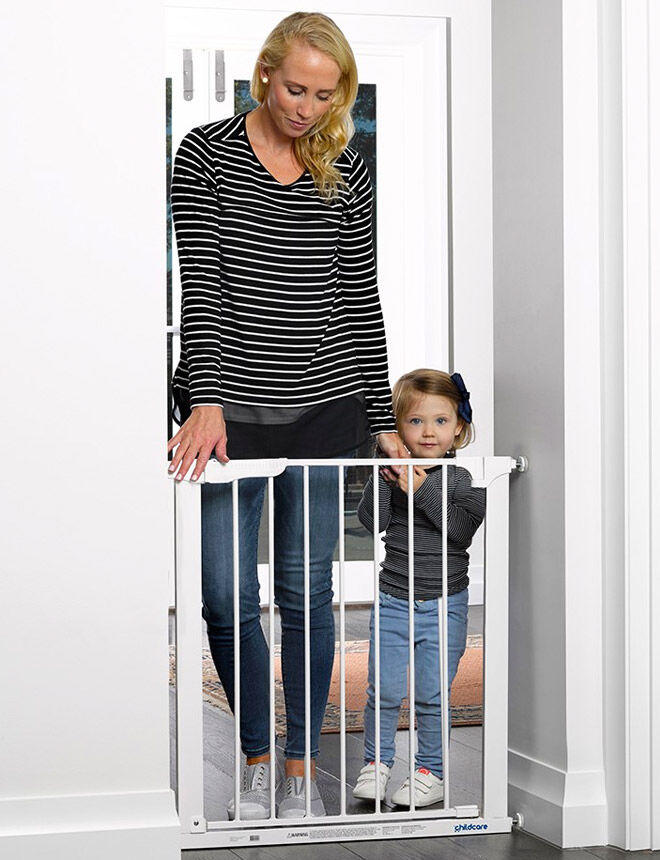 With no tools needed for installation, this handy baby gate keeps little peepers out of harm's way. The safety gate swings open and shut with a lock that's easy for parents to handle while juggling other things. Suitable for all doorways, stairs and hallways.

---
4Baby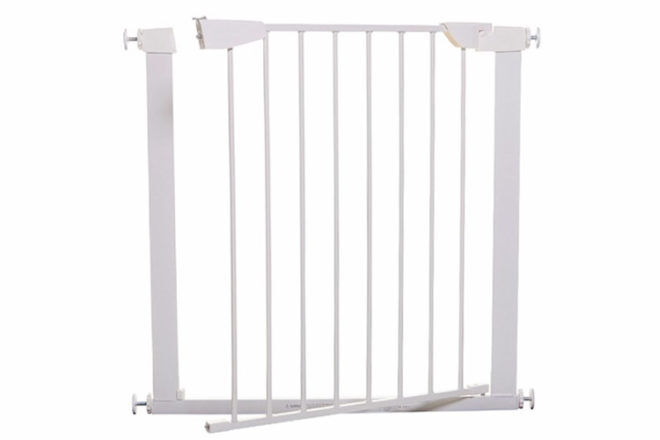 A simple and reasonably priced safety gate suitable for most spaces. Complete with 7cm extension, it's perfect if you're looking for something affordable without any special tricks.

---
Bindaboo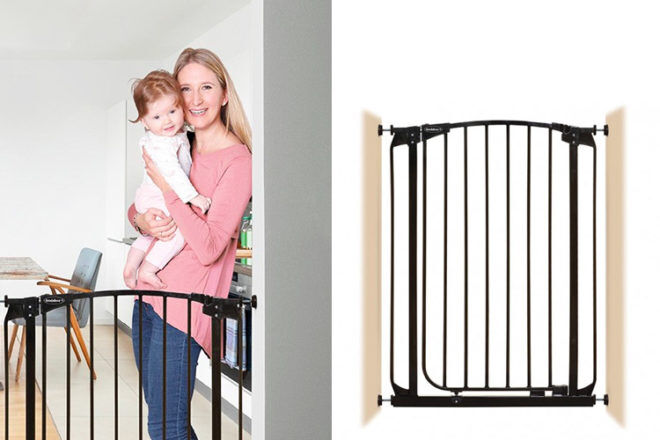 A smart stay-open feature separates this baby gate from the rest, making high-traffic areas accessible when little lambs are sleeping or out of the house. Suitable for doorways, hallways and more, its sturdy metal construction is built to last (and withstand those toddler tantrums!).

---
Love N Care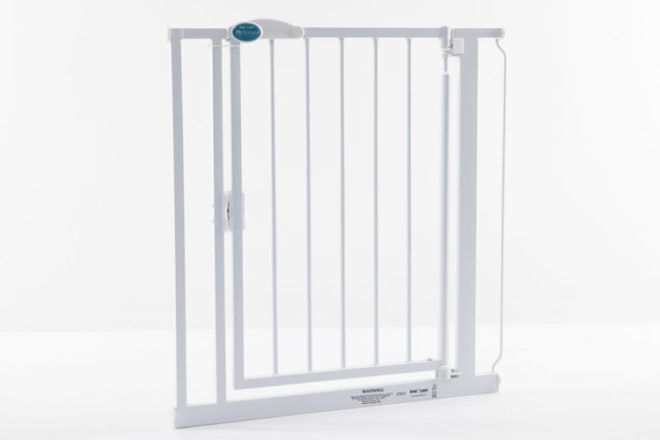 Another baby gate that's perfect for wide spaces. This baby safety gate has optional extensions allowing it to reach a length up to 3.19 meters (note: the standard gate adjusts to fit openings between 75 – 82cm). This model also automatically closes and locks by itself. Handy.

---
Kiddy Cots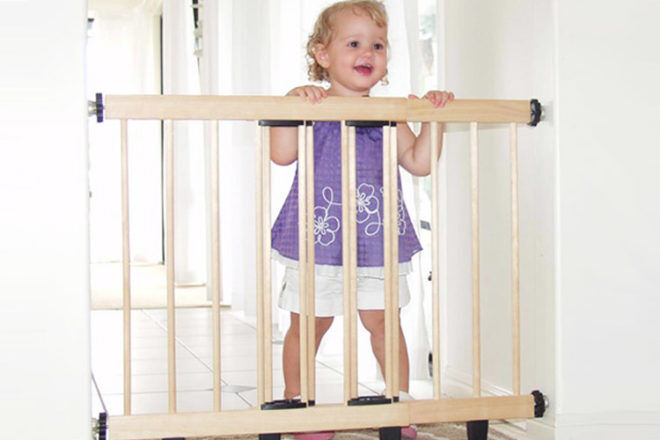 Perfect for spaces where toddlers simply aren't allowed, there's no opening or closing with this barrier. Designed to keep kids within areas that are safe, the high-quality beechwood gives it a Nordic vibe, putting a designer spin on saying 'keep out!'

---
The First Years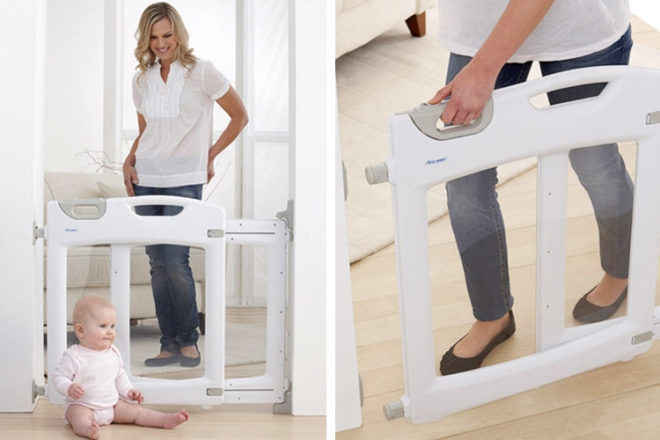 For toddlers that love to grasp fiercely at gate rails and shake them vigorously with all their might, this baby gate is their worst enemy – there's nothing to cling onto! Featuring tough, clear panels free of footholds, it's clever design prevents tots from climbing over. Brilliant.

---
Before you buy … We've done our best to research popular safety gates on the market, however, we have not individually tested each gate and can't make any claims about their safety. Make sure the gate you choose meets current Australian Standards and if possible look for independent testing information from bodies such as Choice.
---
Know a brand of baby gate we should add to our list? Contact us and let us know.
Read next …
Want to ensure your home is as kid-safe as can be? Hop on over to these handy articles next:
Continue your search for the best baby gate
Looking for a baby gate and still not sure if any of these are right for you? Search online by jumping into one of our closed Baby groups and ask thousands of other Australian mums what they recommend – 'What to buy' is the most talked-about topic.
Click and join your group today!