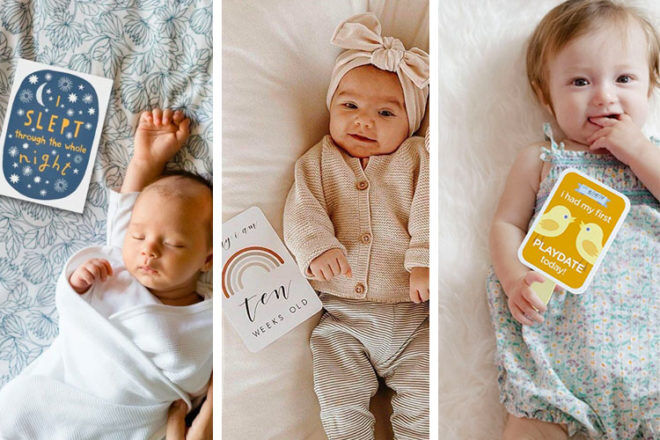 Baby milestone cards are the insanely sweet photo props helping parents to capture special moments in Bub's early days…and actually remember when they took place.
Printed with ages and stages that cover first weeks, months and major developmental milestones like eating and talking, these cards document many of babies' all-important firsts.
They also make for treasured photos that you'll totally want to show off on your socials.
17 baby milestone cards for perfect pics
Whether you're after a set for your own bub, or as a special gift for a new parent you know and love, our roundup of winners will help you find a set that wows.
Arlo & Co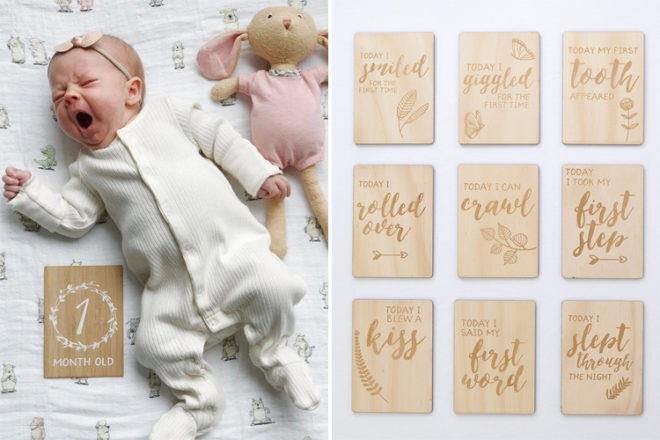 Who said milestone cards had to be made of paper? These bamboo or plywood keepsakes come in a choice of three different sets including ages and developmental achievements. And once Bub ticks all those milestones, you can use them as wall decor!
---
Bloomingville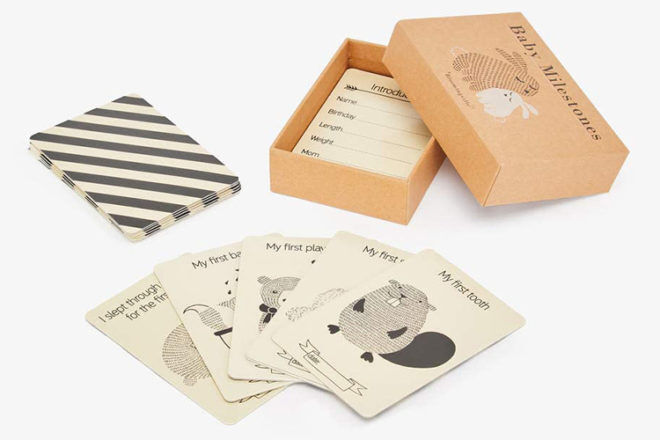 In typical Danish style, this Insta-worthy set of milestone cards is clean, cute and designed to look gorgeous on any backdrop. The 18 cards are printed on craft paper and come packaged in a sweet little box.
---
Made by Ellis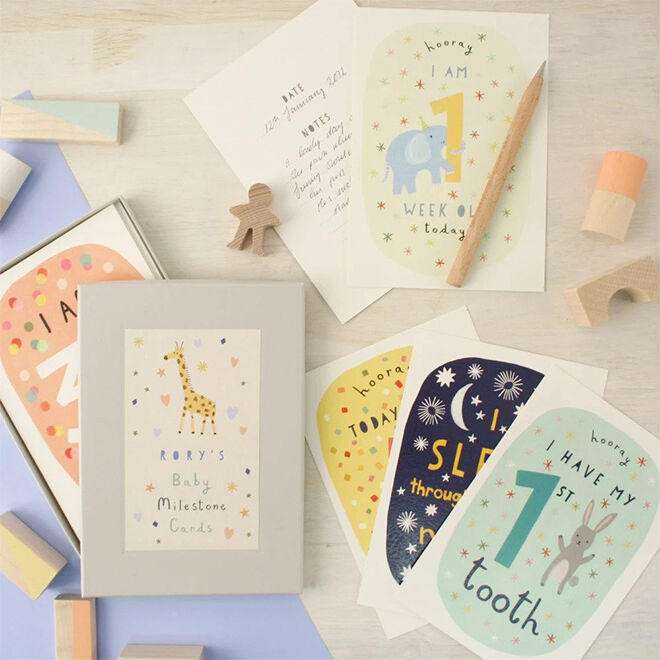 This magnificent set of baby milestone cards is just made to be gifted. Each of the 24 cards has been thoughtfully illustrated by Katherine Hartley and are packaged in a gift box that can be personalised with up to 20 characters.
---
Bright Star Kids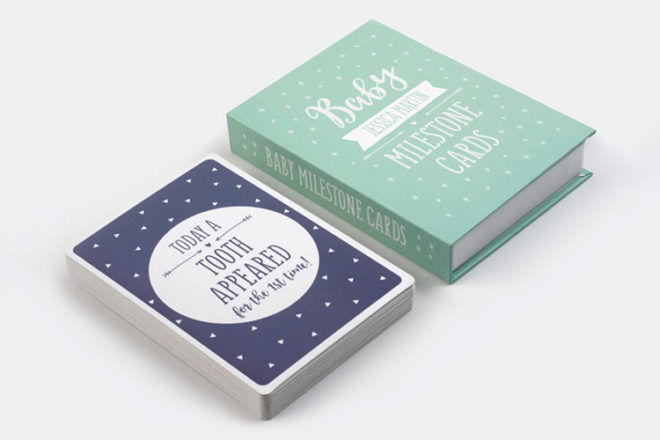 The colourful cards in this sweet set are all double-sided to allow you to easily record dates, locations and other key facts about each special milestone. The entire set of 26 cards comes packaged in a personalised keepsake box for easy organisation and gorgeous gifting.
---
Snuggle Hunny Kids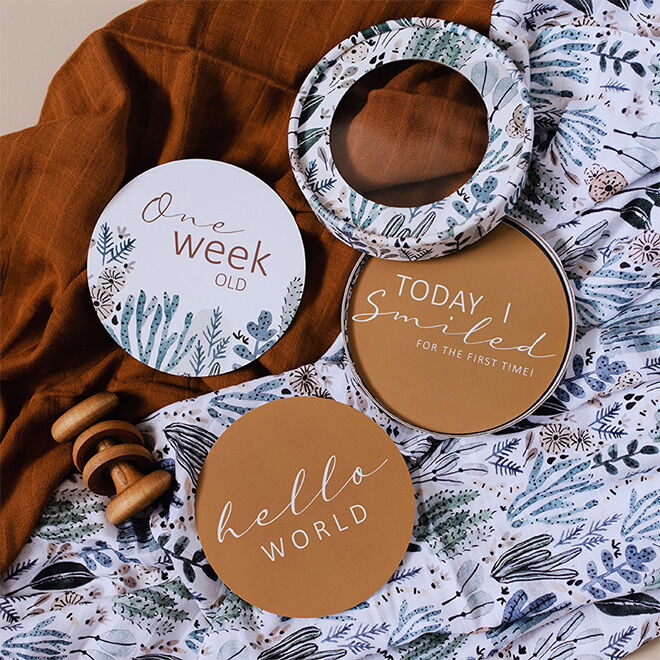 Pick a colour, any colour. This assortment of elegant, round milestone markers covers a stunning range of shades, from 'rust' to 'olive'. Each set is presented in a round gift box and includes 25 reversible cards: one side is patterned, the other is a solid colour. This range is a stylist's dream!
---
Co. Creative Design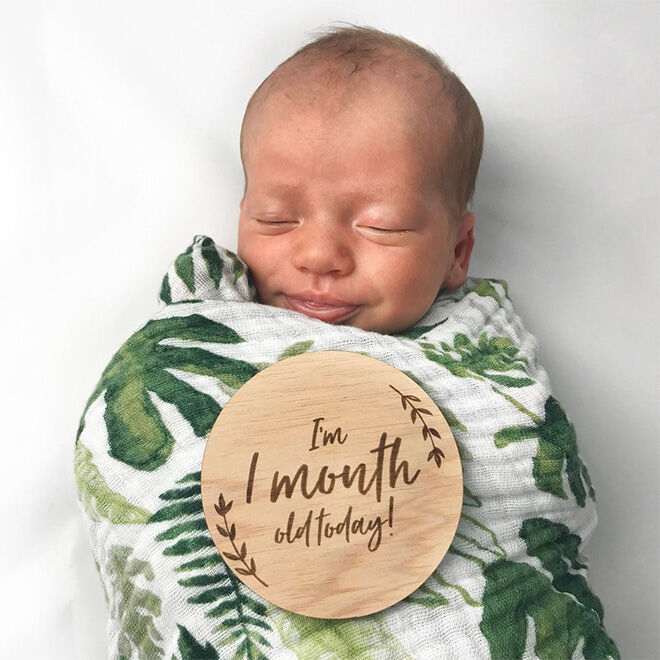 Made by hand in Sydney with Fijian cedar, these milestone discs are a stunning way to capture those huge events and achievements in Bub's early life. Sets include ages or developments, and you can also purchase combo bundles.
---
Inklets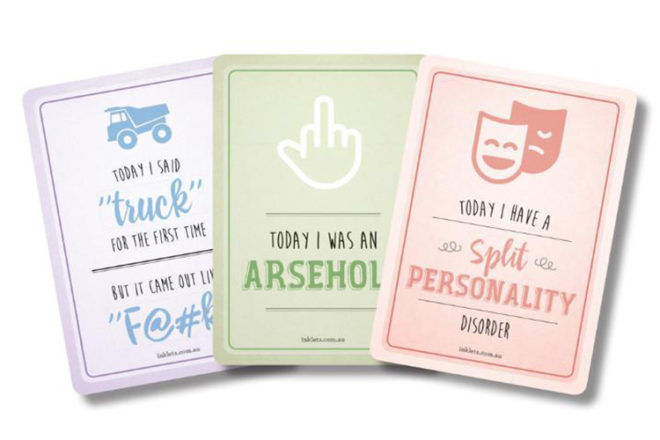 These milestone cards replace sweet with downright cheeky – and with a bit of swearing and a lot of telling it like it is, they're definitely not for the faint-hearted! You get 25 full-coloured cards in each set, all designed in Melbourne.
---
Pearhead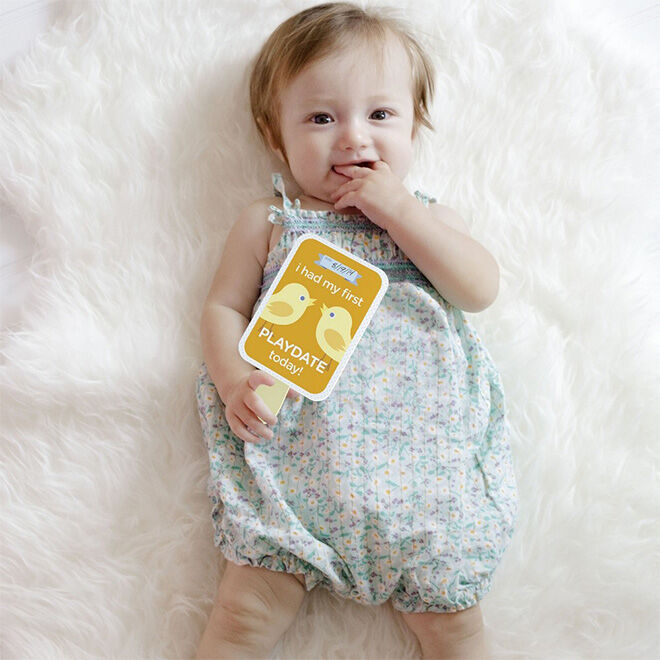 Sweetest. Popsicles. Ever! Packed with colour and massively cute, this set of 30 cards can be placed next to bub or held by the 'stick' for pics to cherish…and share like crazy! Major firsts like crawling, talking and laughing are included in the collection.
---
Tiny Little Wonders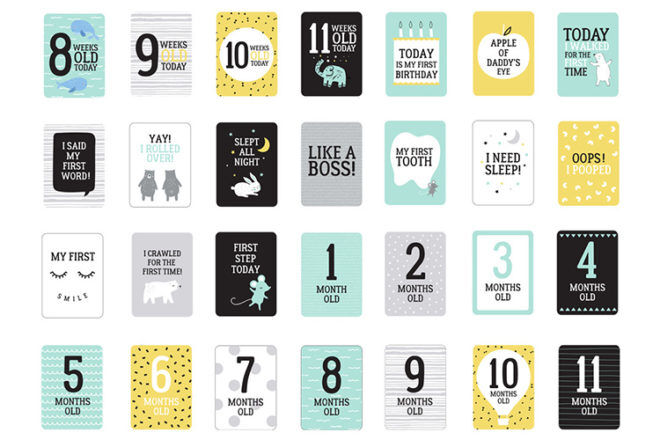 At less than a fiver, this set from one of Kmart's own brands is by far the best value around. It includes 35 cards in gender-neutral designs that cover events right up to the walking stage.
---
Eco Baby Planet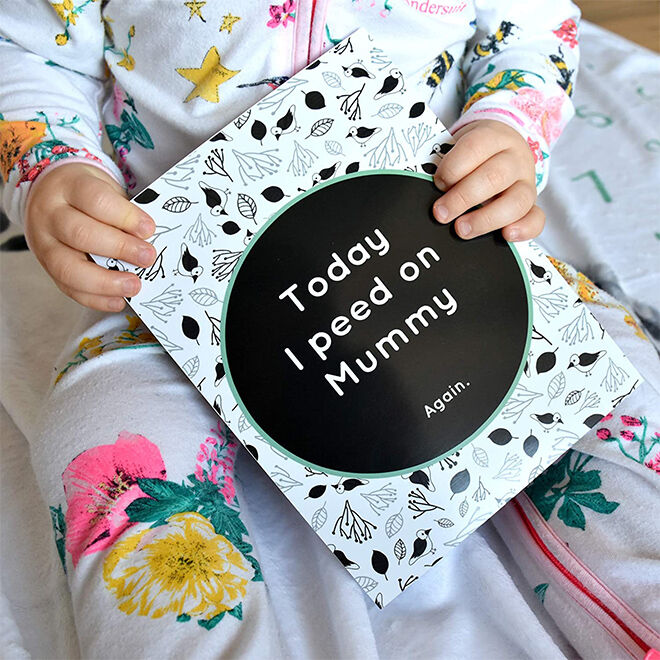 Beautifully boxed and ready to gift to a parent who loves a laugh, this set of 24 milestone cards includes such gems as 'Today I casually pooped in the bath' – and we love them all! 12 cards have a monochrome design, while the other 12 feature watercolour animals.
---
Groovy Goose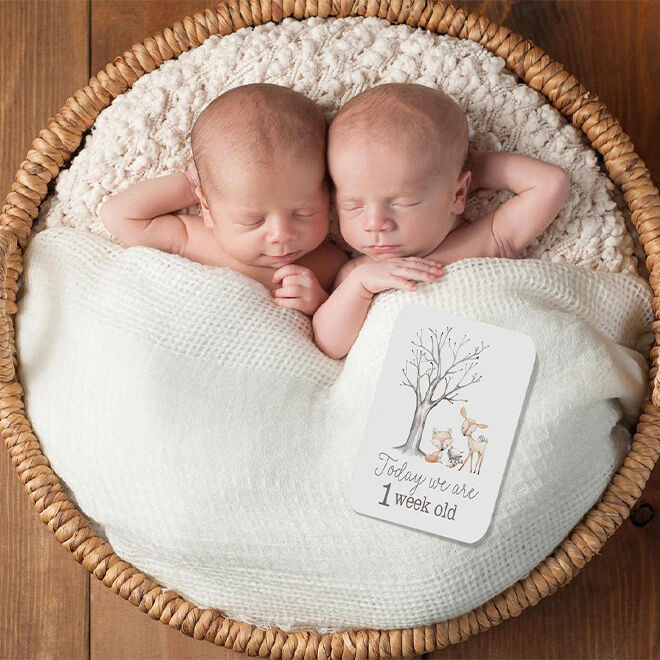 With themes like Boho Deer and Chevron Jungle, we are struggling to pick just one favourite from this batch of goodness. Each set of 28 cards has been lovingly designed by an Aussie mum and comes delivered in a cotton drawstring bag.
---
Blossom and Pear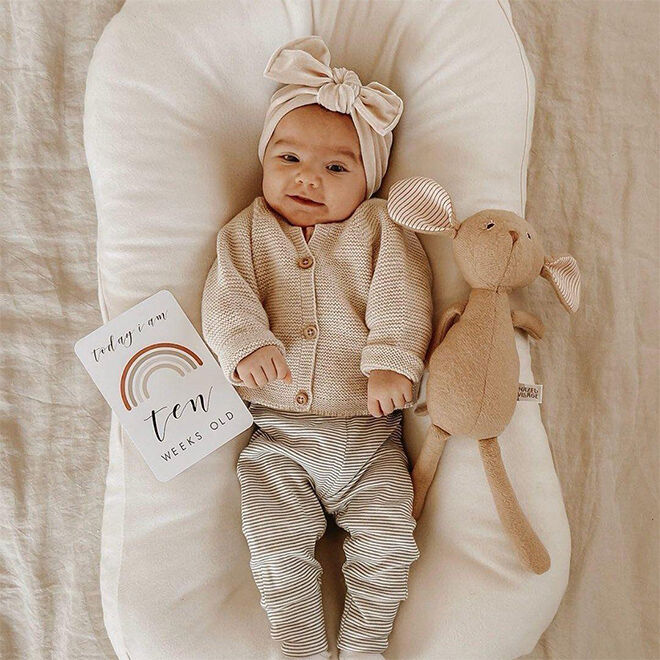 Classic and elegant, these keepsakes are going to make a stunning gift for any new parent. Sets are made up of 30 assorted cards that include ages and baby breakthroughs. Almost 10,000 happy customers can't be wrong!
---
Vanda Baby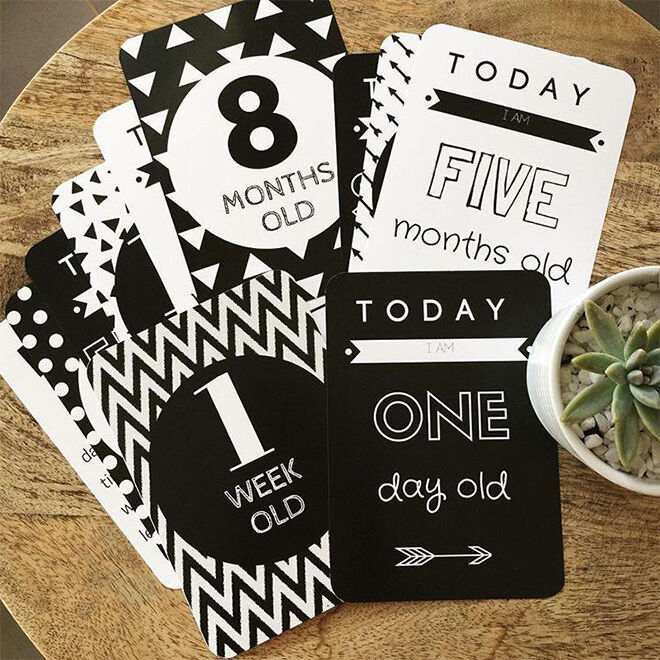 These monochrome treasures have won us over for being completely timeless and so easy to style. The set includes an introduction card for recording birth details and 16 milestone cards that cover Bub's first weeks, months and year.
---
Mrs Mighetto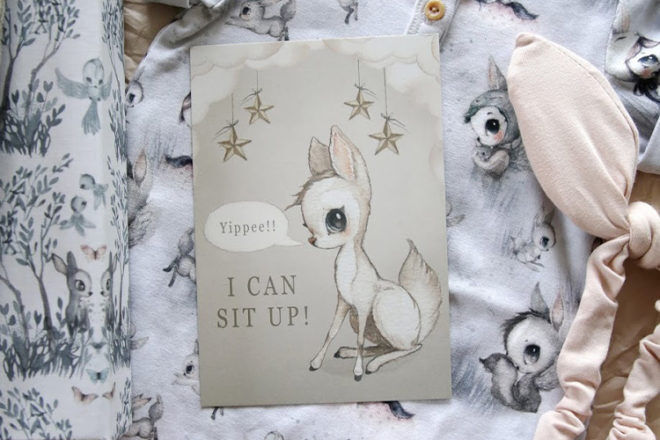 From a Swedish brand loved for its fantasy-filled prints comes a set of milestone cards to positively drool over. Among the 24 cards are sweet watercolour creatures, major achievements and ages up to the first year.
---
Love to Dream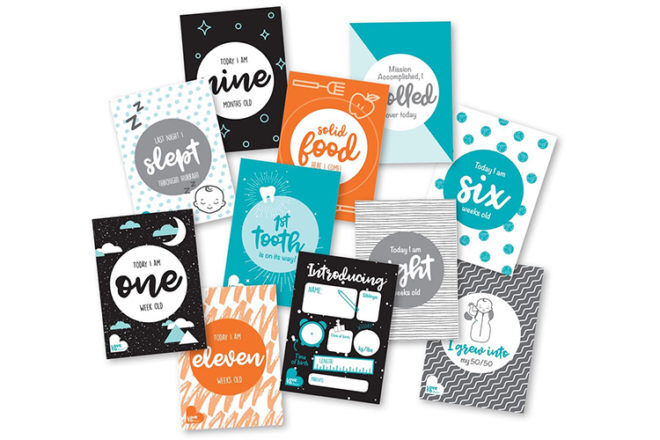 It's not just baby sleepwear that this Aussie brand has nailed – this fabulous set of striking cards is both gift-worthy and gorgeous. Starting from birth, cards incorporate many important stages of the first year.
---
Lucy Darling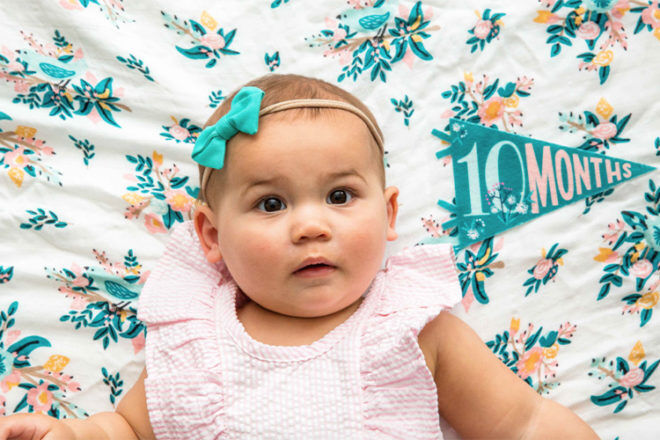 These unique little milestone pennants are a little bit different in that they are printed on felt material rather than paper. They come in four different styles, with each set containing 14 flag-shaped pieces to cover the birth and each month leading up to Bub's first birthday.
---
Toucan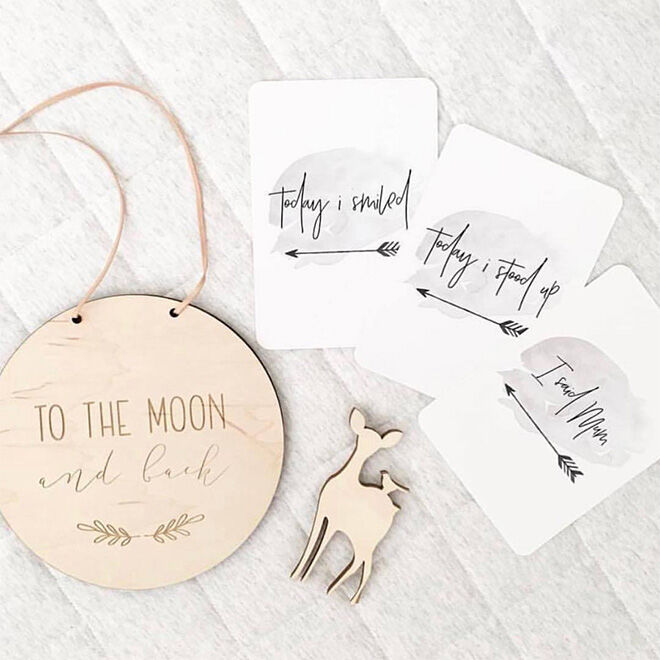 Designed and printed right here in Australia, these bumper packs of 36 baby milestone cards come in loads of exquisite styles including watercolour and monochrome. Cards have rounded corners and celebrate Baby's first weeks, months and unforgettable firsts like Easter and Christmas.
---
Know a brand of baby milestone cards we should add to our list? Contact us and let us know.
Read next …
Looking for more ways to capture precious memories? Here are a few of our favourite articles that you might like to read next:
Continue your search for the best baby milestone cards
Looking for baby milestone cards and still not sure if any of these are right for you? Search online by jumping into one of our closed Baby groups and ask thousands of other Australian mums what they recommend – 'What to buy' is the most talked-about topic.
Click and join your group today!