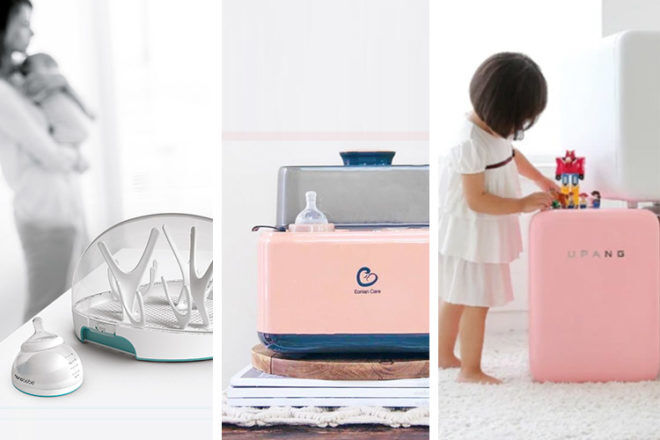 Whether you're bottle-feeding occasionally or exclusively, a bottle steriliser is going to be your time-saving bestie in the first year with a bub.
Not only can you sterilise multiple items at once in these units, but you have peace of mind knowing that baby's favourite bottles and teats are germ-free and good to go when those hunger cues are thrown your way.
Types of bottle sterilisers available in Australia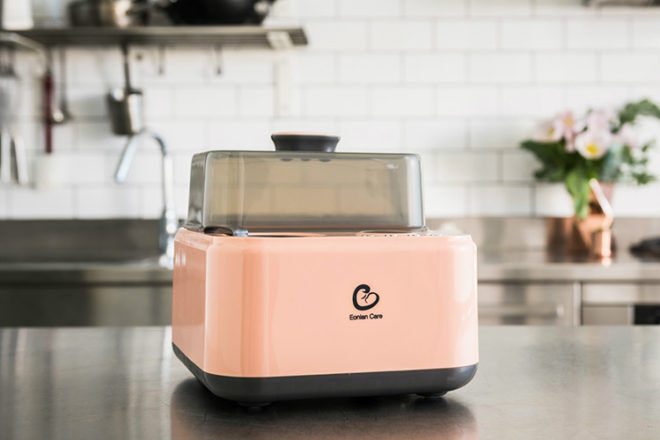 Electric bottle sterilisers – With a small amount of water at their base, electric sterilisers generate steam at high temperatures to rid bottles and attachments of any nasties. They vary in volume but are generally ideal for families that have bottles on high rotation.
Microwave bottle sterilisers – Usually smaller than electric sterilisers, microwave options are great for parents who are low on space. Being more portable than larger electric units, they're also a fab solution for day trip and holidays.
UV bottle sterilisers – Ready to say goodbye to steam? These sterilisers use ultraviolet technology to remove dangerous bacteria from bottles and other baby equipment, including toys and all those well-chomped teethers.
---
13 bottle sterilisers for squeaky-clean feeding
In no particular order, here are 13 handy sterilisers that will save you time, worry…and a little bit of your sanity.
1. Omababy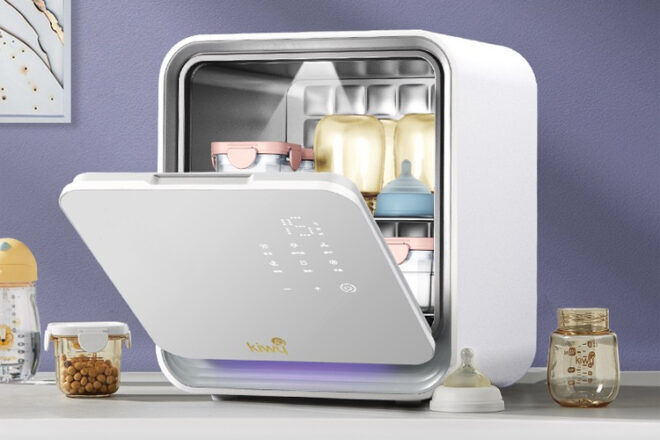 Not only is this quiet unit an efficient bottle steriliser that kills 99.99% of bacteria, but it's the first of its kind that also works as a food dehydrator and a yoghurt machine! It comes fitted with long-life LED lights that will see you through up to 10 years of use.
COMPETITION:
Win 1 of 2 WIWY Baby UV Sterilisers
here …

---
2. Chicco
This clever sanitiser comes with three modes to see you through every stage of bottle feeding. You can fill it with up to six bottles in those busy early months, convert to compact format when feeds become less frequent, and use it in microwave format for travel.

---
3. Eonian Care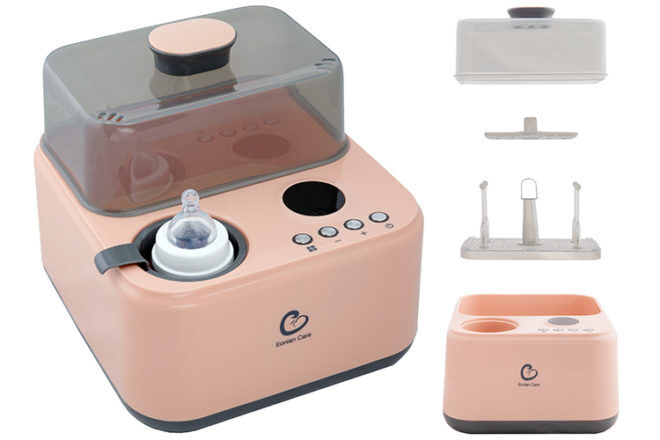 We're giving this two-in-one helper top marks for its ability to warm up the next bottle to the required temperature while sterilising the ones used earlier. The unit has an LED display, safety functions and comes with tongs and a measuring cup for no-fuss operation.

---
4. Nuk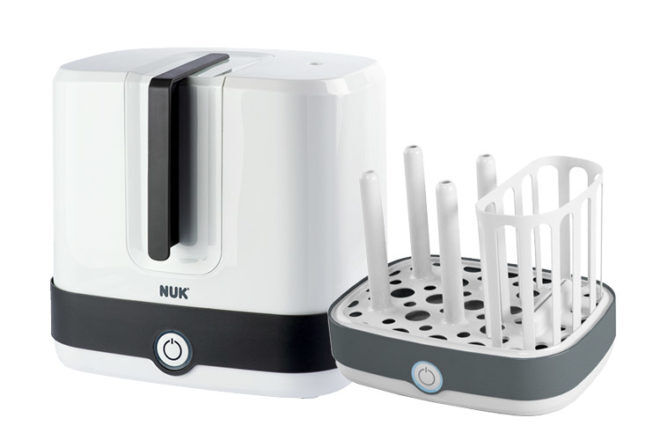 This efficient unit includes a unique internal tray with adjustable poles that can be positioned to stay upright throughout the cycle of cleaning and drying. There's also a handy basket for all those dummies, teats and breast pump attachments.

---
5. Rizeez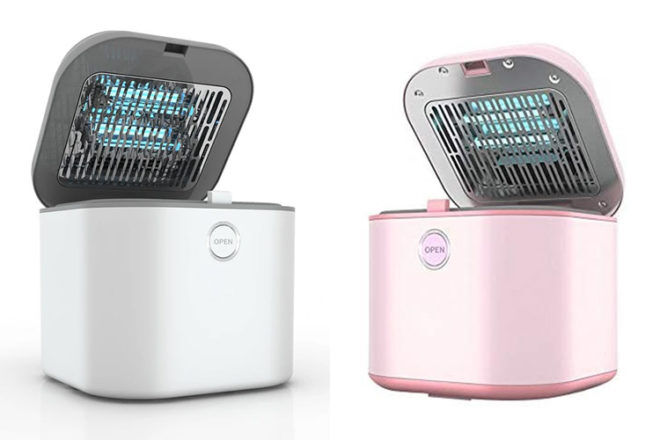 With a Phillips UV sterilising bulb and HEPA air-filter system built into the unit, this device targets fungi, bacteria and other illness-causing nasties. The result? Sterile, dry equipment ready for use in just ten minutes.

---
6. Phillips Avent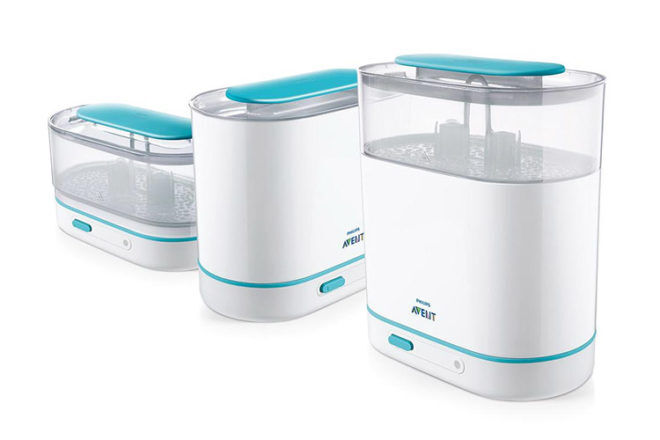 With a six-minute cycle, this modular steriliser is one of the speediest around and will have you all organised and back cuddling Bub sooner. It has a very handy auto shut-off function and a secure seal that will keep bottles and other feeding gear sterile for up to 24 hours.

---
7. Minbie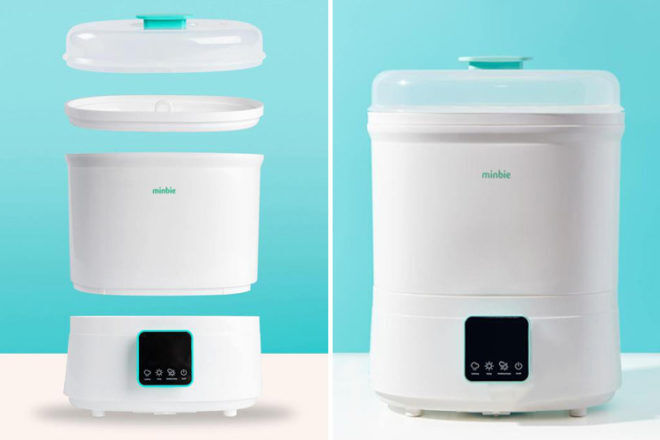 Leak-free and big enough to take care of up to six bottles per clean, this steriliser is ideal for parents who are bottle feeding around the clock. The top tray takes care of dummies and teats, and the handy back-lit display panel helps you keep track of the cycle.

---
8. Nanobebe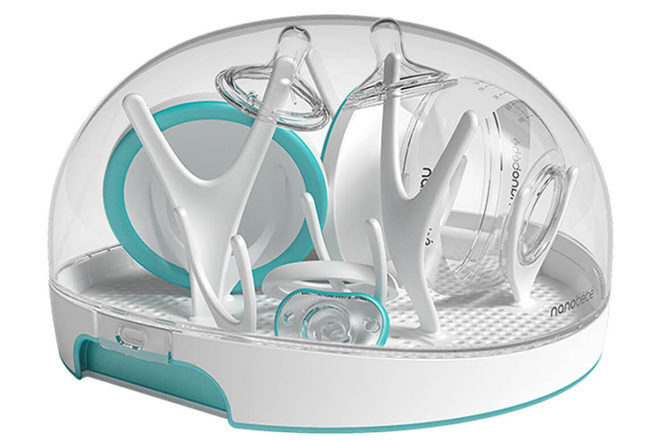 Dome-shaped and compatible with many bottle brands, this handy steriliser will remove 99.9% of household germs in less than five minutes. With adjustable pegs included on the tray, you'll be able to get all those feeding accessories squeaky clean at one time.

---
9. Pigeon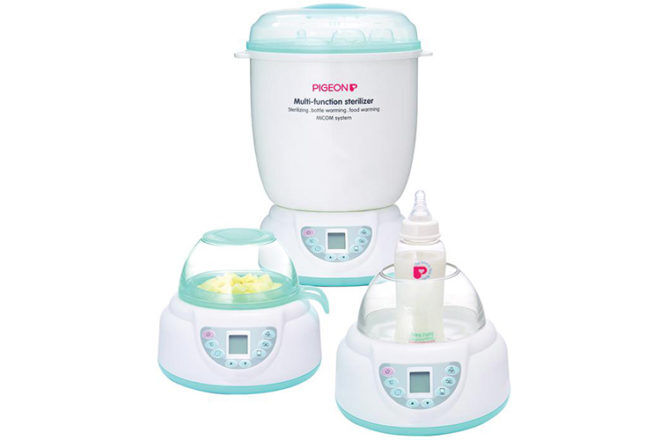 It may look like a bottle steriliser, but it's so much more. This truly multi-functional unit can sanitise up to five bottles, heat up Bub's pureed veggies, and warm up a bottle to the perfect temperature. Oh, how we love a clever appliance.

---
10. Tommee Tippee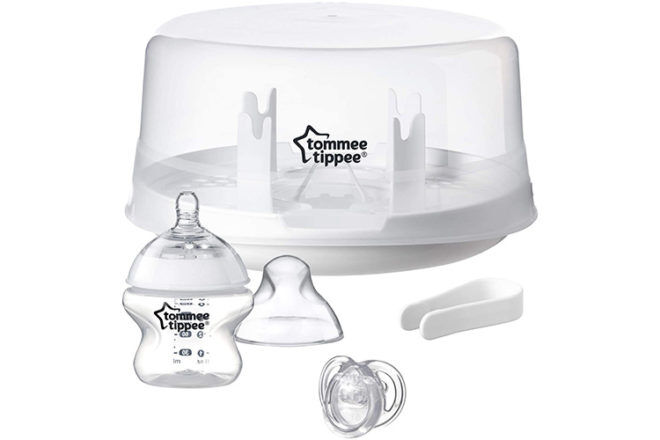 It's compact, quick and convenient. This helpful unit delivers four sterilised ready-to-fill bottles and attachments in just four minutes. It comes with tongs and a spare dummy – because you can never have too many of those.

---
11. 59S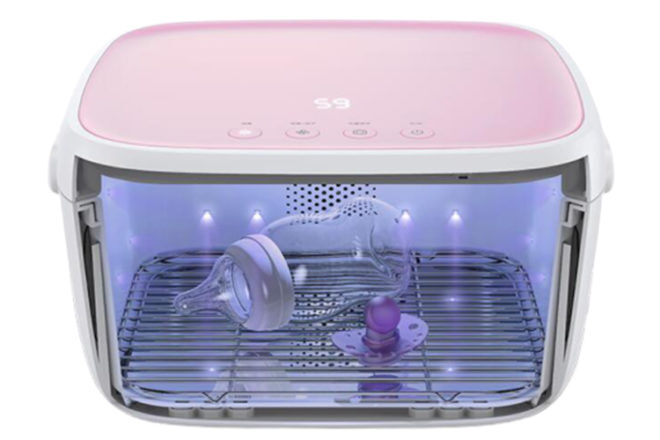 Want to banish milky smells? This UV steriliser removes not only germs but also odours from baby bottles and equipment, leaving essentials nice and fresh for your babe. It comes in a choice of pink or blue and has a nifty carry handle for when you're on the go.

---
12. Milton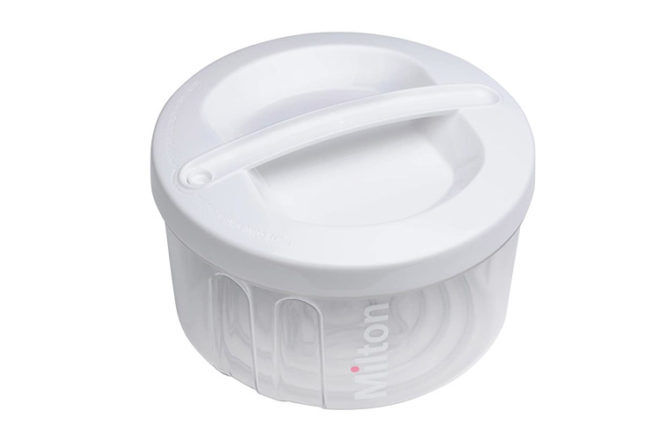 This watertight two-in-one unit can be used as both a microwave and cold-water steriliser. The set comes with a pack of antibacterial tablets and tongs, so if you are unable to get to a microwave, you can still sterilise baby's bottles within minutes.

---
13. uPang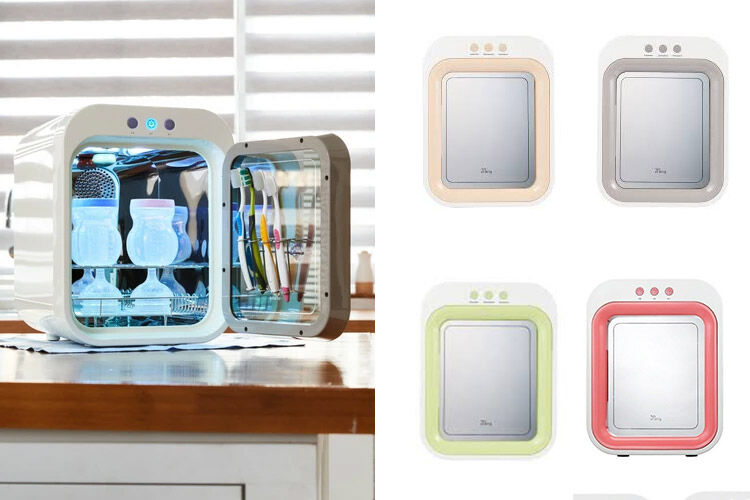 The uPang UV Steriliser is suitable for sterilising a wide range of everyday items. From bottles to mobile phones, tablets, gadgets, a computer mouse, toys, keys, wallets and even remote controls by using the Sterilise cycle.

---
This article is curated by our Editors and includes affiliates and/or paid inclusions. See our Disclosure Policy.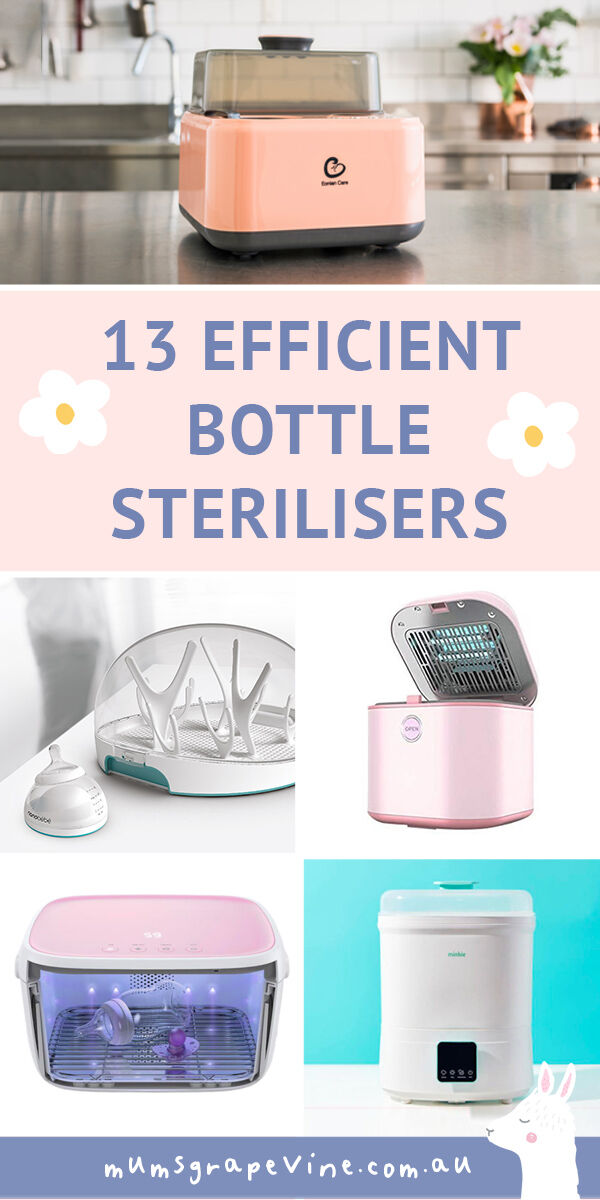 Know a brand of bottle steriliser we should add to our list? Contact us and let us know.
Read these roundups next ….
Continue your search for the best bottle steriliser
Looking for a bottle steriliser and still not sure if any of these are right for you? Search online by jumping into one of our closed Baby groups and ask thousands of other Australian mums what they recommend.
Click here >> Mum's Grapevine Facebook Groups  << to find your group today!