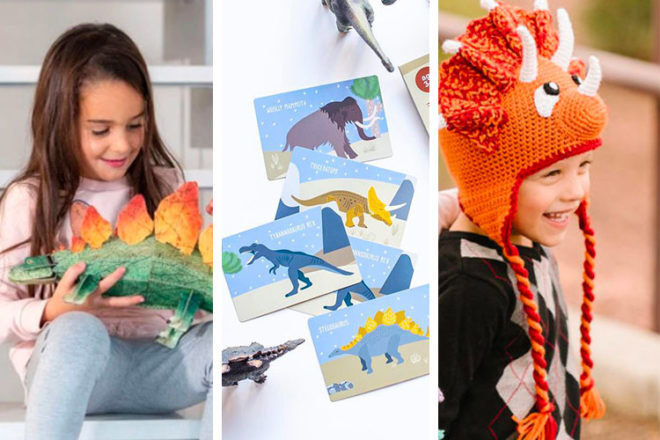 Jurassic giants may have disappeared 65 billion years ago, but with dinosaur toys and costumes regularly taking out top spots on wish lists, kids definitely still can't get enough of their roar-someness.
Our compilation will point you towards the most giftable dino goodness around – and whether you go for a pair of spiky shoes or a T-rex teepee, you can be certain there will be toothy grins all 'round.
These are our top picks of gift ideas for little dinosaur devotees.
Cheap and cheerful … (under $20)
Name Labels
Figurines
Torch projector
Crayon set
Storybooks
Jelly mould
A bit more … (under $50)
Floor puzzle
Slippers
Fossil dig kit
Hand puppet
Splash out …
Robotic dinosaur
Quilt cover set
Inflatable sprinkler
Dinosaur Floor Puzzle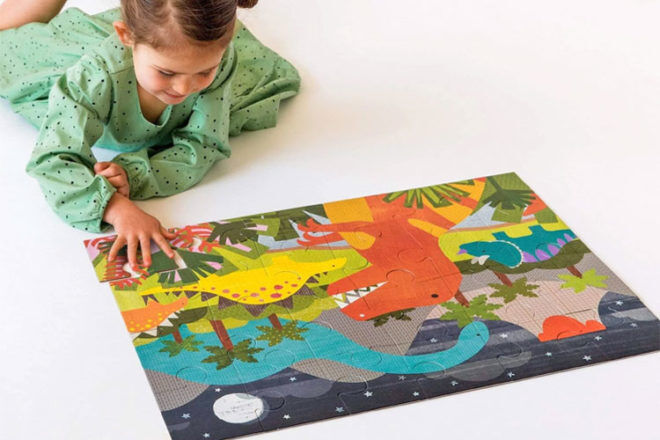 Packed in its very own cute carry case, this dinosaur puzzle is a must for dino-crazed kids. The big, bright pieces are easy to grab and when finished, it's a pretty picture they'll want to recreate time and time again.
---
Dinosaur Wallpaper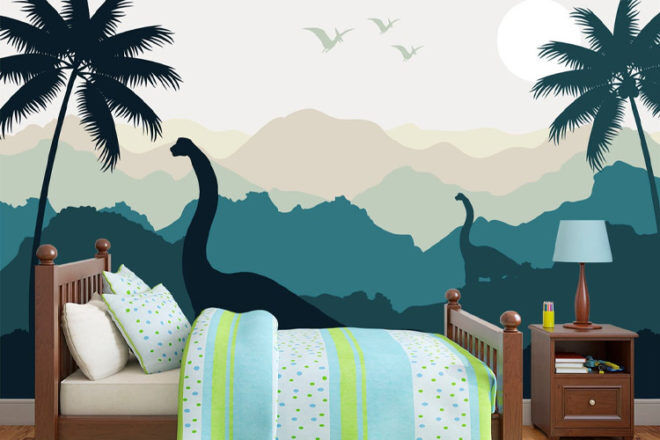 With this sensational backdrop, kidlets will feel like they're roaming the plains with the giants. Printed with eco-friendly inks on your choice of vinyl or non-woven material, these can be ordered in over 15 different sizes and dino-themed prints.

---
Wooden Dinosaur Toys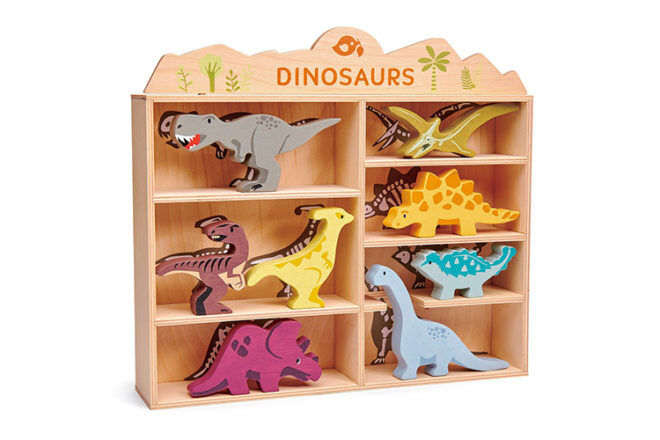 This beautiful set of eight different wooden dinosaur toys has been crafted from solid rubberwood and each piece is nice and chunky for tiny hands to hold. The storage box is printed with dino skeletons and it's brilliant for playing matching games with littlies.

---
Dinosaur Beach Toys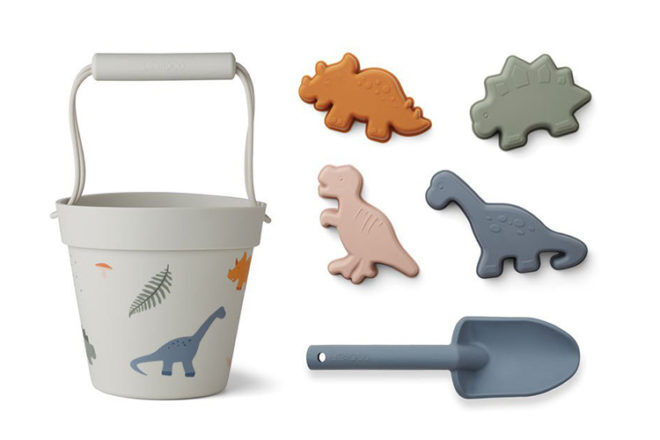 Introducing the perfect beach tools for pint-sized paleontologists. Made entirely of BPA-free silicone, this Scandi set is lightweight, flexible and the perfect gear for days full of digging, moulding and collecting.

---
Dinosaur Icy Pole Moulds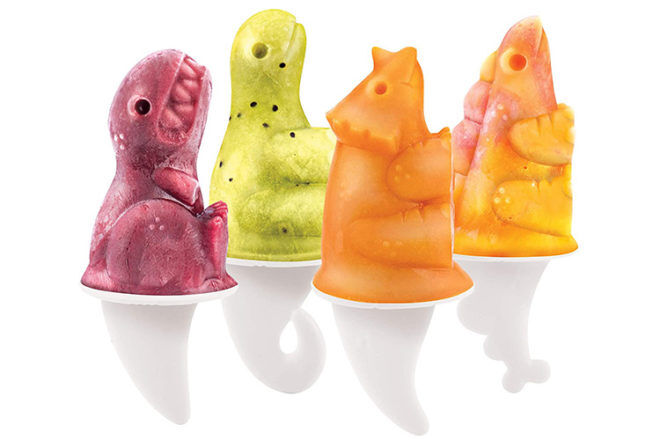 What's a dinosaur gift that's cooler than cool? An icy pole mould! These quirky-shaped moulds take snack time to the next level and will have kids of all ages begging for more.

---
Dinosaur Dinner Set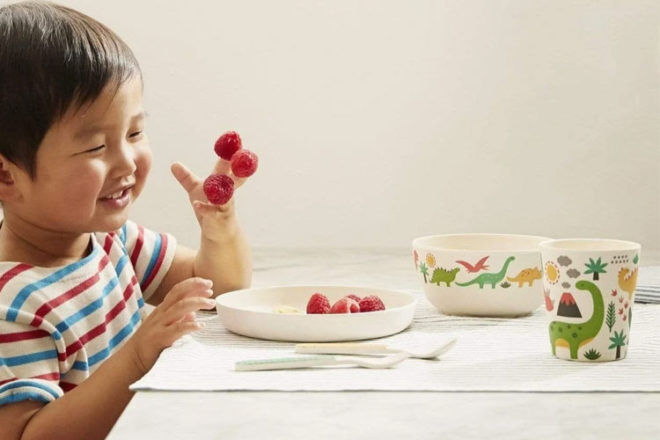 A gorgeous gift for omnivores and herbivores alike, this adorable dinnerware will have munchkins stomping toward the table faster than you can say 'Come and get it, Giganotosaurus!'.

---
Dinosaur Wall Decals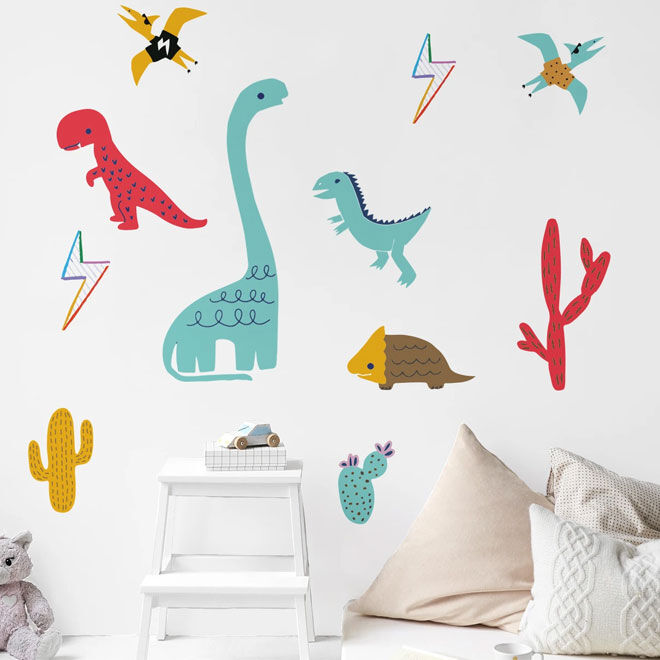 Future Folk Designs Kat Kalindi Dinos Wall Decals (from $29)
If you're after some dinosaur wall art that won't completely terrify little ones, these crazy-cute decals are the answer. They are eco-friendly, printed with water-based inks and they are both removable and reusable. Choose from A4 or A2 -sized decal sheets.

---
Dinosaur Backpack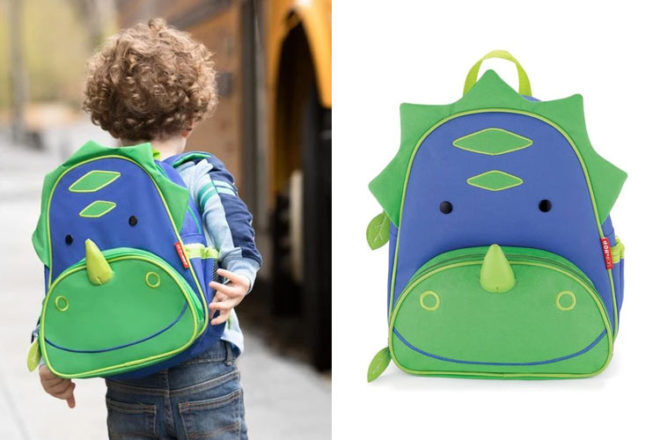 Packed with all their fossil finding must-haves, binoculars and of course, snacks, this cute and comfy backpack ensures they look every inch the part wherever they go. We love!

---
3D Dinosaur Puzzle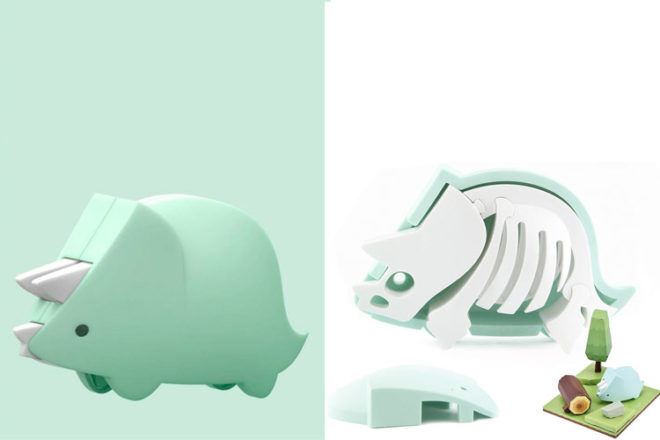 If you're hunting out a dinosaur toy that's cute, educational and multi-faceted, your search ends here. Half Toys Dinosaurs are skeleton puzzles, construction toys and adorable playthings. They each come with a cardboard diorama for playing out prehistoric scenes. Love them!

---
Dinosaur puzzle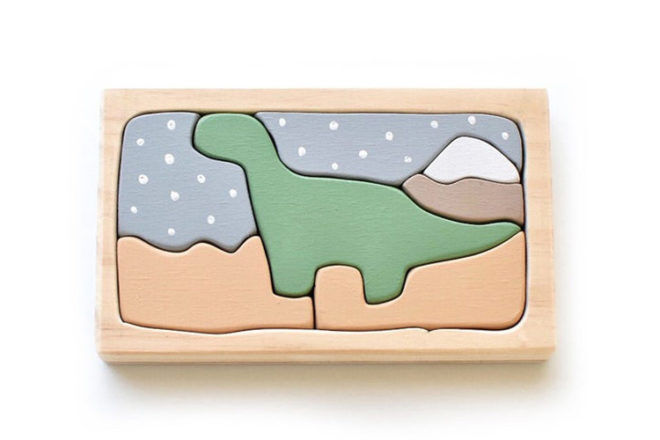 The chunky pieces and unique design of this stunning wooden puzzle have completely won us over. Not only can it be played with as a regular puzzle in its wooden base, but the puzzle pieces are sturdy enough to stand upright on their own as well.

---
Dinosaur Banners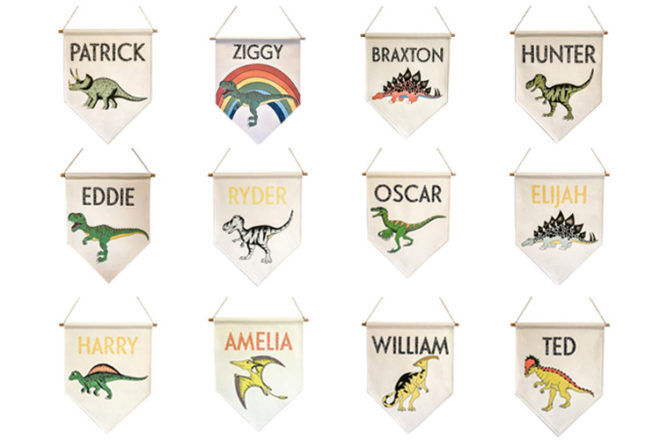 These personalised canvas name banners will add some dino flair to bedrooms. Each banner measures 42cm in length and there are 15 fabulous dinosaur prints to select from. Good luck choosing!

---
Dinosaur Tail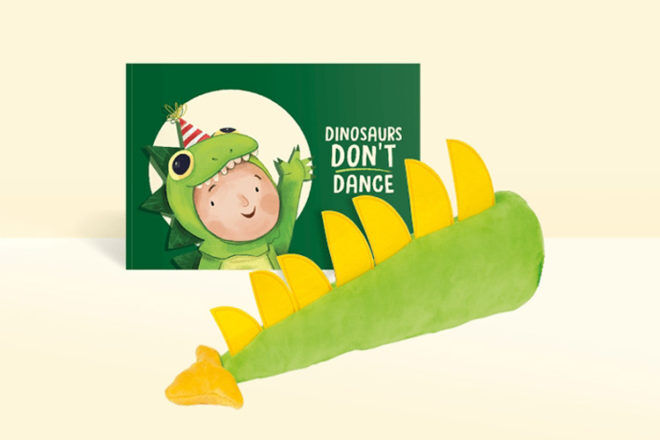 Dinosaur tails are the hilarious props that inspire giggles and hours of imaginative play – and we love 'em! This fab set includes a copy of Dinosaurs Don't Dance and one very green, totally irresistible dino tail. The plush tail fastens around tiny hips with Velcro for hours of dino dancing.

---
Dinosaur Crayons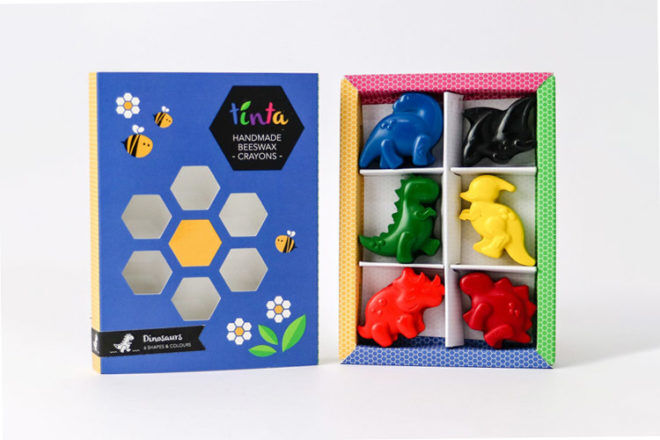 They're the perfect tools for mapping out the next dino hunt and they've been handmade from natural ingredients right here in Australia. The set includes six chunky, bright and adorable kiddie-sized crayons, boxed up and ready to give to that special little someone.

---
Dinosaur Board Book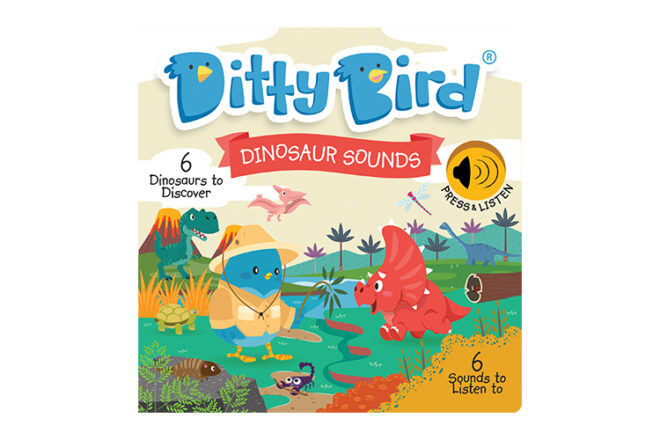 With vibrant imagery and captivating sounds, this adorable dinosaur book is going to thrill bubs and tots to bits! Each page includes a special 'sound dot', and once pressed by inquisitive fingers, the book emits a sound unique to a particular dinosaur. Aww, cute!

---
Inflatable Dinosaur Costume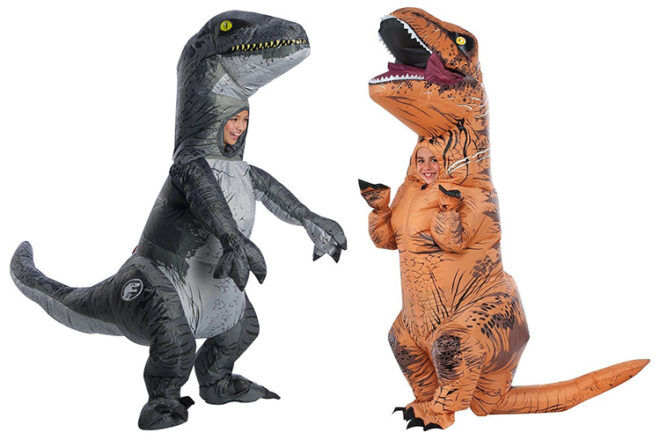 Inflatable dinosaur costumes have taken the world by storm in recent times for the simple fact that they are utterly hilarious. Once kids are zippered into the costume, the built-in pump fills it with air. Add some batteries to activate the sound effects and you've got a gigantic, wobbly dino ready to take on the town!

---
Dinosaur Puppet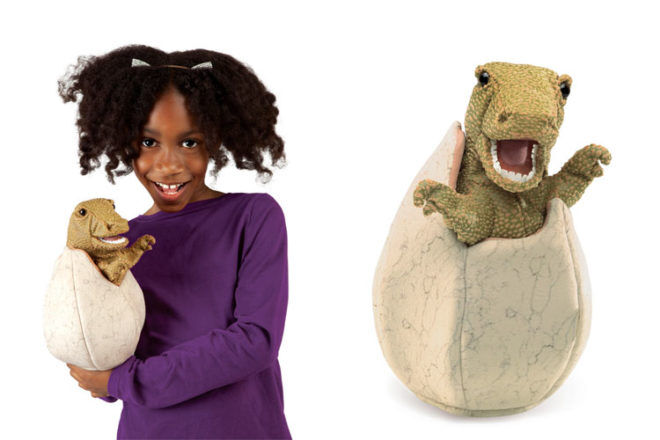 With movable hands and mouth, you can count on this baby T-rex puppet providing many-a-giggle to dinosaur-crazed kids (and adults!). It measures just under 23cm in height and can pop in and out of the egg.

---
Dinosaur Vest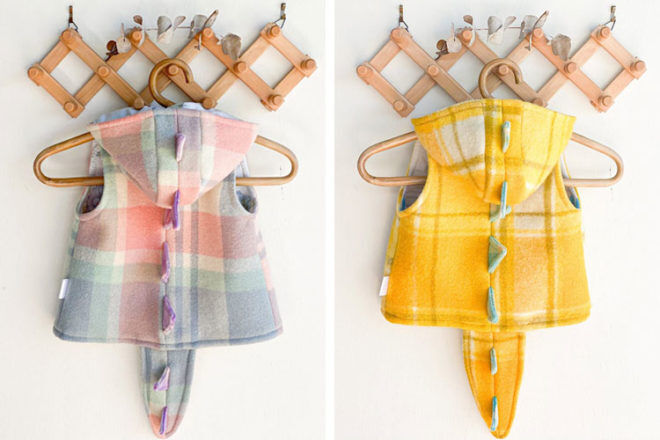 Whether they are worn as a dinosaur costume, or as a toasty outer layer on a chilly day, these little vests are totally going to melt hearts. They come in a choice of pink or gold shades and are handmade from pure wool with wooden buttons.

---
Dinosaur Flash Cards
This environmentally friendly card set is a great starting point for little ones who are learning the names of dinosaurs. It includes 26 laminated cards that can be enjoyed for improving memory skills and playing games like Snap.

---
Dinosaur Bunting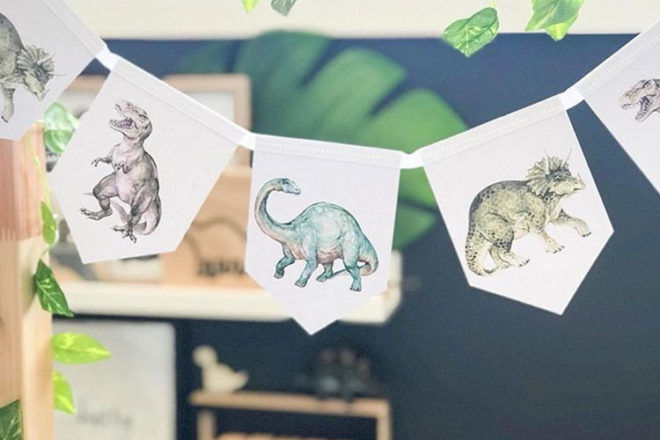 This beautiful dinosaur bunting is a simple and sweet way to celebrate the wonder of Mesozoic creatures while adding a good dose of dino flair to bedrooms.  At two metres in length, it's perfect for dressing up bookshelves, bedheads, windows and bare walls.

---
Dinosaur Magnet Set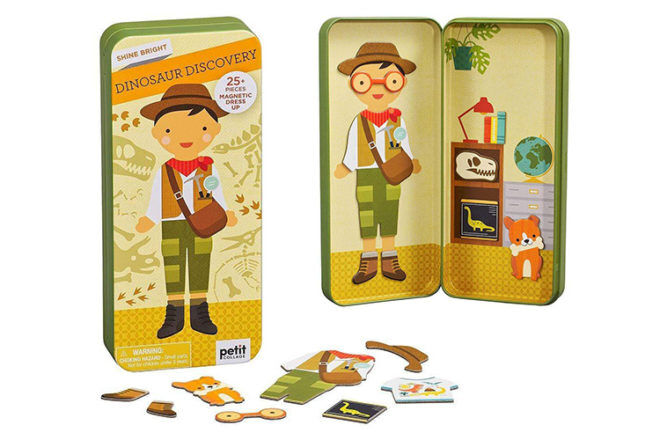 This compact paleontologist kit can be taken here there and everywhere. The illustrated tin contains two scenes and 24 magnets for endless imaginative play. This is a fab option for on-the-go play.

---
Dinosaur Wall Prints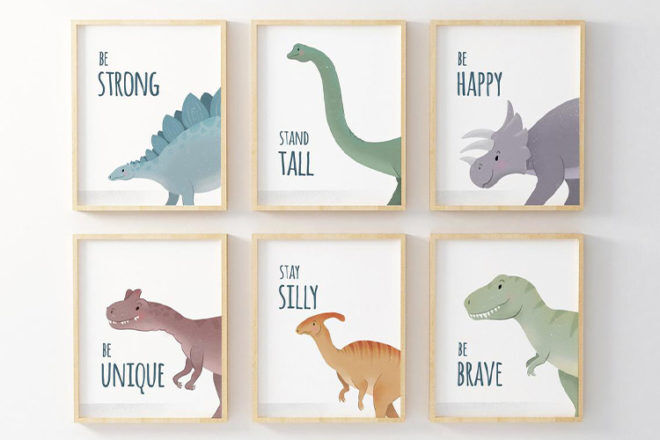 We're loving these prints just as much for their dino factor as for the inspirational messages on each of them. Friendly, fun and full of colour, this set comes in five different size options.

---
Dinosaur Model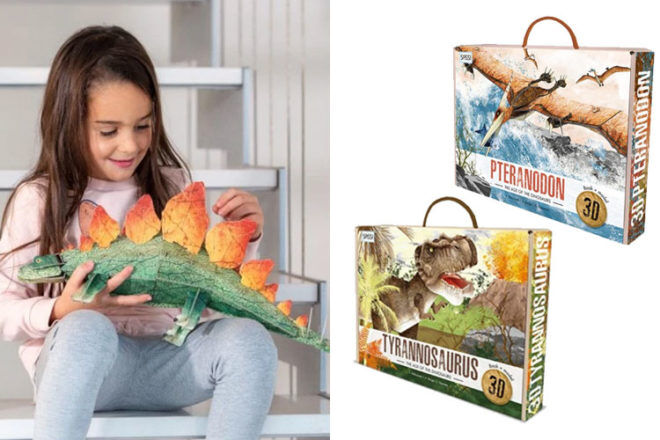 Part construction toy, part book, these sets make a sensational gift for the child who loves to dive into dinosaur details. Kids can pore over the facts in the illustrated books, then build their very own dinosaur model. Choose from four different prehistoric beasts.

---
Dinosaur Playset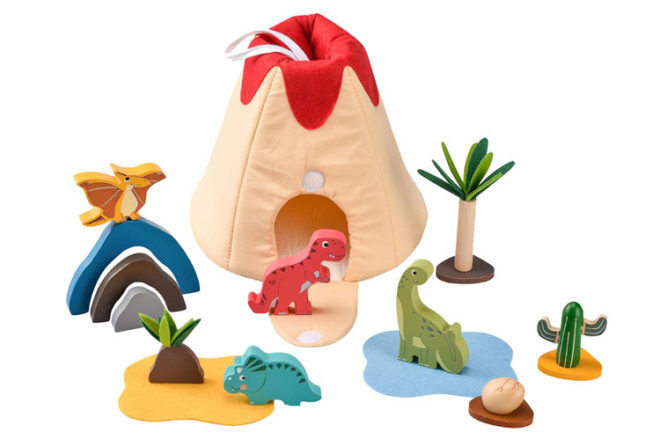 Could it be the cutest dino playset around? We sure think so! With a combination of fabric and wooden pieces, this set allows little paleontologists to play out infinite dino gatherings while improving their social and fine-motor skills. When it's pack-up time, all pieces fit snuggly inside the volcano, ready to take anywhere.

---
Dinosaur Colouring Set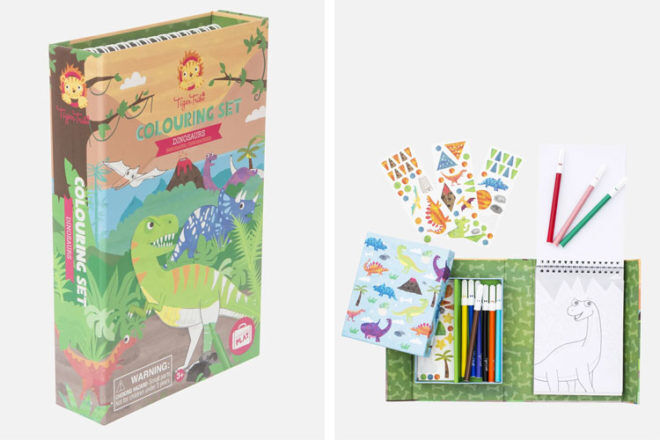 Colouring sets make some of the best boredom busters around and they're known to be lifesavers when it comes to travelling with kids. This dino-themed set includes stickers, markers, colouring pages and activities all bundled up in the perfect storage case.

---
Dinosaur Swaddle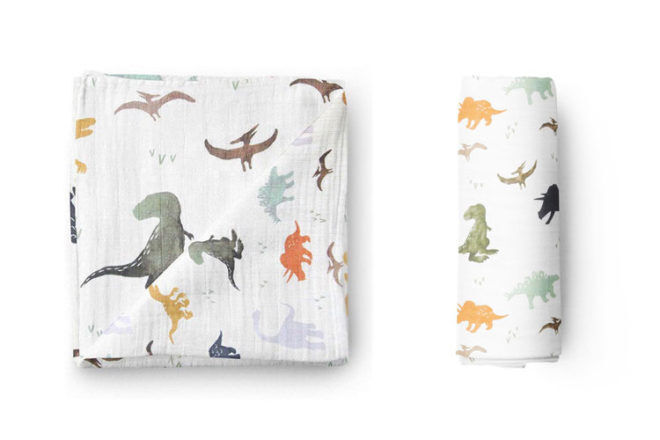 What better way to wrap up your little babe-o-saurus than in a luxuriously soft dinosaur swaddle? Made from a combination of silky cotton and bamboo, this gem is going to be infinitely useful in the early years: it's a wrap, a blankie, a towel – even a pram shade.

---
Dinosaur Lunchbox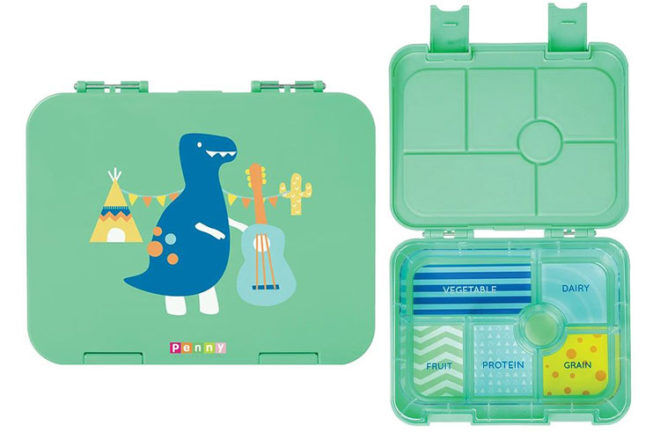 Bento boxes are fabulous for preparing balanced lunches for kids, and we think this dinosaur number will inspire littlies to gobble up every last bite! The main tray has six handy leak-proof compartments and the entire set separates into sections for easy cleaning.

---
Dinosaur Hat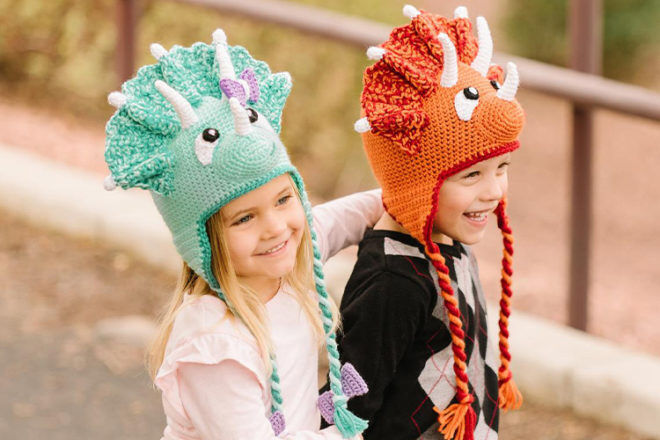 If you needed a reason to learn crochet, it's this! In a downloadable format, this pattern includes all the steps involved in whipping up an insanely sweet Triceratops hat for your little one. This would make the perfect dinosaur costume for younger kids who aren't quite ready for teeth and claws.

---
Dinosaur Umbrella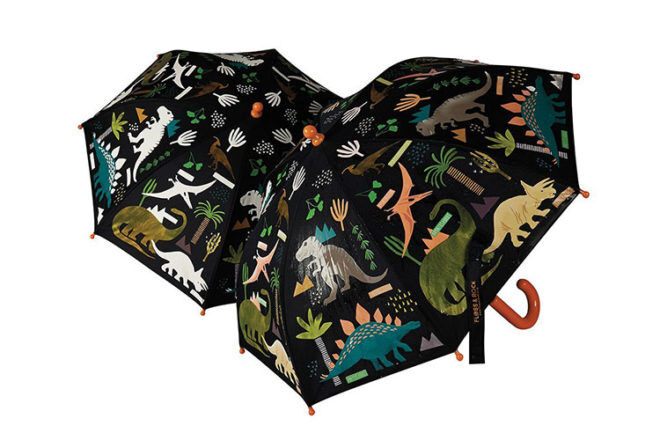 If your little dinosaur loves to stomp about in rainy weather, this brolly is going to come in very handy. Purpose-built for little bodies, they feature a sensational colour-change fabric. Watch as the images change from white to colour as the rain pours down!

---
Paleontologist Kit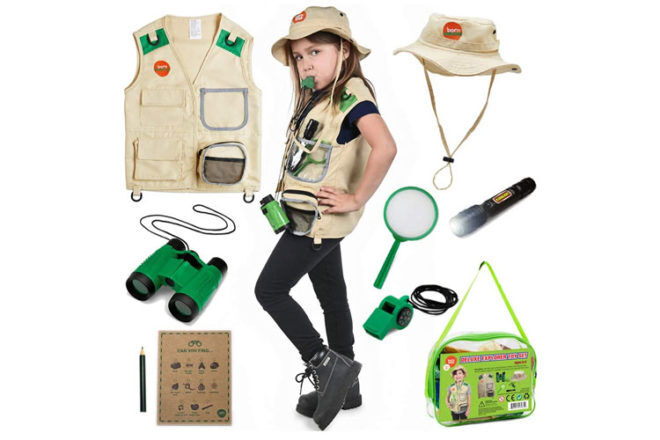 When it comes to dino hunting, preparedness is everything – and this kit will have kiddies well and truly ready to roll. Gear includes a vest, adjustable hat, binoculars, working torch and a magnifying glass with built-in compass. Everything comes in a convenient carry case for easy pack-ups.

---
Dinosaur Scenery Set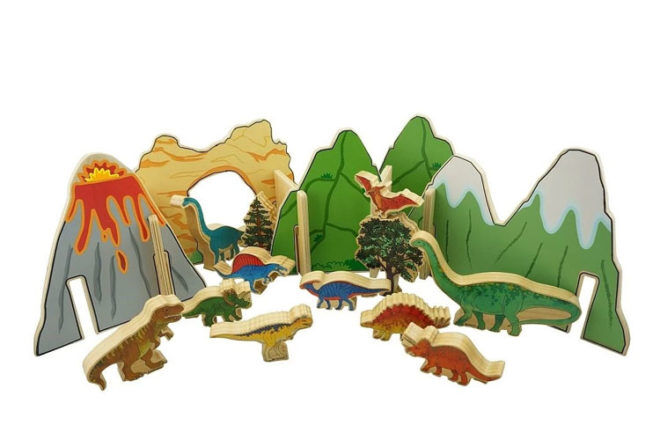 This adorable set of 20 wooden pieces is going to keep the imaginative play flowing for hours. Not only does it include a set of the most popular dinos around, but with props that include a volcano, rocky mountains and hills, kids have the perfect backdrop for playing out any prehistoric scene.

---
Dinosaur Clock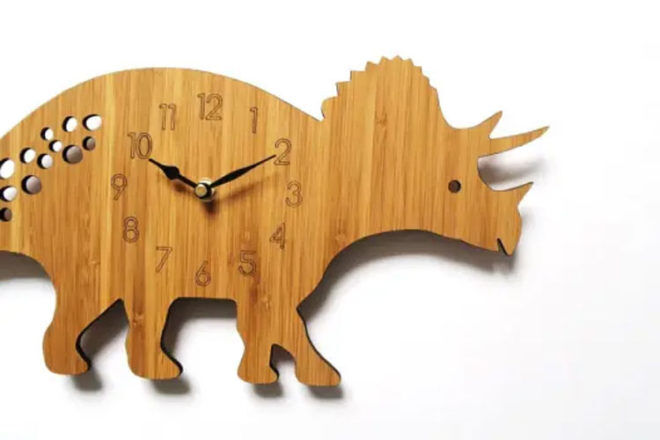 Time for dinosaur spotting! This adorable Triceratops wall clock is handcrafted in the UK from solid oak. It's a fabulous size at 40cm in width and definitely going to make a statement in bedrooms. This one comes boxed up and ready to gift.

---
Dinosaur Lamp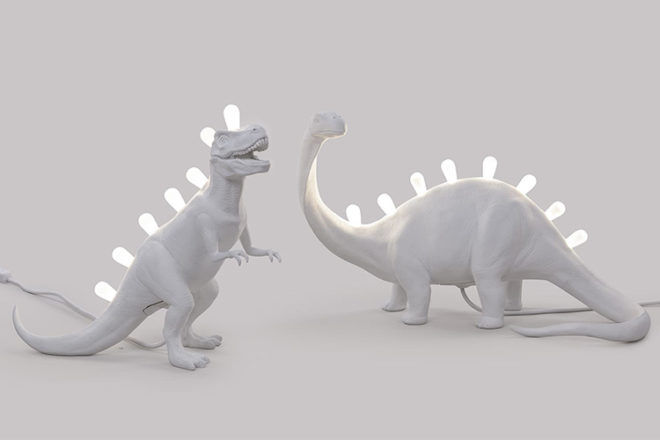 There are lamps…and then there are these! Crafted from white resin in a jumbo size for maximum impact, they make some seriously cool dino décor for kids' bedrooms. Choose from T-rex or Brontosaurus styles.

---
Dinosaur Shoes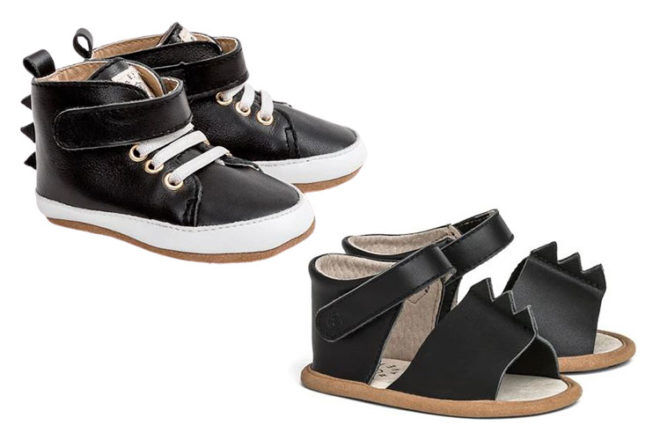 Got kiddos who like to stomp in style? These shoes are designed in New Zealand and constructed by hand to be the coolest kicks we've seen for dino-mad littlies. They made from genuine leather and have Velcro straps and elastic laces for simple on and off.

---
Dinosaur Projector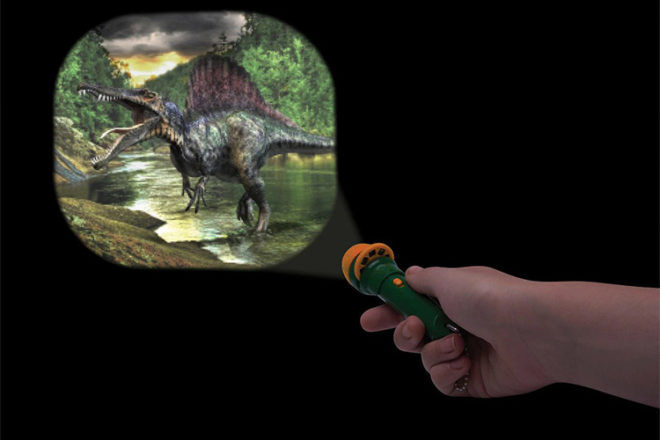 For a great-value gift with massive novelty value, this projector torch is an absolute winner. It comes with three discs for a total of 24 different dinosaur images. All kids have to do it point the torch at a wall and watch the dinos comes to life.

---
Dinosaur Mask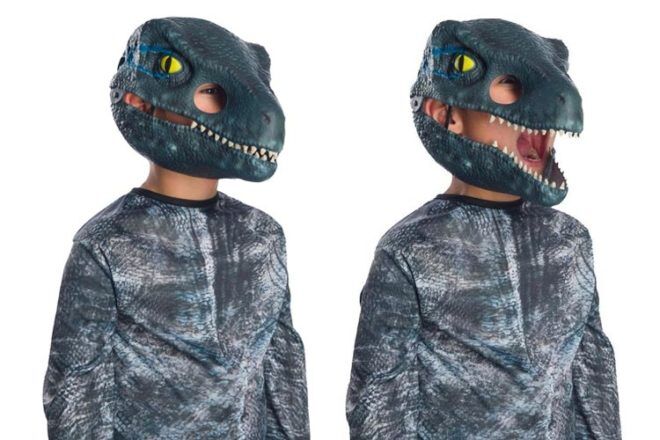 Beware the cheeky little raptor! Moulded from tough materials to stand up to loads of use, this officially licensed Jurassic World mask is going to come in very handy for Halloween and themed parties. It features a handy Velcro head strap and a very toothy, movable jaw.

---
Dinosaur Taco Holder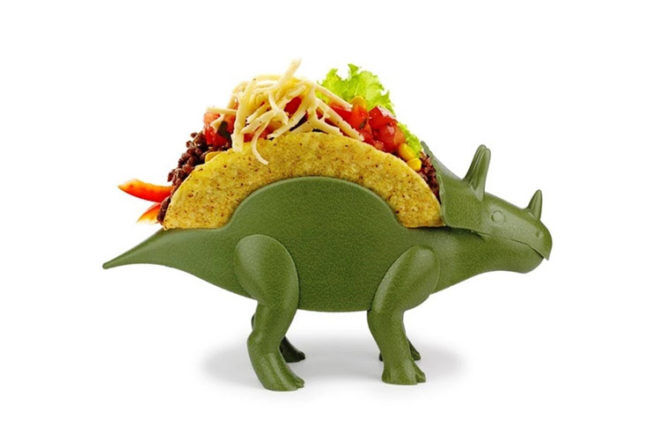 Tricerataco is the guac-loving dinosaur making mealtimes fun and solving the age-old problem of falling tacos. Load him with up to two tacos and put an end to broken shells and spilled salsa, and pop him in the dishwasher for easy clean-ups.

---
Dinosaur Night Light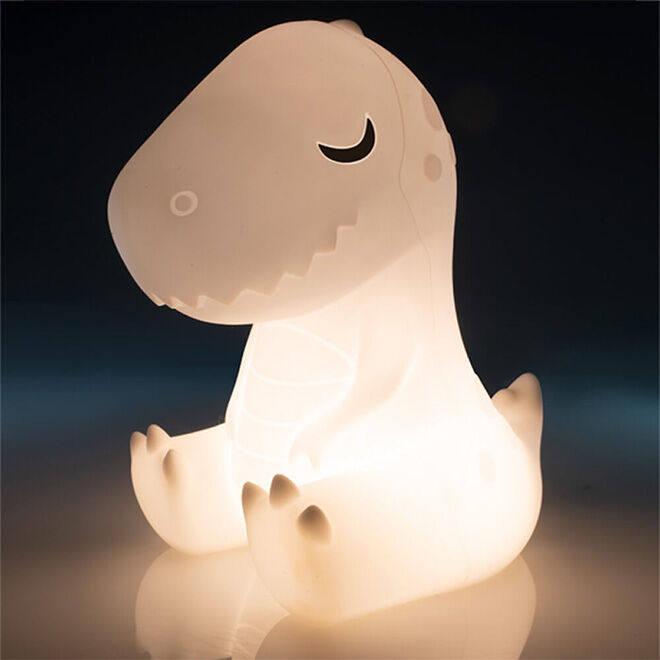 Unlike the grizzly giants of the past, this sweet little sleepy-time pal is serene and tranquil. He runs on batteries and features several different modes of brightness that can be activated by tapping his soft silicone surface. This night light has a rechargeable battery and comes with a USB cord.

---
Dinosaur Slippers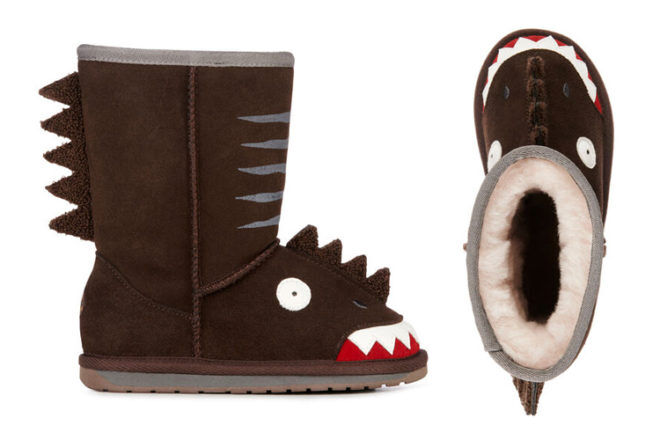 Tootsies will be deliciously toasty bundled up in these fabulous mid-calf boots from EMU. They come in sizes that cover preschoolers right up to bigger kids and are crafted from suede and Australian Merino wool for comfort and longevity.


Know a dinosaur toy we should add to our list? Contact us and let us know, we've been curating Australia's best baby products into helpful lists for over 15 years and we're always happy to support new brands and businesses.
Find more great gifts for kids:
We've collected a treasure trove of amazing gift ideas, from the latest baby toys from leading brands to quirky boutique finds. There's something for every little Piper, Noah and Charlotte.
Gifts for kids are based on play and development, not gender.
Become a Grapeviner mum by joining one of our private Facebook Baby Groups and meet thousands of other Australian mums with kids the same age as yours all recommending their favourite baby products and unearthing hidden baby shops. And you can too!
We want you to know
At Mum's Grapevine, we're a team of passionate mums (with 19 kids!) and over 15 years of experience researching and writing about all things baby and parenting. Our reviews of recommended products, like the ones in this post, may include paid inclusions, but we promise to only feature products that we truly believe in and have used or seen ourselves. We want to ensure that you, our Grapeviner mums have access to the latest and greatest products in the parenting world, and we're committed to maintaining our high standards of quality and honesty. See our Disclosure Policy.
Thank you for trusting us to be your go-to source for all things baby-related.
xoxo