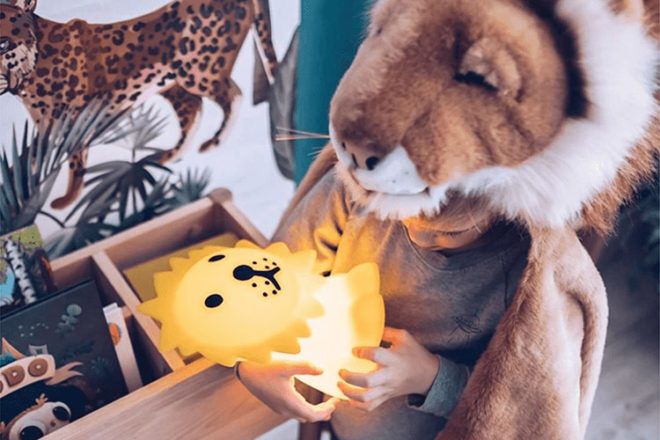 From hyperactivity to 'monsters under the bed', there are more than a few reasons why littlies stay awake until all hours, but a comforting nursery night light for babies or kids can make a big difference to disrupted bedtime routines.
So much more than a sweet piece of décor, a night light can calm worried minds, ease fears of the dark, and be something of a companion at a time when insecurities can surface.
What to look for when buying a kids night light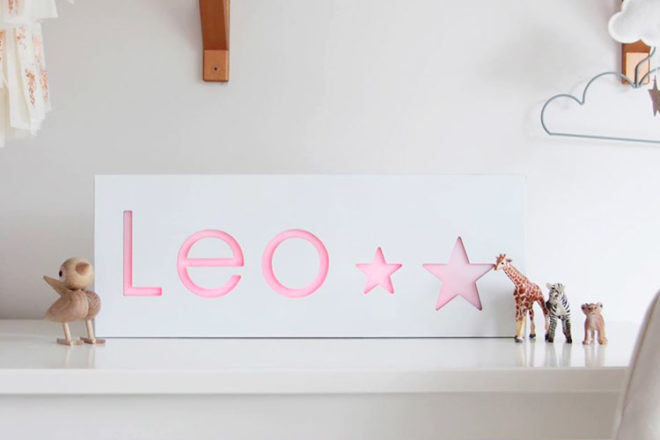 Portability: We all know the importance of a consistent bedtime routine. If your baby, toddler or bigger child likes to have their night light with them wherever they sleep, look for one that is battery operated and easy to travel with. Think overnight stays at grandmas or week-long trips away from home.
Timer: Some kids' and nursery night lights stay on all night whereas others have a timer function that automatically switches the light on and off after certain times. This is a handy little feature for parents conscious of saving energy around the home.
Brightness Control: Night lights all vary in brightness. Having a dimmer or brightness control allows you to adjust the glow to suit your sleepy little one.
Remote: Look for a nursery night light that comes with a remote or easy on/off controls like a simple touch-on feature. Fiddling with little buttons or adjusting timers is the last thing parents want to be doing when settling kids to sleep or feeding younger bubs during the night.
Additional Extras: Many are more than a simple light that shimmers in the nursery or bedroom. Some are a combination of multiple sleep aids such as sound machines and projectors.
---
18 nursery night lights for babies and kids
To help you find a super-cute night light, we've compiled this list of fab brands available in Australia to get you started in your search.
VAVA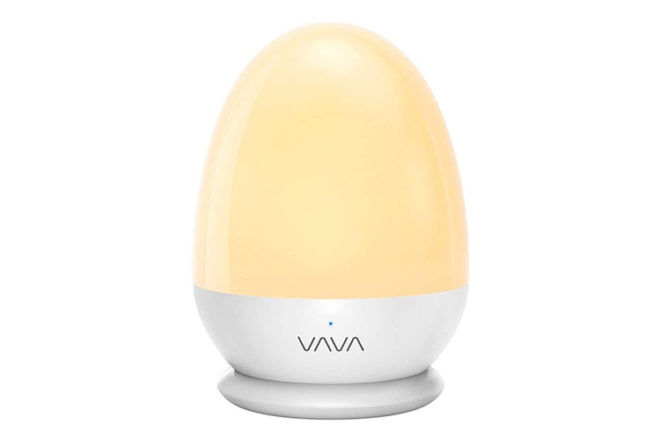 If you're after a night light that you don't need to charge daily, this is it. On the dimmest setting, which is ideal when littlies are snoozing, the battery can run for up to 200 hours – that's more than a week! It has touch controls for adjusting brightness and can be charged with a USB cord.
---
Heico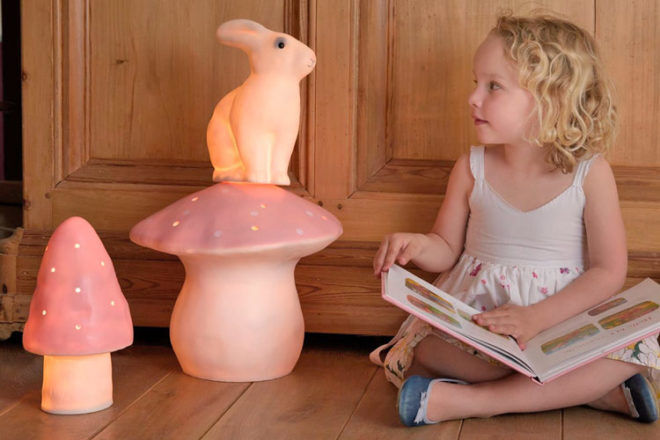 Created in Germany, these night lights are as much works of art as they are night-time companions for kidlets. Each resin lamp has Australian power adapters and requires a standard globe. It's near impossible to pick a favourite from this bunch!
---
Oricom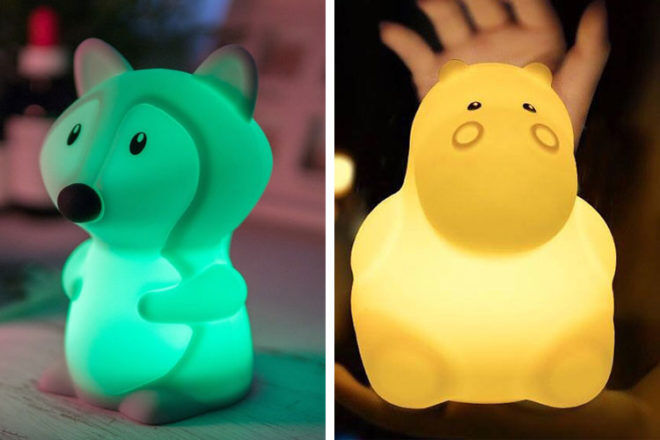 These colour-changing buddies are cute enough to cuddle. They're made from soft, smooth silicone and can be activated with a simple 'tap' on the head. Charging is a cinch thanks to the included USB cord, and you will get up to 20 hours of each charge.
---
Mylight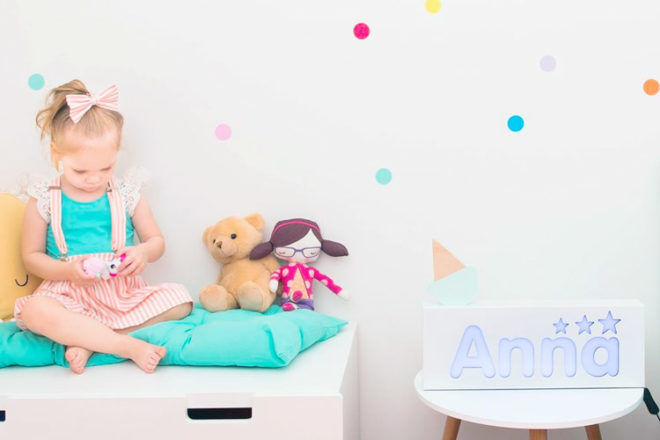 Made in Australia, these box-style night lights can be completely personalised to suit your starry-eyed sprout. Choose the colour of the box, the type of  LED light and even the size and style of font. It's a great way for kids to recognise their name from an early age too.
---
Shnuggle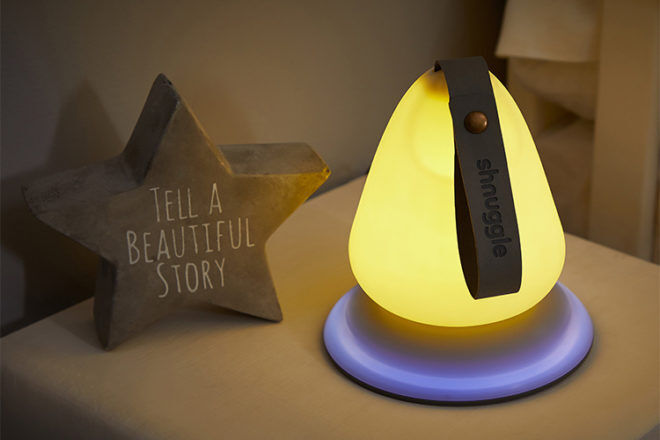 Thoughtfully created to see parents through many-a-year with little ones, this night light is a breastfeeding light, a nappy-change light and a portable kids' night light. It's dimmable, baby safe and it has a very convenient temperature sensor that lets you know when the room is too warm.
---
Beaba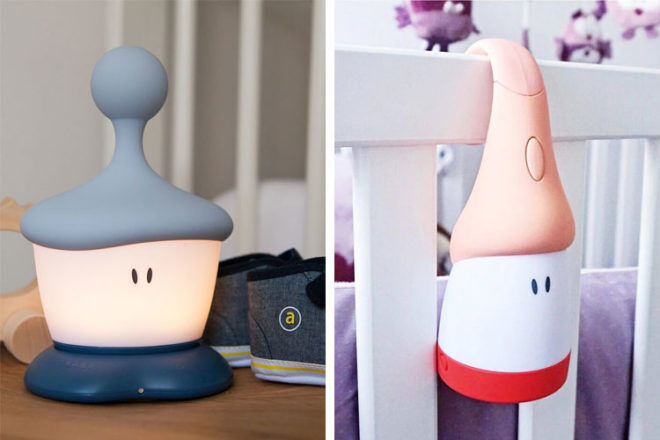 Beaba's insanely cute Pixie night lights are ergonomically designed for the tiniest of hands to be able to manage easily. The hanging format is brilliant for using on cots, prams and bassinets; while the standing option makes the sweetest little bedside lanterns around. Brightness is adjustable and the battery can last up to 12 hours.
---
Little Belle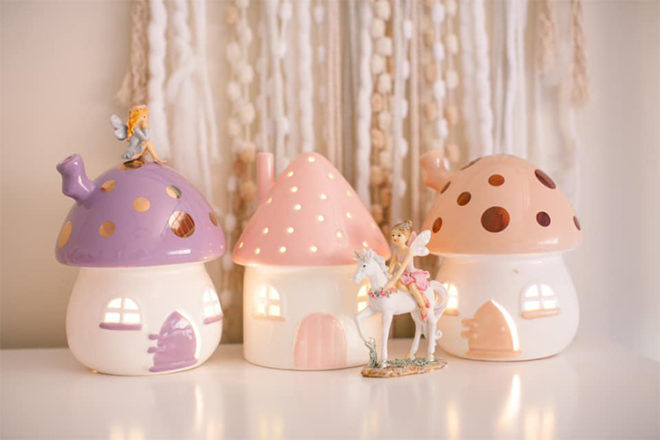 Bursting with magic and oh-so giftable, these spectacular night lights are perfect for kids who love to dream of other worlds and fantastical friends. The collection comprises both battery-powered and plug-in lights, and designs include the likes of fairy houses and mushrooms.
---
Teeny & Tiny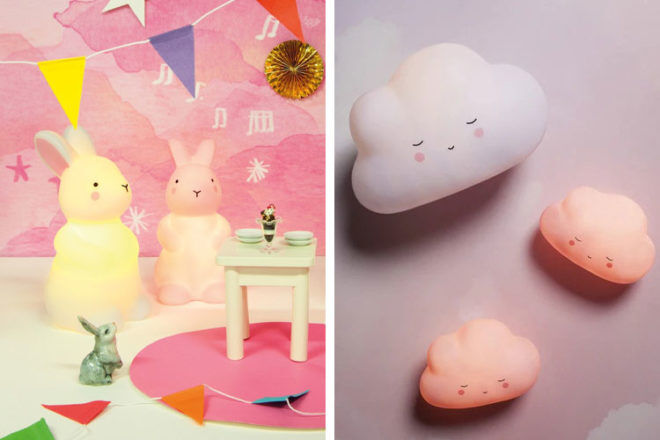 From rockets to bunnies, clouds to moons, there is a night light for every little personality in this Aussie-designed collection. Each light is crafted from PVC to be soft to touch and includes an LED globe that doesn't get too hot. These adorable lights all run on batteries and are equipped with an automatic timer.
---
Mr Maria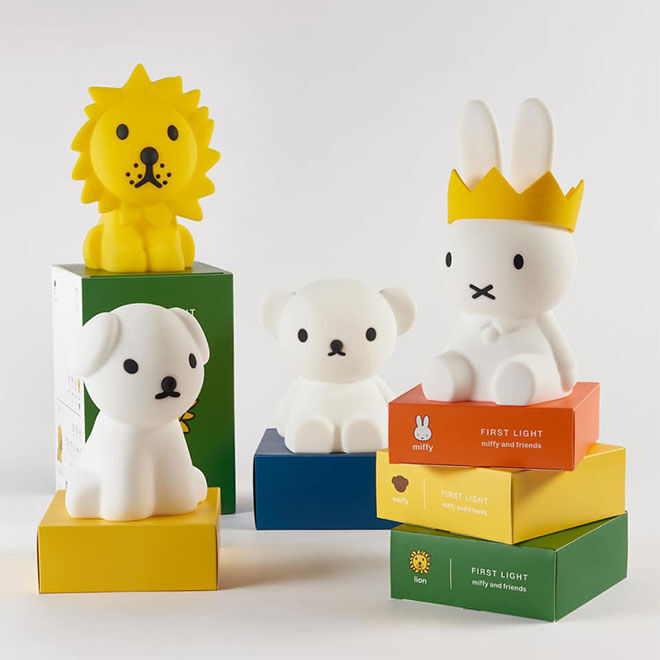 Created to be a 'little friend for a little miracle', these world-famous Mr Maria night lights celebrate the timeless cuteness of Dick Bruna's beloved characters. Dimmable and rechargeable, lights are made from BPA-free silicone to be lightweight, portable and soft.
---
Gummygoods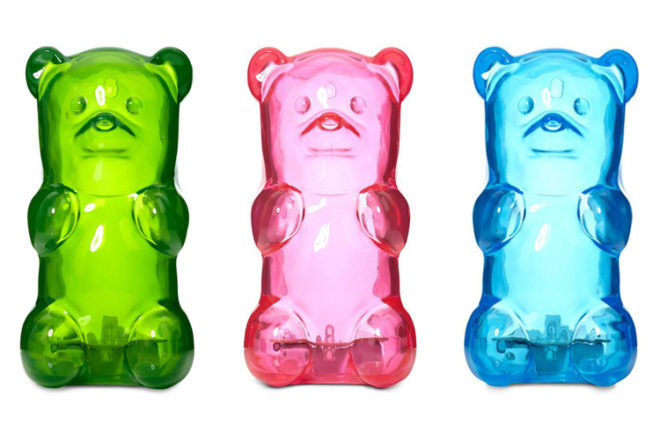 Yummiest night lights ever? We think so! Created especially to be hugged, these rubber bears glow a soft, colourful light when their tummies are squeezed. They're 17cm tall, wall-mountable and powered by AA batteries.
---
The Letteroom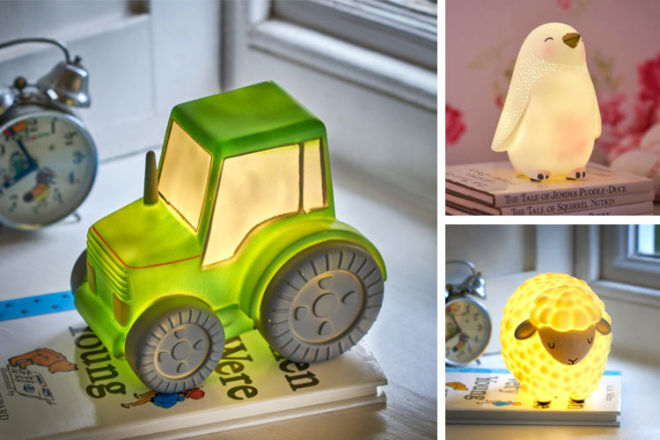 When it comes to giftable awesomeness, this UK brand never fails, and these warm, glowing kids' night lights are some of our favourites in its range. Each battery-run light has a built-in timer to conserve power.
---
OSC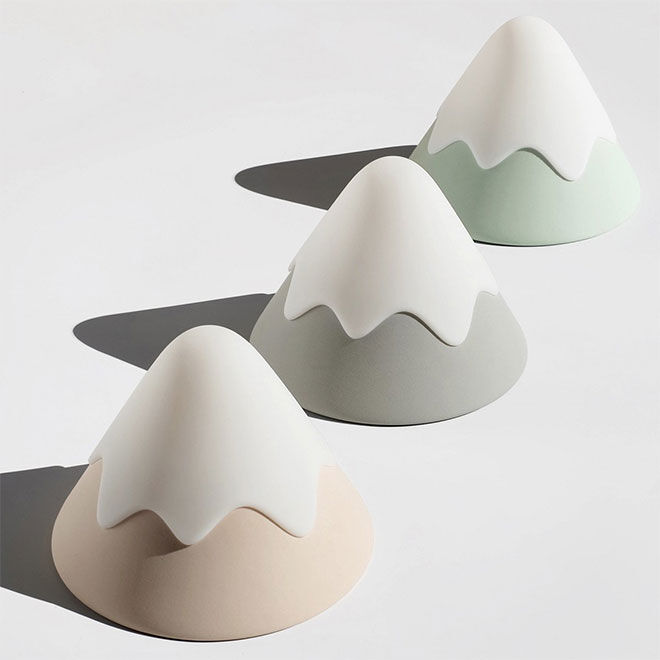 Adventurous little spirits will love gazing at this snow-capped mountain at the end of a long day of play. Brightness and timer settings are adjusted at the base of the unit, or tap the top for quick on and off. Colours include grey, mint or blush.
---
Tecboss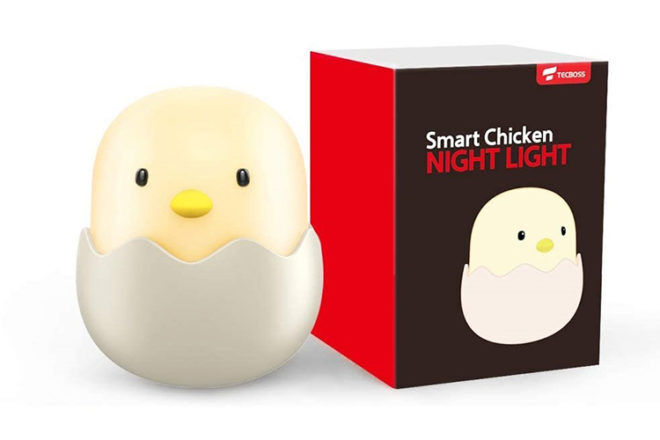 If you're not won over by the cuteness of this little chick, you certainly will be by its running time. On its lowest setting, this night light outperforms most others by glowing for up to 300 hours, making it a fab option for time-poor parents. Made of silicone, this one operates by touch and charges with a USB cable.
---
Delight Decor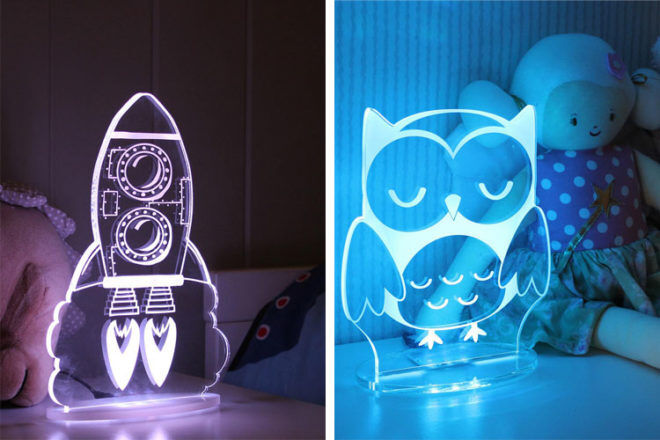 If it's colour the kids love, these remote-control night lights are hard to top – they each glow in 16 different shades! There are also three brightness settings, the highest of which provides enough light to read from. Choose from over ten brilliant kiddie themes.
---
Ewan the Dream Sheep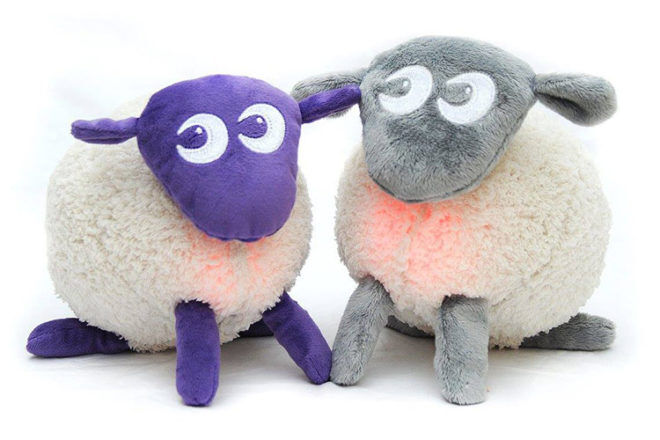 It's the cuddliest night light around and winning hearts all over the place. Created specifically to soothe the tiniest of tackers with a soft glow and gentle white noise, this little lamb can hang from the cot by his tail, giving littlies a friend face to gaze at throughout the night.
---
Lil' Dreamers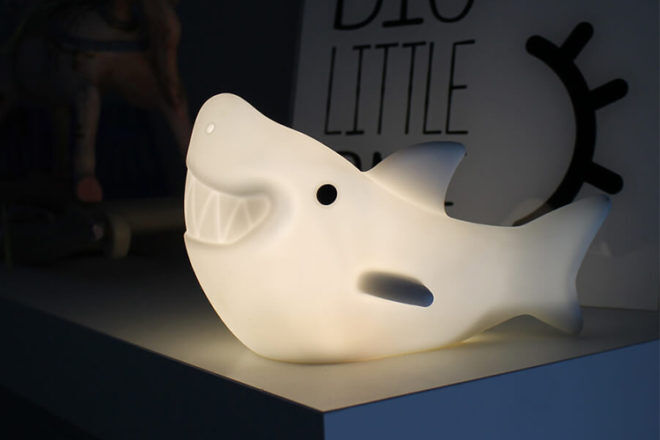 Just as cute by day as by night, these pint-sized, rechargeable pals could be just what it takes to get little ones to stay in bed. Made of silicone, they're soft, huggable and safe to leave on all night thanks to an LED bulb that won't overheat.
---
Liewood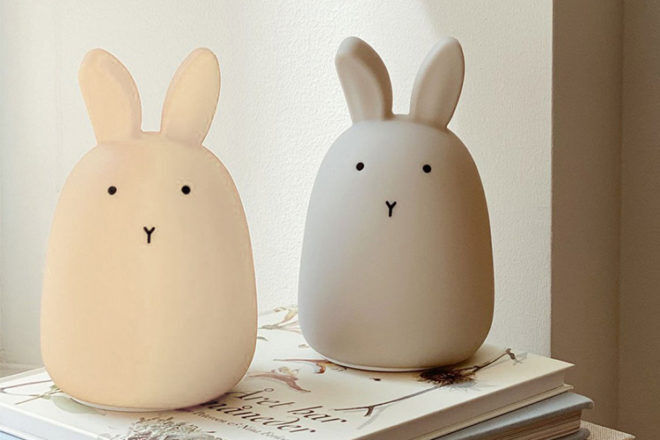 In typical Danish style, these designer night lights are contemporary, clean and exceptionally cute. They are rechargeable and made of eco-friendly silicone. Count on these becoming instant bedtime besties.
---
Aloka Sleepy Lights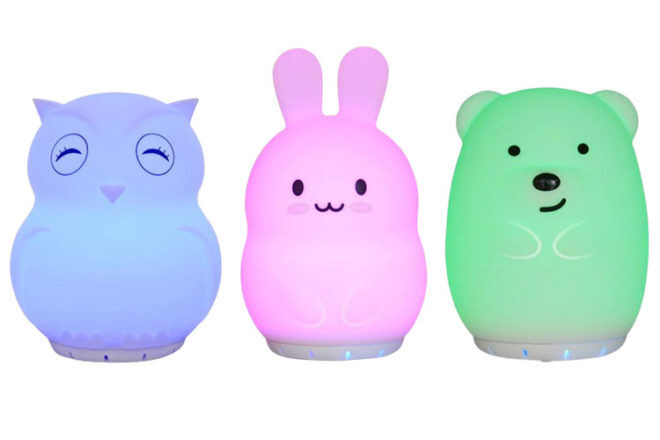 These sweet, glowing woodland friends double as Bluetooth speakers, so you can link up your dreamiest playlists to help tuckered-out tots drift off faster. Use the remote control to select from a number of different colours and levels of brightness.
---
Know a brand of kids night light we should add to our list? Contact us and let us know.
Know a kids' night light we should add to our list? Contact us and let us know.
Read these roundups next …
Continue your search for the best kids night light
Looking for a baby night light for the nursery and still not sure if any of these are right for you? Join one of our Facebook Baby Groups and ask thousands of other mums what they recommend. They are grouped together based on your baby's birth date so everyone is going through the same stages at the same time.
Click here >> Mum's Grapevine Facebook Groups  << to find your group today!