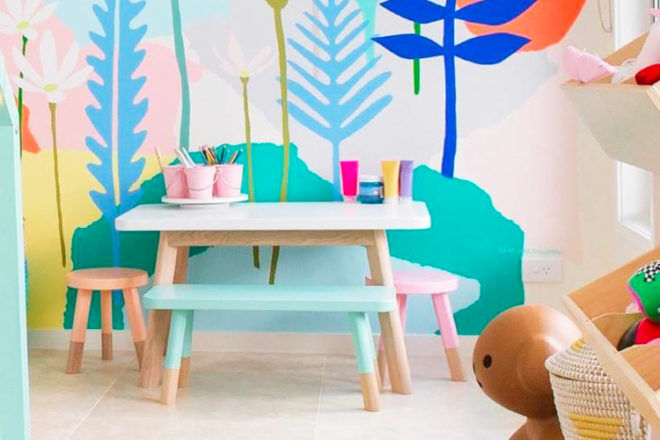 From cutting and pasting, to snacking and colouring, kids' tables and chairs get oodles of use for work and play in the younger years. But their benefits go beyond being a perfectly proportioned activity station.
Kids' play tables help littlies become accustomed to sitting independently, learn good posture and table manners, and they offer children their own special place – you know, to be 'big'.
Ready to find the perfect set for your little one? We've curated 11 standouts to help you on your way.
My Duckling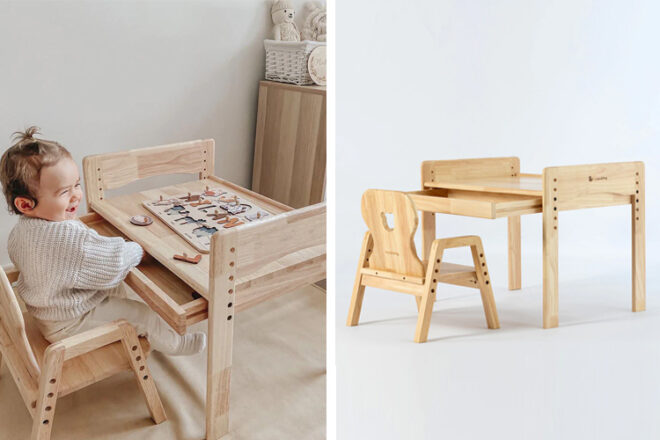 Crafted from quality, eco-friendly solid rubber wood, this table and chair set is durable and sturdy. The unique built-in platform heights means it adapts as your child grows. Rounded corners, handy storage drawer and animal cut-out are other sweet features.
---
Mocka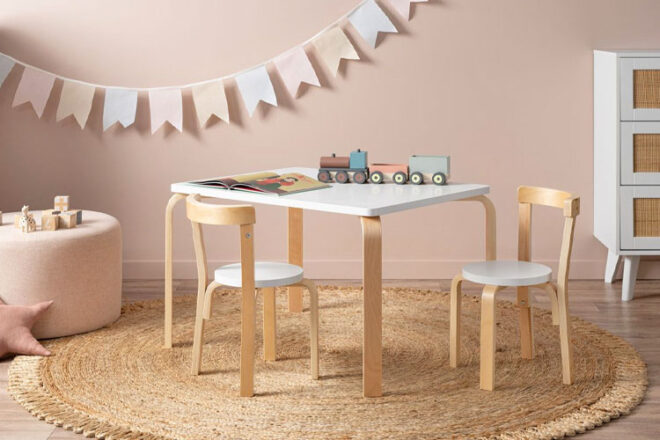 Anyone for tea? With bucket-loads of designer vibes, this all-in-one package is the perfect spot for toddler tea parties and preschool debriefs – and with an ultra-glossy tabletop, it's going to completely transform the kiddie corner.
---
Green Cathedral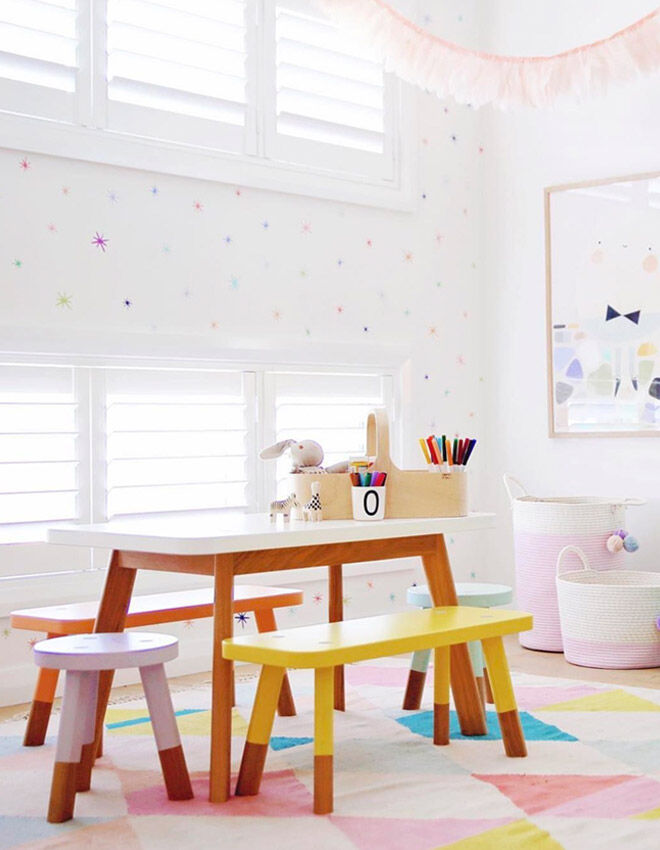 Pretty as a picture and roomy enough to accommodate little guests, this spectacular set is handcrafted to order from right here in Australia. The MDF table can be paired with benches or stools in your choice of colour. Major swoon.
---
Oeuf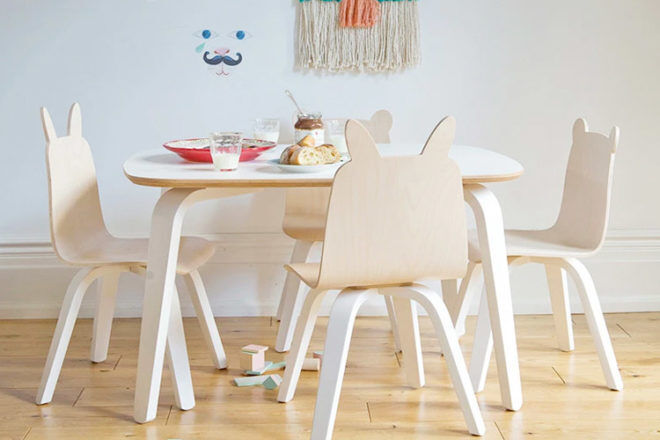 Ethically crafted in Europe from premium materials, this beautiful set can seat up to four kidlets comfortably and features a very handy scratch-resistant tabletop. The set can be ordered in walnut or birch shades and includes two of the sweetest animal-themed chairs you ever did see.
---
Tender Leaf Toys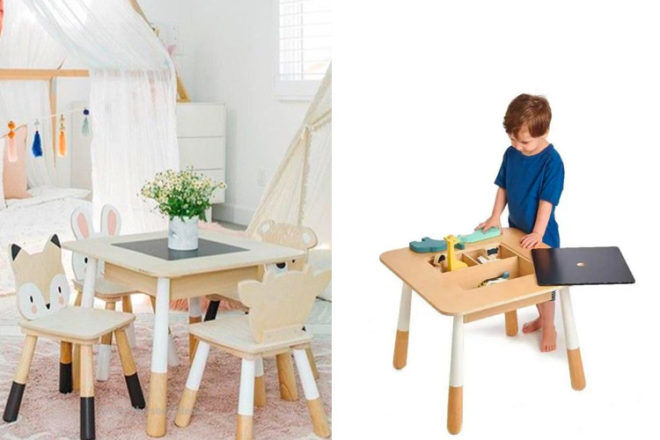 With a classic format and plenty of contemporary innovation, this stand-out children's set is cute, compact and clever. Kids will adore the character chairs and blackboard panel; parents will love the sectioned central compartment for organised pack-ups.
---
Hip Kids
Need more storage solutions for all those kiddie knick-knacks and craft supplies? This brilliant set features a full-length compartment underneath a reversible chalkboard tabletop, and it's even accessible from the side. Now there's no excuse for not putting the crayons away.
---
Sacred Bundle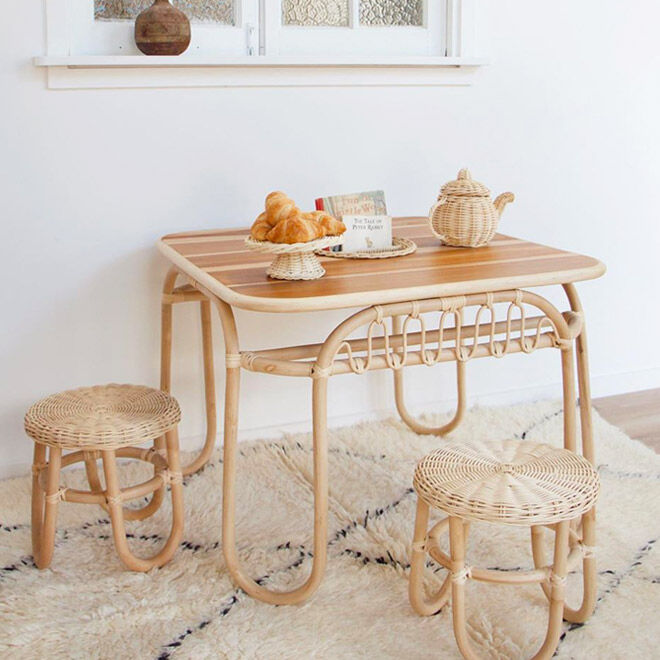 This kids' play table adds a modern twist to old-time charm, and we're crushing on it in a big way. Smooth rattan stools are gentle on little hands, and the solid teak tabletop is built to withstand years of activities, playdates and creative feats. The integrated storage caddy is a stroke of genius, and perfect for all manner of kiddie treasures.
---
IKEA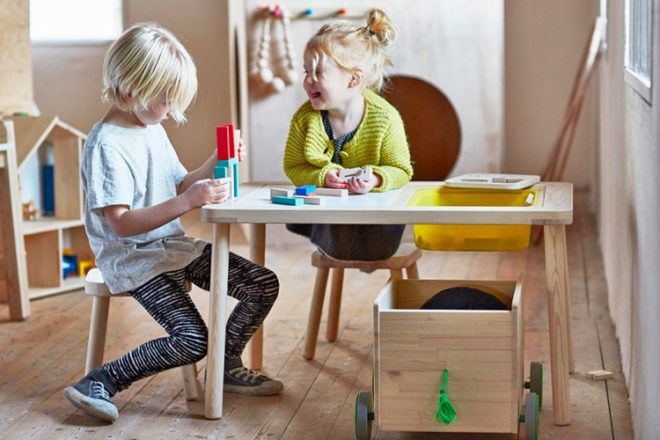 This must-see Scandi number has versatility in spades. It's made of hard-wearing materials, roomy enough for four children to share, and it has two (yes, two!) TROFAST-compatible storage sections. Matching stools in solid pine are available separately.
---
MesaSilla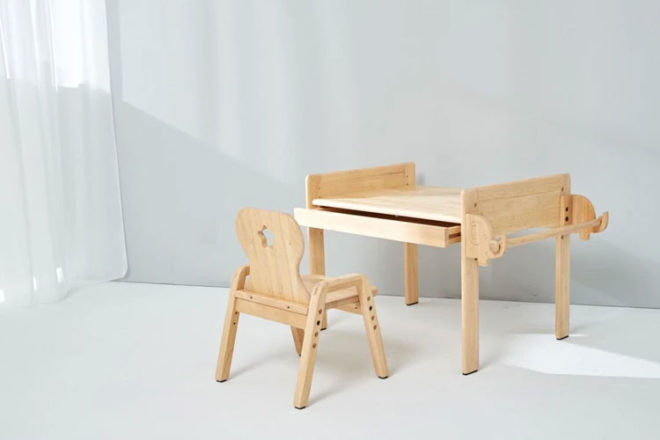 If you're after a solid-wood kids' table and chair set that will see them right through the toddler, preschool and early school years, this is the set for the job. In a first of its kind, both the table and chair are adjustable to different levels – so it quite literally grows with your little ones.
---
Cam Cam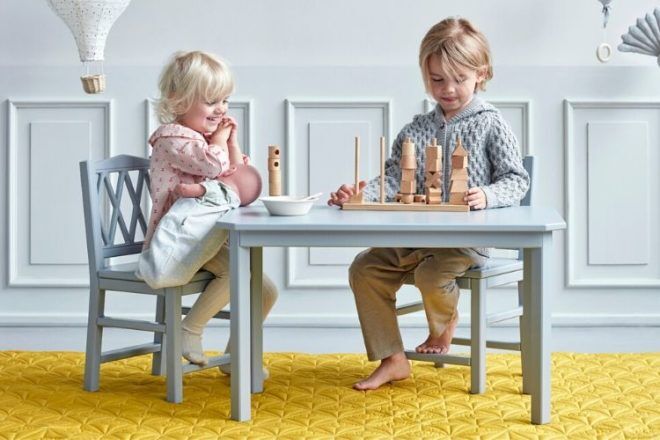 Designed by an architect, and made in Europe to the highest of standards, this Pinterest-worthy table set is right at the top our wish lists. It's crafted from eco-friendly materials and finished in a glorious shade of grey that will take play zones to a whole other level.
---
Plyroom
Low on space? This beautifully crafted set is one of the most compact around, and we're loving it for reading nooks, cubbies and craft corners around the home. It seats two children comfortably and becomes more snug by tucking the included stools under the tabletop.
---
Pottery Barn Kids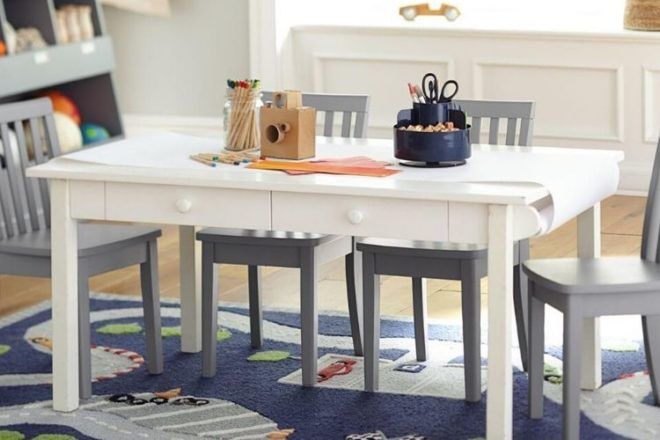 This magnificent play table is the bee's knees for crafty kids, and given that it can seat up to six kids, it's a fab option for larger families. The table comes in a choice of grey or white includes two built-in drawers and a paper roll holder. Matching chairs are available separately in a range of trending colours.
---
Know a brand of kids table and chairs we should add to our list? Contact us and let us know
Continue your search for the best play table
Looking for a kids' table and still not sure if any of these are right for you? Continue your search online by jumping into one of the Mum's Grapevine Facebook Baby Groups and ask thousands of other Australian mums what they recommend.
Click and join your group today!