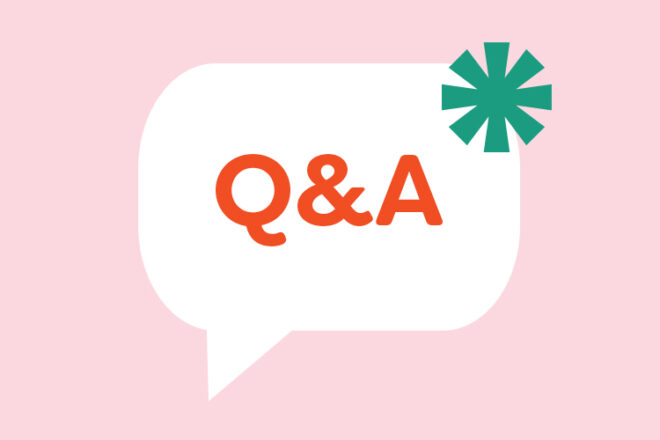 It's a common question from many parents wondering if there's a time limit or an age limit on the use of their baby carrier or wrap. With bub contently held close for a couple of hours, parents naturally get concerned if they should be taking their baby out of the one set position.
Babywearing has a more 'natural' time limit. That is, your baby will need to come out of the carrier at some point for a feed or a nappy change. Usually, the maximum they'd be in one would be for 2-3 hours before this 'natural' time limit kicks in.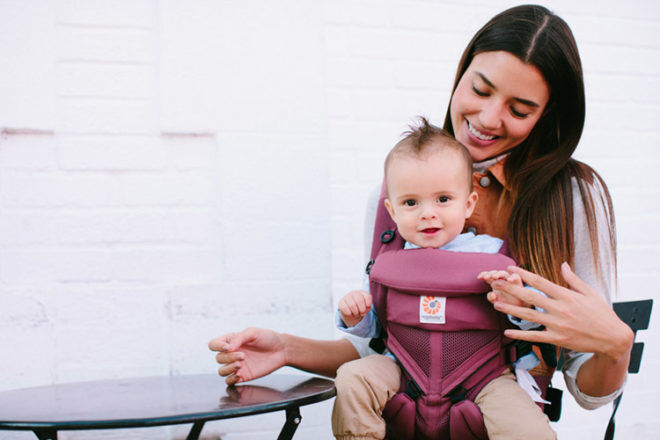 If you're carrying in the optimal position, with your baby's spine naturally curved and their knees in the hip healthy M position with knees higher than bum, then this is a supportive position for the baby to be in for a couple of hours as it supports their natural anatomy and how they'd be held naturally in your arms against your chest anyways.
You might have heard the guidelines that a baby shouldn't be left to sleep in a baby car capsule for hours on end in the one confined position. This guideline doesn't translate across to babywearing as a car seat is a static environment, whereas when held in a carrier, your baby engages and responds to your movement and you both adjust little positions accordingly.
How to keep baby comfortable in a carrier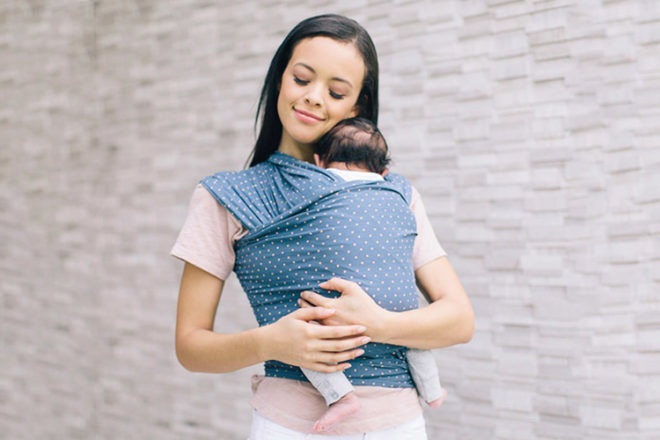 It might be an idea to encourage your baby to change the side of their head they are resting on against you. Just gently encouraging them to turn their head after an hour will eliminate the risk of any muscle stress.
The same for the legs/hips, after a certain period of time, do another gentle pelvic scoop where you encourage the knees to raise and the pelvis to be more rounded. This will make sure you are continuing the optimal position of rounded spine and knees higher than bum.
How long can you use a baby carrier for?
In terms of age limits, Babywearing really can be a worthy investment for years of convenience and cuddles! It isn't just limited to babies, toddler wearing has a massive role to play. Here's a quick breakdown on each carrier style and it's age limit:
Stretchy Wraps  – Perfect for the first 6 months, and up to 1 year old.
A stretchy wrap will have a weight limit of 15kg usually. Although the material is strong enough to hold this weight, once your child hits the 8kg mark you will notice the stretchy fabric will sag after carrying them for a little bit no matter how tight you tie it. This is why they are ideal from birth – 8kg.
Soft Structured Buckle Carrier & Meh Dai – Birth to 2 years, and then upgrade to toddler size
Most structured carriers & meh dais on the market now are highly adjustable. Meaning, you're able to sinch the carrier down small to fit around a newborn, and then extend it out wider and wider as your baby grows, all the way to supporting them into toddlerhood. The average carrier should last you until 2 years old give or take depending on your baby.
After this point, you could upgrade to a large toddler carrier that supports a growing toddler! With these you can carry to 4 years old+. The wonderful thing is, if you've been continuously carrying your child since they were newborn, your muscles have slowly been conditioned and gained the strength needed.
Ringslings – birth to 2-3 years old
One ringsling can carry the same baby from newborn, well into toddlerhood. A good quality one is incredibly supportive and only gets better and better as your child grows. Toddlers love coming up for a quick cuddle and rest, and then jumping back down to be independent again. Ringslings are perfect for those quick up and down moments! Most have an upper weight limit of 15kg so the carrier is supportive enough right up until this point.
Woven wrap – Birth & beyond
Woven wraps are incredibly unique. They are woven in a specific technique with high-quality material that makes them very strong. Check the individual manufacturer guidelines of your woven wrap, but most are strong enough to support an adult! They will get you years and years of use and are highly versatile.
Babywearing is such a wonderful practice with endless benefits. Not only does it provide the perfect place for your baby to contently rest for hours on end, it's an investment that will prove to be one of your most used and loved parenting tools!"
Read next …
Looking for more babywearing tips and tricks? Here are a few helpful articles that you might like to read next: