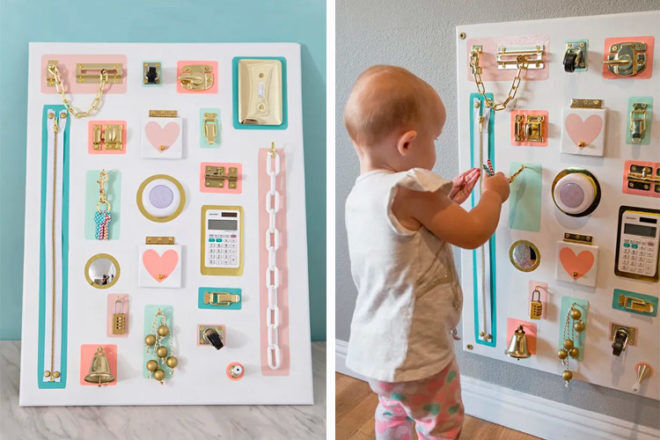 'Busy' takes on a whole new meaning when there's a toddler in the picture. With boundless energy, enquiring minds and fingers that want to poke everything, toddlers are the ultimate junior explorers. Watch out, Indiana Jones.
Rather than navigating an overgrown jungle path to find a hidden tomb, busy boards are a wonderful substitute. Brilliant for sensory and fine motor development, busy boards are one of the good toys for one year olds to learn to push, pull and prise open anything in sight.
What to use on a DIY busy board
As long as it's something safe and not sharp, you can pretty much use anything on a toddler busy board. Here are some ideas:
Old toys
Push lights
Whisk
Handles
Knobs
Pipes
Doorstops
Velcro
Baby wipes lid
Tap
Lock
Bell
Belt fastenings
Zips
Doorbell
Keys
Wheels
Chains
Shoelaces
Rope
Material
House numbers
Here are our favourite 21 DIY busy boards for toddlers. Build one at home and let the adventure begin.
Peek-a-boo!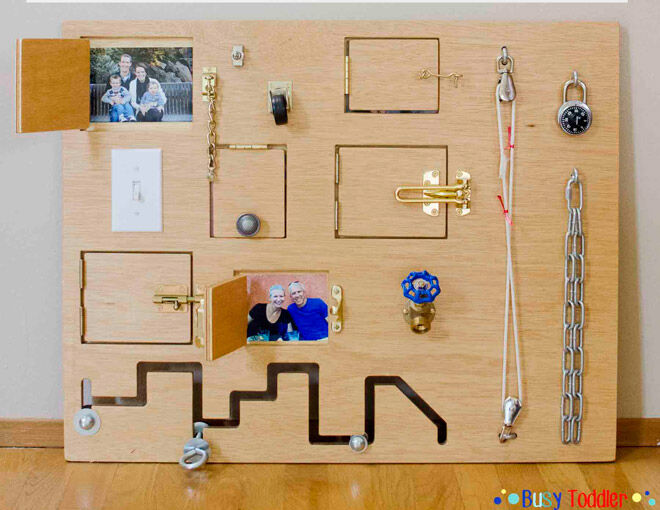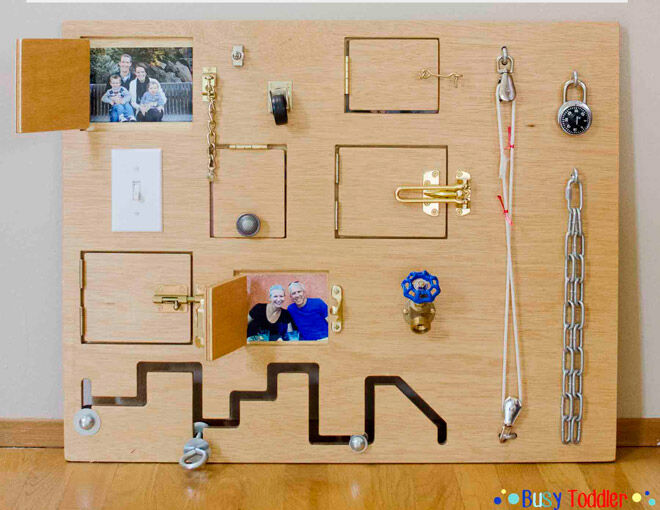 Open, shut them, open, shut them, have a little clap as toddlers find family photos hidden behind flaps. (via Busy Toddler)
Worksite this way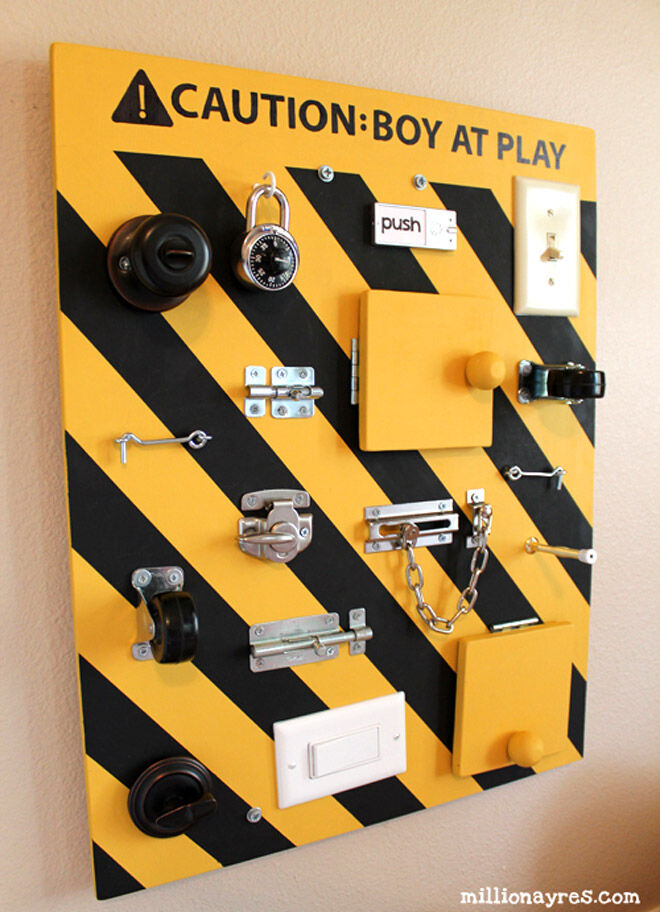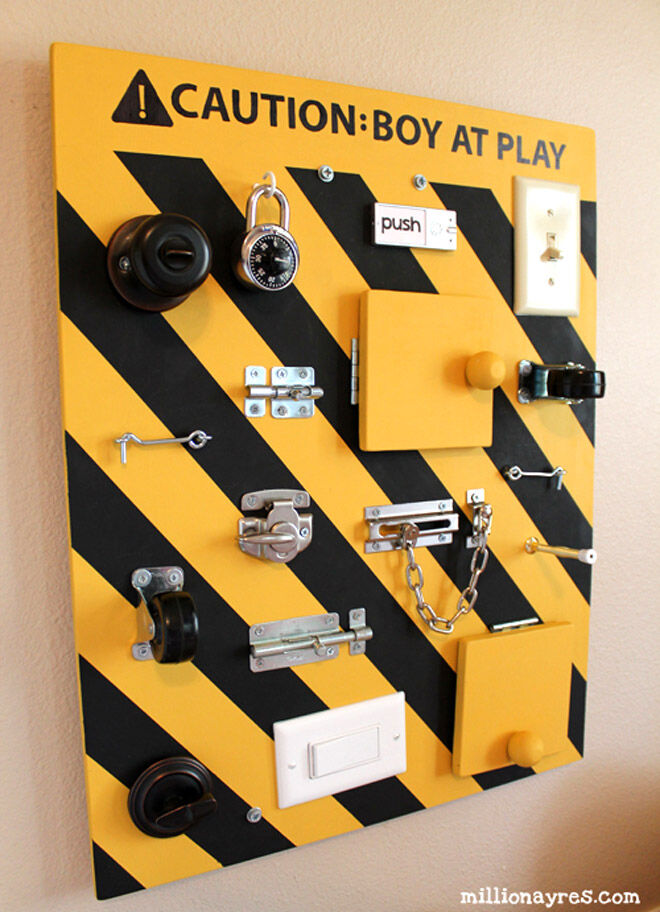 Latch onto this construction-themed busy board. With locks and light switches, it's a worksite for bambino builders. (via Millionayres)
Pretty in pastel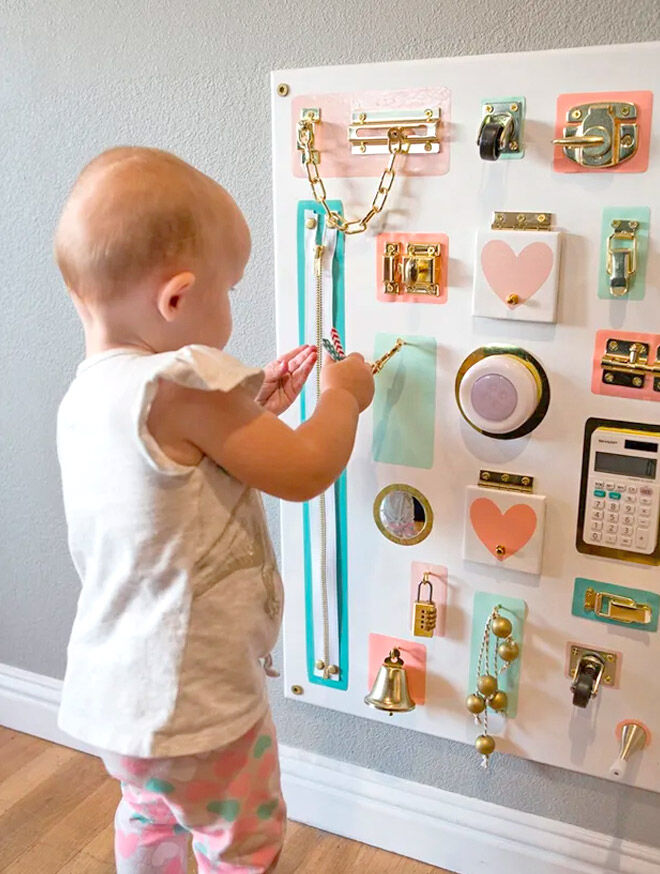 Possibly the prettiest of busy boards this beauty has keys, zips, door stops, latches and peek-a-boo flaps to keep tiny hands busy. (via Something Turquoise)
Fill 'er up!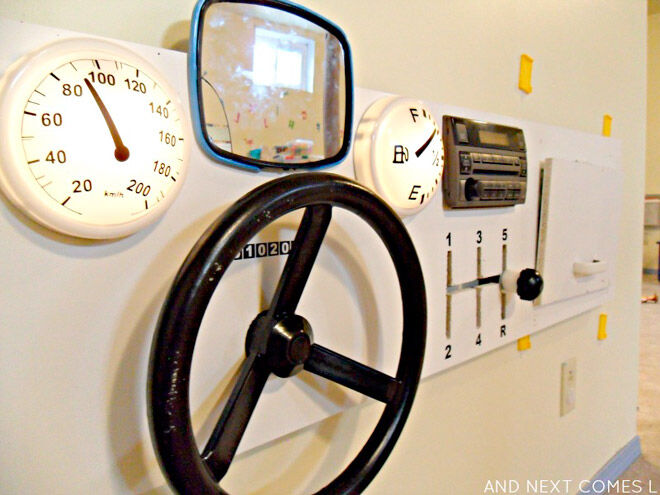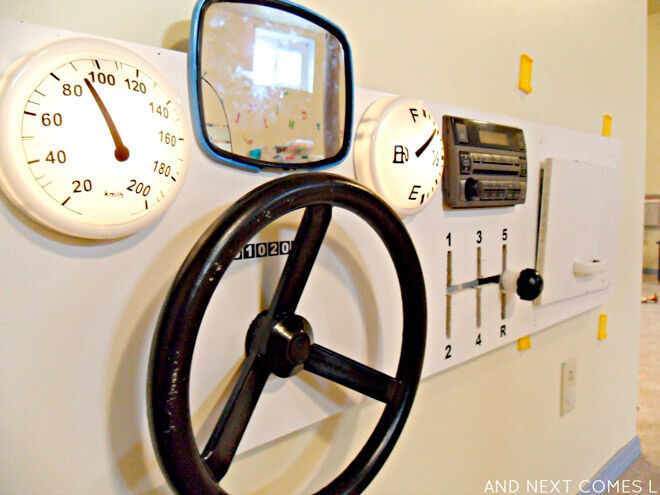 Beep, beep, vroom, vroom and off we go! This car dashboard has everything a learner needs – rearview mirror, gears, fuel gauge, speedo and, of course, a radio for on-road tunes. (via And Next Comes L)
Buckle up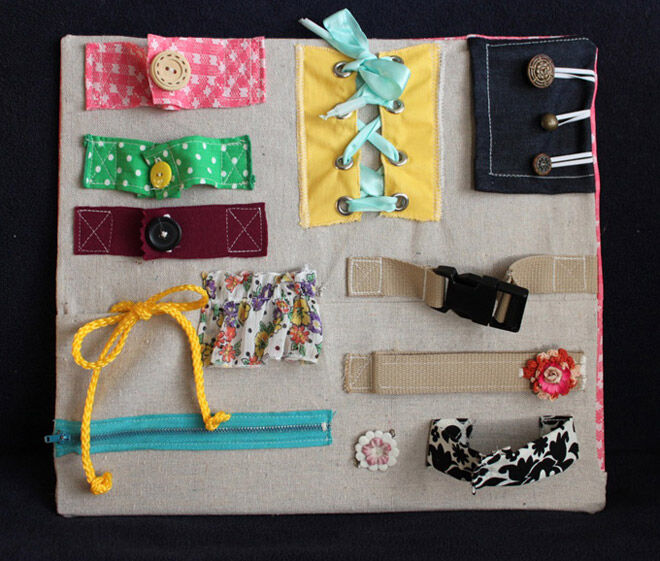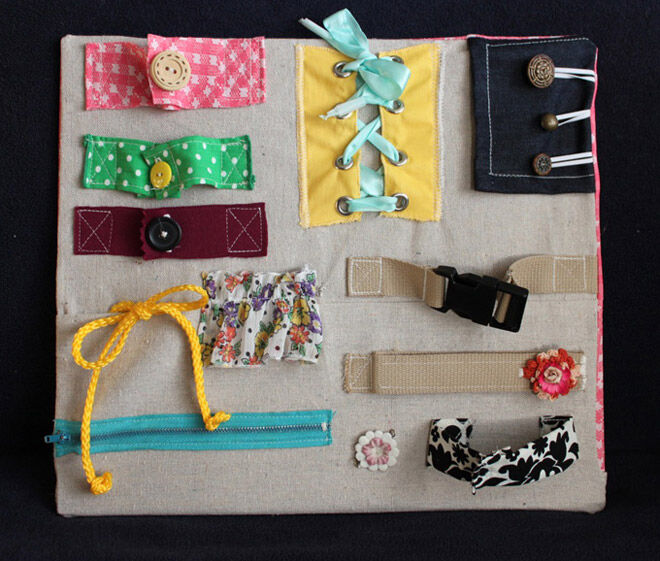 Fine-tune those fine motor skills with this fabric DIY board. Zips, buttons, buckles, bows and velcro – ooo yeah. (via I'm Shunk)
A recipe for fun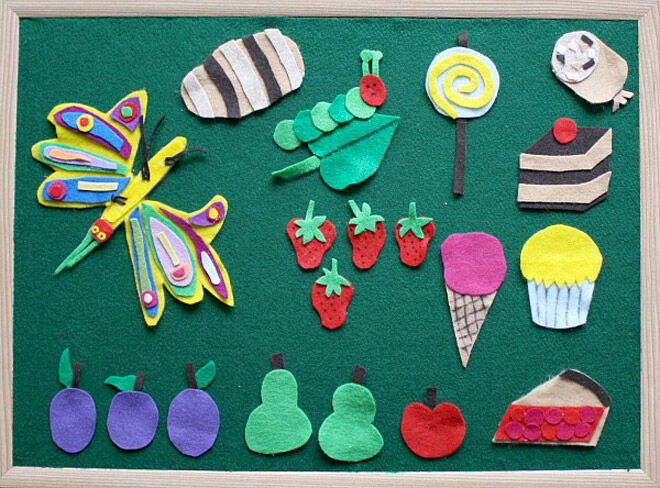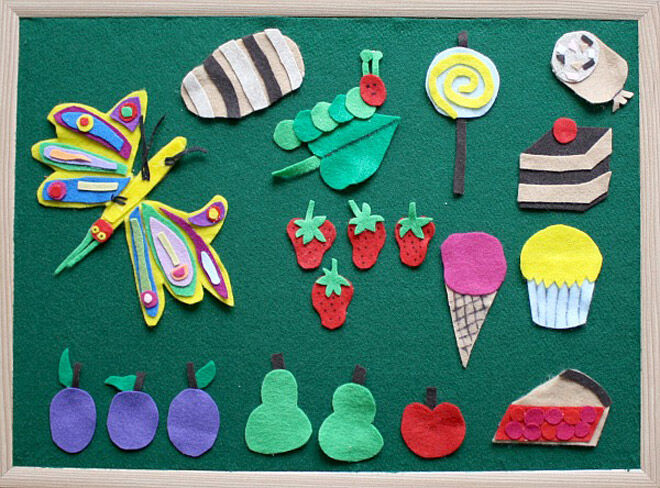 This DIY board is full of felty goodness. Hungry little caterpillars will go to town arranging bits of food. (via Buggy and Buddy)
Rustic and stylish busy board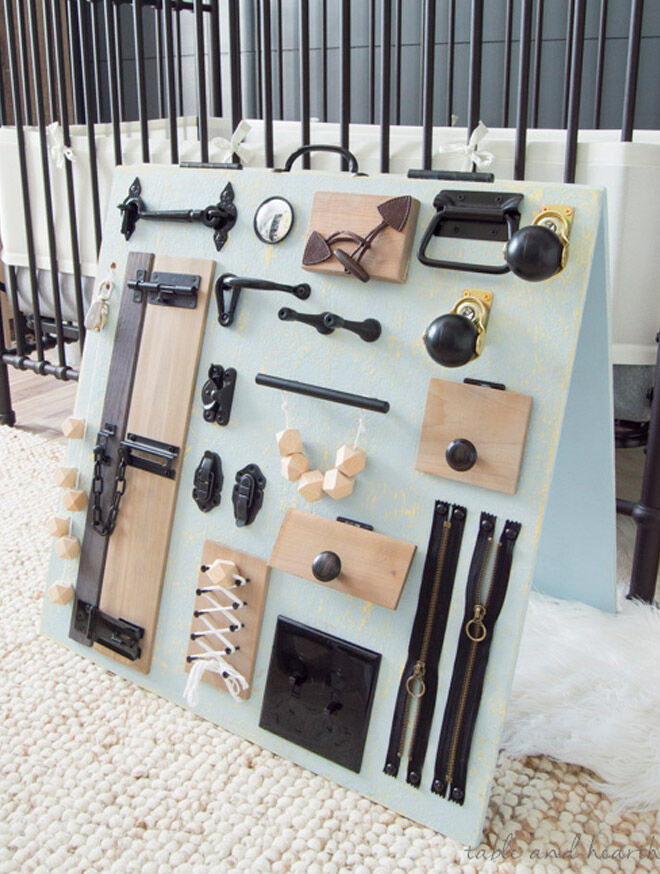 A sandwich-board style busy board is perfect for pack and play fun, and this one has a textured feel for more tactile and sensory play. (via Table And Hearth)
Trophy home busy board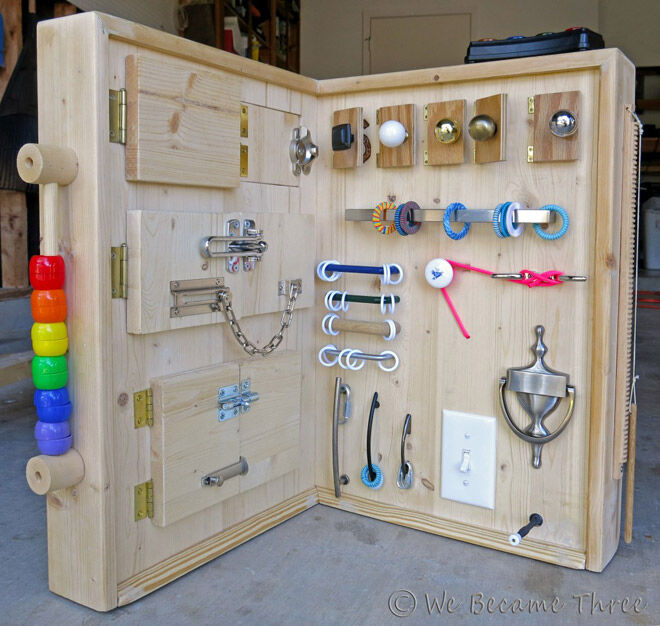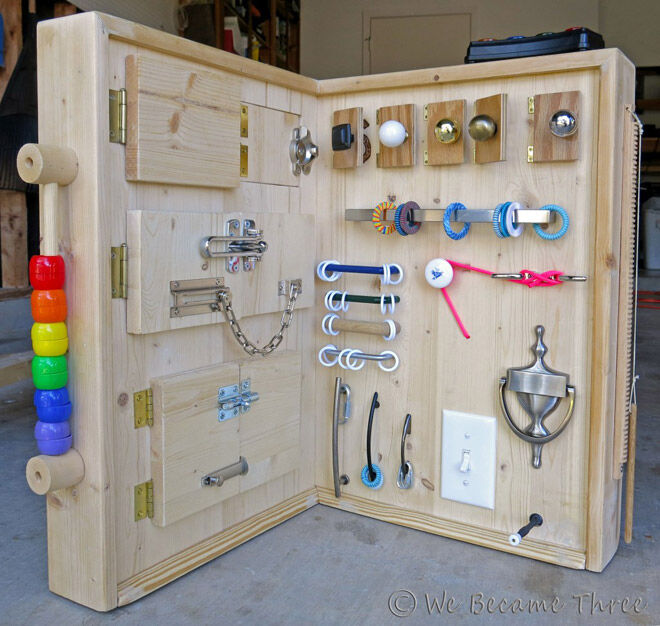 This busy board has the right angle for large-scale play. With a chalkboard on the back, rhythm stick on the side and mega fun up-front, it's the corner piece of toddler civilisation. (via We Became Three)
Down-sizing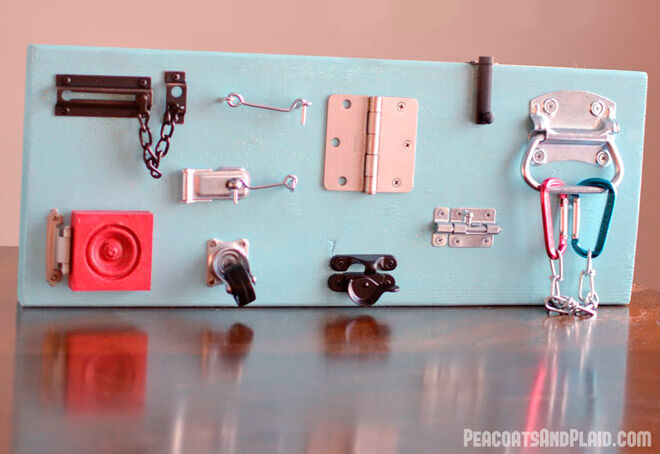 Great things come in small packages too and this small-scale busy board is nice and simple! The baby blue suits toddlers too. (via bre pea. at Peacoats and Plaid)
Latches by letter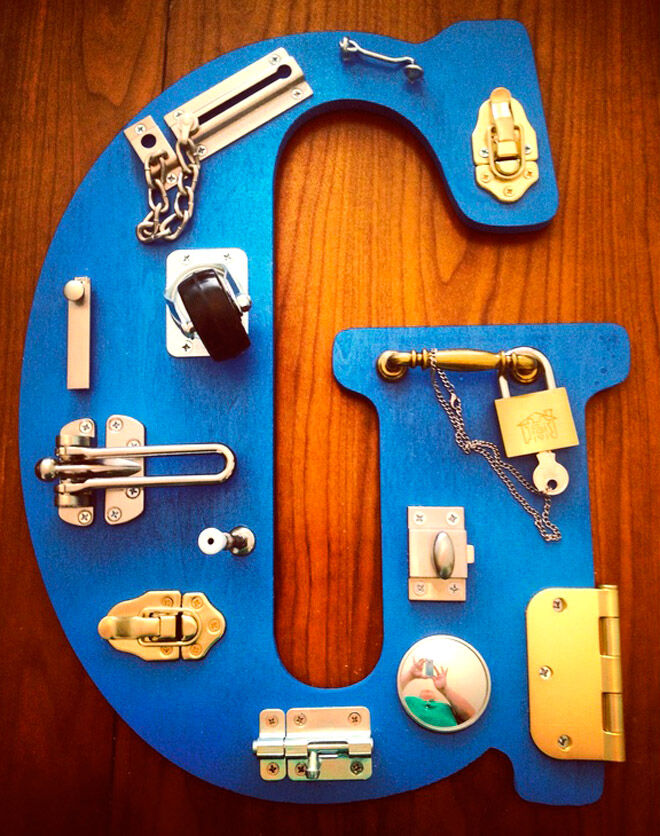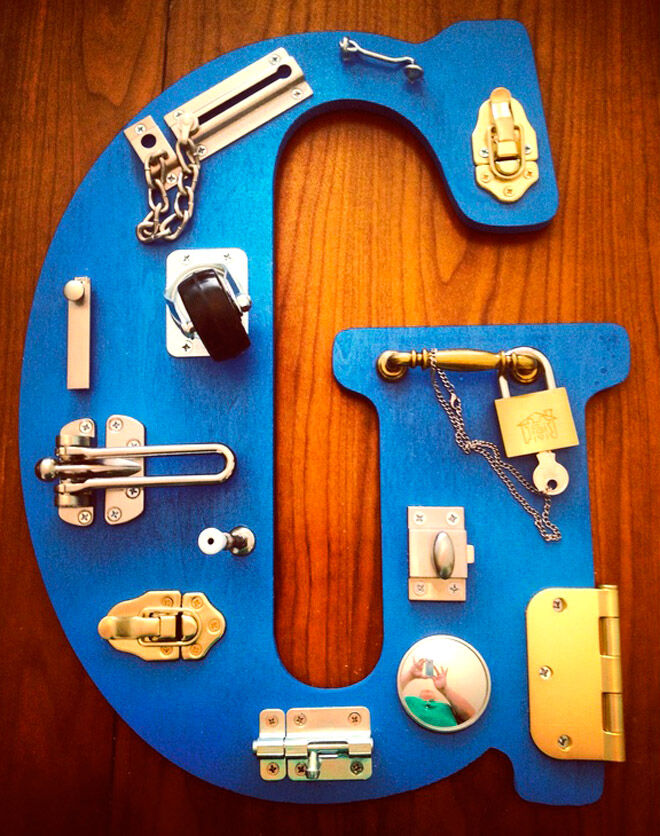 Add the personal touch with a backboard in the shape of an initial. Anyone handy with a jigsaw? The tool, that is. (via Dig This Design)
Peggy do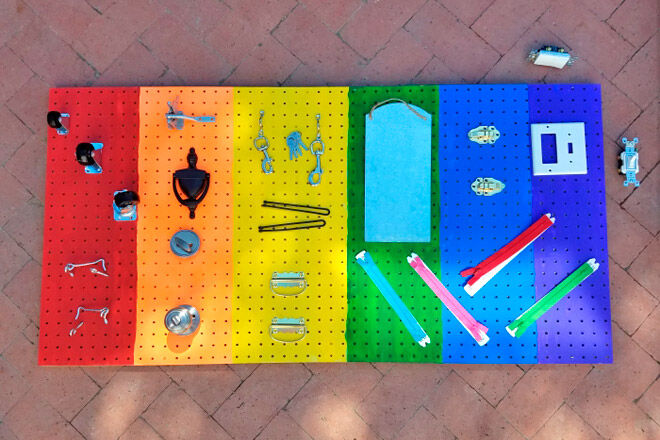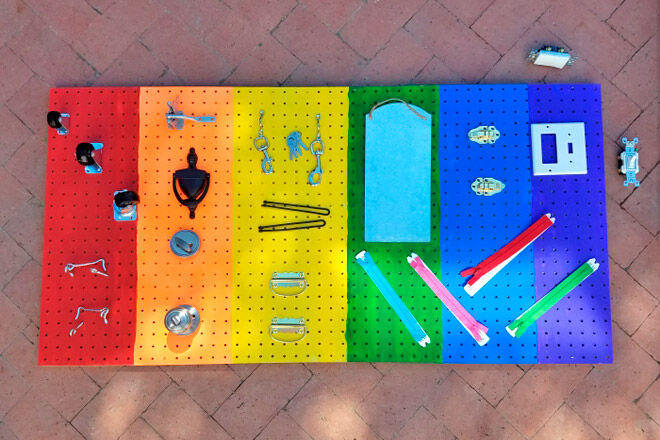 Donut walls, Nerf storage, style statements…. Is there anything a pegboard can't do? Now add 'busy board' to its list of accomplishments with this colourful construction. (via Life Inspired)
Added learning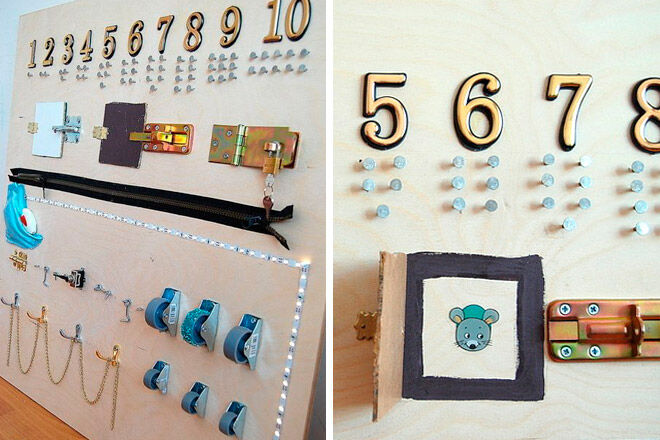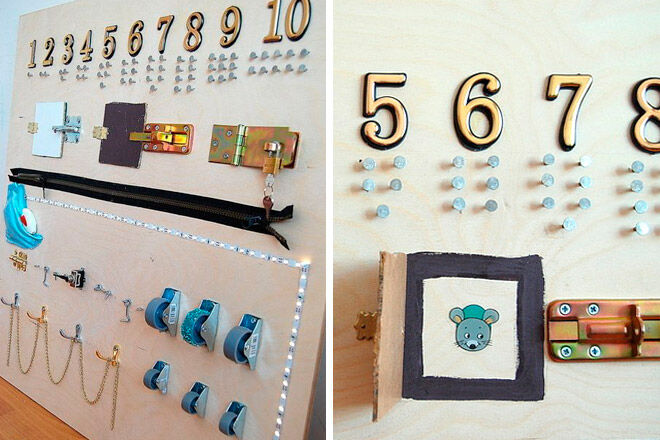 Parents can count on this busy board to teach littlies their numbers. Hum along with the Sesame Street song as they play. "1, 2, 3, 4 …" (via BabyBlog Russia)
Fun x 2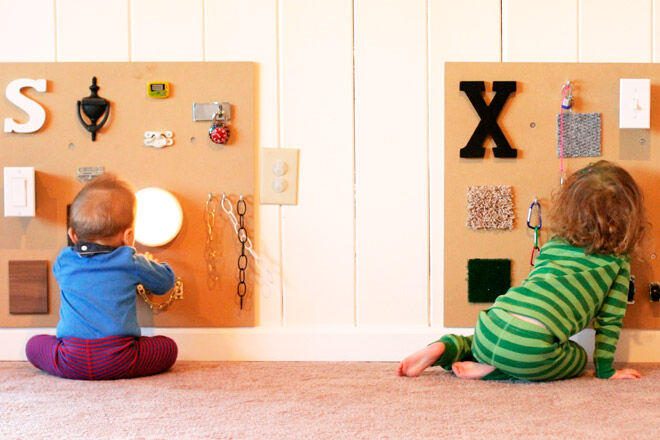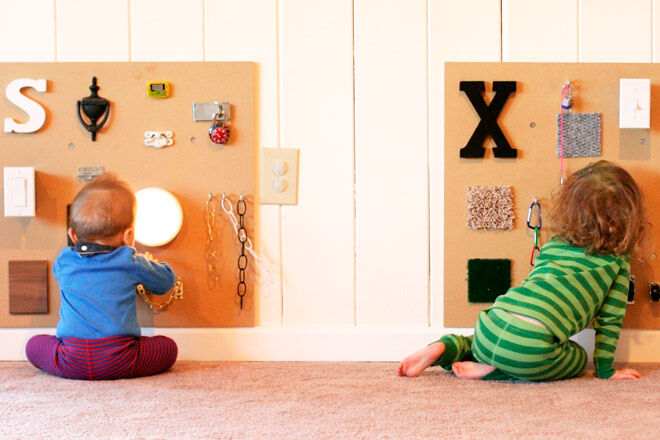 It's sensory play on the double, with these fluffy, bright and noisy busy boards. Siblings are sorted! (via Fun At Home With Kids)
Porta-board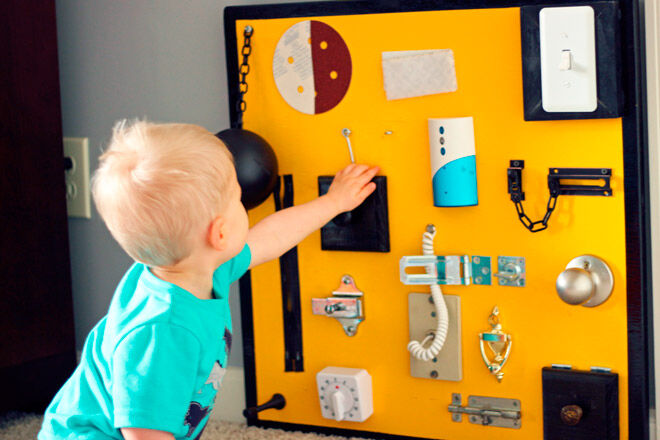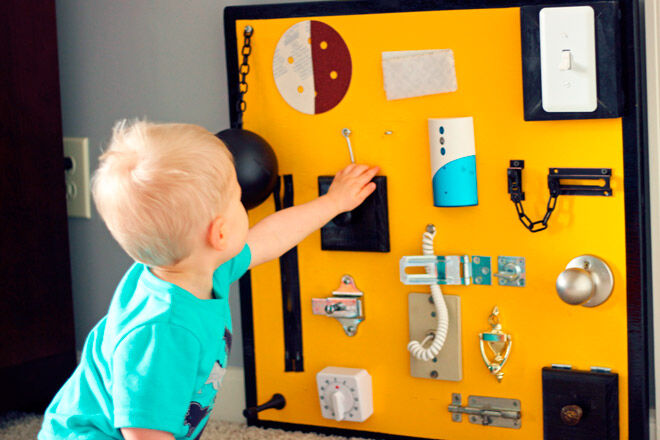 The electronic doorbell is a massive hit on this one and, with a handle at the top, it's convenient to carry the noise fun anywhere. Hello Granny's house! (via Where The Smiles Have Been)
Home, sweet, home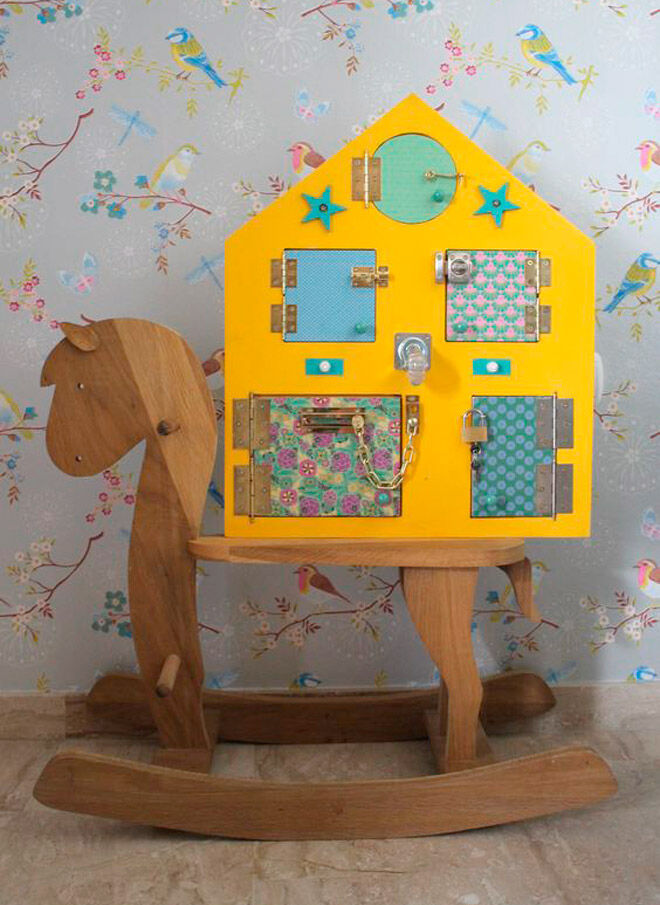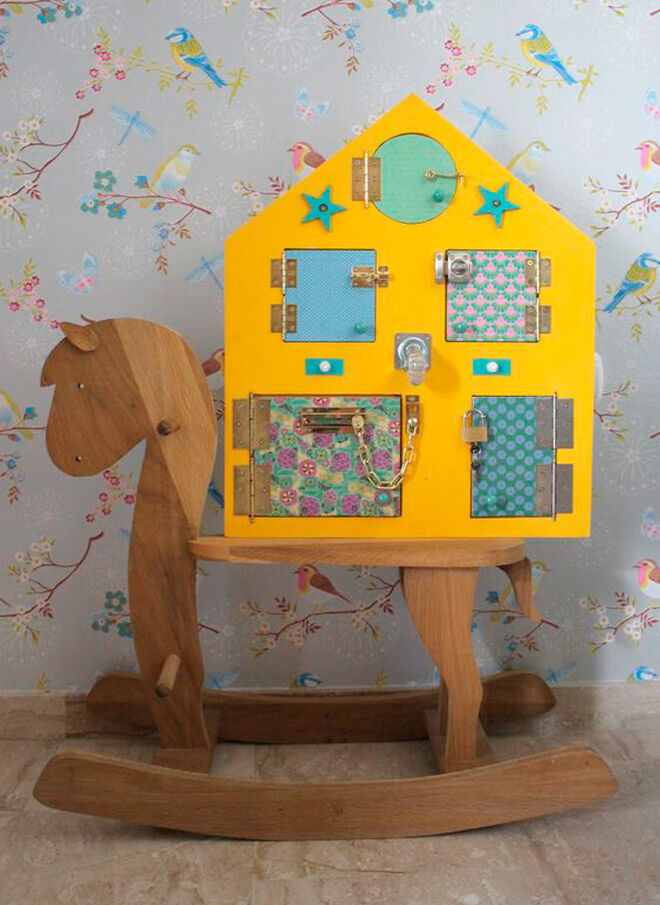 Speaking of houses, this doll's house busy board is pretty as a picture. Open wide, come inside, it's play time. (via Materiales Biosori)
Lift-the-flap busy board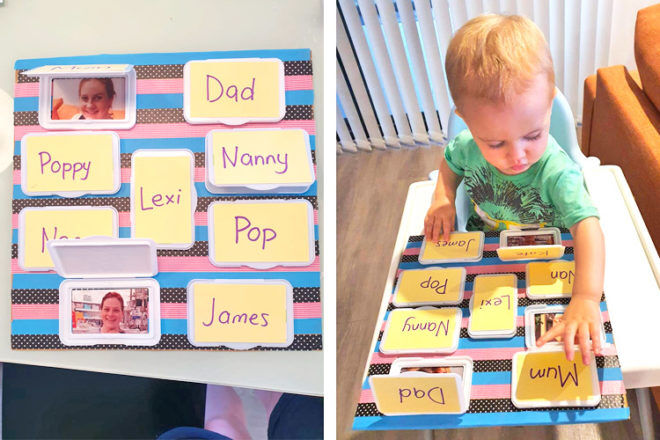 Using just a piece of cardboard, photos and baby wipes lids Mum's Grapevine Baby Group member Ali Cascarino whipped up a cheap and easy busy board.
---
Etsy Finds
There's lots of DIY inspiration at Etsy, plus some beautiful busy boards to pick up ready-made. Here are four fab ideas:
1. Customise it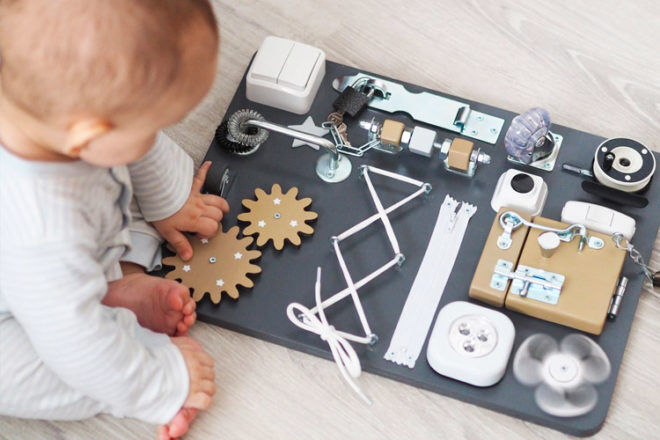 With 19 different elements and the ability to customise, toys for 18 month olds don't get much better than the Baby Gift Busy Boards ($139.36). And all of the hard work is done for you – even better!
2. Wheelie fun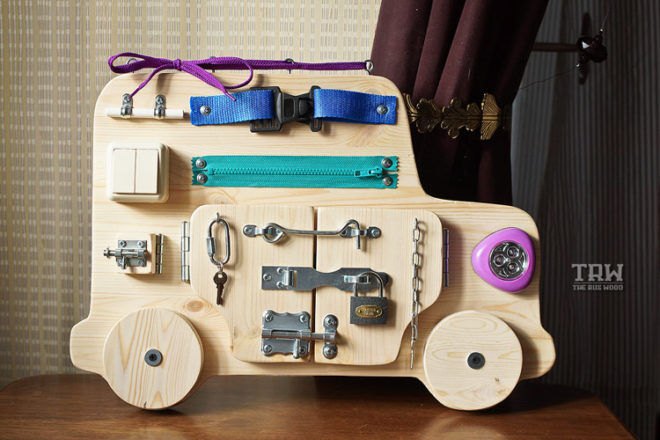 Take the car idea up a gear with this vehicle-shaped busy board. Pick one up from The Rus Wood ($114.86)
3. Stand-alone activities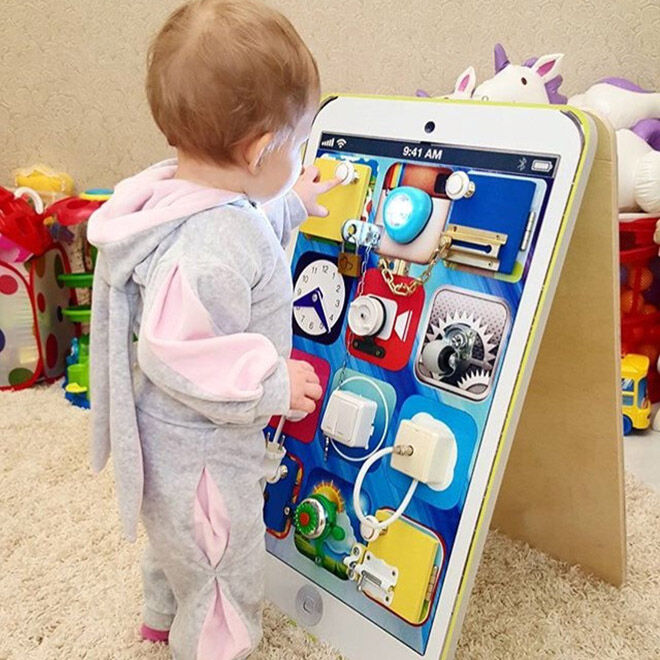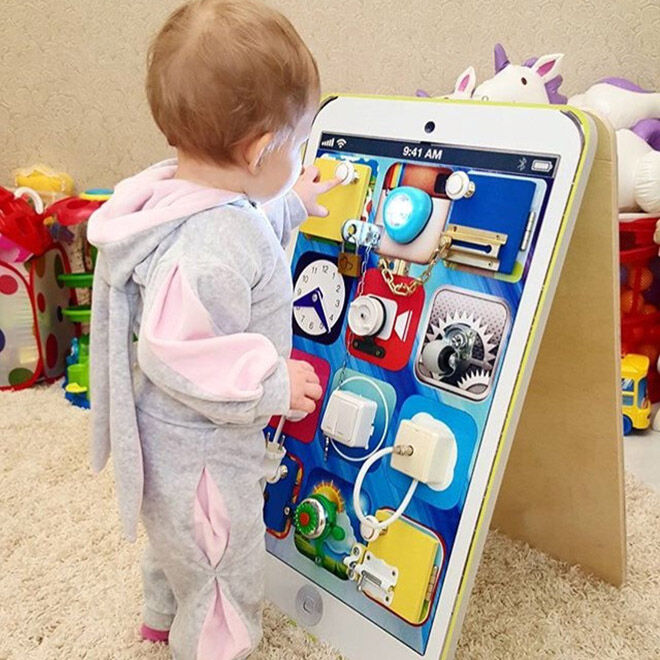 An easel is a clever way to combine busy board and chalkboard. Make one at home or explore the readymade route. Grab yours at Busyboard iBoard ($162.16)
4. Travel-size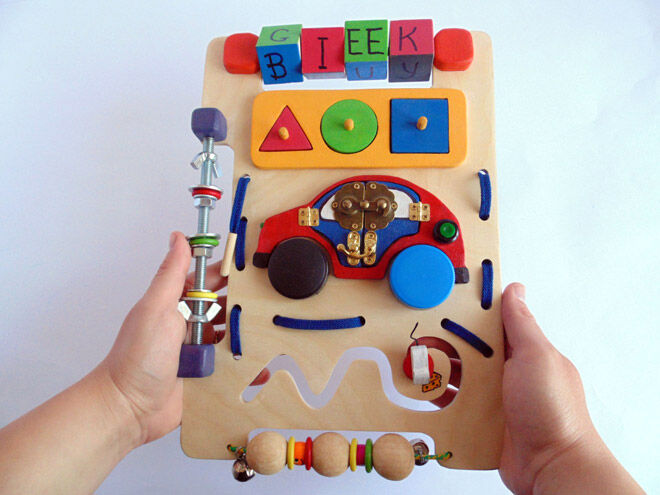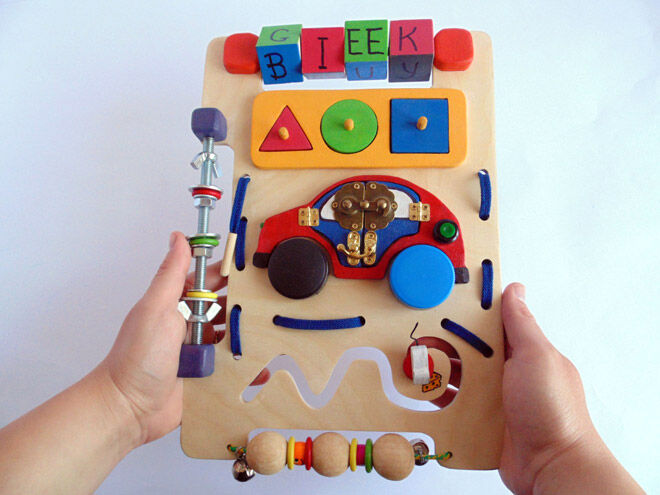 Passport? Check! Toiletry bag? Check! Travel-ready busy board? Check! Jump over to Maxi Baby Toys ($87.84) to get yours.
5. Burst of colour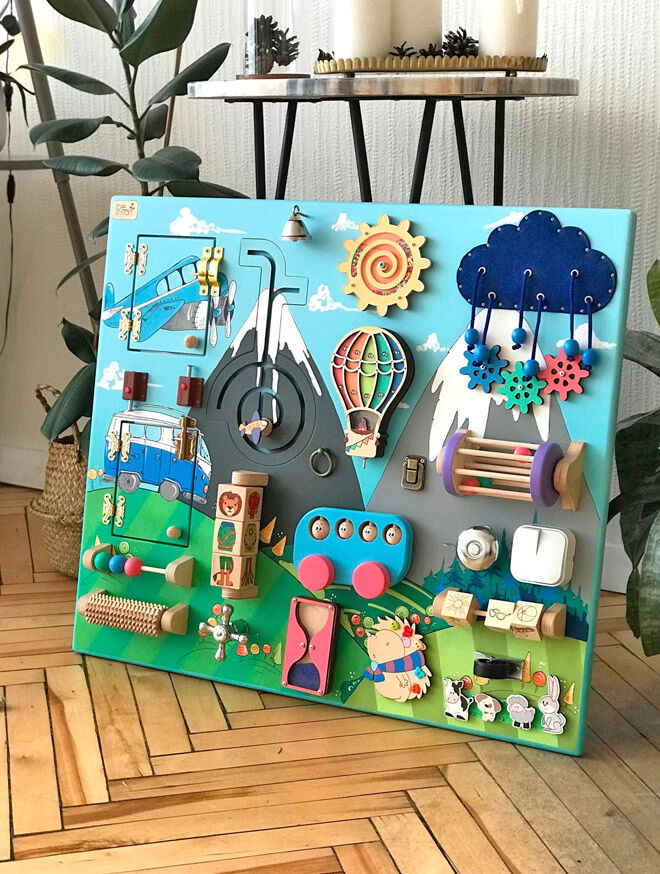 With its hand-painting background and adorable animal friends, this Smart Wooden Toys ($366.58) busy board is a kaleidoscope of fun.
Read next …
Want more sensory fun for your tot? Head on over to these popular articles next: