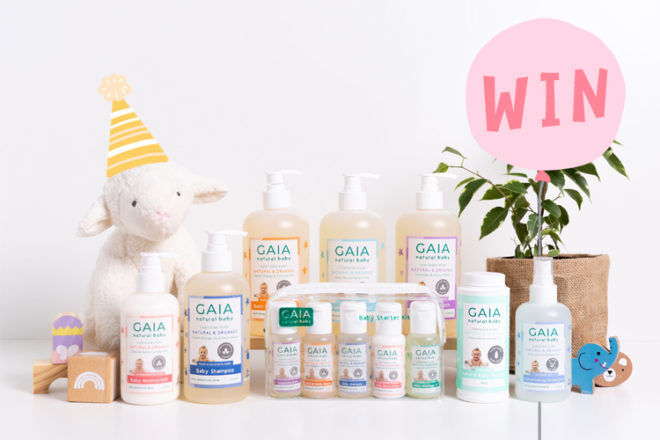 This competition is now closed.
A huge congratulations to our lucky winner N. Malhotra (NSW) Enjoy xo
Soothe and nourish your babe with natural goodness when you win a year's supply of Australian made products from GAIA Natural Baby worth $500.
Babies' precious skin needs a lot of gentle love in the early years and GAIA Natural Baby skincare has been formulated to provide the ultimate care for even the tiniest of humans, with absolutely no nasties involved.
It's not just what goes into products, but what's left out that makes them so special.
The entire range is made right here in Australia using naturally derived and organic ingredients wherever possible. Think organic chamomile and calendula extract, avocado and sweet orange oils and the buttery beauty of shea. From shampoo to soothing cream, each and every product smells like heaven.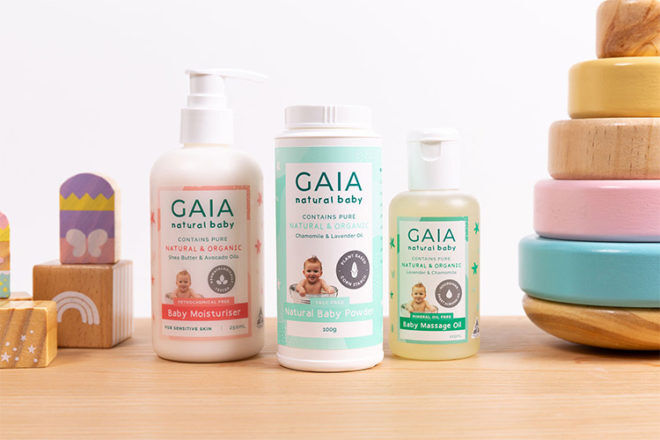 But the reasons to love GAIA Natural Baby don't end with its delicious list of ingredients. The range is also vegan-friendly, cruelty-free and tried and tested to be safe, nourishing and luxurious for Bubba's sensitive skin.
With this ahh-mazing bundle of GAIA Natural Baby skincare in your hands (enough for an entire year!), you can rest assured that Bub's skin will enjoy all the natural goodness it deserves.
This spectacular assortment of award-winning baby products includes everything you need to pamper your mini, from fluffy strands to tickly toes – you can count on Bub's skincare shelf being the envy of the household.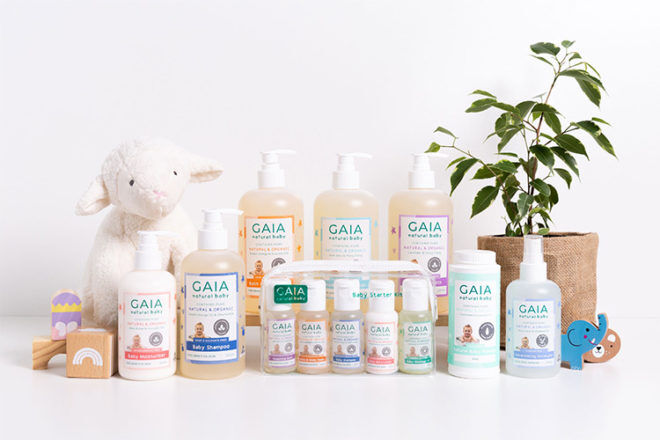 To celebrate the GAIA Natural Baby makeover one lucky Mum's Grapevine subscriber will win an entire year's supply of GAIA Natural Baby products valued at $501.95. Including 3 x Hair & Body Wash 500ml ($53.85), 2 x Sleeptime Wash 500ml ($35.90), 2 x Bath & Body Wash 500ml ($35.90), 6 x Baby Moisturiser 250ml ($69), 4 x Baby Massage Oil 125ml ($46), 6 x Soothing Cream 100ml ($59.70), 2 x Starter Kits 5 x 50ml ($45.90), 5 x Baby Shampoo 375ml ($69.75), 3 x Conditioning Detangler ($29.85), 4 x Cotton Pads 40pk ($19.80) and 4 x Baby Powder 100g ($35.80).
Entry is open to all Australian Mum's Grapevine newsletter subscribers.
Competition ends September 18, 2020.
HOW TO ENTER
Step One: Enter your details in the entry form below.
Step Two: Visit the gorgeous new GAIA Skin Naturals website and tell us from what age can you use GAIA Natural Baby products.
Bonus: Click 'Share' below and get your friends to enter for bonus entries.
Competition Terms and Conditions.
Good luck xo