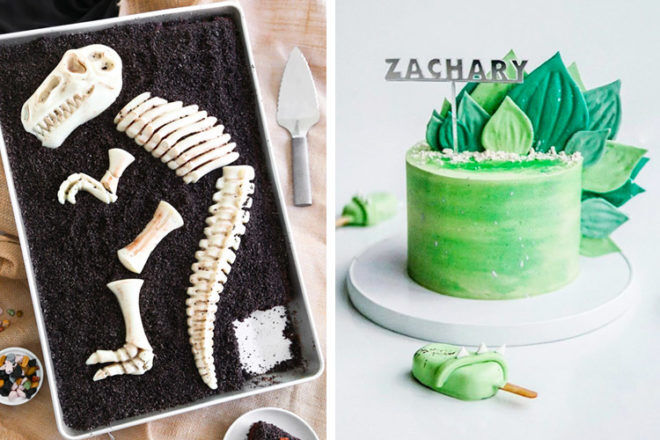 For dino-loving kids, a stomp-worthy dinosaur cake is an ultimate addition to their birthday celebrations. From terrifying tiered cakes to tiny cupcakes made for chomping, mini paleontologists are sure to get a kick from a Jurrasic-inspired treat.
To help inspire their next dinosaur party, we've scoured the web to find the best dinosaur cakes around and put them in one mighty list.
Here are 22 dinosaur cake ideas for kids big and small.
Hats all round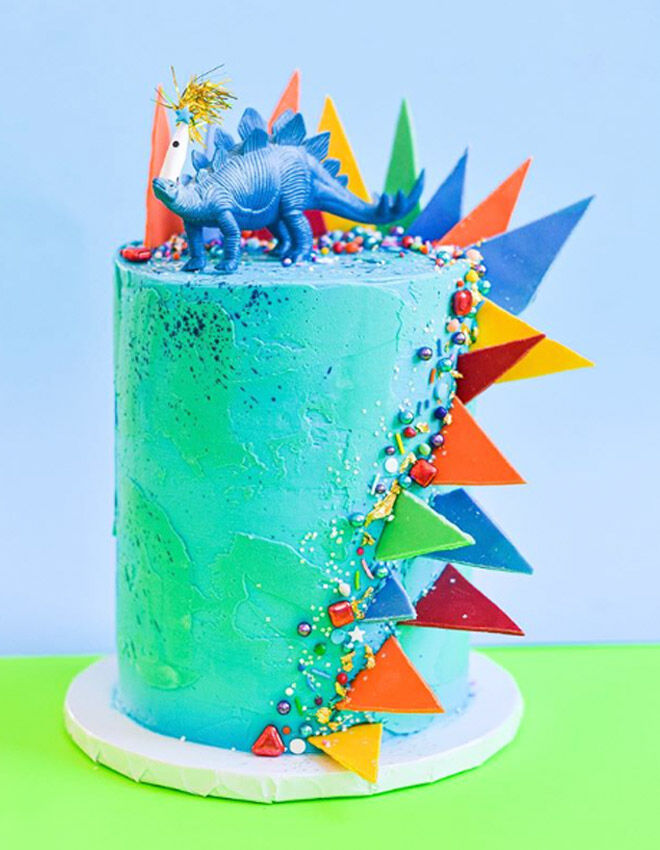 It ain't a real dino party unless the dinosaur cake topper is wearing a party hat too. (via @cakeygnome)
Pastel paleontology
We love this very impressive dinosaur cake with peachy colours that really make it pop. (via My Two Sweetie Pies)
Scaled-down and simple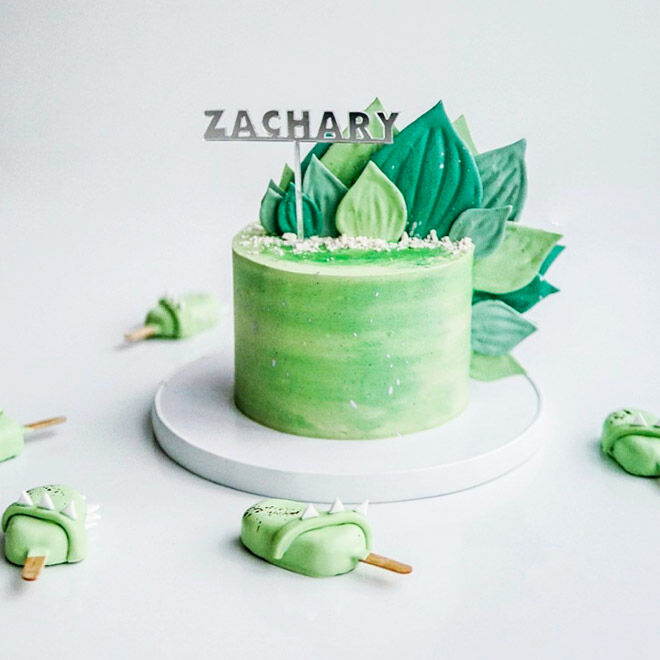 Small in size but big in taste, this gorgeous dinosaur cake even has 'rocket pops' to match. (via Sweet Lionheart)
A bubbling birthday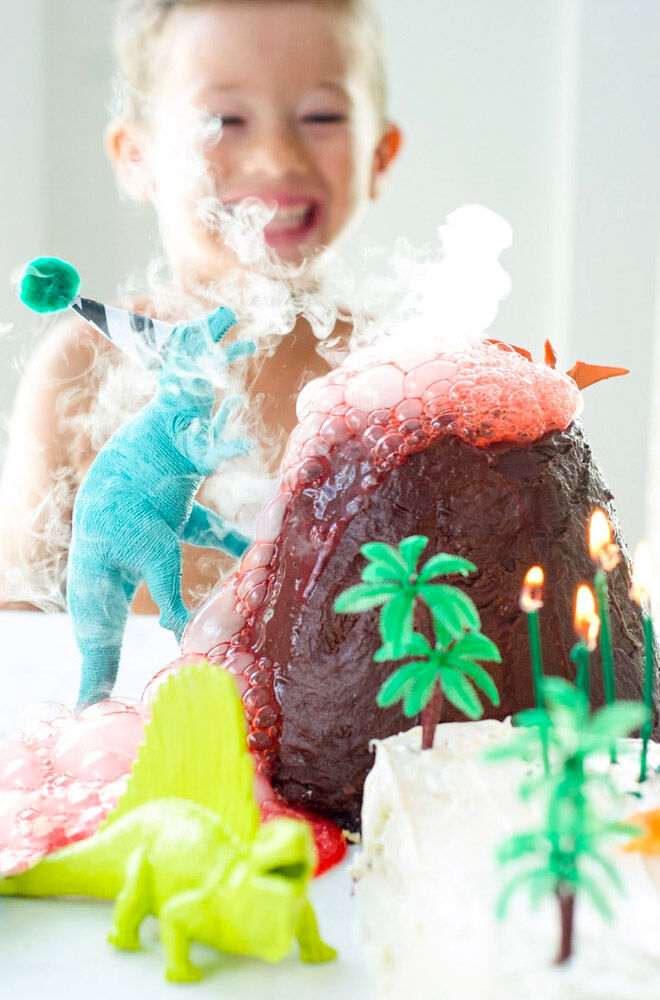 Make their day extra special with a dinosaur volcano cake that bubbles away as you sing Happy Birthday. (via Oh So Delicioso)
A land before time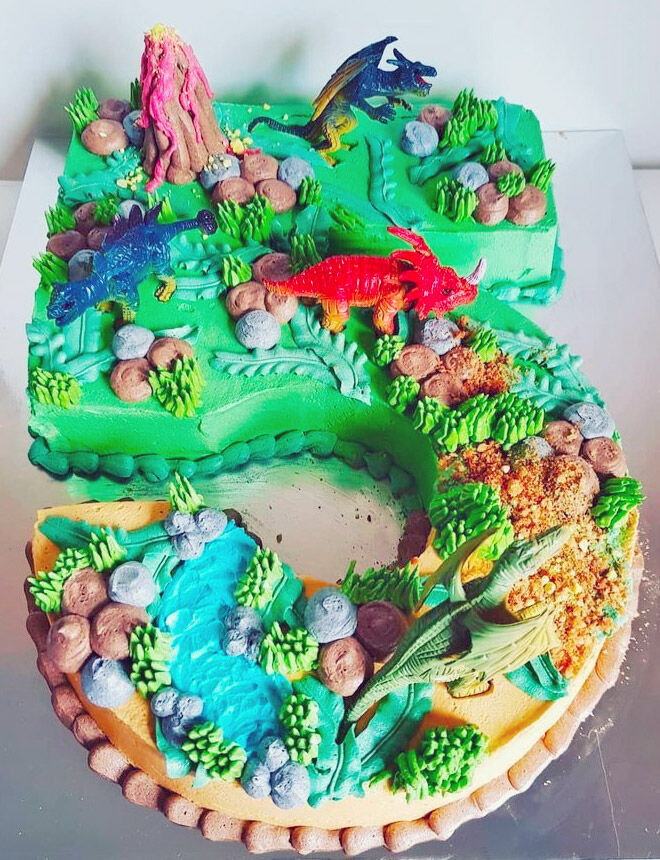 Dinosaurs have stomped right into this number birthday cake and it couldn't look any cooler! (via Wonder Kids UK)
Dino dig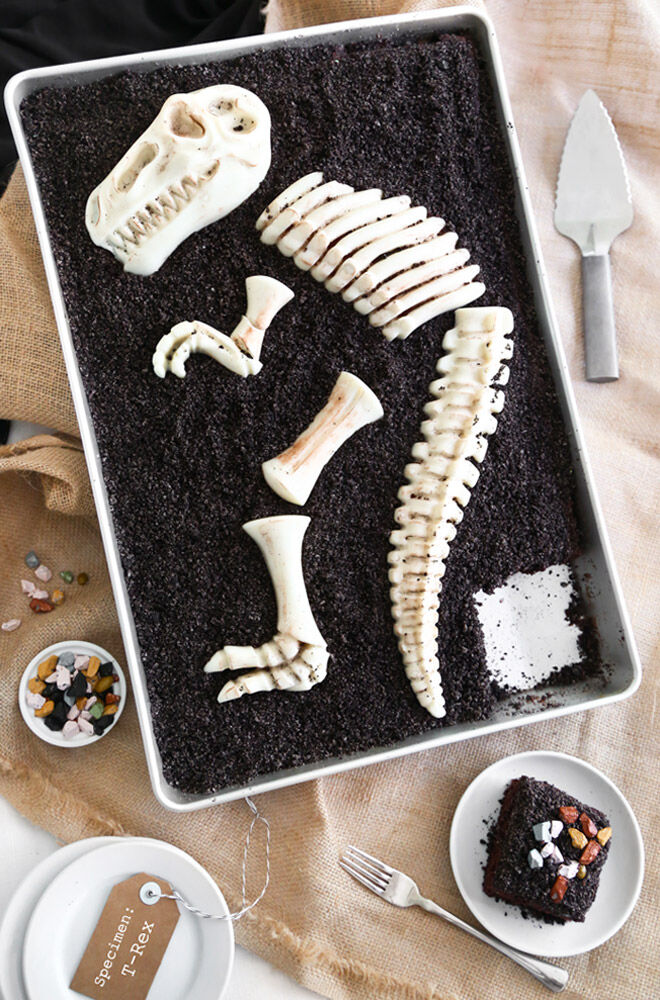 A brilliant birthday cake for budding paleontologists. Time to get digging! (via Sprinkle Bakes)
Cute creatures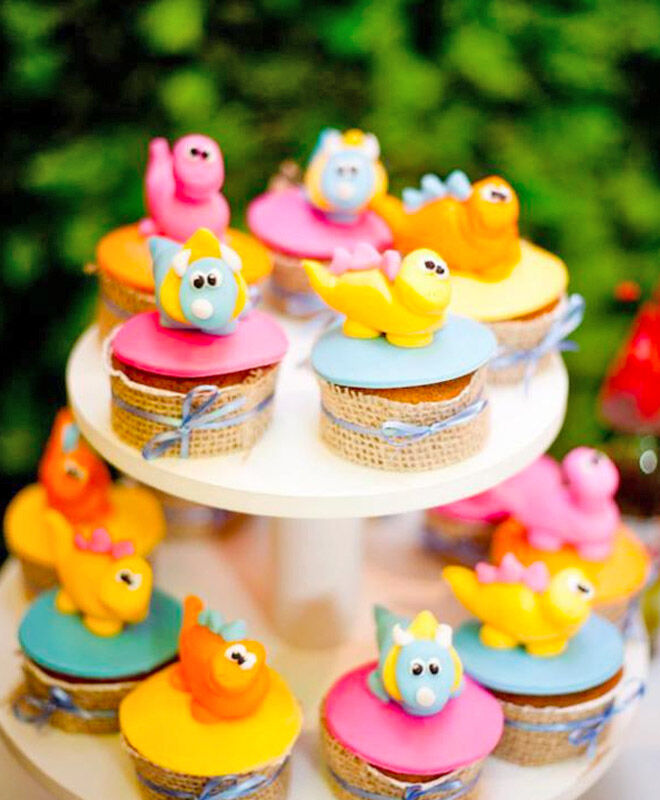 Take giant dinosaurs and make them mini! These colourful dino cupcakes are ridiculously cute. (via Kara's Party Ideas)
Choc-o-saurus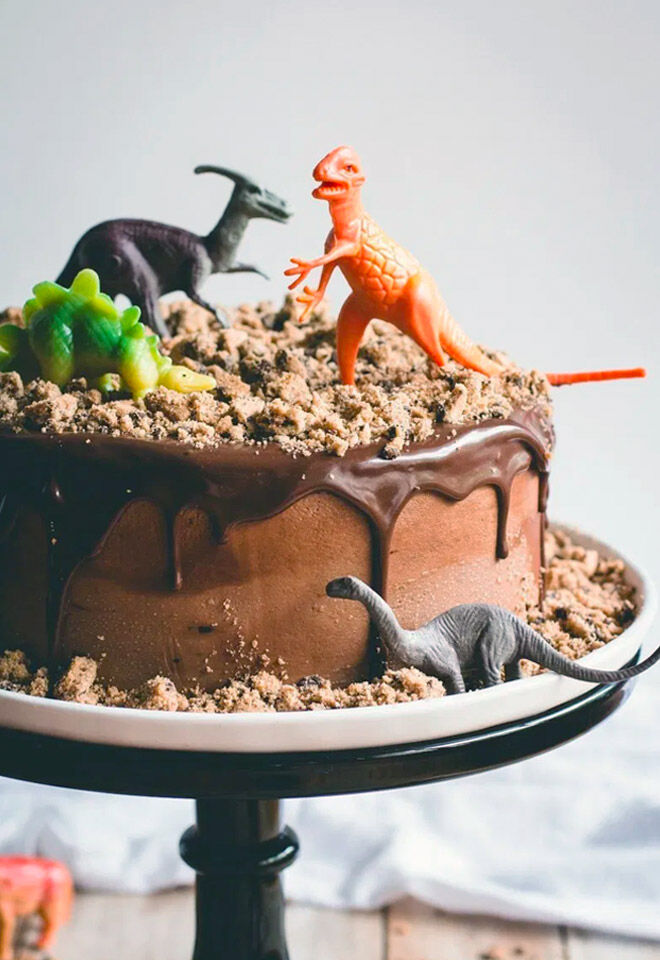 An easy dinosaur cake that's decorated just right. Simply drizzle with chocolate ganache and sprinkle with cookies to get a crumbled rock look. (via Butter Lust Blog)
Roar-some bunting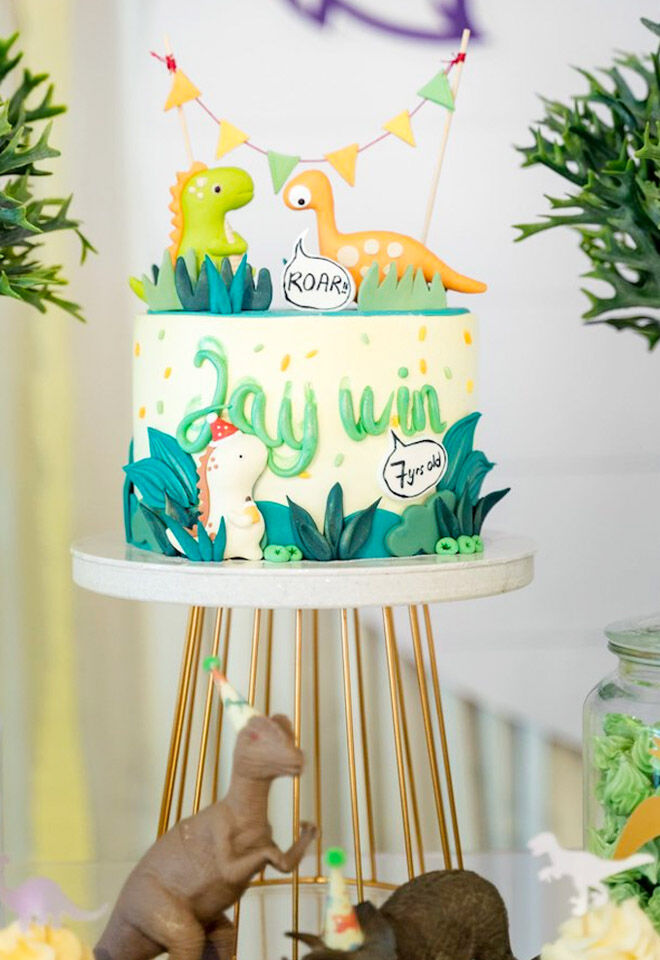 Bunting, check. Dinosaurs, check. Cute-as-can-be cake, check. (via Kara's Party Ideas)
Purple predator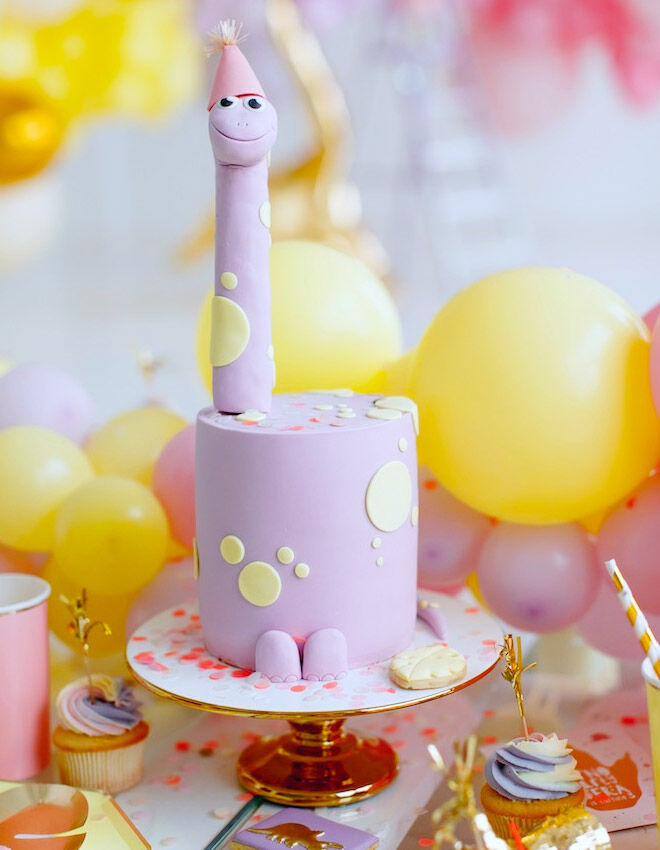 Predators don't come much prettier than this! With yellow spots and a miniature party hat, we're totally obsessed with this dreamy-hued dino. (via Kara's Party Ideas)
Ready to pounce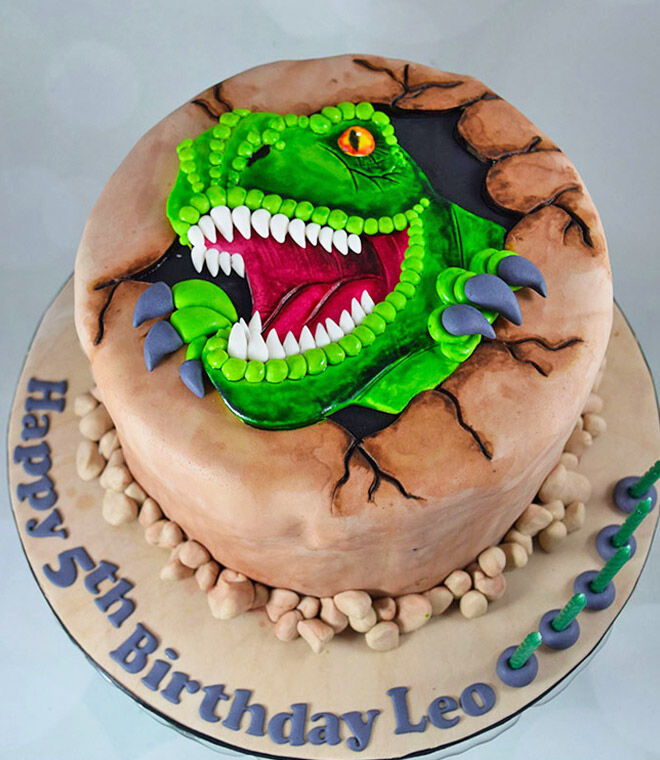 Roaring and ready to pounce, this 3D dinosaur cake ticks all the boxes for a memorable party. (via Manda's Cakes)
Precious prey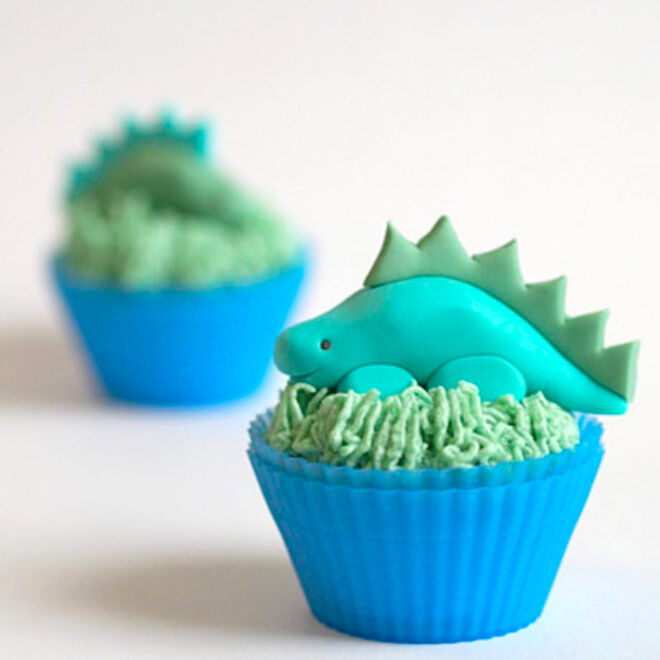 Not making a big cake this year? Keep things small and simple with teeny tiny cupcakes topped with adorable dinos for good measure. (via She Knows)
Excavate and eat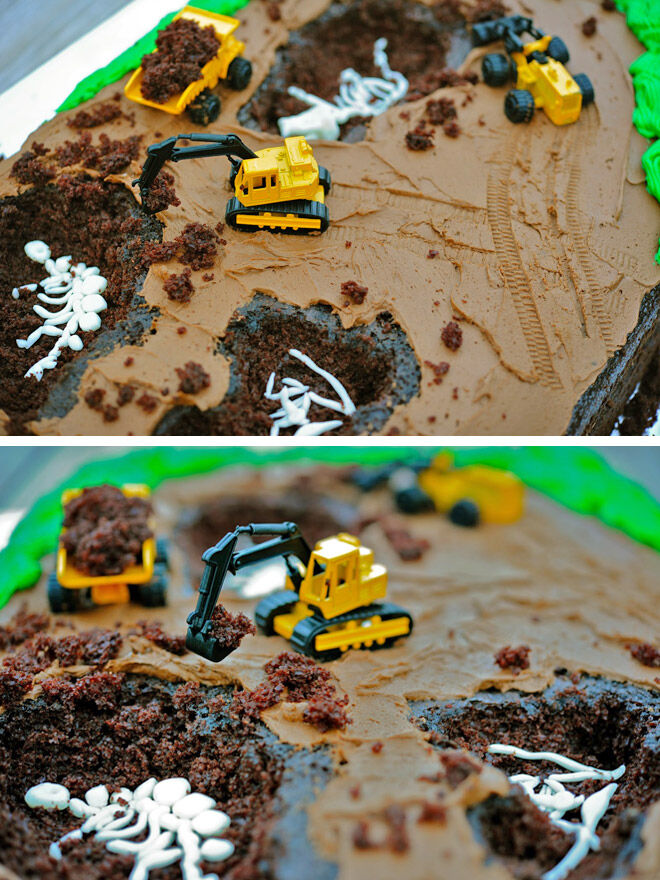 A creative twist on a traditional dino-themed cake. Kids get to dig for fossils and bones before tucking into a seriously scrummy chocolate cake. (via Mama Makes From Scratch)
Tiered to perfection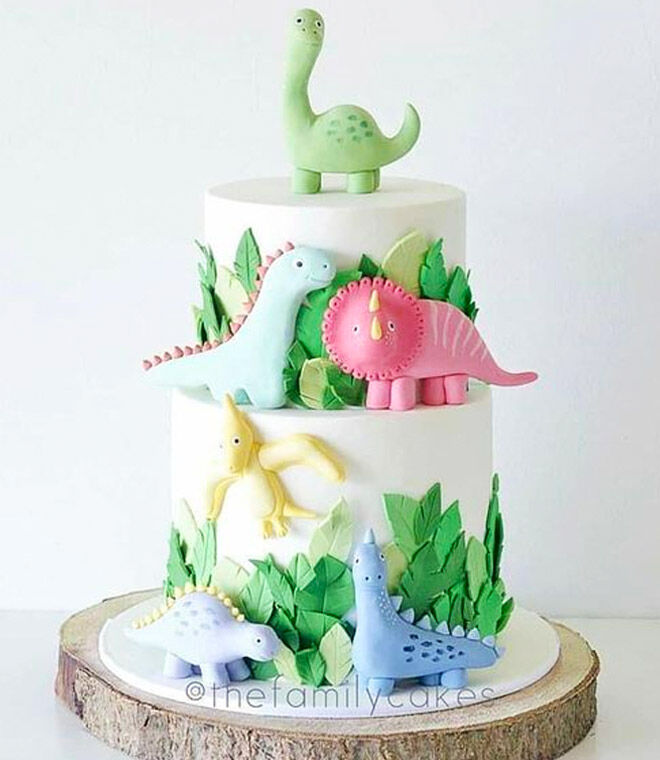 Standing tall and covered with beautiful creatures, this stunning birthday cake is bound to be the centrepiece of any party. (via @thefamilycakes)
Extinction at it's best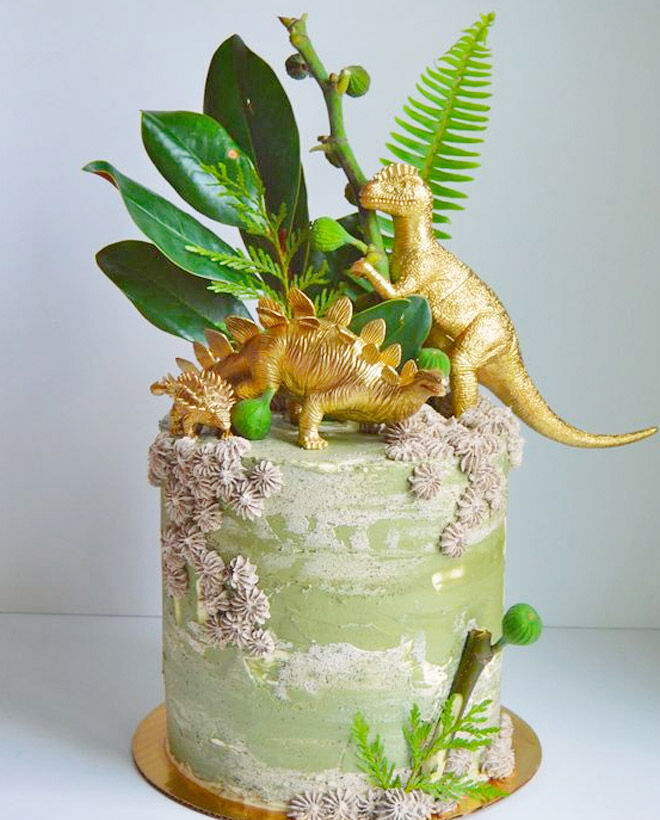 There's something about golden dinosaurs that just makes us swoon! Paired with the rustic-style piping and simple greenery, this cake is a real winner. (via Bon Vivant Cakes)
Time to hatch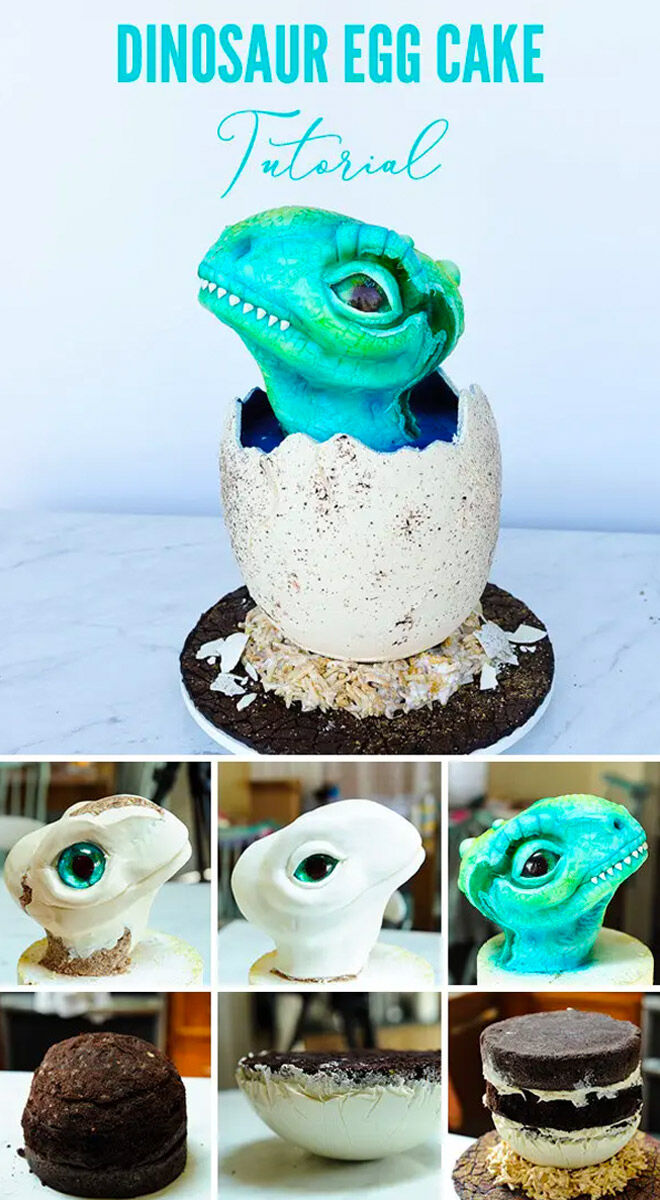 Take your baking skills to another level this year with a birthday cake they'll never forget. (via Sugar Geek Show)
Geology glam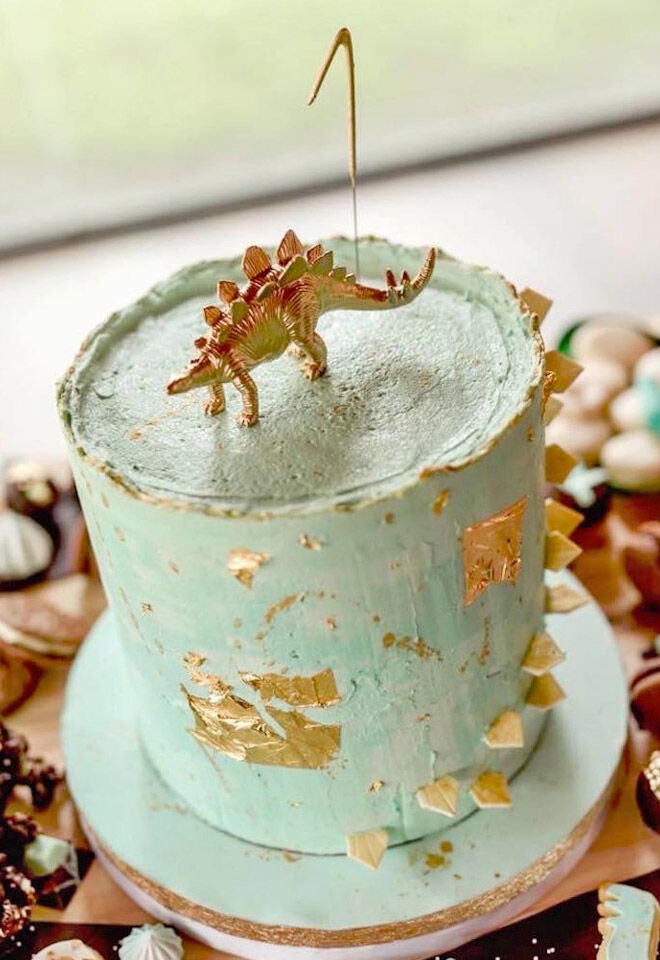 Rocking gold leaf and glistening spikes, this dinosaur cake is every bit as glamourous as the birthday boy or girl themselves. (via Kara's Party Ideas)
Prehistoric pop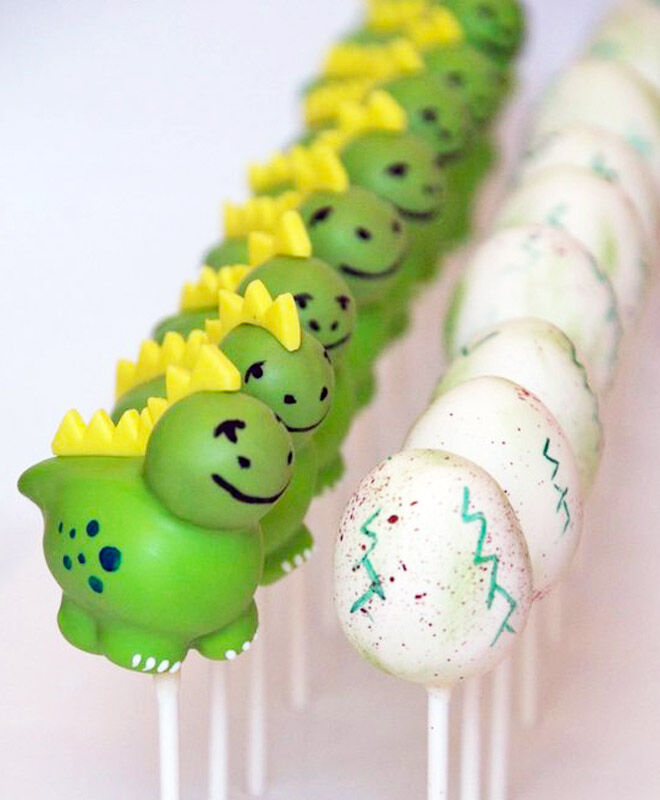 Let little ones enjoy the party one bite at a time with these adorable dinosaur cake pops ready to be devoured. (via Talipops)
Jurrasic jungle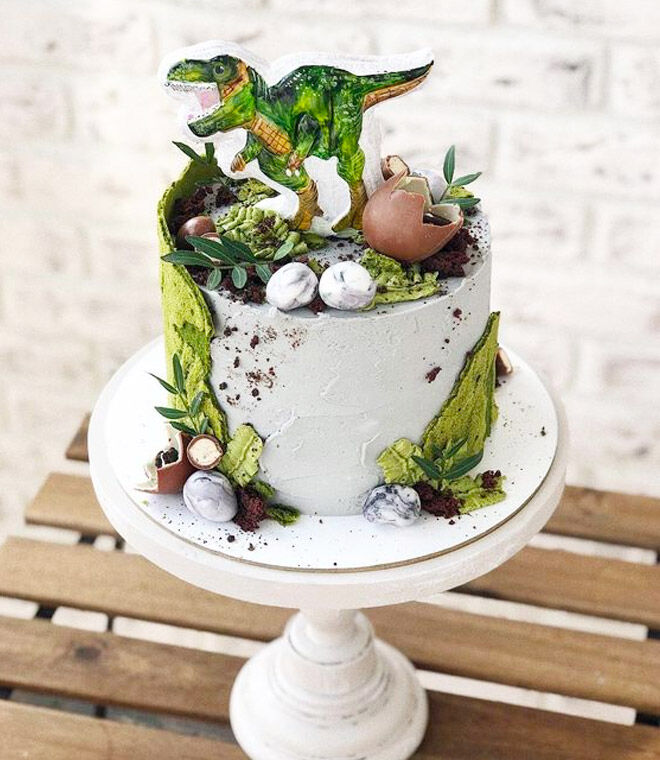 Green fondant, chocolate soil, cracked eggs and a terrifying T-Rex are all it takes to make this creation a real show-stopper. (via Polyalya Bakery)
Erosion explosion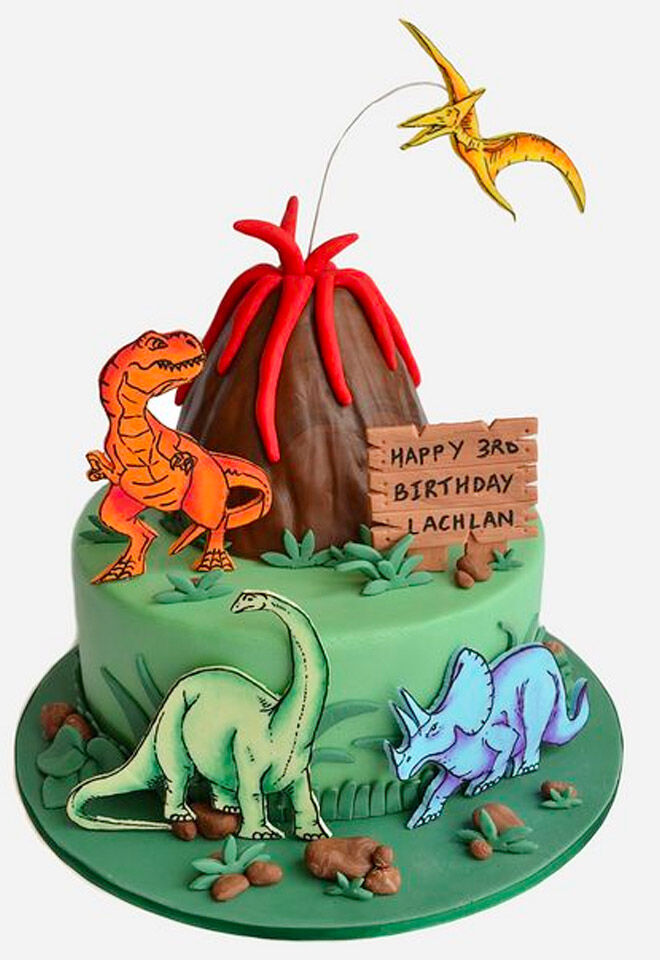 Not keen on doing a full-blown science experiment? No worries. This design still has all the wow-factor of a dinosaur volcano cake, just without the extra cleanup. Hurrah! (via Pinterest)
Baby brachiosaurus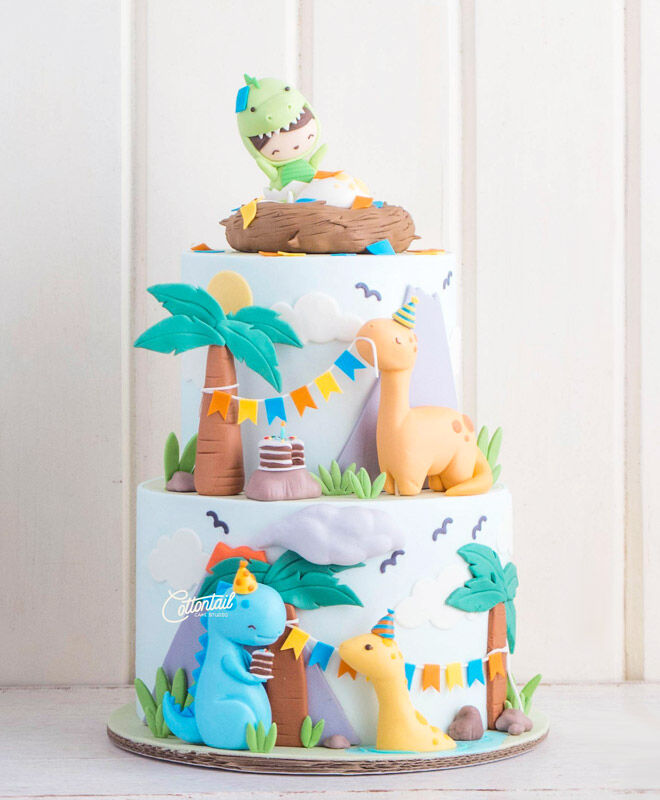 Bursting with cuteness, this impressive creation proves there really is no age limit when it comes to dinosaur cakes. (via Cottontail Cake Studio)
Stunning stegosaurus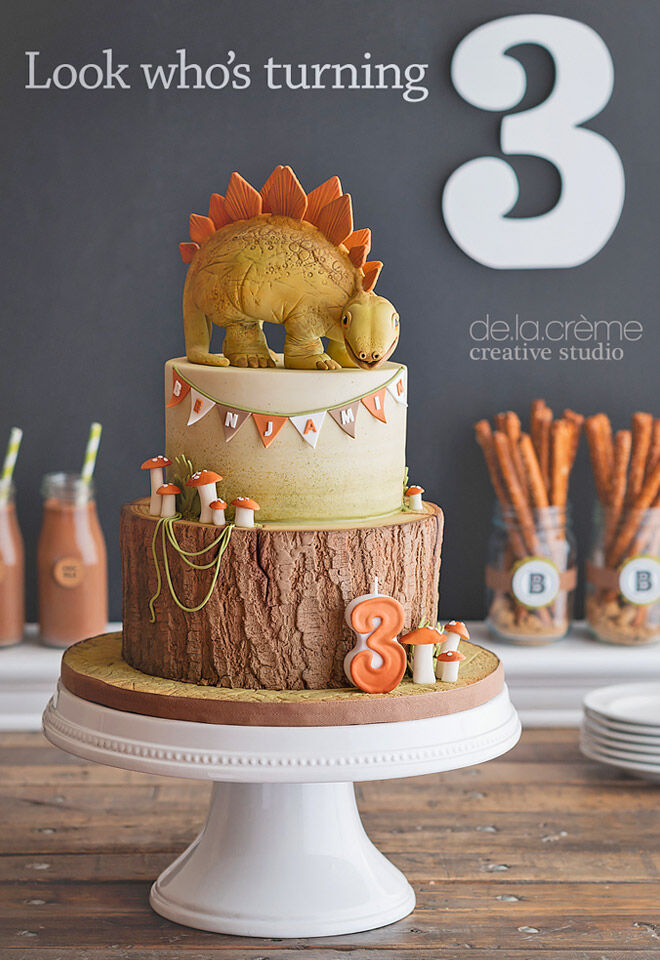 With three tiers and a life-like stegosaurus standing atop, it's no wonder this beauty made our top dinosaur cake list. Absolutely incredible! (via De La Creme Creative Studio)

Looking for great toys and gift ideas for kids?
We've collected a treasure trove of amazing gift ideas, from the latest baby toys from leading brands to quirky boutique finds. There's something for every little Nathan, Sarah and Chloe.
Gifts for kids are based on play and development, not gender.
Become a Grapeviner mum by joining one of our private Facebook Baby Groups and meet thousands of other Australian mums with kids the same age as yours all recommending their favourite baby products and unearthing hidden baby shops. And you can too!
We want you to know
At Mum's Grapevine, we're a team of passionate mums (with 19 kids!) and over 15 years of experience researching and writing about all things baby and parenting. Our reviews of recommended products, like the ones in this post, may include paid inclusions, but we promise to only feature products that we truly believe in and have used or seen ourselves. We want to ensure that you, our Grapeviner mums have access to the latest and greatest products in the parenting world, and we're committed to maintaining our high standards of quality and honesty. See our Disclosure Policy.
Thank you for trusting us to be your go-to source for all things baby-related.
xoxo