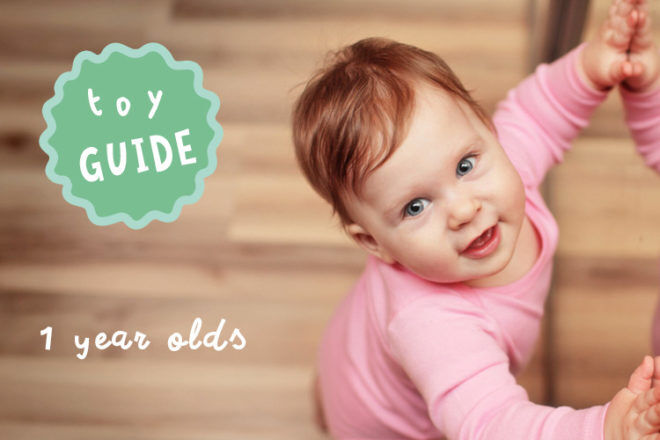 A whole year in the world, and how far they've come. Newly minted toddlers are busy pushing, pulling, stacking, poking, shaking and tipping things all over the place. They love getting around – whether it's on foot, with a walker or cruising on a ride-on.
So now is the perfect time to gift some of those key 'milestone' toys that they'll use for years to come.
Here are our favourite gifts and toys for 1 year old boys and girls.


Opening And Closing Things
Pressing Buttons
Pointing
Mimicking
Banging, Poking & Shaking Things
Standing
Cruising
Tipping Things Out Of Containers
Saying First Words
Walking (Maybe!)


Push / Pull Alongs
Cars, Trucks And Trains
Baby Crayons
Shape Sorter
Shakers & Instruments
Activity Tables
Walker
Wagon
Soft Balls
Bead Maze
Toy Phone


15 gifts and toys for 1 year olds
Here are our top gifts and toys for 1-year-old boys and girls.
Easy rider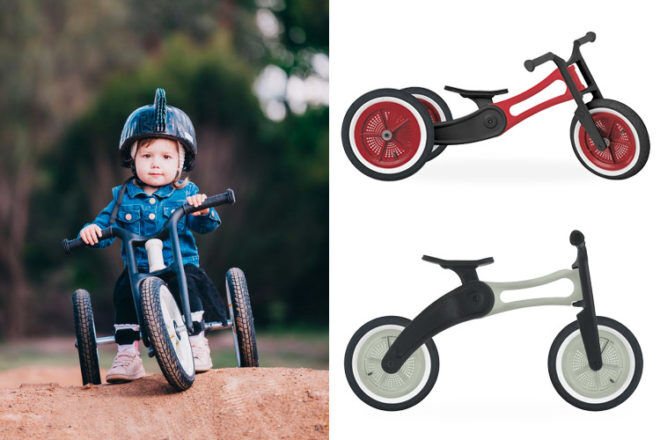 Turning waste plastic into award-winning, super clever bikes is all in a day's work for Wishbone. This beauty is a 3-in-1 wonder, that helps them learn to walk with three wheels, and converts to a balance bike once pint-sized easy riders are on the move.
---
Snappy sorting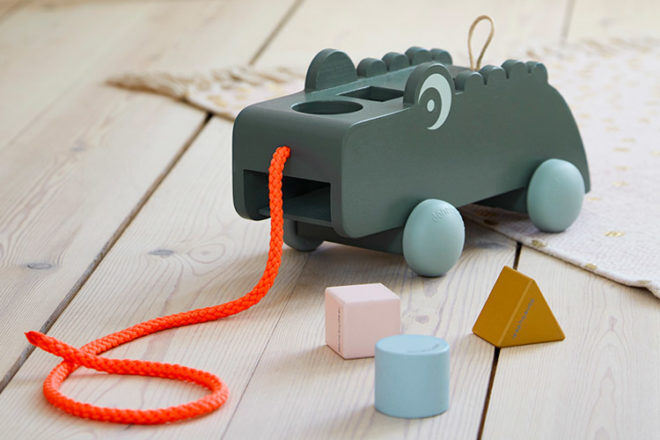 A clever pull along with hidden talents, this snappy guy is all about getting little minds ticking over. Sort the coloured shapes into their right hole, and then try and work out how they reappear from the Croco's tummy.
---
Glide away home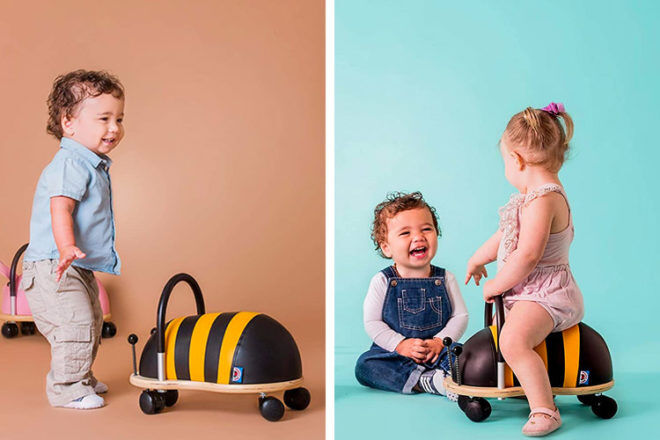 All aboard the buzzy bee express! The Wheely Bug's padded body is comfy to sit on, her wobbly feelers are a giggly delight and she goes backwards, forwards, sideways and round and round.
---
Baby, you can drive my car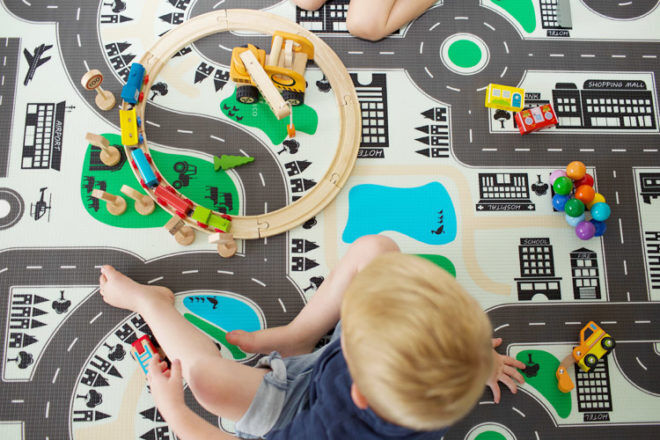 Non-toxic, large and softly padded for curious crawlers, the Freddy & Co Road Trip Play Mat puts active little minds in top gear. We love the waterproof coating – it makes wiping spills a cinch.
---
Their name up in lights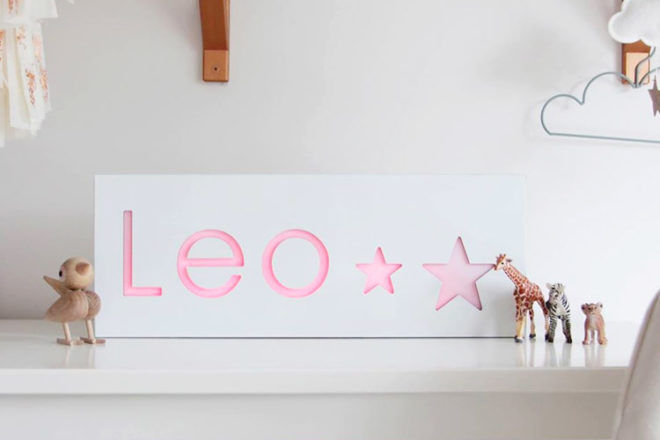 The gentle, ambient light of Mylight is just the ticket for a dreamy, comforting nursery glow. High quality, handmade, and personalised with their name, the energy-efficient LED lighting produces minimal heat for safety.
---
Tiny taps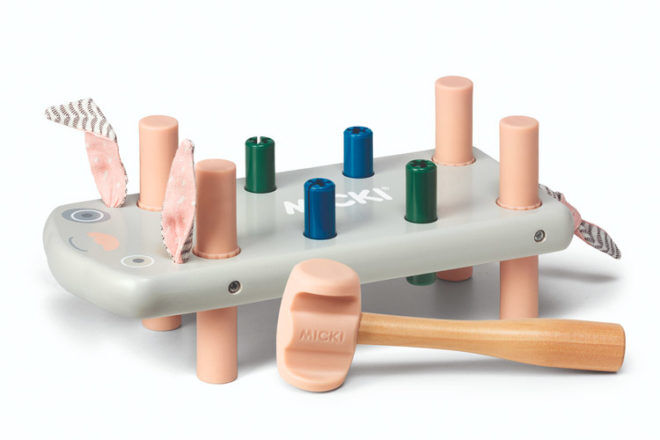 A new twist on an old favourite, the soft linen ears and tail and PVC-free plastic body make this pounding bench a textural delight. Helping to hone motor skills and co-ordination, all in the shape of a cute piggy!
---
Up and walking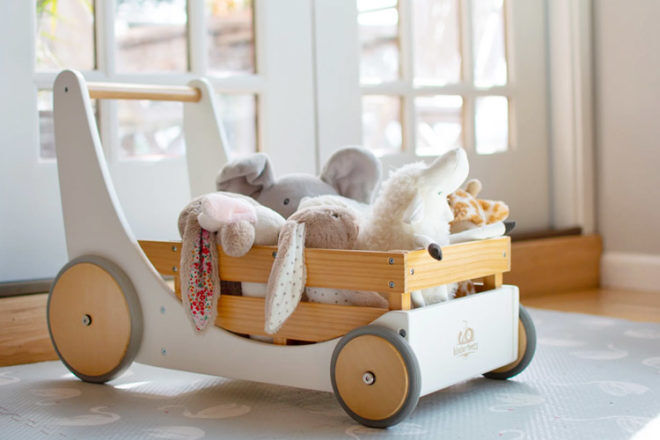 Both a walker for on-the-go tots and storage for their favourite toys, the Kinderfeets Cargo Walker is perfect for bubs learning to stand on their own two feet. Handmade with birchwood, the rubber wheels make for scratch-free fun.
---
Come fly with me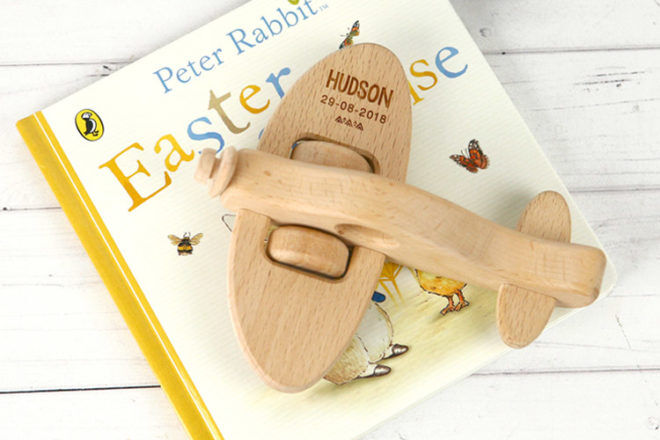 A lightweight plane that's just the right size for little hands and big imaginations. Crafted from fine-textured beech with a moveable propellor, their name engraved on the wing makes it a true keepsake.
---
Plush little pup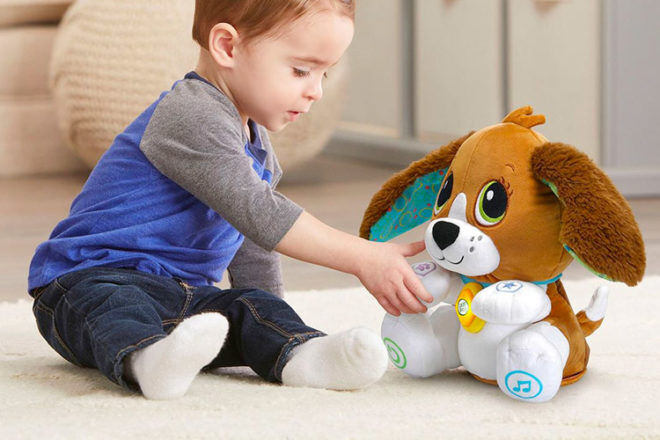 Meet Bailey – she's a cuddly companion perfect for tots learning to talk. Programmed to tell short stories, ask questions and explore sounds, numbers, letters and more, she's an adorable addition to help their language skills develop.
---
Giddy up!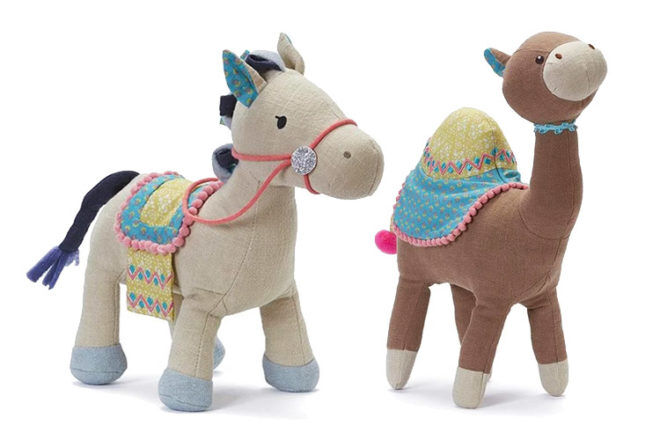 With their delightful backstories and gorgeous detailing, Jose and Carmelo are best mates who are street smart and partial to a margarita and make a mean tortilla. Friends 'till the end, this duo is a delightful gift for imaginative little souls.
---
Paleontological puzzle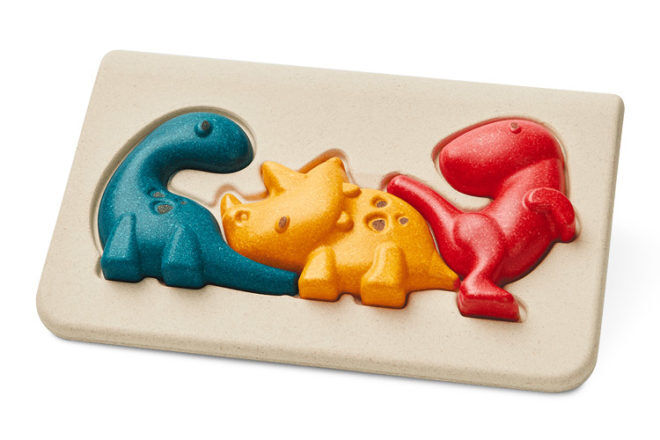 A simple, sweet puzzle for pint-sized palaeontologists to develop their problem solving and fine motor skills, the adorable little dinos are also a tactile wonder and perfect for pretend play on their own.
---
Petit Picasso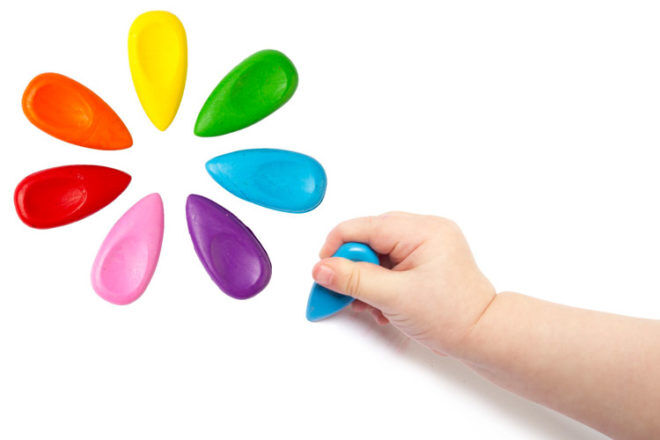 Crafted for perfecting the all-important pincer grip, these rainbow-coloured crayons make learning to draw fun and easy for pint-sized Picassos.
---
Triangular tunes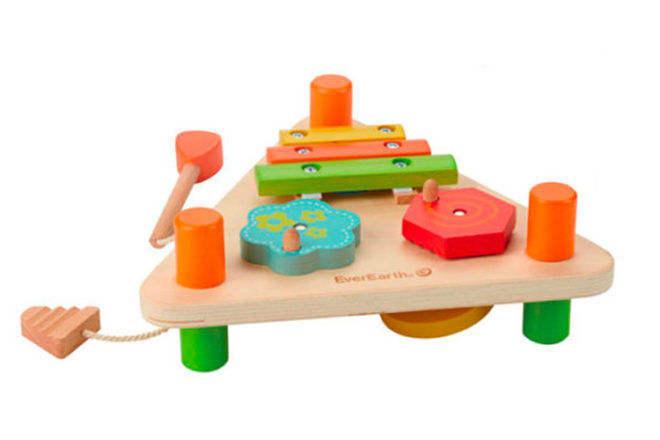 A double-sided musical must-have toy for one year olds who love to make a tune. With a xylophone, spinners, drum, glockenspiel and mallets it's a beautiful sensory experience.
---
Egg-cellent fun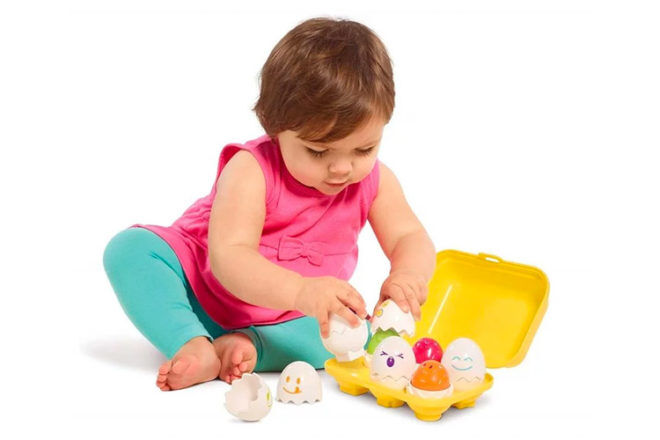 Young egg-splorers at the ready, what's hiding in the shells? Crack them open to find funny faces and bright colours, then find their shape to put them back in the right spot.
---
Hook, line and sinker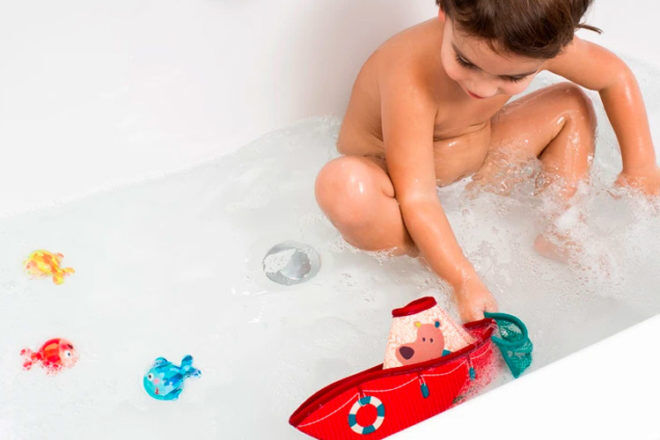 Your little landlubber can find their sea legs and help Alice and Cesar catch all three fish in their net during bath time. The neoprene material helps the boat float and also dry super quick.
---
Mix, match, twist and snap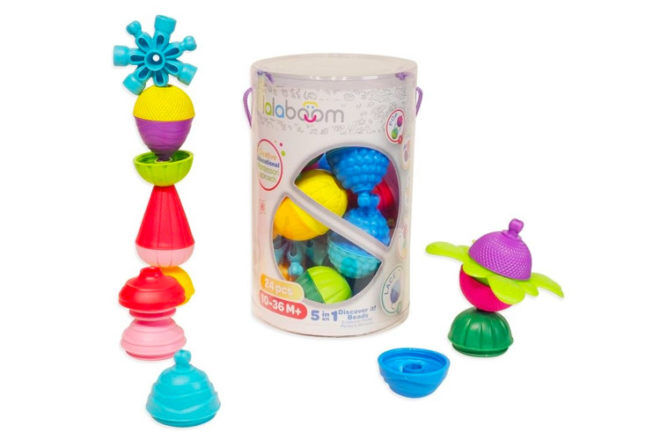 The multi-award-winning Lalaboom is a collection of 24 interlacing beads and accessories that provide non-stop open-ended learning. With different textures, vibrant colours and twisting movements, the set stimulates a Montessori approach to learning.
---
This article is curated by our Editors and includes affiliates and/or paid inclusions. See our Disclosure Policy.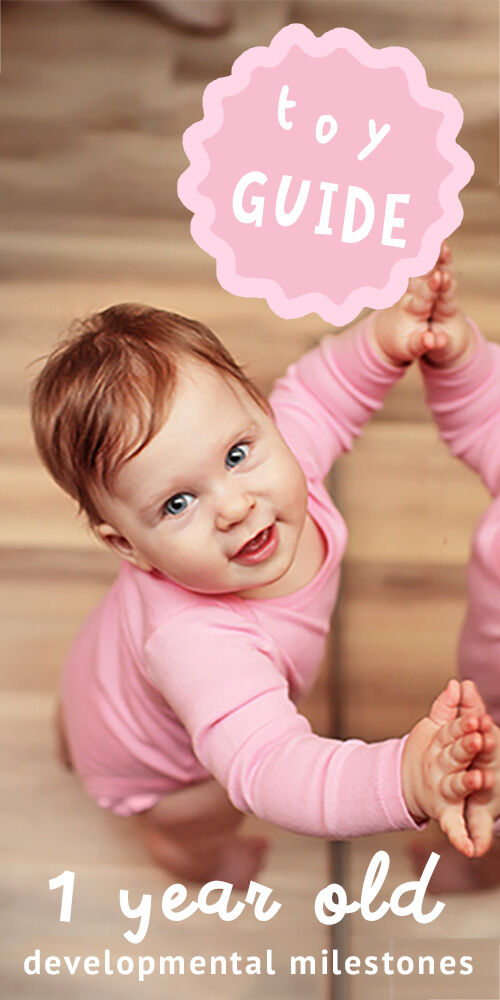 ---
Know more toys for 1 year olds that we should add to our list? Contact us and let us know.
Find more great gifts for kids:
We've collected a treasure trove of amazing Christmas gift ideas, from the latest baby toys from leading brands to the quirky boutique finds. There's something for every little Piper, Noah and Charlotte.
Gifts for kids based on play and development, not gender.
Continue your search for the best toy for one-year-olds
Still not sure if any of these toys are right for you? Search online by jumping into one of our closed Baby groups and ask thousands of other Australian mums what they recommend – 'What to buy' is the most talked-about topic.
Click and join your group today!