Oh, what an active life 18 month olds lead. They can understand lots more of what you say now, and are saying words themselves, which makes simple games, jokes and pretend play lots of fun.
They'll be able to do basic puzzles and they love copying you – so a doll and a pretend pram will be a huge hit. So now is the perfect time to give them some of those key 'milestone' toys that they'll use for years to come.
Check out our favourite toys for 18 month olds, based on what they're doing, loving and learning at this stage in their development.

Copying Adults
Riding, Steering And Pushing Toys
Kicking Balls
Talking
Climbing Steps
Building Towers
Playing Simple Pretend Game
Stacking
Hammering
Scribbling
Running
Feeding Themselves

Simple Peg Puzzles
Lawn Mower
Hammer Toys
Maracas
Stacking Rings


16 gifts and toys for 18 month olds
Here are our top gifts and toys for 18-month-old boys and girls.
A tiny hideaway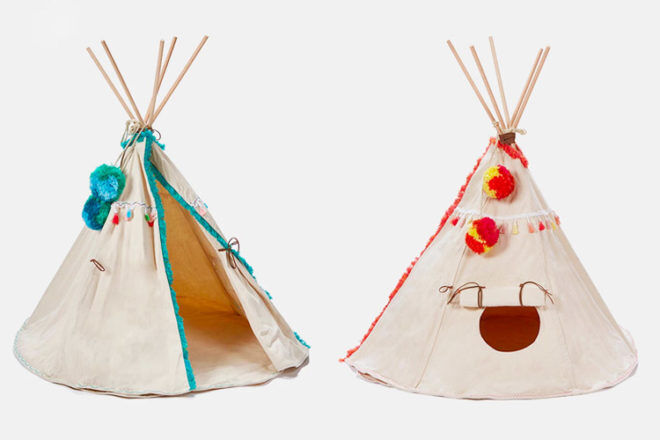 Complete with roll-up window, pom poms and fringing, these adorable teepees make the perfect place for dolly to play, sing and hang out by the campfire. A seriously sweet addition to the playroom.
---
A taste of Italy

Cruise the city streets in style! Inspired by vintage-style Vespas, these rocking scooters help little ones improve co-ordination and learn to balance, all while looking the sleek as can be. Available in three cool colourways, the extra-long runners help to minimise tipping too. Bellissimo!
---
Good for the tummy and the planet

100% plastic-free, this adorable panda tray is ideal for mini munchkins who prefer their food separate. Made from high-quality stainless steel, it'll withstand the rough and tumble of those toddler years. Simply pop in the dishwasher after use.
---
Third wheels a charm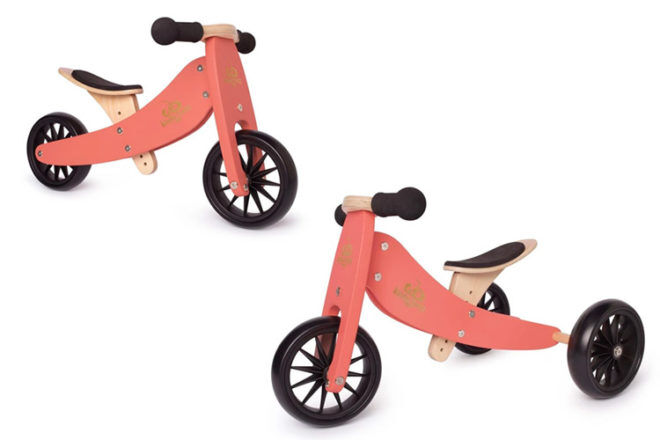 Go from trike to bike in one swift step. This award-winning design means kids can get their feet moving from an early age, gaining confidence as they go. Then, when ready, the trike easily converts into a balance bike for them to take to the streets.
---
A buddy for adventures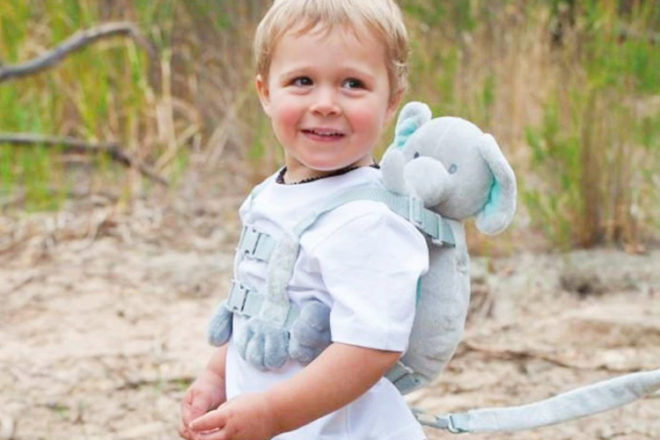 A friendly face that makes outdoor adventures safe and fun for both parent and child. Simply click the straps into place and let the exploring begin! We love that the harness converts into a backpack when the tether tail is removed.
---
Deep dive into playtime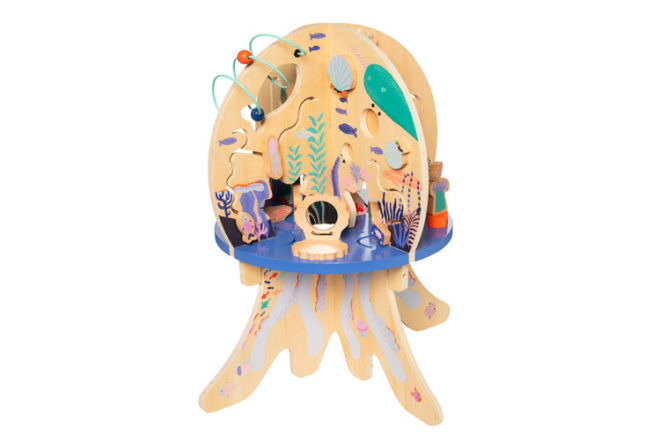 Packed with fun and exciting features, there's something at every turn for inquisitive toddlers to play with. From bead runs and gliders to clacking clams and spinning gears – there are hours of fun to be had exploring this underwater world.
---
Rock-a-bye baby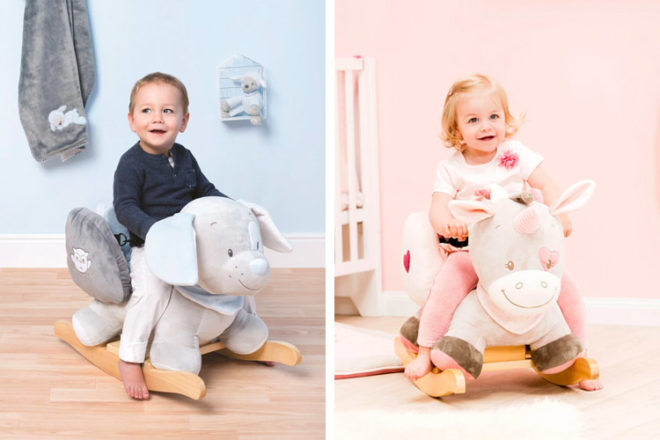 Comfy, cushioned and cute as can be, little lambs will have a field day see-sawing on these adorable rockers. Featuring a handy safety belt, their large motor skills get a good workout while they improve that all-important balance.
---
Peek-a-boo puzzle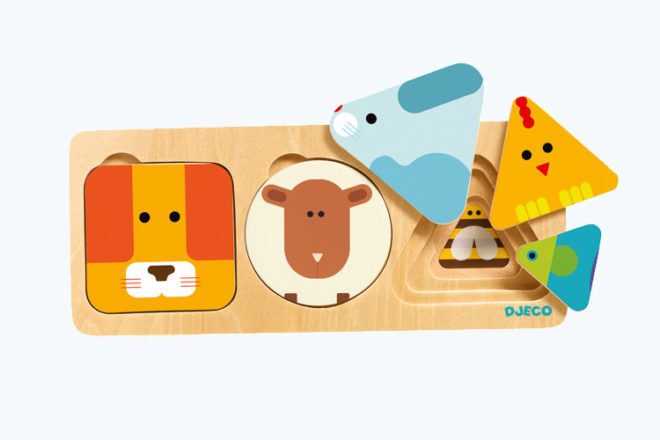 Peek behind the friendly faces to discover more animals hiding underneath. A bright and playful puzzle for tiny hands to explore. Perfect toys for 18 month old.
---
Recycling done right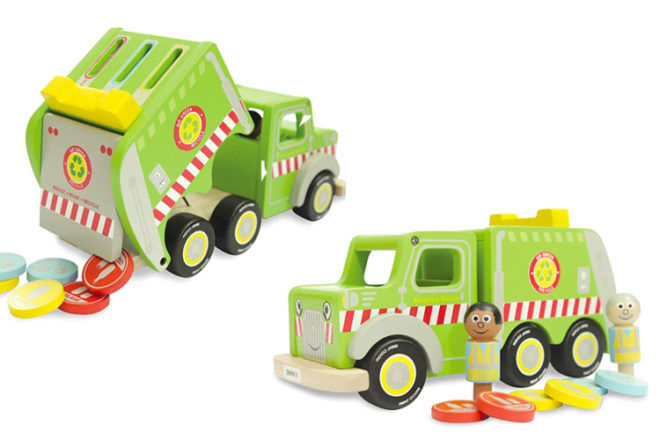 It's never too young to start! Sort the glass and metal from the paper and pop the recycling disks into the right slot. Then watch as Ronnie tips and swings his rear door open. A great little push along toy teaching tots to reduce, reuse and recycle.
---
Drip, drip, colour drop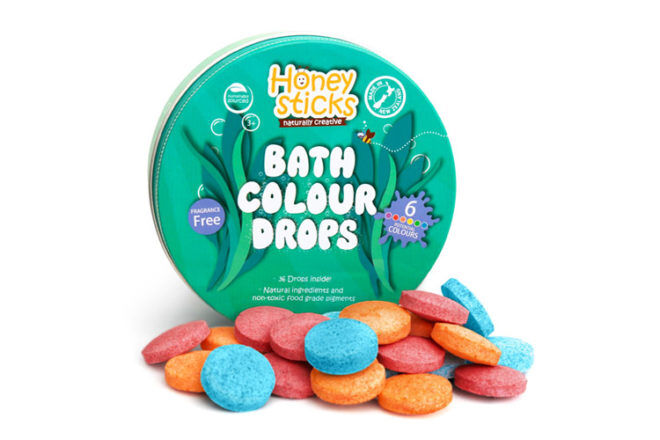 Give bathtime a boost with these magical drops of colour! Made from 100% natural food-grade ingredients, the bath drops not only add a splash of colour to tub time, but they're a great educational tool too. How many colour combinations can you make?
---
Alphabet on the go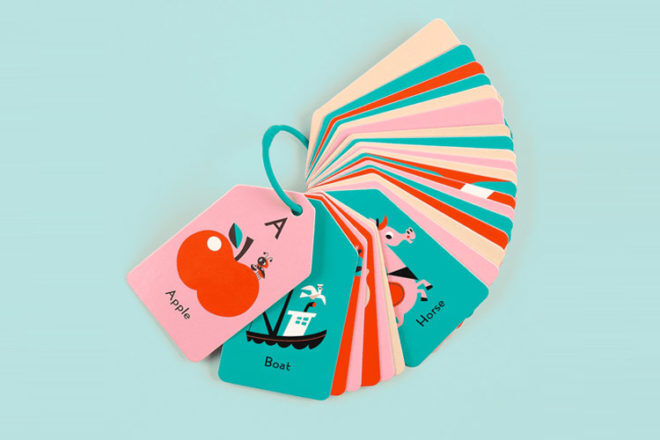 Develop your babe's early vocabulary and recognition of the alphabet with these gorgeously illustrated alphabet flashcards. Simply use the handy ring and attach them to the pram or car seat for learning on the move.
---
Let it rain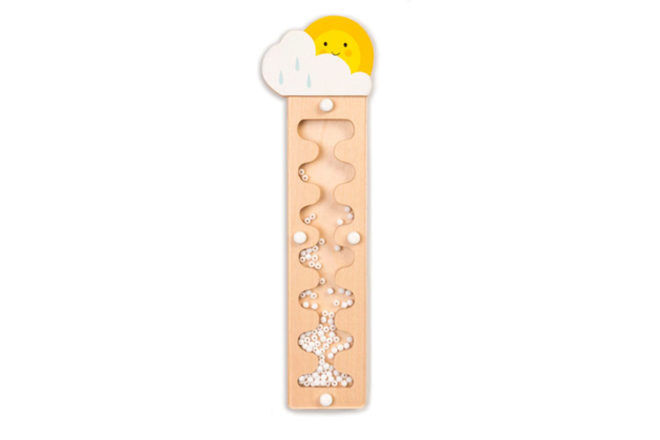 A simple yet stunning toy for tiny hands to hold. They'll love listening to the beads tumble from top to bottom, making sounds of rain as they move.
---
Trains, planes and automobiles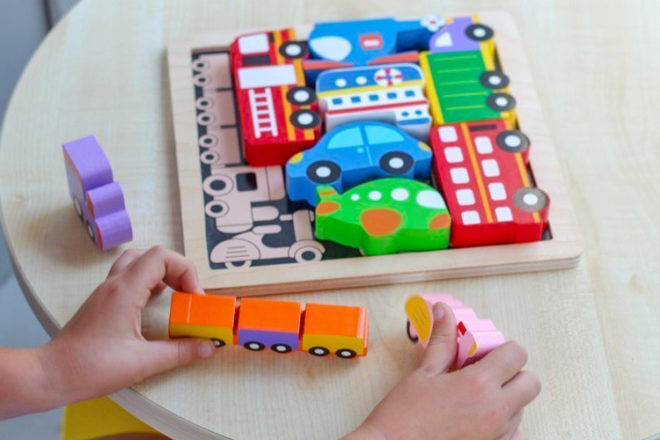 A problem-solving puzzle with bright and chunky pieces for 18 month olds to grab and hold. Find the matching silhouette to each piece, stack the vehicles to make a tower or take them all for a drive. The possibilities are endless!
---
Stacks of colour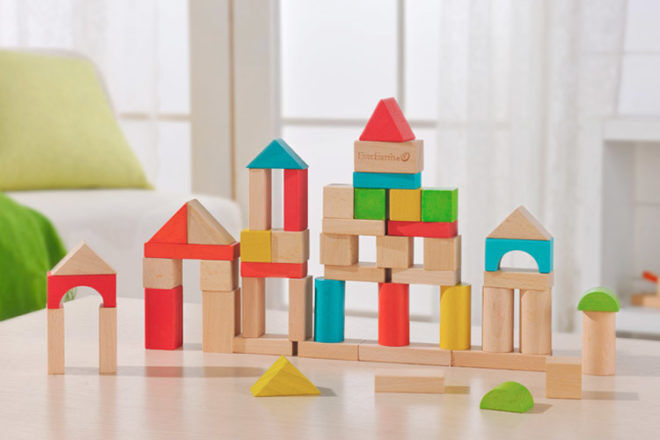 Build 'em up and knock 'em down – it's pretty much the most fun a toddler can have, so a great set of wooden blocks is a must.
---
Sorting shapes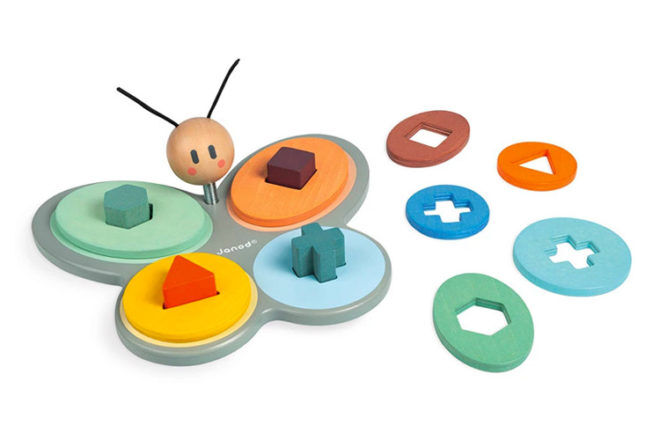 Work those fine motor skills and find the right shape on this fluttering beauty. With two pieces to match with every shape, tots can stack as they sort for double the fun.
---
On your marks!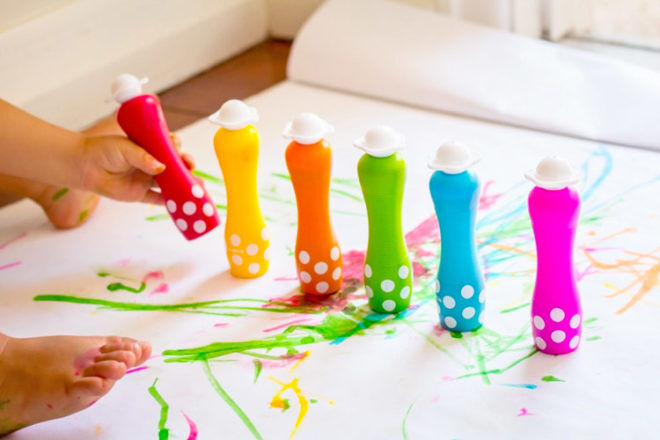 Shaped so their little hands get the perfect grip, these foam markers are a brilliant tool for toddlers to enjoy sensory play at home. Time to get messy!
---
This article is curated by our Editors and includes affiliates and/or paid inclusions. See our Disclosure Policy.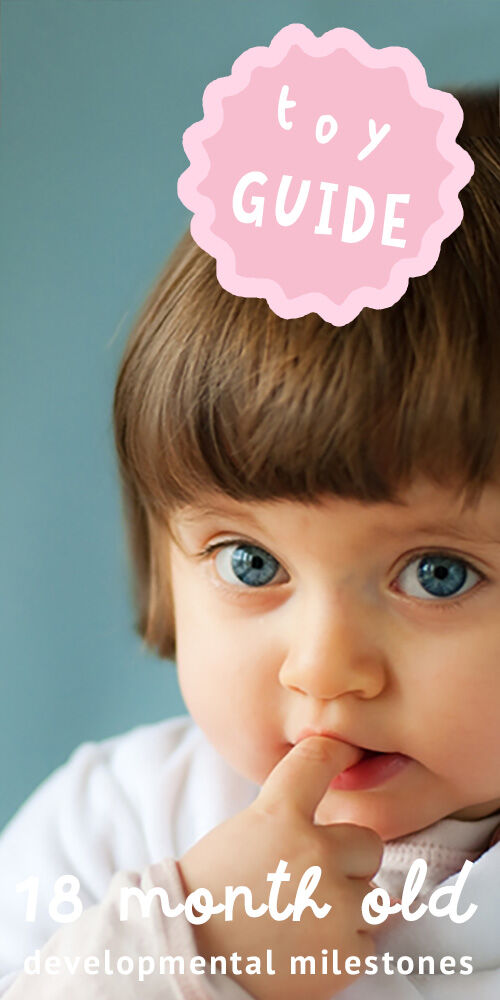 ---
Know more toys for 18-month-olds that we should add to our list? Contact us and let us know.
Find more great gifts for kids:
We've collected a treasure trove of amazing Christmas gift ideas, from the latest baby toys from leading brands to the quirky boutique finds. There's something for every little Piper, Noah and Charlotte.
Gifts for kids based on play and development, not gender.
Continue your search for the best toy for 18-month-olds
Still not sure if any of these toys are right for you? Search online by jumping into one of our closed Baby groups and ask thousands of other Australian mums what they recommend – 'What to buy' is the most talked-about topic.
Click and join your group today!