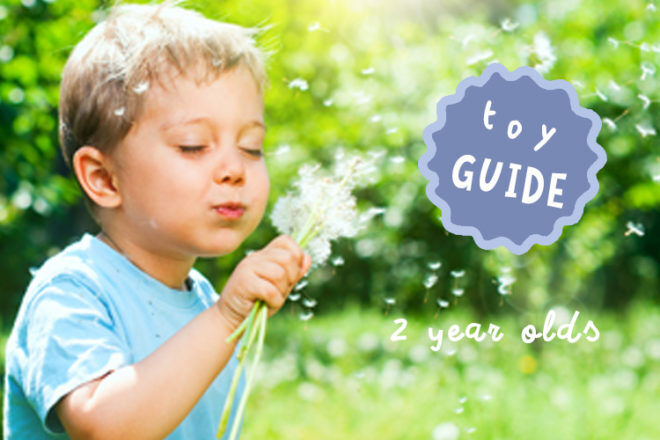 Two year olds are busy little bees. Although their growing sense of independence might lead to a few tantrums, it also leads to lots of pretend play and some really fun interactions. Hit the streets on a scooter, balance bike or push-trike or set up a toy kitchen for domestic make-believe.
Check out our favourite toys for toddler boy and girls aged two, based on what they're doing, loving and learning at this stage in their development.


Running and Jumping
Throwing and Catching
Smelling, Touching, Tasting
Sorting and Categorising
Talking
Dancing
Singing
Active Outdoor Play
Pretend Play
Having Tantrums!


Animal Toys
Simple Jigsaw Puzzles
Bath Crayons
Ball
Train Sets
Dress Up Dolls
Duplo


16 gift ideas for two year olds
Here are our top gift picks for boys and girls aged two.
A sweet ride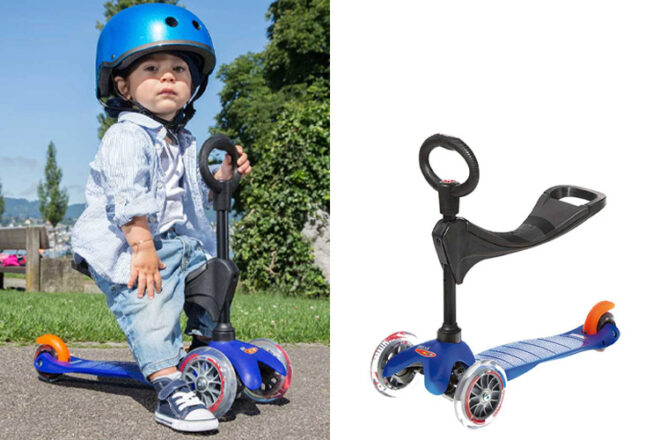 Making scooting accessible for toddlers, the award-winning Mini Seat attaches securely to Mini Micro and Mini Deluxe Scooters to create a stable seated ride-on for tots. We love that it's height-adjustable and removes easily when they're ready. (Scooters sold separately.)
---
Somebody to love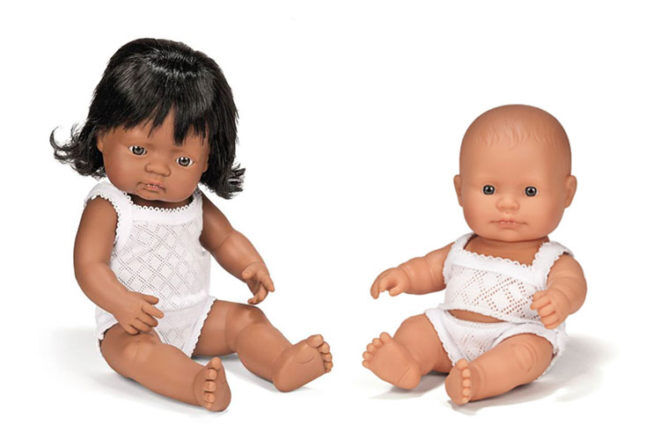 They're the little friends melting hearts all over the world. In a variety of ages and ethnicities, these anatomically correct dolls help to teach boys and girls about concepts like diversity, gender and family.
---
Built to last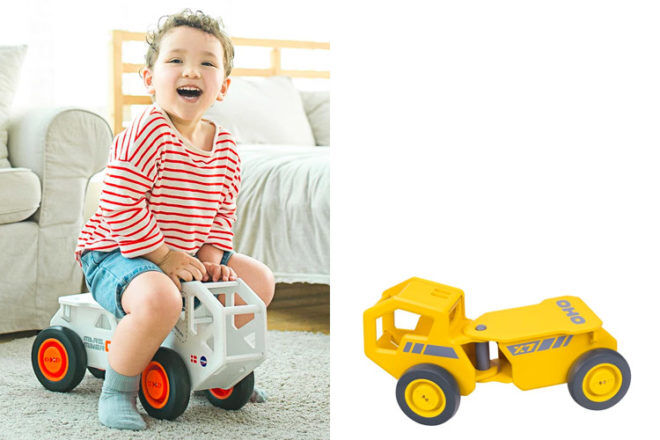 Designed for use all-day every-day, these sturdy trucks are strong enough to carry adventurous 2 year olds to wherever the fun may be. They'll love learning to drive and steer simultaneously upon the Mars Miner and Yellow Contstruction Truck.
---
Infinite possibilities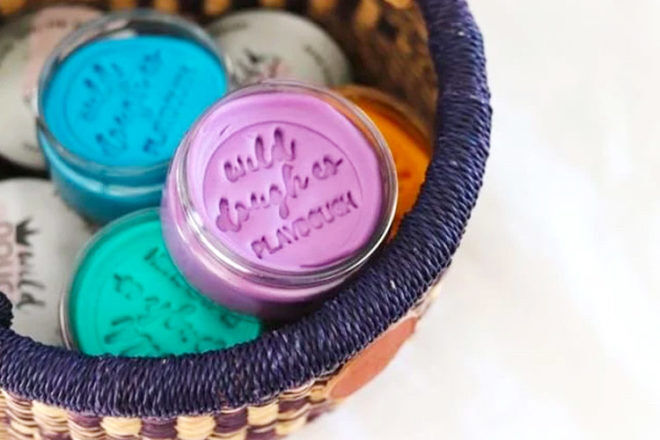 Made in Australia from non-toxic ingredients, scented Wild Dough provides hours of sensory play; colours are vibrant, the texture soft and the fragrances heavenly. Choose from classic, glitter and neon shades.
---
A sleeping bag for their bestie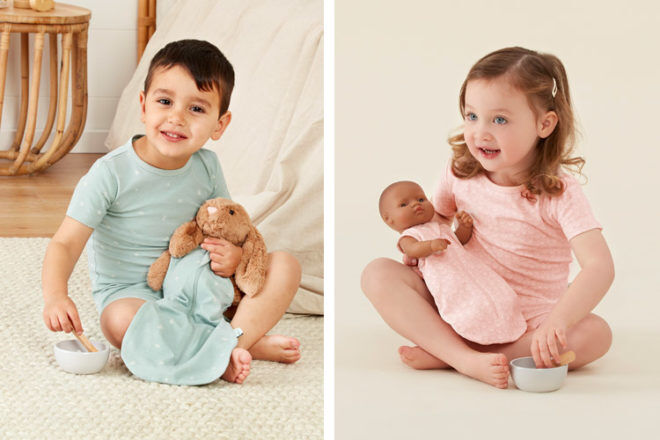 Designed to make night time settling fun for little ones, the adorable dolly sleeping bag from ergoPouch is crafted from the same skin-friendly, organic fibres as their kid's sleepwear. Available in three dreamy prints, mini-mes will love matching their best bud for bedtime snuggles.
---
Over the rainbow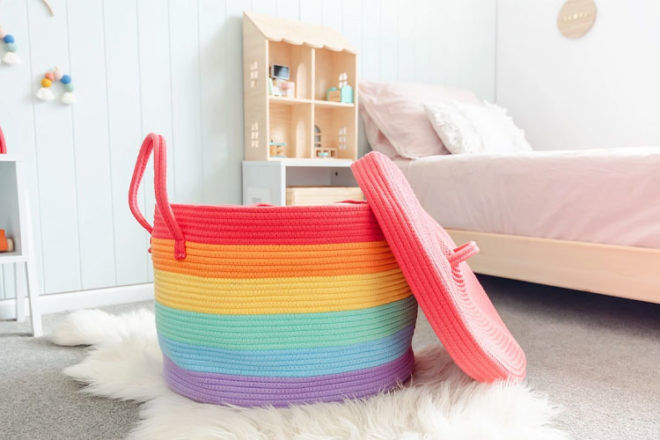 Storage never looked so pretty! Designed in Australia, this rainbow basket is made from cotton rope and features tough, oversized handles for ease of carrying. It's roomy enough to store countless kiddie treasures, and with a matching lid, you can hide it all away.
---
Step out in style
Totes fab and pretty as a picture, these handbags are going to be cherished by tiny trendsetters. They have a long cross-body strap for keeping the bag in place and a magnetic closure that little fingers will be able to manage easily.
---
Say cheese!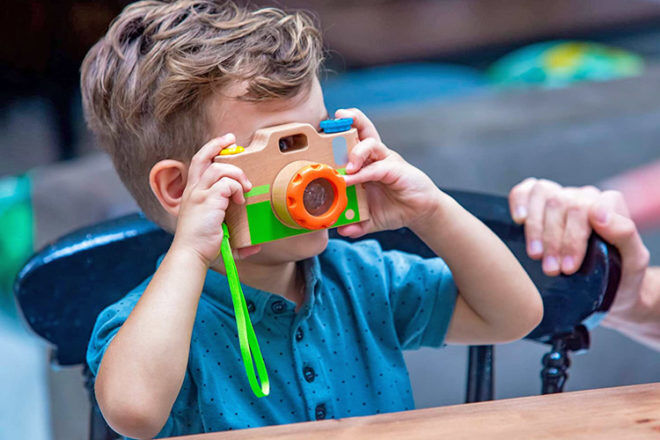 A complete kit for little curious kiddos. This sustainably made, wooden camera comes with two interchangeable lenses, each with kaleidoscope effects that will enrapture curious tots. The set comes with its own cloth shoulder bag for taking here and there.
---
Colour discovery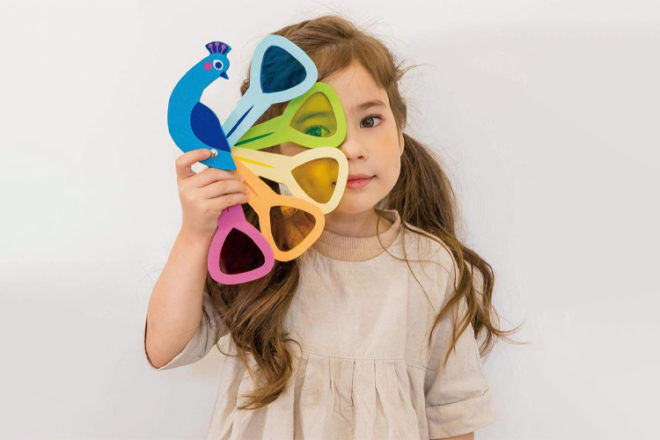 It's the colourful peacock allowing inquisitive tots get creative with colour. With five moveable tail feathers, each with a coloured acrylic window, kiddos can learn the magic of mixing colours and gaze at the world through a different lens.
---
Tree-mendous!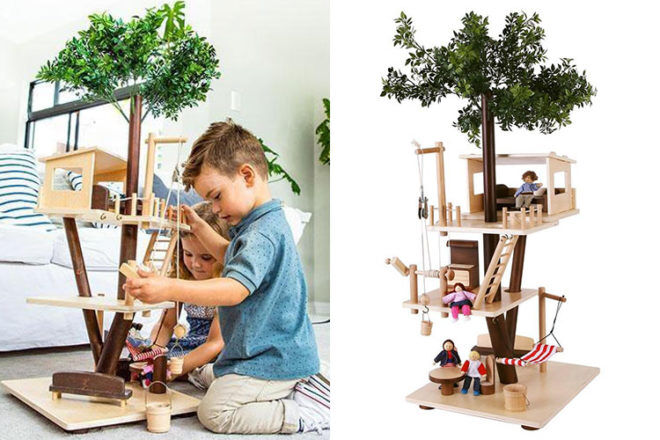 With three storeys, a pulley system, furniture and a whole family of dolls, this tree house will keep the imaginative play flowing all day long. Thoughtfully crafted from 100% FSC-certified beech wood, it's a playset to last a lifetime.
---
Adventures at sea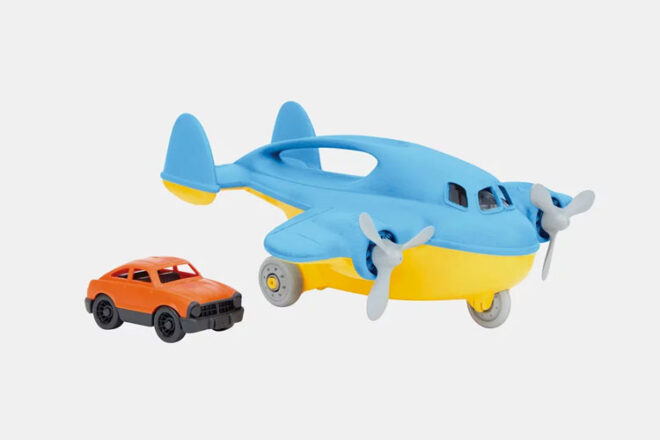 It's the super-cute cargo plane helping the environment and ramping up water play. Crafted from recycled plastic milk jugs, it's free of any nasties and completely dishwasher safe. With a flip-down cargo door that doubles as a ramp to freight your little car, expect bath times to last a little longer!
---
Match and learn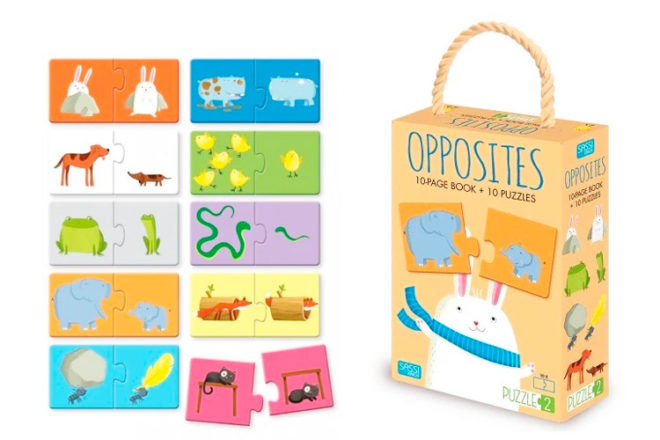 Ideal for little learners, this educational kit contains a ten-page board book and 20-piece puzzle that help tots understand opposites. It's printed with eco-friendly inks on FSC-certified paper and perfectly packaged to take everywhere.
---
Twists and turns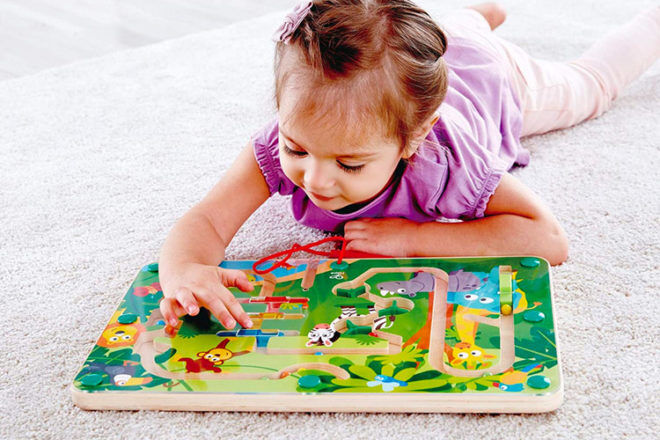 Travel the winding path, spotting fury friends and winding through the jungle – but watch out for revolving doors! This maze is brilliant for developing tots' fine-motor and problem-solving skills while encouraging longer periods of concentration.
---
Time for a check-up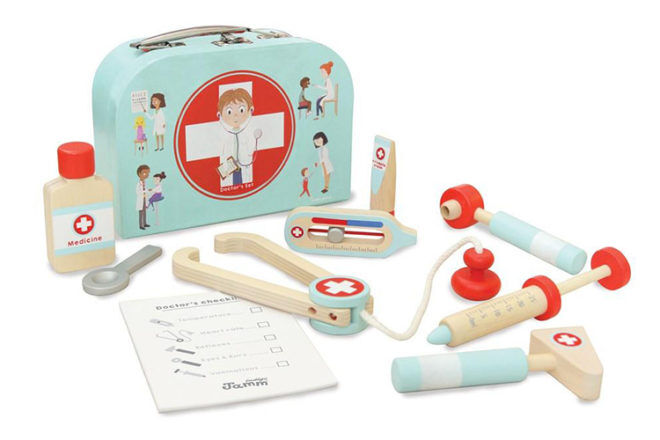 Doctors kits make great toys for 2 year olds. And this is the cutest little doctor's kit for pint-sized practitioners. With 11 pieces, including an elasticated stethoscope, reflex hammer, thermometer, medicine and spoon and even a special doctor's checklist, they'll be running every test under the sun.
---
Toddler tones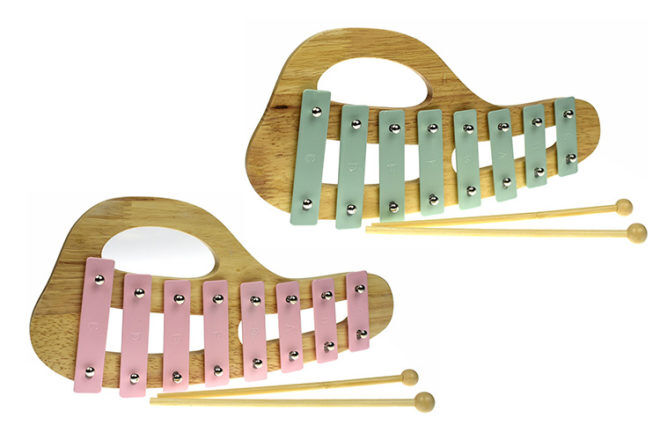 Pretty as a picture and durable enough to withstand some serious playing, these xylophones make the perfect first instruments for budding little musos. Made entirely from wood and metal, sets come in a choice of Caspar White, Spring Green or Lily Pink.
---
As sweet as honey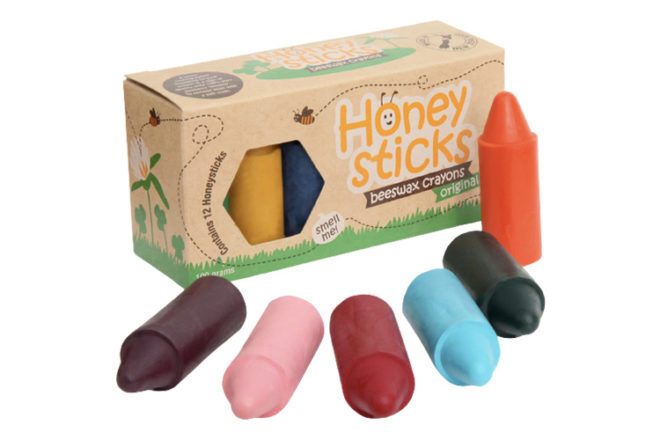 Chunky, all-natural tools for keeping little hands busy. Made in New Zealand from pure beeswax and food-grade pigments, these beauties are as safe as they are colourful. There are 12 lasting colours included, bundled up in recyclable packaging.
---
This article is curated by our Editors and includes affiliates and/or paid inclusions. See our Disclosure Policy.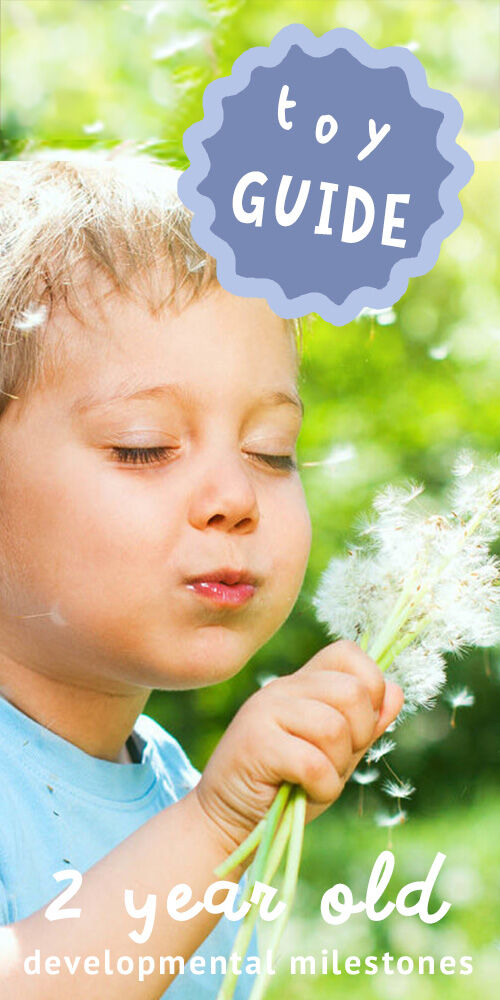 ---
Know more toys for 2 year olds that we should add to our list? Contact us and let us know.
Find more great gift ideas for kids:
We've collected a treasure trove of amazing Christmas gift ideas, from the latest baby toys from leading brands to the quirky boutique finds. There's something for every little Piper, Noah and Charlotte.
Gifts for kids based on play and development, not gender.
Continue your search for the best toy for two-year-olds
Still not sure if any of these toys are right for you? Search online by jumping into one of our closed Baby groups and ask thousands of other Australian mums what they recommend – 'What to buy' is the most talked-about topic.
Click and join your group today!