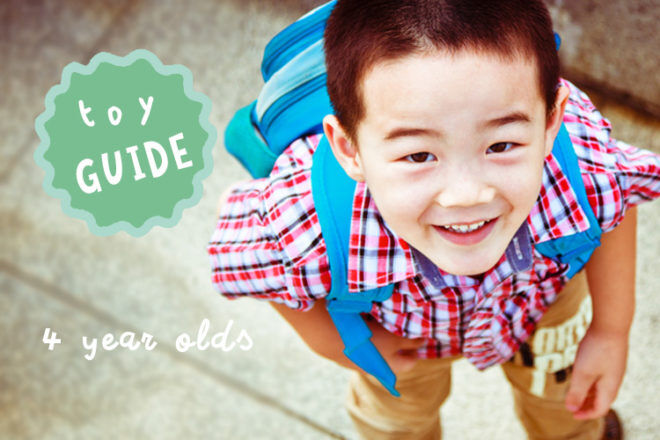 Four-year-olds are lively and social and kinder will help them on their way to becoming school-ready. Pre-schoolers are bursting to learn and develop. They're curious about the world, they love 'helping' and they are keen to learn new concepts. Constructing marble runs or giant jigsaws is super fun!
Here are our top picks of toys for 4 year old boys and girls.


Climbing
Swinging
Skipping
Imaginative Pretend Play
Creative And Artistic Play
Helping With Cooking And Gardening
Drawing People And Shapes
Cutting And Pasting
Counting
Talking (A Lot!)


Marble Runs
Art And Craft Kits
Early Science Toys
Jigsaws & Floor Puzzles
Dress Ups
Puppets
Garden Tools
Matching Games
Construction Sets
Figurines
Hair Accessories


17 gifts and toys for 4 year olds
Here are our favourite gifts and toys for 4 year old boys and girls.
A is for Australia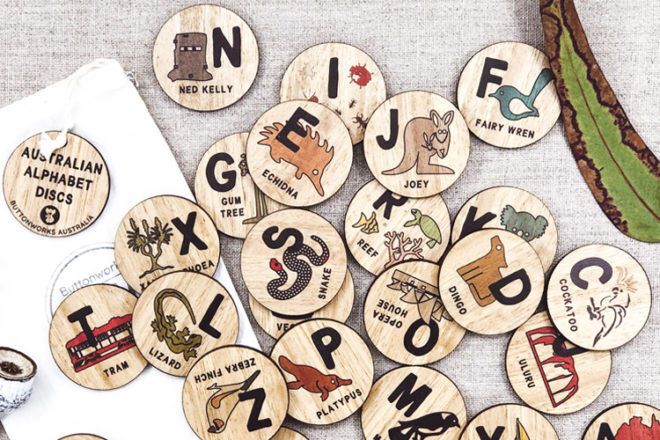 Learning the ABC has never been so fun. With each wooden disc honouring Australian treasures such as trams, quokkas and koalas, this alphabet set becomes a special keepsake as well as an educational tool for little learners.
---
Pint-sized and pretty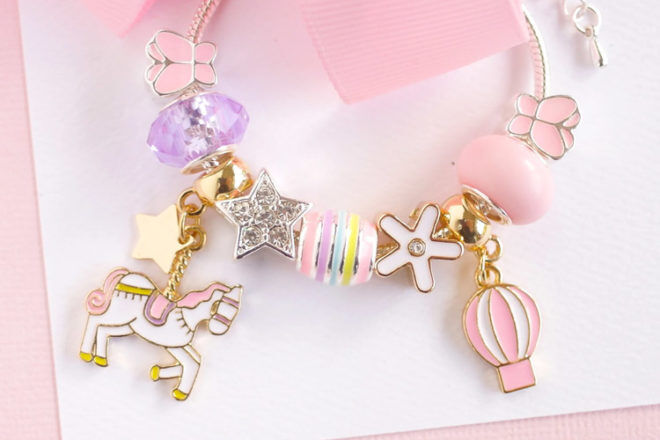 Inspired by the fun and joy a funfair brings, this glistening charm bracelet is sure to make little one's smile. With pops of pretty pastels and adorable charms hanging from the chain, it's a magical accessory for them to wear to their next adventure.
---
Build me up, buttercup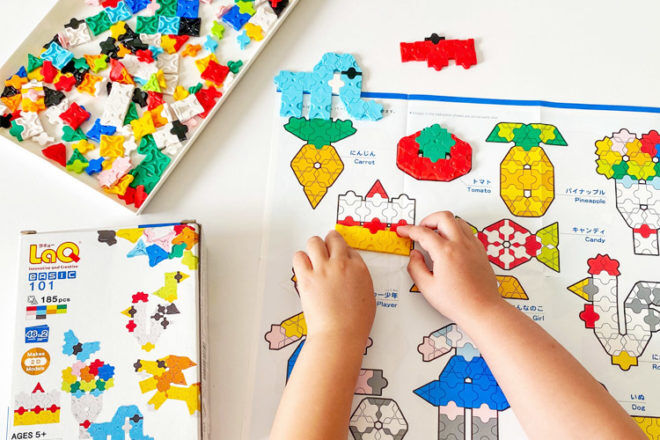 Put those fine motor skills to good use with this brilliant construction set for inquisitive minds. Made in Japan, there are 185 pieces for them to snap and click together, and over 40 2d models for kids to create. With easy-to-follow instructions, it's an ideal set for encouraging concentration in little learners.
---
Tidy treasures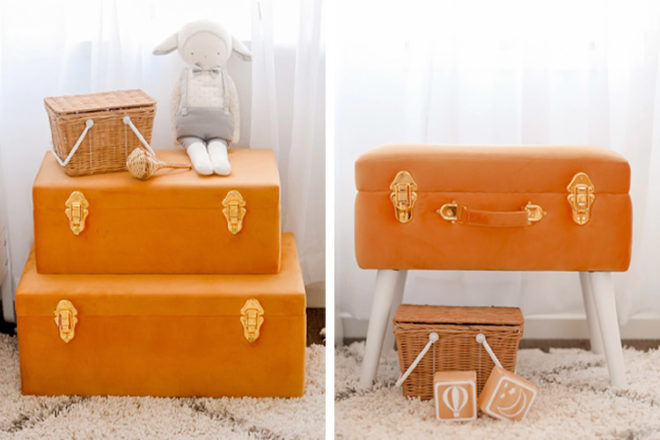 Taking playroom storage to the next level, these stunning velvet boxes are the perfect place to organise books and toys or for keeping treasures safe. With five dreamy hues available, choose from a set of two trunks or a lavish stool (or both!) to compliment the playroom beautifully.
---
Lets cook!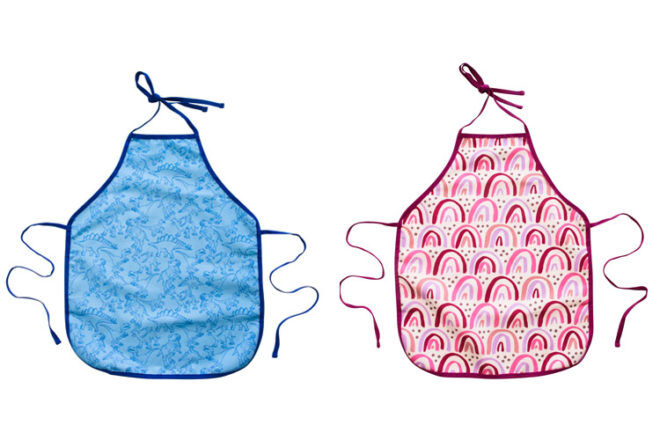 Get creative in the kitchen and look the part while doing it. Available in four fantastic patterns and colourways, these kids aprons are a must-have accessory for mini master chefs. Each apron comes with a drawstring bag to make the perfect gift.
---
Ahoy, Me Hearties!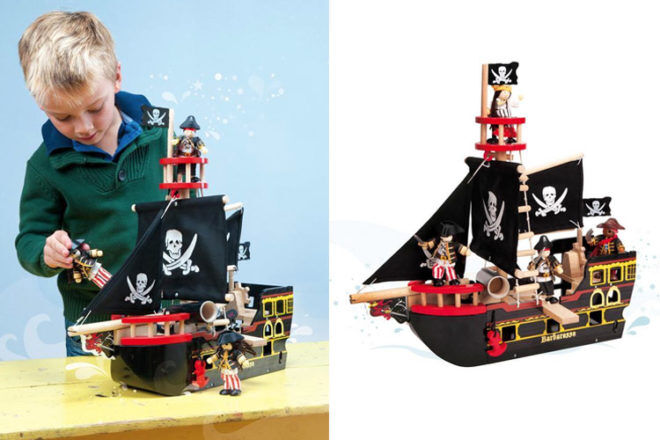 Bring your sea legs and prepare for battle! Take imaginary role-play out to the seven seas with this mighty pirate ship. Complete with plank, wind-up anchor, trap door and rear-opening stern, there are hours of fun for scallywags big and small.
---
Fantastic friends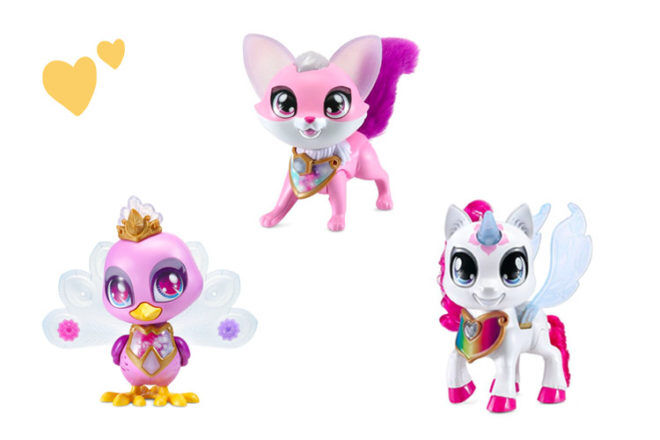 Playtime becomes even more magical with the gang of glowing friends, Mia, Penny & Ava. They talk, sing and light up like a rainbow of colours, all at the touch of a button. With over 100 phrases, sounds and songs, this fab bunch of friends encourage independent play and lots of exploration.
---
Save the city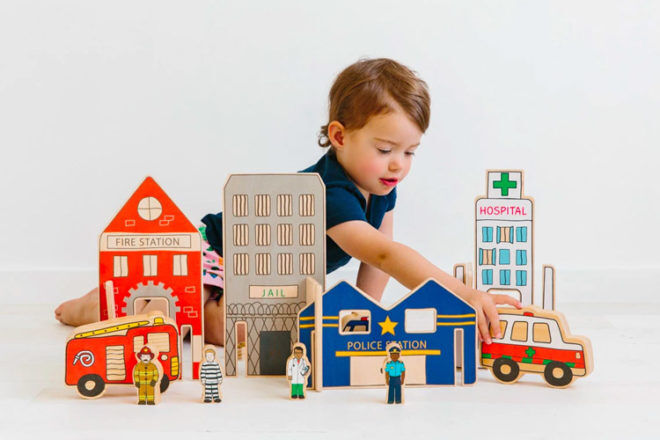 Spark their imaginations and be a real-life hero for the day with this colourful wooden playset. There are 20 sturdy pieces for little ones to build, move and explore while playing rescue. Open-ended play at it's best.
---
Sandy essentials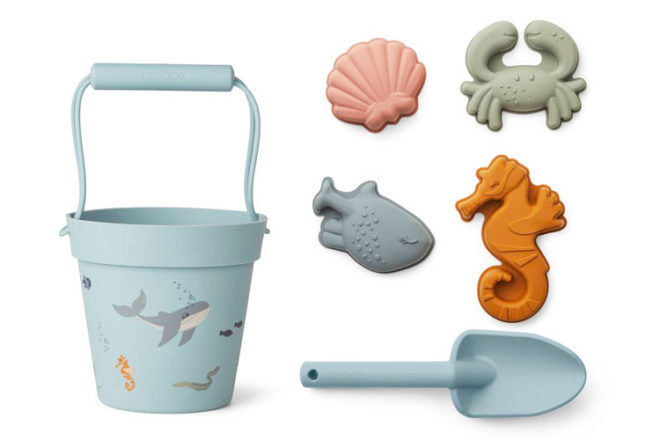 Buckets and spades are timeless toys for 4 year olds. Days at the beach are made even better with an adorable play set to keep sandy sea-lovers busy. Complete with a bucket, spade and four cute-as-can-be sea creature moulds, this silicone beach set has us swooning.
---
Mechanic in the making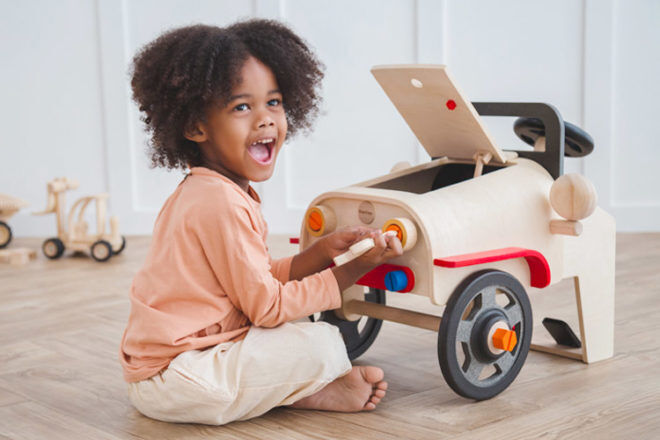 A fantastic toy for developing those all-important motor skills (pardon the pun), this spectacular wooden set has all the bells and whistles you'd expect on any 'normal' car. There's a steering wheel, adjustable side mirrors, car keys, lights and more. Plus tiny mechanics are given all the tools to tinker with too.
---
Marbles on the move!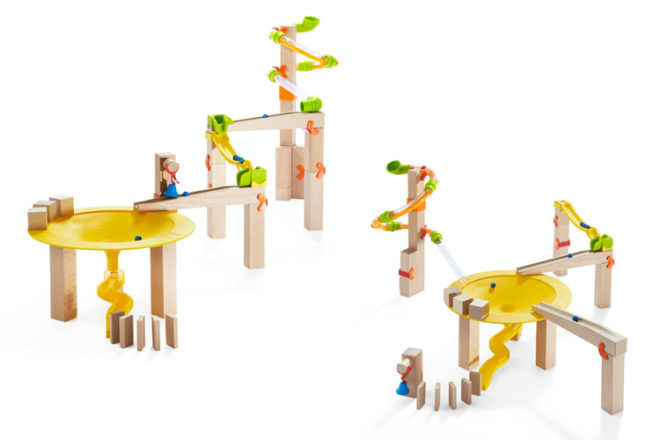 A thrilling toy for 4 year olds and up, this marble run combines speed and force to give tykes a fun take on a traditional physics lesson. Watch as the marbles gain speed and transmit their force to the next before they finally drop through the funnel and knock the dominoes down.
---
Small hands building big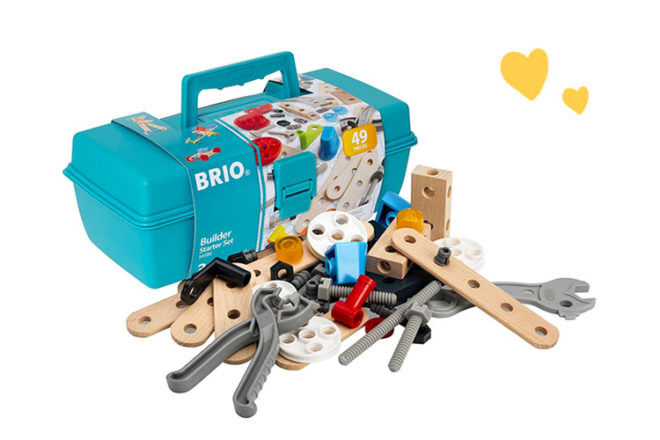 With 48 pieces to join, tap, screw and wind budding builders are able to craft whatever their little hearts desire. Designed specifically for small hands, the set comes with an inspiration guide to get the creative juices flowing.
---
Bathtime beams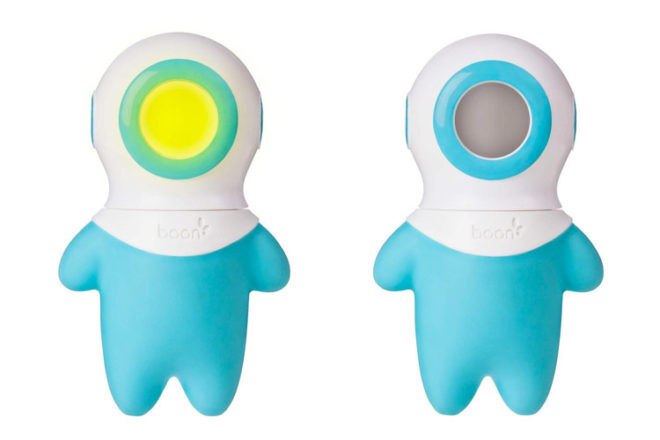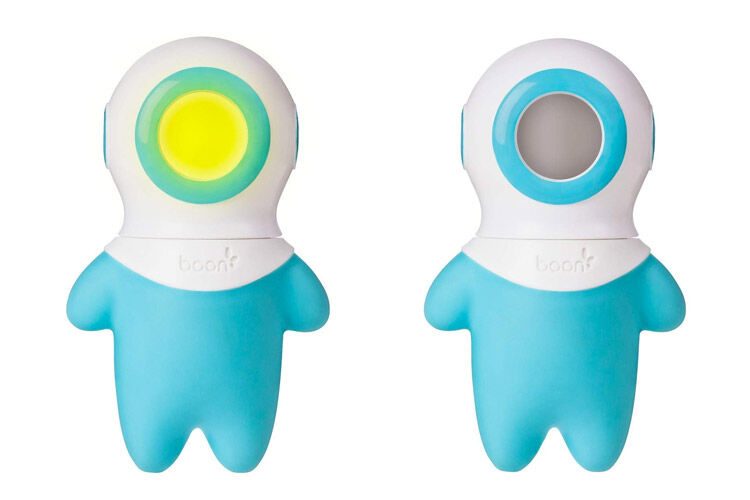 Looking for fun toys for 4 year olds that don't cost the earth? Bathtime toys are the answer. Nightime dips become a deep-sea exploring mission with a buddy who floats with his head above water. Marco's water-activated colour-changing light guides the way through the bubbles and as soon as he's dry, he'll turn off his light. Winner.
---
Busy bees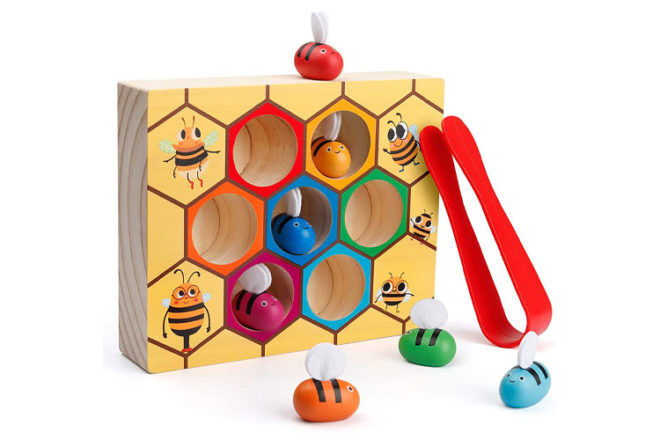 A sweet little hive with multiple ways to play. Created to help improve all-important preschool skills, this set prompts tots to match the coloured bees to their hives while practising counting and developing hand-eye coordination.
---
Four-legged friend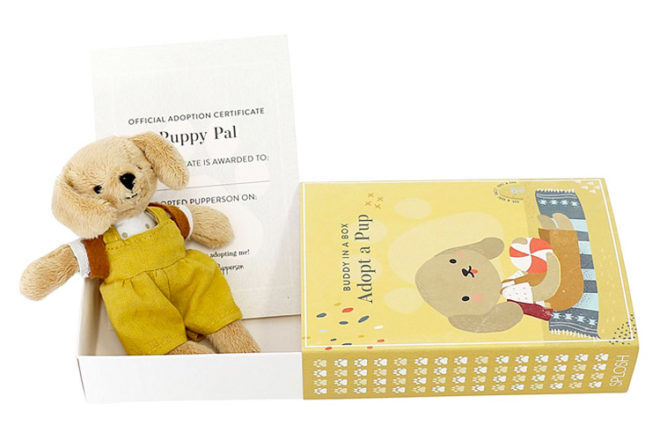 He's the fur baby they've always wanted. Pupperson is just like any other puppy – he loves been snuggled, groomed and taken care of. He's the perfect pup for cuddles on the couch and adventures in the sun and comes with his very own adoption certificate too. Cute!
---
Another planet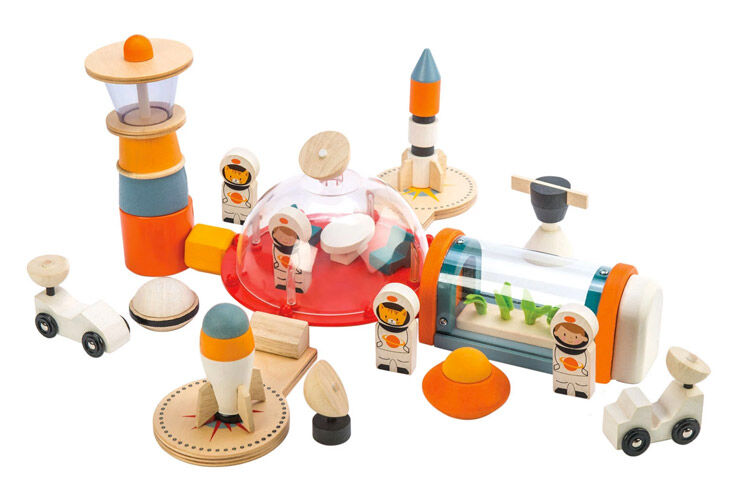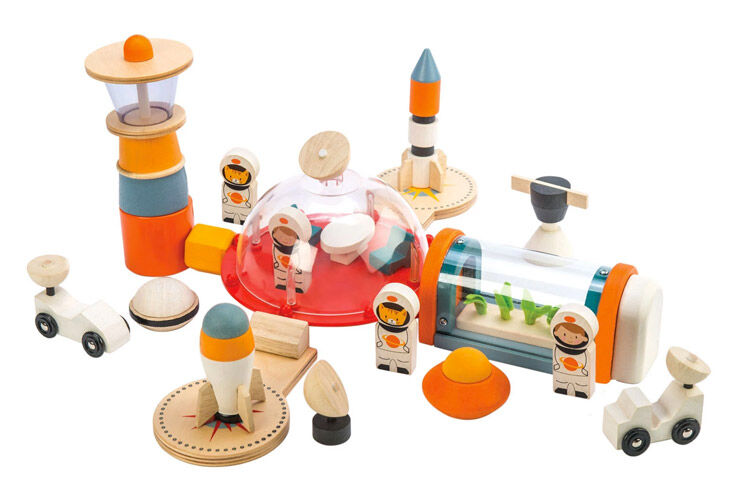 Explore their love of all things outer space with a whole wonderland capturing life on Mars. Astronauts (and cat-onauts!) rest safely in the airlock, or tend to the garden, before blasting off for more exploration.
---
This curated gift guide includes sponsored and affiliate inclusions. See our Disclosure Policy.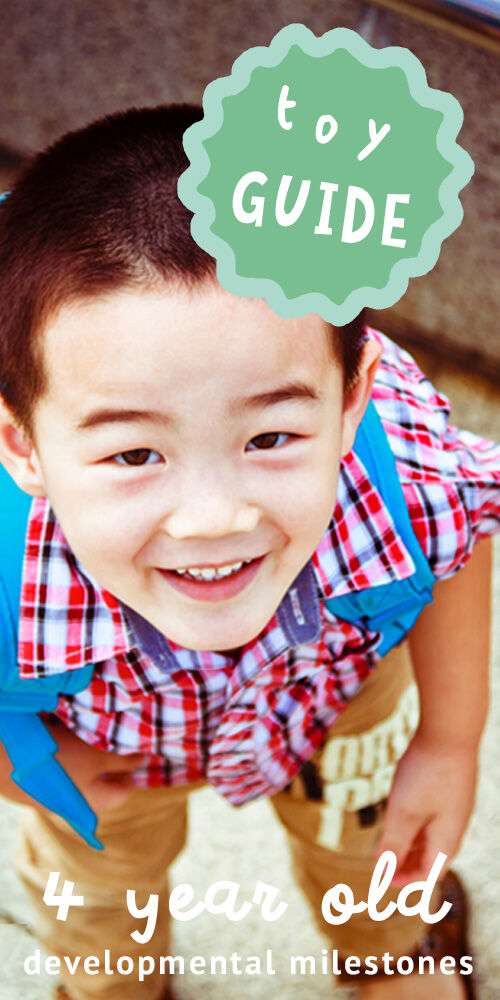 ---
Know more toys for 4 year olds that we should add to our list? Contact us and let us know.
Find more great gifts for kids:
We've collected a treasure trove of amazing Christmas gift ideas, from the latest baby toys from leading brands to the quirky boutique finds. There's something for every little Piper, Noah and Charlotte.
Gifts for kids based on play and development, not gender.
Continue your search for the best toys for four-year-olds
Still not sure if any of these toys are right for you? Search online by jumping into one of our closed Baby groups and ask thousands of other Australian mums what they recommend – 'What to buy' is the most talked-about topic.
Click and join your group today!