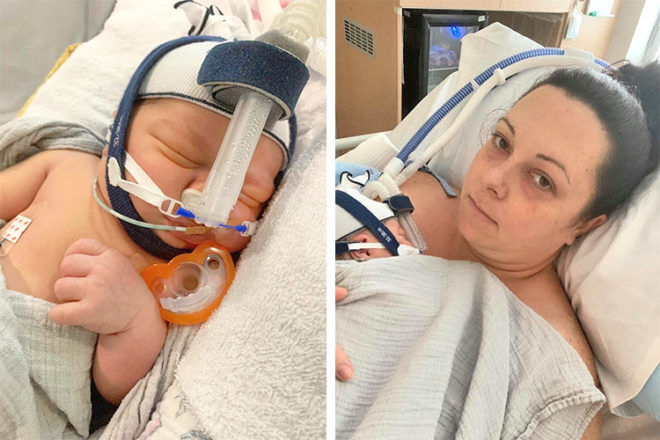 After battling secondary infertility, miscarriage, PCOS and Hashimoto's disease, Leanne Kayadelen was surprised to fall pregnant with her third baby. But completing her family would prove not just a huge challenge but would almost claim her life.
However, this birth story has a gloriously happy ended, with the New South Wales family coming through the other side stronger and complete.
Fertility struggles and diagnosis
After giving birth to her first son in 2012, Leanne says she never imagined she and her husband Nick would struggle with secondary infertility. "We so desperately wanted to give our son a sibling but struggled to conceive," Leanne explained to Mum's Grapevine. "In June 2014 I discovered I was pregnant with not one baby but two babies- twins! Sadly I suffered an unexplained miscarriage at 10 weeks. After this loss we went on to fall pregnant a few months later and be blessed with another son in July 2015."
Leanne and Nick were busy raising their two boys, but in the months following the birth of their second son, Leanne's started to experience changes in her body. She was constantly tired, had trouble sleeping, her menstrual cycle was irregular and she was gaining weight, even though she was eating well.
"After many tests I soon learnt I had PCOS. This was just the beginning of my journey. As many would know PCOS can make it incredibly difficult for women to fall pregnant – perhaps this was the reason behind all our troubles over the past few years. After trialling medication to help regulate my hormones, my GP was still not convinced we had all the answers. Further testing ensued and I was diagnosed with Hashimoto's in late 2017. Researching this, it literally was me to a tee. I finally had my answers."
Leanne and Nick felt as though their family was complete with their two boys, but hadn't completely shut the door on the possibility of one more baby. But after being diagnosed with two fertility-impacting immune disorders, Leanne was told her chances were slim. "I'd come to accept that I'd be blessed with two amazing little boys and I was happy!" she said.
Surprise! It's baby number three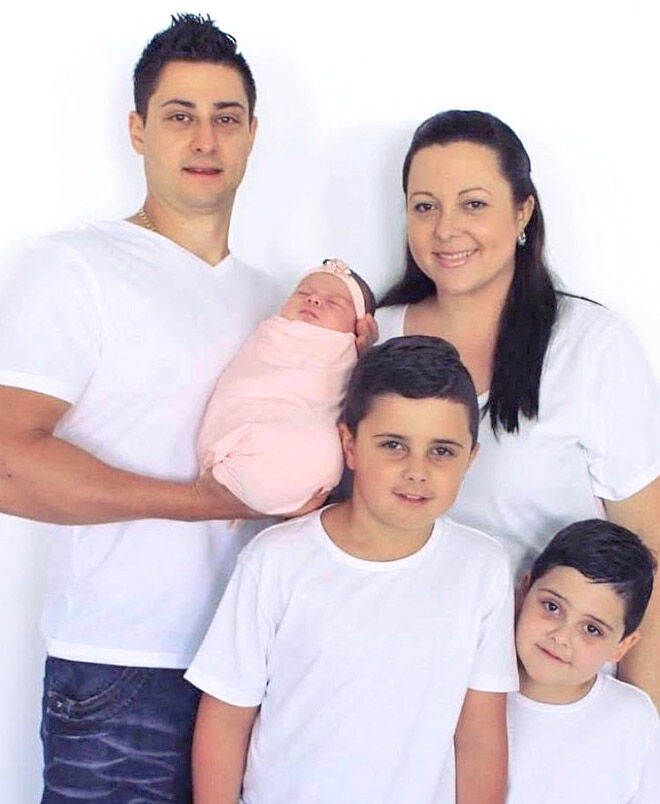 Fast forward to August 2019, and Leanne had a couple of missed periods, and a 'vomiting bug' after returning from a holiday. But she just couldn't shake it off.
"A few weeks went by and I became increasingly suspicious that I may be pregnant. To my surprise those two pink lines appeared. I didn't hold my breath though. This pregnancy hadn't be planned, I had been unwell and not taking great care of myself so I didn't hold much hope that it would be sustainable. Off to the GP for bloods and a dating scan.
"Apparently I was seven weeks pregnant. This is where the scary part started. You see during pregnancy the baby relies on your thyroid for the first trimester. The issue, mine doesn't work properly and has to be controlled by medication. This required weekly then fortnightly bloods to monitor my levels and change the medication accordingly. I soon became a pin cushion.
"Because of this, the pregnancy was classed as high risk. I didn't feel comfortable waiting till 20 weeks to make sure baby was ok so I opted for the NT scan and the harmony test. Both came back low risk for chromosome issues and after two boys we discovered we were having a baby GIRL! The excitement was short lived when on 15th November 2019, I had my morphology scan and they discovered some serious issues. A doctor joined the sonographer and advised me to see my medical provider ASAP. They hinted something was suspicious with my placenta but didn't go into detail.
"My next appointment with the antenatal clinic sent shockwaves through my body. I cried. Not only did I have placenta previa, they were also suspicious of placenta accreta. Suddenly there were talks of transferring me to a larger tertiary hospital to birth and I was quickly referred to their Maternal Fetal Medicine team. After some more specialist scans, accreta was confirmed but it had progressed to the increta stage. Before being diagnosed I'd never heard of it but I after a Google search, I quickly learnt it was a life threatening issue during delivery which became more complicated the longer my pregnancy went on. Suddenly choices were being made for me, I would have to birth under general anaesthetic by 37 weeks under a massive team of specialists. I would need a massive vertical incision that goes up around and past my belly button and I would need a radical hysterectomy to save my life. The joy of pregnancy was gone, just there in that instant."
---
What is placenta percreta?
Normally the placenta grows onto the upper part of the uterus and remains until bub is born, and then during the last stage of labour, the placenta separates from the wall of the uterus, and is pushed out. However, sometimes the placenta attaches itself into the wall of the uterus too deeply, causing placenta accreta, placenta increta or placenta percreta.
Placenta percreta is a rare, life-threatening condition where the placenta attaches itself and grows through the uterus and often into nearby organs like the bladder. It means the placenta doesn't completely separate from the uterus after giving birth, which can cause serious bleeding.
---
Leanne was told she had to stop working by her third trimester. She'd already been hospitalised a few weeks before and the risk of bleeding had become too high. On pelvic rest since week 20, Leanne took it easy for the next month, and was told at her 32 week appointment that she was booked in for a c-section on March 18.
"Just days later on Valentine's Day, hubby had just left home to take our son to indoor soccer. He didn't get far before my frantic voice cried down the phone. I was bleeding, blood, bright red blood. At this point I thought it was all over, I was loosing my baby girl. I feared the worst as hubby rushed home and my parents came to collect the boys. I rang the hospital who told me to get there ASAP. On the way they rang me back and told me I should've called an ambulance. I could've haemorrhaged in minutes.
"They whisked me through birthing suite and into a bed. I was jabbed with needles as they desperately attempted to get cannulas into me. My body was freezing – I'd gone into shock so this made finding veins nearly impossible. Finally they got two in! Whilst this was playing out a team of doctors hurried through the door and told me they had to prepare me for an emergency and possible transfer by helicopter. I may be having my baby that night. I burst into tears. What if I didn't make it, I hadn't even said goodbye to my boys.
"Thankfully the bleeding eased and it was advised to monitor me and only transfer if delivery was necessary. Over the next two days I received steroid shots to boost baby's lungs, just in case and I hoped and prayed that the bleeding would stop. Thankfully by the Monday it had and I was allowed home on strict rest and on the condition that I wasn't left alone. By the Wednesday I was readmitted with a serious infection in one of the cannula points. They kept me in for IV antibiotics and I had another two night stint on the maternity ward.
"The midwives were sympathetic reading my notes. One noted I wasn't winning much at life right now. No honey, no I wasn't. I was in a world of pain both physically and emotionally. No one really understood. And honestly I think it's one of those things that you don't ever understand unless you're in the situation.
"As the days counted down to meet my baby, the fear became real. What should be one of the most exciting days of my life was now one of the most feared. What if I bleed out, what if I don't wake up, what if something happens to my baby, what if I die? All the what if's…"
Welcome to the world, Elissa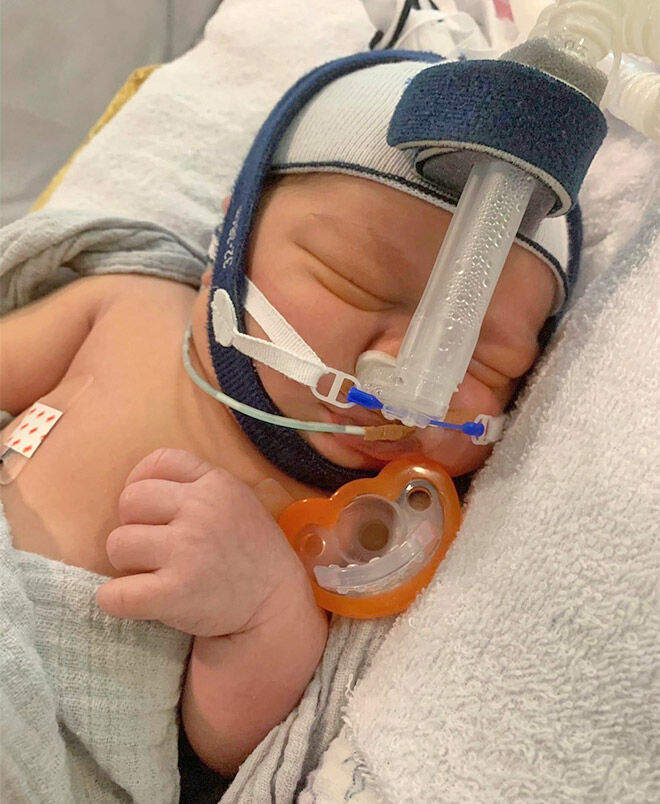 On March 18, Leanne was finally prepped for the birth of her baby girl. And she was terrified.
"Saying goodbye to hubby, I wondered if it would be the last time I ever saw him. I rubbed my belly as tears filled my eyes and prayed that my little girl and I would make it. As they moved me into theatre all I could hear was voices and people rushing about. 'Blood, do we have blood ready to go?' Yep they were prepared for the worst. I fought them as they placed the mask over my face to put me to sleep, scared I'd never wake up. Finally I gave in and as I lay there my last vision was of my father in law in heaven, staring down at me and promising me it would all be ok. Then I was out. Surgery was expected to be around six hours. Some 13 hours later I woke. I saw the clock 8:47pm. What the hell had happened to me?"
The doctors explained that the c-section hadn't gone to plan, with Leanne losing a lot of blood and suffering massive bladder damage.
"It was placenta percreta at its worst. During surgery they removed my cervix, uterus, left ovary, Fallopian tubes and half of my bladder. My left uretra was damaged and they also discovered I had one of the worst cases of endometriosis they'd seen. I had several life saving blood transfusions as they attempted to remove my bladder and I bled out.
"I didn't digest any of it. I was numb, raw and was swiftly taken to recovery and put in birthing suite for the night for one on one nursing. So in and out of my sleepy consciousness I listened as other women gave birth. But where was my baby? At almost midnight they wheeled me in my bed to see Elissa in the NICU. Despite being considered full term at 37 weeks, she had been born floppy and in respiratory distress. She lay there in NICU hooked up to all sorts of things. I was not allowed to hold her. Nothing prepares you for that.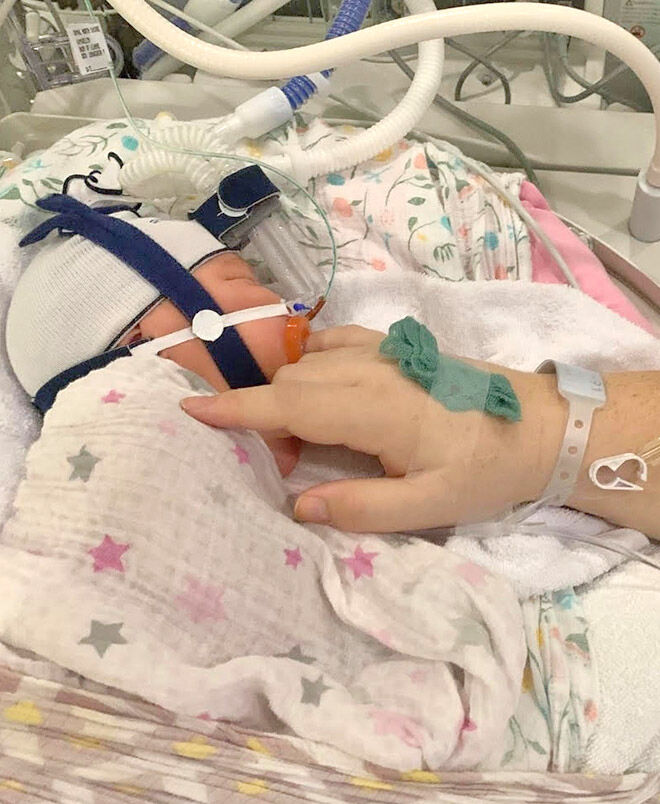 "It would be some 36 hours before I could have my first cuddle with my baby girl. Watching her lay there I felt helpless but also comforted by the many other families visiting their much younger and more poorly babies. She had a fight on her hands but nothing like some of those babies. Three days later she was able to be taken off CPAP for good after failing each trial prior to that. She soon joined us on the ward as our journey to connect and bond began.
"The first night was not easy. I felt disconnected and had no idea what to do. She had been tube fed and was still learning to suck. Anyway we worked it all out and spent a week in hospital to heal and bond. Bringing our baby home the following week was the most scariest but happiest day of my life. While we had a big road ahead, we'd made it through the most difficult part!"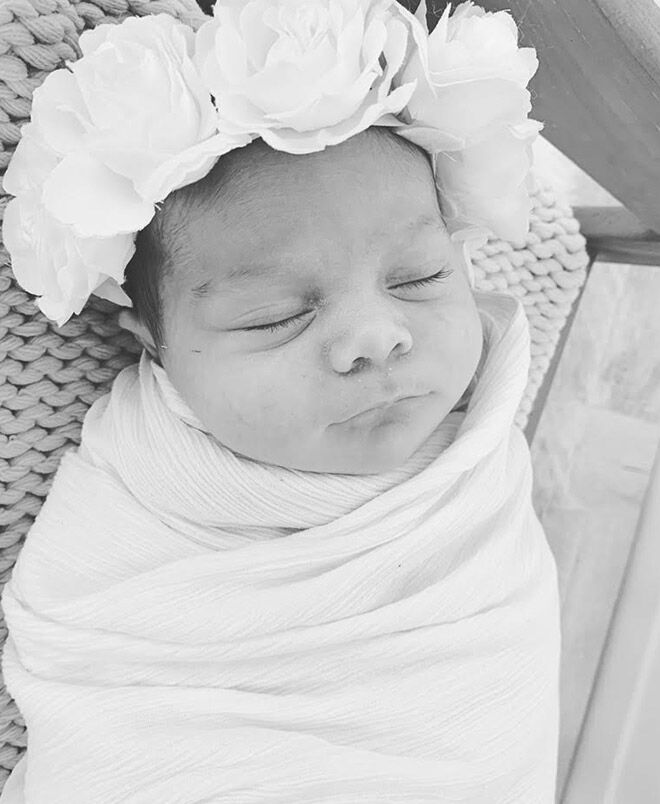 After such a huge ordeal, Leanne has spent months recovering, but she says it's all been worth it.
"I wish I could say that's where it ended but it wasn't. The follow up appointments and ongoing toll on my body meant it would be weeks before I felt better. Two weeks with a cannula in, six weeks with stents in my uretras to prevent them from collapsing and causing further damage. Back and forth to the hospital for scans and appointments to check everything was healing. By now all my dignity was gone.
"Five months on I feel mostly back to my normal self, be it taking it easy as my body has lots of internal healing to do. I have a few more appointments and procedures to go before the all clear, but I'm here. I'm alive and I'm forever grateful to the amazing surgical team I had that day."
Read next …
Want to read more Australian birth stories? We have a huge collection in our archives so why not head to these ones next: