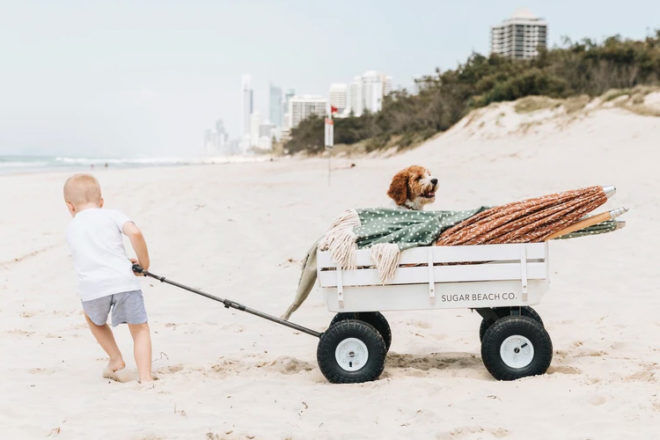 With a sleeping bub in one arm, countless beach toys in the other and the sun beating down, it's only natural to find yourself wishing you had a few more hands. Enter the beach trolley: the genius wagon or cart making beach days easier while saving your back.
Beach trolleys are convenient carts that come equipped with big wheels, sturdy frames and room for everything beach days involve. They're specifically designed to work well on sand and make beach trips easier for families by freeing up hands. In fact, there's even one that's tough enough to carry the kids!
To help you get sorted for your summer sooner, we've hunted far and wide to bring you a complete list of Australia's top beach trolleys and wagons as recommended by other mums.
What to consider when buying a beach trolley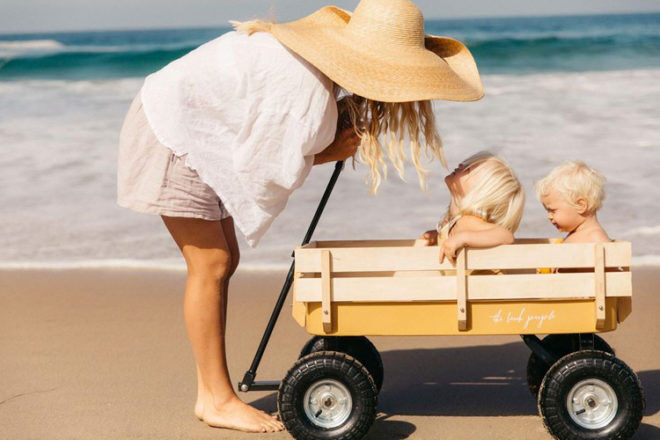 A beach trolley can be a big purchase and something that you will want to get years of great use out of, so to help you out, we've put together some points worth considering when you're looking at snapping one up.
Wheels: Thick, durable wheels with decent tread are a must for a beach trolley to work well on sand and rough terrain, and it's what sets beach carts apart from regular trolleys.
Foldable frame: If you're after a beach trolley that will fit in the boot of the car, consider a folding option. Not only are these easier to transport, but they're also easier to store.
Load capacity: If a trip to the beach with the kids involves a lot of gear, go for a trolley with a high load capacity that will be tough enough to carry the lot.
Easy to clean: It goes without saying that a beach trolley is going to get dirty. Wet sand, the sticky remains of the kids' snacks and spilled sunscreen all contribute to a fair amount of grit and grime, so look for a beach trolley that can be hosed down or easily wiped clean at the end of your beach adventure.
---
10 beach trolleys for a smoother summer
In the name of less stress and more fun, here are 10 of the best beach trolleys for Aussie families. These items are incredibly popular and do have a tendency to sell out, so be sure to check back to see when new stock arrives.
The Beach People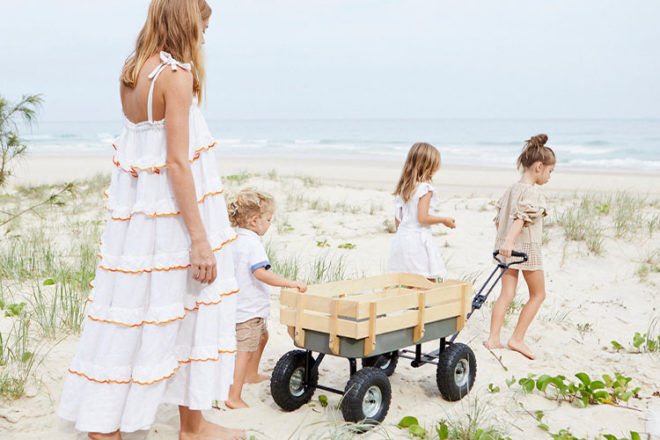 With a 130kg load capacity and heavy-duty frame, you'll be able to tow all your beach gear in this cart. It has a collapsible handle, sand-friendly wheels and it comes in a choice four glorious shades.

---
Burleigh Wagon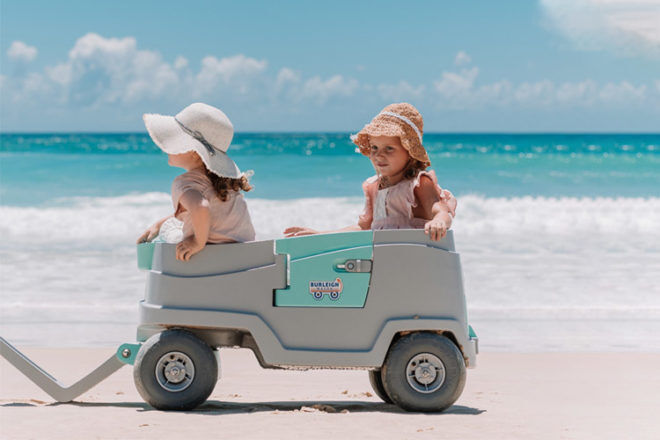 Designed by Aussies parents to factor in everything you could need for a day in the sun, the Burleigh Wagon isn't just a beach cart, it's a lifestyle. There's seating for the kiddos, a hidden ice chest, cup holders and it even converts to a picnic table.

---
Home Republic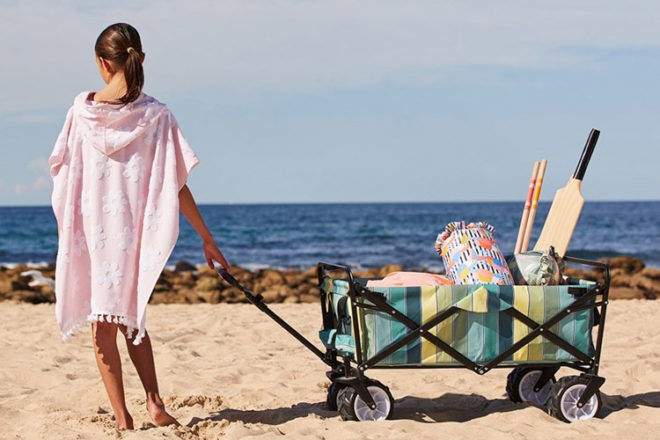 With contemporary prints and fab chunky wheels, these fold-away beach trolleys are all style. Simple to set up and pack away, they feature a tilting handle for ease of movement and a roomy interior for fitting all the kids' toys and beach treasures.

---
Vuly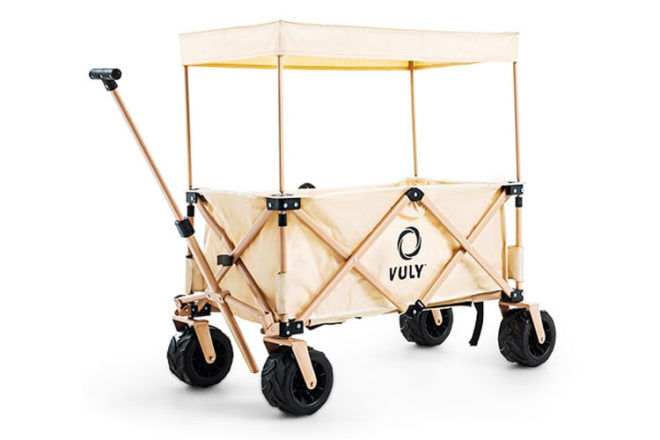 From the home of some of the coolest outdoor play equipment around comes an inconspicuous and super-tough wagon that will make beach days easier. It comes with a sunshade, collapsible frame and chunky wheels ready to take on any terrain.

---
Wanderer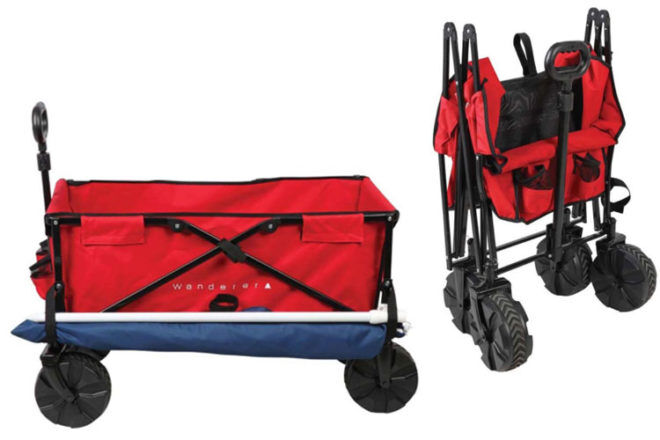 Rugged by name, rugged by nature. This clever cart has been built tough to handle sandy beaches and rough terrain, making it a fabulous all-rounder for the Australian lifestyle. It boasts a locking handle, cup holders and it can even hold your beach umbrella.

---
Mocka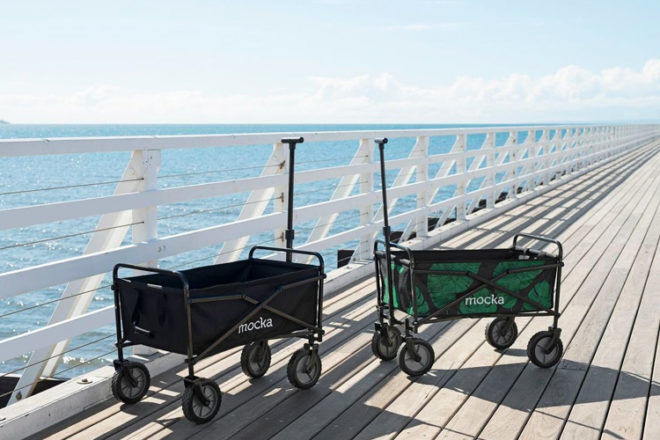 Foldable and tough, these classic beach carts from Mocka are the perfect helpers for a fuss-free summer. They come equipped with heavy-duty PVC tyres and they can hold up to 90kg of gear, so you can totally squeeze in a few extra beach toys.

---
Sugar Beach Co.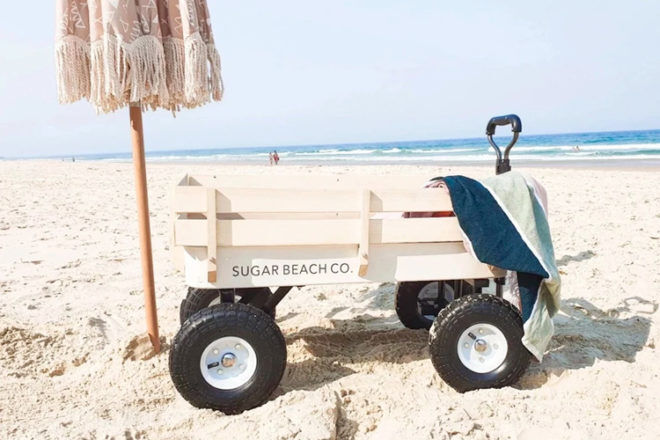 From an Aussie company comes another heavy-duty beach trolley that looks as good as it performs. It comes with a telescopic handle, measures over one metre in length and can hold up to 130kg worth of equipment. Choose from two earthy tones.

---
The Timber Line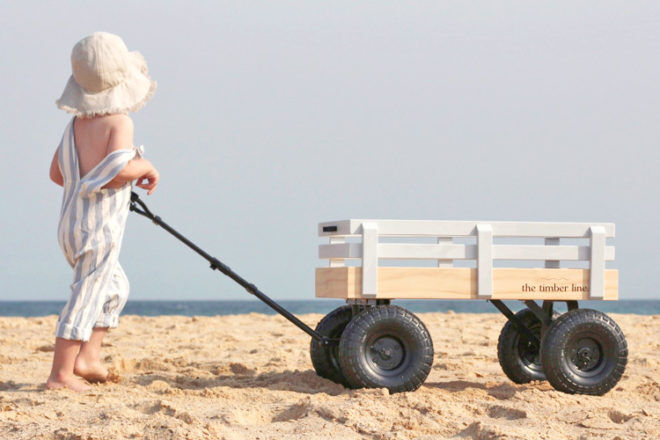 Able to confidently carry up to 130kgs, this pretty timber pull-along is going to be the hero of your beach days. It has a retractable handle and removable tyres for easier storage and can be personalised with up to 12 characters for the ultimate summer gift.

---
WheelEEZ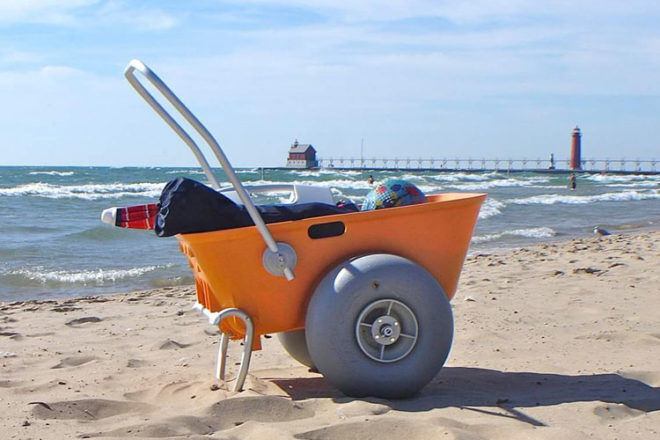 It's the balloon wheels and pneumatic tyres that glide effortlessly over sand that really sets this beach trolley apart from the pack. With a marine-grade aluminium frame, it's seriously tough, and it can easily hold the entire day's beach equipment.

---
Beach Cart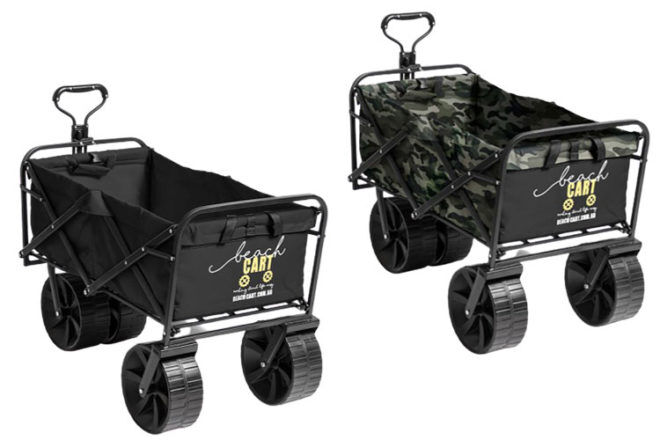 The Beach Cart is the brainchild of two beach-loving Aussie mums, and it couldn't be more perfect for an outdoorsy lifestyle. Internal and external pockets make it easy to locate important items, and a collapsible frame means it's going to fit nicely in the boot of the car.

---
VidaXL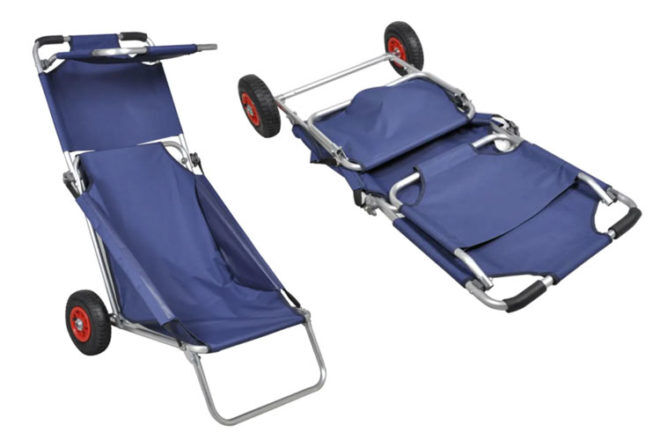 This clever beach companion is both a sturdy trolley and a chair – complete with sunshade! It comes with heavy-duty wheels for tackling sand and rocky ground, it can hold up to 80kg and it has a handle storage pouch at the rear for your phone and keys.

---
This article is curated by our Editors and includes affiliates and/or paid inclusions. See our Disclosure Policy.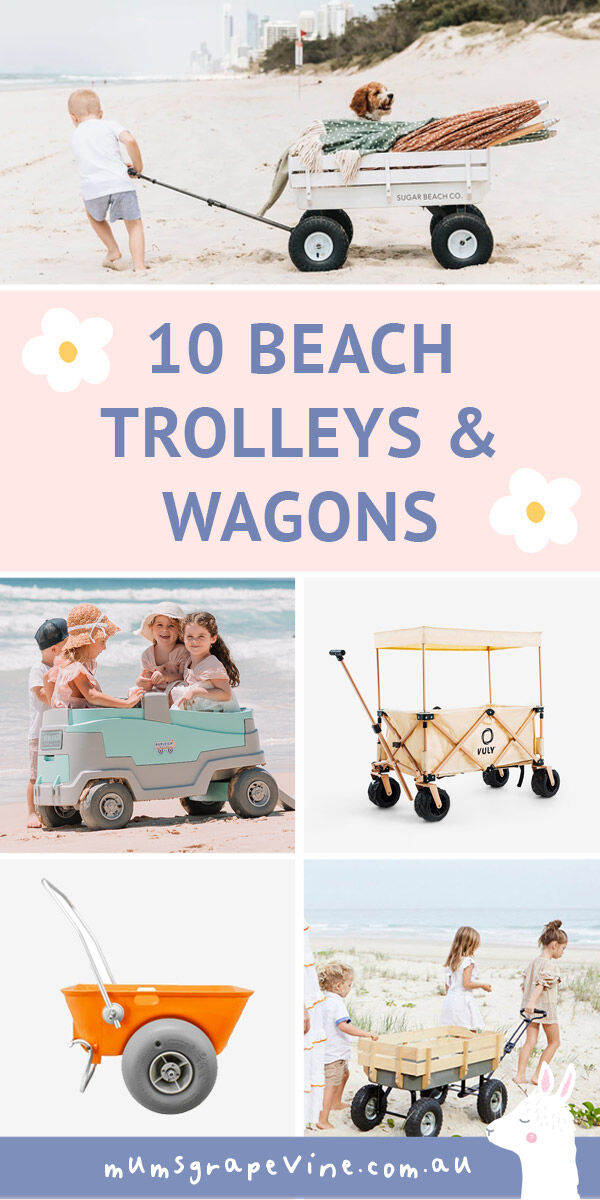 Know a beach cart we should add to our list? Contact us and let us know.
Read these roundups next …
Looking for more helpful gear for an easier summer? From beach bags to roomy beach blankets, our roundups include the most coveted products and brands available in Australia.
Read this: 13 clever ways to keep babies cool in summer