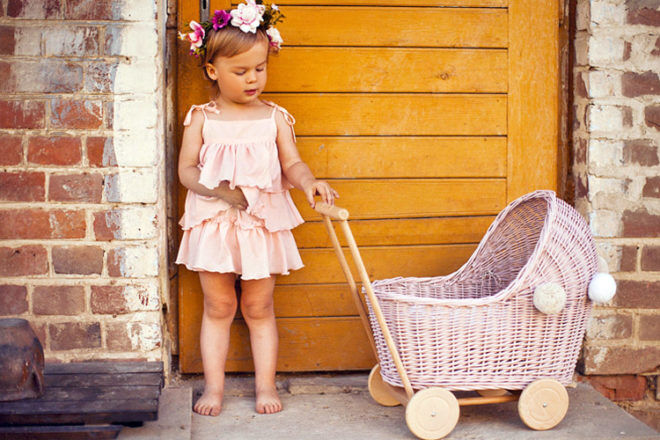 Their first dolls pram is a rite of passage into the wonderful world of pretend play. Small enough for little ones to roam around the house, yet sturdy enough to handle a day of toddler travel, it's no wonder a baby doll pram is fast becoming an essential toy for playtime.
Whether it be a delightful afternoon tea in the garden or a simple stroll to the local shops – babe's bestie needs a fab set of wheels for their great adventures, and we've rounded up the very best options.
8 dolls prams for pretend play
To help you find the perfect baby doll pram for your little one's favourite friend, we've compiled this handy list of brands to get you started in your search. In no particular order, they are:
Poppy's Little Treasures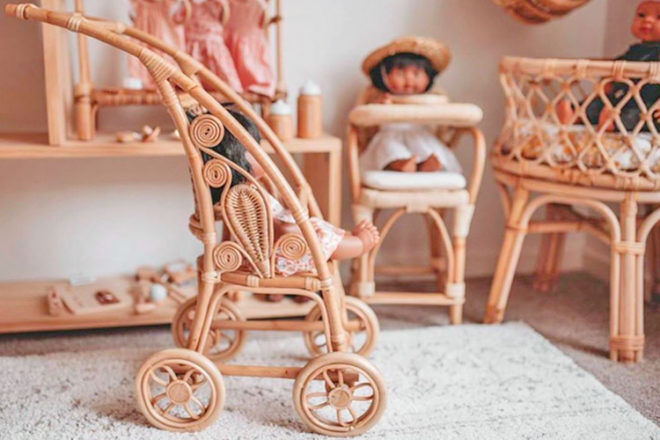 Get ready to hit the shops in style with this Californian-inspired stroller. Featuring a stunning curved frame and intricate side detailing, this dolls pram makes a beautiful keepsake for little ones to treasure forever. Handcrafted with love, it screams summertime fun with dolly in tow!

---
LiLu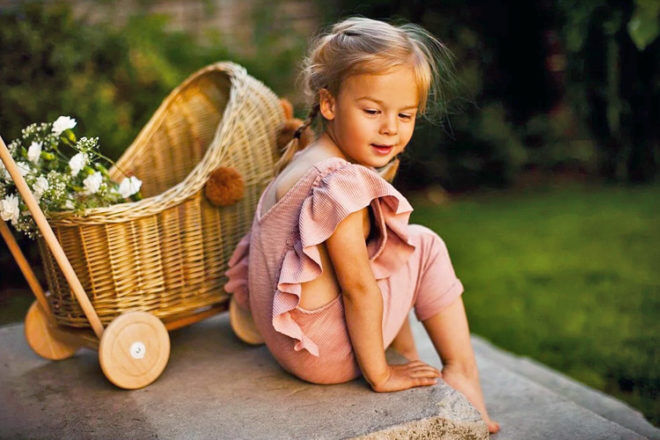 Handmade in Poland, this adorable wicker dolls pram comes with a soft muslin cotton mattress, quilt and pillow for your darling's little play pal. Made entirely by hand, each pram is completely unique which only adds to its appeal. And those pretty little pom-poms? We can't deal!
Kawaii Kids Discount Code:
Use code 'MGV15' for 15% off storewide.
---
My Darling Valentine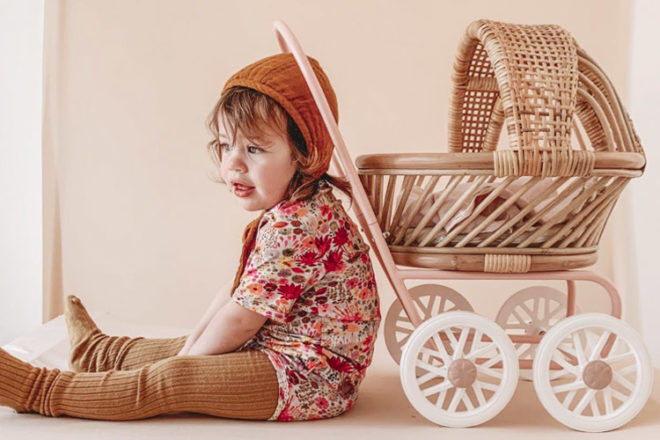 This whimsy rattan pram is sure to spark their imaginations with its beautifully curved hood and vintage-inspired wheels. Available in three oh-so-pretty colourways, the aluminium frame is built to withstand the rough and tumble of toddler play leaving them with a toy to cherish for years to come.

---
Moover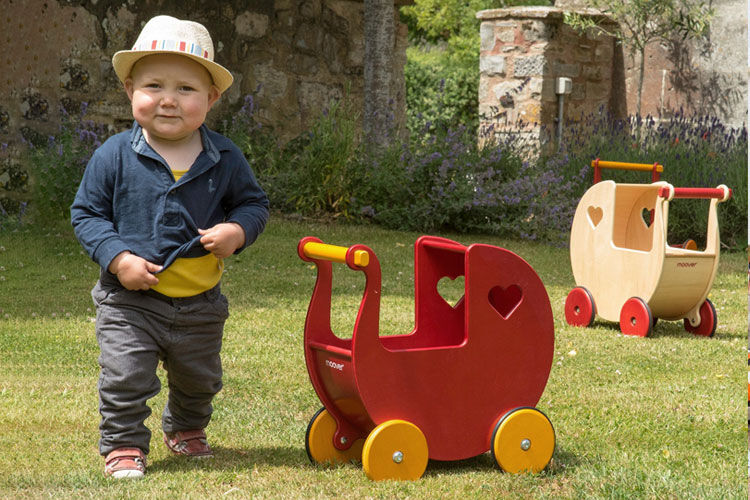 Strong and sturdy, the Moover is a stellar pram for your mini's favourite pal. The award-winning design features a wide handle for easy grip and rubber-lined wheels to protect the floors from all that pushing to and fro. It comes in four classic colourways – and the love-heart cutouts have us swooning.

---
Hip Kids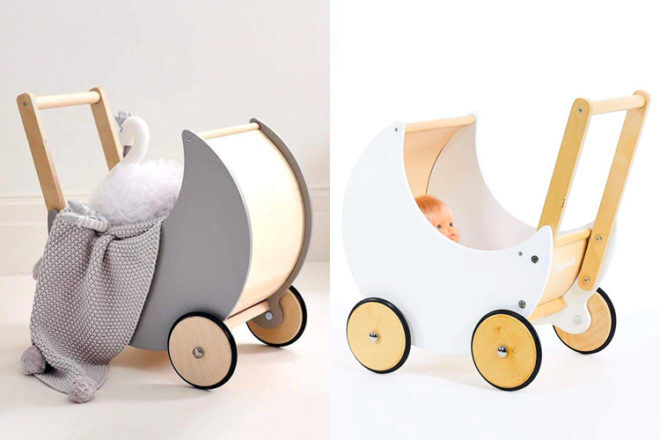 A modern take on a traditional baby doll pram, this charming little carriage is as clever as it is cute. The wheels are covered in rubber so that the toy pram stays nice and quiet while youngsters roll to their next adventure. For an extra special gift, simply personalise with your child's name.

---
My Darling Valentine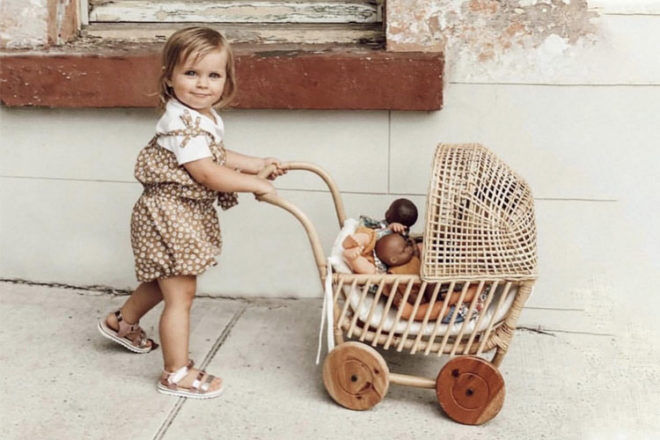 Handmade with love and care, this rattan dolls pram glides beautifully from nursery to kitchen and back again thanks to its durable hardwood wheels. Complete with a mattress, the roomy design means the more the merrier when it comes to taking toys and dolls on adventures.

---
Mocka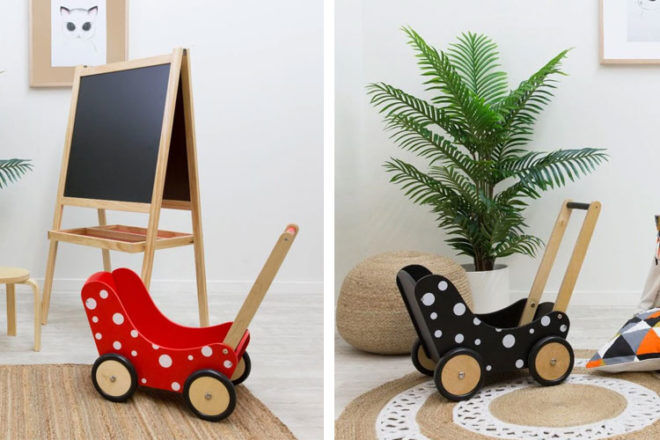 Built to last, here's a classic baby doll pram with a contemporary twist. Available in three bold colourways, this roomy toy pram has plenty of space for dolls, toys and stolen snacks from the kitchen. Pushing and pulling is hungry work after all!

---
Tender Leaf Toys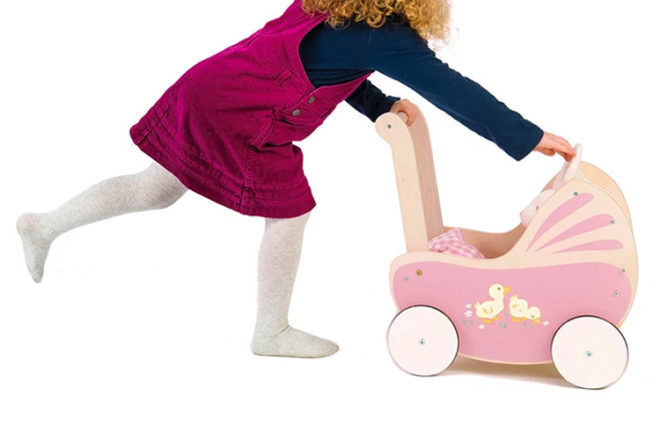 Take dolly on a stroll in this pretty pink toy pram. Complete with a classic fabric canopy, printed mattress and pink gingham coverlet to keep dolls warm, it's got all the accessories angels need for a day out with their best friend.

---
This article is curated by our Editors and includes affiliates and/or paid inclusions. See our Disclosure Policy.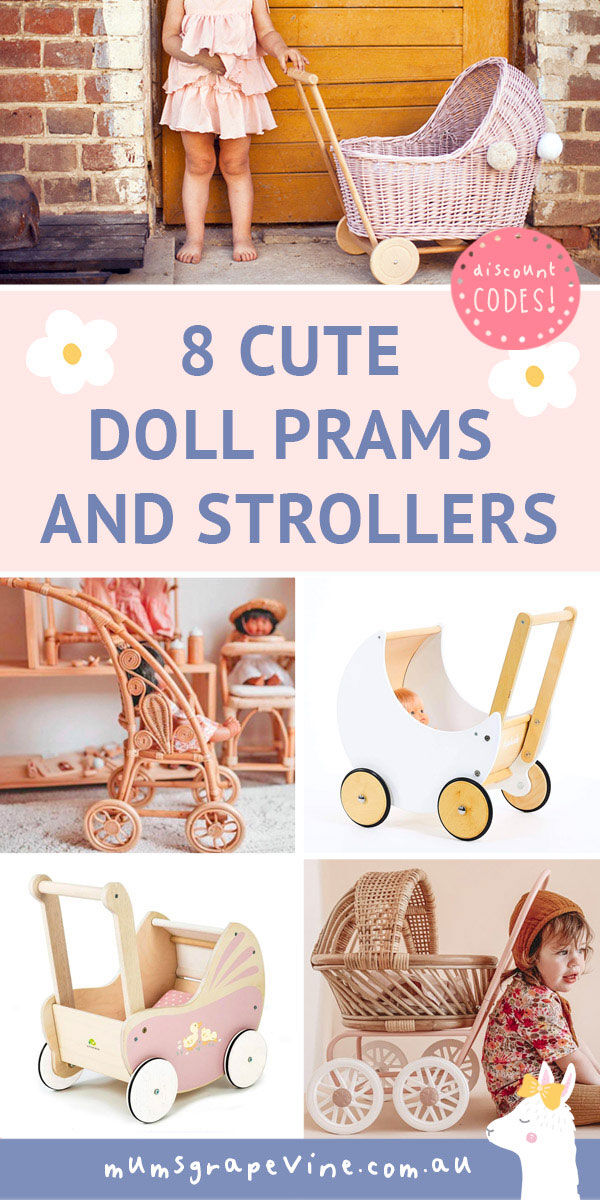 Know a great dolls pram we should add to our list? Contact us and let us know.
Find more irresistible playthings…
Continue your search for the best dolls pram
Looking for a baby doll pram and still not sure if any of these are right for you? Join one of our Baby Groups and ask thousands of other mums what they recommend. They are grouped together based on your baby's birth date so everyone is going through the same stages at the same time.
Click here >> Mum's Grapevine Facebook Groups  << to find your group today!