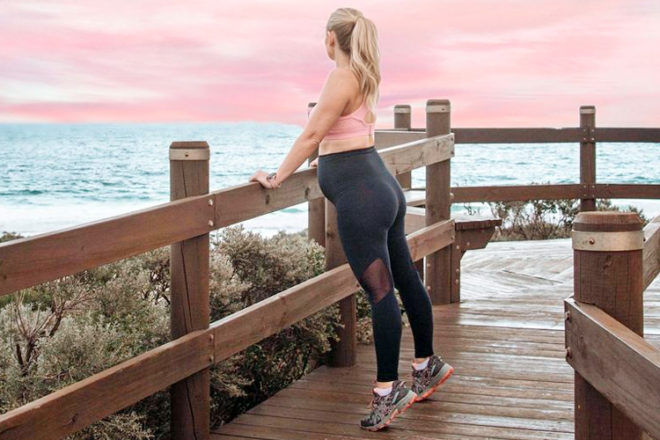 It's a running joke that a pair of maternity leggings, a roomy top and a 'mum bun' is the signature style of the mum-to-be. And as much as we love this casual look for grabbing a coffee or lounging on the couch, stretchy maternity tights also offer expecting mummas the belly support they need throughout an active pregnancy.
Whether they're for a walk in the park or a pilates session, a trusty pair of leggings makes all the difference to your pregnancy comfort. In fact, they're a key item to have in your maternity wardrobe that you'll wonder how you ever did without.
With styles including full-length, cropped, under-the-belly and over-the-belly, you're spoiled for choice when it comes to quality maternity tights in Australia. Check out our list of key features below to help you scout out the right pair for your style.
What to look for when buying maternity leggings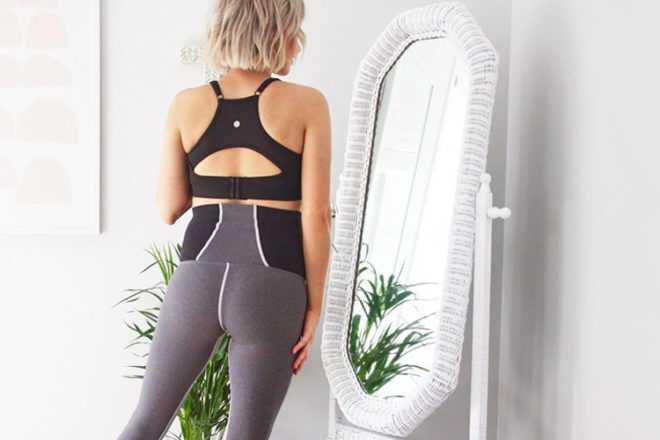 For max comfiness for your growing bump, these are some of the important features to look for when you shop for maternity pants:
Plenty of stretch – With a teeny tiny human growing inside that belly, it's important to find leggings with a decent amount of give. That being said, the last thing any woman wants is for her tights to fall down mid-squat. Try to find the perfect balance for the activities you'll be taking part in while pregnant.
Gentle fabric that breathes – Leave the VPL's behind and shop for a pair of maternity leggings that won't turn see-through when stretched. And remember comfort is key, so search for non-irritating and breathable fabrics that keep that glowing belly cool during a workout.
Over-the-bump or under-the-bump? When choosing which style of leggings to buy, think about what makes you feel most comfortable and supported, along with the intensity of your workouts. Some women feel restricted, itchy or hot with bumps covered, others love it – it's very much a personal choice which style you go for.
---

12 comfy maternity leggings and tights for pregnancy
To help you find the comfiest pants to wear during pregnancy, we've compiled this handy list of brands available in Australia to get you started in your search.
Some brands have offered exclusive shopping offers and free shipping for Mum's Grapevine readers. These offers may include exclusions and expiry without notice. Please direct all inquiries directly to the linked website.
Here are 12 top maternity leggings and tights to shop in Australia:
Ripe Maternity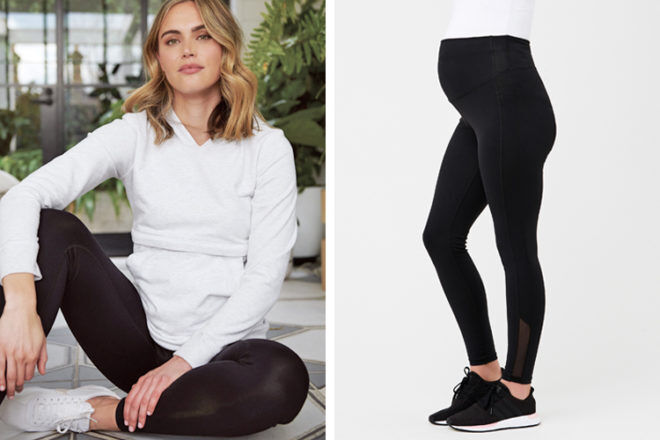 Designed to fit throughout your maternity journey, Ripe's Active Over Tummy Legging is cut from a high-performance stretch jersey and features mesh detailing and a high over-belly waistband. Also available in three-quarter length Active Over Tummy Knee Legging.

---
Emamaco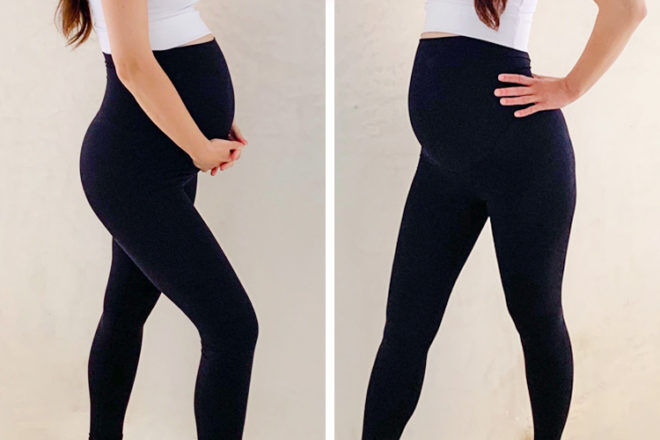 Made to compress and grow with your body, Emamaco leggings give mums-to-be just the right compression and support for an active pregnancy. The signature Supaflex material is buttery-soft, smooth, squat-proof and retains its shape for a slow and steady recovery.
emamaco Discount Code:
Use code 'MGV40' for 40% off storewide. Limited one use per customer.
---
Blanqi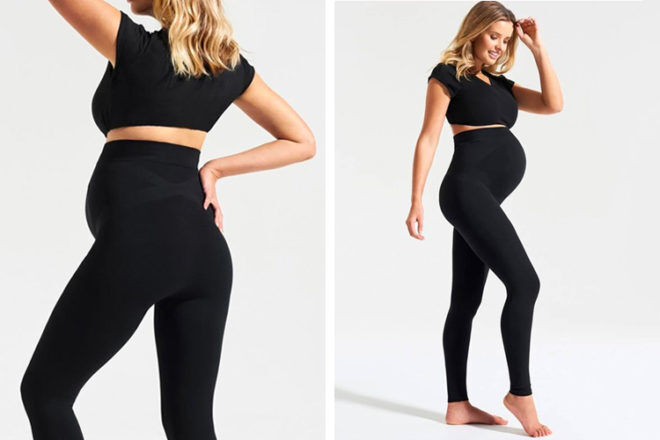 Full-length and seriously soft, these support tights have all-over compression that smooths out lumps and bumps, leaving a silky silhouette behind. An X-shaped back support reduces pressure on mum's lower back while the knit-in belly support lifts and alleviates weight from that gorgeous growing belly.
---
Pea In A Pod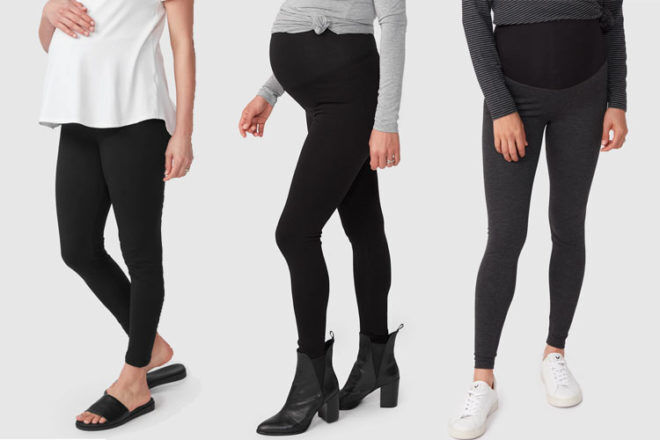 The pregnancy leggings from Pea In A Pod boast two-way stretch and anti-pilling technology that keeps them comfy during all three trimesters. The extensive range has versatility and style covered, take your pick from short leggings, recovery leggings, high waisted pants and more.

---
Maze Activewear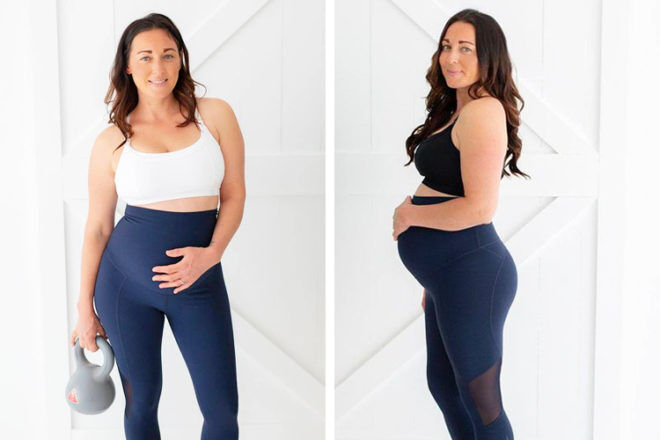 Active Core Stability technology and a high-rise tummy panel mean these pregnancy tights sit above your belly and stay there. Quick-dry fabric and mesh panel details are just some of the fab features that keep mum moving with comfort and confidence.
Maze Activewear Discount Code:
Use code 'MGV' for 15% off storewide.
---
The Ten Active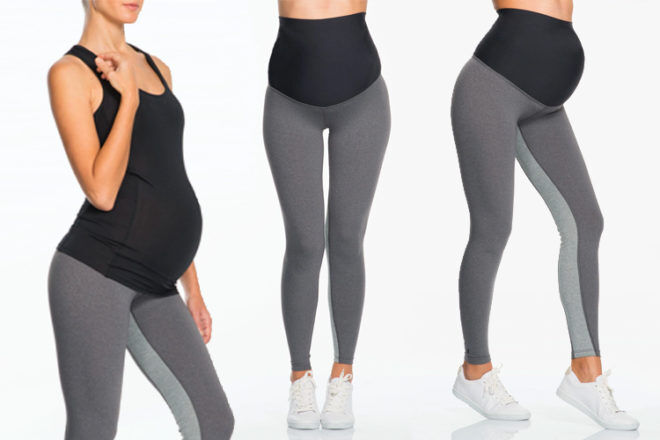 Sporting The Ten Active's signature dark grey marle, Connie is a versatile maternity pant for every stage of pregnancy. Designed for lunges, lounging and everything in between, the highly elastic belly band gives growing belly's optimum support, wherever the day takes you.
The Ten Active Discount Code:
Use code 'MGV20' for 20% off eco-suede leggings and shorts.

---
Bloomberri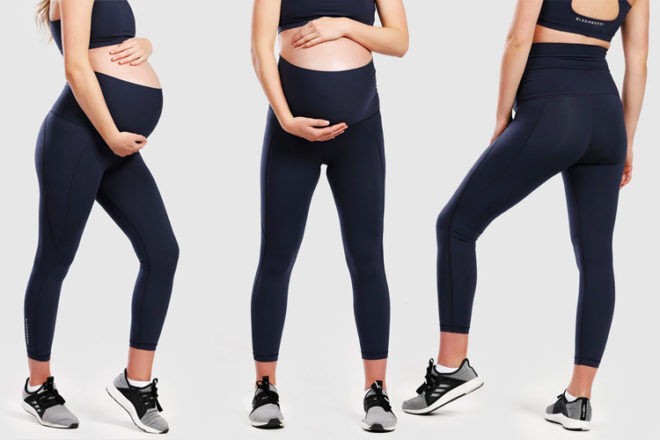 Designed to be worn over or under your growing tum, these super-smooth tights give mum support in all the right places. Perfect for pregnancy and postpartum, they're made from chemical-free fabric with a barely-there feel – good for mummy, bump and Mother Earth.

---
Bae The Label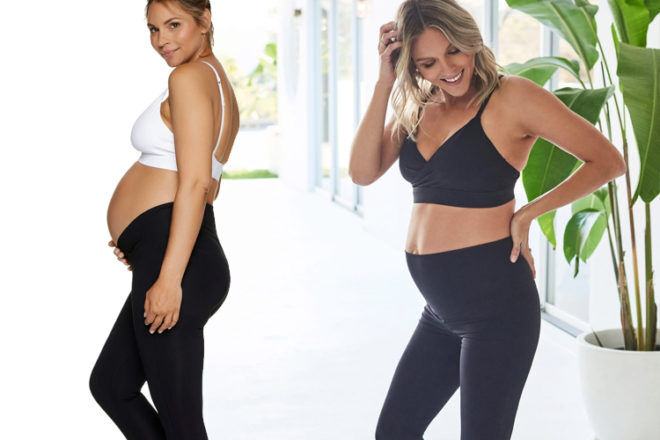 Thoughtfully designed to adapt to mumma's changing shape, these bump-friendly maternity tights feature a cross-front waistband to help them sit comfortably all day long. Plus, a quick-drying nylon and lycra blend makes them super breathable with just the right amount of stretch.

---
Mammojo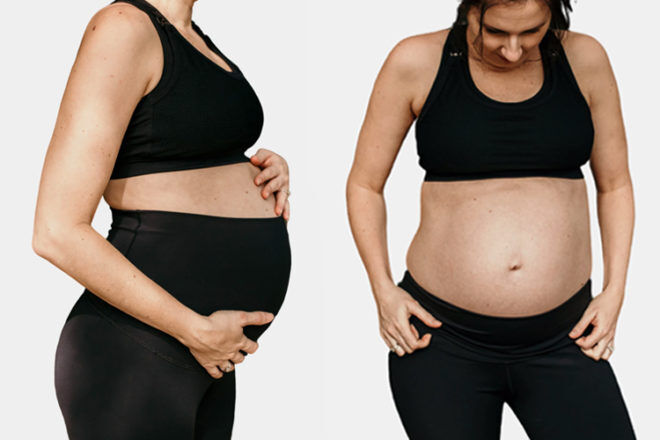 Designed and made in Australia, the Ava tight has a moisture-wicking gusset to help with leaks and those after-birth sneezes we'd all rather forget. They can be worn over or under your belly and are made from high-performance fabric for compression when carrying and structured support once bubba is born.

---
SRC Health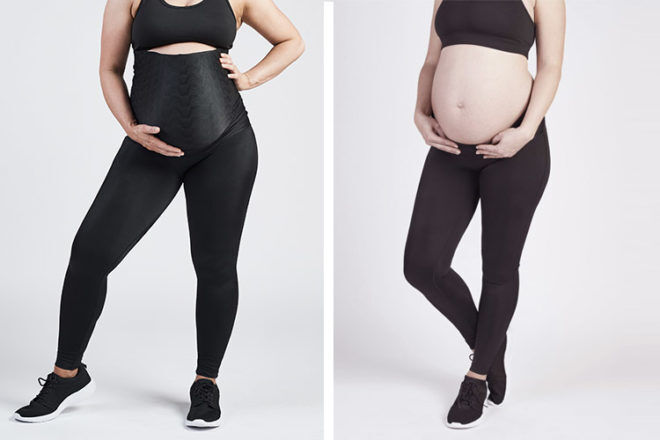 In under and over-bump styles, these medical-grade compression leggings are ideal for providing pain relief during pregnancy. Designed in consultation with an obstetrician, they are endorsed by the Australian Physiotherapy Association and come with a 100% money-back guarantee and rebates from some health care funds.

---
Mamaway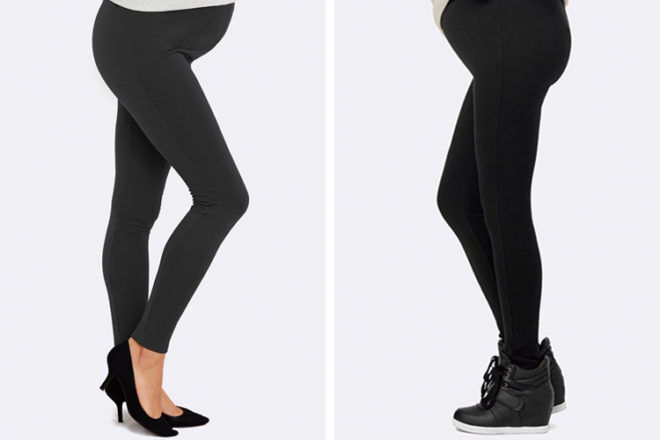 Finding the right fit with plenty of warmth is easy with Mamaway full-length maternity tights. Fleece-lined and equipped with an adjustable waistband, they support mums-to-be right throughout the baby journey and beyond.

---
Cotton On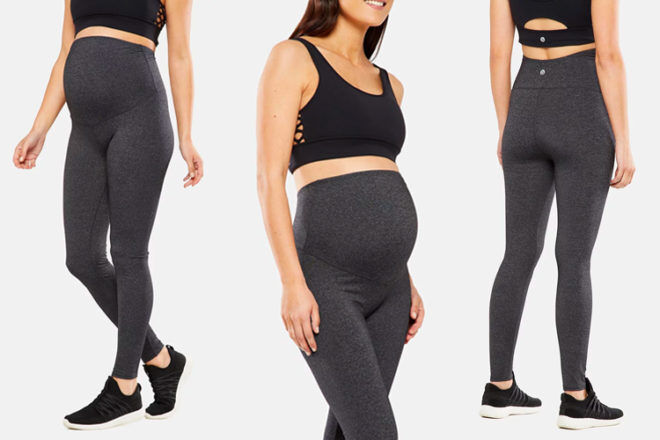 Combining great style, oodles of comfort and fab value, these pregnancy tights tick all the boxes. The curved waistband fits comfortably over your bump whether you're lounging on the sofa or doing lunges at the park.

---
When do you buy maternity leggings?
Many women ditch their regular tights and start wearing maternity leggings in the second trimester. That said, with brands creating styles that cover mums from pre to post-birth, you can start wearing them as soon as you're ready.
What size maternity tights do I buy?
Your regular pre-pregnancy size. Maternity styles take into account room for belly growth (and more growth!). So, when you shop, it's perfectly safe to stick with your normal clothing size. All great brands offer size charts, so if you're not too sure, take a peek before you buy.
Can you wear regular leggings while pregnant?
Yes, you can. But, unlike regular styles, maternity tights are purpose-built with room for growing bumps. Not only do they offer the comfort and stretch you need, but they also offer the right support.
---
This article is curated by our Editors and includes affiliates and/or paid inclusions. See our Disclosure Policy.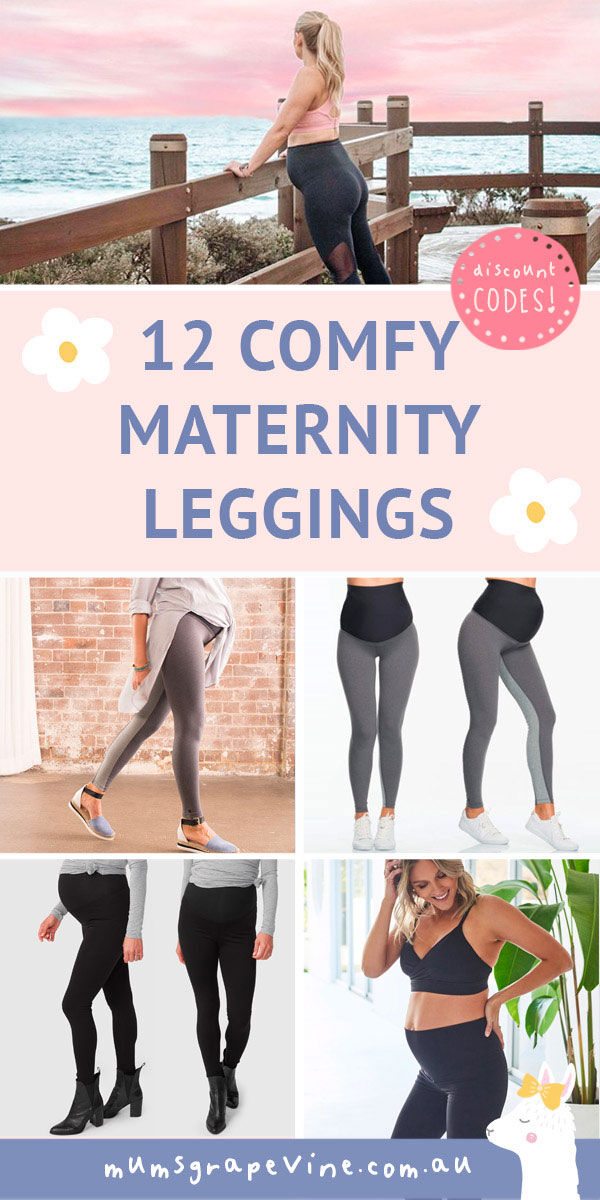 Know some pregnancy tights we should add to our list? Contact us and let us know.
Read these roundups next …
Shopping for more helpful maternity wear and pregnancy products? From supportive belly belts to nourishing skincare products, we have Australia's largest suite of product roundups for new mums.
Read this: A handy guide: how to shop for maternity clothes