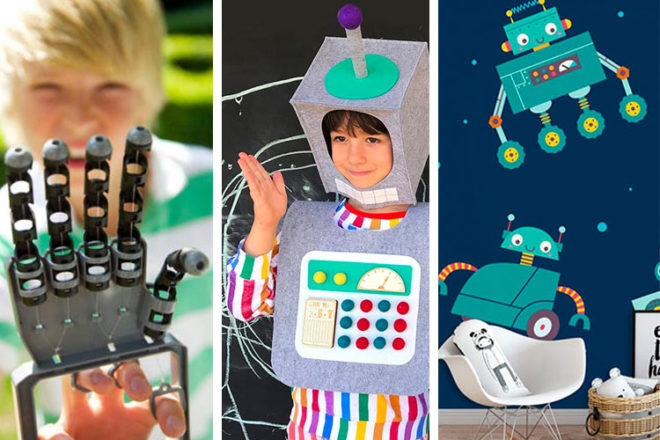 There's a lot to love about robots (and not just the fact that they inspired the robot dance), so it's little wonder that robot toys and gifts make some of the most sought-after kiddie gear around.
We've searched high and low to round up some of the cutest, coolest and craftiest robot goodies in the country. From beep-bopping robot toys to that winning piece of décor for the kids' rooms, you'll find the perfect prezzie right here.
Cheap and cheerful…(under $20)
Storybooks
Shaped crayons
Magnets
Wind-up robot
Pencil case
Craft Kits
A bit more…(under $50)
Wall decals
Planter
Swaddle set
Splash out…
Wall clock
STEM robotics and coding kits
Wallpaper
Interactive robot
Bed linen
Construction set
Robot Planter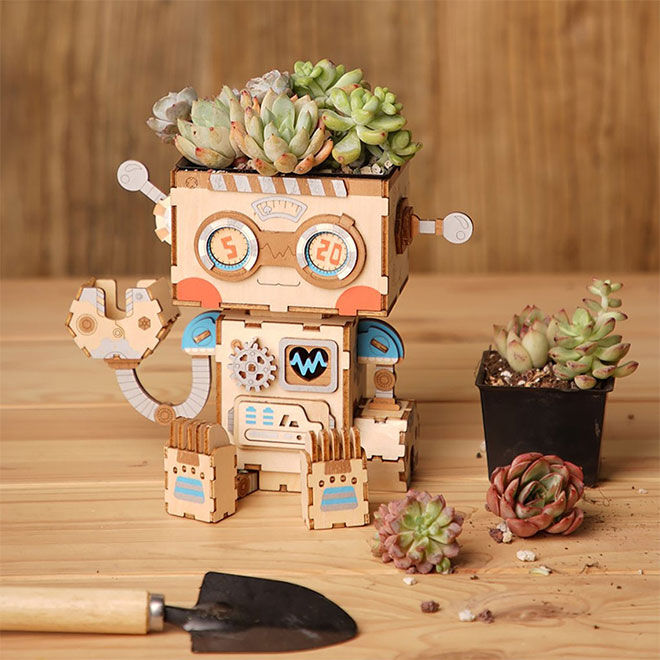 Is your robo-kid a bit of a green thumb, too? This build-it-yourself planter includes 71 pieces that slot together to form an insanely cute robot plant holder, ready for some succulents. And if plants aren't the kids' thing, you can totally use it to store other treasures.
---
Wooden Robot Toys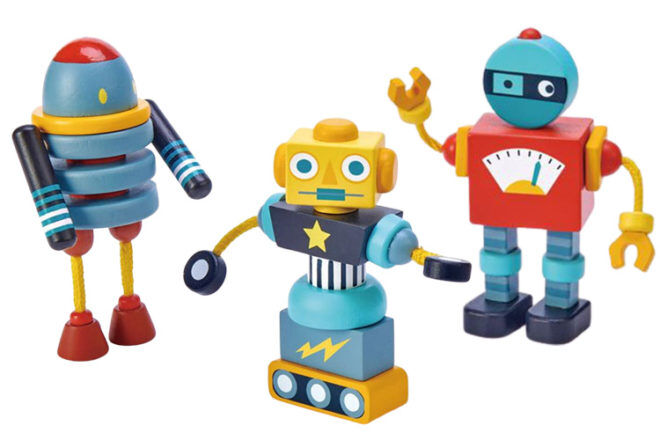 With this set of 17 wooden robot parts, kids can build their very own robo-pals for playing out all kinds of scenes. And when it's time to mix things up, simply swap up the arms, legs, heads and bodies for even more fun! This is an absolute winner for little ones who love to build.
---
Robot Bike Bell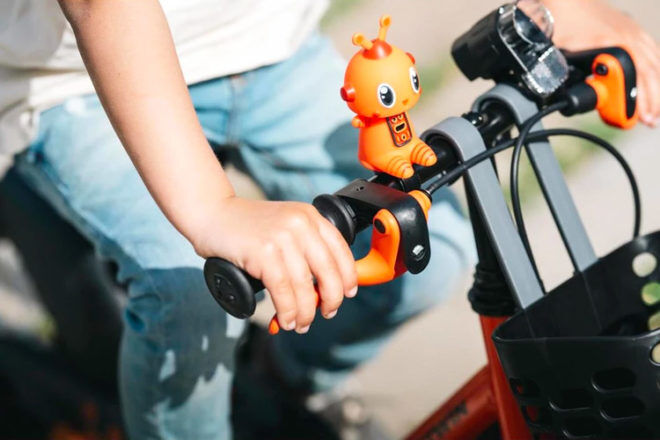 Cutest bike bell ever? We sure think so. Unlike some old-school bells, this adorable bike accessory is a cinch to use; a simple tap is enough to sound an alert. This robo-bell will fit bikes with handlebars between 19 – 22mm in diameter.
---
Robot Stamps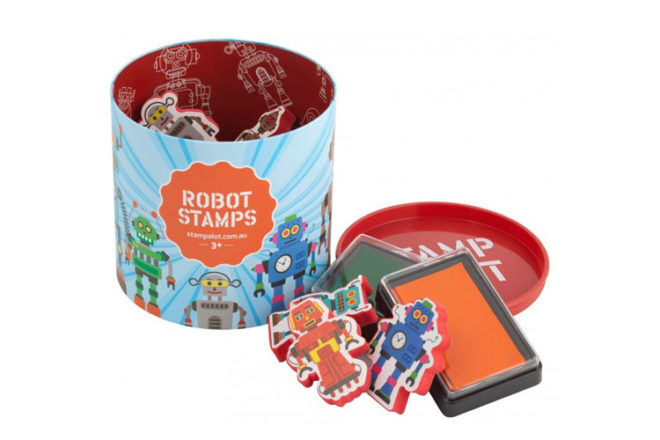 Expect to see lots of inky robots on the kids' artwork! This set includes ten retro robot stampers and two coloured stamp pads, all bundled up perfectly in a super-cute tin. Such a cute gift idea for creative kidlets.
---
Robot Backpack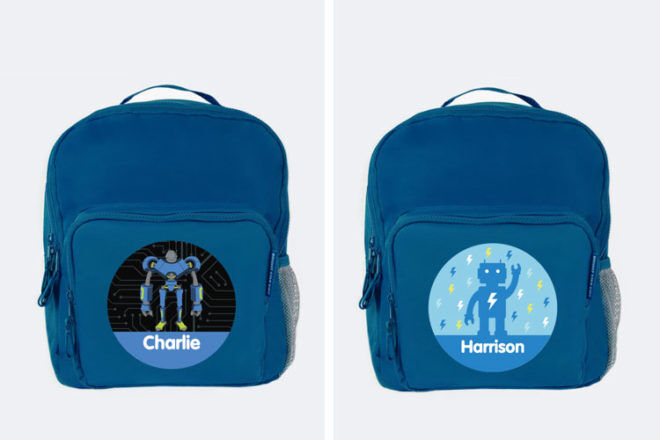 Perfect for school and play, this personalised robot-themed backpack is destined to get loads of good use. It comes with adjustable straps, a bottle holder and it can fit the whole day's gear inside. Choose from pink or blue.
---
Robot Shape Puzzle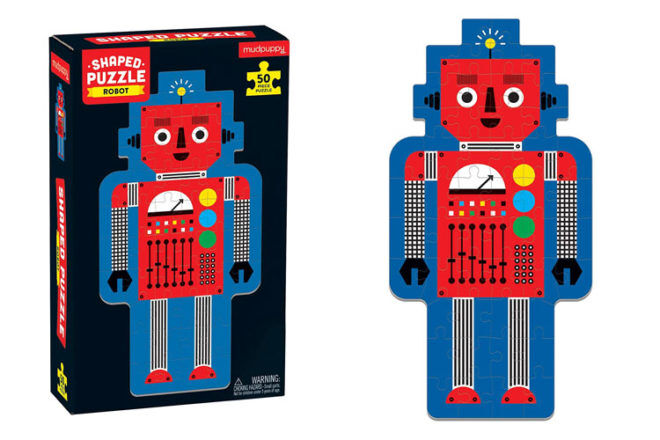 The robot 50 piece shaped character puzzle from Mudpuppy features an adorable illustration of a robot. The finished puzzle is cut to the shape of the robot adding a special wow-factor when completed.
---
Robot Transfer Set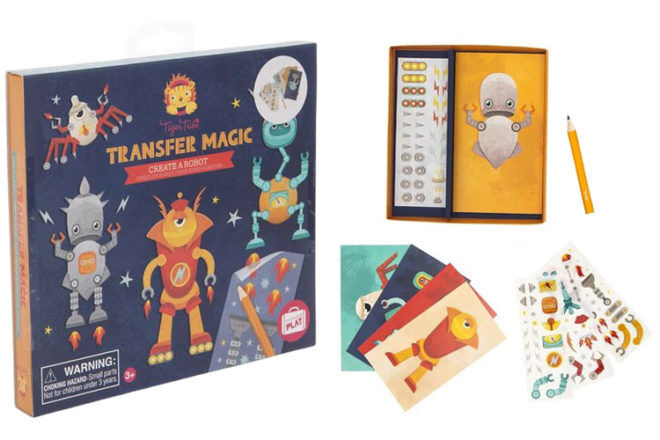 Boredom begone! This perfectly packaged craft kit comes with everything kids need to create their own robot character. Just choose a background card, select some retro robo-parts from the transfer sheets – and bring the bots to life!
---
Robot Coding Kit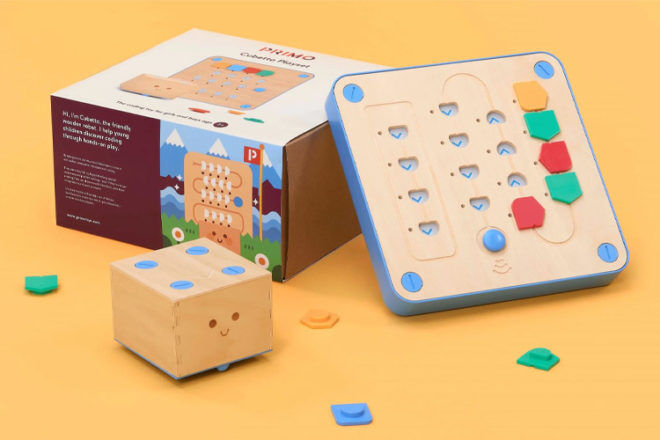 Cubetto is the sweet little wooden robot helping children as young as three years of age to learn the basics of coding through fun, tactile play. There are no screens involved and there's no need for littlies to be able to read. It's the perfect introduction to the world of programming.
---
Robot Stick Puzzle

Mudpuppy robots puzzle sticks includes 24 double-sided pieces that create six different eight-piece puzzles, Sort the sticks by colour and place them in the puzzle tray to reveal six different images.
---
Robot Egg Mould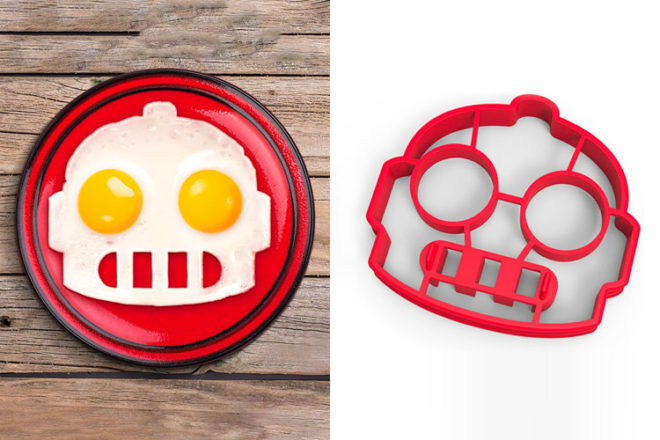 Want your little robot fan to eat a healthy brekky? Here's the answer. Made of food-grade silicone, and safe to pop in the dishwasher, you can count on this breakfast buddy being on high rotation throughout the week.
---
Robot Ice Pop Moulds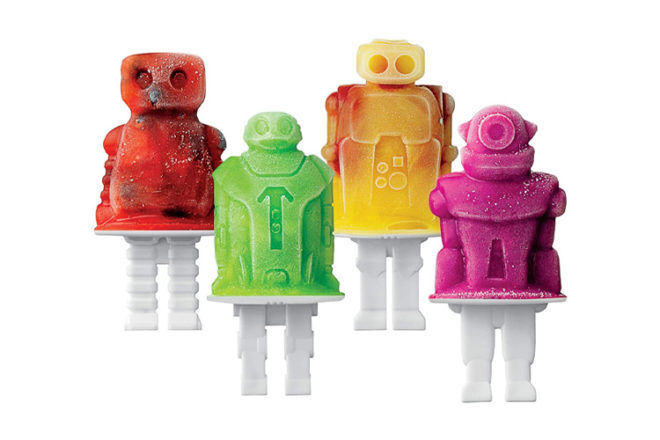 Kids are going to love these robo-riffic popsicle moulds for the fun they bring to icy-pole time and parents will love knowing exactly what's in them. Conveniently, this set of four moulds sit in a case that is slim enough to fit in the freezer door.
---
Robot Teepee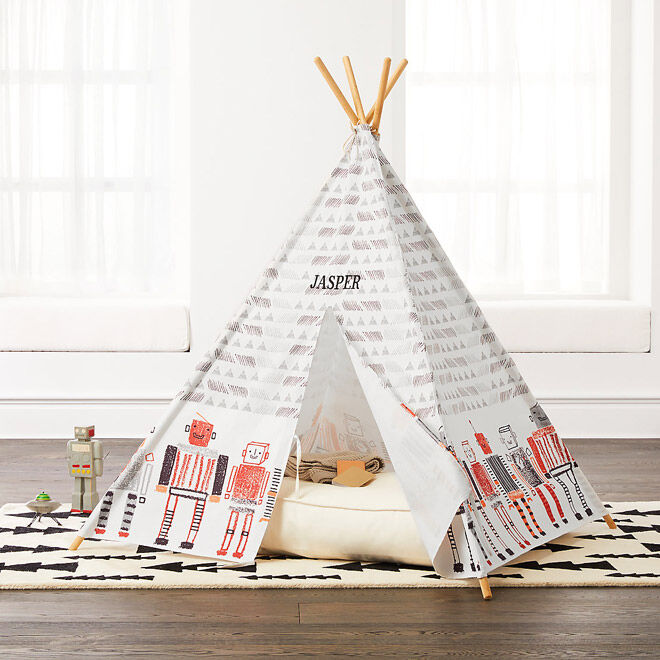 Programmed for play, this fabulous themed teepee is the perfect hideaway for bot-lovers. It features bamboo poles and an ultra-tough canvas cover for years of enjoyment. Personalise it with your child's name for a prezzie they'll never forget.
---
Robot Creations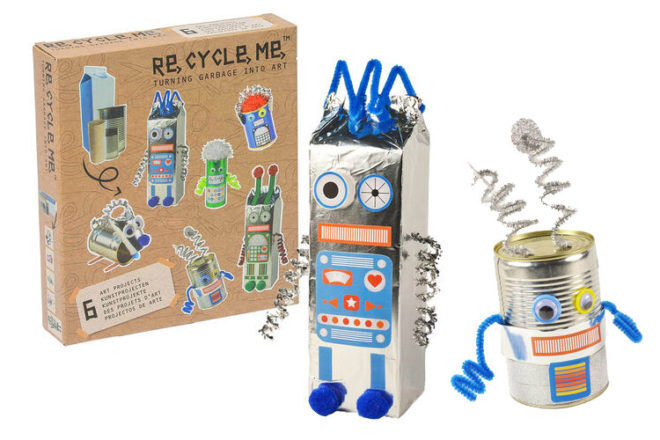 A complete box to transform its packaging in 6 fun robots and déjantés. A unique creative combining learning and recycling.
---
Robot Lunch Box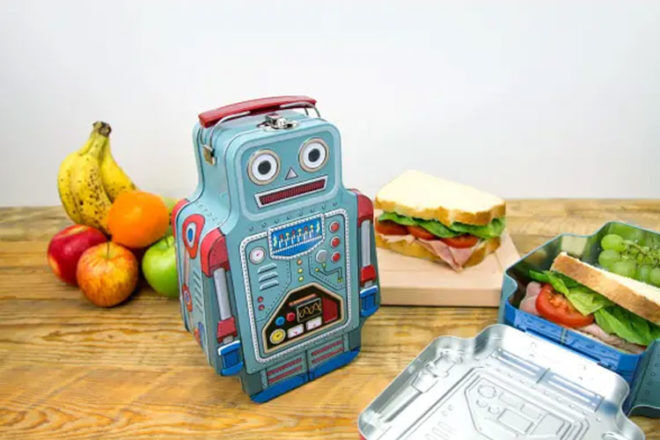 From the makers of some of the quirkiest gear around comes a retro robot lunchbox that will be the envy of the schoolyard. It is leak-proof, free of nasty chemicals, and roomy enough to contain a whole day's worth of goodies.
---
Robotic Toys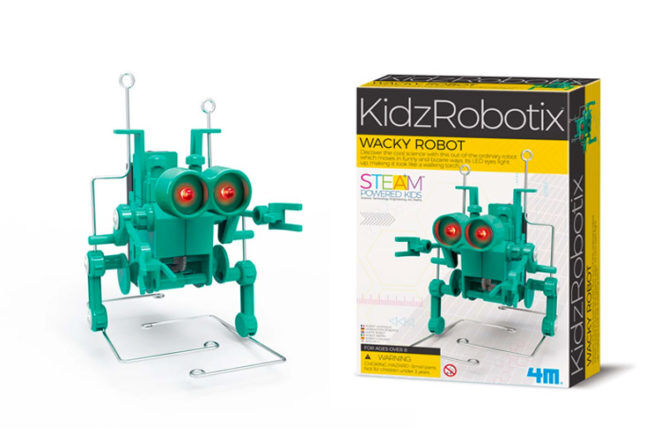 He's the wacky robot with moving arms and glowing LED eyes and a perfect pal for kiddos with an interest in construction, mechanics and robotics. This bot is recommended for ages eight and above and runs on batteries.
---
Robot Onesie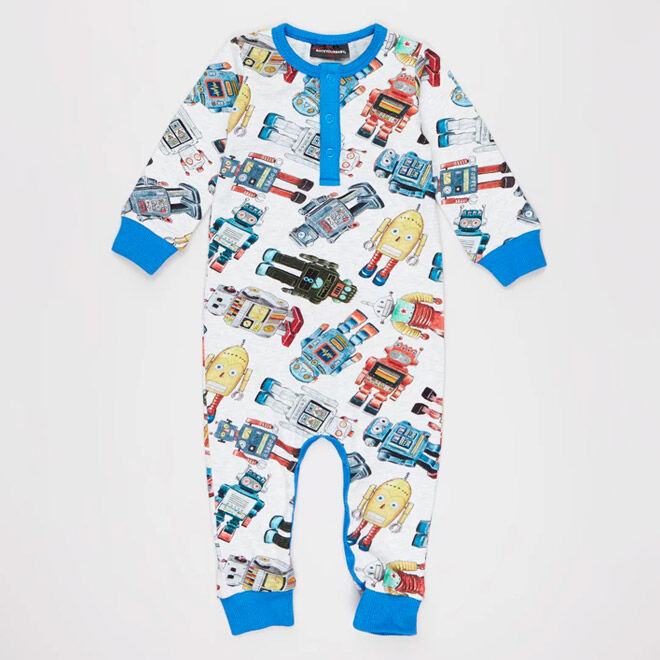 Because you're never too young to appreciate robots. This pure-cotton onesie comes from a homegrown brand and features ribbed cuffs, a snap-button crotch, plenty of stretch and oodles of cuteness. There will be swoons-a-plenty over this little number.
---
Robot Board Game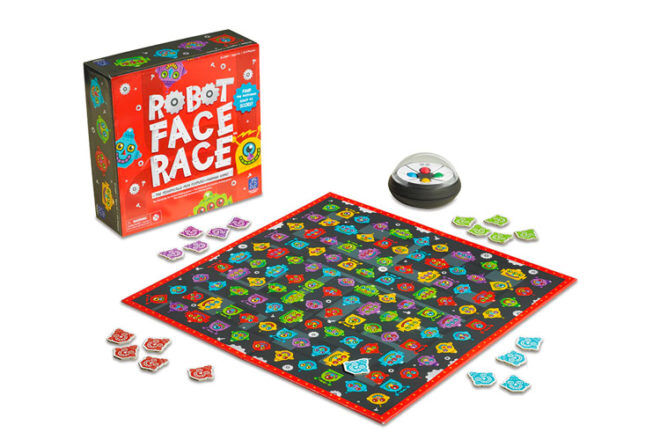 Rainy days sorted. This robot-themed board game combines matching with building, and it's going to have the littlies in stitches. The aim of the game is to be the first player to match five robot heads to the randomiser … the race is on!
---
Robot Wallpaper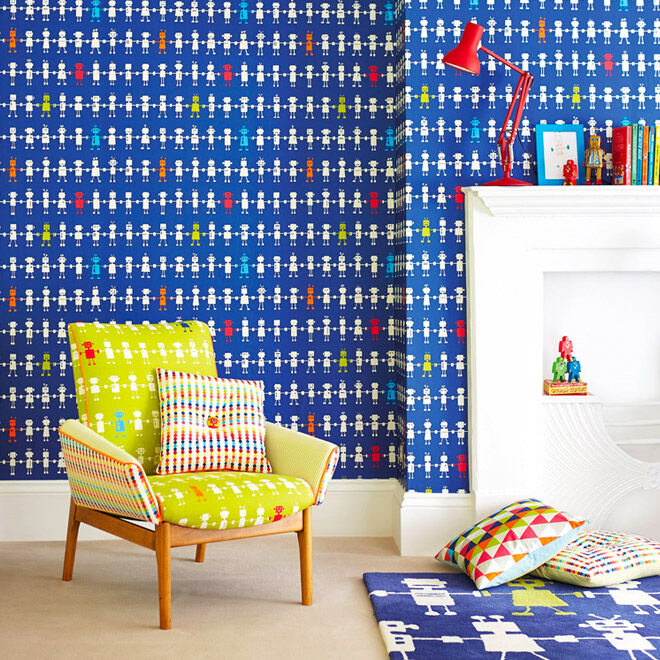 With this wallpaper up, the kids won't want to leave their rooms! The print features vibrant pops of colour and loads of computer-style robots with different expressions. It is available with a choice of natural, blue or lime-green backgrounds.


---
Robot Puppet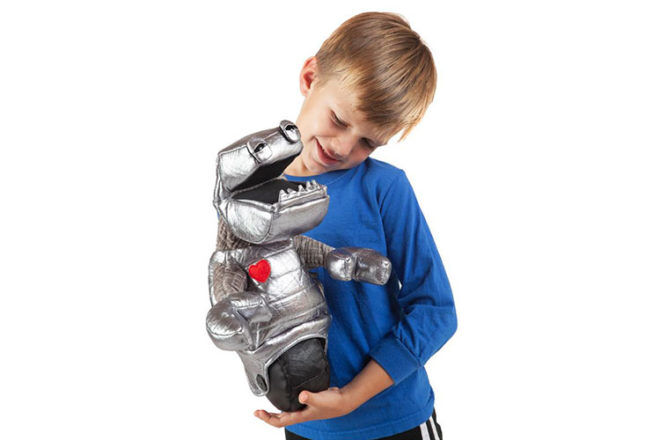 Get ready to hear a whole lot of beeps and boops! This fantastic robot hand puppet comes with movable mouth and arms, and it's a brilliant tool for developing those fine-motor skills, improving language and encouraging loads of robot-themed imaginative play.
---
Robot Wall Decal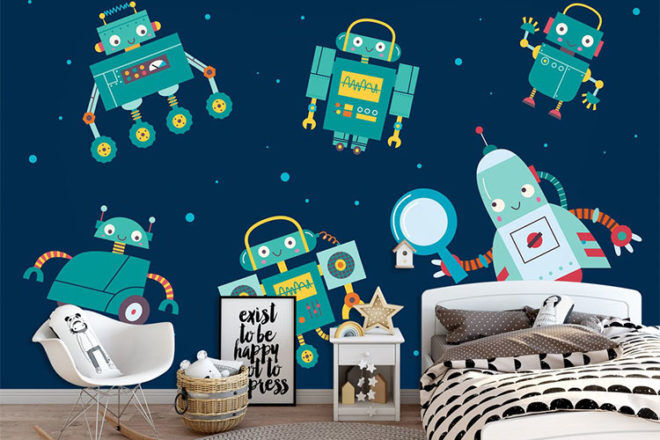 Not only will this unmissable robot wallpaper completely transform bedrooms, but the adorable robot characters will keep kiddos company as they play and snooze. You can choose from either woven paper or self-adhesive vinyl. Customised sizing is welcome.
---
Paper Robot Toys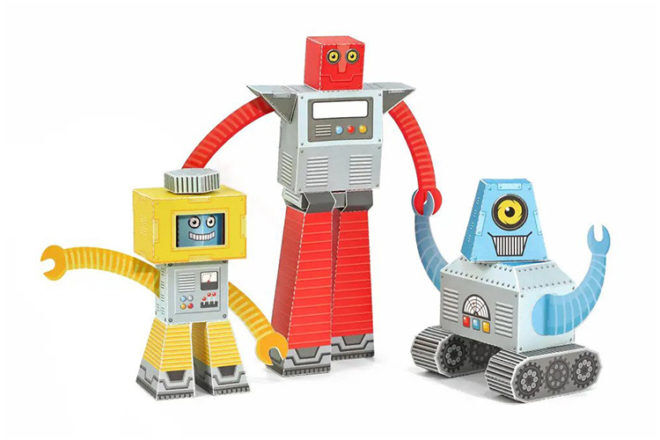 After a robot gift for a crafty kiddie? This set includes ten sheets of recycled, coloured paper and instructions for cutting and creating three super-cute, movable robots. Once brought to life, they make fun little décor pieces for shelves and bedside tables.
---
Robot Costume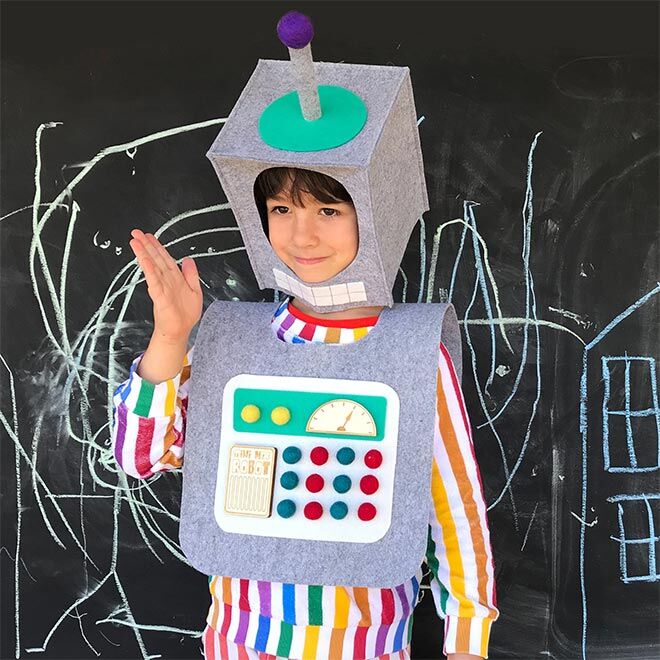 If your littlies are mad about all things robots, they won't want to take this off in a hurry. Made by hand right here in Australia, it includes a felt hat and vest with lots of fabulous details. We don't know what we love more: the pom-pom buttons or that antenna!
---
Wooden Robot Figure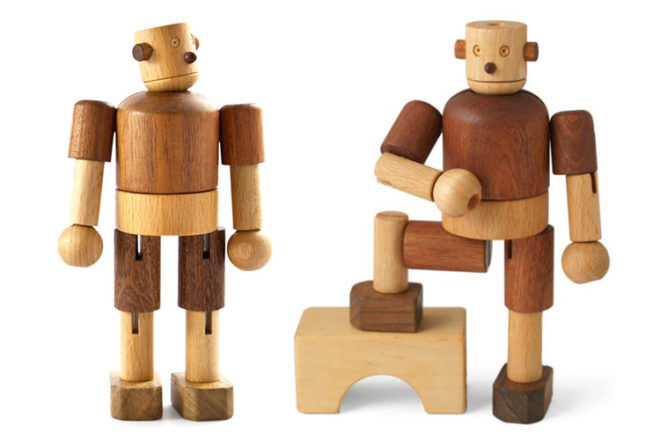 Meet Sik Sik Yi. He's a friendly wooden robot who loves to move and lives to play, and he's one of our favourites when it comes to wooden robot toys. Handcrafted from various natural wood, this movable bot can sit, dance, wave and even kneel.
---
Robot Dominoes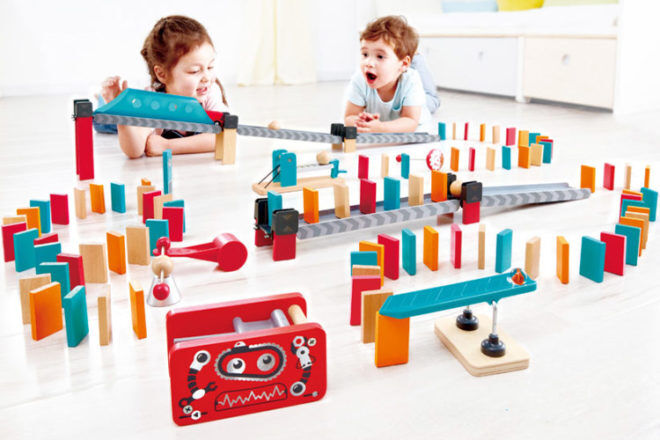 Dominoes may have been around forever, but they never fail to intrigue and mesmerise littlies – and keep them busy for a few hours. This robot-themed set includes a catapult, tipper car, ball track and loads of coloured dominoes for a complete robot production line.
---
Robot Socks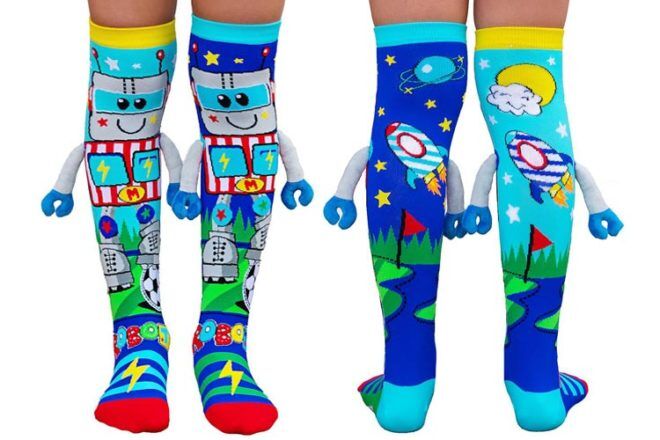 What better to dino-stomp through the day than in a pair of these?! Long, stretchy and brilliantly bonkers, these socks come with 3D robot arms and can be picked up in sizes to fit robot fanatics of all ages – from three to 99.
---
Robot Clock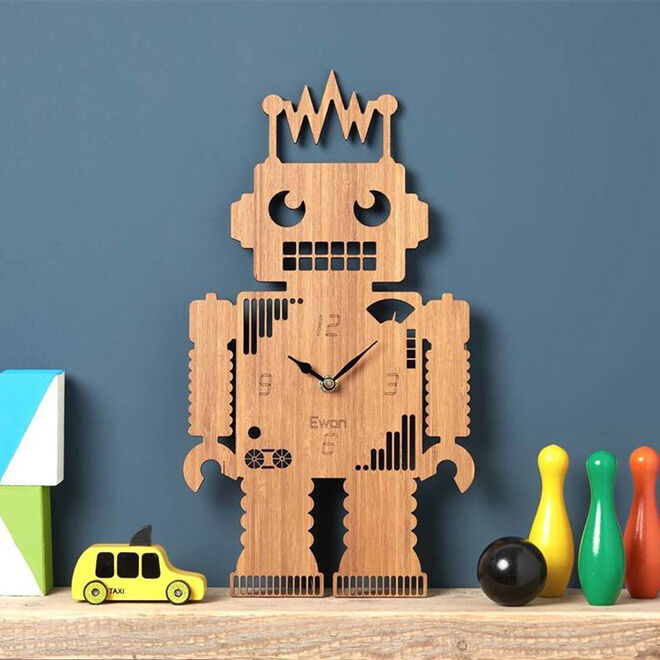 If you want to add a touch of robot flair to a bedroom without going all-out, this clock is a fabulous option. It's made of oak wood and can be personalised with up to 12 characters or numbers, so you could use a date or a name, or both.
---
Robot Crayons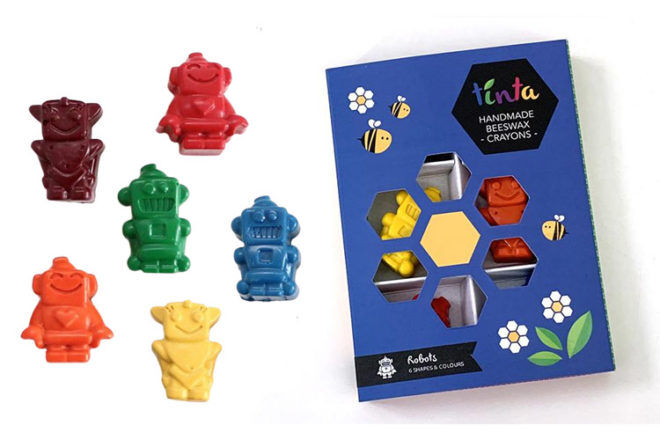 Aussie-made and cute as buttons, these crayons are just the things for keeping little hands busy – whether at home, on holidays or at a restaurant. They've been crafted by hand from natural, organic and sustainable goodness and are the perfect size for tiny fingers.
---
Wind-Up Robot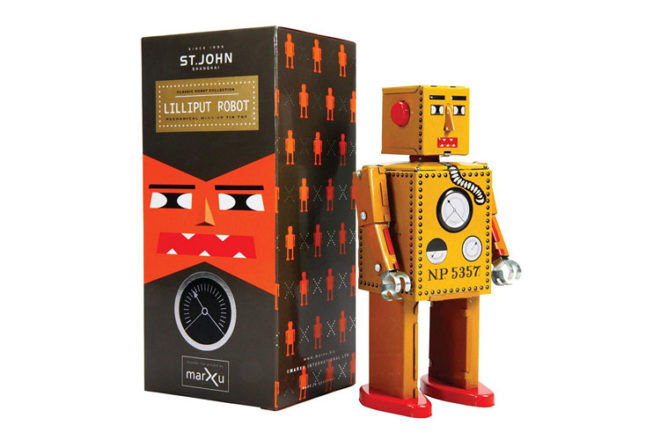 Ready to step back in time? This high-quality retro robot doesn't just look like the robots of decades past, it's actually made with the very same friction-motor mechanism. We're especially loving that there are no batteries, cords or chargers needed to enjoy this old-school winner.
---
Robot Wall Art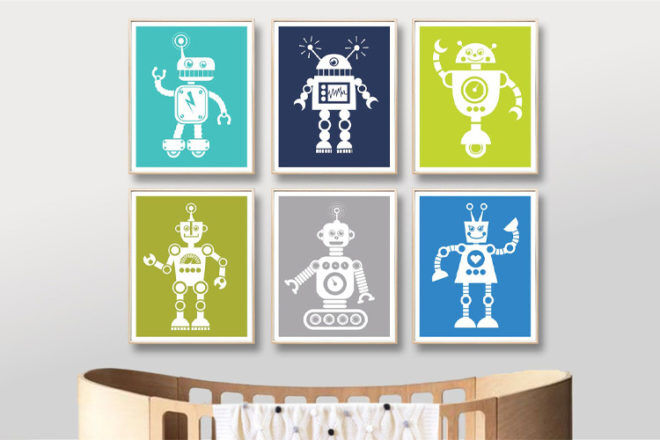 Wall art is an easy way to bring colour and a whole lot of flair to the kids' rooms, and if your little one happens to be mad about robots, this set will very be loved indeed. The set includes six high-quality digital poster downloads that are ready to print, frame and enjoy!
---
Soft Robot Toy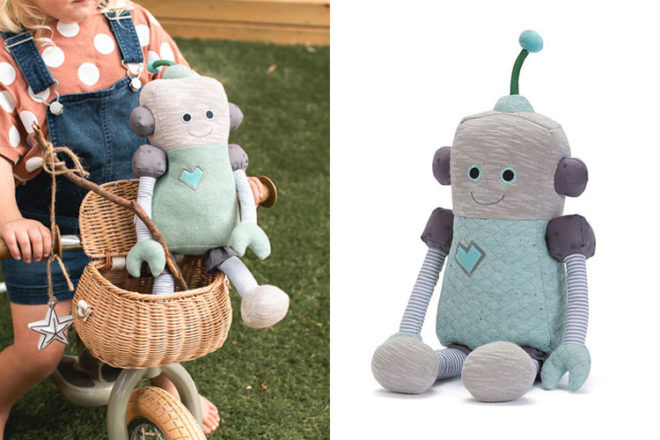 Despite Rusty's spanner-shaped hands, he's actually not much of a fixer – except when it comes to turning frowns upside down. Perfectly sized for the most delicious of cuddles, this is a robot-pal the kids will cherish forever and ever.
---
Robot Magnets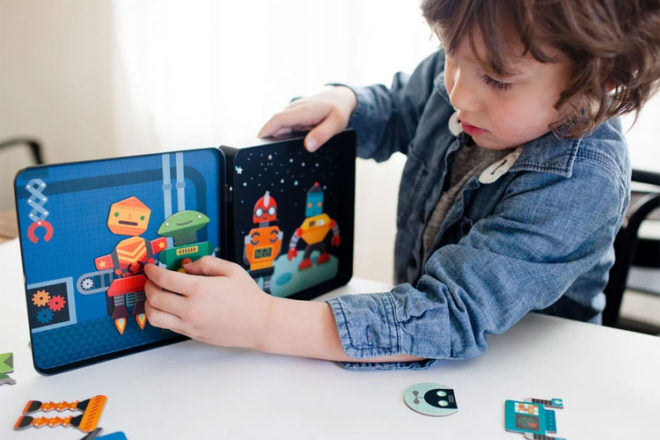 It's the perfect take-a-long play kit for little robot fans – in fact, this one will even fit in your handbag! The tin opens up to reveal two vibrant scenes with 25 mix-and-match magnets for building the ultimate bot.
---
Robot Lunch Bag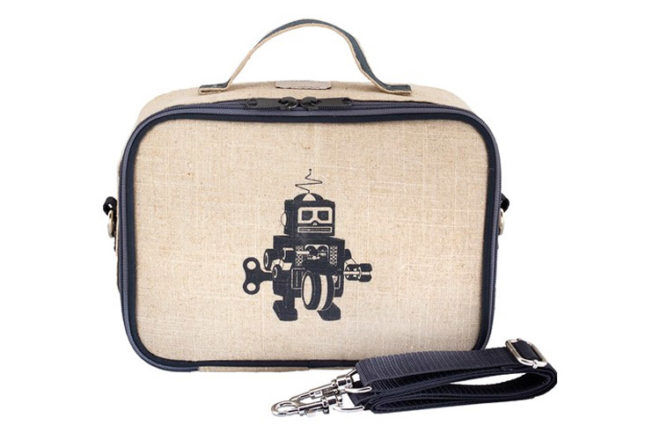 No doubt about it, this is a lunch bag that will be the envy of the schoolyard. It is crafted from beautiful, raw uncoated linen and features a very handy leak-proof interior. It's roomy enough to fit a whole day's goodies securely inside and comes with a bonus back pocket, perfect for popping in a note for your little learner.
---
Robot Hand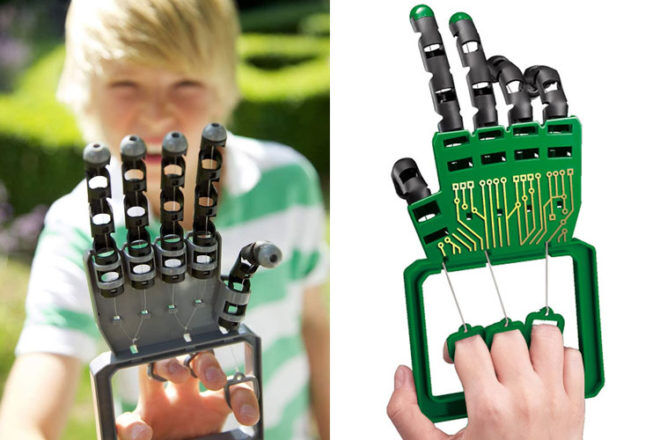 Build your own robotic hand with all the materials required provided in the box. Amaze your friends with its realistic gripping movements.
---
Robot Floor Puzzle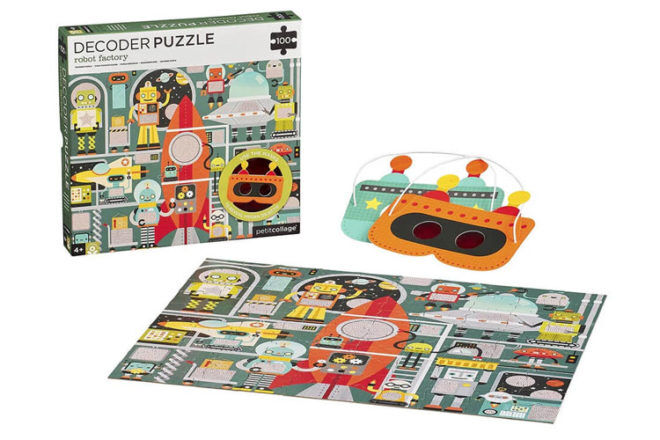 Calling little investigators! The first step in this fun-packed set is to piece together the vibrant scene of bots hard at working building spaceships. Once complete, curious kids have to wear the included magic masks to hunt out all of the hidden objects in the scene. Hours of fun to be had with this one.
---
Robot Kaleidoscope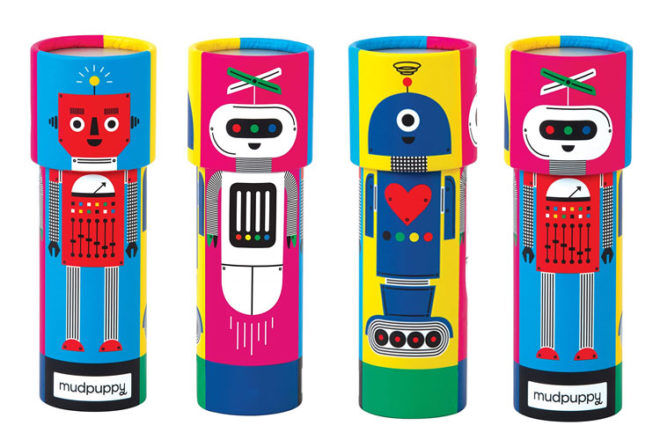 Robotics Lab Mix and Match Kaleidoscope reveals colourful jewels when you turn the viewing tube. Additional fun on the outside with 3 robot friends to mix and match when you turn tube!
---
Robot Book
Bernard the Robot loses his bottom on the park swing, and sets off to find it. Every time he gets close, it disappears again! Will Bernard EVER get his bottom back?
---
Chewable Robot Pendant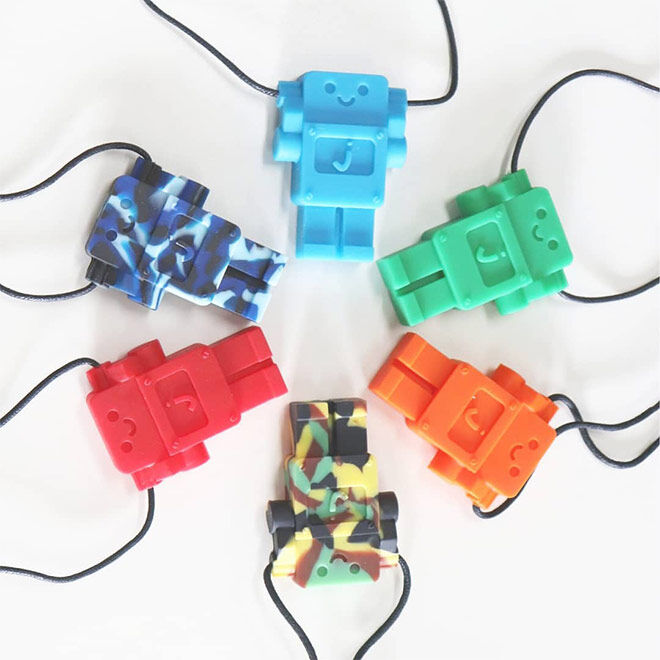 Jellystone's sensory pendants were created to help children of any age to manage anxious feelings and concentrate better – and they double as massively fun kid-cessories. The robot range includes nine fun shades and each pendant is made from 100% food-grade silicone to be safe for chomping.
---
Robot Umbrella
It's the perfect brolly for puddle-splashing robot fans. From Djeco, this umbrella is specifically designed for little hands to hold and has a safety feature to protect tiny digits. We love that the plastic is semi-transparent so littlies can watch the rain pour down!
---
Educational Robot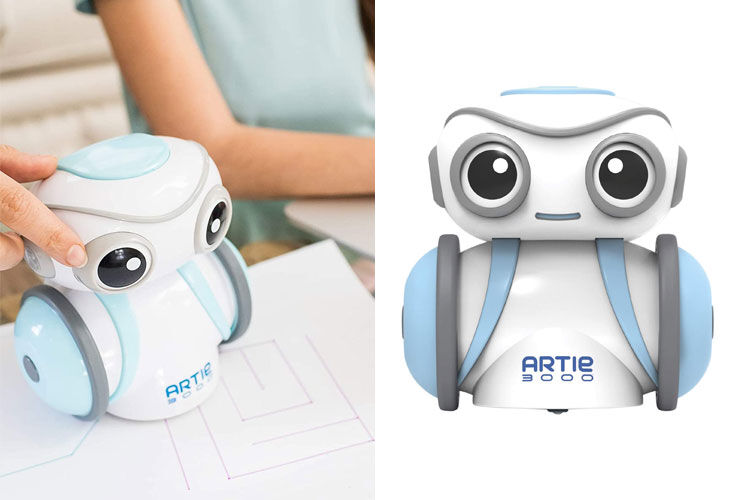 Artie is the award winning drawing robot that helps kids learn to code. With over 500 5-star reviews on Amazon the kids can get drawing with STEAM-style robotics to create visual masterpieces. If you can code it, Artie 3000 can draw it!
---
Robot Shoes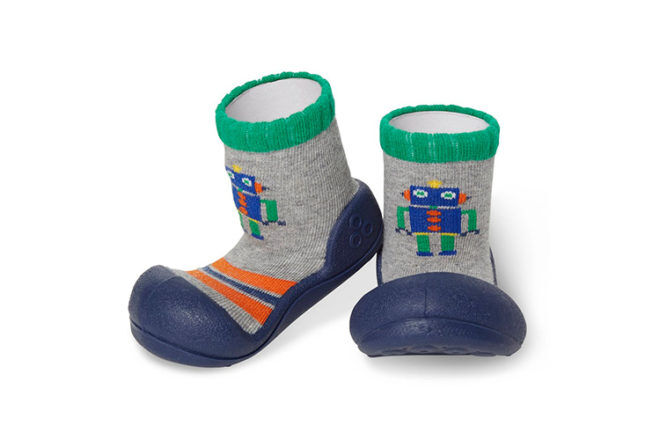 These bestselling, ergonomic bot-boots are part shoe, part sock, and they have been created to mimic the feel and flow of walking barefoot. With no buckles or straps, they're a cinch to get on wriggly feet and they come with excellent grip and bucket-loads of flexibility.
---
Interactive Robot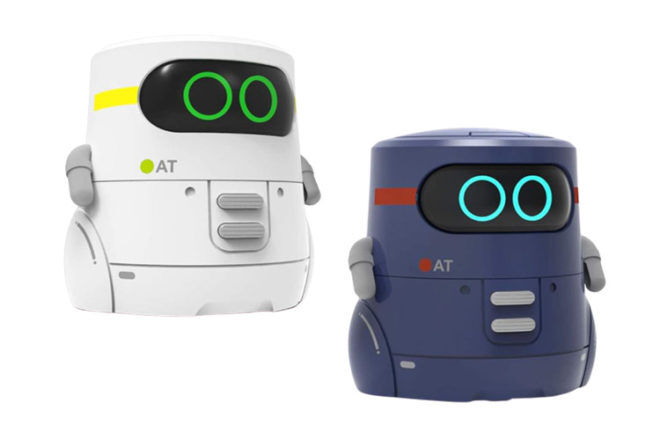 They're the teeny robots that love to talk, sing, educate and play with littlies. Each robot comes runs on batteries and features light-up eyes, touch sensors and adjustable volume. You'll get 20 game cards included with each bot.
---
Robot Board Book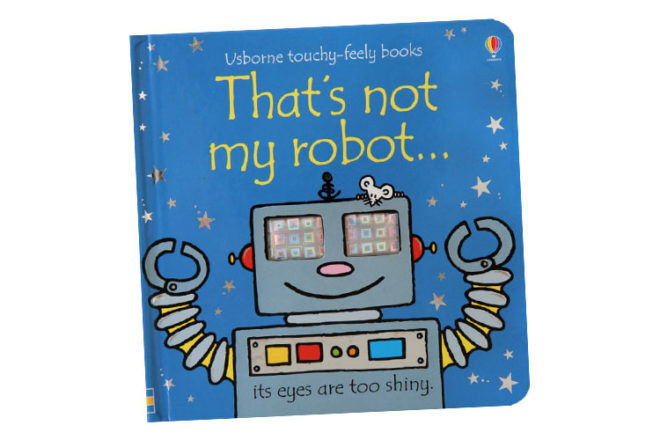 A touchy-feely board book with simple, repetitive text, tactile patches and bold illustrations suitable for babies and toddlers. A little white mouse appears on every page, for children to spot.
---
Robot Puzzle Game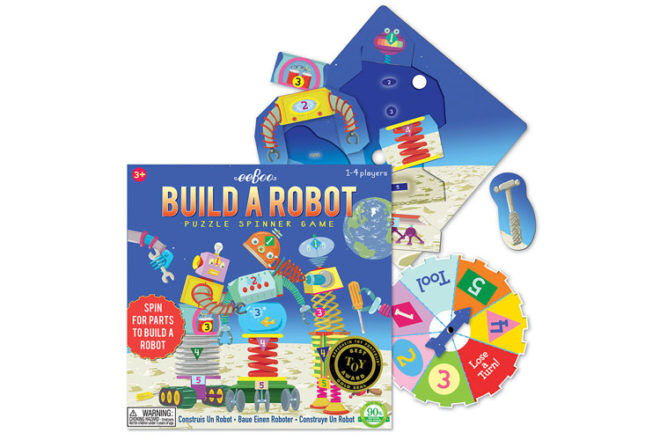 With an easy-use spinner and four robot game boards, this is a fantastic rot-themed game for whiling away an afternoon with the kids. The aim is to be the first player to build your robot using the including robot parts. Game on!
---
Know more robot toys we should add to our list? Contact us and let us know, we've been curating Australia's best baby products into helpful lists for over 15 years and we're always happy to support new brands and businesses.
Find more great gifts for kids:
We've collected a treasure trove of amazing Christmas gift ideas, from the latest baby toys from leading brands to the quirky boutique finds. There's something for every little Piper, Noah and Charlotte.
Gifts for kids are based on play and development, not gender.
Become a Grapeviner mum by joining one of our private Facebook Baby Groups and meet thousands of other Australian mums with kids the same age as yours all recommending their favourite baby products and unearthing hidden baby shops. And you can too!
We want you to know
At Mum's Grapevine, we're a team of passionate mums (with 19 kids!) and over 15 years of experience researching and writing about all things baby and parenting. Our reviews of recommended products, like the ones in this post, may include paid inclusions, but we promise to only feature products that we truly believe in and have used or seen ourselves. We want to ensure that you, our Grapeviner mums have access to the latest and greatest products in the parenting world, and we're committed to maintaining our high standards of quality and honesty. See our Disclosure Policy.
Thank you for trusting us to be your go-to source for all things baby-related.
xoxo