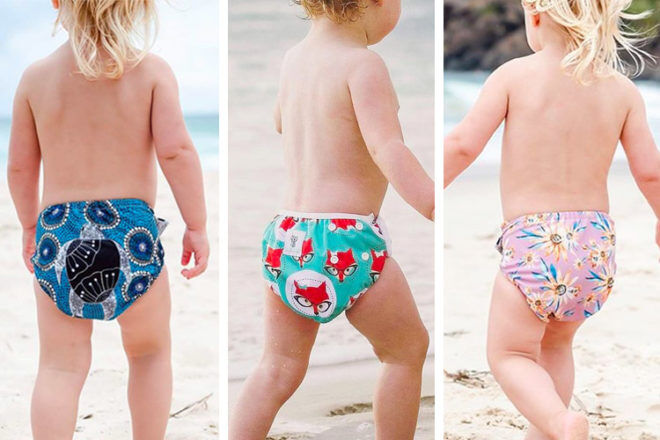 Swim nappies aren't just adorable accessories for tiny tooshies, they're a must for your peace of mind – because if poop gets in the pool, hoo boy…
In fact, for reasons of health and hygiene, they are required at many swim parks and centres for bubs who aren't yet toilet trained, so at some point, you're quite likely to need them for your water babe.
The good news is that there are plenty of swim-safe nappies available for little Aussies, from handy disposables to stunning reusable cloth options. They're easy to use, comfy for bubs and they'll help avert a dreaded poo-nami.
What to consider when buying swim nappies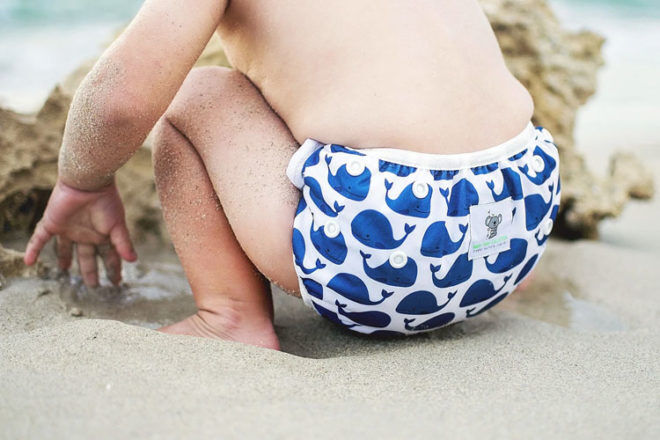 Disposable or reusable?: Disposable nappies are super convenient – it's as simple as buy, use and bin. But as single-use products, they can become more expensive in the long run, and they do have an environmental impact when it comes to all that waste. If you're anticipating using them for a longer period of time, reusables can be more cost-effective and more eco-friendly.
Adjustable waist: Bubs grow, and they grow fast! With disposable swim nappies, it's as simple as going up a size when things get a little snug around the legs and tum. But having to buy new sizes in reusable swim nappies can get expensive. If you're using reusables for more than a few months, go for a style with adjustable snap buttons or Velcro.
Snug fit: Always choose a nappy that fits snuggly around the waist and legs, without being too tight. A cosy fit will keep 'baby business' contained, while a loose fit, well, you can imagine!
Fast-drying: There will be times during the year when reusable swim nappies will be on high rotation, so be sure to opt for styles made of fast-drying materials so bub can get back in the water sooner.
Matching add-ons: For a swimwear set that absolutely sings, take a peek at the brands that offer matching rash vests and/or wet bags with their reusable swim nappies. They make beautiful gifts for new parents and they'll save you time searching for coordinating items.
---
11 swim nappies for containing little accidents
In no particular order, here are ten of our favourite swim nappies for frolicky little humans.
1. Designer Bums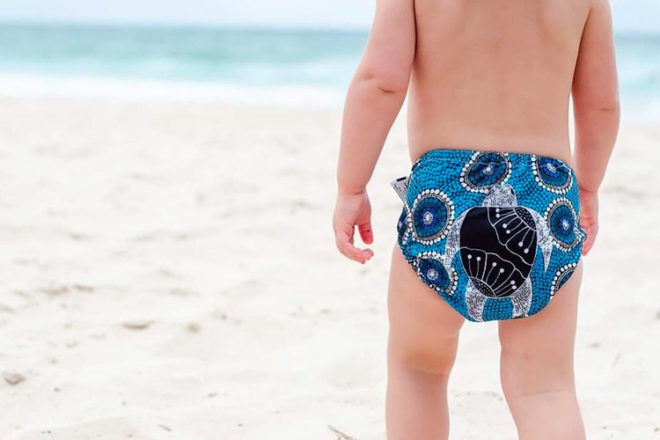 Decked out in hand-illustrated artwork that is exclusive to Designer Bums, these swim nappies are as pretty as they are practical. Each comes equipped with quick-dry internal mesh and double-elastic gussets for a trusty seal.

---
2. Sarah-Jane Collection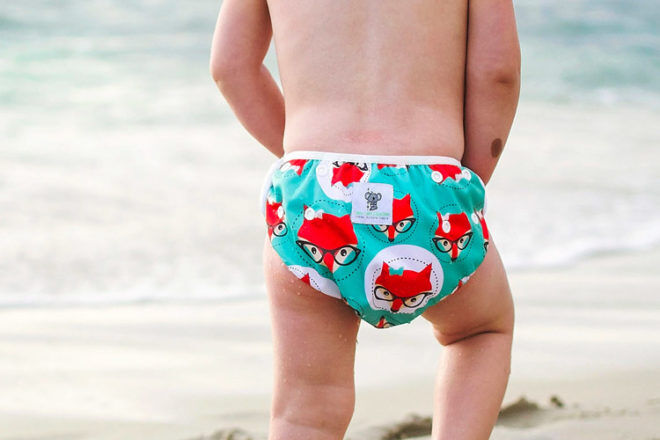 Breathable, waterproof and tough, these little gems are the ultimate accessories for water-filled days. They come in just one size but are fully adjustable to fit bubs from newborn right through to toddlerhood.

---
3. Waladi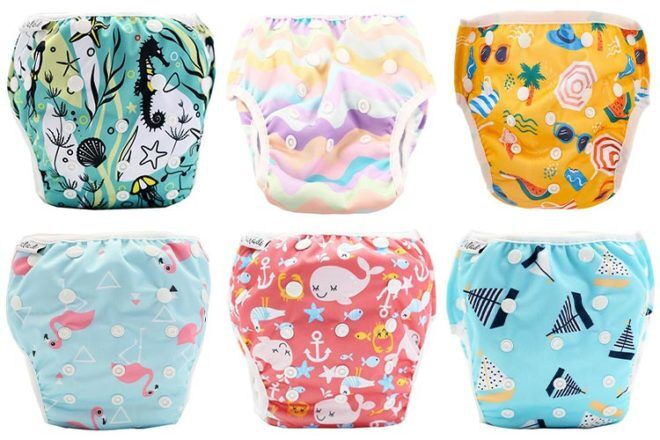 With a built-in system of snap buttons, these crazy-cute designs can be adjusted to fit bubs right up to 15kg. They're constructed from fast-drying materials and they come with an internal mesh layer to keep number twos contained.

---
4. GoNap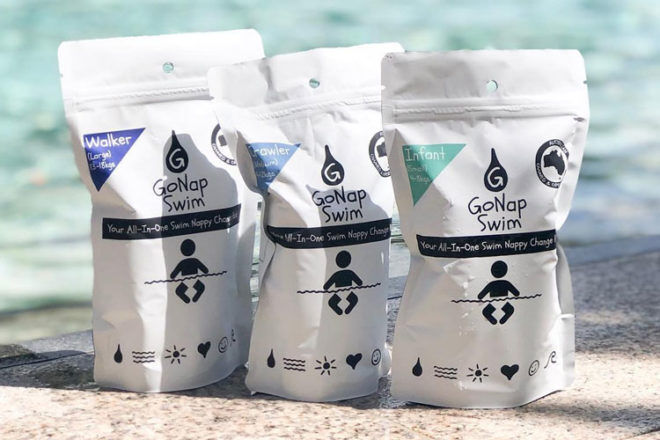 It's not just a swim nappy, it's an environmentally friendly change pack! These little pouches of convenience contain a swim nappy, fragrance-free wipes and a change mat. Plus, you can bundle up used nappies into the pouch for easy disposal.

---
5. Bubblebubs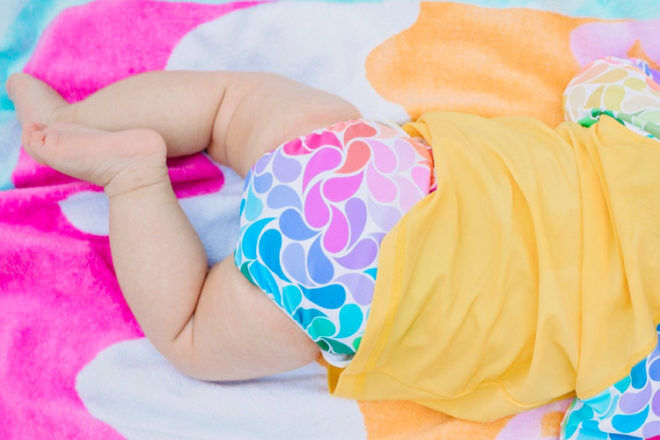 Created to avoid the dreaded 'smear' during change time, Droplets can be put on as pull-ups and removed by unsnapping the buttons. They can be purchased with a matching mini wet bag or with a matching rash vest for a seriously cute summer set.

---
6. Ina Swim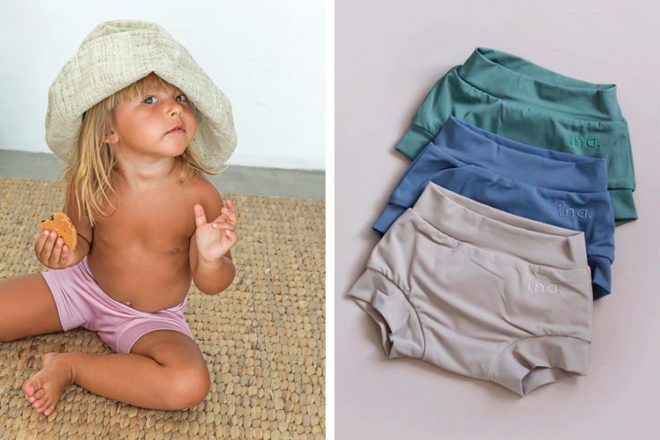 Coming in hot with four swoon-worthy shades on offer, these short-style threads are made from a recycled blend of nylon and elastane. The pull-up design makes dressing little ones a breeze and the snug fit around the legs helps prevent those unwanted leaks.

---
7. Baby BeeHinds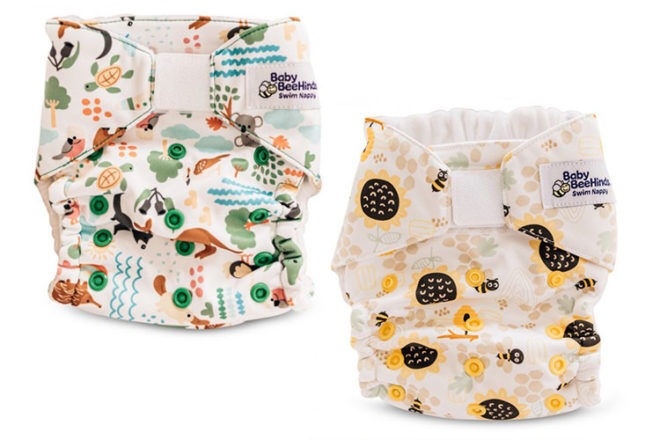 Thanks to a combination of Velcro tabs and snap buttons, these multi-award-winners are an absolute cinch to adjust to growing botties. They fit kiddos right up to 16kg, come in 13 unmissable styles and they can be paired up with matching wet bags.

---
8. Bambooty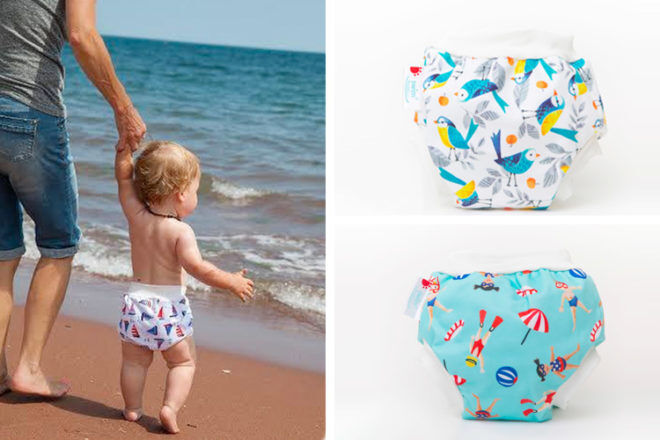 These pull-up swim nappies are UPF 50+ and lined with bamboo for the ultimate in comfort for your bubba. They come in four different sizes and over 20 fashion-forward styles – from stripes to strawberries. Good luck choosing!

---
9. Little Toggs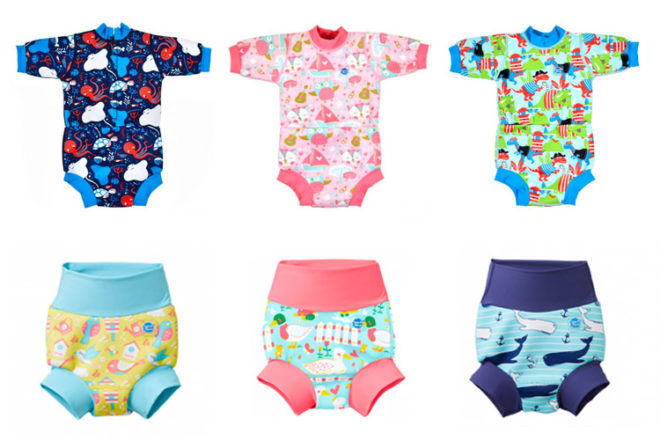 The Happy Nappy is the first ergonomic swim nappy ever created and it's making quite a splash among water-loving families. The patented design contains little accidents superbly and superior stretch provides the ultimate in comfort. These are UPF 50+ for all-day play.

---
10. Bare and Boho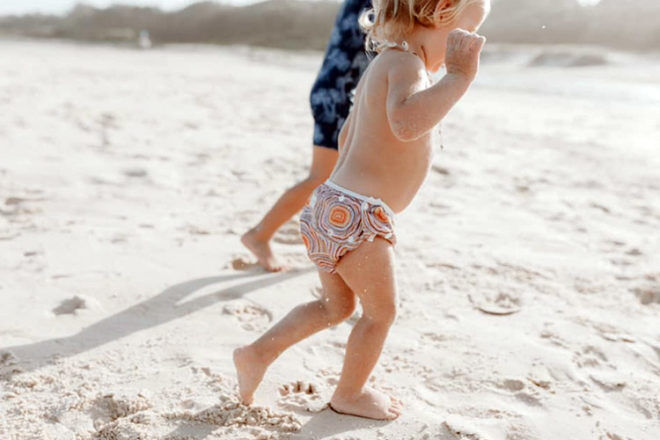 We have to admit, our hearts skipped a beat over these little stunners – and the fact that they come bundled with a large wet bag makes even more lovable. Lightweight and with a single gusset feature to contain number twos, they come in two sizes that cover littlies right up to 14kg.

---
11. i Play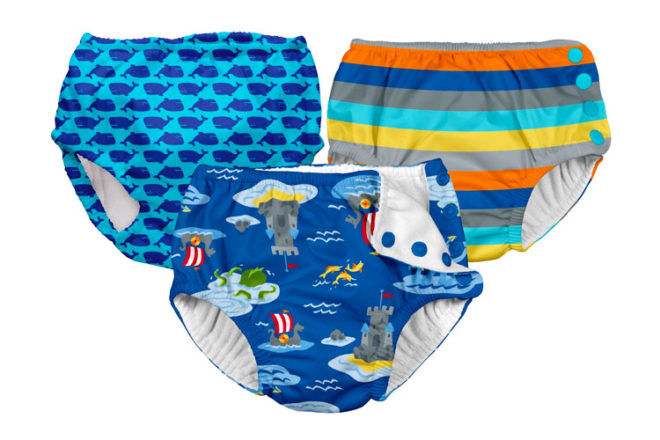 With a patented three-layer design these little life-savers keep embarrassing accidents away from the beach and the pool. Available in a rainbow of colours and playful patterns, the wicking liner helps prevent nappy rash while the snug-fitting outer layer keeps the nappy (and its contents) firmly in place.

---
This article is curated by our Editors and includes affiliates and/or paid inclusions. See our Disclosure Policy.
Know a brand of swim nappy we should add to our list? Contact us and let us know.
Read next …
Looking for more kiddie summer essentials? From beach towels to sun hats, here are a few articles that you might like to read next:
Continue your search for the best swim nappies
Looking for swim nappies and still not sure if any of these are right for you? Search online by jumping into one of our closed Baby groups and ask thousands of other Australian mums what they recommend – 'What to buy' is the most talked-about topic.
Click and join your group today!