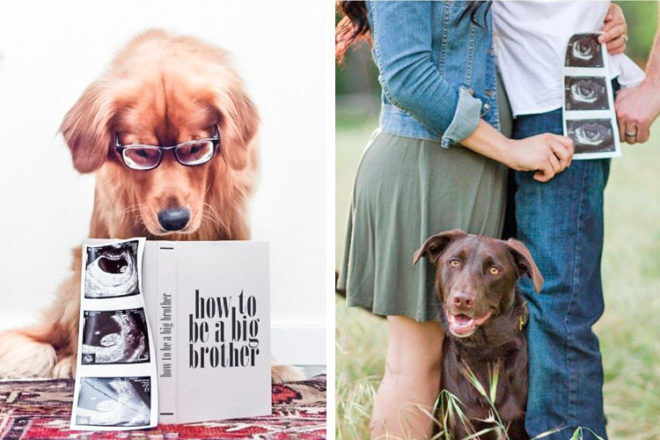 Having a baby and already a paw-rent to a furbaby? There's no cuter way to reveal your big news than doing a pregnancy announcement with your dog.
After all, your pooch pulled at those maternal instincts first and helped prepare you for the world of parenting, so it's only fitting that your pregnancy announcement includes your dog. From barking beautiful photos using first ultrasounds to chalkboard signs with clever captions, we've found the best pregnancy announcements featuring man's best friend.
Here are 28 dog pregnancy announcement ideas to get their tails wagging.
Puppy promotion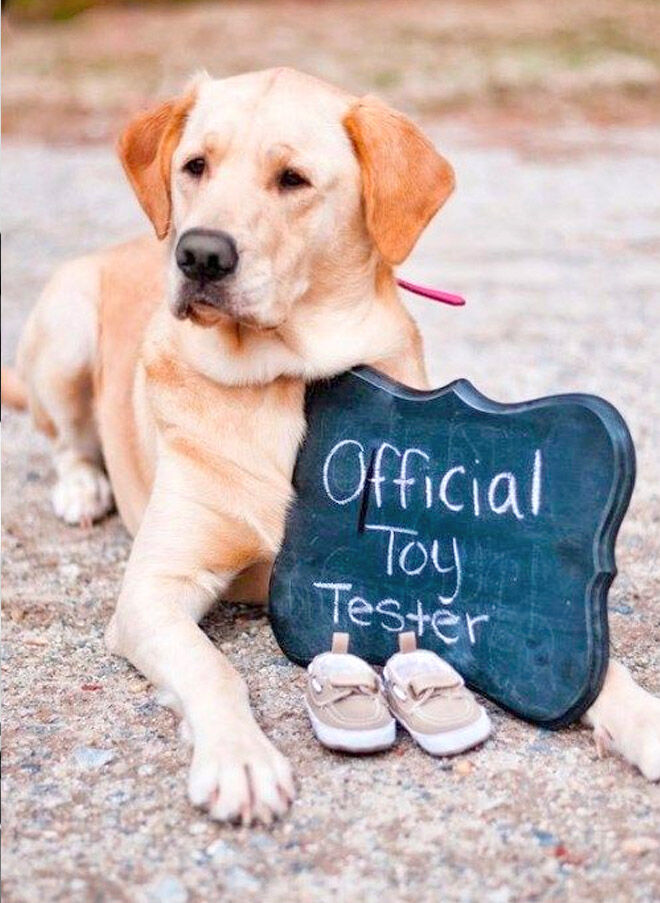 Oh hey, if you're new around here let me introduce myself. My paw-rents have promoted me to baby toy tester, and I'm taking this gig super seriously. (via Becoming His 31)
On the down-low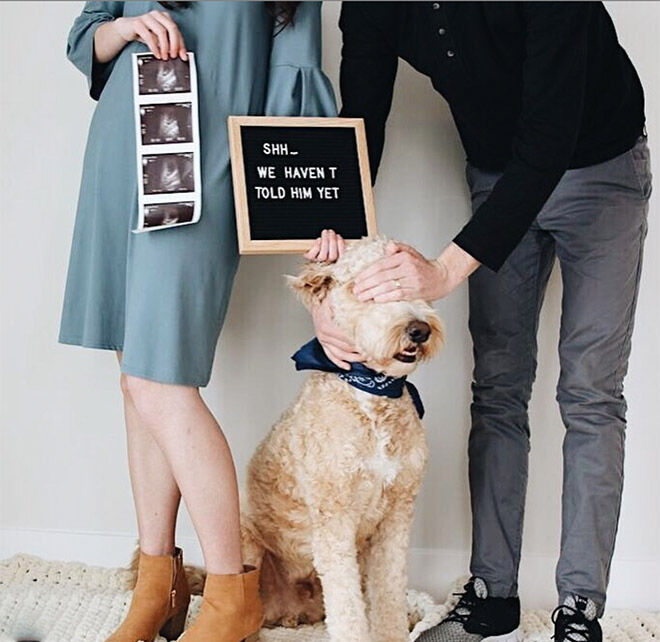 A sweet idea for spoilt fur babies who might take the news a little hard. (via Goldendoodle Gus)
I heart you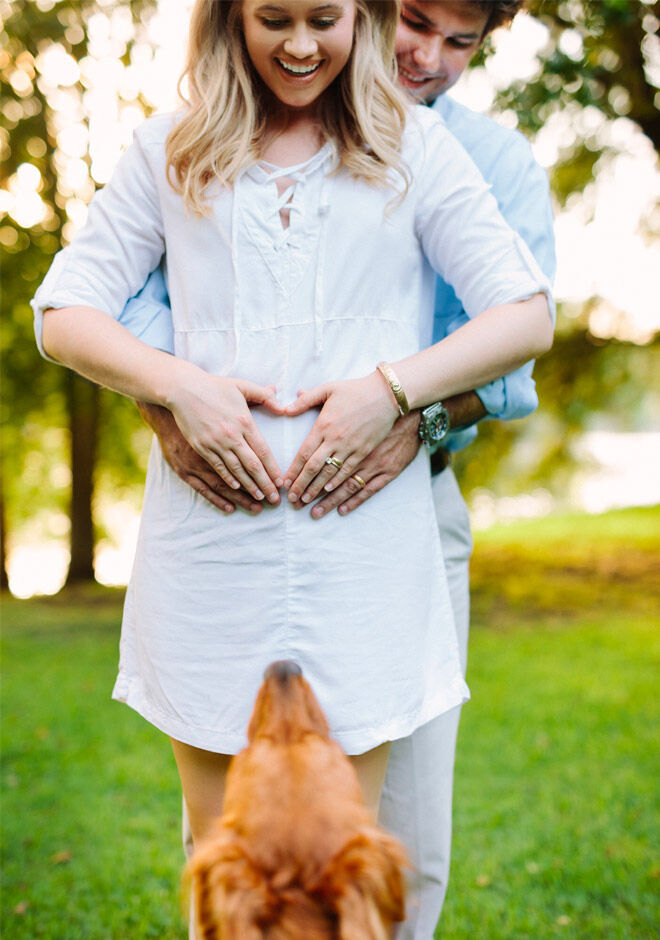 Perfectly placed heart hands and an obedient pooch equals adorable pregnancy announcement with a dog. (via Southern Tailwinds)
I'm a big deal around here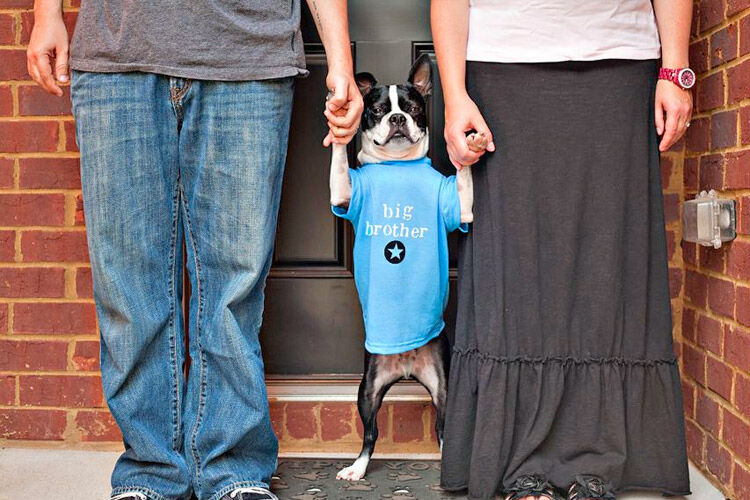 Who doesn't love a dog dressed in a sibling pregnancy announcement t-shirt? (via Neat O Rama)
Good dog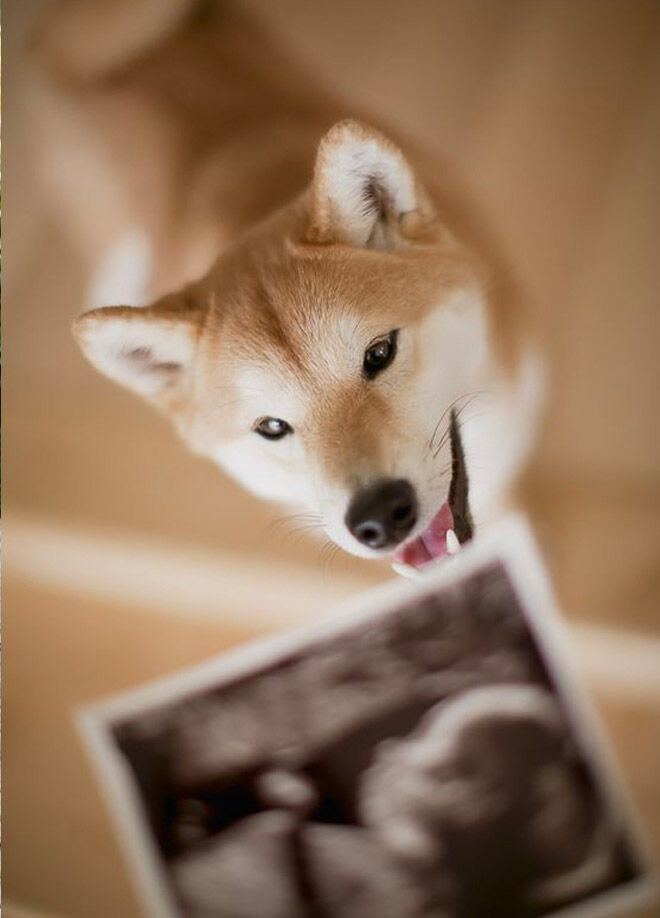 If you're handy with a camera and have an obedient pooch, this is a super simple but beautiful pregnancy announcement photo. (via Daily Dog Tag)
Who let the dogs out?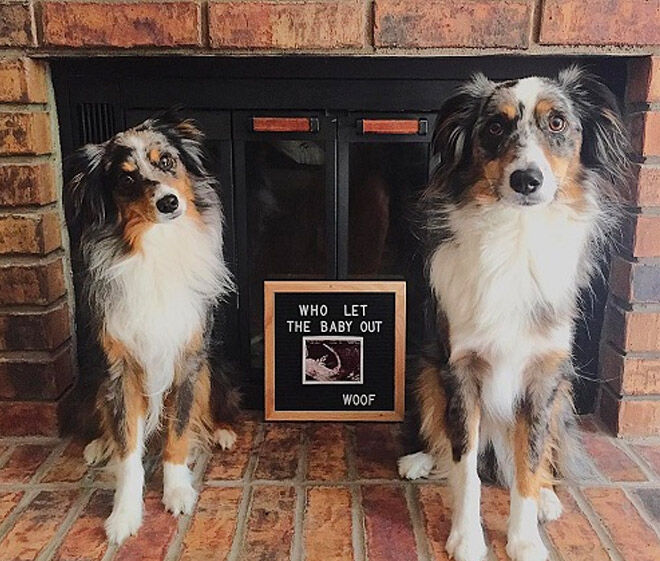 A letter board and your ultrasound is all you need for this cute announcement. (via Pinterest)
Go all out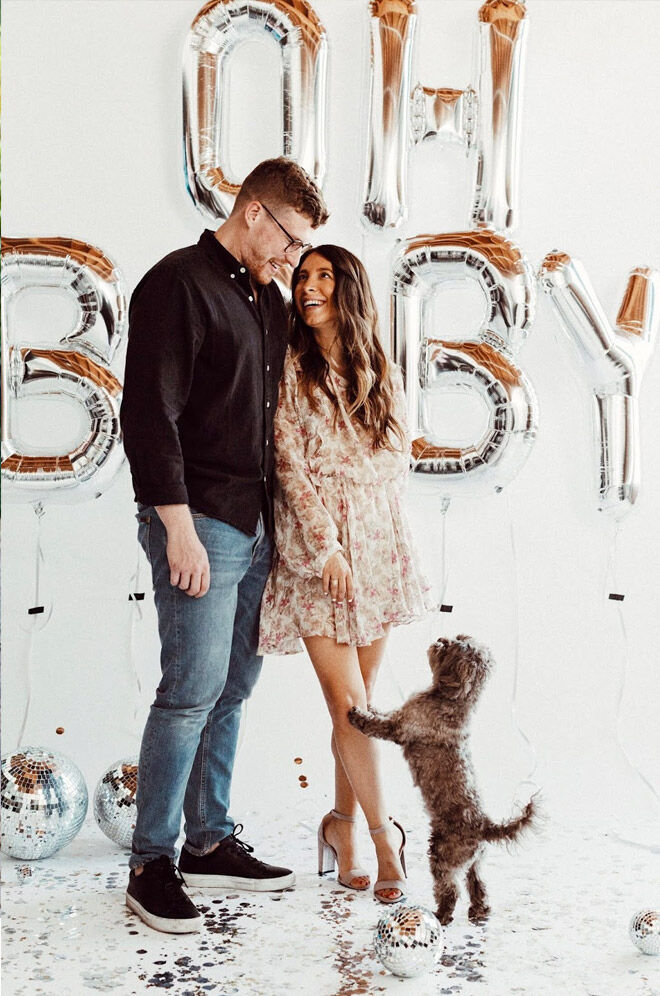 If you're going the whole hog with a professional pregnancy announcement photoshoot, why not include your fur baby as well? (via She Went West)
Paw-fect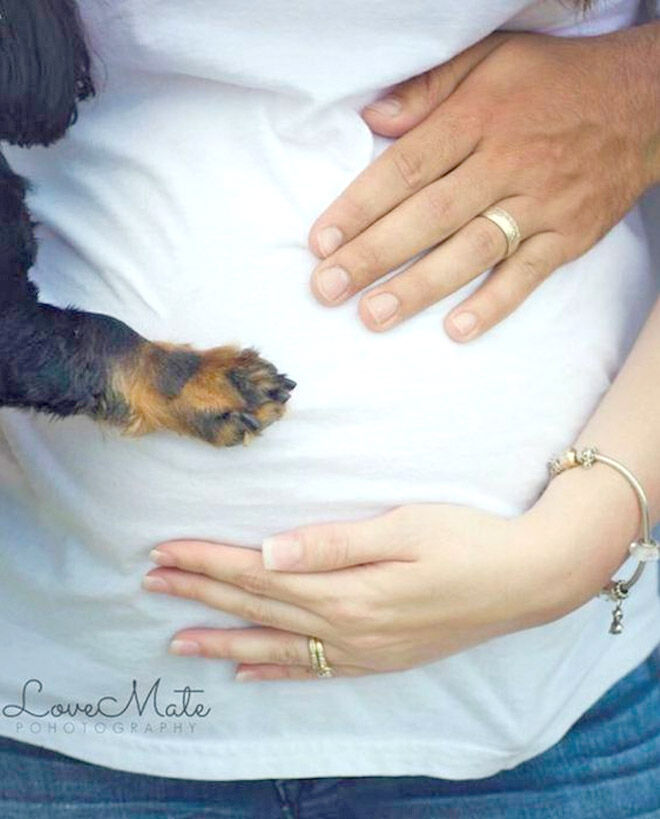 A gentle paw on a pregnant belly and all is revealed. (via LoveMate Photography)
Leader of the pack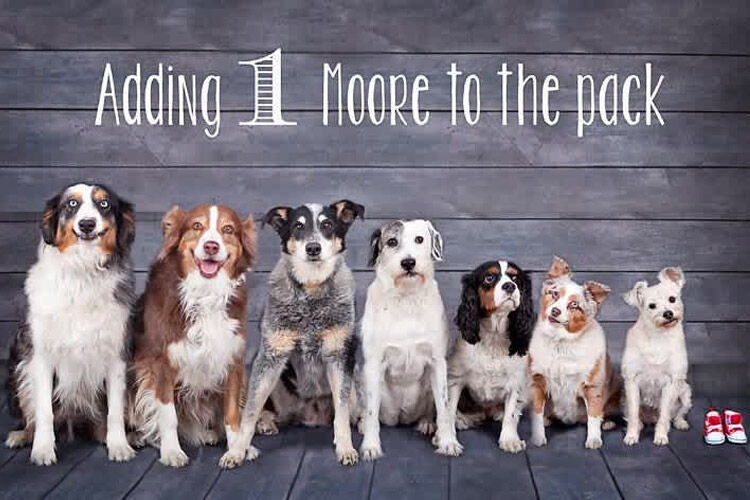 Gather your perfectly behaved pooches for a clever family announcement. (via Barkpost)
Sweet and simple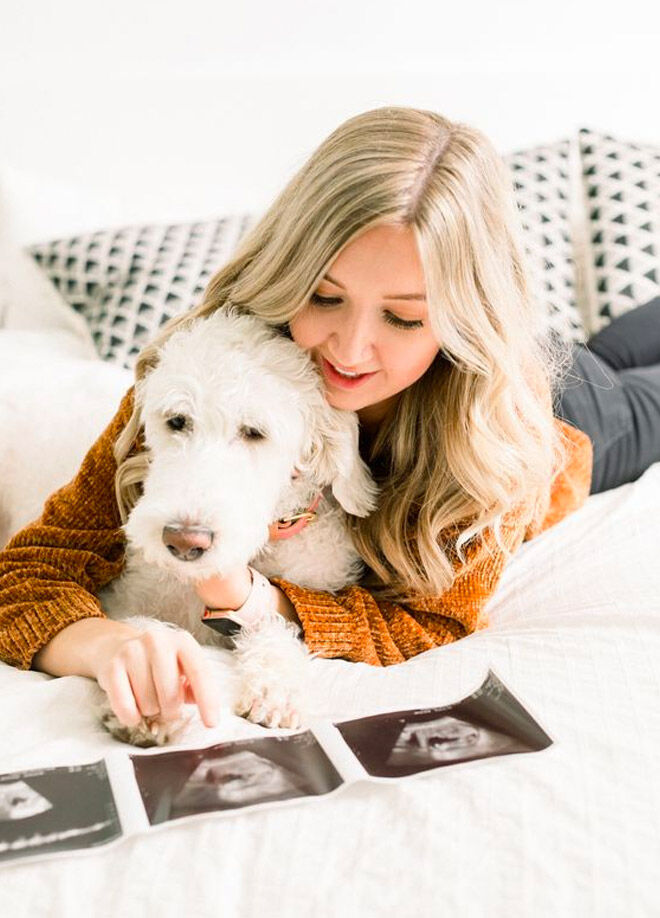 Have you ever seen a sweeter sibling pregnancy announcement? (via Whitney Hunt Photography)
Oh dear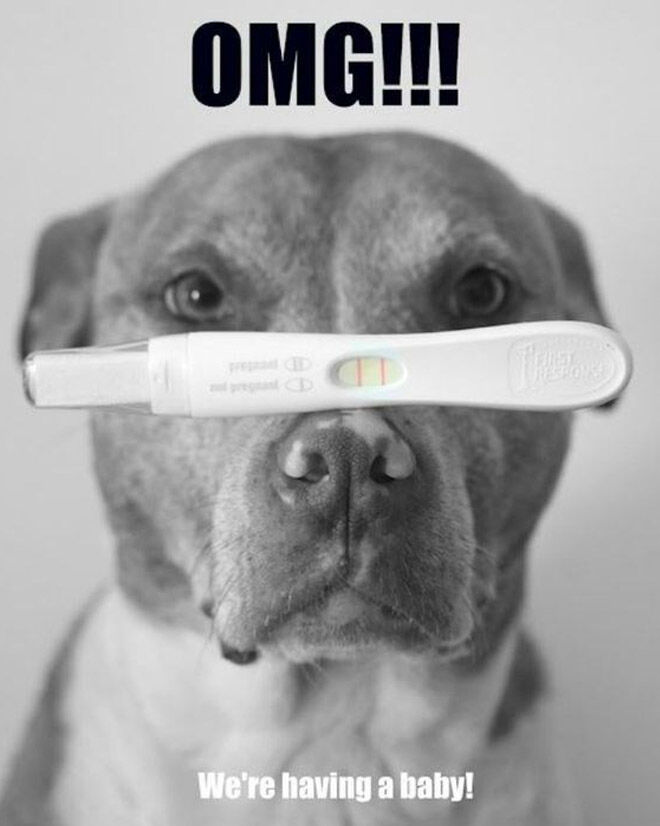 Ok, this guy doesn't look thrilled, but it all adds to the humour! If you've got a clever dog who does this balancing trick, you're sorted. (via Pinterest)
Read all about it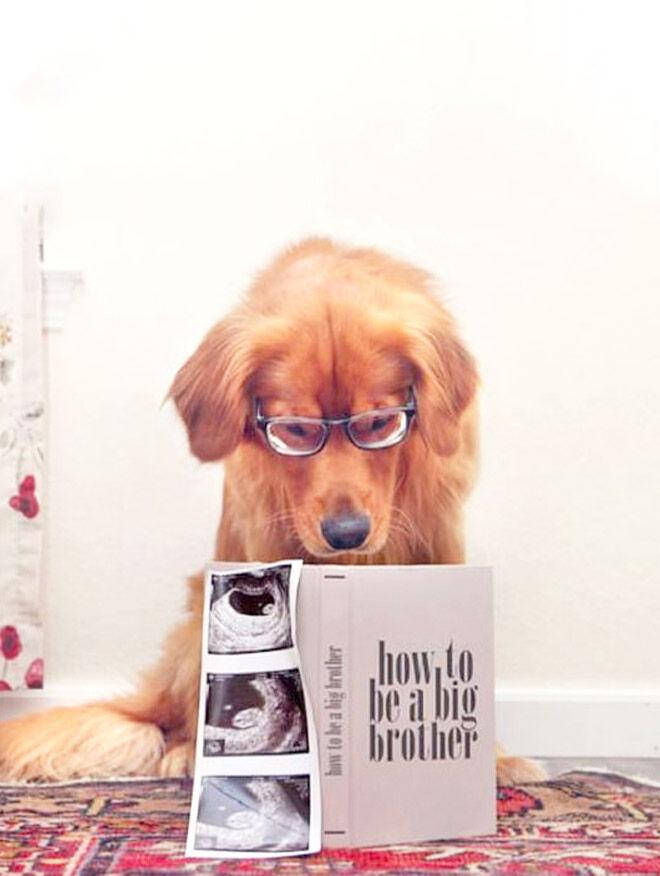 Such a gorgeous big sibling getting ready for a very important role. (via Pinterest)
Spell it out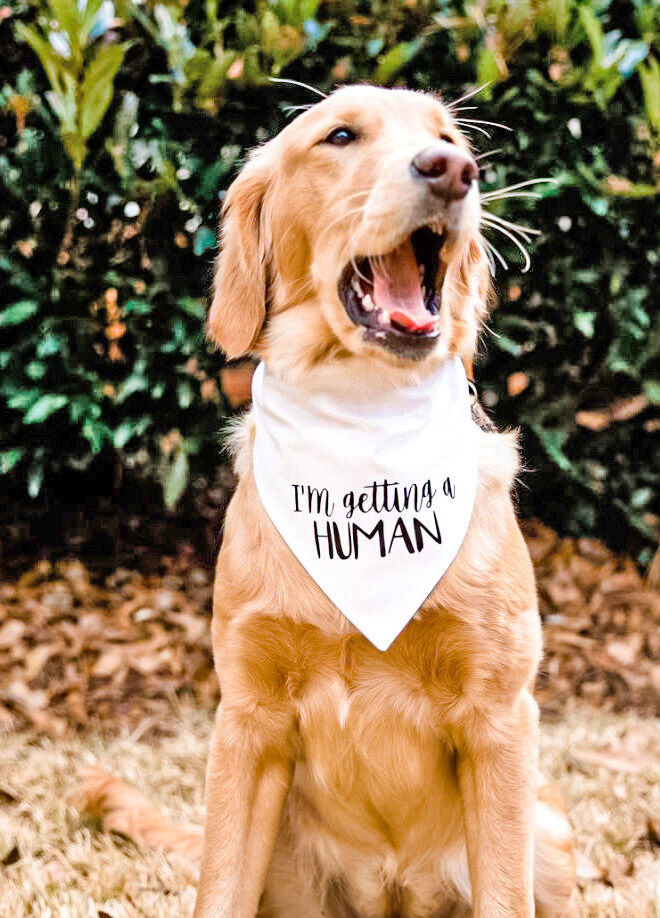 A handsome scarf that says it all. (via Etsy)
Snuggle buddy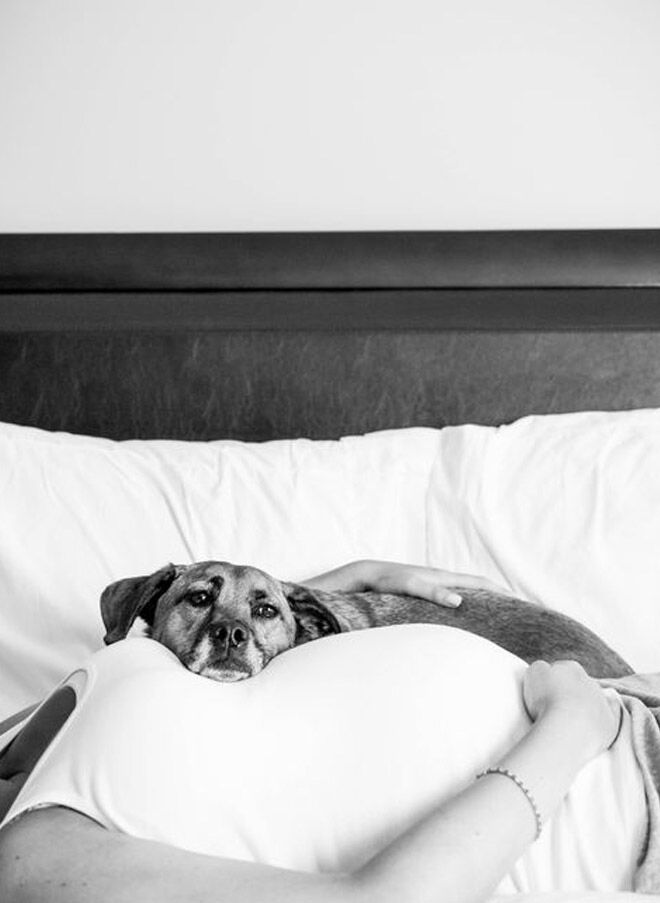 They say that dogs know we're pregnant before we do – they certainly love a preggy belly. (via Pinterest)
Peekaboo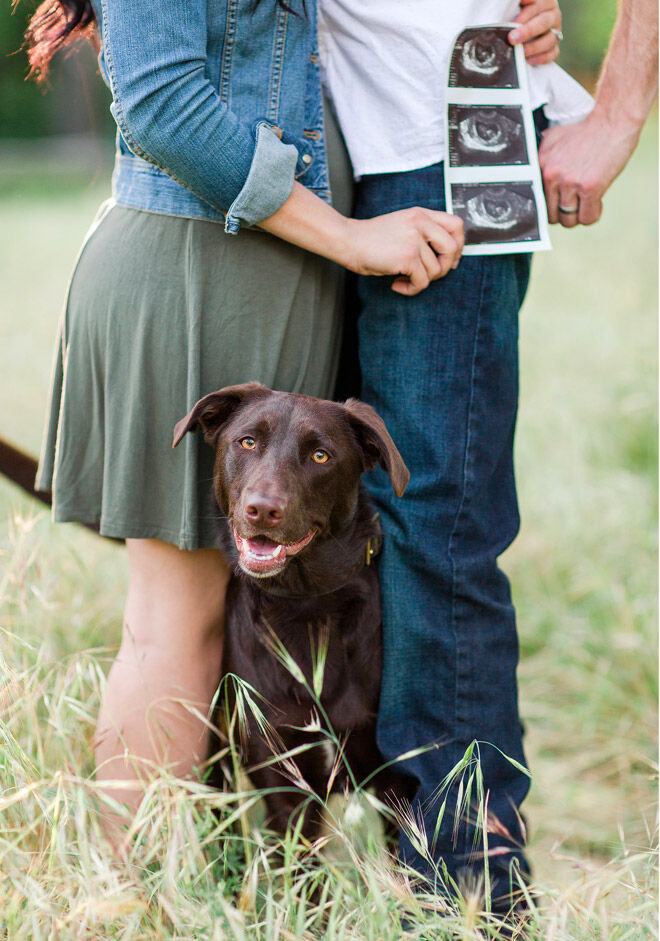 If you're getting professional pregnancy photos done, take along your dog and just wait until you see how beautiful the images are. (via Amber Enos Photography)
Study buddy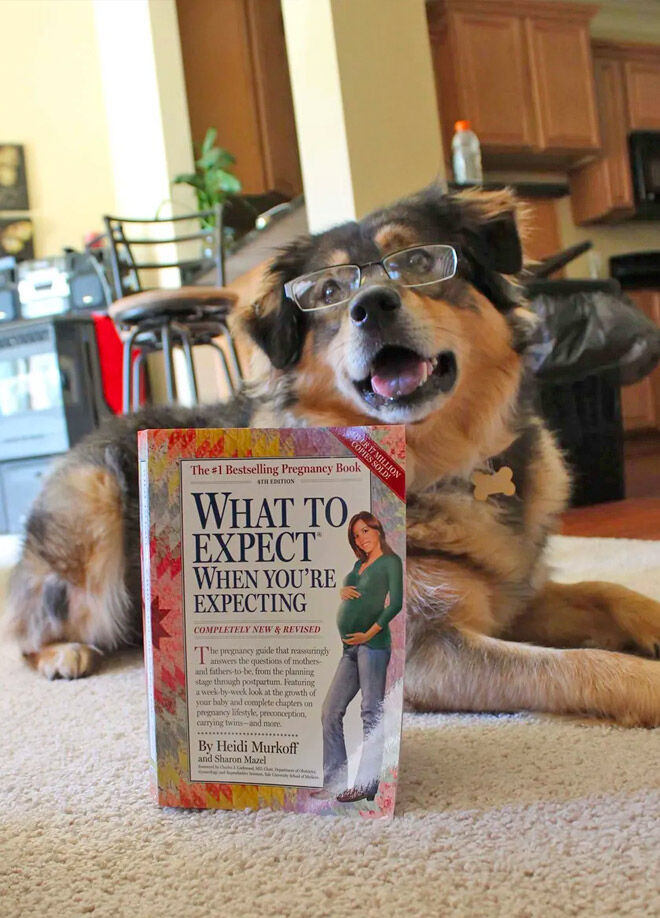 Mum and dad aren't the only ones learning here. (via Leslie Londre)
Puppy dog eyes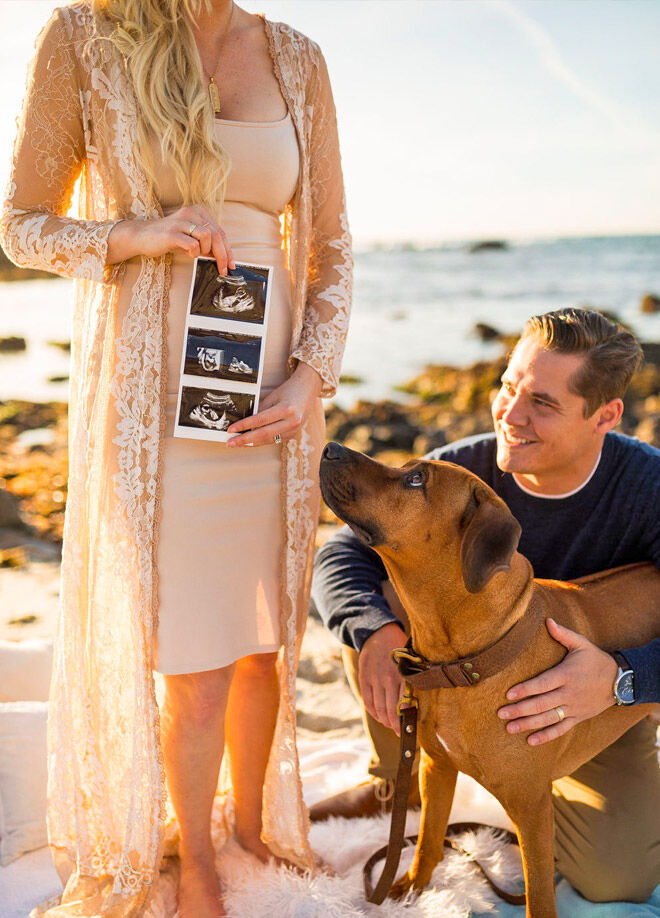 Those puppy dog eyes looking at the ultrasound images give us all the feels. (via The Glam Giraffe)
An extra set of paws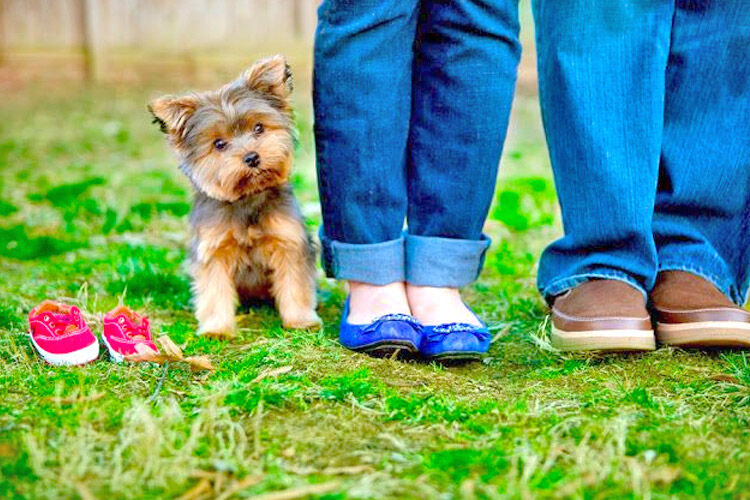 A doggy twist on one of our favourite pregnancy announcement photos. (via Michelle Vantine Photography)
Celebrate good times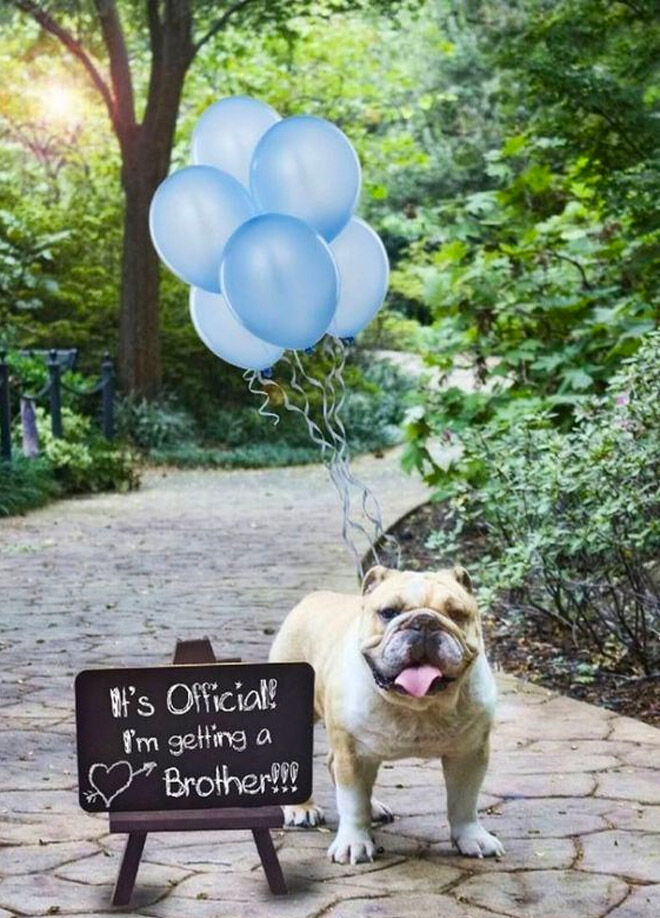 How happy does this big guy look to be getting a sibling?! (via Pinterest)
It's a …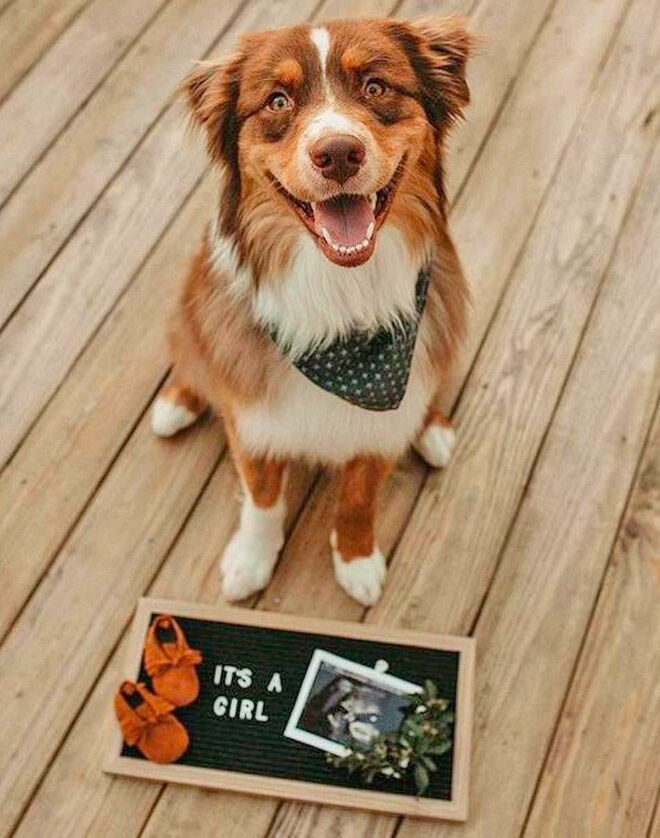 Combine a pregnancy announcement and gender reveal with a cute pic of your dog 'smiling' and you have a social media sensation. (via The Aussie Maui)
Surprise!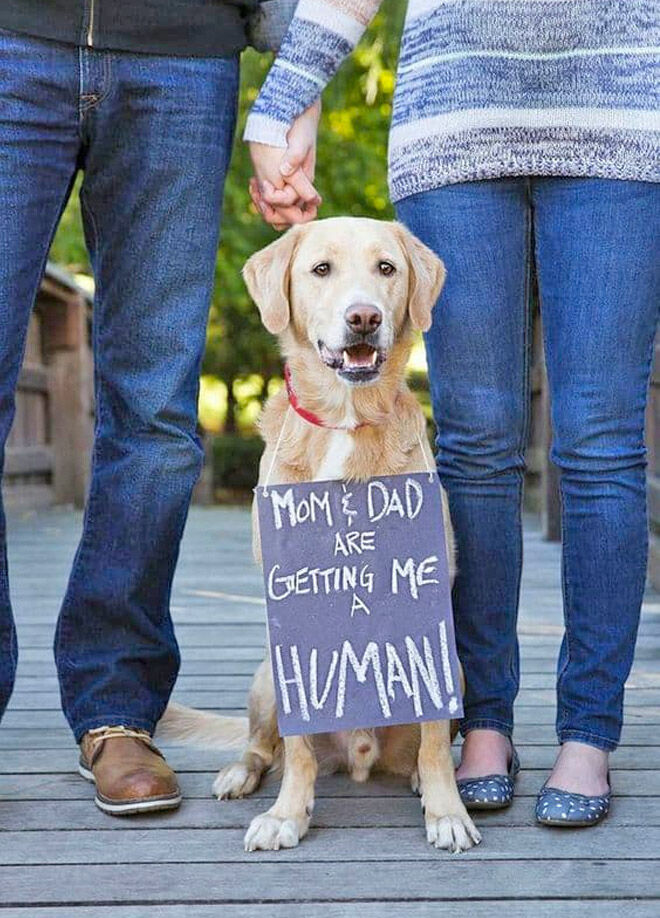 If dogs could talk, we're sure this is what they'd say. (via Pinterest)
Besties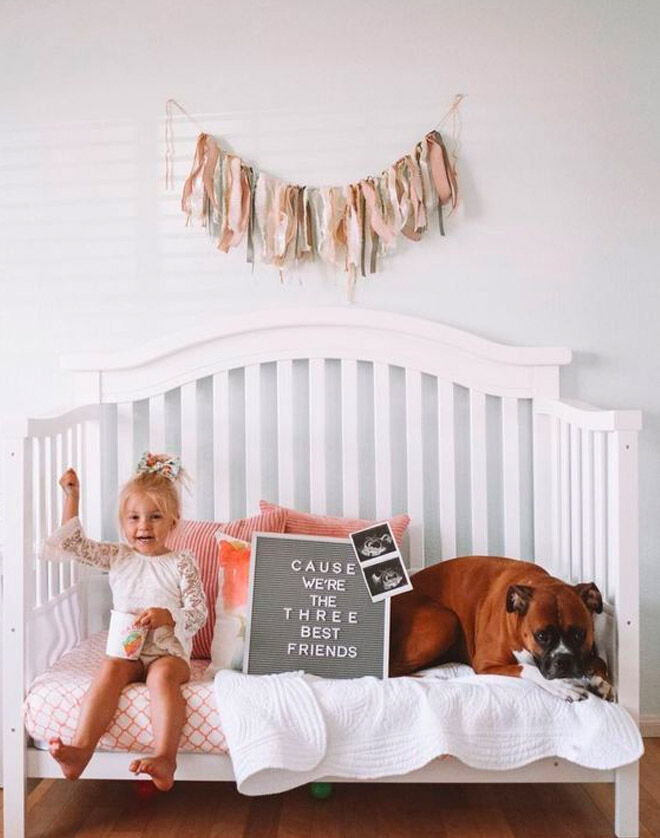 Because every sibling needs to be included. (via The Overwhelmed Mommy)
Heart breaker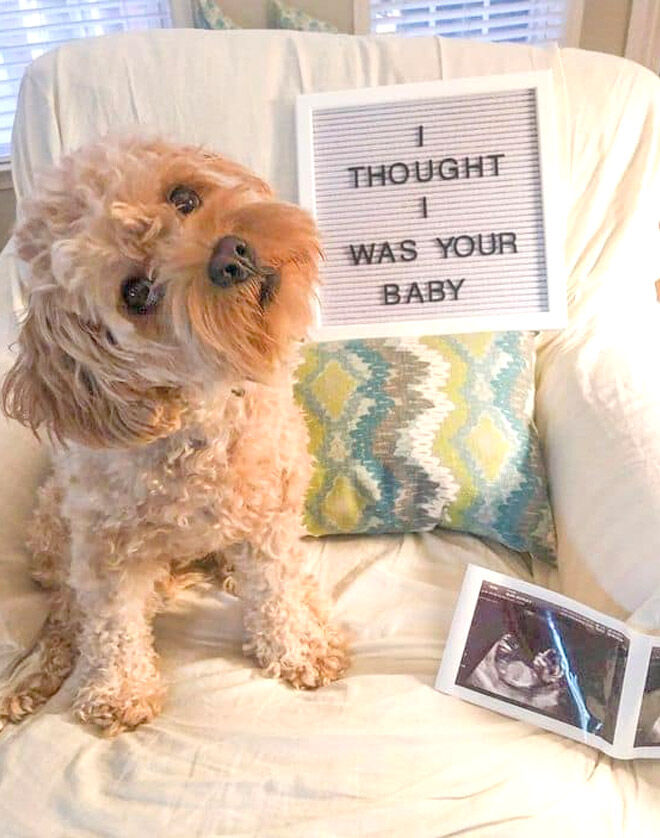 Don't worry, she'll get used to the idea. (via Pinterest)
Things are looking up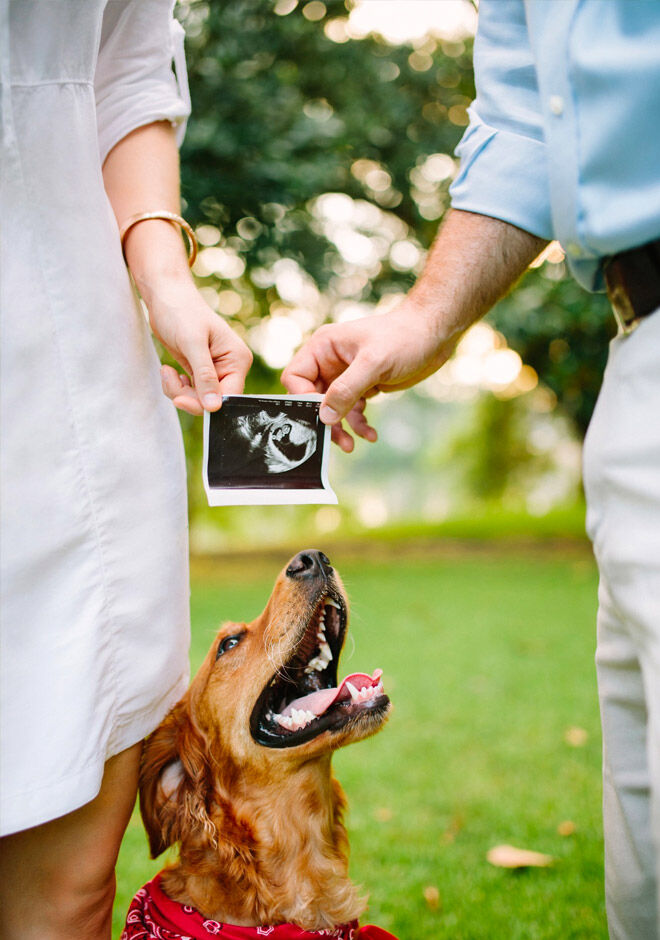 Just pop a treat up high and you'll get the perfect look from your pooch for this shot. (via Southern Tailwinds)
On guard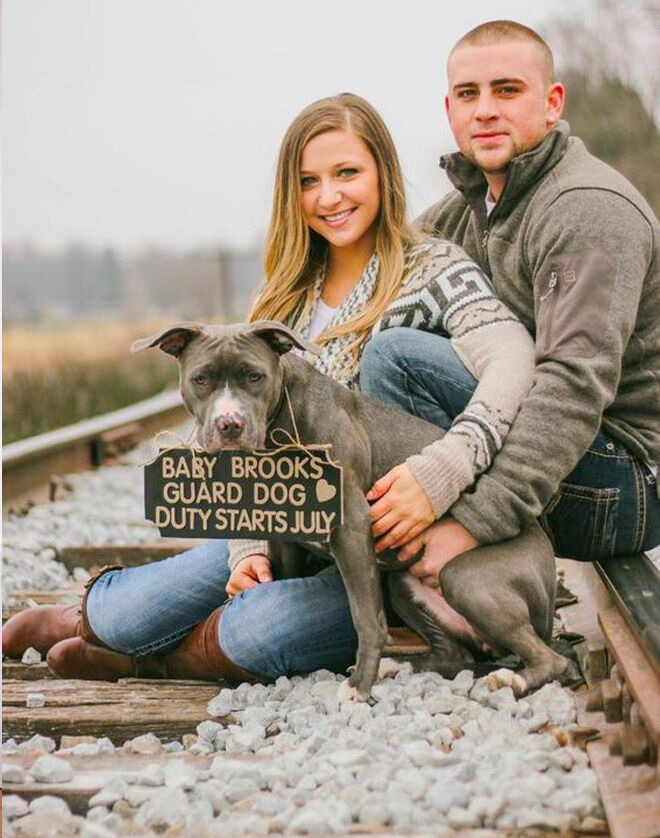 Because every baby should have a personal guard dog, right?! (via Bringing Up Brooks)
Off the leash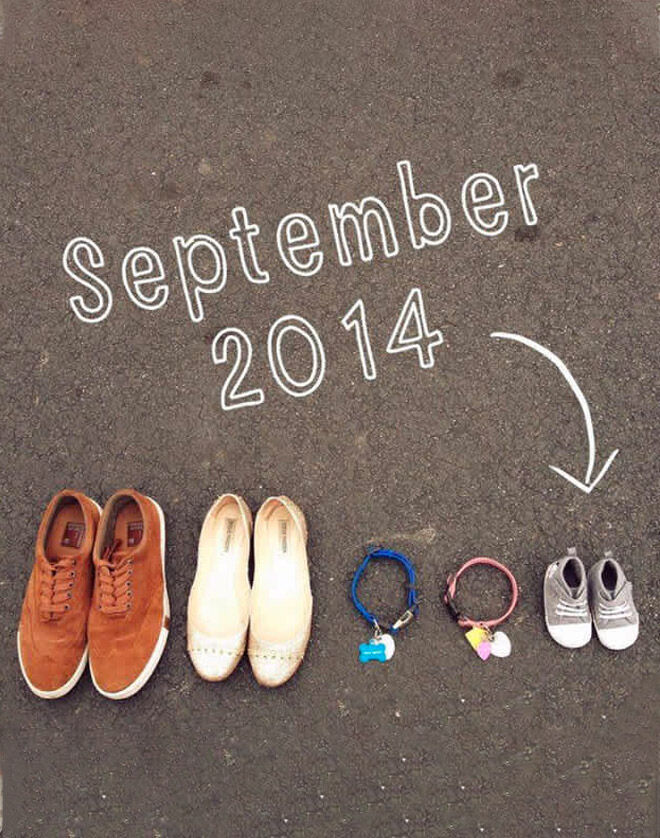 Simple, sweet and says everything. (via Pinterest)
Puppy love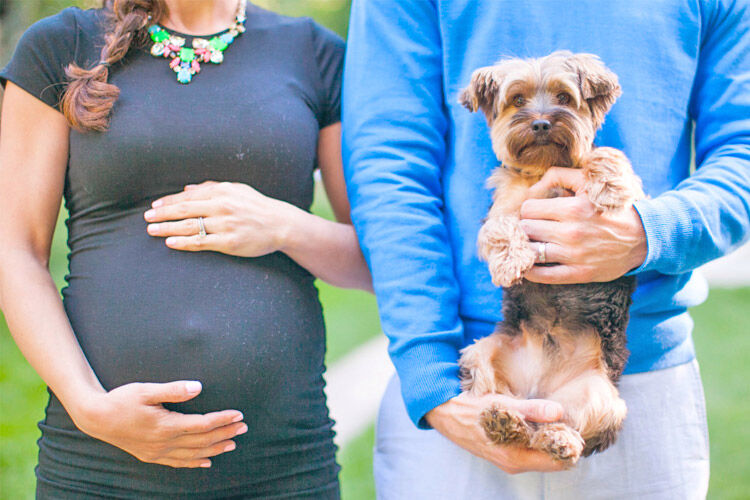 When your dog is this sublime, how could you not include them in your pregnancy announcement? (via Meg Perotti)
Promotion time!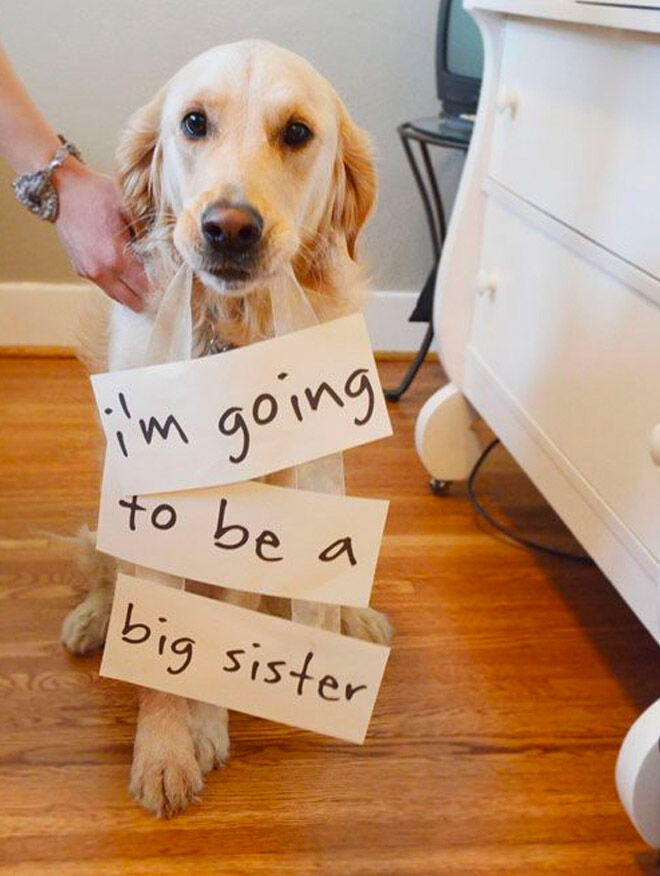 Get crafty and snap-happy, and your pregnancy announcement is sorted. (via Pinterest)
Read next …
Looking for more unique ways to announce your pregnancy to family and friends? Head to these articles next: