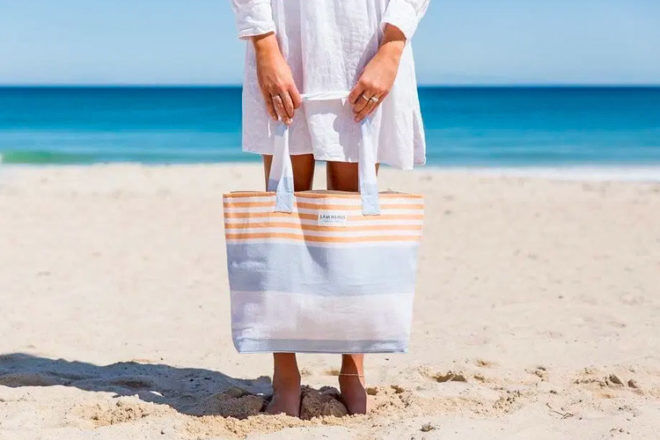 It's a well-known fact that us mums need a big bag when it's time to hit the beach. Big enough to carry not just our own stuff, but everyone else's too. And as much as we love the warmer weather, summer brings with it a few more daily essentials that need to come along for the ride. We're talking water bottles, sunscreen, sun hats for the kids… the list goes on.
While your everyday tote or nappy bag may do the trick as a beach bag, exposure to sand and saltwater can cause stains and even worse, permanent damage. To avoid losing your favourite bag to the elements, we've scoured the web in search of the best beach bags for mums and their tribe of sun-kissed kids.
What to look for when buying a beach bag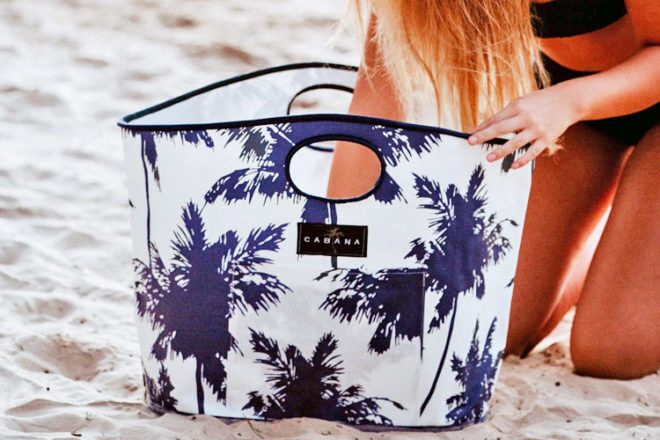 Here are some of the key features to look for when buying a bag for the beach:
Size: The list of 'beach essentials' is a big one. From hooded towels and kids swimmers to beach toys and sunscreen – look for a beach bag that's big enough to store everything, and sturdy enough to carry the load.
Fabric: Drenched towels and soaked-through swimmers sometimes create even more mess. Waterproof or water-resistant beach bags are designed to withstand the numerous trips to and from the waves. They may be a little more pricey, but the investment will save you money in the long run.
Fixings: Sand has a tendency to get into everything, despite our best efforts. Avoid taking half the beach home by buying a bag that has zipper pockets for valuables or one that zips completely closed.
---
21 chic beach bags for summer
To help you find the best beach bag for you and the fam, we've put together this handy list of brands to get you started in your search. In no particular order, they are:
Adairs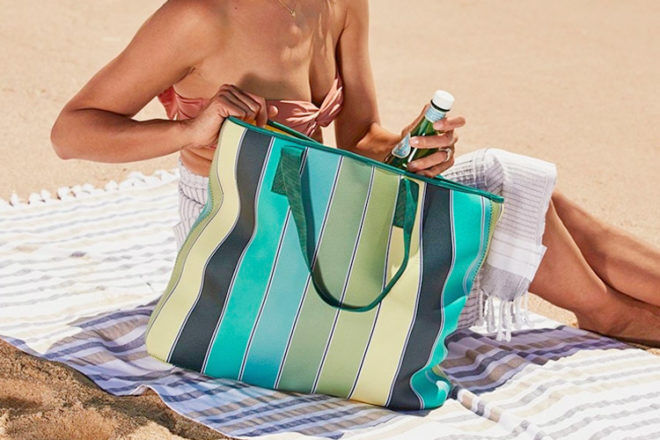 With a detachable zip pouch hidden inside for wet bathers, keys or your phone, this neoprene beach bag is as functional as it is fashion-forward. We just can't get enough of those aqua and sand-inspired stripes!
---
Sunnylife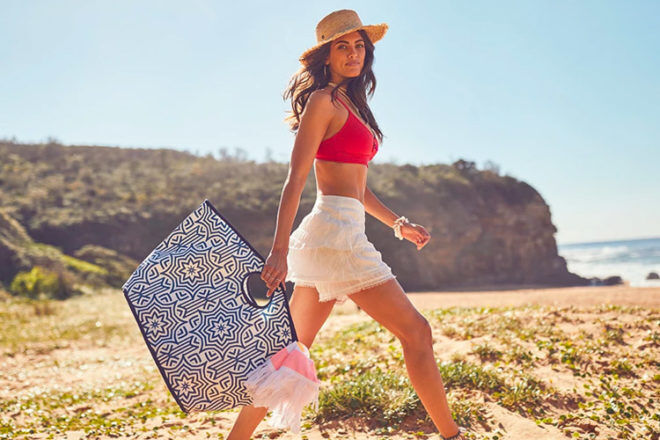 Known and loved for their fun and funky take on summer accessories, the carryall beach bag from Sunnylife does not disappoint. Available in three tropical prints, load the super-sized bags with up to 7KG of beach toys, snacks and snorkels then head straight to the sand dunes.
---
Project Ten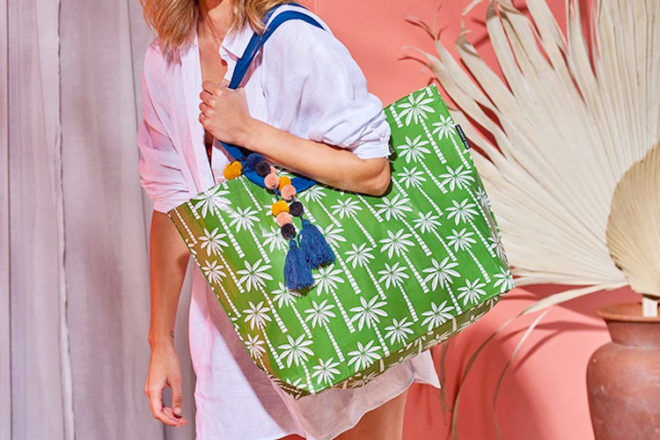 Practical is always pretty with Project Ten's gorgeous range of beach totes and bags. Big enough for everything the family needs, simply fold the giant tote down to A4 size when not in use. And did we mention they're made from recycled plastic? A great beach bag for mum and Mother-Earth.
---
Sammimis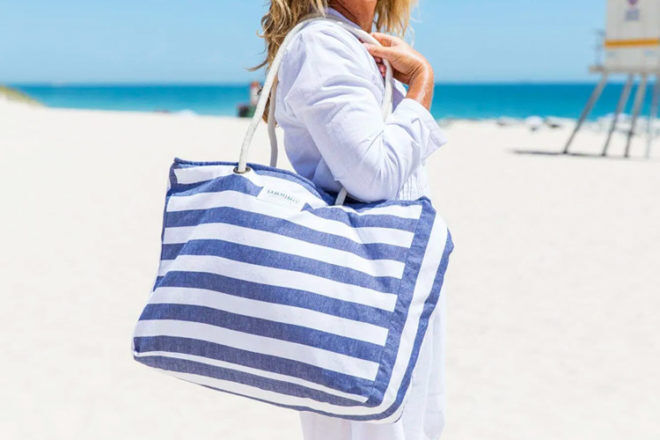 The sailor stripe can do no wrong. Made from 100% Turkish cotton with a water-repellent lining, these classic beach bags are designed to withstand the wear and tear of summer trips, all while complimenting mum's beach style. Love!
---
Cabana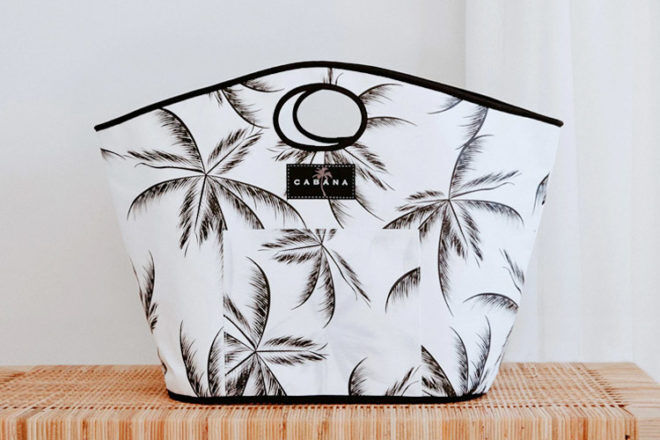 Generous enough to carry the fam bam's essentials, this luxe waterproof tote holds up to 10kg thanks to the reinforced binding. Made for hours spent playing by the waves, it's self-standing, so you can leave the bag in the sand knowing it will be right where you left it when you return.
---
Bambury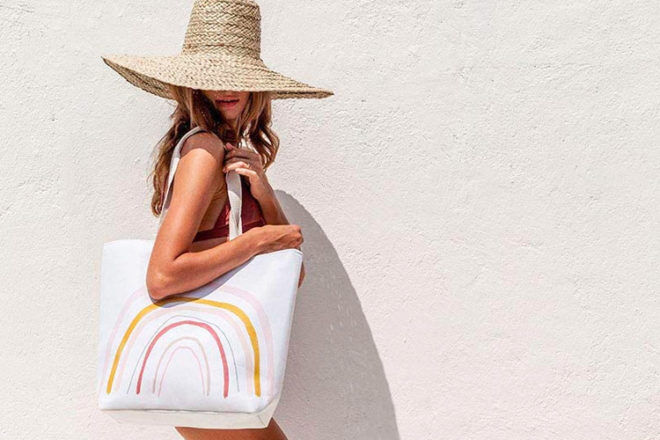 It's the design trend that keeps on giving. We love everything about this muted rainbow tote – the simple design, the large strong handles and the pocket inside for keeping valuables sand-free and out of reach.
---
Sans Arcidet Paris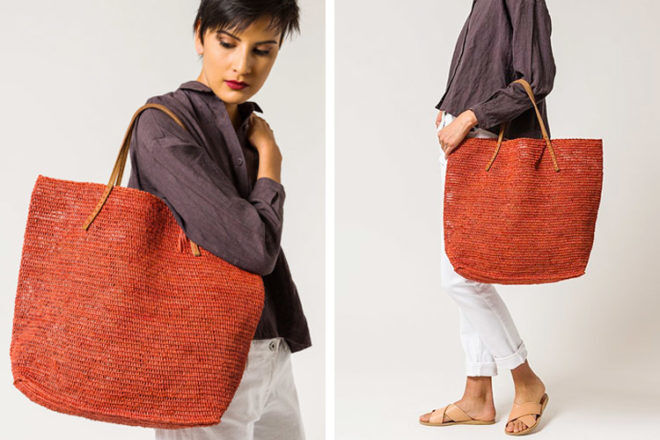 Handmade on the African island of Madagascar, this divine beach tote has a structured base to keep it's shape and leather handles for a super-strong hold. Woven from natural fibres, it will blend in beautifully surrounded by the seaside.
---
SIX30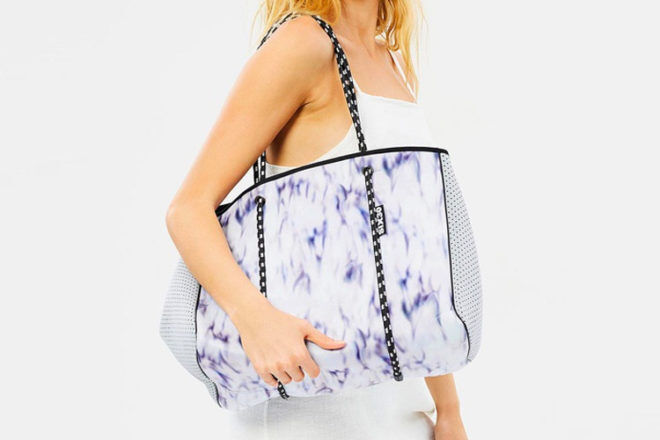 It's the bag that can go from business to the beach and back again. A board in the base helps it to sit on the sand and integrated side piping gives the bag extra strength. Made from neoprene fabric, this tote is durable, lightweight and strong – a winning combination for a day of fun in the sun.
---
Chuchka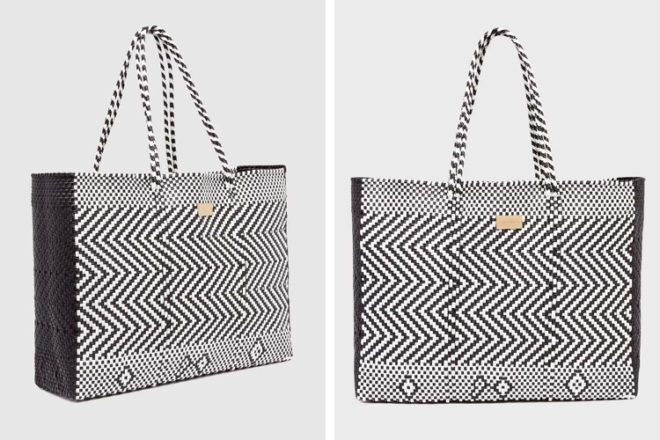 Be summer-ready with the vibrant bags by Chuchka. Hand-woven in Mexico using recycled plastic, these eye-catching bags are sturdy, waterproof and sure to stand out in the sand. Available in two colourways.
---
Cotton On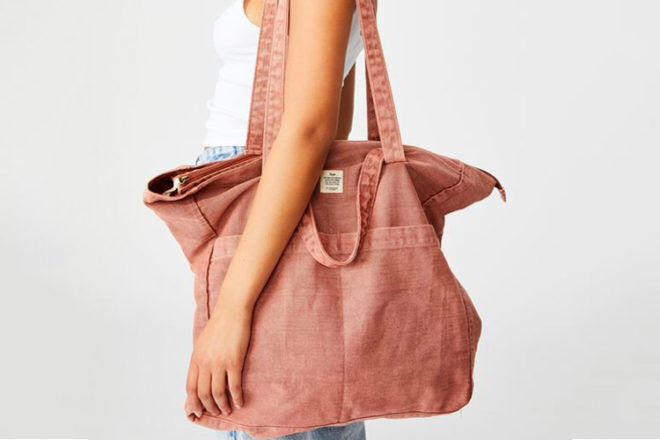 The new Studio Tote from Cotton On is casual cool at it's best. Available in four neutral tones – driftwood, nude pink, natural and rust, there's pockets for days and a double strap feature for shoulder or hand-held carrying.
---
Gorman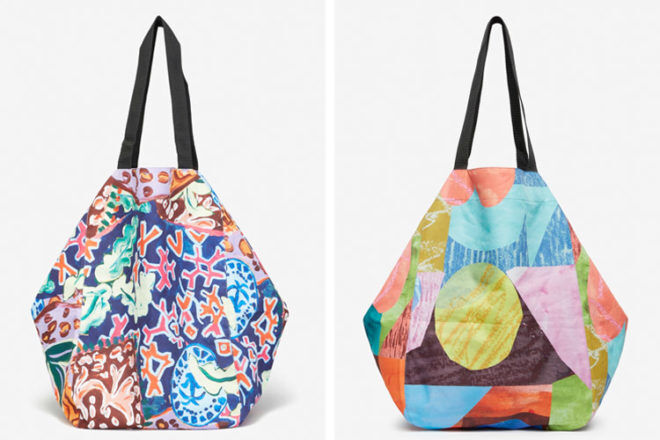 Stand out on a crowded beach with the striking tote bags from Gorman. Boasting water-resistant fabric, these roomy bags can be folded inward to create an alternate shape.
---
Mary and Marie
This bag isn't just big, it's beautiful too. The oversized beach tote has strong cotton handles to help you carry your load, a neoprene water bottle holder, see-through mesh pockets and a handy clip for your keys. It's a seriously clever beach bag.
---
Nanu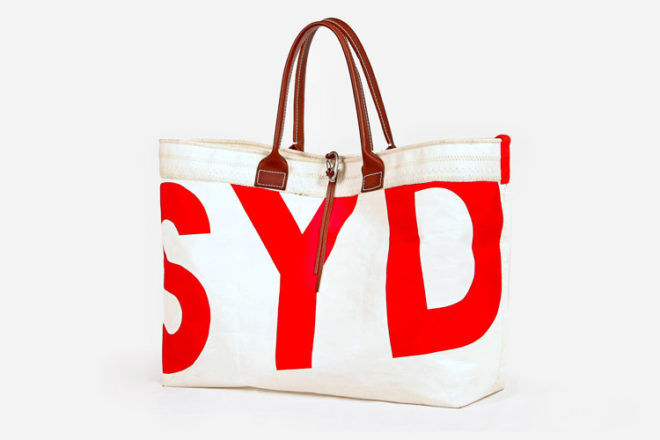 Made from sailcloth fabric, these family-sized beach bags are brilliant for whatever the day brings. They're sturdy, strong and simple to clean – a must for mums with the kids in tow. Featuring three inner pockets for personal belongings, a bottle holder and solid leather handles, it's got you well and truly covered.
---
Collective Sol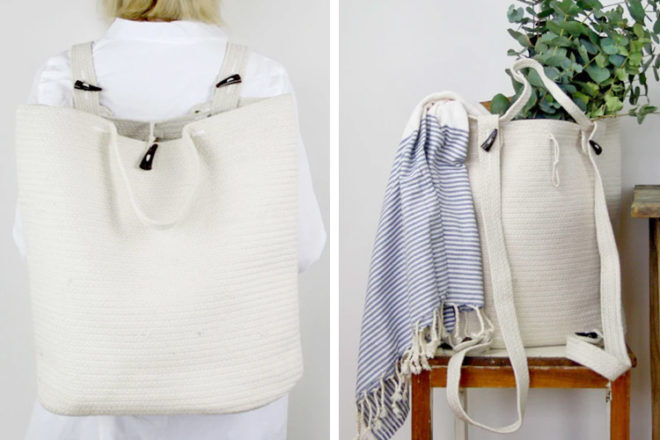 Ideal for weekends spent by the waves, this multi-way backpack is made from 100% cotton rope for boho-beachy vibes. Wear as a backpack or carry as a tote – with a 31-litre capacity, it's roomy enough for everything you and the rascals need.
---
Wouf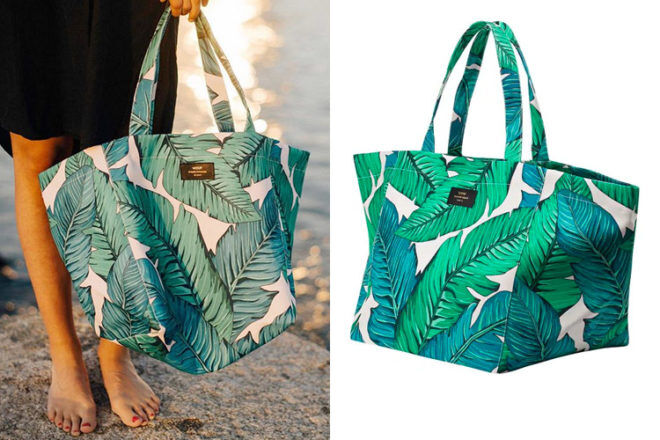 Don't let this beach tote fool you – she's built for carrying bucket-loads of stuff. Made in Spain from highly durable canvas and printed with eco-inks to minimise the impact on the environment, look and feel great flaunting this at the beach.
---
Lipault Paris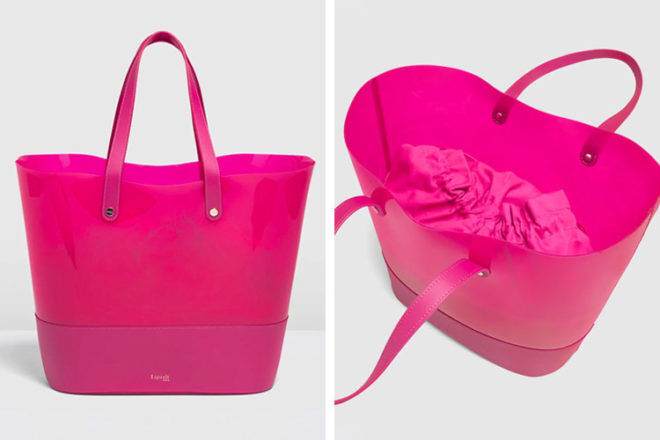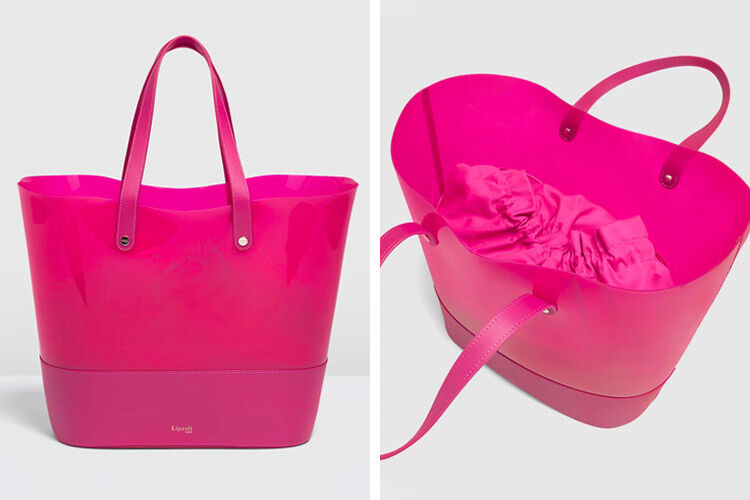 A brilliantly bright bag that's as cute as it is clever. The transparent main compartment makes finding things in a flash easy as can be and an inner fabric dust bag (with adjustable drawstring) keeps everything else safe from splashes and sun damage.
---
MB Collective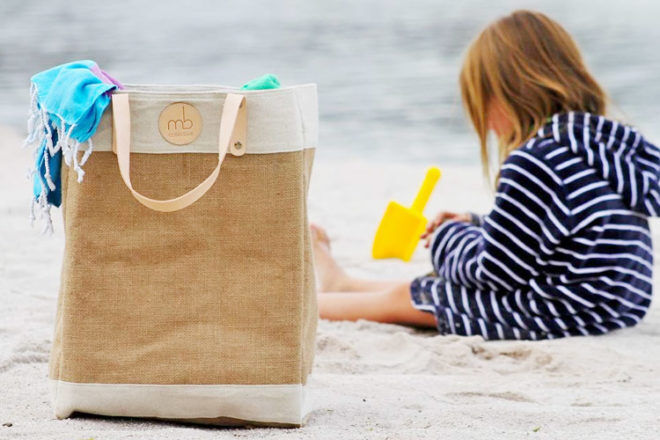 A perfect companion for sun-drenched days out with the kids. These natural beach totes are made from 100% jute with genuine leather handles. Deceptively big, each tote is individually numbered to show it's uniqueness.
---
Coastal Bag Co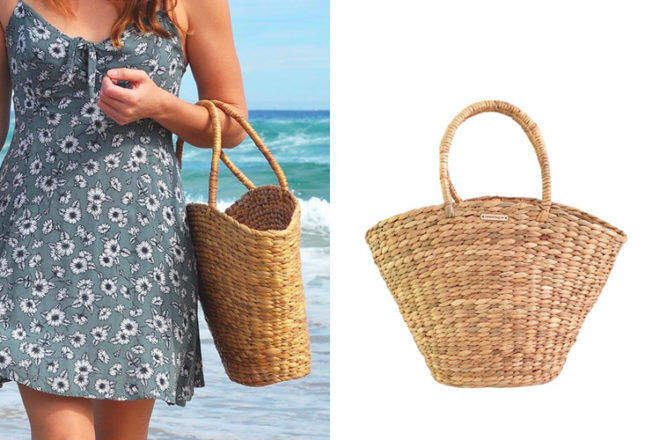 Handcrafted from 100% water hyacinth, this sturdy beach bag sits upright, saving you from those dreaded spills and scrambling to find your stuff in the sand.
---
Lazy Dayz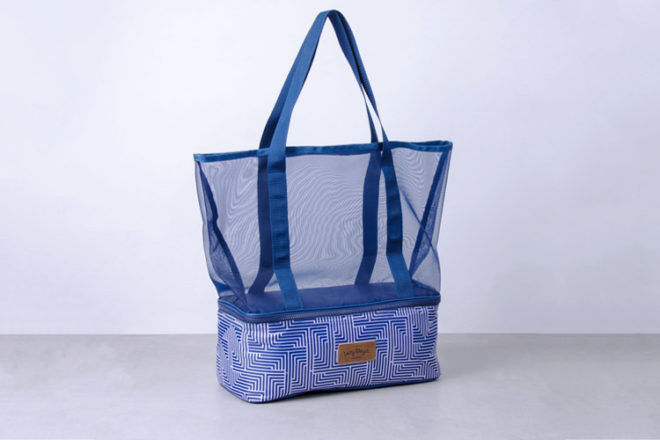 It's a party at the top and business down the bottom with this ingenious tote. The breathable mesh bag keeps beach essentials in sight and the cooler bag below ensures drinks and nibbles stay nice and cold while you enjoy some time in the sun.
---
Rains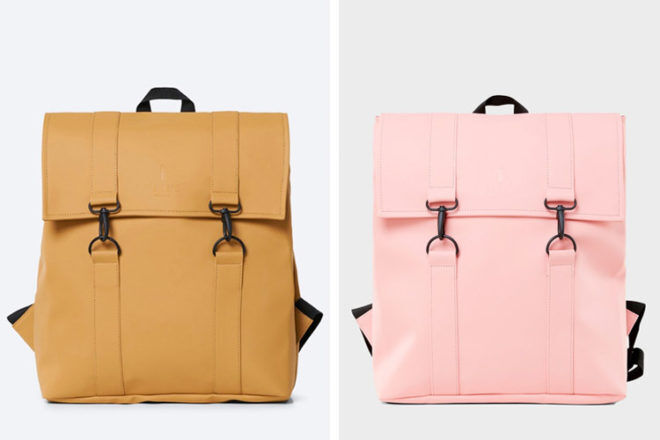 Crafted from lightweight, waterproof material, the colourful backpacks and tote bags from Rains are ideal for long summer days along the foreshore. Combining the traditional school backpack design with modern aesthetics, the result is a functional bag with effortless style. Did we mention there are mini versions for the kids too? Love!
---
Recolab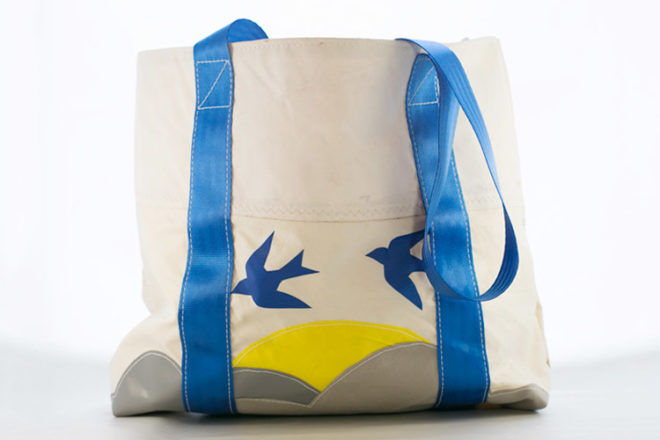 The beach bags from Recolab have a lining made from ripstop tent fabric and double-stitched seams to ensure they last. With strong straps wrapping the outer of the bag, this baby can hold as much weight as you can. Now that's handy!
---
This article is curated by our Editors and includes affiliates and/or paid inclusions. See our Disclosure Policy.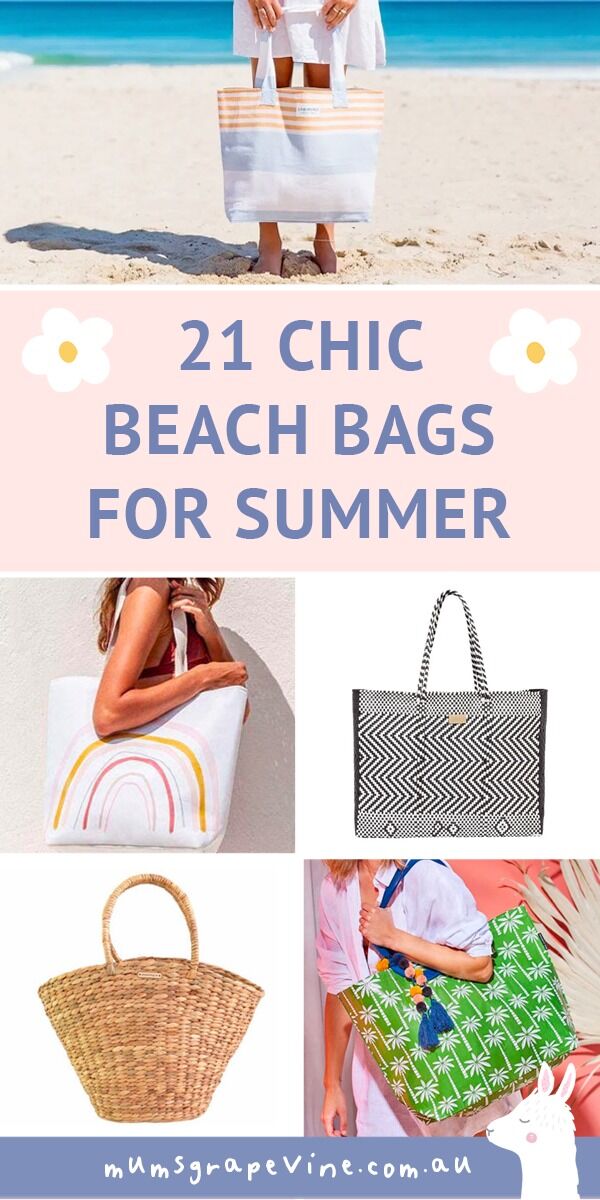 Know a brand of beach bags we should add to our list? Contact us and let us know.
Read next …
Looking for more must-haves for summer? From sun hats to keep the kids covered to comfortable swimsuits for that growing bump, here are a few articles that you might like to read next:
Continue your search for the best beach bag
Looking for a beach bag and still not sure if any of these are right for you? Search online by jumping into one of our closed Baby groups and ask thousands of other Australian mums what they recommend – 'What to buy' is the most talked-about topic.
Click and join your group today!