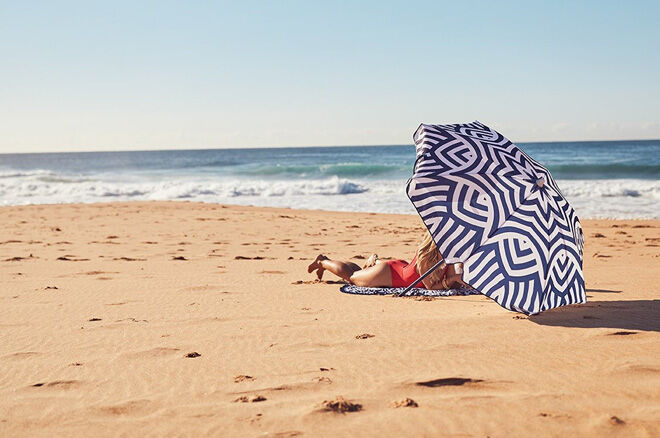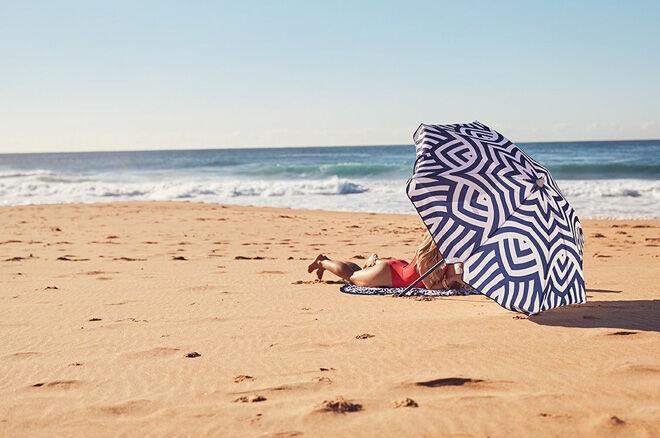 Summers are made for beach adventures with our babes, but even serious sun-lovers need shelter from the sizzling Aussie sun. Beach tents and sun umbrellas provide the perfect amount of shade while spending a day by the waves.
Beach tents are lightweight sun shelters that assemble quickly and provide high UV protection to beach-goers. A cinch to carry, set up and pack away, they range in styles from breezy shades to family-sized tents. And they're the perfect place to relax, eat ice cream and prepare for the next sandcastle challenge.
To help you in your search for the perfect beach shade for summer, we've scouted out a selection of top styles other mums recommend.
Types of sun shelters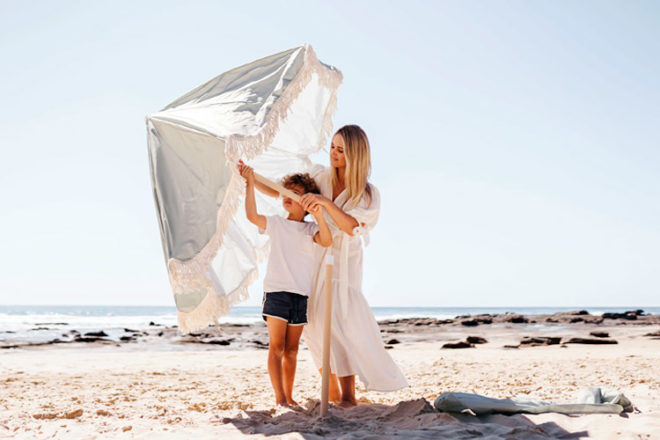 Beach umbrellas are large, portable shade solutions made up of a round canopy and a central rod. Loved for their beauty as much as their practicality, they're both timeless and dreamy.
Beach tents are compact dome-shaped structures that protect the family from the sun and wind. They often have a floor built into the unit to keep people off the sand, and unlike many camping tents, they're lightweight and come with high UV protection.
Beach shades are equipped with high UV protection and offer fab overhead protection from the elements while allowing loads of fresh air to flow through the main section.
---
8 beach shelters and umbrellas for shelter in the sun
No beach day is complete with some shelter from our scorching sun, so check out our lineup of top brands available right here in Australia and get yourself set for summer.
In no particular order, here are 8 beach tents and sun shelters other mums love:
Byron Bay Beach Shades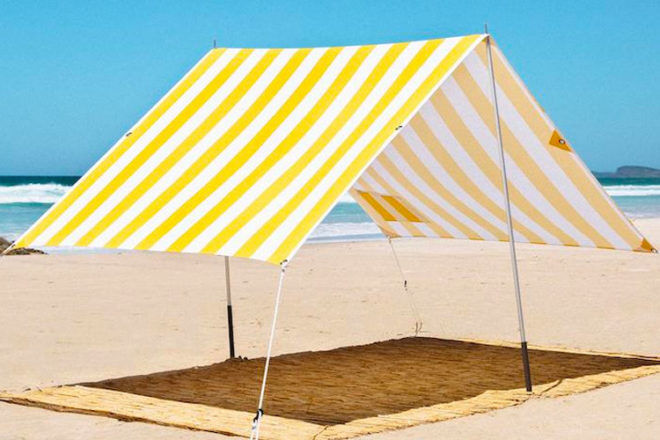 Made from waterproof and tear-resistant fabric, these handy beach shelters come in cool nautical stripes and tropical prints for a serious dose of beachy chic. With a certified UPF50+, they'll keep you and your beach-loving babes safe in the sun.
---
For Sun Play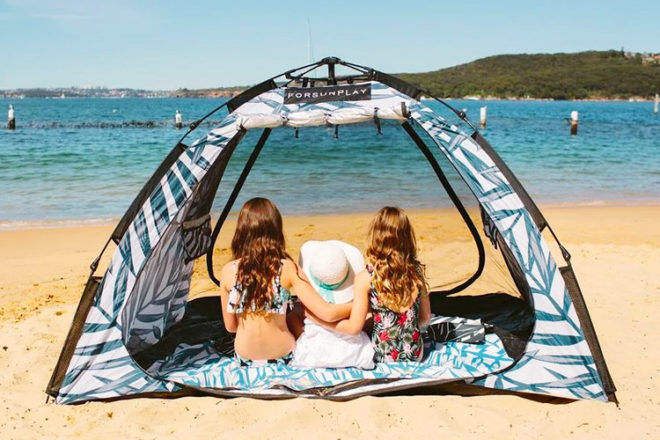 This beauty can be assembled and packed down in mere seconds. Zip the front, side and back up for privacy, or roll them down to take in the magnificent views. It comes with tent pegs for stability in winds and a multi-purpose backpack.
---
Sunnylife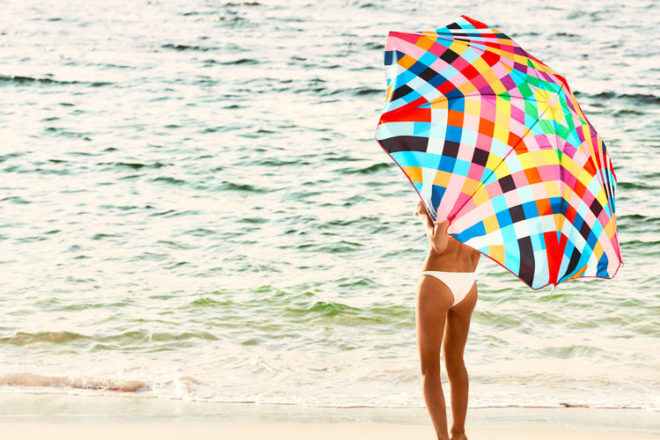 Stunningly beautiful, these beach umbrellas have UPF 30 sun protection and a 360-degree tilt function for escaping the heat. They even come with their own carry bag with handle for easy pack-and-run fun at the beach.

---
Land & Sand Essentials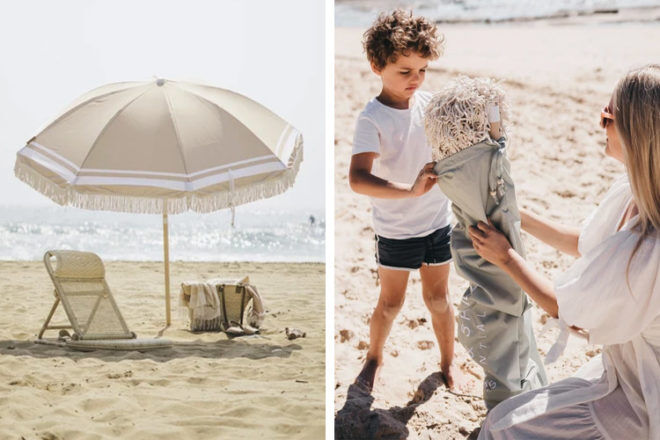 Designed with sustainability and style in mind, these beautiful beach umbrellas have you and the Earth covered. They feature a canopy made from recycled plastic bottles and hidden pockets inside the beach umbrella canopy.
---
Life!

This beach shelter doesn't have a base or ground cover which is genius! This means the kids can play in the sand in the shade safely because it is tested to a UPF50+ rating to block 98% of harmful UV rays.
---
Bamboo Bungalow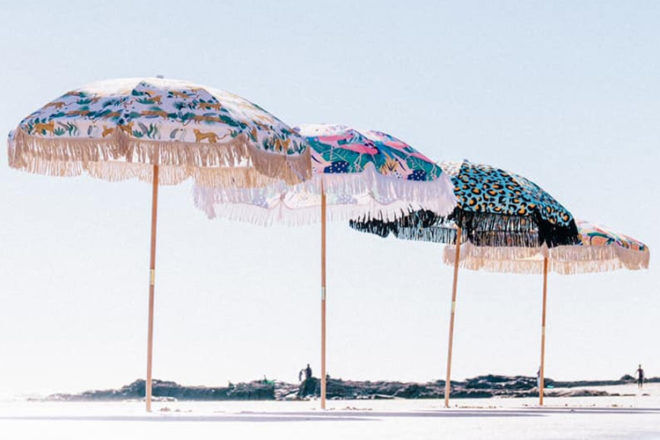 From flamingos to fruit salad, these summer-loving beach umbrellas come with huge tropical vibes. Each features UPF50+ fabric for the ultimate in sun protection and has a two-metre canopy shade with fabulous fringing.
---
Wanderer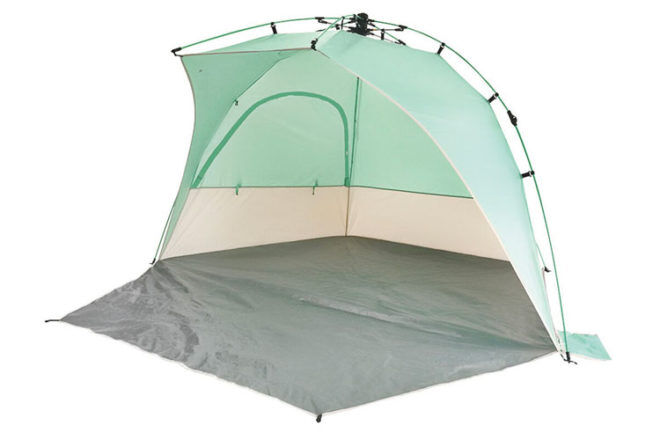 Boasting roll up window panels to adjust airflow and sunlight, this sun shelter has it all. Complete with UPF50+ sun protection, sand pockets for stability and a handy carry bag, it's ready and waiting to hit the sand dunes.
---
Cancer Council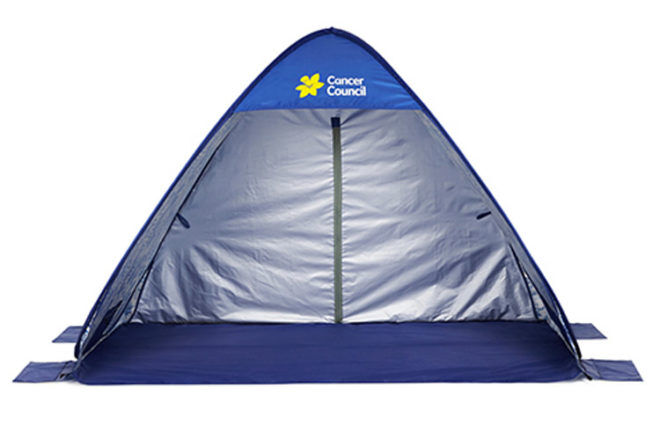 Offering superb UPF50+ protection for the whole family, this cool blue cabana is perfect for long days at the beach and playdates in the park. It features a patented pop-up design that means no assembly and it folds away easily into a carry bag.
---
What to consider when buying a beach tent
We know, it's hard to know where to start when looking for the ultimate sun shelter for the fam. So to help you narrow down your search, here are some points to consider:
Do you need room for the whole family? Size is important. The size of the beach tent or umbrella depends on its purpose. Is it purely for sun protection during the hottest part of the day? Or are you looking for a sun shelter that can provide space and storage for sunny day trip essentials like beach towels and pool toys?
Is privacy important? There's no better place for bare little bots than at the beach. But for us big kids, a little privacy while changing, reading or sleeping is a big plus. If privacy is an important factor for you, look for beach shelters with side panels and front openings that can be closed shut if needed.
In Australia, you'll need sun-safe materials. The Australian sun is incredibly harsh on our skin. To keep you and your family sun-safe, look for a shelter with a high UPF to provide both UVA and UVB protection.
Do you want accessories with your shade? Some beach shelters require tent pegs or poles for assembly. Check if these are included before purchasing. And if the beach tent or umbrella comes with its own carry bag, even better!
Easy assembly makes for a better beach day. The last thing anyone wants to do when arriving at the beach is to spend an hour assembling a shelter – especially on scorching sand! Look for an umbrella or beach tent will minimal parts and an easy set-up system so that you and the kids can hit the waves in a flash.
---
This article is curated by our Editors and includes affiliates and/or paid inclusions. See our Disclosure Policy.
Know a beach tent we should add to our list? Contact us and let us know.
Read these roundups next …
Looking for more summer must-haves? From gentle kids' sunscreen to roomy beach trolleys, our roundups include the most coveted products and brands available in Australia.
Read this: 13 clever ways to keep babies cool in summer