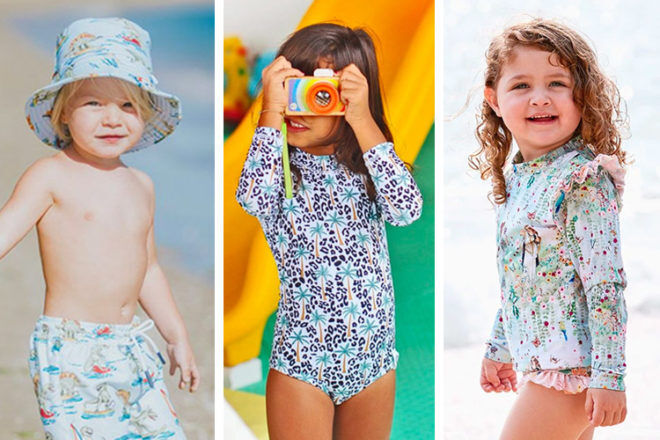 It's finally heating up, which means days at the pool and trips to the beach are imminent. More than just a cover-up, clever kids swimwear helps keep little ones protected from the sun while they soak up all the fun that the water has to offer.
From one-pieces with adjustable straps to swimsuits and rashies that zip open and closed, there are countless styles of swimwear to keep kids swimming in comfort all day long.
What to look for when buying kids swimwear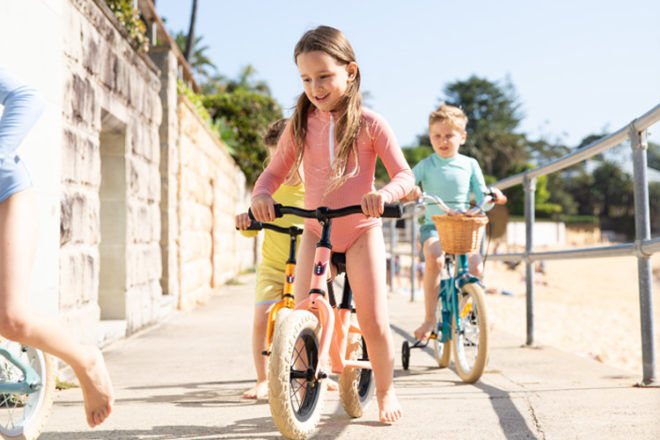 Here are some of the key features to look for when buying swimwear for kids:
Fabric: Heading home from the beach in wet-through bathers isn't fun for anyone. Look for swimsuits made from breathable fabrics that dry quickly with chlorine-resistant properties to keep the colours brighter for longer.
UPF: On busy summer days, it can be easy to forget to re-apply kids' sunscreen regularly. Protect young skin further by picking a pair of togs with a high UPF rating to shield from harmful sun rays all day long.
Fit: Continuous wearing and washing may cause some fabrics to shrink. Consider buying swimwear with a quality stretch material for long-lasting fit and comfort. An investment now will pay off in the future.
---
20 kids swimwear brands
To help you find the perfect bathing suit we've compiled this handy list of Australian swimwear brands to get you started in your search.
Some brands have offered exclusive offers for Mum's Grapevine readers. These offers may include exclusions and expiry without notice. Please direct all enquiries directly to the linked website.
In no particular order, here they are:
Harrison House Kids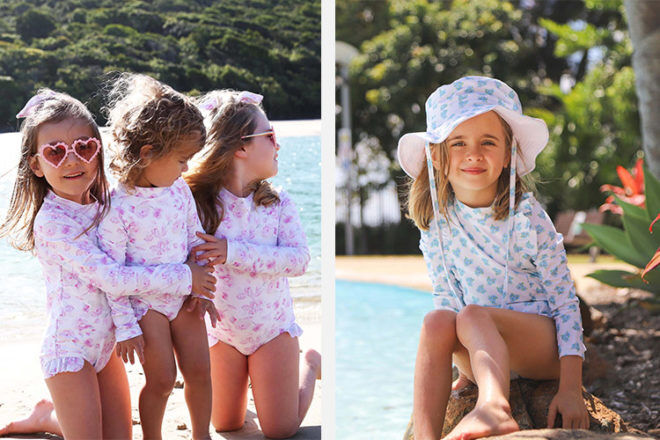 With the sweetest of prints and frills for days, this collection was crafted especially for lovely little ladies. Bathers come in sizes from one to six years and are ethically made from buttery-soft material that protects against UV rays.
This summer we can't get enough of the Penelope One Piece in Peony Splash print ($68). So pretty!

---
Cheeky Chickadee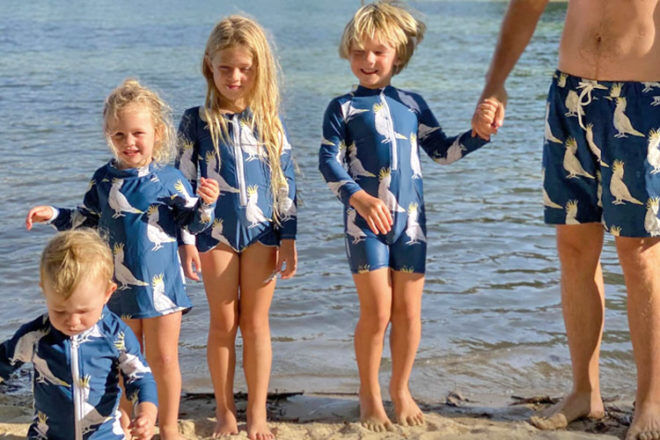 Perfect for nature-loving kiddos who are always on the move, this swimwear features four-way stretch, and hand-illustrated artwork inspired by wildlife. Each piece is crafted from lightweight material that dries in a jiffy and is colour-sealed to prevent dyes from running.
We love the Navy Cockatoo Long Sleeve Zip Swimmers ($39.95) and Kids Rash Top ($34.95) for fun in the sun.

---
ORTC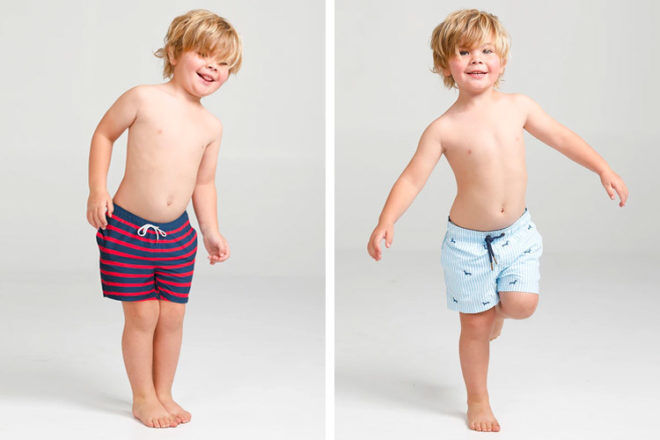 They're the on-trend summer shorts for little lads that are cool enough for all-day wear. Designed in Australia and made from quick-drying material, each pair has internal mesh briefs for extra support and two side pockets for tucking away treasures. Available through French Soda.
Our top picks are the Sorrento Jnr Swim Shorts ($49.95) and the Pennington Jnr Swim Shorts ($49.95) for their contemporary twist on classic boys swimwear.

---
Tribe Tropical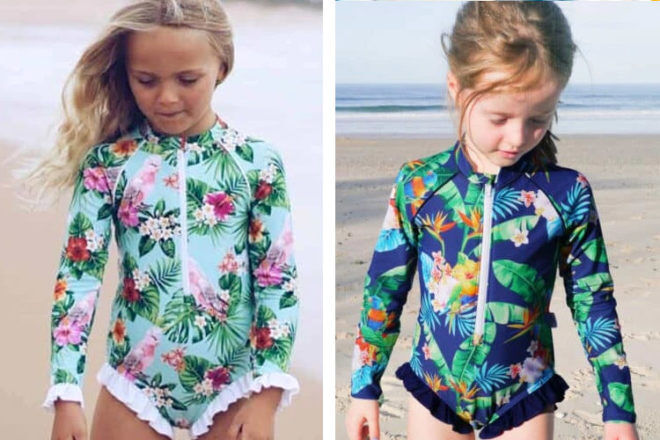 Time for little tackers to get tropical! This award-winning boutique range celebrates the raw, natural beauty of Australia's islands while providing kids with the ultimate in sun protection. Each piece is UPF50+ and sports zip protectors, high necklines, long sleeves and double lining.
We're totally smitten with the Lorikeet Love Girls Swimsuit ($65.95) and the Gaga Galah Swimsuit ($65.95).

---
Purebaby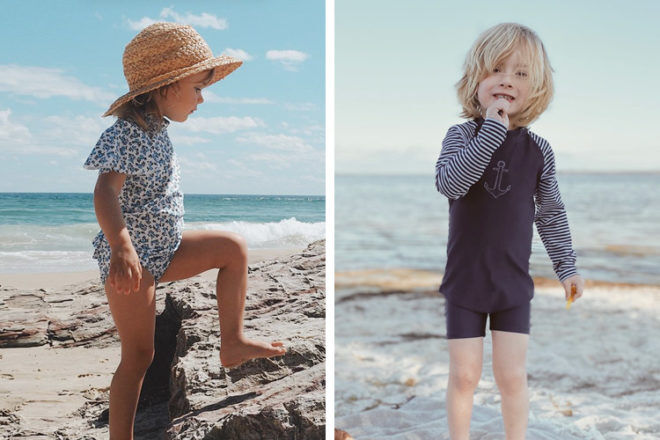 This Aussie brand's swimwear is chlorine resistant, UPF50+ and consciously designed to be as durable as it is exquisite. With environmental awareness and sustainability at the heart of the range, each piece is made using Repreve fabric that is crafted using recycled plastic bottles and ocean landfill.
We're all about the Forget Me Not Rashie Flutter Set ($49.95) and the French Navy Long Sleeve Sunsuit ($54.95) this summer.

---
Olga Valentine
This eco-conscious brand uses fabrics crafted from recycled ocean waste to create UPF-rated swimwear that is as durable as it is comfy. With beautiful floral prints and big designer feels, the collection ticks all the boxes for sun-loving beach babes.
This season we can't get enough of the Maisy Long Sleeve Tie Back ($79) and the Gaia Rouching Bikini ($79). Divine!
Olga Valentine Discount Code:
Use code 'MGV15' for 15% off storewide.
---
Minihaha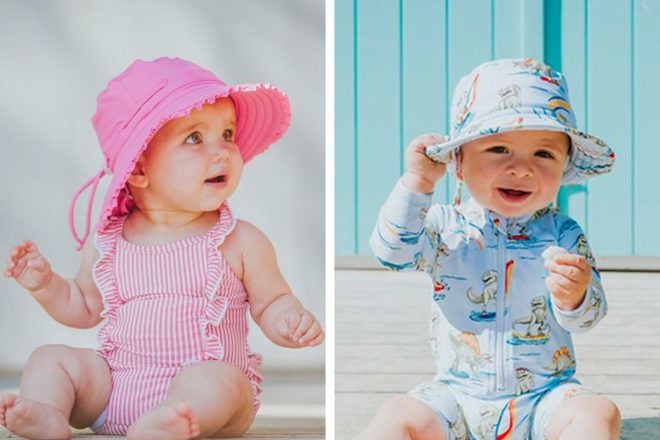 Water-loving littlies will be splish-splashing in style this summer. Created from materials that ward off harmful rays and are resistant to chlorine, Minihaha swimwear is spot on for days spent poolside, beachside or fashionably frolicking in the backyard sprinkler. Sizes start at three years.
Our faves from this collection are the Peony Stripe Swimsuit ($44.95) and the Arlo Sunsuit ($49.95).

---
Ned Swim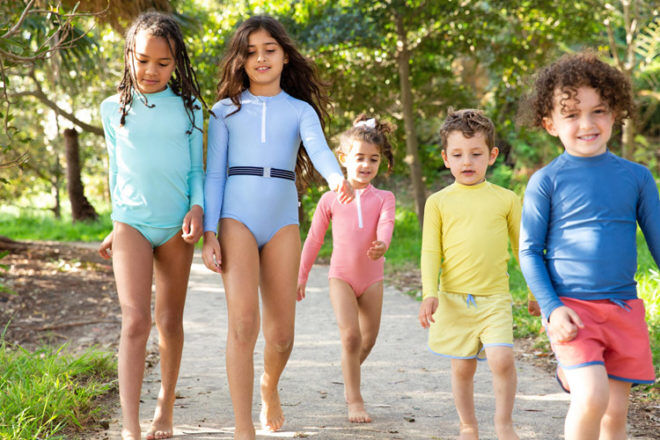 Fuss-free Dutch design meets the casual Aussie lifestyle in this fun-filled and functional swimwear for kids. Fabric is UPF50+ for superior sun protection, and pieces can be mixed and matched for a completely unique set – because no two littlies are the same.
We're head over heels with the Lagoon Long Sleeve One Piece Suit ($58) and the Long Sleeve Citrus Rash Guard ($49).
Ned Swim Discount Code:
Use code 'MGV20' for 20% off storewide.
---
Ina Swim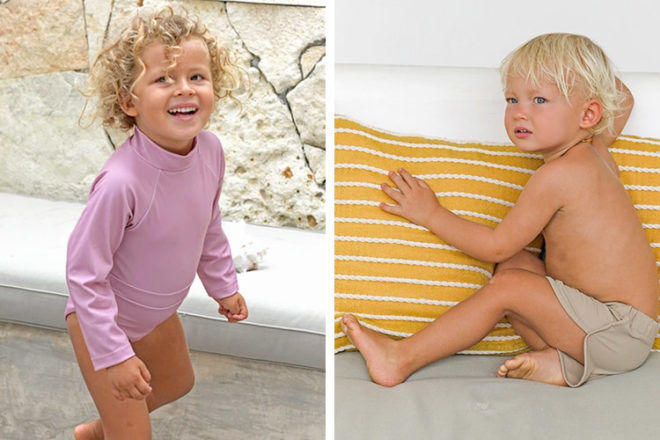 With a focus on keeping the oceans just that little bit cleaner, Ina Swim makes beautiful, sustainable swimwear for beach-loving babes. Using fabric created from recycled nylon, the collection of swoon-worthy swimsuits, rashies and trunks has a UPF of 50+ and is two times more resistant to chlorine.
Our summer essentials from this collection are the June Long Sleeve One-Piece ($79) and the Mesa Trunks in Sand ($59).
Ina Swim Discount Code:
Use code 'MGV15' for 15% off storewide.
---
Mini Sandcrabs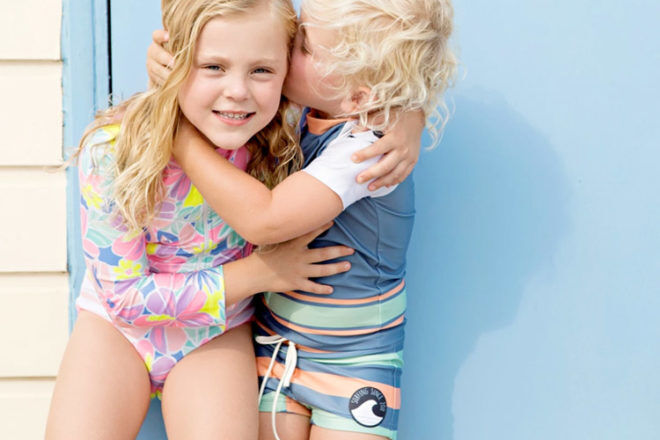 Sun-proof, sag-proof and kid-proof, it's the ideal swimwear for beach-scuttling minis. Made up of swimsuits, rashies and boardies, the range is designed right here in Australia and sustainably crafted using knitted fabrics made from recycled fishing nets.
This season we're all over the Island Life One Piece ($69.95) and Retro Vibes Rashie ($44.95).

---
Babes in the Shade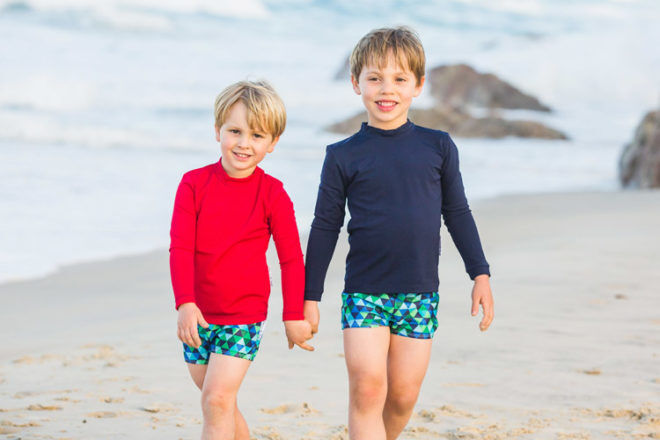 Expertly crafted from premium materials that withstand fading, stretching and wearing out, this is kids' swimwear that's made to go the distance – no matter how active your little fishies are. Each piece is chlorine-resistant and protects young skin from the harsh Aussie sun.
For serious summer vibes we can't go past the Geometric Trunk ($22) and Long Sleeve Red Rashie ($48).
Babes in the Shade Discount Code:
Use code 'MGV15%' for 15% off storewide.
---
TicTasTogs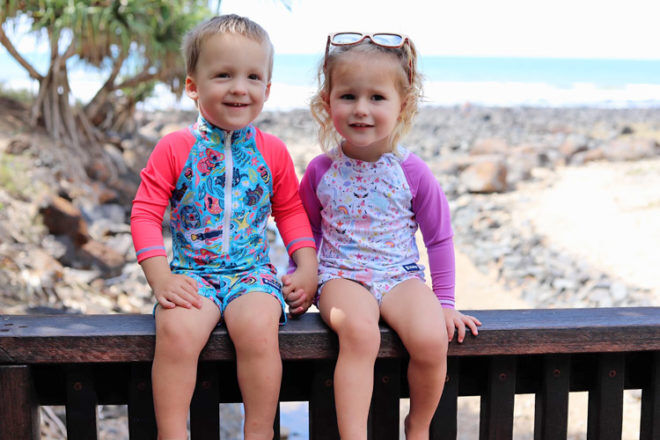 With massive pops of colour and stacks of style, this brand knocks it out of the park when it comes to exciting kids' swimwear. And you won't find any bare backs or shoulders in this mix, just comfy, crazy-cute swimmers that provide superior sun protection.
For summer cuteness we can't go past the Bush Wonderland Adventure Sunsuit ($58.95) and the Fantasia Ruffles 'n' Rashie ($62.95).
TicTasTogs Discount Code:
Use code 'MGVFREE' for free shipping Australia-wide.
---
Cosmo Crew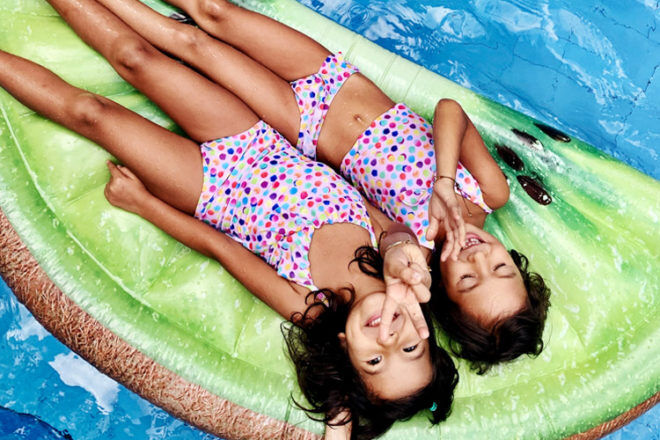 In a celebration of kids' individuality, Australian-designed Cosmo Crew swimmers are vivid and unique. The complete collection is ethically made from recycled materials to long-lasting and resistant to fading and stretching.
Our pick this season is the Mermaid Confetti Swimsuit ($65) and the Mermaid Confetti Bikini ($65).
Cosmo Crew Discount Code:
Use code 'MGV20 ' for 20% off storewide.
---
Coco and Me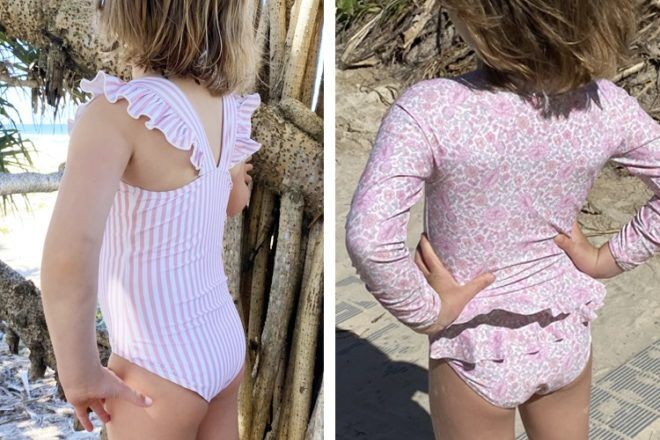 Designed in Sydney, the sublime girls' swimwear from Coco and Me has your little lady's summer sorted. Boasting UPF50+ fabric, each swimsuit has been colour sealed to ensure the custom prints last for years to come. And with an extra-long front zip, popping these bathers on and off is a breeze.
This season we're crazy about the Daisy Long Sleeve Swimsuit ($54.95) and the Pink Stripe Ruffle Swimsuit ($49.99).

---
Bubblebubs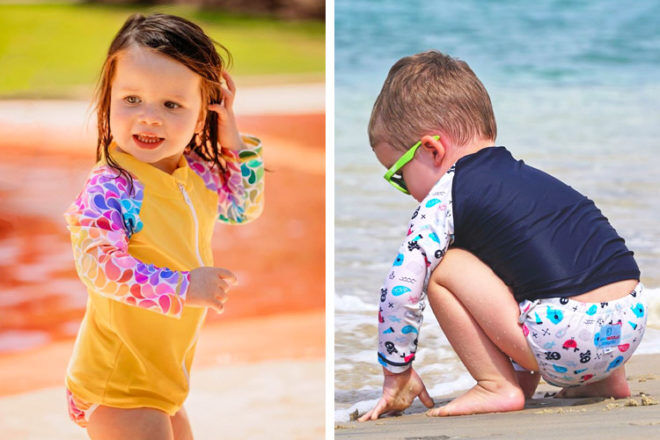 These sun-smart swim sets will make beach days with Bub an absolute breeze. The long-sleeved rash vest has a full-length zip for easy on and off, and the matching swim nappy means little accidents are contained. Each set comes with a matching wet bag.
We love the Iris Rash Vest ($39.95) and the Ahoy Rash Vest with Matching Swim Nappy ($69.90).

---
HeavenLee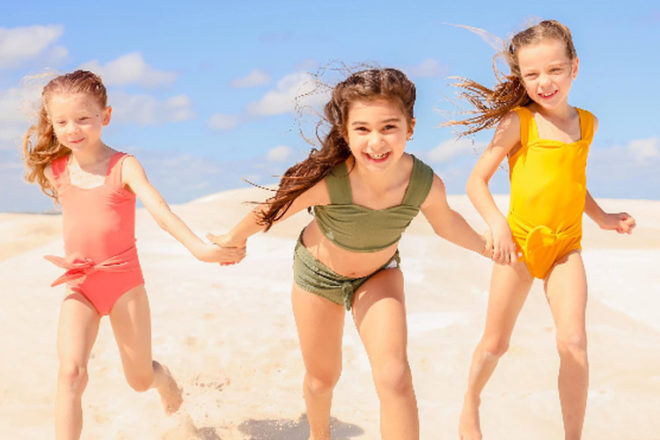 Whether you've got teeny tots or older tweens, HeavenLee has got you covered. This eco-conscious brand is dedicated to creating innovative board shorts, swimsuits and rash vests that are joyful, sustainably made and durable enough to last for years.
We're completely swooning over the new Ribbed Collection, especially the Dusty Rose Swimsuit ($54.95) and the Olive Bikini ($59.95).

---
Tyoub Swimwear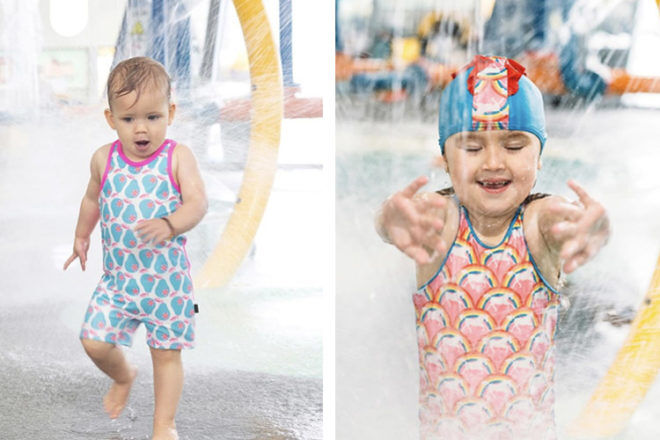 Based in Melbourne, Tyoub creates playful, sustainably made swimwear that contributes towards a cleaner, healthier environment for our kids' futures. Including rash guards, unitards and even swim nappies, each piece is lightweight, soft to touch and quick to dry.
This season we're all for the Pears in Pink Zootie ($59.95) and Rainbow Pony Zootie ($59.95) for a serious splash of fun.

---
Class of 84 Clothing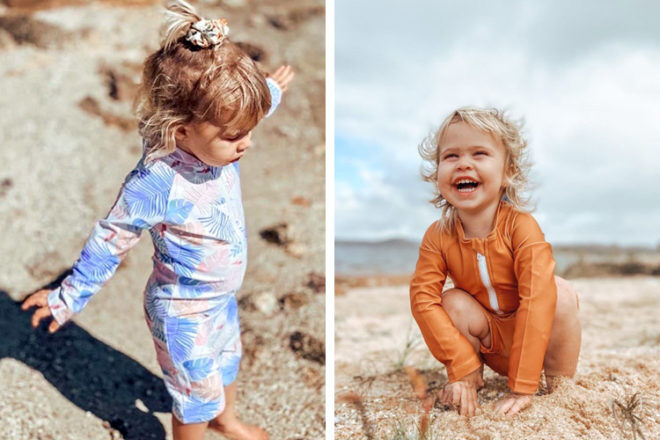 From discarded plastic bottles to matchy-matchy beach trunks – what's not to love?! Designed in Melbourne and dedicated to reducing waste, each pair in this earth-conscious range is comfy, cool and a little bit quirky for maximum summer fun.
We love the Tropical Long Sleeve Swimsuit ($39.95) and the Brown Long Sleeve Swimsuit for boys ($39.95).

---
Infamous Swim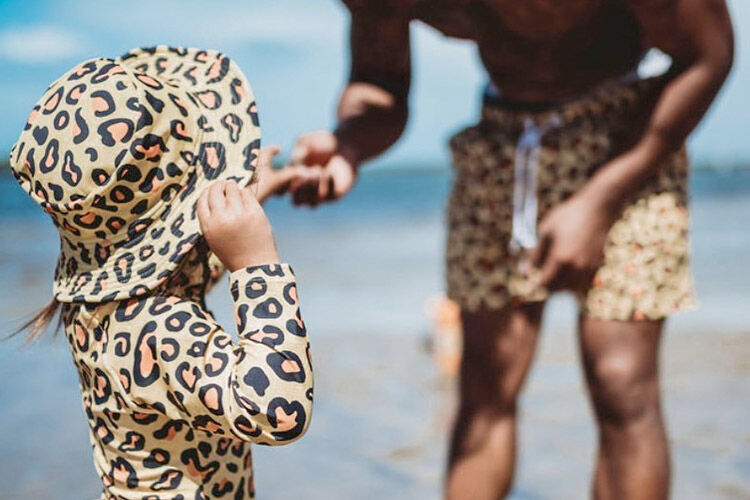 What started out as cheeky, statement swimwear for women has grown into Infamous & Mini Swim: where twinning with your mini is everything. From surfsuits to trunks, every item in this range is crafted from luxurious materials to feel as good as it looks.
Our picks for this season are the Hugh Trunks ($40) and the Annie Rashie ($79) in the new Safari Leopard print.

---
Huxbaby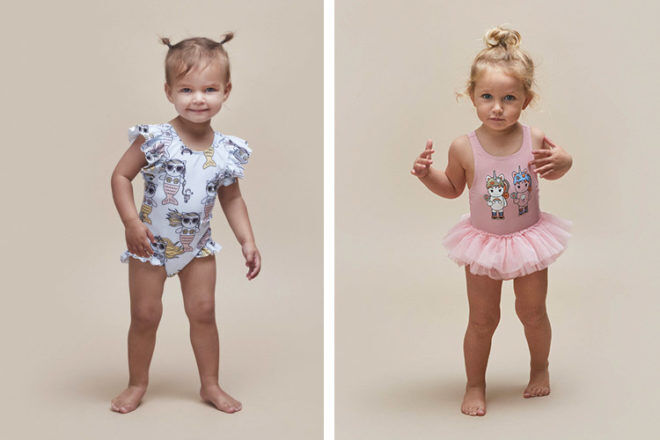 This fun brand expertly creates high-quality kids' swimwear with fab sun protection and bucket-loads of style. The collection includes rashguards, boardies and statement one-piece bathers, all printed with safe dyes on premium materials.
We're crushing in a big way on the Floral Swimsuit ($44.95) and the Turtle Tour Rashguard ($49.95).

---
This article is curated by our Editors and includes affiliates and/or paid inclusions. See our Disclosure Policy.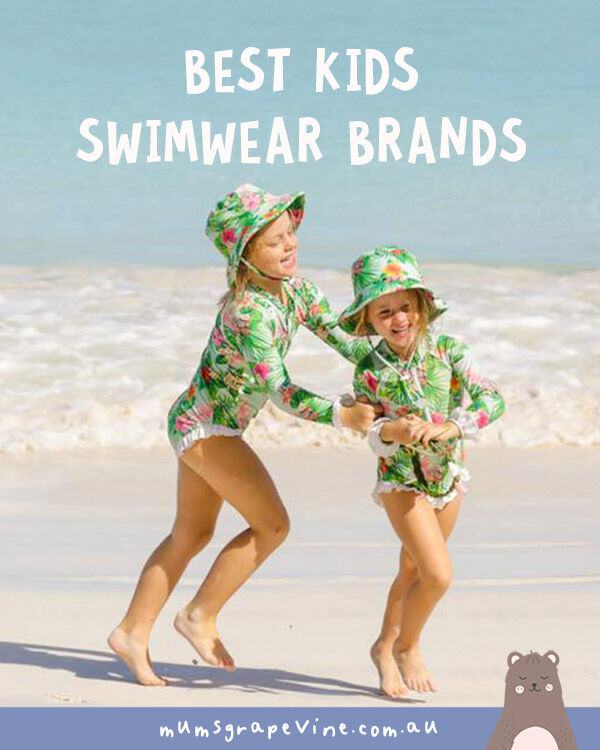 Know a brand of kids swimwear we should add to our list? Contact us and let us know.
Find more summer must-haves….
Continue your search for the best kids swimwear
Looking for kids swimwear and still not sure if any of these are right for you? Join one of our Baby Groups and ask thousands of other mums what they recommend. They are grouped together by baby's birth date so everyone is going through the same stages at the same time.
Click here >> Mum's Grapevine Facebook Groups  << and find your group today!