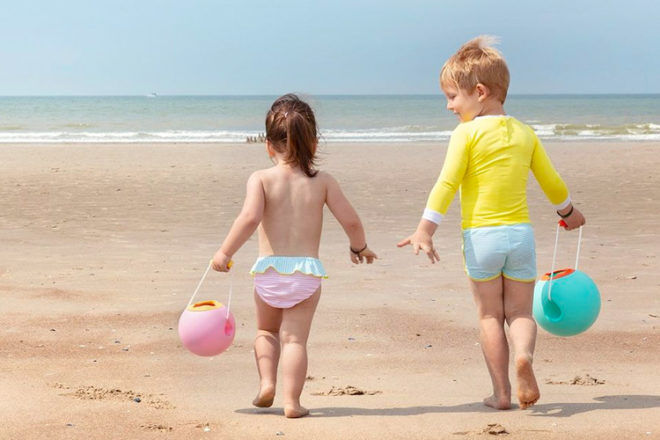 With winter in the dust and the sun shining, it's time to pop the icy poles in the freezer and dial up the fun with some seriously cool kids' beach toys and pool accessories.
Kids' beach and pool toys are inflatable, fillable or even wearable accessories that make water and sand play extra fun. From beach balls and sand sculpting tools to crazy-cool inflatables, there's a summertime toy out there to suit every little personality.
Some exciting brands have taken kids' beach and pool toys to new heights in recent years, and from eco-friendly tools to breathtaking floats, we've rounded up the coolest of them.
20 coolest beach and pool toys for outdoorsy kids
In no particular order, here are 20 awesome summertime playthings for water-loving kiddos.
1. Sand sculpting tools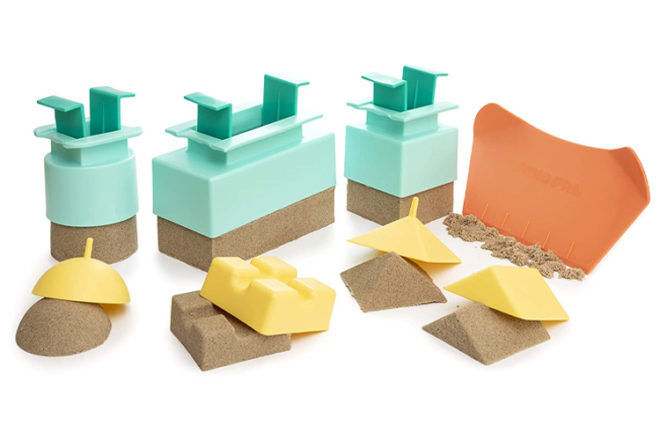 From igloos to palaces, the sky is the limit with what the kids can create with this set. There are nine quality pieces in the mix, including an ergonomic shovel, three-dimensional shapes and block builders. We're giving bonus points for the drawstring carry bag which means no more misplaced sand toys.
---
2. Swimming fin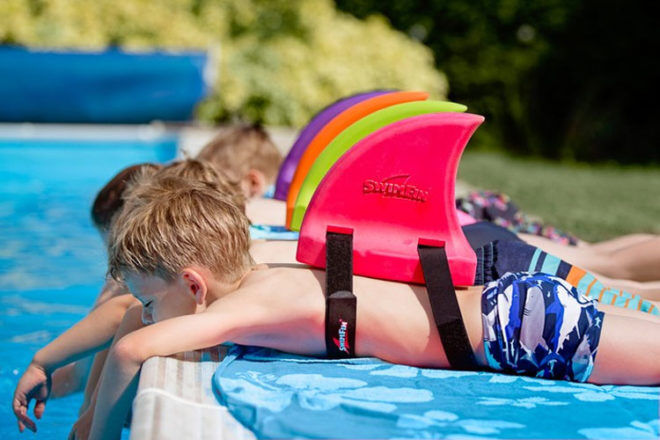 It's the seriously cool swim accessory that is as useful as it is fun. Endorsed by an Olympic swimmer, Swimfins were created to help learners with balance and buoyancy while being tonnes of fun in the water. They come in a number of shades and fit kidlets of all ages.
---
3. Tide pool set
Made completely from recycled plastic, this adorable seven-piece set keeps curious hands busy while making a difference to our precious oceans. Each piece in the set is specially created to interact with water in its own unique way. This one is suitable for minis as young as six months.
---
4. Inflatable ride-ons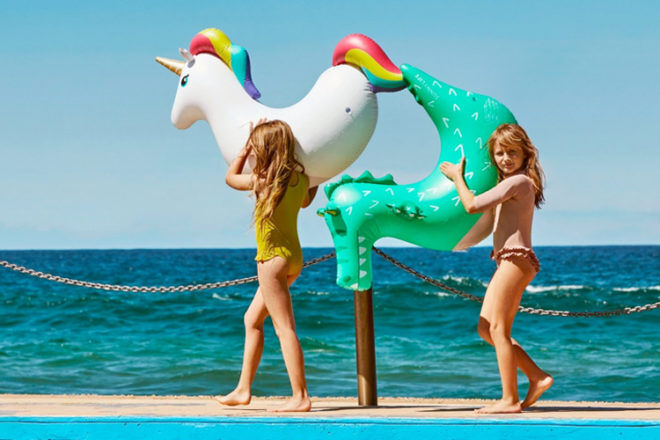 Ready, set…race! These winners from the Sunnylife kids' collection are going to have kids bouncing, tipping, and bobbing all over the pool this summer. In unicorn and croc designs, they're perfect for ages three to six years and come with a repair patch.
---
5. Toy fishing boat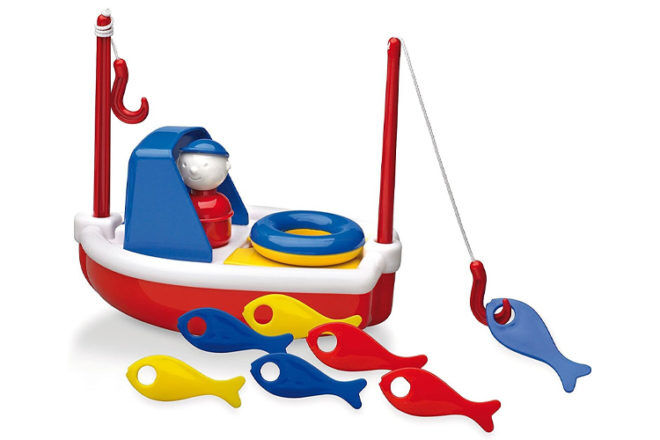 Simple design, primary colours and bucket-loads of sweetness make this timeless classic perfect for water-loving kids. It measures 21cm and comes with a captain, removable masts with hooks, a life ring and a school of coloured fish.
---
6. Monster sand moulds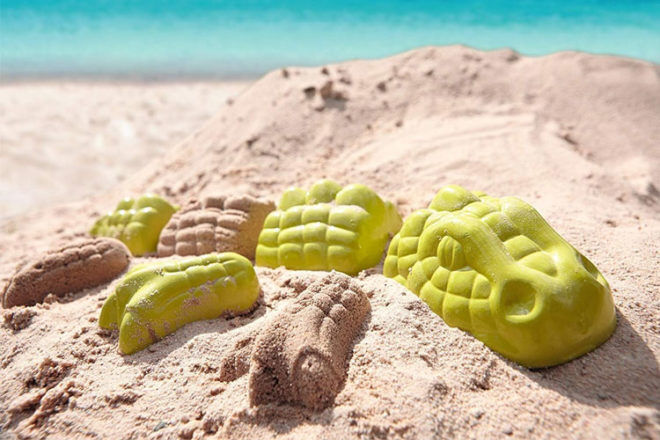 Some kids like to build castles, and others prefer to build the monster lurking outside the walls. This ingenious set includes four individual pieces that can be used to create unlimited sand monsters. The imagination's the limit with this one.
---
7. Buckets and spades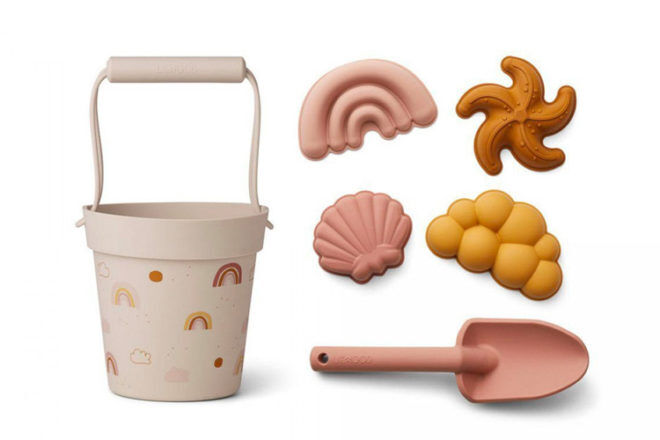 They're some of the most beautiful beach sets round and they include everything inquisitive kiddies need for a day full of exploration. Each set is made from 100% silicone and completely BPA free.
---
8. Inflatable volleyball set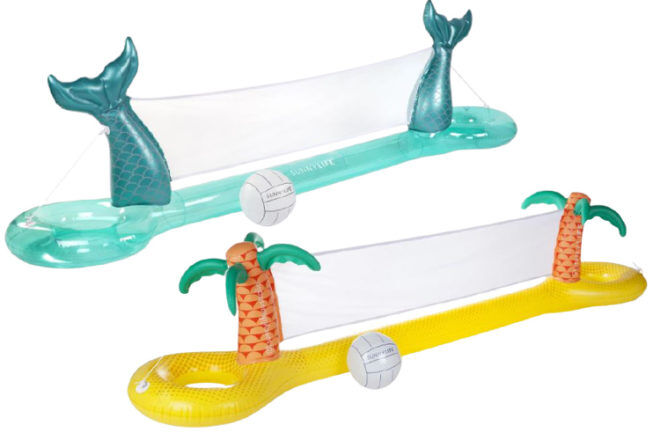 These will get the kids moving! In a choice of mermaid or tropical themes, they can be stretched across a pool or on the beach to play out the ultimate volleyball showdown. A floating net, inflatable ball and repair patch are included.
---
9. Free-play toys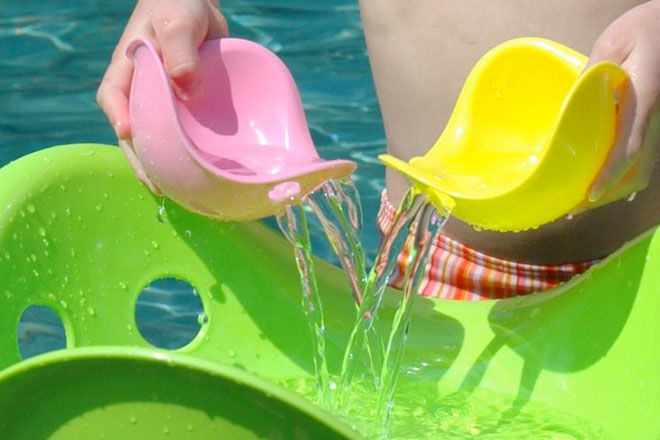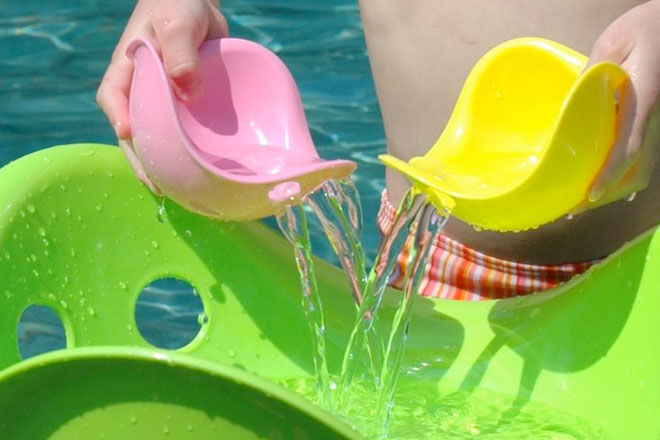 Bilibos are the fabulous Swiss-designed toys that stack and nest, providing infinite ways to play. Each set contains six brightly coloured Bilibo Minis, suitable from birth and unbeatable when it comes to open play.
---
10. Sea Scooter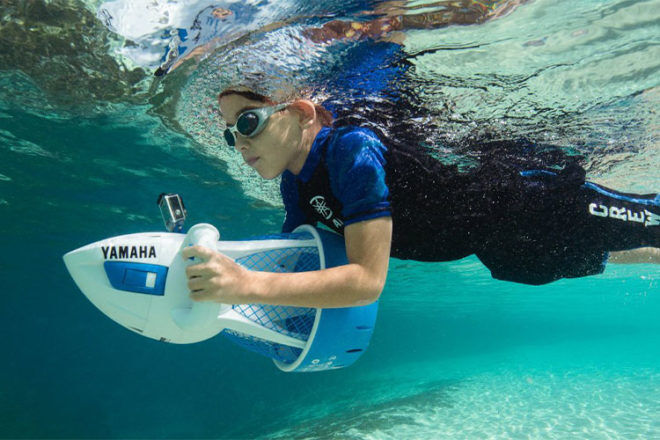 This sea scooter is the ultimate beach toy for kids who live for the water. Travelling at up to four kilometres per hour, it gently propels kids through the water – all they have to do is grasp the handles and steer.
---
11. Dive sticks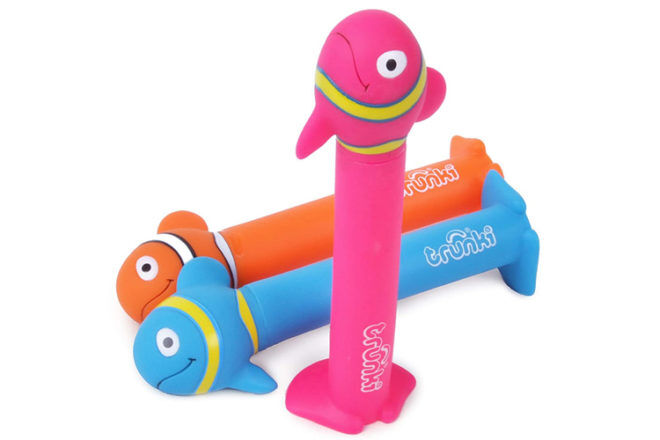 So much more than a fun pool toy, diving sticks are a great tool for improving kids' ability in the water. This set from Trunki includes three brightly coloured, flexible dive sticks and they're recommended for confident swimmers.
---
12. Giant float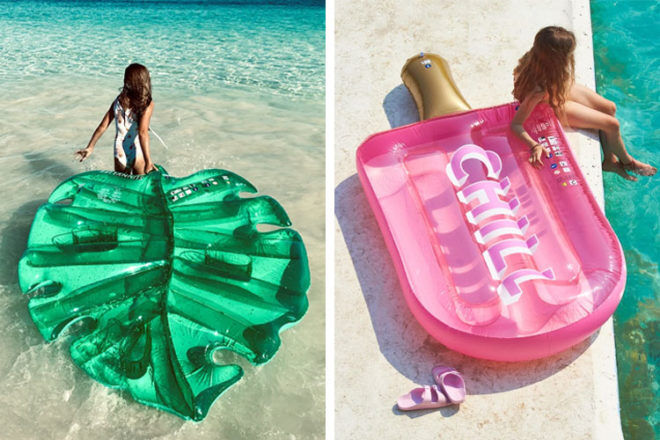 Because what could be better than floating about on a giant leaf?! This winner from Sunnylife measures a whopping 165cm in length and can hold up to 100kg, which means you can totally hop on it too (if the kids let you).
---
13. Multi-functional toy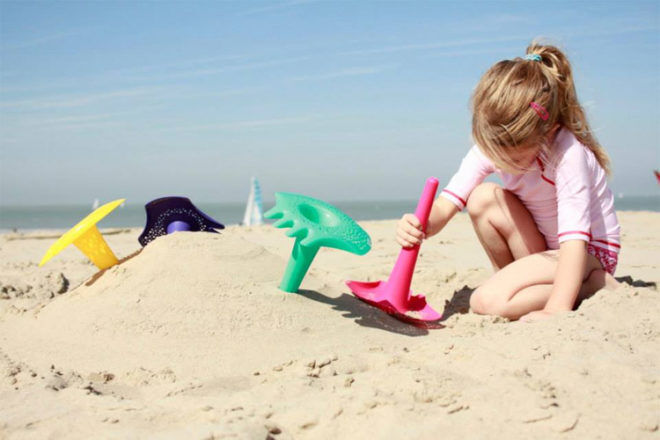 This unique four-in-one beach tool will keep creative kids busy all day long. It comes in loads of summery hues and can be used as a sand sifter, funnel, rake and shovel. Like other Quut toys, this one is easy to clean and completely recyclable.
---
14. Beach balls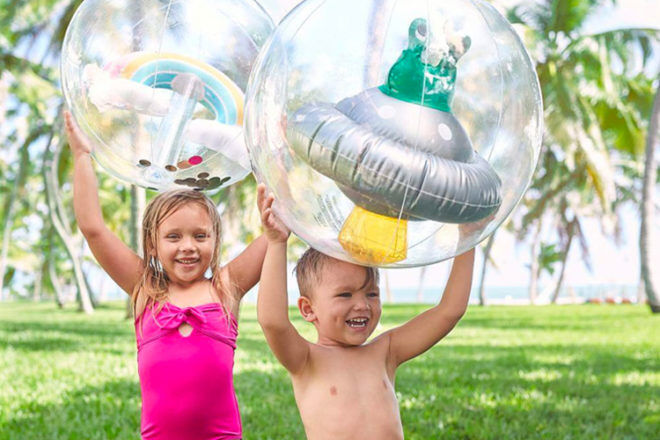 A beach ball is must for days spent on the water and these fun-filled numbers from Pottery Barn Kids are some of the coolest around. Jumbo in size and completely transparent, they each inflate to reveal a special object – will it be an alligator,  a rainbow or a spaceship?
---
15. Snorkels and masks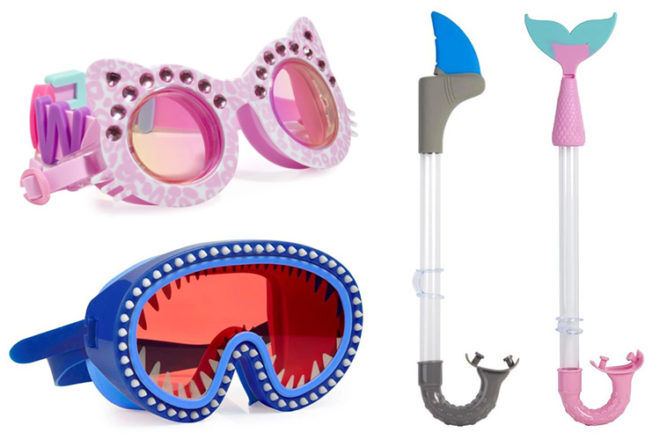 After some statement water accessories for your stylin' mini? Look no further. From sharks to mermaids, doughnuts to dinos, there's a pair for any personality at Bling2o, and some have matching snorkels. All goggles and masks are lead-free, latex-free and have anti-fog properties.
---
16. Extendable Nets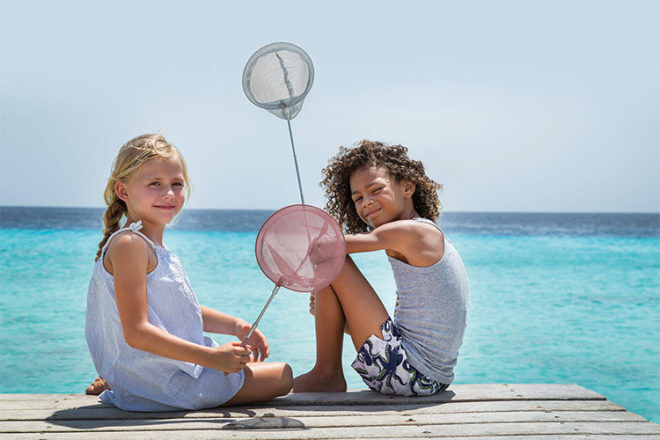 It's off to the rock pools we go! These nifty little nets are just the tools for investigating all those seaside mysteries. Each set comes with two different sized nets, each with retractable handles to make them easy to manage and a cinch to slide into beach bags.
---
17. Sand Tractor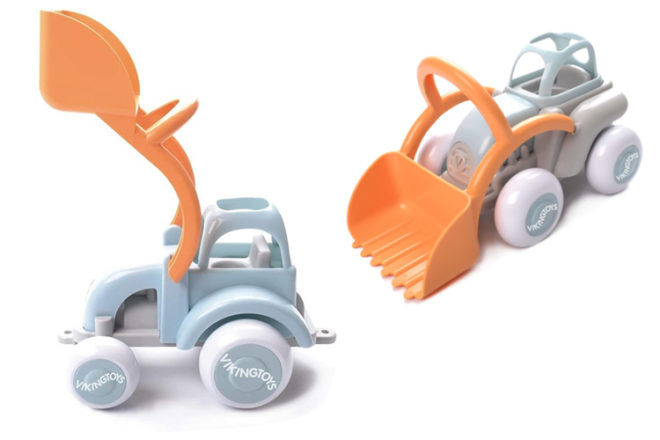 This sweet little digger is made entirely from recyclable, non-toxic sugarcane plastic to be an earth-friendly alternative to a classic kids' toy. Built tough to handle loads of outdoor sand play, this gem ticks all the boxes for littles 12 months and above.
---
18. Spilling Funnel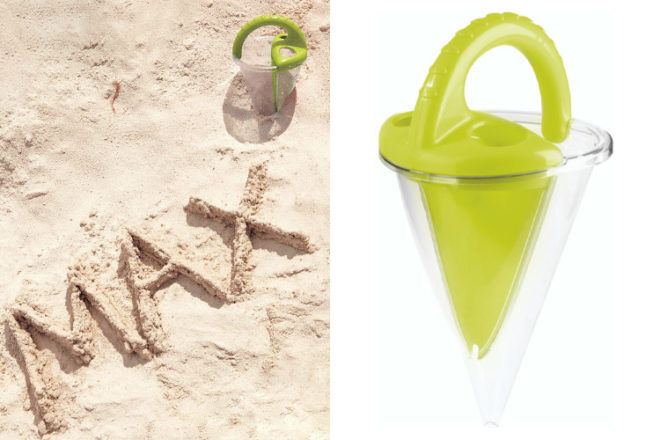 With a narrow tip, this is the ideal tool for adding intricate details and finishing touches to sand masterpieces. Fill one side of the funnel with sand and the other with water, then watch as the two combine for lots of swirly, drizzly fun.
---
19. Watering Can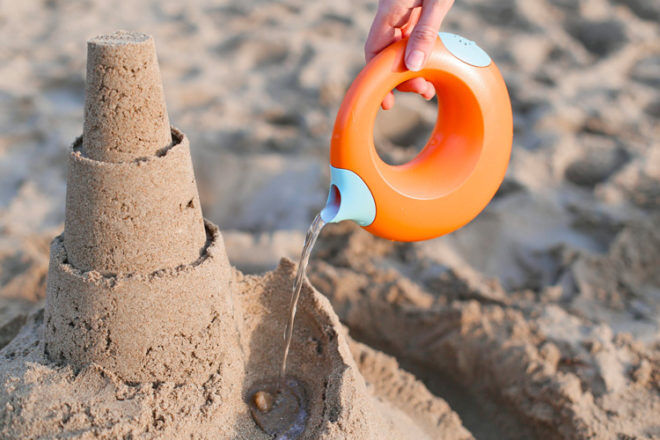 Whether it's for pool play, beach play or even bath play, the kids will get loads of great use out of these award-winning watering cans. Crafted from safe materials and completely recyclable, they hold half a litre and come in all colours of the rainbow.
---
20. Aqua Hockey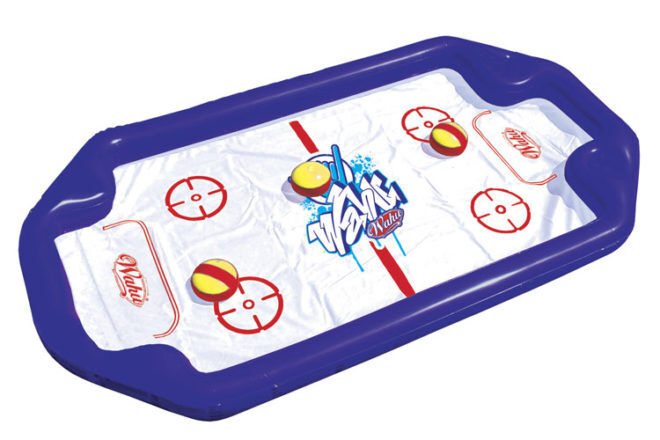 Who said you can't play hockey in a pool? Measuring 1.8m, this inflatable game rink comes with a puck and two mallets to facilitate non-stop hockey battles. It can be used in or out of the pool.
---
This article is curated by our Editors and includes affiliates and/or paid inclusions. See our Disclosure Policy.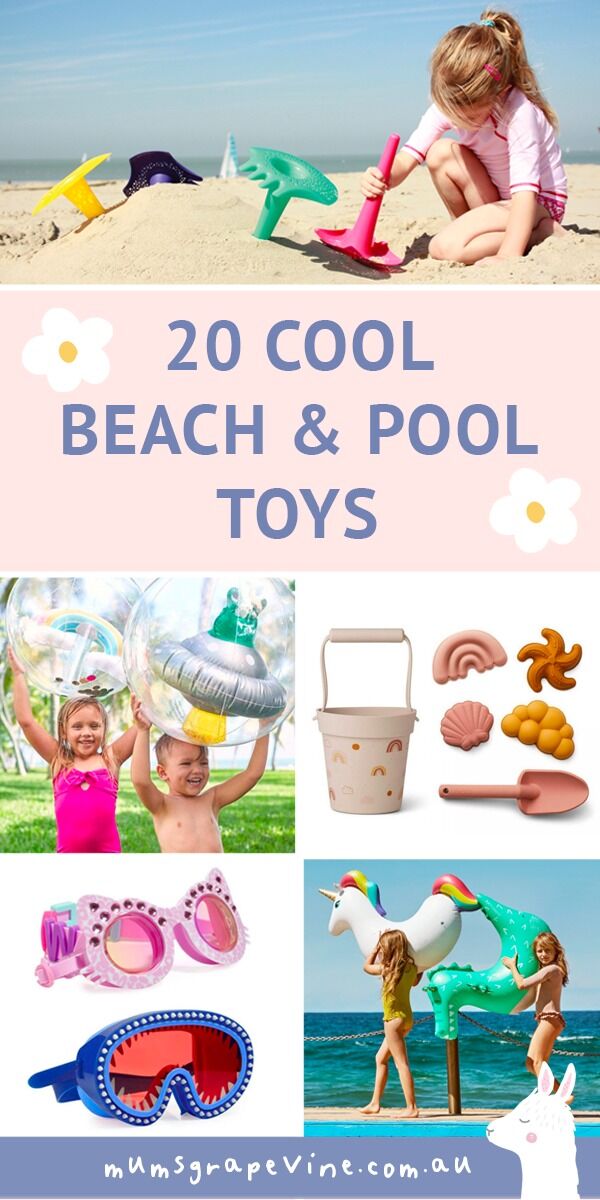 Know some kids' beach toys we should add to our list? Contact us and let us know.
Find more summer gear for little ones …
If you're after more products to help you through the warmer months, you're in the right spot. From kids' sunscreen to picnic rugs, our roundups include the country's most coveted brands and stores.