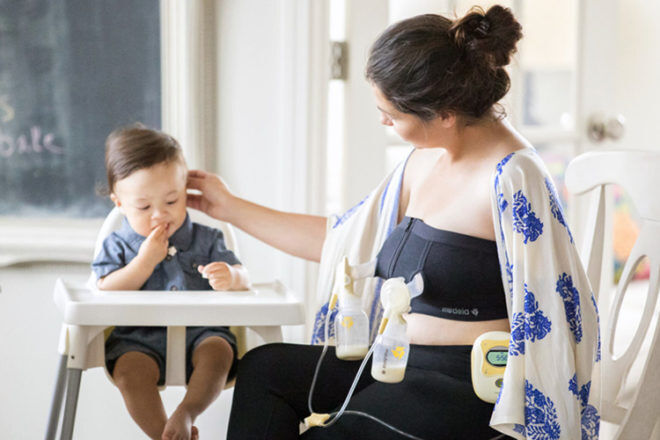 Pumping for baby's next feed is often a time-consuming task that leaves many mums feeling like a human making machine. This is where a pumping bra is an absolute game-changer.
A pumping bra does all the heavy lifting for you, leaving your hands free to tackle the rest of that to-do list. Available as bras, busters and clever clip-on attachments, they're a convenient accessory that let you do your thing while the girls do theirs.
7 pumping bras for hands-free expressing
To help you find the best pumping bra, we've compiled this handy list of brands to get you started in your search. In no particular order, here they are:
Bravado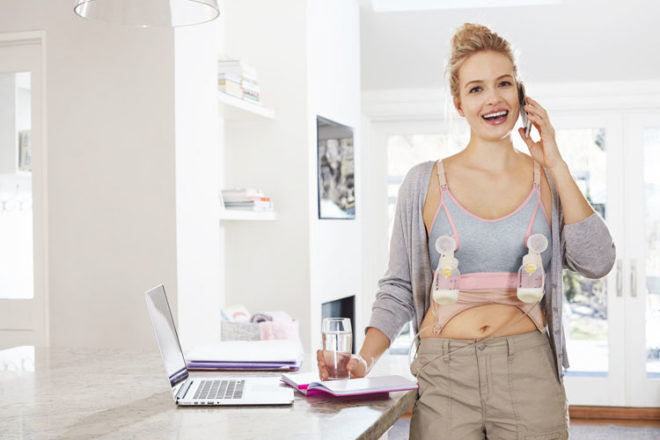 A revolutionary design for hands-free pumping. This clever pumping accessory attaches securely to your nursing bra's B-clips for fuss-free pumping morning, noon and night. Also available in Dove Heather and black, the soft and stretchy band offers mums a convenient and discreet way of expressing.
"Bravado Clip and Pump is the best." – Sarah B
"I also have the Bravado and love it!" – Hannah W
---
Medela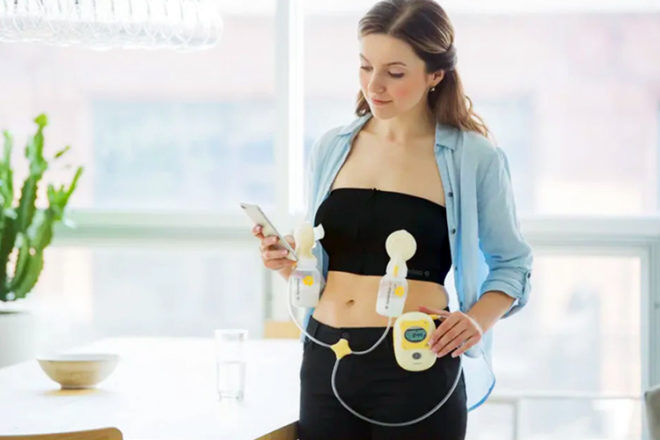 Compatible with all Medela double electric breast pumps, the expression bustier has comfort and convenience rolled into one. With reinforcement along the top edge and around the pumping openings, the one-piece design holds bottles securely in place as your milk flows.
"I got this last week and it's the best. Compatible with my non-Medela machine too." – Monica G
"I've been using a Medela top – Highly recommended!" – Meegan T
---
Dairy Fairy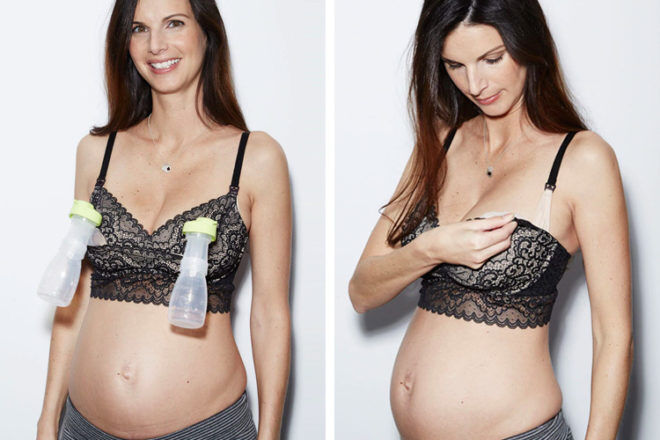 Combining fashion and function, the pretty Ayla bra looks like the pre-baby lingerie we all know and love. Compatible with all major breast pumps, there's mini underwire from armpit to mid-centre for added support.
"I bought a Dairy Fairy bra. It's brilliant. It's a feeding/pumping bra and so pretty!" – Shar Z
---
Haakaa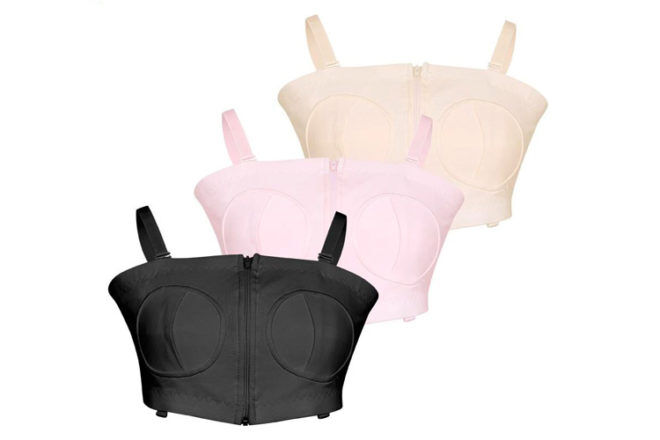 Complete with a handy zip up the front that makes it easy to put on and take off, the pumping bra from Haakaa lets mum multitask like a pro. Made from a super-soft blend of nylon and spandex, the layered crossover slit design helps create a better seal for your pump, which in turn, improves suction.
---
Eonian Care
With wireless cups and a wide elasticated bottom band, this pumping and nursing bra provides mum with all the support she needs when expressing. To breastfeed and pump simultaneously, simply pull down the middle layer to hold the pump flanges in place.
"I got this bra and love it. I was ready to give up pumping at work but this has been a game-changer." – Monique S
---
Morrow + Mint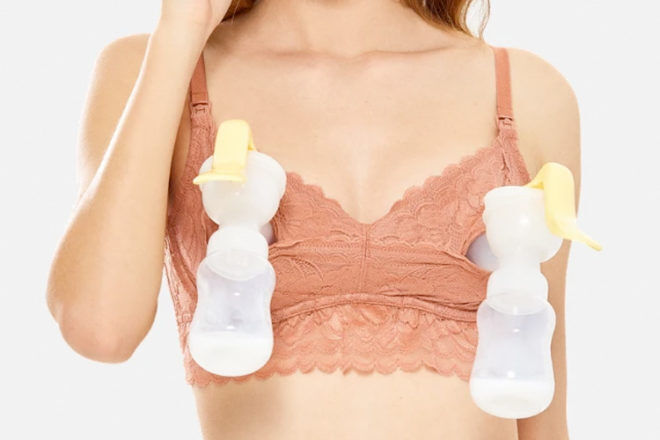 Giving mums two convenient ways of nursing (clip down or pull-aside cups), this gorgeous lace pumping bra has discreet flange openings to keep mum covered at all times. Available in four colourways, the double-lined cups are a fab feature for added lift and support.
---
Pumpease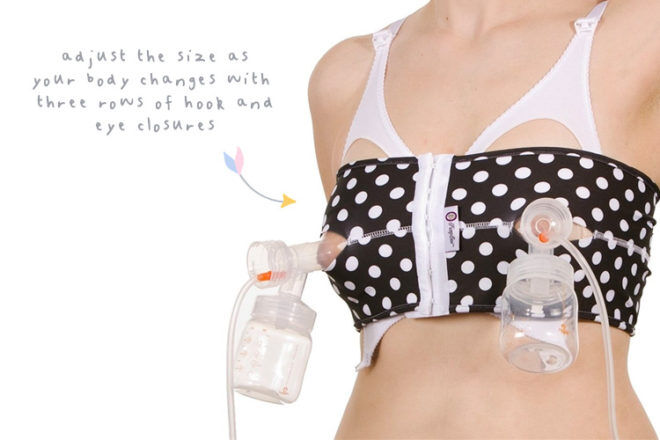 Cut pumping time in half with the PumpEase bra. This simple bustier holds the pump securely in place while you read, write, text, tweet, shop online or tend to baby. Simply pick your favourite colour or print – there's an organic cotton version, too.
---
This article is curated by our Editors and includes affiliates and/or paid inclusions. See our Disclosure Policy.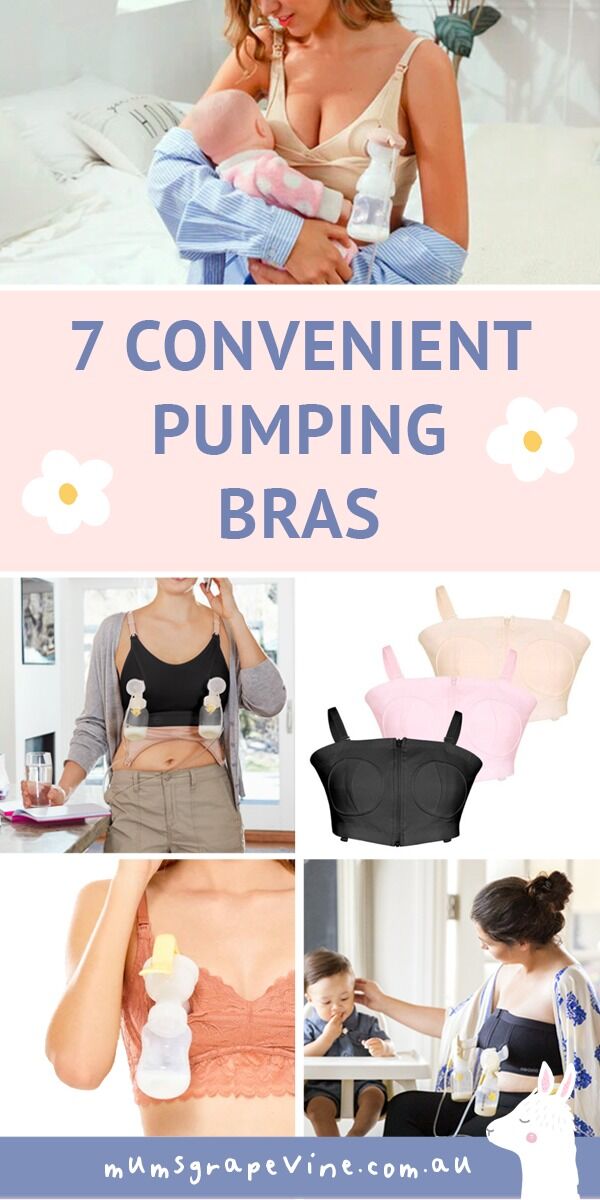 Know a brand of pumping bra we should add to our list? Contact us and let us know.
Read next …
Looking for more clever creations that make feeding hungry babes a breeze? Here are a few popular articles that you might like to read next:
Continue your search for the best pumping bra
Looking for a pumping bra and still not sure if any of these are right for you? Search online by jumping into one of our closed Baby groups and ask thousands of other Australian mums what they recommend – 'What to buy' is the most talked-about topic.
Click and join your group today!