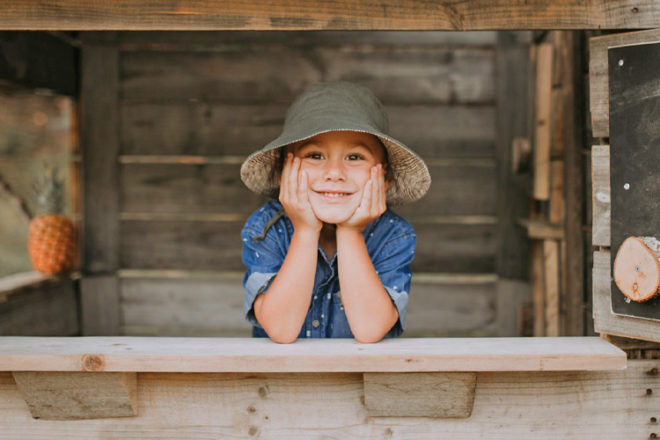 Sun hats are summer essentials that ensure babies and kids have the protection they need to avoid overheating and getting scorched in the great outdoors. And when it comes to options for Aussie babes, there's no need to compromise on style.
A kids' sun hat is a protective accessory with a broad rim that shields little heads and necks from the harsh sun. In Australia, many sun hats for babies and toddlers are fully adjustable and come with a chin strap to keep them firmly in place.
From eye-catching prints and bright colours to soft patterns and delicate florals, we've found plenty of sun hats to keep tiny noggins covered, protected and looking super cute all summer long.
What to look for when buying a toddler sun hat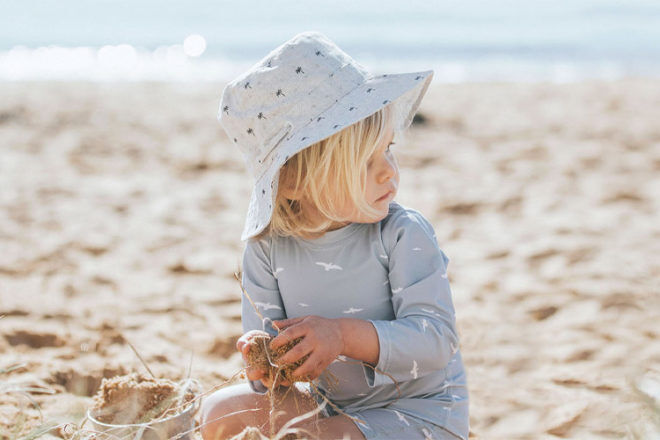 Given how important sun protection is for babies and tots, there are a few things you should consider when you're looking to buy a reliable hat.
Sun Protection: Aussie summers may be epic, but our sun is harsh and potentially very damaging to young skin. It's for this reason that some kids' brands are creating sun hats with UPF50+ materials to drastically reduce the chance of harmful rays penetrating fabrics and they're a great option for tots who spend a lot of time in direct sun.
Materials: Natural fibres like cotton and linen breathe well and help keep toddlers from overheating when they're spending time outdoors. They also tend to be more gentle on young skin, preventing irritation.
Chin strap: Some tots effortlessly manage to keep a strapless hat on all day, others swing, run and jump so much that it's virtually impossible. If your munchkin is an active little thing, a chin strap is going to help keep hats on heads and out of the lost property bin.
---
8 sun hats for babies, toddlers and kids
Here are eight kids' sun hats that look adorable and will give you peace of mind that your munchkin is properly set for the sun.
Purebaby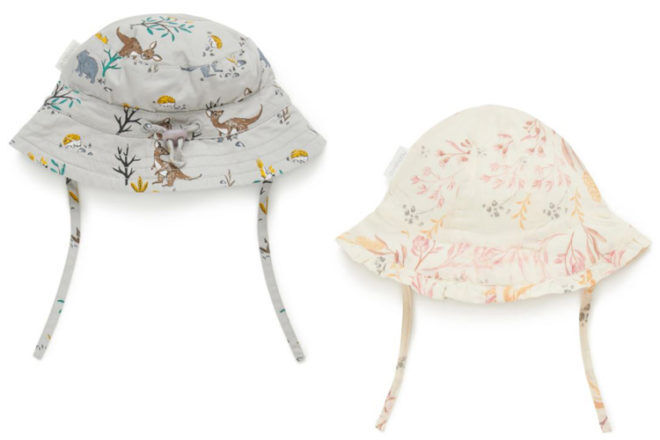 Purebaby's exquisite collection of sun hats includes classic bucket styles in pure organic cotton, eco-friendly swim hats with broad rims and versatile reversible numbers. From pretty ruffles to classic French navy, these are hats you'll love as much as the kids do.
---
Marmalade Lion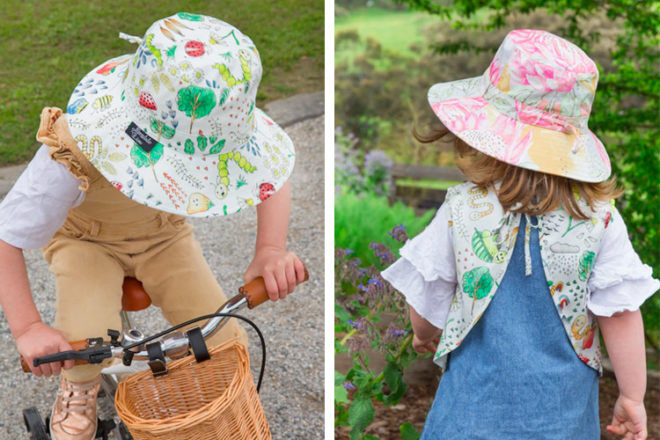 In eight beautiful styles to cover every little toddler's personality, these UPF50+ accessories feature extra-stiff rims to provide the ultimate sun protection all day long. Each is machine washable, fully adjustable and made from deliciously soft cotton sateen.
---
Bedhead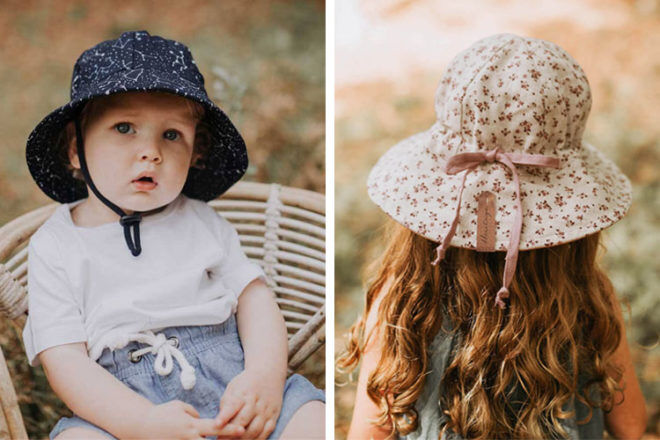 Bedhead's large collection of playful toddler sun hats are made from lightweight, luxuriously soft materials and come in a number of styles including broad-rim buckets, legionnaire hats and even bonnets for the youngest of tots. Every Bedhead sun hat is UPF50+ for superior sun protection.
---
Cheeky Chickadee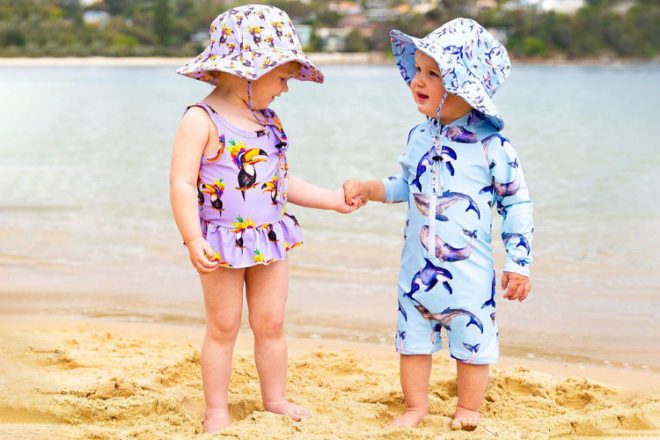 Fun, functional and massively cute, these hats are based on unique hand-drawn prints inspired by nature – and they couldn't be more perfect for wild little tots. They come with handy chin straps to keep hats in place and have broad rims for protecting faces, ears and necks.
---
Toshi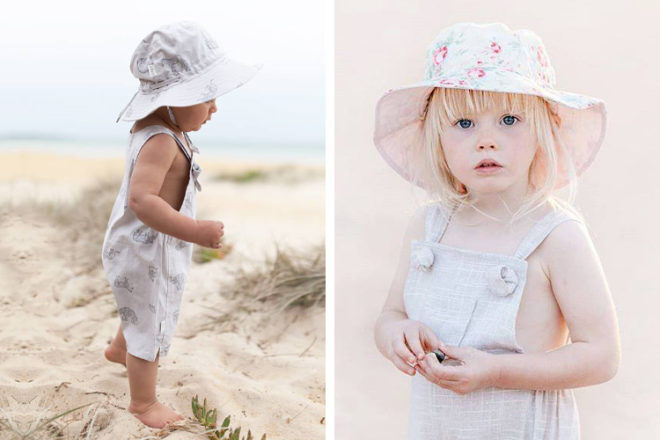 They're the timeless toddler accessories taking outfits to another level while protecting delicate young skin. Crafted from ultra-soft, easy-care materials, styles include bell hats, flap caps and classic toddler sun hats in a range of sizes.
---
Tribe Tropical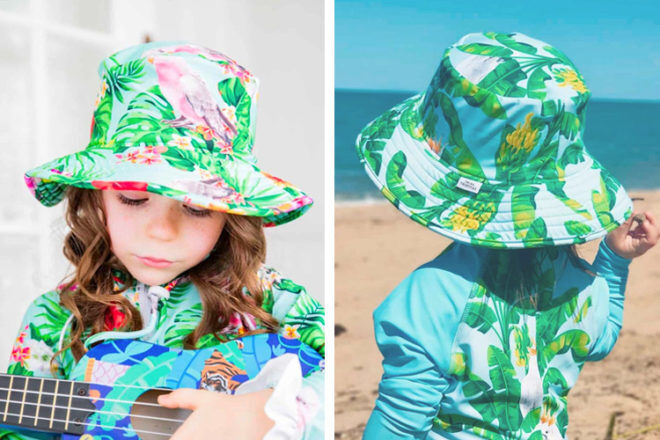 Designed to match the Tribe Tropical swimwear collection, these broad-rim hats are as summery as they come! Each hat is thick, sturdy and provides full coverage across the head. Made from buttery-soft UPF50+ materials, littlies will definitely want to show these off.
---
Mini Boden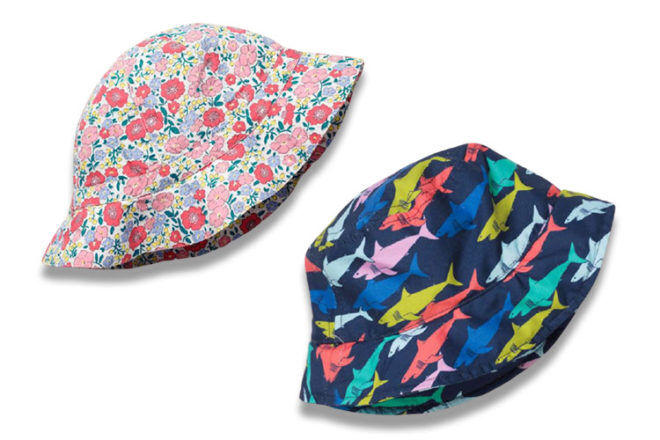 Casual and fun, these classics add a fab splash of colour to summer outfits and keep the sun's rays off sweet little faces. Super lightweight and machine washable, they come in four funky prints and three toddler sizes.
---
Cotton On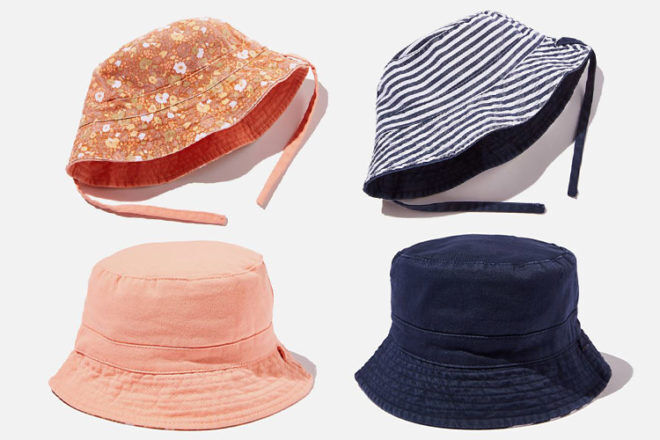 What's better than one hat? Two! Casually cool and low on price, these brilliant reversible bucket hats are the perfect sun-smart accessory for everyday wear. Each cotton hat comes with chin straps and is available in three sizes.
---
This article is curated by our Editors and includes affiliates and/or paid inclusions. See our Disclosure Policy.
Know a brand of kids sun hat we should add to our list? Contact us and let us know.
Find more summer must-haves …
On the hunt for other essentials to keep your kiddo safe and happy in the warmer months? Check out these roundups for the top brands and products for outdoorsy kiddos: