Playing in the dirt, lush lawn, and forest undergrowth at daycare for just one month is enough to improve children's immune systems, according to a new study.
Researchers replaced the paved, tiled, and gravel-coated areas of daycare centres in Finland with forest undergrowth, lawn turf and planter boxes. The results were enough for the researchers to call on all daycare centres to transform their yards into green areas.
The study, coordinated by the Natural Resources Institute Finland (Luke), is the first in the world to show improved immune system regulation in children aged between three and five at daycare, when they played in green areas.
During the study, the children planted and tended to crops, played in the forest undergrowth and lawn turf five times a week. The microbial diversity in the children's skin increased and there were changes in blood counts. "This supports the assumption that contact with nature prevents disorders in the immune system, such as autoimmune diseases and allergies", explained research scientist at Luke, Aki Sinkkonen.
"We also found that the intestinal microbiota of children who received greenery was similar to the intestinal microbiota of children visiting the forest every day," said dissertation researcher Marja Roslund from the University of Helsinki.
More nature play for kids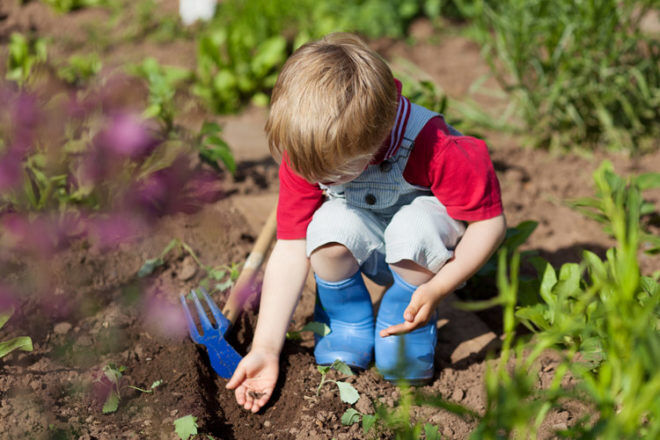 As part of the study 75 children in daycare were monitored for one month at ten daycare centres. The changes in the microbes in children who attended daycare centres with green yard areas were compared with children who attended normal daycare centres or nature daycare centres (no green yard area but regular field trips).
Aki Sinkkonen says based on this and previous studies, daycare centres should boost their green spaces."The yard areas of all daycare centres should be transformed into green areas, because this will improve the regulation of children's immune system in only a month. What is more, children's motor skills and ability to concentrate will improve, and they will have a close relationship with nature."
The researchers say that when we're in contact with nature, we expose ourselves to a broad range of microbes, which activates different parts of our defensive system. They say to protect the natural development of the immune system we should think of ways to expand this green yard model into other parts of our lives.
"It would be best if children could play in puddles and everyone could dig organic soil. We could take our children out to nature five times a week to have an impact on microbes", said Aki.
"The results of this study are encouraging when looking for new opportunities for the prevention of immune system disorders. Further studies aimed to reach this goal are already underway", said professor of virology Heikki Hyöty.
Read next …
Looking for ideas and inspiration for nature-based play in your own backyard? Get the kids out in nature with some of our popular articles below :