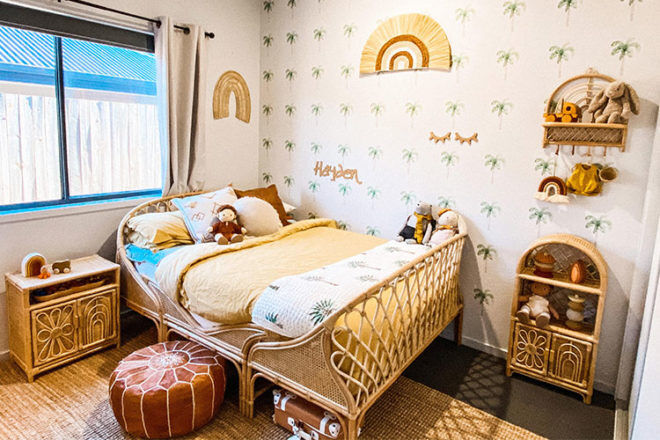 Amber Warke always dreamed of creating a child's bedroom, even before she was pregnant, so once her precious son Hayden came along she was bursting with ideas for a wondrous space for him to sleep, play and let his imagination run wild.
Now that he's two-years-old, Amber has transformed Hayden's nursery into his first big boy room, and it's a delight. She's combined her love of all things eclectic with a passion for children's decor and made him a space that transforms from one week to the next.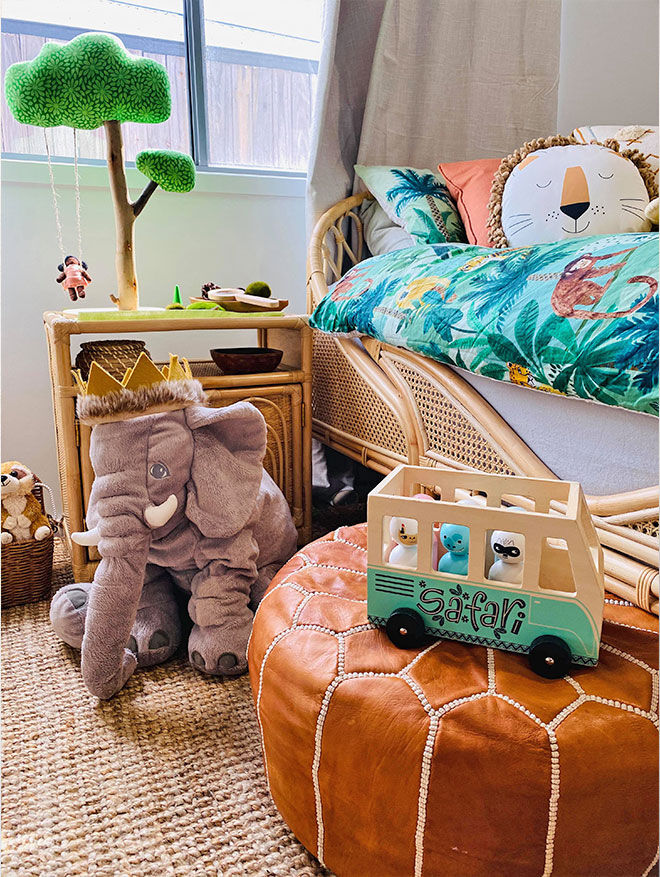 With a base of natural and rattan decor, Hayden's big boy room can be a muted, earthy space one week, and a little explorer's jungle dream the next.
"Just before Hayden turned two, and when he was starting to outgrow his cot, I started to create his 'big boy bedroom' in my head," Amber explained to Mum's Grapevine. "I've always wanted to incorporate earthy rainbows into his bedroom decor, as Hayden is our rainbow baby – and they're gorgeous.
I have a rather eclectic taste; I love lots of different pieces from different genres and generations, and I've always drawn inspiration from one or two statement pieces, like art or furniture, rather than sticking to one particular and permanent theme."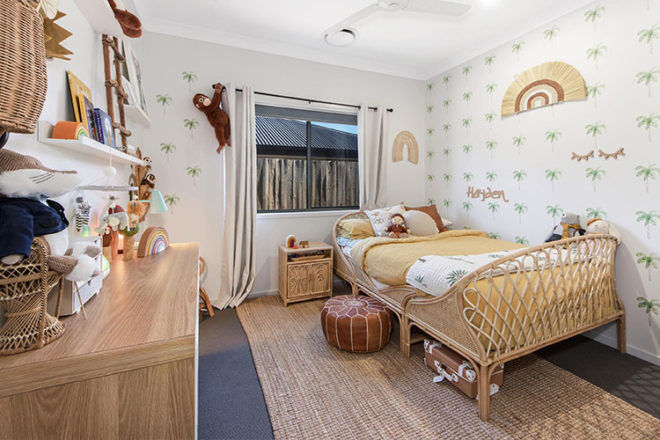 Amber chose a hero piece to work around, slowly filling in the rest of the room around Hayden's magnificent rattan bed.
"When I saw this rattan Delilah bed from Poppy's Little Treasures, I knew this was it. I'm a fan of boho, rattan and a mixture of modern and vintage pieces, so I knew that this would be perfect. Hayden's original baby nursery was a mint green and grey colour scheme with slight pops of black. As 2020 came about, the warmer earthy tones really started to appeal to me, so out went the mint, and in came mustard, rust, jute and pops of green!
"It was essential to select key pieces that were versatile and easy to change linens, toys and other decorative pieces with. I like to change the theme and decor around so that his bedroom captures his interest and remains appealing. One week it will be boho and natural wooden toy focussed, and the next fortnight or so I will change it up to a jungle theme, and bring in books and toys that fit in with the animals and environment of a jungle."
A creative child's bedroom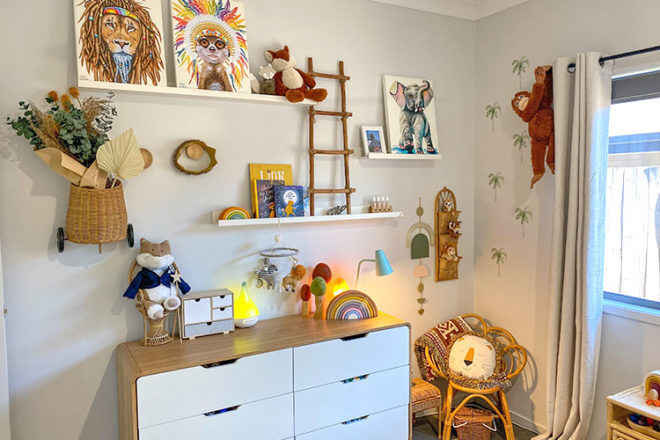 Amber says it was really important for her to create a space that was visually appealing, but also functional as a toddler's bedroom.
"I wanted it to be fun to play in, easy to select clothing and dress in, and relaxing and calm to sleep in. I have so many favourite pieces! The rattan furniture is definitely a favourite of mine. I adore it. It's beautiful to look at, and each piece is strong, has perfect detail and is really functional. The cabinets both have storage for Hayden to put away his things, and his bed doubles up as a couch and coffee table setting! It's so versatile!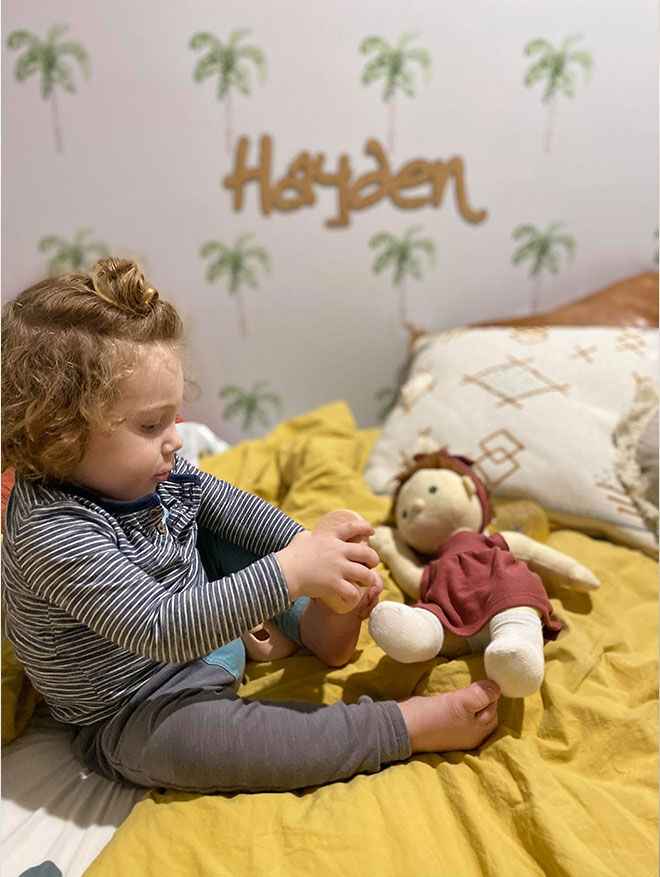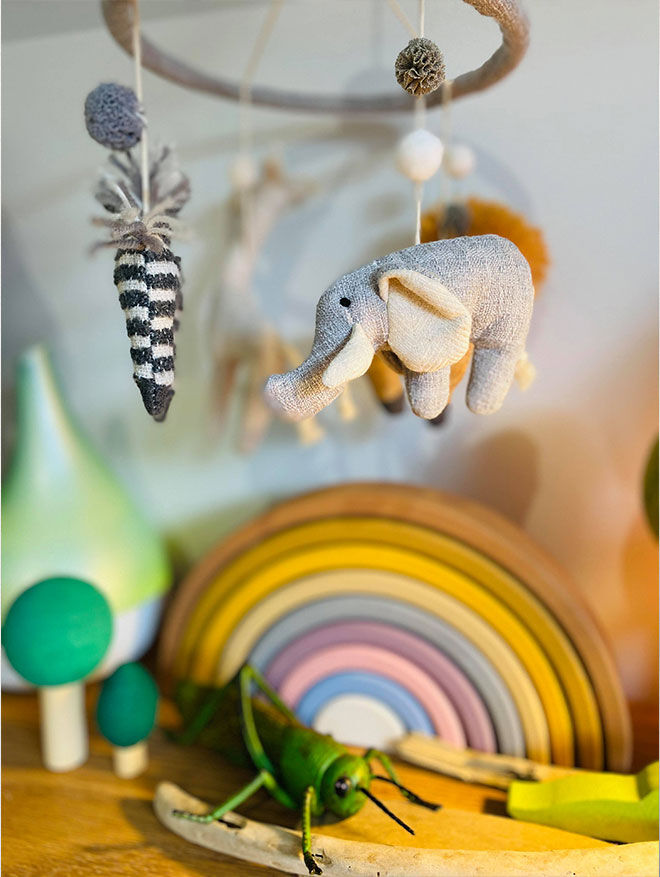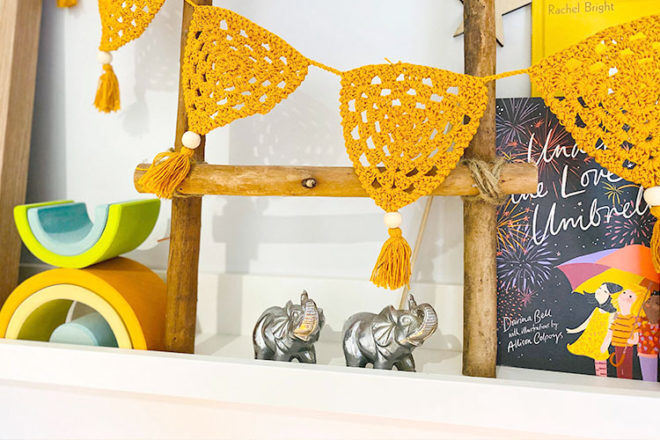 "Another favourite of mine are the vintage pieces I have collected and passed down. I have two silver elephants that belonged to my father as a child, a wooden toy truck that I made when I was 12, a child's suitcase that belonged to both my aunty and mother when they were little girls, and a dolls rattan mini peacock chair which will seat anything from a fox to a Dinkum doll to a dinosaur figurine! I adore the bed linen, mostly Adairs, and the Sea Tribe cushions.
"My last couple of favourites are definitely all of our items from Olli Ella – the stool, Dinkum Dolls, suitcase and Luggy – so cute and Hayden loves pushing around his favourite things in his Luggy and putting his Dinkum Dolls to bed. His bedside table and wall shelf also currently have gorgeous hand made 'trees' from a small business Deeva Art. Her work is detailed and so lovely. They're a really versatile piece – great for decoration in a bedroom but also fun to play with in the playroom with Hayden's treehouses.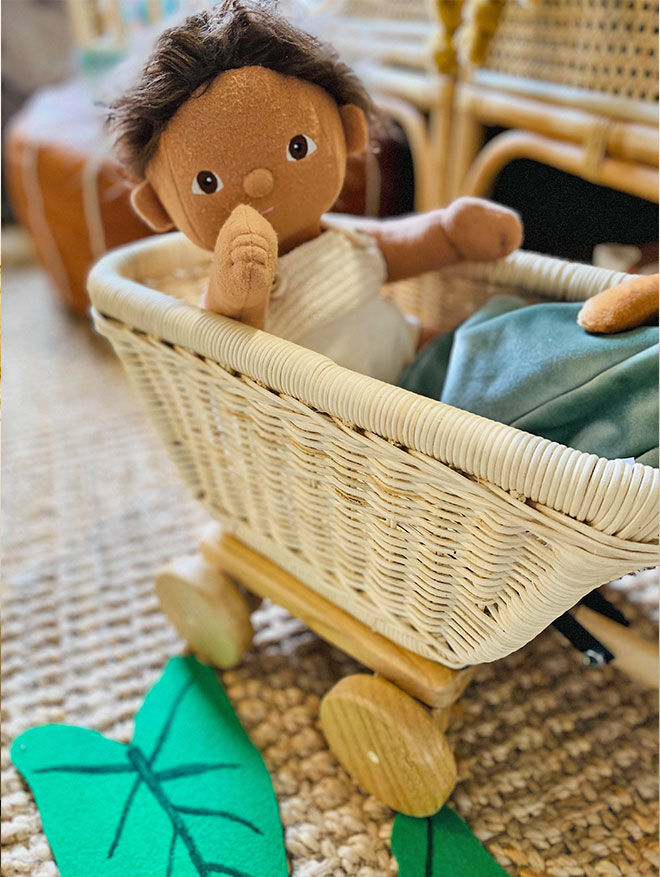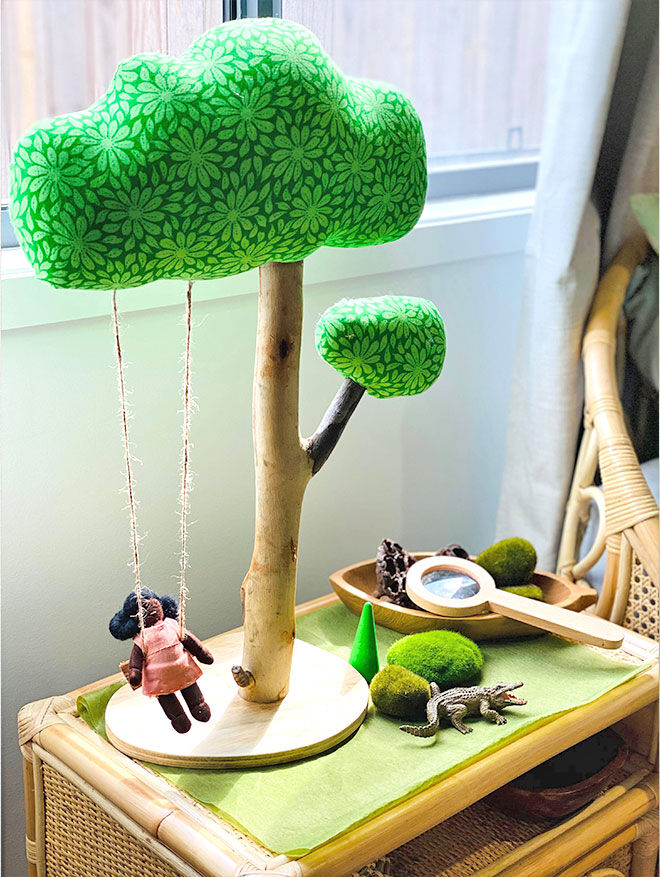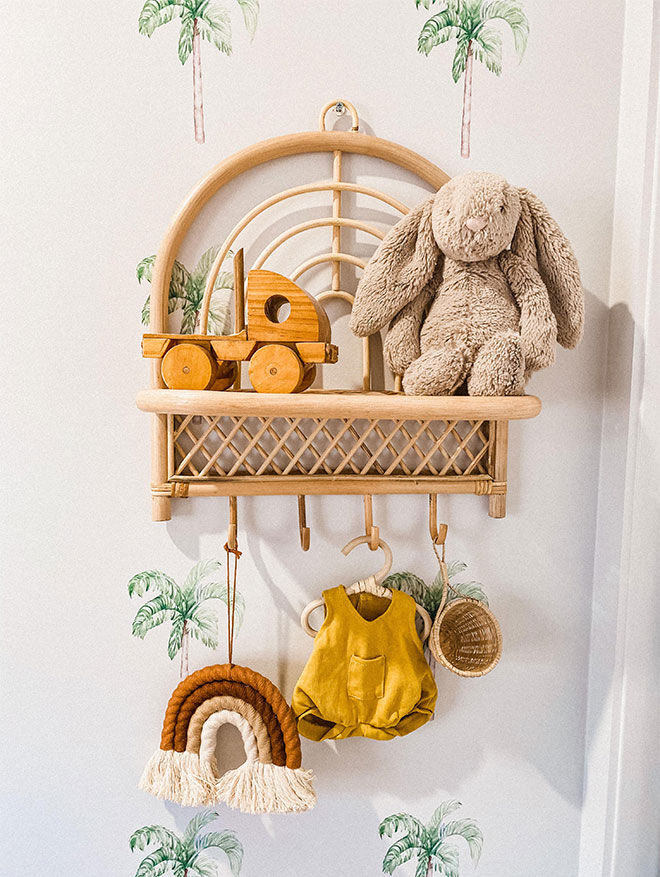 "I try to include different wooden building and stacking toys where I can; I love getting my pieces from Grimms, Grapat and my newest favourite is Raduga Grez. Their earth colours are perfect. I encourage child-led natural play where I can, and a lot of our chosen toys and decor allow us to do this, and Hayden's play and creativity is constantly surprising me."
Amber says she tries to support local and handmade where she can, and has kindly shared a list of where she sourced some of the room's key pieces:
Rattan furniture – Poppy's Little Treasures
Wall decals – Little Rae Prints
Wall mounted earthy raffia rainbow – Kiin Baby
Wall mounted rainbow – Koko Collective
Palm Tree Kantha blanket – Garzie and May
Chest of drawers – Fantastic Furniture
Rattan child's chair – Big W
Luggy/Dinkum Dolls/Doll Clothes/Travel case in mustard/wicker stool – Olli Ella
Wooden stacking towers and rainbows in earth tones – Raduga Grez
Pastel rainbow – Grimms
Rattan wagon – Tiny Harlow
Wicker Dolls day bed – Poppie Toys
Wall name decal – CMC Gold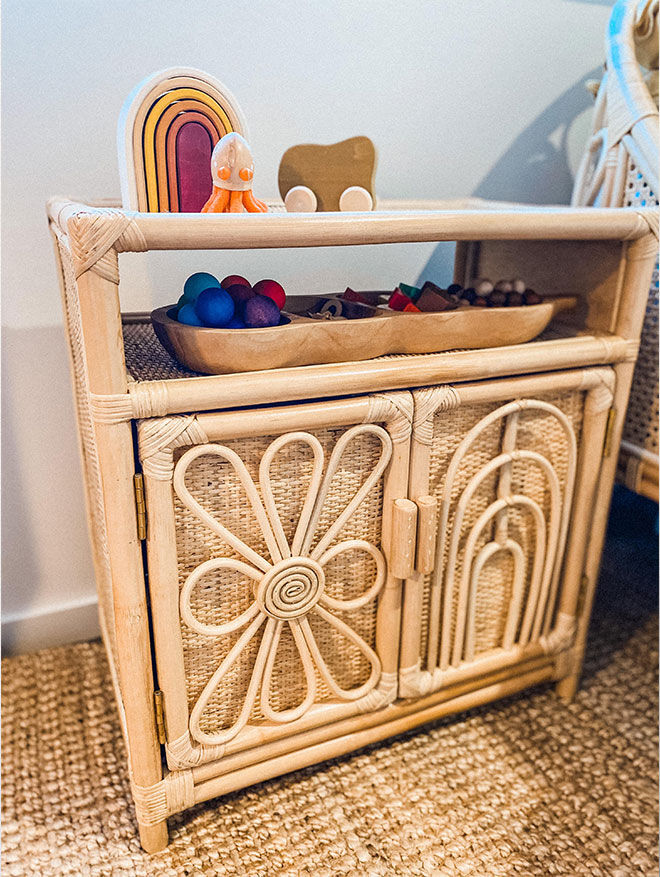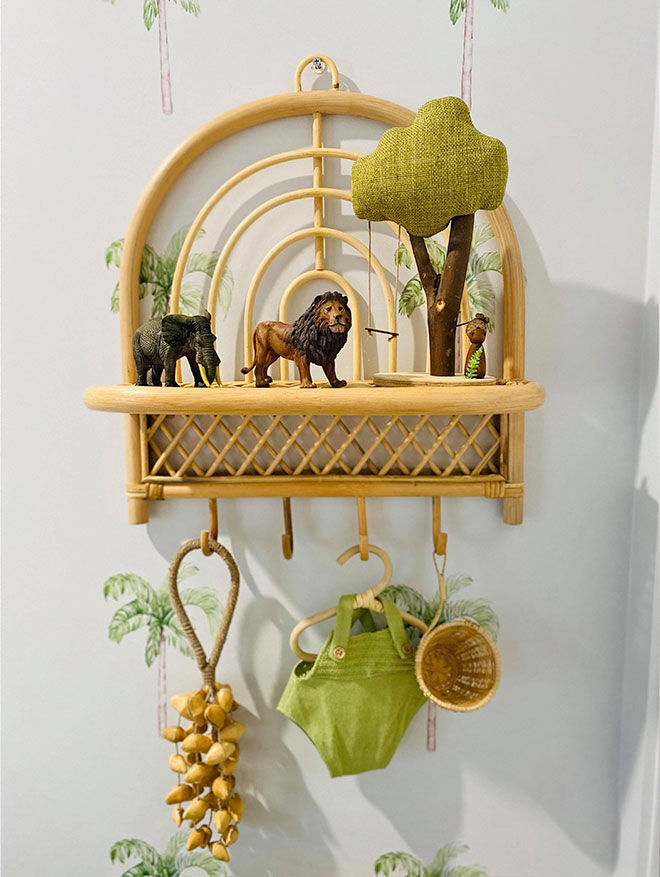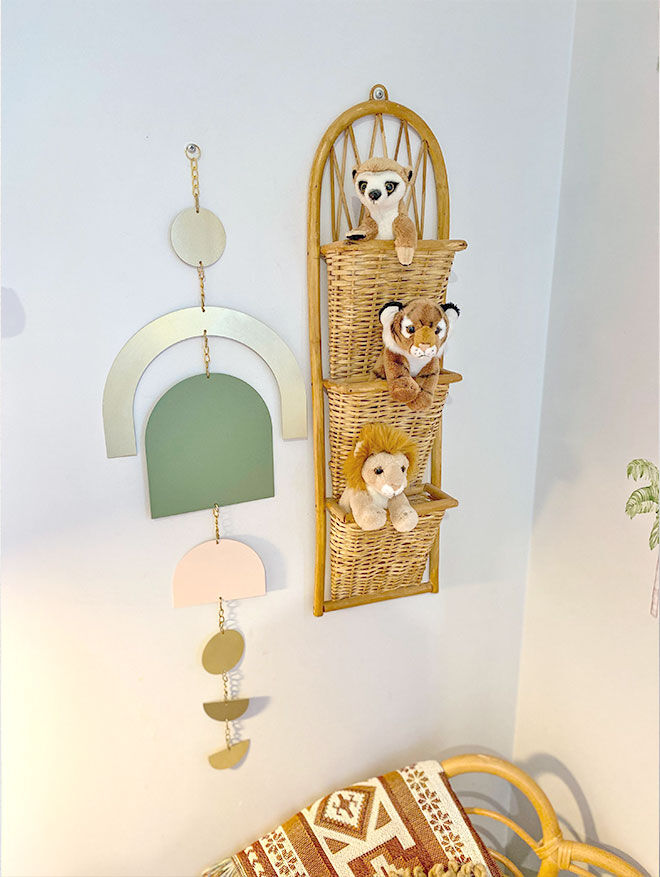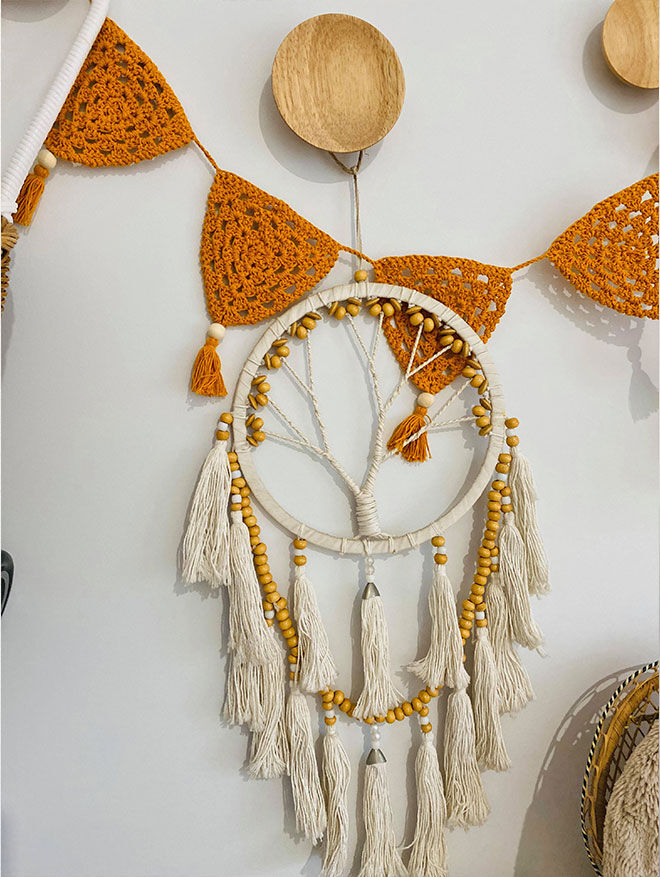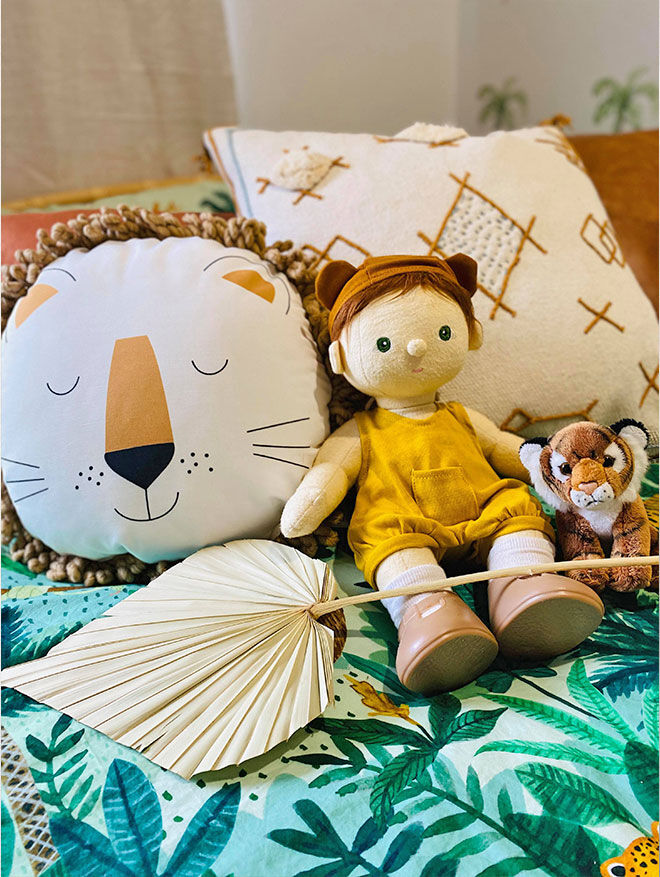 Read next …
Want even more nursery and children's bedroom inspo? Head to these articles next: