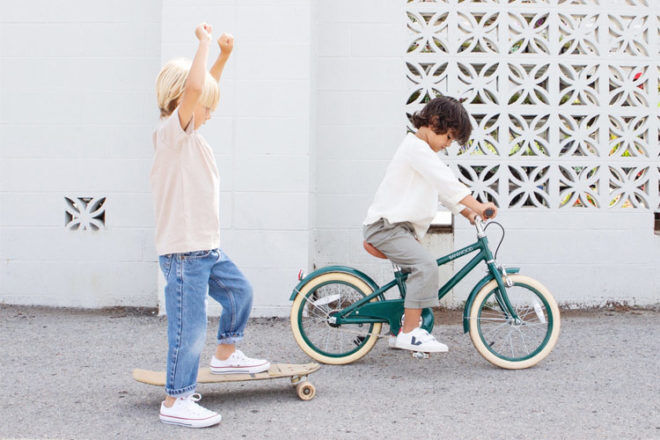 So your little one is tearing it up on their toddler wheels and now it's time to dial up the excitement with their first bike for big kiddies.
That first bike is a milestone gift for kids, one that signals the beginning of a new kind of freedom and goes a long way in ensuring kiddos get the physical activity their growing bodies need.
But most of all, independent bike riding is pure and exhilarating fun, and a few grazed knees aside, it makes for some unforgettable childhood memories.
What to look for in a first bike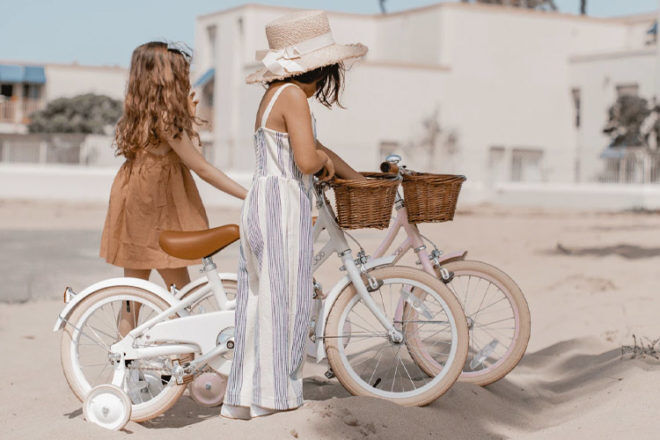 From adventures at the skate park to riding to school with siblings, bikes play a big role in Aussie kids' lives. But not every bike is right for every child, so here are some points to ponder when you're looking to buy that all-important first one:
Size: Generally, a 12" (30cm) wheel suits kids aged 2 – 4 years and a 16" (40cm) wheel suits kids aged 3 – 6 years. But, be sure to measure your child's height and refer to the brand's guidelines before you purchase.
Weight: Because riding a bike isn't fun when it weighs a tonne. Look for a frame made of lightweight materials that littlies will be able to manage by themselves. If your child can lift the bike easily, they will get much more enjoyment out of riding.
Brakes: Keep in mind that some hand brakes can be tricky for little hands to manage, so for a first bike make sure it has coaster (foot) brakes as well.
Adjustable seat: To ensure you get longevity out of the bike, opt for a style with a seat that can be adjusted to several heights. Remember, preschoolers seem to grow by the second and having the seat at the perfect height is critical to confident riding.
Training wheels: While some kidlets who've spent some time on a balance bike may not need much support to master riding their first 'big kid' bike, others will feel much more secure having training wheels fitted. Check whether training wheels come with the bike or need to be purchased separately.
Accessories: Baskets are brilliant for toting teddy and bells are the bee's knees for kids who like to tell the world they're on wheels. If you know your kiddo will love a few add-ons, look for a brand that sells matching, compatible accessories.
---
11 fab and fun first bikes for kids
To help you track down the ultimate first bike for your mini, we've rounded up 11 must-see brands for you to check out. In no particular order, here they are:
1. BYK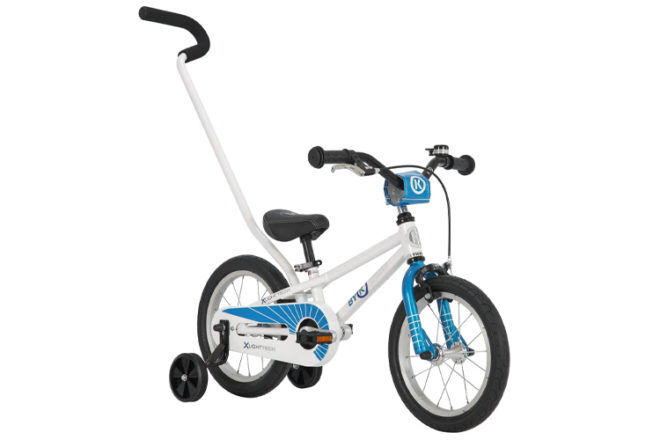 The bestselling E-250 from BYK is one of the lightest around, weighing just 7kg. It has a low, ergonomic frame that keeps little bods in a comfortable and correct riding position and it even comes with a parents' handle. Grab it in a choice of eight shades.
---
2. Liv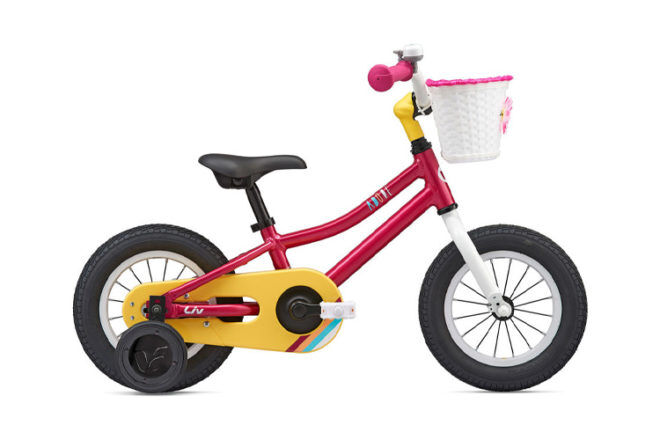 With a bell, a basket and some major colour pops, this adorable first ride is perfect for cruising the sidewalks in style. It has a lightweight aluminium frame, easy-balance tyres and it comes equipped with training wheels for the early days.
---
3. Hip Kids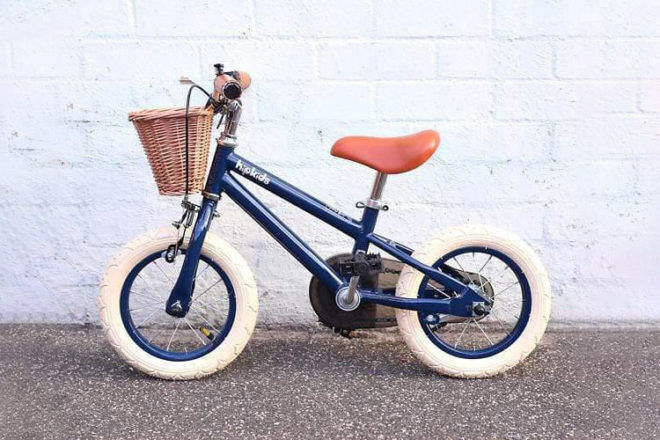 With tan leather-look handles and seats, these little numbers are all style. Built with 12-inch wheels to be perfect for riders as young as three years, they come with training wheels and a wicker basket for toting treasures and snacks.
---
4. Mongoose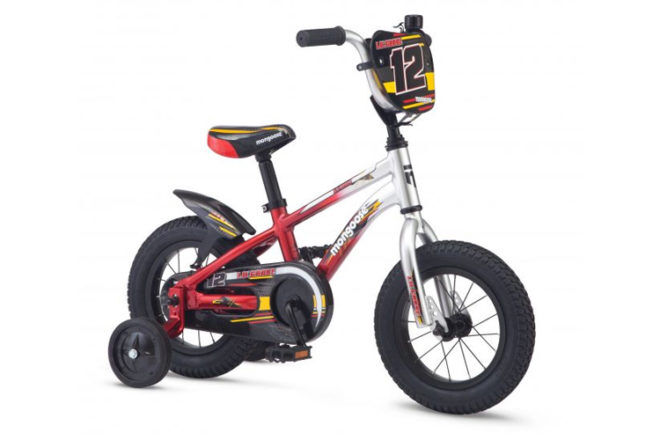 A classic little ride from a company at the forefront of the BMX scene. This 12″ model is available in three different colour schemes and is built with a lightweight alloy frame. We're loving the racing mudguard on this little number.
---
5. iimo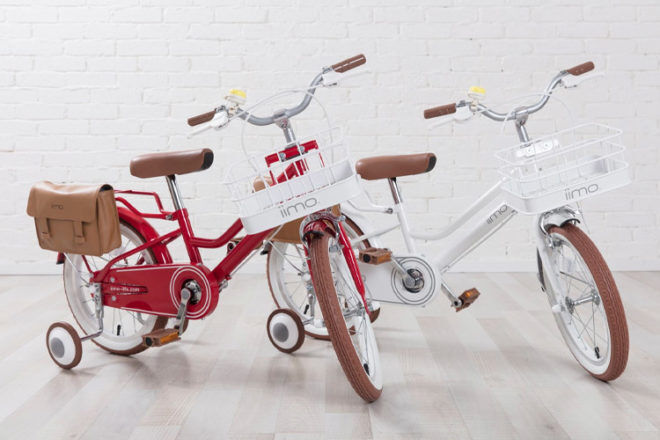 With vintage vibes and the mod-cons little riders love these days, these Japanese-designed gems definitely stand out in the crowd. They come with detachable training wheels, a handy front basket and even a saddle bag for those favourite books.
---
6. Academy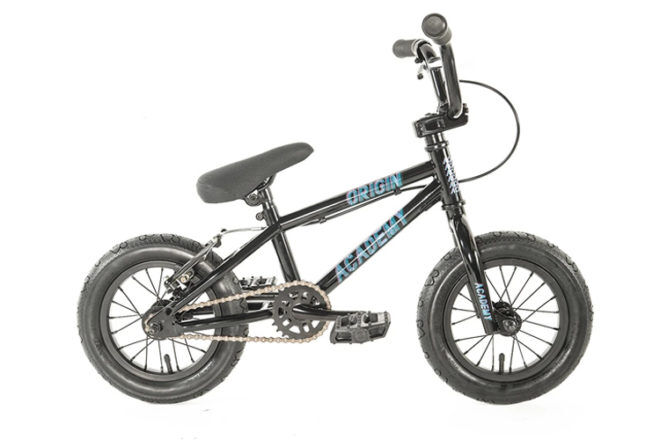 Grungy, glossy and seriously cool, the Academy Origin is a first BMX they'll never forget. It's built tough with a hi-ten steel frame and features rear (foot) brakes, chunky pedals and training wheels for stability when starting out.
---
7. Reid Cycles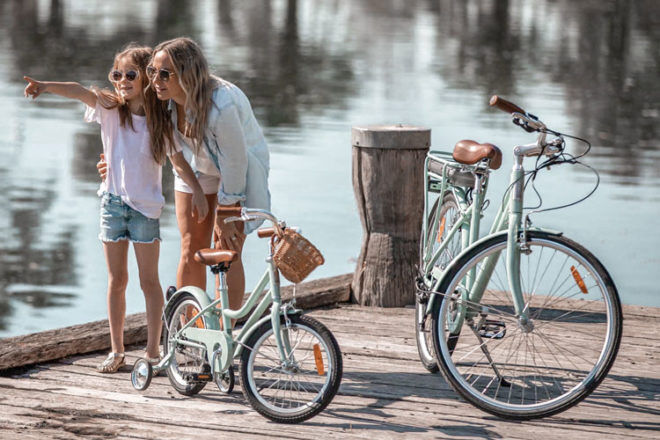 Looking for 'twinning' bikes? Here they are! These colourful classics are definitely worthy of a spot under the Christmas tree and they come in a stunning range of pastel hues. The 16″ model is built for kiddos aged around four to seven.
---
8. Banwood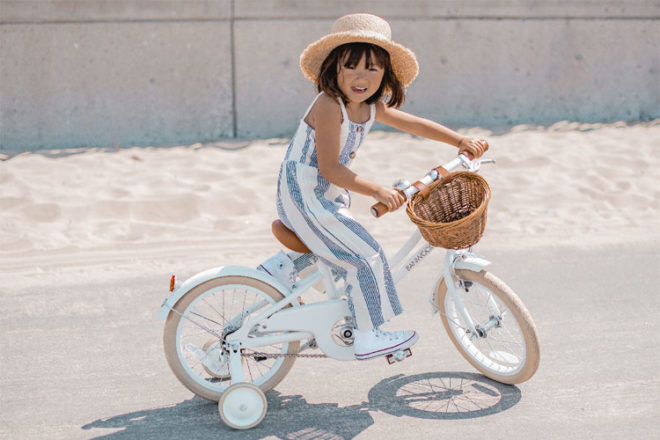 Banwood Classic Bicycle ($549.95)
Influenced by clean, crisp Scandi design and inspired by vintage bicycles, Banwood's 16″ bikes are nothing short of breathtaking. They come in pink, white, navy and green options and boast dual brakes, training wheels and a kickstand. Major swoon.

---
9. Vuly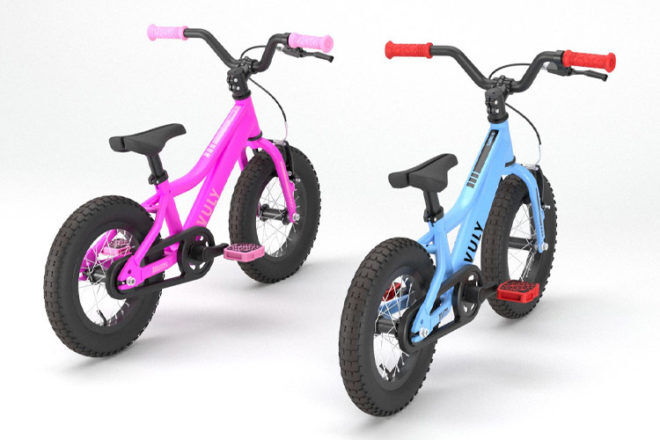 Vuly's first bikes for kids are big on fun and low on fuss. Perfect for the youngest of early riders, they have 12″ wheels, gentle pedals and soft handlebars. The ergonomic saddle will keep little botties comfy and the included training wheels will keep them secure.
---
 10. Neo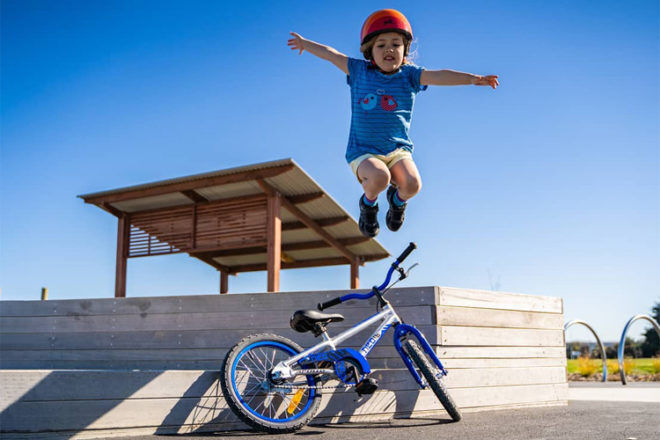 In a choice of four unmissable colours, the Neo 16 looks as good as it rides. Created as a first bike for kids between three and six years, it has a comfortable saddle designed especially for kids and comes fitted with removable training wheels.
---
11. DK Aura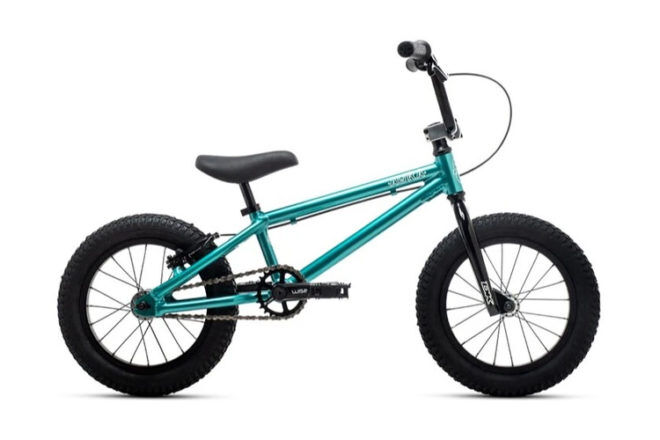 This snazzy 14″ bike is ideal for littlies who are ready to move on from the balance bike, but not quite tall enough for a 16″ wheel. It has a light aluminium frame, coaster brakes comfy handles and Snake-tread tyres for serious grip.
---
This article is curated by our Editors and includes affiliates and/or paid inclusions. See our Disclosure Policy.
Know a brand of kids bike we should add to our list? Contact us and let us know.
Read these roundups next ….
Continue your search for the best first bike
Looking for a first bike for your tot and still not sure if any of these are right for you? Search online by jumping into one of our closed Baby groups and ask thousands of other Australian mums what they recommend – 'What to buy' is the most talked-about topic.
Click and join your group today!