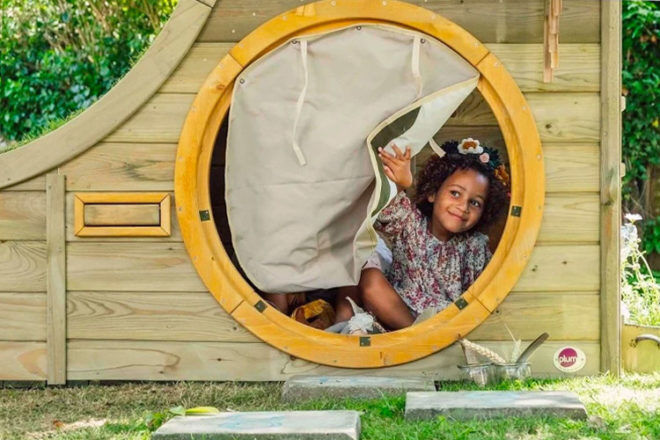 From 'No Parents Allowed' meetings to Zen zones for chilling with a Zooper Dooper, a kids cubby house offers tykes a place to call their own and facilitates endless imaginings.
Thankfully, there's no need to bury the loungeroom floor in a blanket fort anymore because wow-worthy kiddie cubbies are available to suit a range of personalities and budgets. Your child's dream home is just a click away, the only problem is choosing.
15 best cubby houses for indoor and outdoor play
All set to find the ultimate kids cubby house? We've searched here, there and everywhere to gather 20 of the coolest cubbies around.
Adairs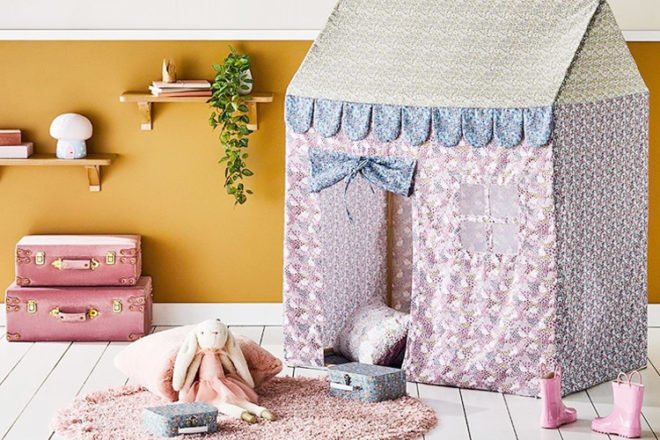 Decked out in patchwork florals, this could just be the prettiest cubby in town. It measures 110 centimetres, so it's plenty big enough for a few children to enjoy at a time. With timber poles and a cotton tent, it can be assembled and disassembled in just minutes.

---
Mocka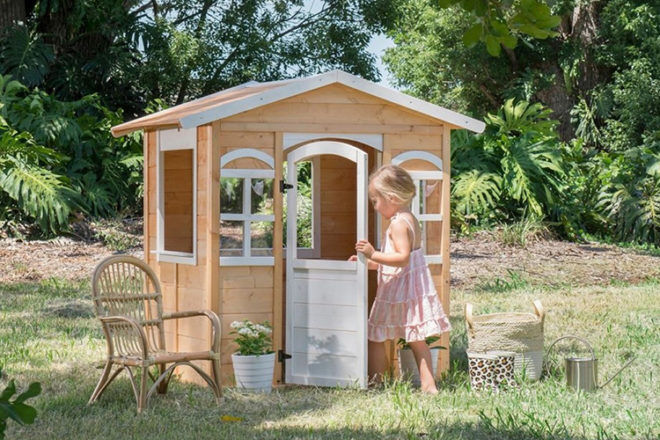 Made of fir-wood and finished with white trims, this fresh kids' cubby house is going to look sensational in any backyard. We're particularly loving the airiness of this one – it has openings on every single side, so kids can stay and play all afternoon.

---
Oliphan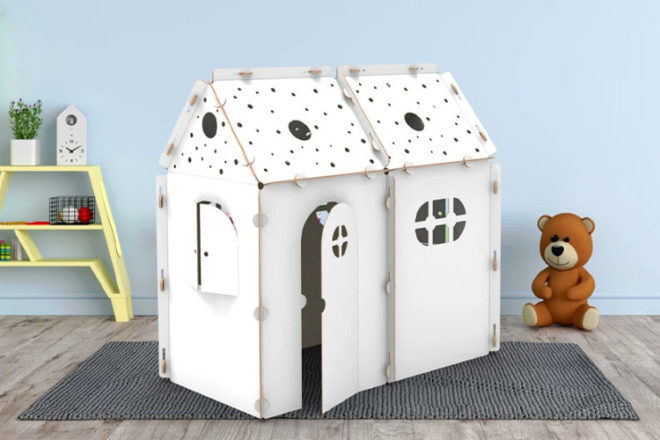 This cardboard cubby is definitely going to keep creative kids entertained for a good while. Available in two sizes, it's made up of sections of tough eco-friendly cardboard that can be pieced together to form a house. Once built, grab the markers and bring it to life!

---
TP Toys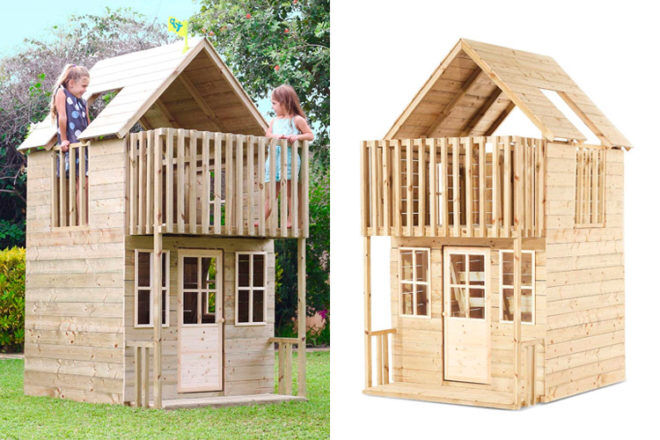 It's one of the few two-storey playhouses around, you can pretty much count on the kids playing in this one all day long. Features include a top-level balcony for spying on parents, an internal ladder and timber veranda.

---
CubbyTime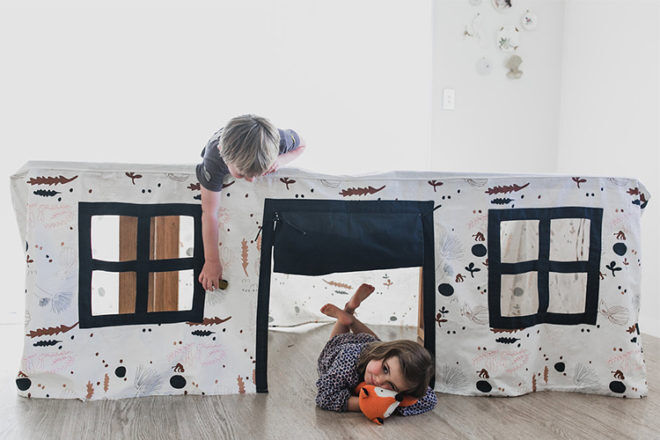 Created by a mum, this smart invention can be placed over existing furniture to create a next-level cubby with a roll-up door and windows. It measures over two metres in length and can be adjusted to fit almost any dining table. Genius!

---
Plum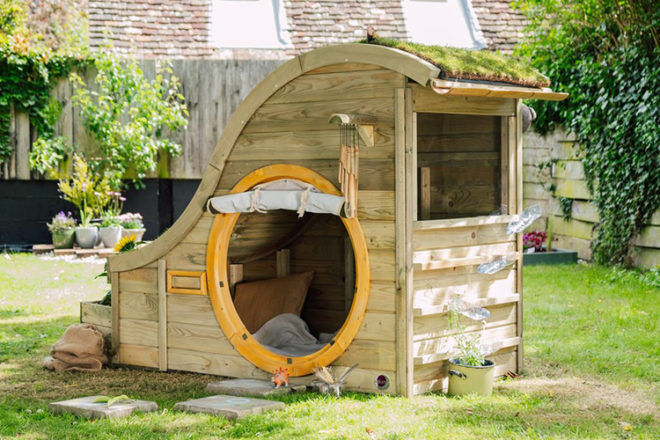 Designed to inspire creative play amongst nature, this breathtaking hideaway is unlike any other. Kids can build mud pies on the external table and plant herbs in the flower box. Or, when laziness calls, they can just kick back in their den and listen to the bamboo chimes.

---
KidKraft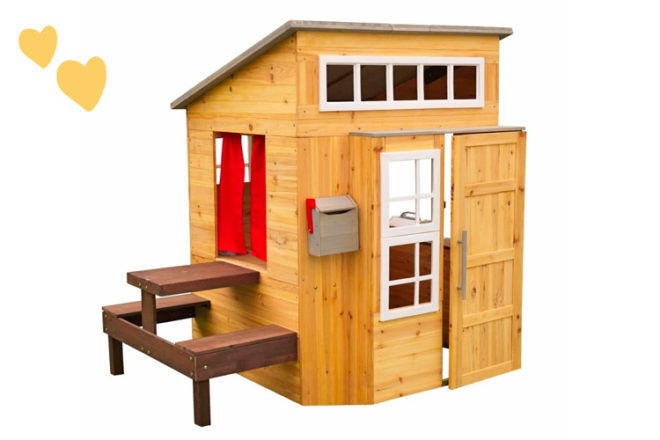 No list of awesome cubbies would be complete with KidKraft in the mix, and this reinforced, wooden playhouse is our top pick. Water-resistant roofing means it will stand up well to the wet months, while the outdoor picnic table is perfect for alfresco lunches.

---
Bump2Bub and Beyond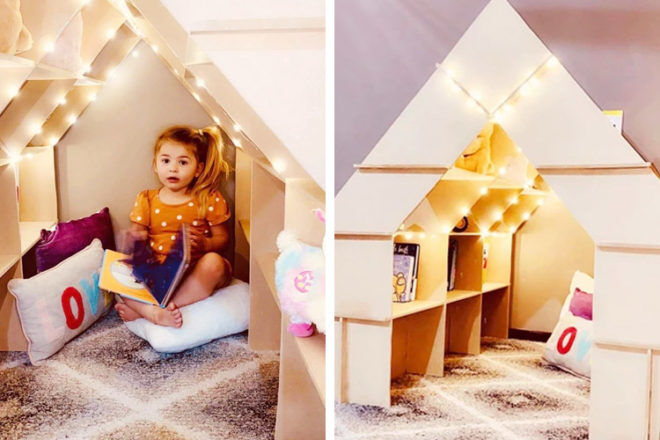 A multipurpose cubby that has both style and storage in spades. Perfect for playing, hiding, reading and relaxing, it's natural finish and rounded edges make this sturdy cubby house a beautiful addition to the playroom.

---
Vuly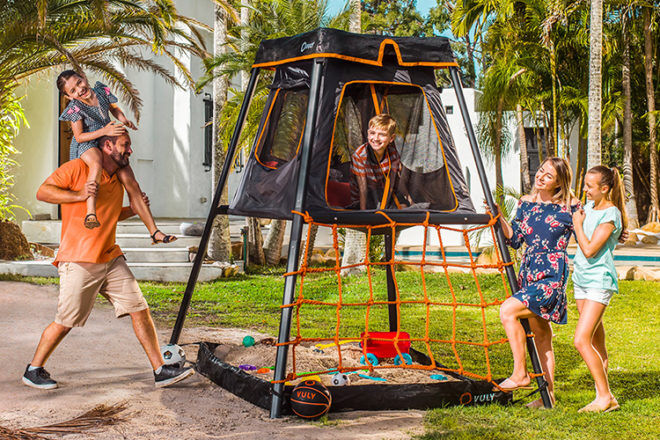 We know and love Vuly for its insanely cool trampolines and outdoor play equipment, and this adaptable cubby combines some of the coolest features of the entire range. It has a bouncy base, climbing rope, sandpit and secure zip-up tent for backyard camp-outs.

---
Café Cubby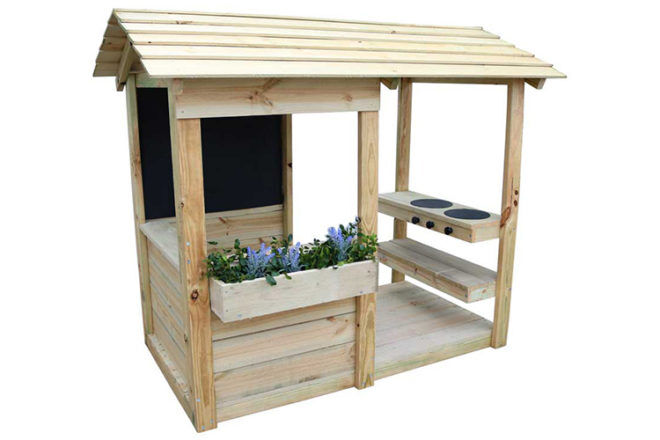 Got little cooks in your life? This adorable kids' cubby is designed to function as both a café and as a market stall. Kidlets can use the blackboard to write up the 'dish of the day' and stack the shelves with freshly baked mud pies.

---
Stilla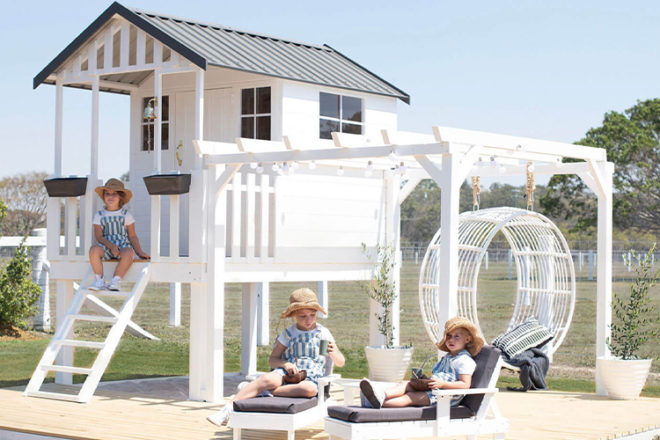 From an Aussie company renowned for building quality sheds comes a kids' cubby destined to be the star of the backyard. It has a Colourbond roof, sandpit zone, sliding windows – and the cedar panels can be stained or painted to create the cubby of their dreams.

---
Djeco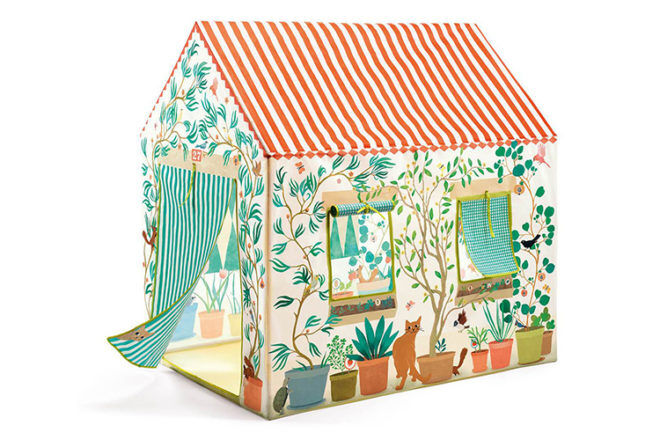 Prepare the croissants! This French-themed cottage comes in a very convenient pop-up format, so it can be ready for play and packed away in a jiffy. It's made from fabric that can be easily wiped down and features tie-up windows for peeking at passers-by.

---
Amart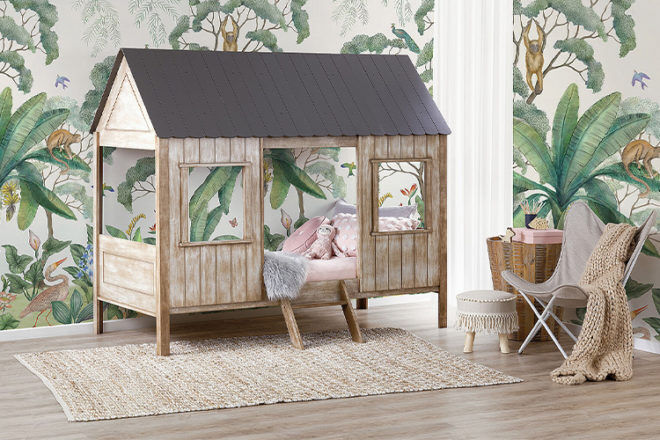 It's a play cubby or a bed cubby! This incredible house is designed to fit a standard single mattress, so whether they are snoozing or drawing, kids will be cosy and comfy the whole time. It's made from solid wood and comes with a mini step ladder.

---
Hip Kids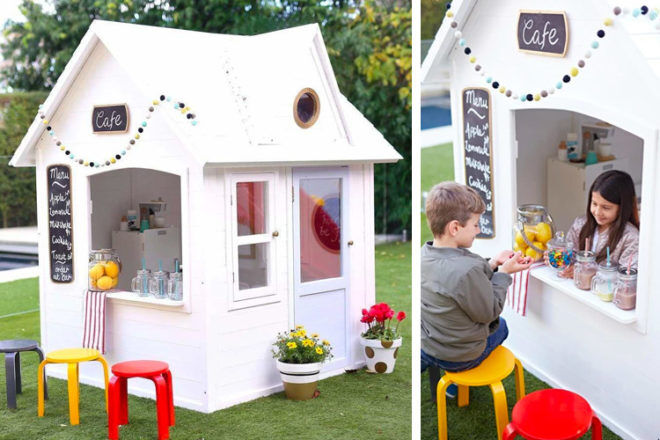 Anyone for mud shakes? With large openings on three sides, this airy cubby is just the place to gather and enjoy a few kiddie-made concoctions. Wooden plaques on the top and side can be personalised to make the house completely unique. This one comes unpainted.

---
Kmart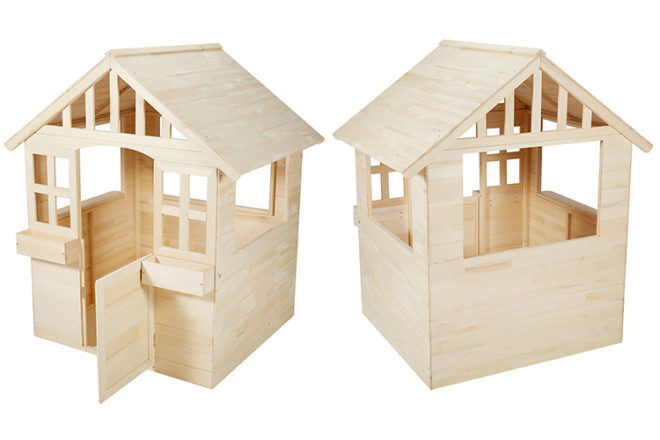 Paint and decorate, or leave it in its raw state – however you choose to present this classic wooden cubby, you can be certain that it's going to provide years of outdoor fun. We're especially loving the sweet little flower boxes for the kidlets with green thumbs.

---
This article is curated by our Editors and includes affiliates and/or paid inclusions. See our Disclosure Policy.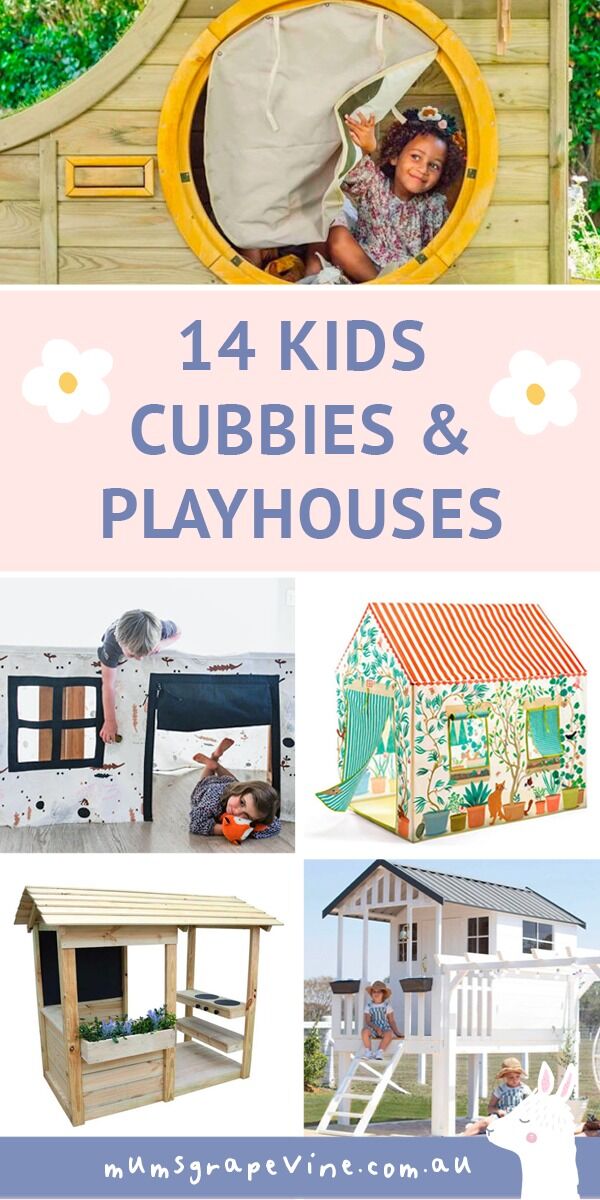 Know a brand of kids cubby house we should add to our list? Contact us and let us know.
Read these roundups next ….
Continue your search for the best kids cubby house
Looking for a kids cubby house and still not sure if any of these are right for you? Search online by jumping into one of our closed Baby groups and ask thousands of other Australian mums what they recommend – 'What to buy' is the most talked-about topic.
Click and join your group today!