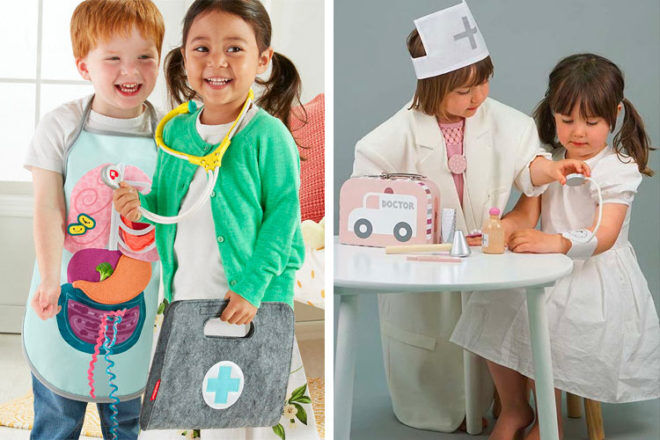 Kids' doctor kits and costumes are timeless hits when it comes to the toy box, and they are as fun as they are educational.
Not only are medical playthings super useful for tending to teddy's sniffles or re-attaching dolly's left leg, but they also inspire loads of imaginative play, help improve language skills and teach kids about medical tools and procedures.
And let's face it, there are few things cuter than watching tots nursing injured toys back to health.
20 doctor playsets and costumes for kids
To help you find the perfect medical-themed gift for your budding physician, we've rounded up 20 of our favourite doctor kits, toys and costumes. In no particular order, here they are:
1. Hape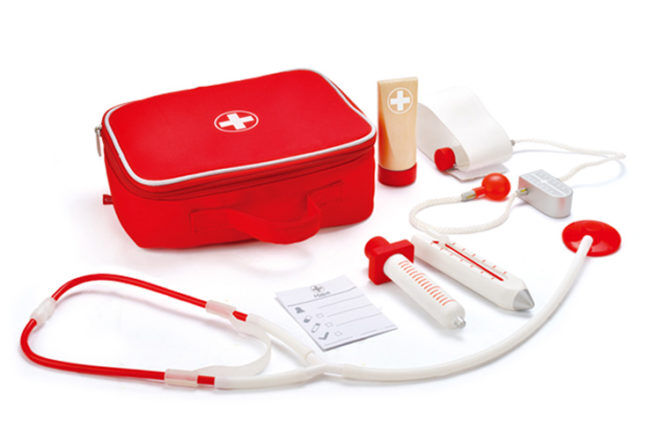 Crafted from sustainable wood and textiles, this bestselling doctor playset comes with seven critical pieces for getting through all those check-ups. With a zip-up travel case included, they'll be able to take their tools everywhere.
---
2. Twenty-Seven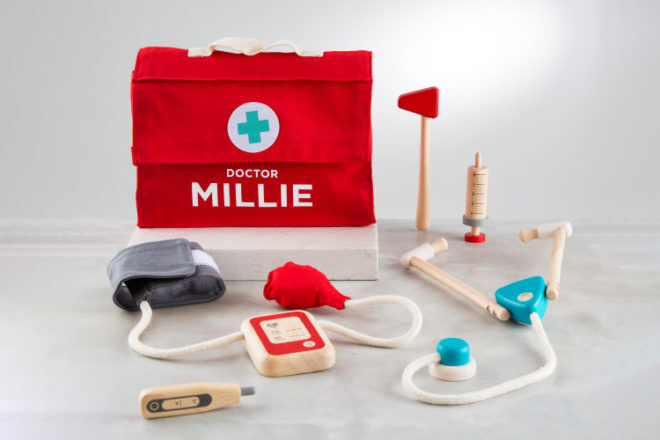 With their name printed on it, this is a doctor's kit to cherish forever. The stunning gift set comes in a red cloth bag and contains an assortment of wooden accessories for years of imaginative medical adventures.
---
3. Melissa & Doug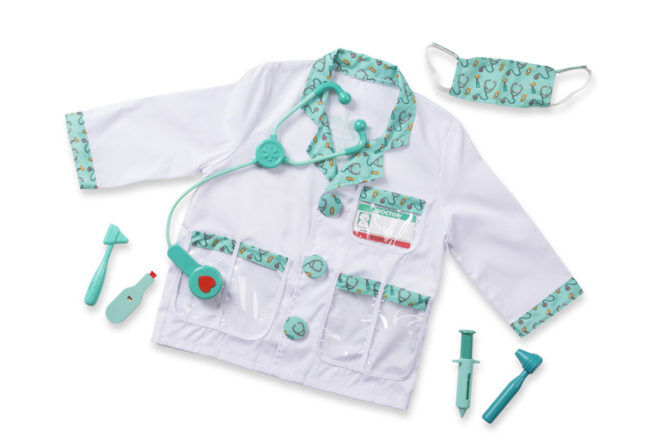 The doctor can see you now! This adorable doctor costume comes fully equipped with everything littlies need to tend to their patients, including thermometer, a stethoscope with sound effects, and a reusable name tag.
---
4. Green Toys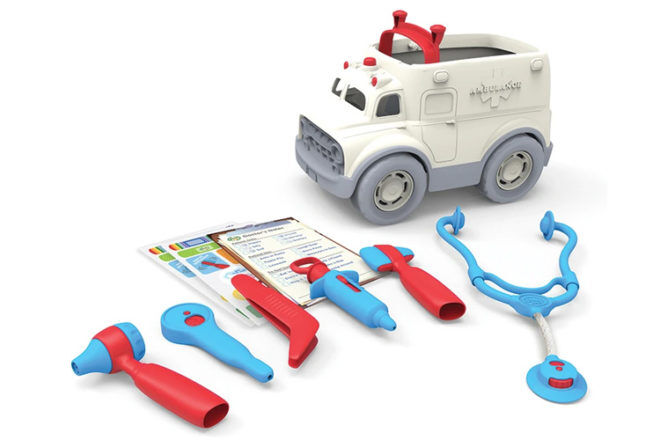 Did someone call an ambulance? Made entirely from recycled materials and finished with soy-based inks, this 10-piece set takes the medical play to new heights. And when playtime wraps up, items can be popped in the dishwasher for cleaning.
---
5. Fisher-Price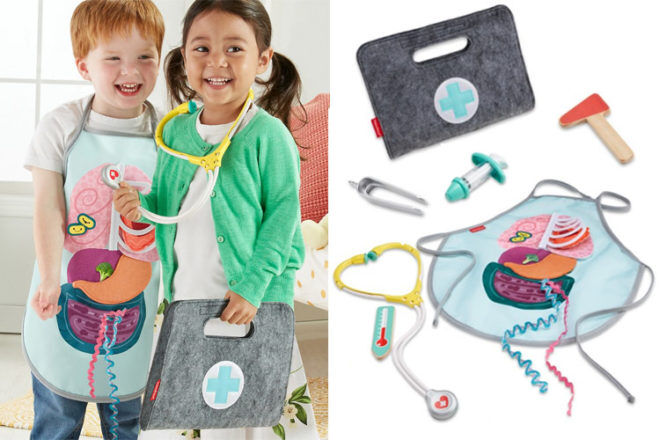 This brilliant set doesn't just come with a fabric medical case filled will all the necessary medical tools junior doctors need, but it also includes a fabric patient's apron complete with pull-out guts and tummy bugs!
---
6. Trixes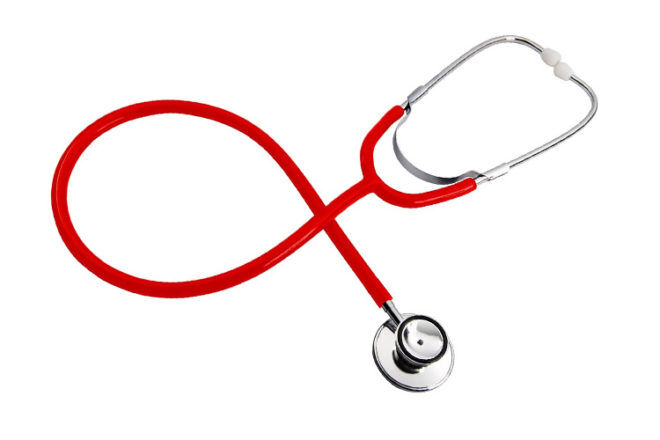 Because if there's one thing a doctor can't do without, it's a stethoscope. This jazzy red number is perfectly proportioned for kiddos and makes a fab accessory to scrubs, lab coats – or even just pyjamas.
---
7. Indigo Jamm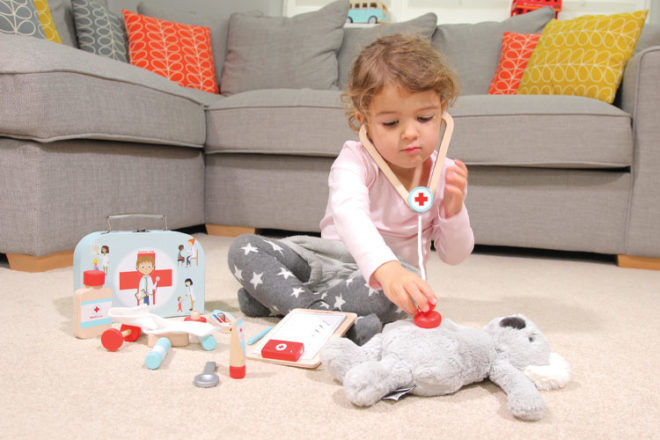 If you're after a doctor playset for the youngest of medicos, this is it. Suitable from 18 months, this wooden set is perfect for even the smallest of hands to play with. We're seriously swooning over that blue carry case.
---
8. Tooky Toy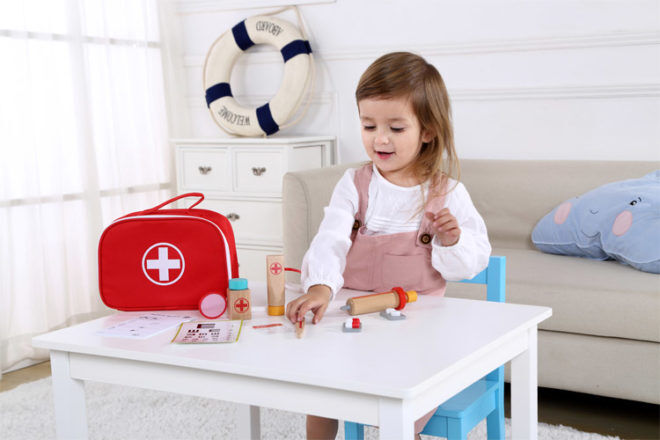 With everything from antibiotics to an eye chart included in this doctor's kit, the kids will be playing 'hospitals' morning, noon and night! Suitable from three years, all pieces come bundled up in a neat canvas bag for on-the-go treatments.
---
10. Make Me Iconic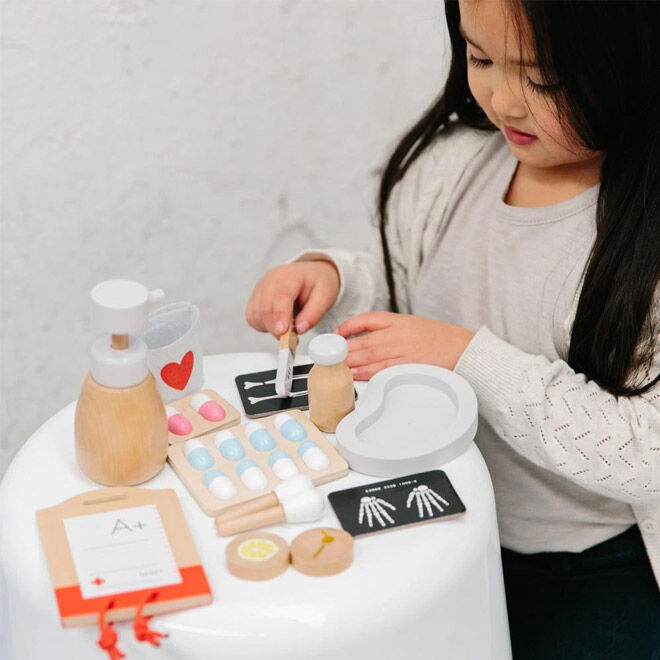 To the operating room, STAT! This gorgeous set is perfect for creating a hospital right at home and it's an absolute must for wannabe surgeons. All pieces are designed especially for little hands and crafted from wood to last forever.
---
11. Fun World
Scrubs on! These mini versions of the real things will ensure kiddoes look every bit the medical professionals they insist they are. Sizes start at 4-6 years and range right up to 12-14 years.
---
12. Froggie Crafts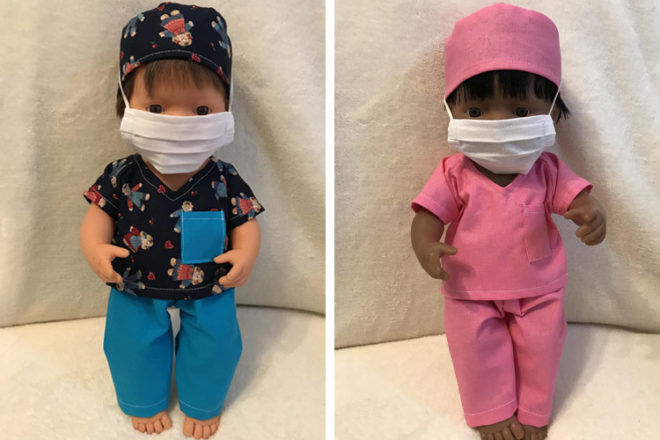 If having their own set of scrubs is just not enough, you can grab a set for dolly too! This range of dolls' nurse scrubs includes a face mask, hat, top and pants, and they fit dolls measuring 38cm, including Miniland.
---
13. Le Toy Van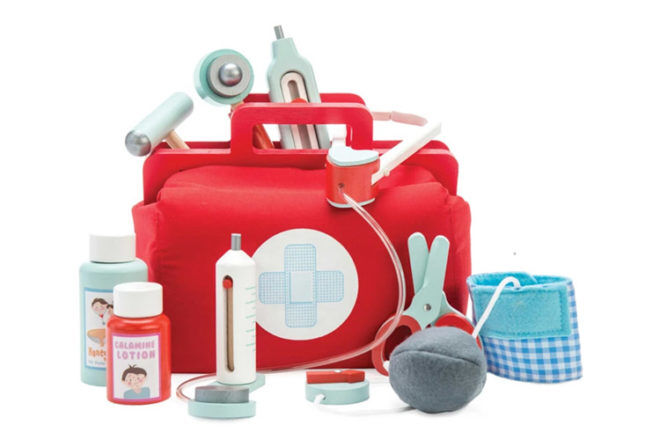 Beautifully made, this vintage doctor's set contains everything little nurses need to fix boo-boos and scratches. From checking a patient's blood pressure to applying calamine lotion to itchy skin, this kit has it all covered.
---
14. B. Toys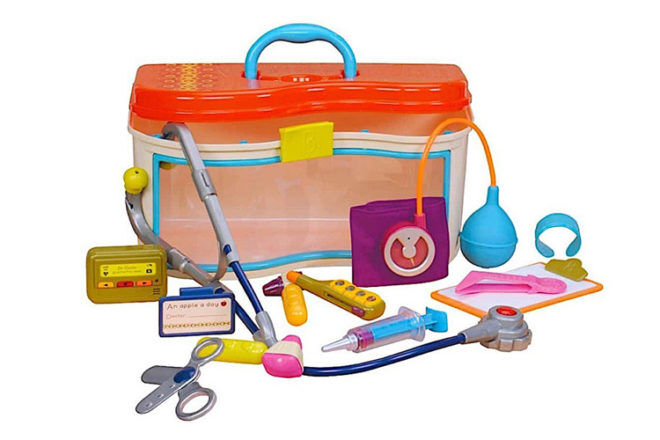 This is another winner for the younger tots who are ready to embark on their medical careers for an early age. It includes over ten must-have tools — including some with sound effects — and they all come in a sturdy case.

---
15. Blue Ribbon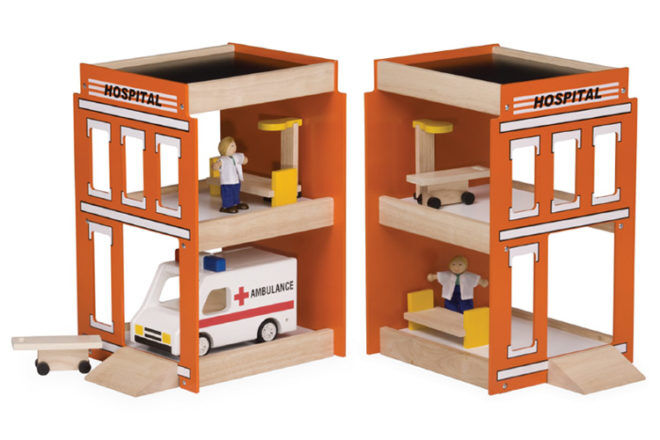 To the hospital! This sweet playset is made entirely of wood and features to levels of endless, imaginary medical play. Recommended from 18 months, it includes a wooden doctor and furniture. (Ambulance sold separately.)

---
16. Kaper Kidz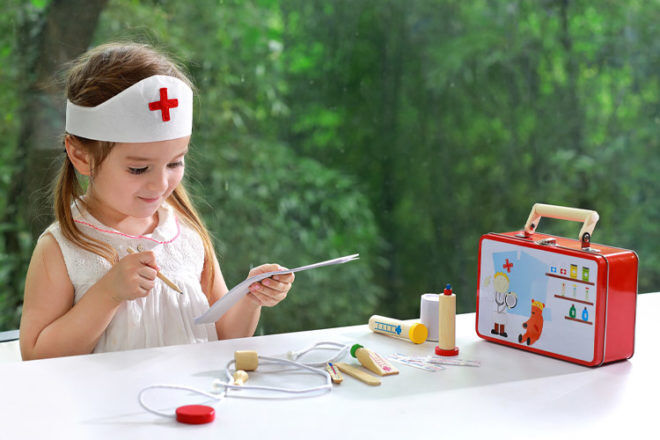 In a retro-style tin case with latch, this crazy-cute kids doctor kit contains 11 items, including several wooden tools and a rope stethoscope. The nurse's bandana means littlies can dress the part as they tend to bumps and bruises.

---
17. Dr. Littles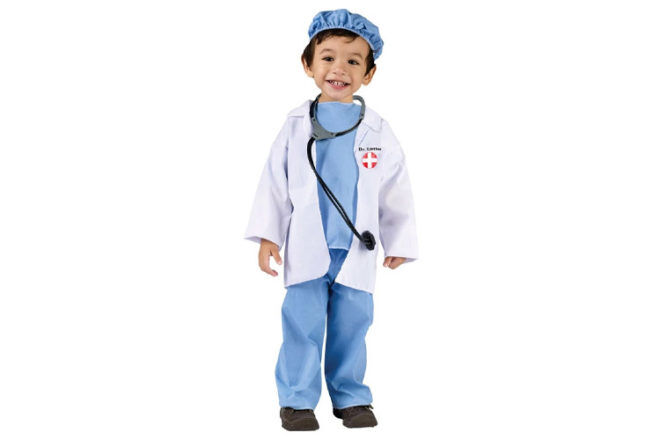 Now, this is a little bit cute! All decked out in blue scrubs, a white lab coat and protective hat, tots will be dressed to tackle all those toy emergencies and routine check-ups. Sizes include 2-3 and 3-4 years.

---
18. Etsy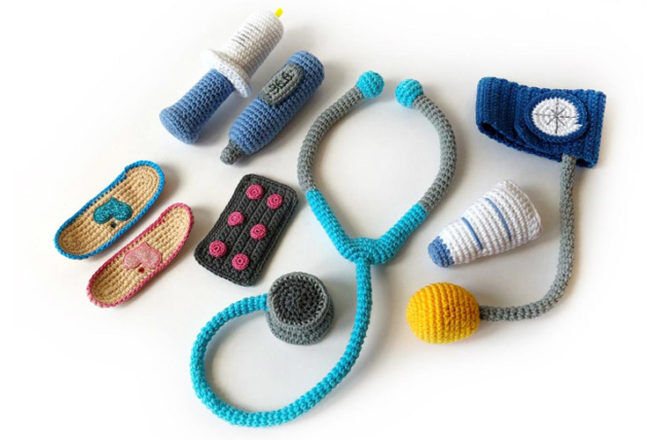 Fancy getting your craft on? This pattern will help you whip up a complete set of six soft, kid-safe medical toys, including medication and bandages. The file comes in a digital format with full instructions.

---
19. Baby Alive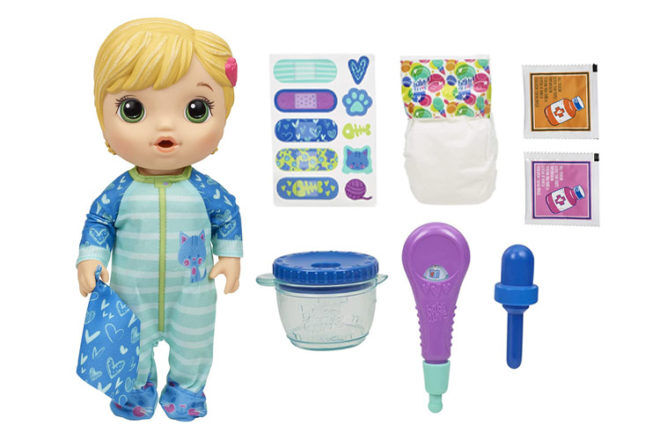 This Baby Alive set provides little doctors and nurses with their very own patient who can swallow medicine, drink water – and even wee. There are two medicine sachets included and an eyedropper for administering it.

---
20. Kidzlane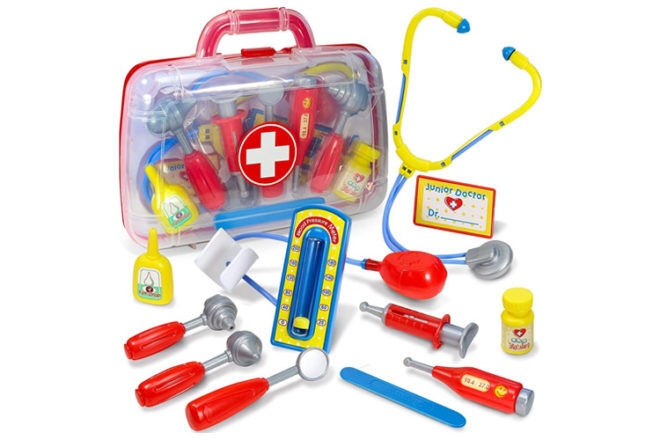 Great value and jam-packed with gear for tending to all manner of make-believe illnesses and injuries, this doctor playset comes bundled up in a sturdy transparent carry-case for taking on all those 'hospital rounds'.

---
This article is curated by our Editors and includes affiliates and/or paid inclusions. See our Disclosure Policy.
Know a brand of kids doctor kit we should add to our list? Contact us and let us know.
Read next …
Looking for more ways to encourage pretend play? From stunning dolls houses to magical teepees, here are a few popular articles that you might like to read next:
Continue your search for the best kids doctor kit
Looking for a doctor playset and still not sure if any of these are right for you? Search online by jumping into one of our closed Baby groups and ask thousands of other Australian mums what they recommend – 'What to buy' is the most talked-about topic.
Click and join your group today!