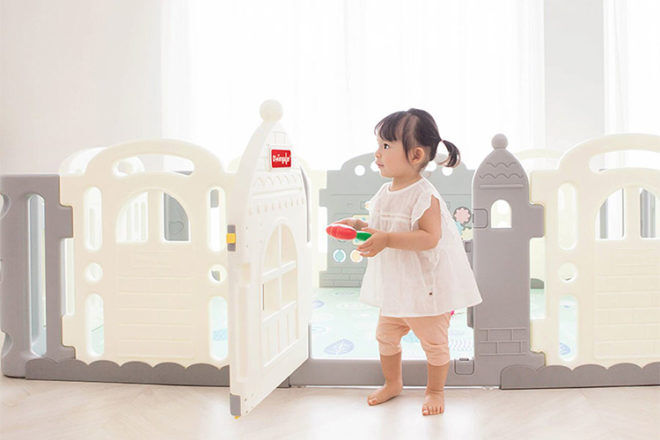 Once they become mobile, babies move fast. They can crawl between rooms in seconds and empty cupboards like a boss. And it's because of their boundless stealth and curiosity that baby playpens can be so useful.
Secure and enclosed, playpens give parents peace of mind knowing that little wanderers can't travel too far while they tend to short tasks – like that long-awaited shower. Plus, with many models able to be converted, they can come in very handy for fencing off staircases and doorways.
8 playpens for keeping babies safe
To help you find the best playpen for your home, we've put together this handy list of brands to get you started in your search. In no particular order, here they are:
BabyDan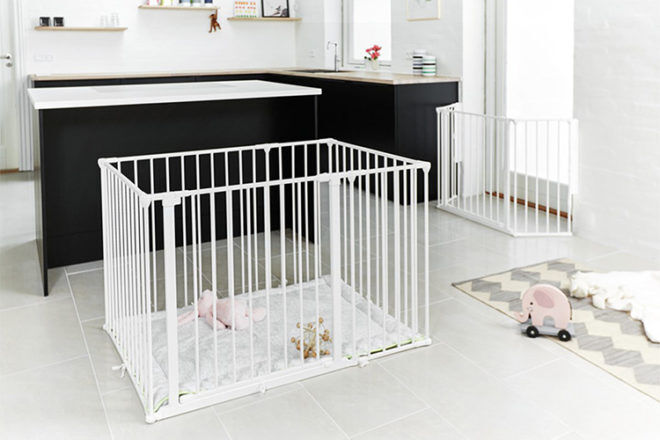 This multi-format steel playpen from BabyDan can be used as a secure playpen — complete with baby gate — and as a barrier for dangerous areas like fireplaces. Unlike most other playpens on the market, this one comes with a padded playmat and Oeko-certified cotton cover.
---
Tikk Tokk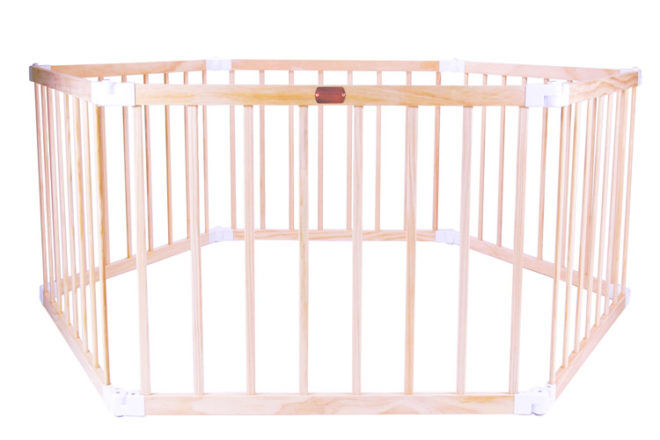 This classic wooden playpen is a favourite for the fact that it's simple to stow, assemble and expand. Made predominantly of New Zealand pine, it comes in a choice of natural or white and has rubber feet for reduced slippage.
---
AuChoice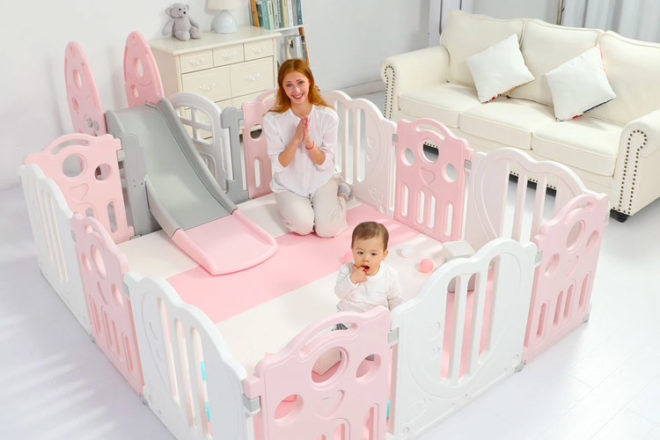 Could this be the most fun playpen around? We think so! Made of heavy-duty materials that can withstand anything bubs throw at it, it can be set up as an enclosed unit with a locking door, or as an activity centre with slide! Padded, waterproof playmats are available in matching colours.
---
4Baby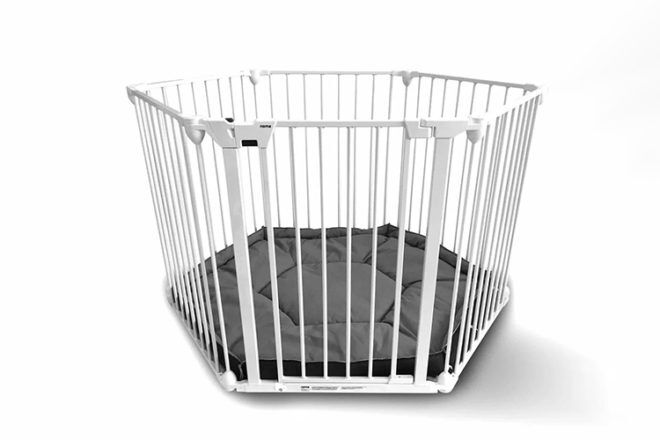 Modular and contemporary, this set can be easily adapted from playpen to barrier as required throughout the baby and toddler years. We're giving this one the thumbs-up for coming equipped with 4Baby's signature soft-close gate…because less noise is always welcome!
---
Dwinguler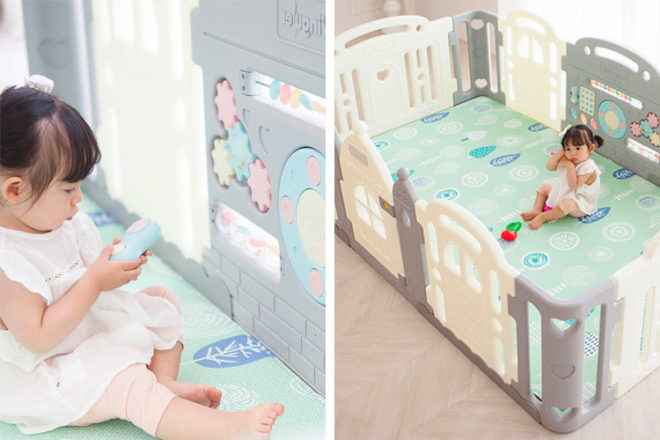 At 2.4m in length, this is one of the roomiest baby playpens around and perfect for large play zones. It comes with a double-locking safety door, smooth edges and a feature-packed play wall.  Activities include turning cogs, chunky beads and spinners. This gem is available in pink or grey with matching floor pads sold separately.
---
Dreambaby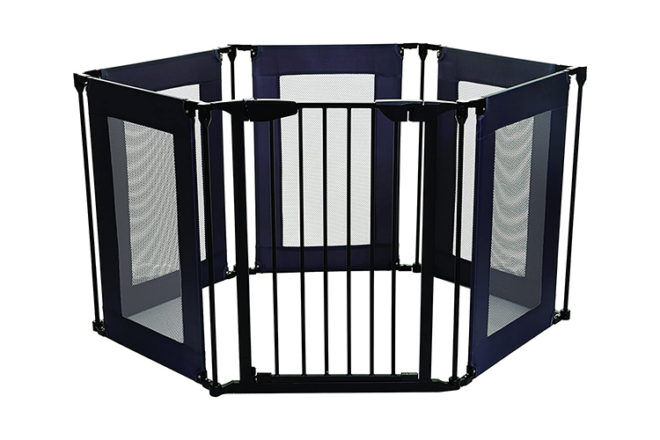 When it comes to functionality, this award-winner is hard to top. It has six modular panels, including a two-way walk-through gate, and can be constructed as an enclosed playpen or as an extra-long fence barrier. Soft mesh sides mean great visibility and plenty of flowing air.
---
Kiddy Cots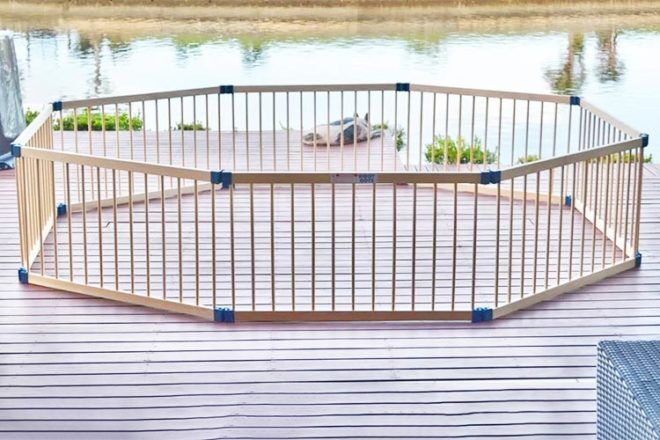 After an adaptable and environmentally friendly playpen? This is it. With eight timber panels in the set, you can assemble this in four different ways, the largest being a 2.1m square big enough for many-a-bub to share. This gem is made and designed right here in Australia.
---
Target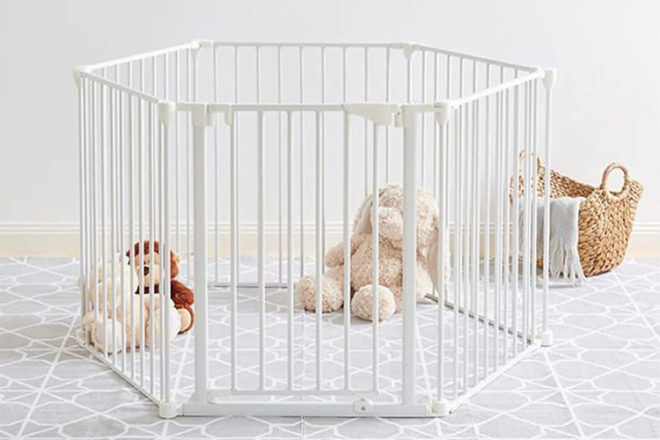 This convertible playpen can be used as a secure hexagonal play space or as a gate for fencing off danger zones around the home. With a height of 76cm, it's taller than many others out there and great for taller bubs or kidlets who love to climb.
---
This article is curated by our Editors and includes affiliates and/or paid inclusions. See our Disclosure Policy.
Know a brand of playpen we should add to our list? Contact us and let us know.
Read next …
With baby happy and safe, it's time to hunt down a few toys to keep them engaged and entertained. From fun activity gyms to baby's first dolly, here are a few articles that you might like to read next:
Continue your search for the best playpen
Looking for a play pen and still not sure if any of these are right for you? Search online by jumping into one of our closed Baby groups and ask thousands of other Australian mums what they recommend – 'What to buy' is the most talked-about topic.
Click and join your group today!