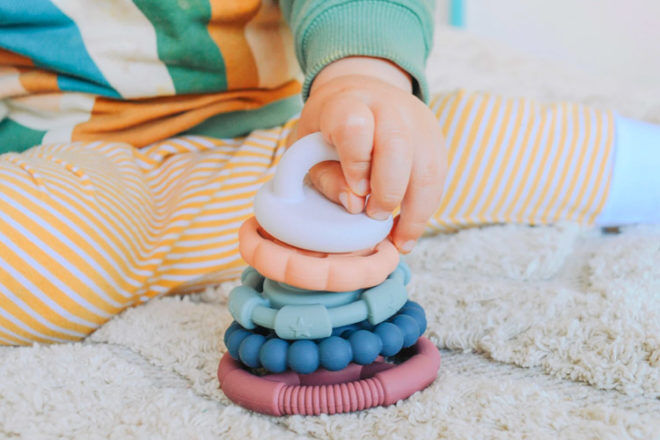 Flushed cheeks? Cascading dribble? A little extra attitude than usual? If you answered yes to these, it's quite likely that your baby is teething, and teething toys are about to become your saving grace.
Baby teething toys are silicone, natural rubber or wooden rings designed for babies to bite on, helping to cut the gums and allow their baby teeth to grow through. Some teethers even come with sensory elements to further stimulate inquisitive little minds, mouths and hands.
OUR PICK OF THE CROP
27 baby teething toys for relieving sore gums
To help you find a super-cute teething toy for your tot to munch, we've compiled this list of fab brands available in Australia to get you started in your search.
Here are 27 of the best teething toys in Australia for 2023:
Oli&Carol

Say hello to Chewy-to-Go, the whimsical wonder for baby mouths! Handmade with love from 100% natural rubber and adorned with plant-pigmented paints, it's a teether that's safe, stimulating, and sustainable. Certified non-toxic, mould-free, and versatile—perfect for eco-friendly playtime adventures!
---
Sophie the Giraffe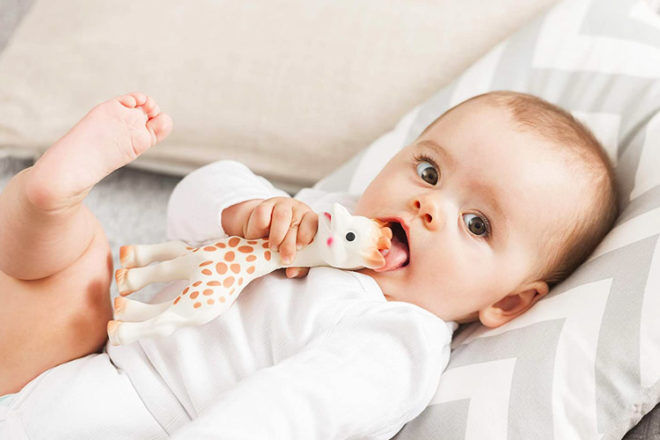 Possibly the most well-known giraffe amongst the under-threes and so famous in fact that she goes by her first name alone. In fact, made of natural rubber and designed over 50 years ago to stimulate all five senses, this isn't just a teether, it's a tradition.
---
Emotion & Kids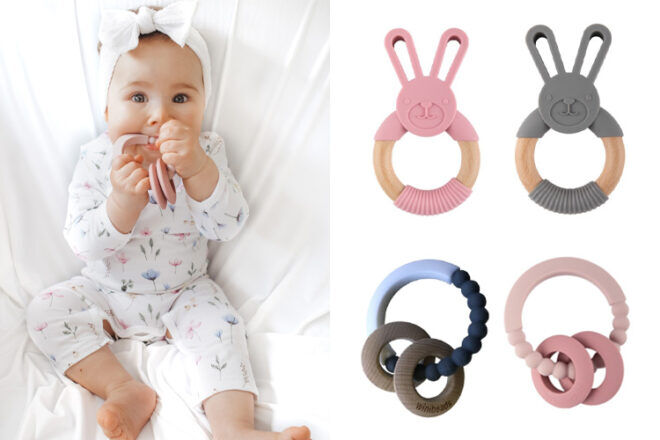 Safe, natural and oh-so-cute, Winibeads teethers are made from 100% silicone, easy to hold and a joy to chomp on. In a range of over 20 sweet styles, including rings and characters, there's something here for every little one.
---
Jellystone Designs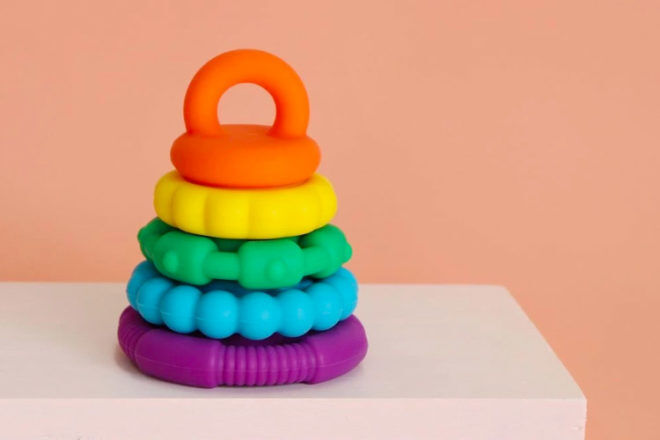 So much more than just a teether, this award-winning toy comes with five silicone rings and multiple ways to play: littlies can chomp and chew in the early days, and stack and sort when they're bigger. Choose from pastel, rainbow or ocean themes.
---
My Little Giggles
Handcrafted from beech wood, this gentle giant is perfectly smooth, splinter-free and naturally antibacterial, so little ones can safely gnaw to their heart's content. With oodles of cuteness and lovely round edges, it is destined to become one of Bub's most beloved playthings.
---
My Luxeve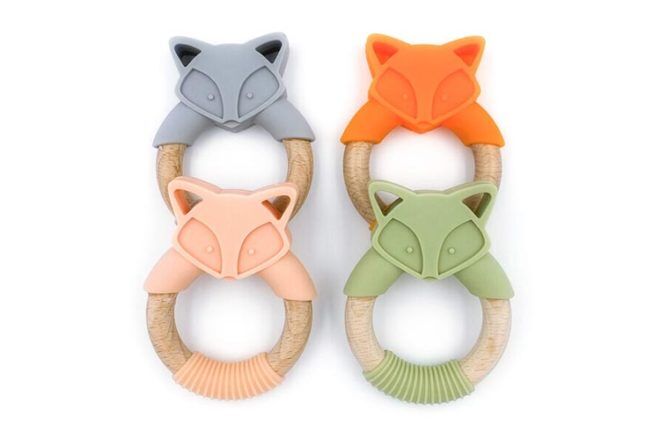 Made from a combination of beech wood and food-grade silicone, these foxy baby teethers are safe to pop in the freezer and provides gum with lots of textures and stimulation. There are four fab shades to choose from and each comes in its own calico bag, ready to gift.
---
Wee Gallery

Sustainably made in India, these adorable little one teethers are deliberately printed in high-contrast black and white to enthral little eyes as much as developing gums. There are seven sweet creatures to choose from in the range and each is printed on soft, organic cotton.
---
Mizzie the Kangaroo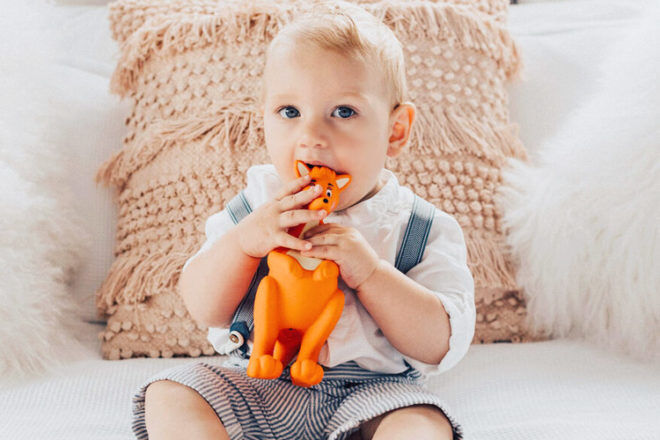 She's the teething toy bouncing babies love to hold. Designed to stimulate sight, touch, smell and hearing, Mizzie is made from 100% natural rubber, soothing sore gums with her chew-tastic toes, ears and nose.
---
Haakaa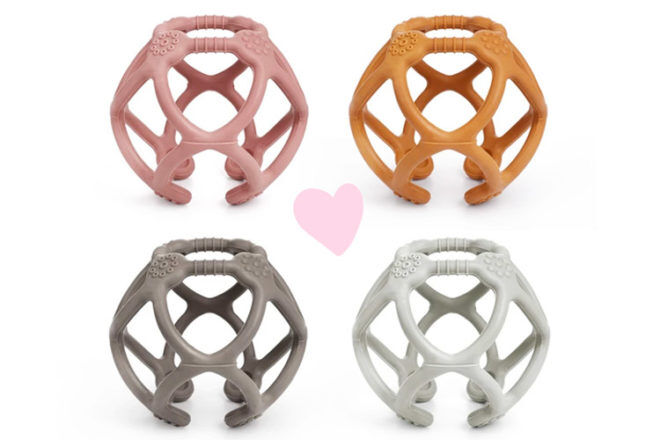 Soft, flexible and perfectly shaped for inquisitive little hands, this teething ball features soft ridges to relieve aching gums and can be popped in the freezer to give extra relief.
---
Baeb Label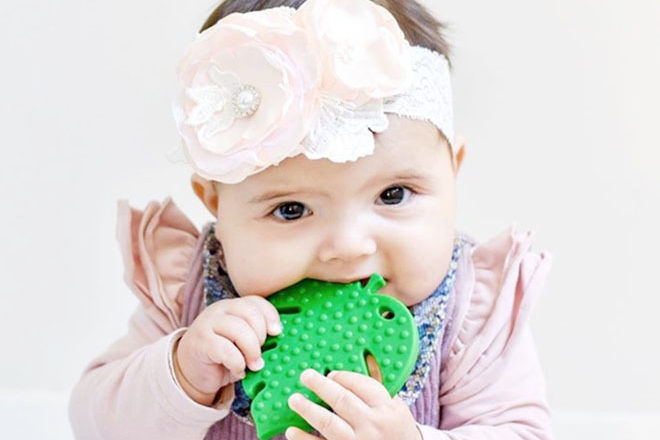 PVC and BPA free, this 100% silicone teether has lots of little nooks and crannies for fidgety fingers to explore while they chew. With a smooth surface on one side and lumpy bumps on the other, it's ideal for teething tots.
---
Konges Sløjd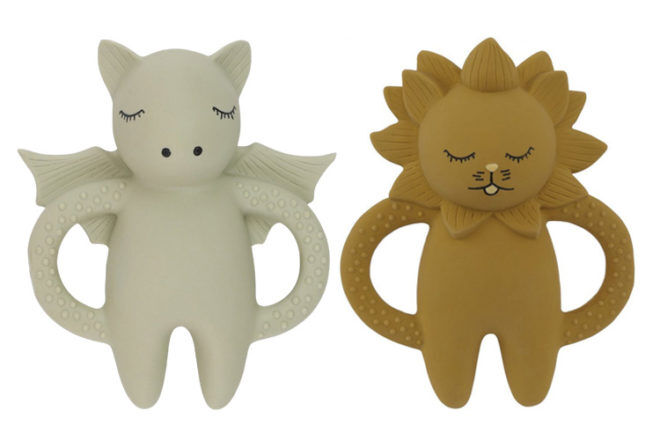 Like everything else this Danish brand creates, these toys are equal parts simple and stunning. They are each crafted from 100% natural rubber and finished with food-grade paint to be perfectly safe for even the tiniest of teething bubs to enjoy.
---
Foxx & Willow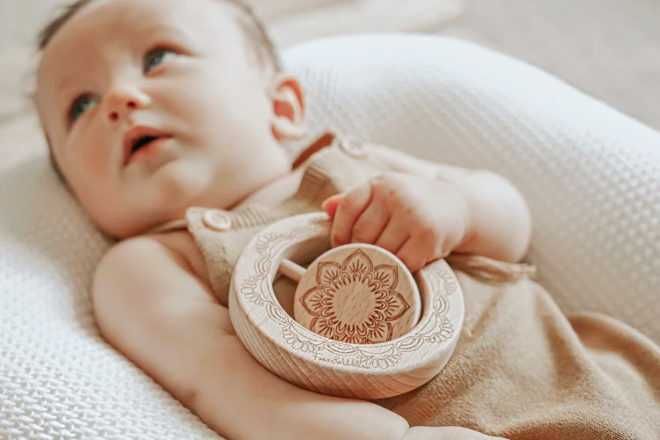 Part-rattle, part-teether, this beech-wood beauty is definitely easy to hold. The inner section of the teether actually spins, so not only can babes soothe achy gums on the natural surface, they can develop their fine-motor skills as they play.
---
Lucy Darling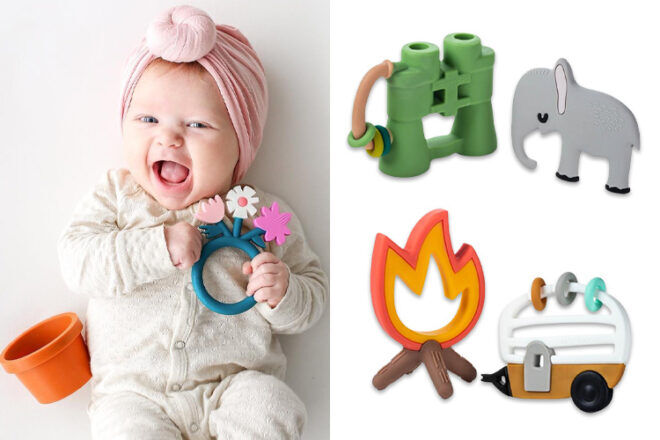 Lead-free and cute as can be, these 100% silicone teethers allow little ones to explore all their senses. Each set includes two themed toys that just so happen to pair perfectly with Lucy Darling's memory books and milestone pennants. So much sweetness!
---
Ethan the Fox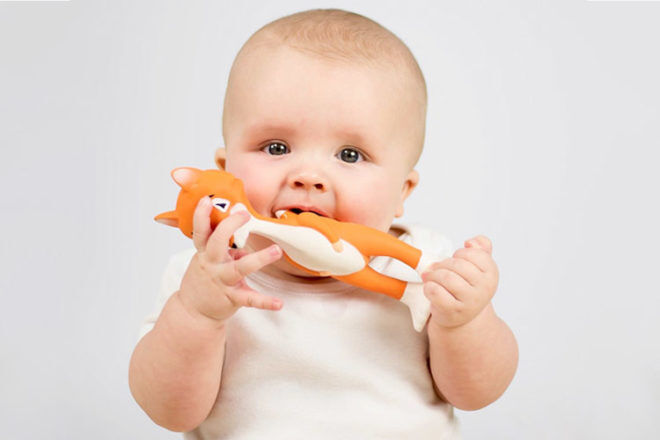 So much thought has gone into the making of Ethan, it's no surprise at all that he has scooped up a number of awards. He has a smooth, slender body, made from all-natural Hevea rubber and lots of foxy features that are perfect for reaching all those nooks and crannies of the mouth.
---
Matchstick Monkey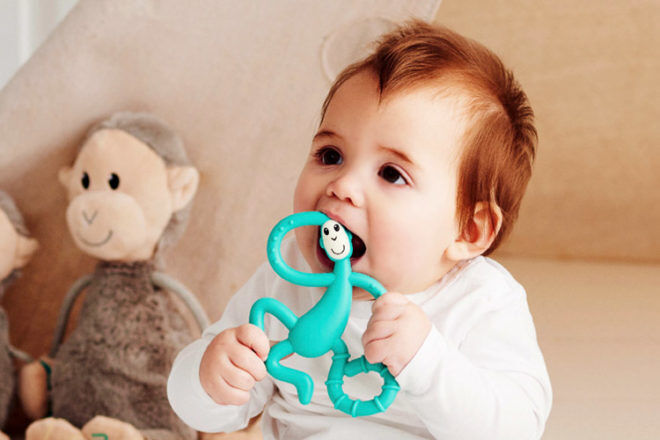 These silicone teething monkeys are ticking all the boxes when it comes to young gums: they're fabulous for soothing sore gums, they make excellent training toothbrushes and they can even be used to apply teething gels. You can even pop them in the dishwasher at the end of the day's play.
---
Hevea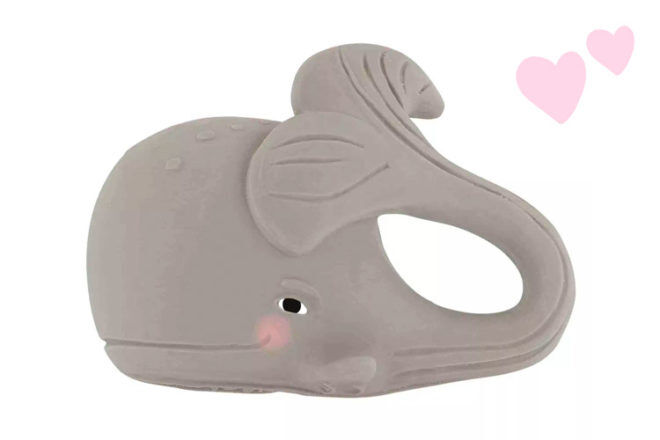 They're the creators of some of our favourite bath toys so it comes as no surprise that these guys have a terrific teether in their range too! Made from 100% natural rubber with no cracks or joins, Gorm is easy for baby to hold and keeps bacteria at bay.
---
Eef Lillemor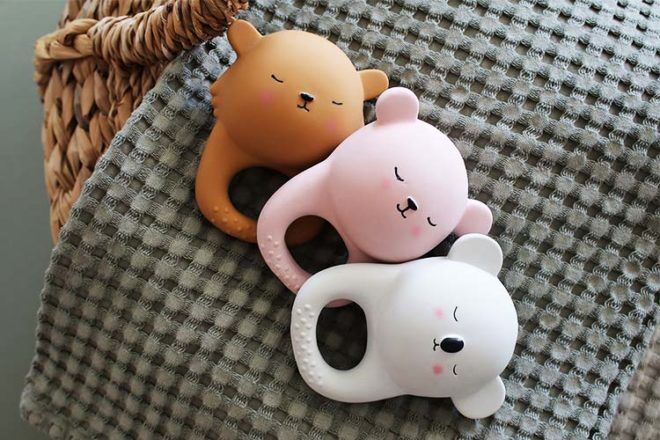 Rounded, chunky and cute as buttons, this European-designed teething toy makes spectacular gifts for new parents and teething bubs. Choose from koala, lion or bear, each crafted from natural rubber sourced from the Hevea tree.
---
TOT Corp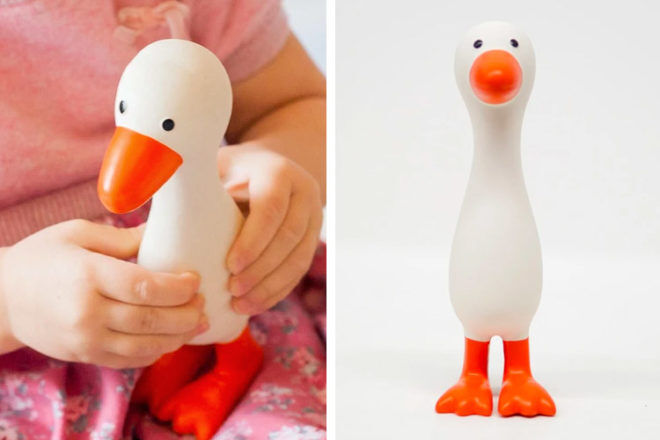 Gertie is no ordinary goose, she's the special goose that eases teething woes and keeps bubbas company as they make their way through the early days. She has a subtle vanilla scent, a slender profile for small hands to hold – and she even quacks!
---
Tiger Tribe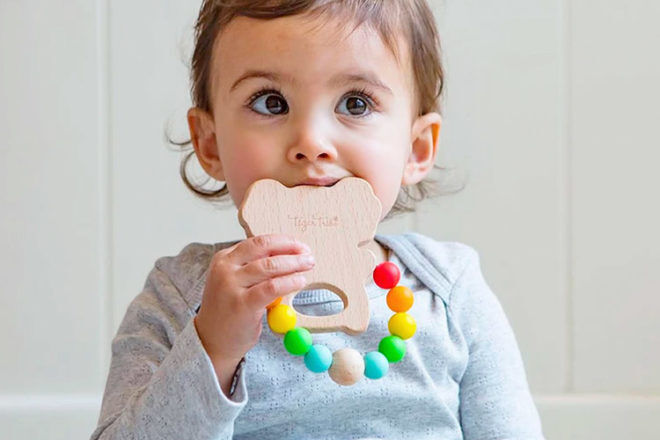 Comprising different textures and designed to be easy for tiny hands to handle, this helpful koala will go a long way in settling upset gums. The loop of silicone beads brings a fab pop of colour and enable littles to wear the teether like a bracelet as they nibble.
---
Liewood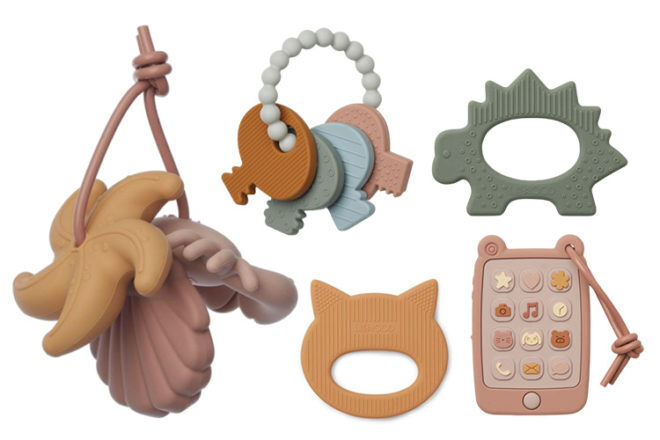 Stunningly Nordic and in the prettiest of shades, these are teethers you'll definitely want to show off. Each is made of pure, BPA-free silicone and designed to be as gentle as they are stimulating to little gums and new teeth.
---
The Mibblers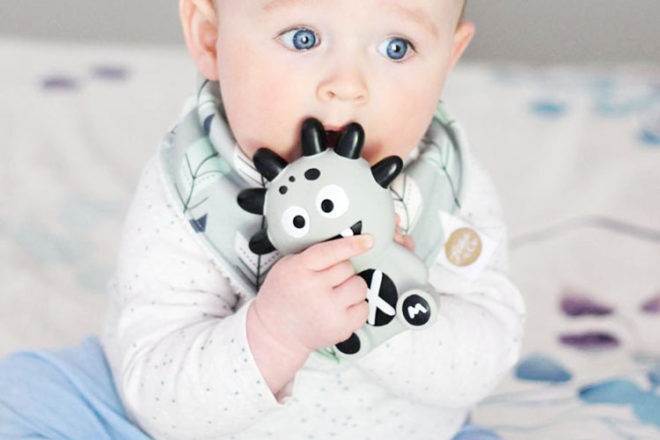 With a bumpy hair-do and small spikes down the back, The Mibblers are a tribe of teethers made for gnawing babies. And if you squeeze their big round bellies the teethers will squeak for you too!
---
Wooden Story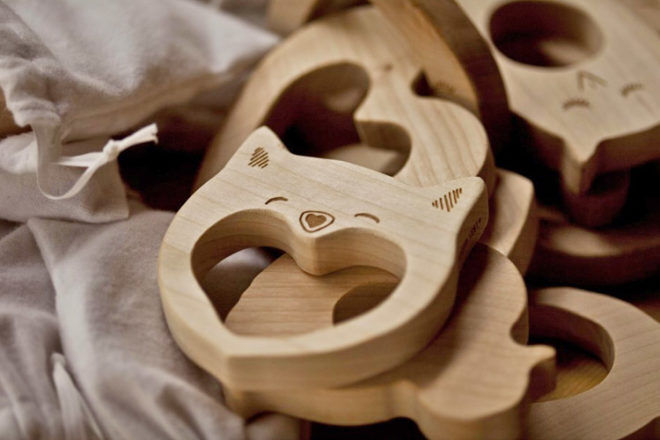 Created in the Beskidy Mountains of Poland from chemical-free maple wood, these are teethers to stand the test of time – and to cherish. Styles include a rabbit, cat, heart and owl; and each one comes packaged in a cloth bag and paper box.
---
Skip Hop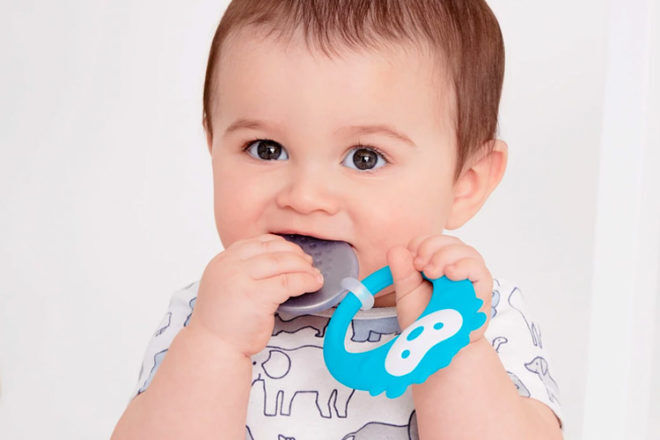 Cold surfaces can go a long way in soothing sore gums, and with stainless steel disk inserts, these teethers have are specifically created to retain coldness longer. There are three colour-packed styles to choose from, all perfectly proportioned for little paws.
---
Natural Rubber Soother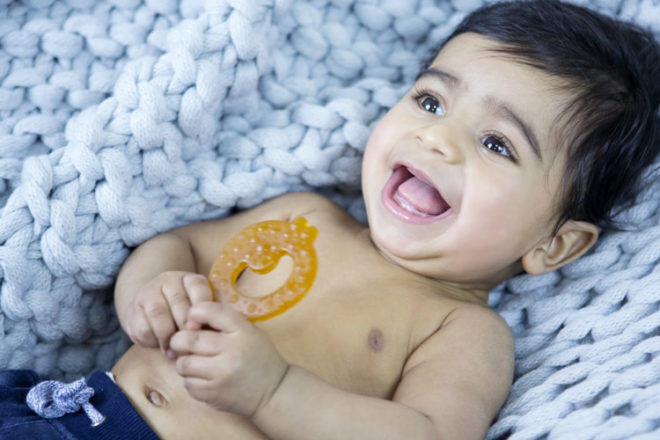 Made with 100% sustainable rubber, this teether is gentle on baby's gums and the planet. With no hidden nasties such as BPA, PVC and artificial colourings, rest assured knowing that bub can safely chew away all day.
---
One Chew Three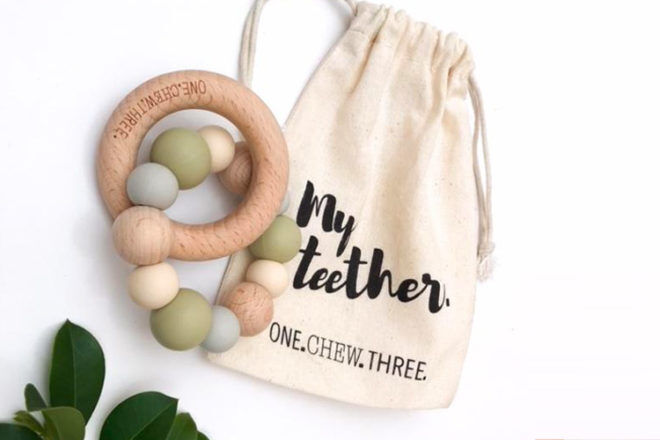 Inspired by the colours found in nature, this collection of teethers is packed with fun textural elements. Totally gift-worthy, each piece is customisable with a date or name and comes bundled up in a sweet calico bag.
---
Malarkey Kids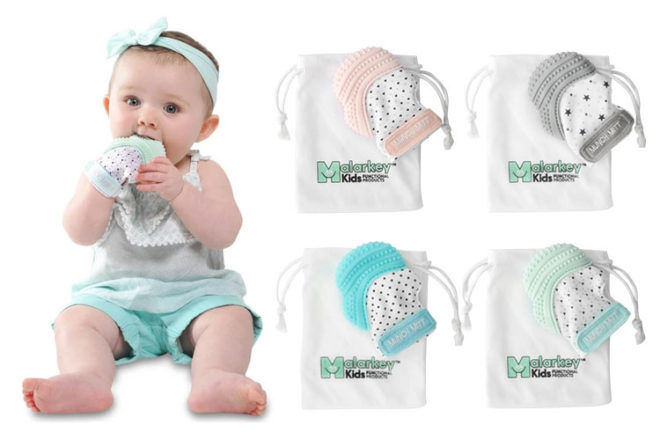 As the world's first wearable teething mitten, the Munch Mitt is the answer to dropped teethers and one of the cutest baby accessories around – hands down. With an adjustable strap, you can rest assured this one won't end up on the supermarket floor.
---
The Teething Egg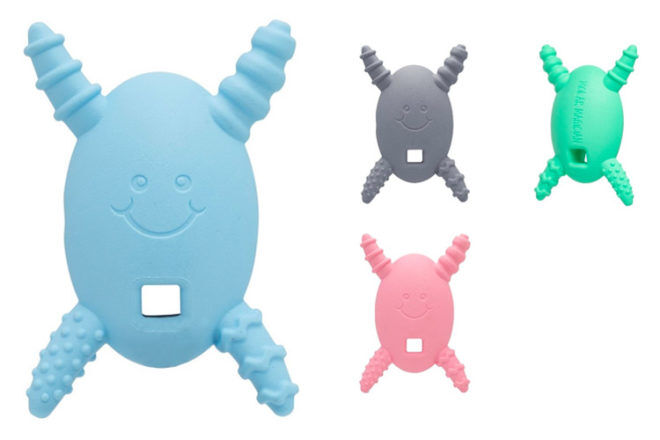 This four-legged teething friend reaches all areas of little mouths, including the molar zone. It's orthodontic-friendly, safe to pop in the freezer and it comes with an Australian-approved strap for attaching it to the pram when you're on the go.
---
This article is curated by our Editors and includes affiliates and/or paid inclusions. See our Disclosure Policy.
Know a teether we should add to our list? Contact us and let us know.