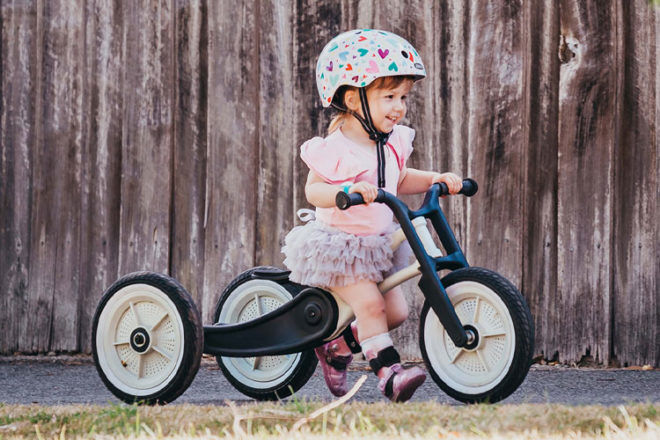 As far as kids' first sets of wheels go, it doesn't get much sweeter than the toddler trike. With extra balance and cuteness in spades, they're the ultimate rides for exploring the world. And for being big. That too.
A kids' trike (or tricycle) is a super-cute three-wheeled vehicle for toddlers. With more stability than a traditional bicycle, trikes have who wheels at the back and one at the front. Many grow with your child and convert into balance bikes, and some are even equipped with parent handles for supporting younger tots.
While they may have been around for yonks, toddler trikes have come a long way over the years. So to help you find the perfect one for your adventurous tot, we've roundup up 15 standouts.
15 fun toddler trikes for the early years
To help you find the best tricycle for your little explorer, we've rounded up the top kids' trikes in town.
Here are 15 stable kids' trikes for big adventures:
1. Trybike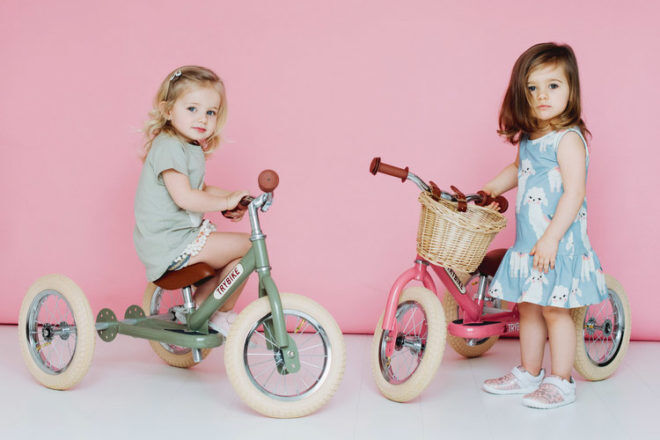 Vintage vibes meet contemporary design. This clever kids trike comes in a choice of colours and is fitted with extra-wide rubber tyres for a smooth ride. But the best bit? It transforms from a trike to a balance bike in minutes. Love it.
---
2. Kinderfeets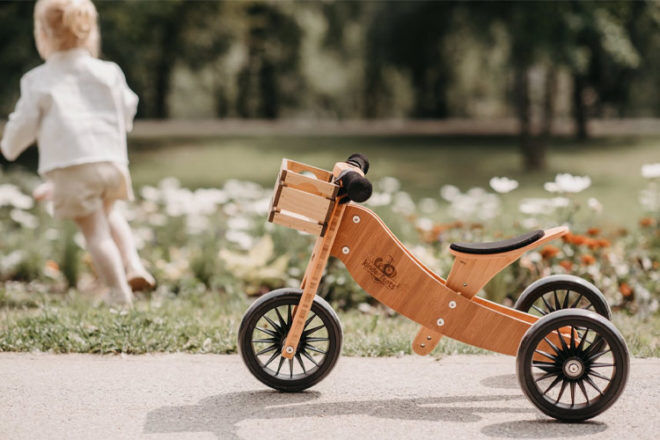 Earthy and adorable. This bamboo edition from Kinderfeets comes without pedals and can be converted to a balance bike when littles are ready. The Dutch-inspired step-through frame ensures little feet remain nice and close to the ground.
---
3. Wishbone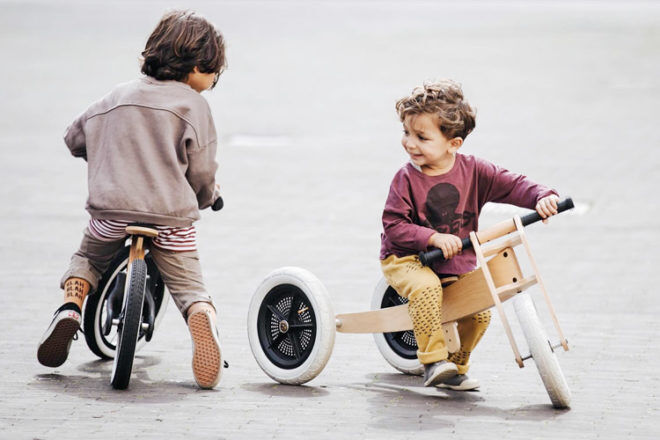 Wishbone's environmentally sustainable trikes are as unique as they are fun. Designed to evolve with your kiddo, it starts out as trike and can be transformed into two different styles of balance bikes, each engineered for different speeds.
---
4. Funny Wheels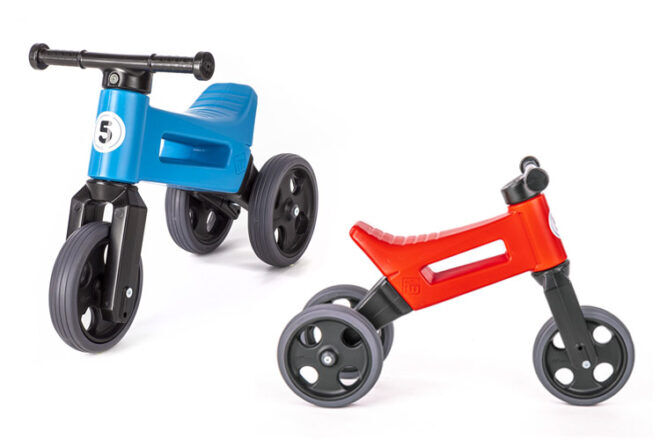 Suitable for outdoor and indoor use, this zippy little zoom-ster easily converts from a kids' trike to a bike. Featuring grippy rubber tyers and adjustable axles, it's the perfect trike for growing tots. Available in six snazzy colourways.
---
5. Radio Flyer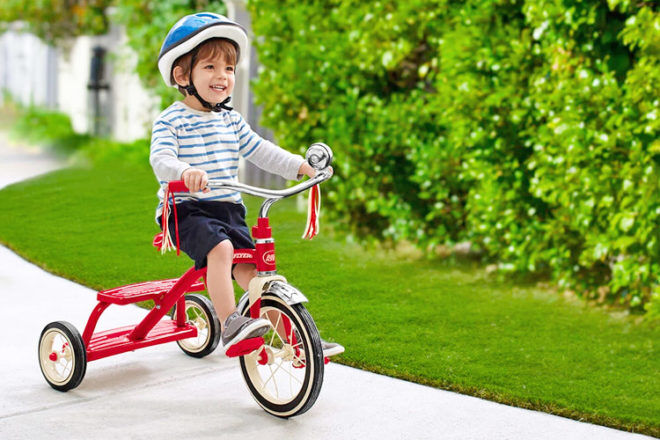 After a trike that looks like the one you had as a child? This is it! It has curved handlebars and fender, an adjustable seat and a controlled turning radius for extra support and stability. And can we talk about those streamers?!
---
6. Lifespan Kids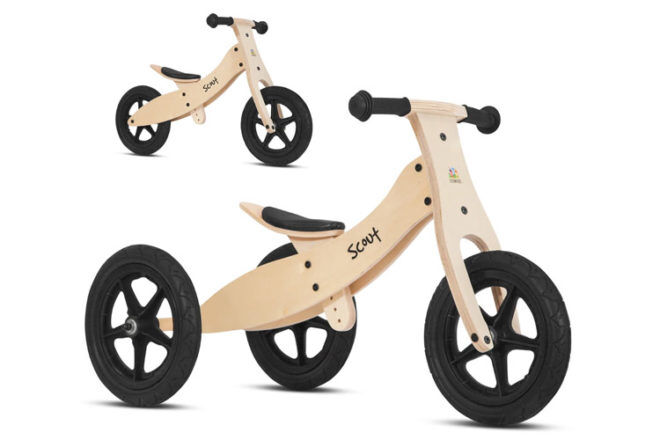 It's all about balance when it comes to this genius kids trike. With no pedals, it encourages littlies to propel themselves along and increase their balance and coordination. And when they're ready, switch the format to a two-wheel bike.
---
7. Globber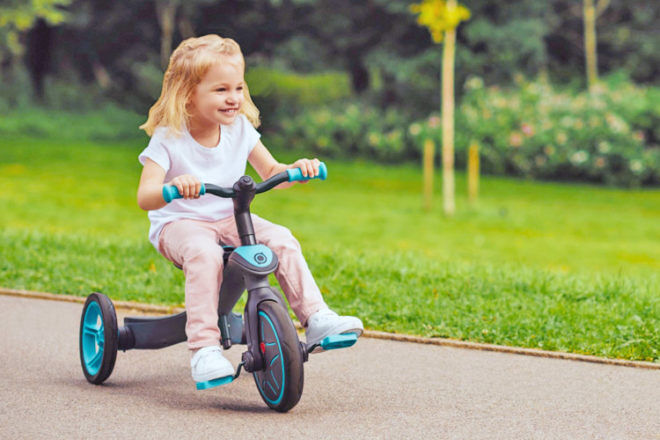 Fitted with a patented wheel mechanism, this trike allows riders to go from trike to balance bike in mere seconds – and without tools! It has curved handlebars, a height-adjustable saddle and there's even a spot to store the pedals.
---
8. Udeas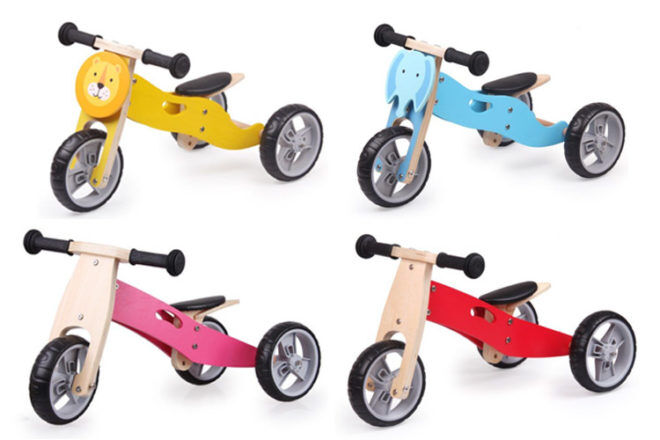 Pedal-free mini trikes with loads of personality. From single shades to cute critters, they come in a range of styles and make excellent first rides for kiddos as young as 18 months. Now…lion or elephant?
---
9. Italtrike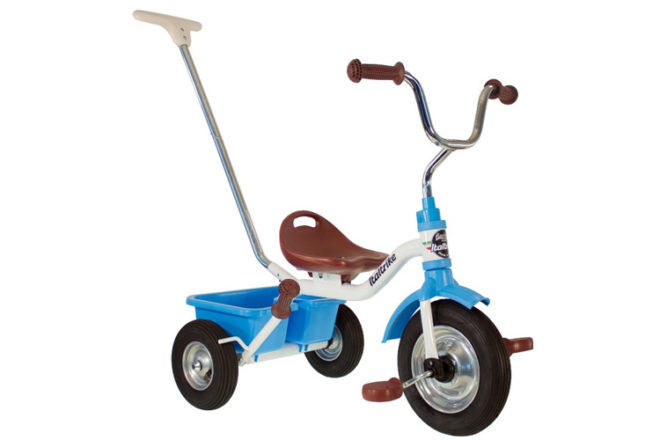 Designed to be unbreakable, this Italian-made retro toddler trike comes with chunky pneumatic tyres and bucket-loads of charm. It's equipped with a parent handle for the learning stage and available in four cool shades.
---
10. Hape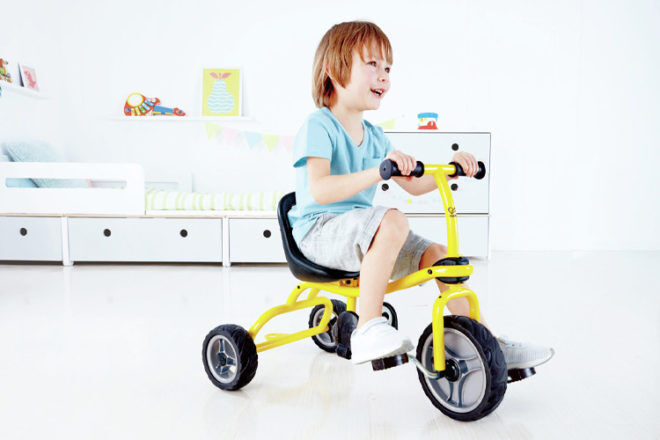 It's a push-along, scoot along and a pedal trike. Aptly named, this crazy-cute little ride really does adapt to children's different stages. Features include kid-safe finishes, a safety harness for the early stages and a roomy rear basket.
---
11. Eurotrike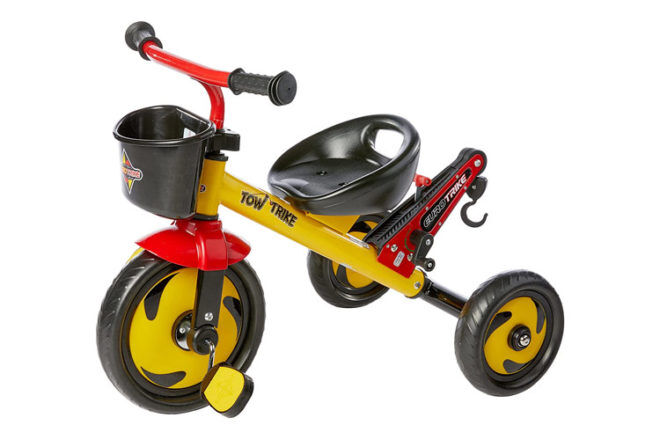 With a real working towing mast, this crazy-cool trike is going to go down a treat with budding builders. Suitable from ages three and up, it's made of tough steel to stand up to loads of adventures and is fitted with a comfortable bucket seat for little tushies.
---
12. Hip Kids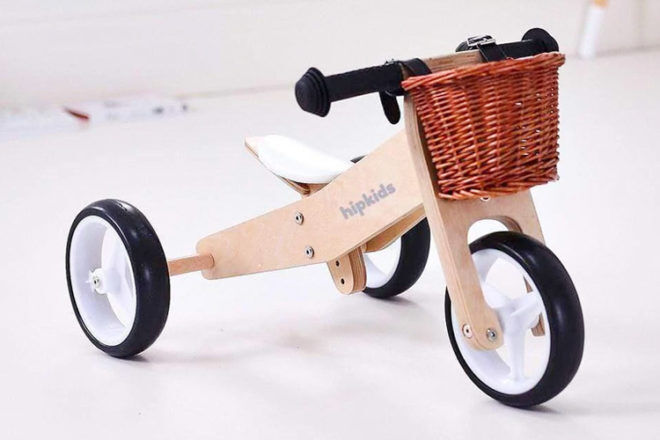 Not only can this wooden trike be converted into an uber-cool bike for balancing when your munchkin is ready, but it can also be personalised! Perfect for the youngest of tots, it's suitable from 12 months to three years and holds up to 25kg.
---
13. XJD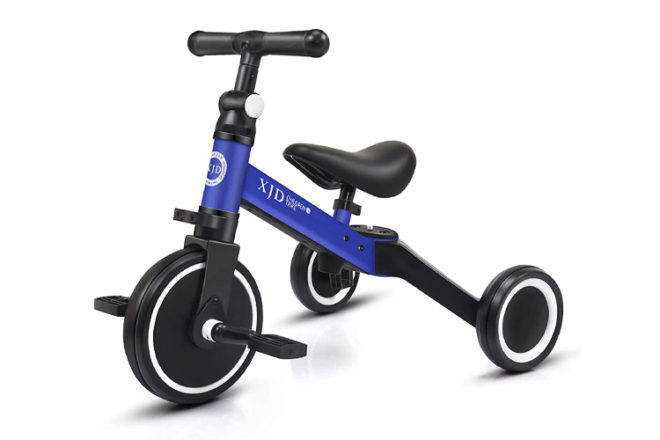 With sliding and cycling modes, this kids trike is seriously versatile. It's designed especially for kiddos aged one to three years and features an adjustable seat and handlebars. Best of all, this one assembles in just one minute. (Because no child wants to wait!)
---
14. Feber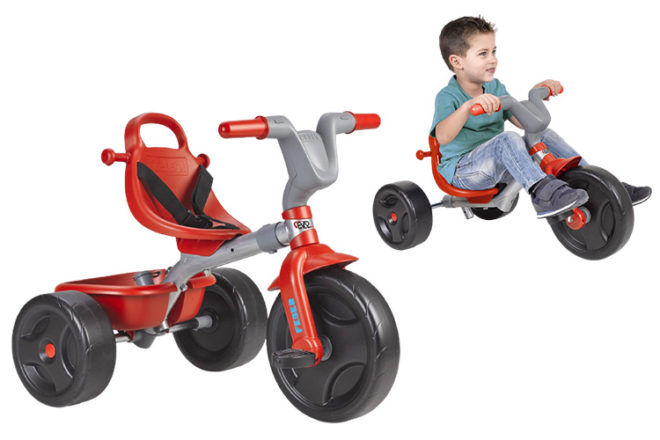 This evolutionary set of wheels can be ridden as a trike, a pedal bike and as a 'chopper' for low-line cruising. It has a solid metal structure that will stand up to loads of wear and tear, and it comes with a parent handle for extra support.
---
15. Aussie Baby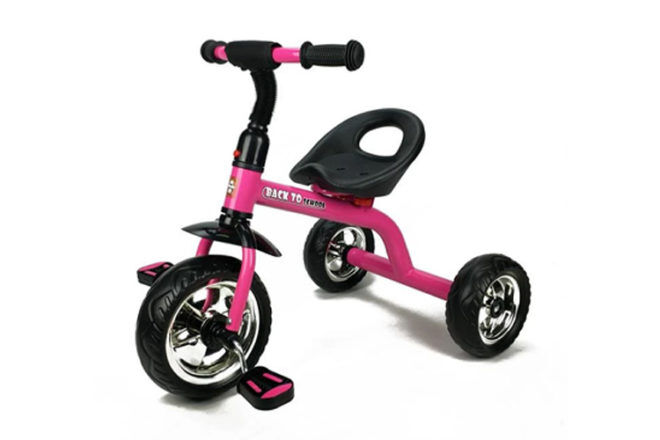 For some kidlets, only pink will do. This showstopper has a wide wheelbase for fab support, slip-resistant pedals and tough EVA wheels to go the distance. The comfy bucket seat can be adjusted to two positions and it holds up to 25kg.
---
This article is curated by our Editors and includes affiliates and/or paid inclusions. See our Disclosure Policy.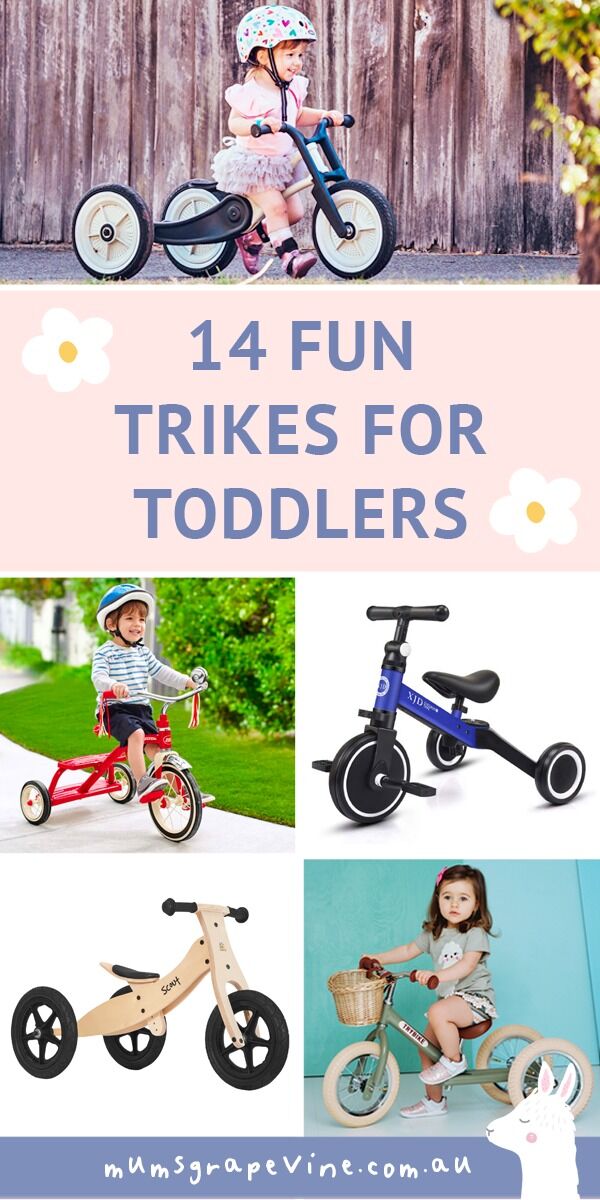 Know a brand of kids' trike we should add to our list? Contact us and let us know.
Read these roundups next …