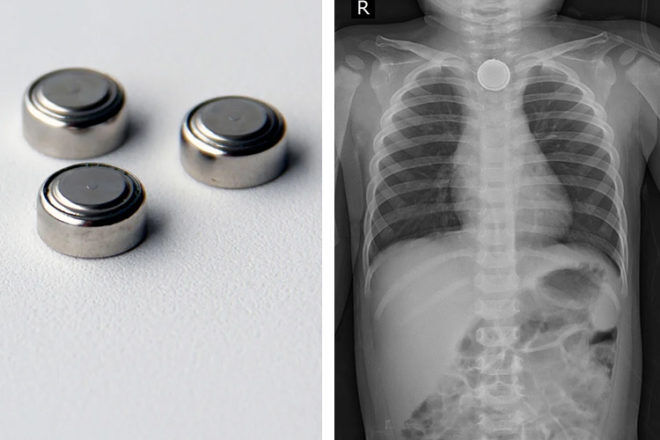 Parents are being urged to check their homes for button batteries.
Australia's consumer watchdog has launched a new safety campaign, to warn parents that one child every month is seriously injured after swallowing or inserting a button battery – sometimes leaving them with lifelong injuries.
"Button batteries can be incredibly dangerous, especially for children five years of age and under," ACCC Deputy Chair Delia Rickard said. "If swallowed, a button battery can get stuck in a child's throat and cause a chemical reaction that burns through tissue, causing death or serious injury. They are tiny, shiny and similar in size to some lollies, making them very attractive to young children."
How to protect your children from button batteries
The ACCC has released advice on what you can do to prevent kids from being injured by button batteries.
Look for products that don't use button batteries when buying a toy.
Check for a child-resistant battery compartment.
Buy new button batteries in child-resistant packaging that needs to be opened with scissors.
Even if secure, button battery compartments are not necessarily child-proof. If the product in question is damaged or broken, the button battery inside can come loose.
Keep new and used button batteries out of sight and out of reach of children at all times.
Keep spare button batteries locked away where it is difficult for children to reach them.
Even when old or spent, button batteries still pose a threat, so safely dispose of them immediately in an outside bin, out of reach of children, or recycle safely.
What to do if your child swallows or inserts a button battery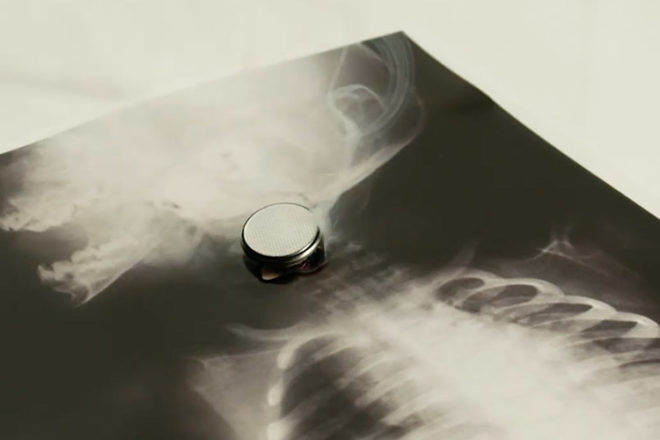 If your child swallows a button battery act immediately by calling the Poisons Information Centre on 13 11 26, or 000 if your child is having difficulty breathing.
Don't let your child eat or drink and don't try and get them to vomit.
If you're not sure that your child has actually swallowed or inserted a button battery, ask for an x-ray at the hospital emergency department. Watch for these symptoms:
gagging or choking
drooling
chest pain (this may present as grunting)
coughing or noisy breathing
unexplained vomiting or food refusal
bleeding from the gut — black or red vomit or bowel motions
nose bleeds — sometimes this can be blood vomited through the nose
unexplained fever
abdominal pain
general discomfort
spitting blood or blood-stained saliva
bloody discharge from ear or nose.
Parents are also being urged to warn their children's other carers about button battery dangers, including grandparents.
Read next …
Make sure you're ready for an emergency in your home by heading to these articles next: