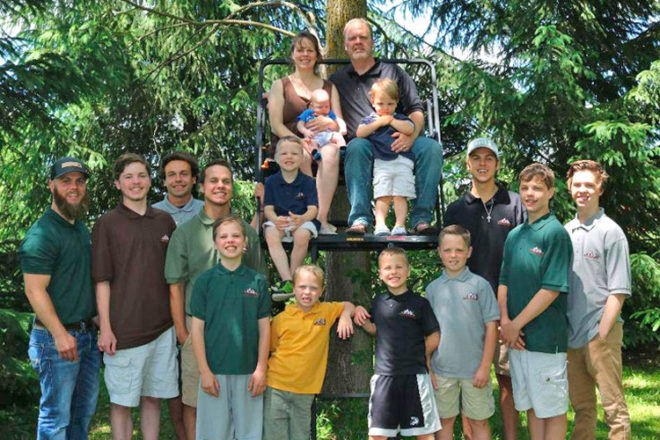 Almost 30 years after having their first son, and 13 more boys later, a Michigan couple has finally welcomed their first little girl.
Kateri and Jay Schwandt's daughter Maggie was born a few days ago, a little sister for 14 doting older brothers. And just like all of their other pregnancies, the couple didn't know the gender of their 15th baby.
"This is our 15th child so obviously we've kind of been there done that, but it feels like we're starting all over … we were completely shocked but so excited," Jay said.
Kateri and Jay, both 45, are high school sweethearts who had their first three boys before they finished university. They had 14 sons over the years: Tyler, 28, Zach, 25, Drew, 23, Brandon, 21, Tommy, 18, Vinny, 17, Calvin, 15, Gabe, 14, Wesley, 12, Charlie, 10, Luke, 8, as well as six-year-old Tucker, five-year-old Francisco and two-year-old Finley.
"We are overjoyed and beyond excited to add Maggie Jayne to our family," said Jay Schwandt. "This year has been memorable in so many ways, for so many reasons, but Maggie is the greatest gift we could ever imagine."
The couple continued their studies as their family got larger and larger. Both Kateri and Jay have advanced degrees – Kateri holds a master's degree in social work Jay is a lawyer and owns a land surveying business. The larger-than-life family have their own series, called '14 Outdoorsman' (name change anyone?!), which follows their daily lives. The couple admits they didn't actually have any baby girl names picked out or any pink baby clothing.
"There's enough testosterone in our house to fill a stadium. But, we always wanted to have a large family. Jay thought five or six was a big family," Kateri told MLive earlier this year.
Read next …
Wondering if your little one is team pink or team blue? Head to these articles next for some fun ways to predict baby's gender: