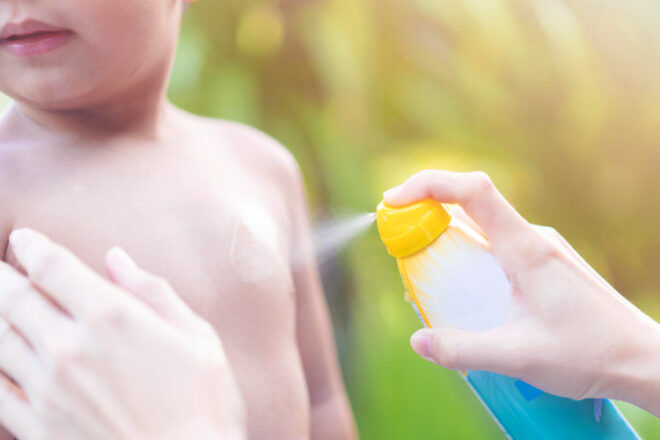 Aerosol sunscreens may seem like a handy option for wriggly kids who just want to head off and play, but Australian families are now being warned users are risking sunburn.
The Queensland University of Technology tested nine popular commercially available aerosol sunscreen products and found the spray times needed to achieve the level of UV protection stated on the aerosol ranged from four to 14 seconds per limb or 29 to 98 seconds for a full-body application. Importantly, these results were in lab conditions, not at the beach.
What they also discovered was that some of the aerosol sunscreens actually contained less than half sunscreen and the rest propellant. It means there's no way to know how much sunscreen is actually needed to be protected.
The results have prompted the Cancer Council and the Australian Radiation Protection and Nuclear Safety Agency to urge Aussies to avoid using aerosol sunscreens. "The packaging advises consumers to 'use liberally' or 'apply generously' which is open to interpretation and leaves them vulnerable," explained Head of SunSmart Heather Walker.

"This is particularly worrying with the extreme UV levels we see in summer around the country. Our advice in the first instance is to avoid using aerosol sunscreen products, however, if it is your preference, then exercise great caution. Even literally saturating your body with the product may not provide the level of protection you expect."
There's also concern that a single tin of aerosol sunscreen doesn't contain enough product to protect an entire family. "The study estimated how many applications one product could provide to an adult body (35gms)," said Director of Assessment and Advice for ARPANSA Dr Rick Tinker. "Three of the aerosols tested could only adequately cover two full-body applications – not enough to protect a family.
"To account for the variations between aerosol brands, the product would also need to be applied in larger quantities to be on the safe side. Using a cream or a lotion is likely to be a more reliable way of ensuring adequate coverage is achieved," Dr Tinker said.
How to protect your family from UV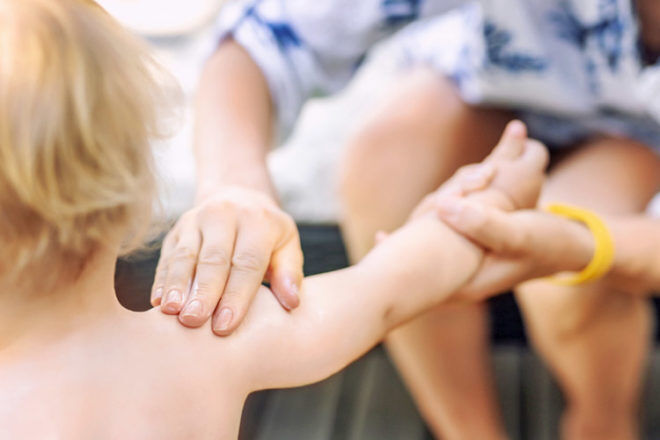 Sunsmart recommends using all five of these sun protection measures when the UV is three and above:
Slip on loose protective clothing that covers as much skin as possible.
Slop on SPF30 (or higher), broad-spectrum, water-resistant sunscreen 20 minutes before going outdoors. Use a teaspoon of SPF30 (or higher), broad-spectrum, water-resistant sunscreen per limb. This is about seven teaspoons for a full-body application. Reapply every two hours.
Slap on a broad-brim, bucket or legionnaire hat that shades the face, neck, and ears.
Seek shade wherever possible outside.
Slide on close-fitting, wrap-around sunglasses that cover as much of the eye area as possible and meet the Australian Standard.
Read next …
Want to keep your family covered from the sun this summer? Head on over to these popular articles next: