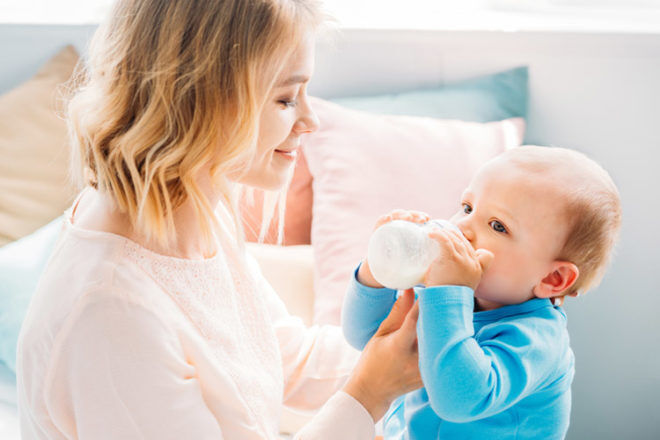 There's nothing quite like finding the perfect bottle for your baby and watching them guzzle down their milk without so much as a burp break. But making the right bottle choice may involve a bit of trial and teting. Looking at you cupboard full of discarded bottles.
A baby bottle is a special container designed for babies and young children to drink from. It can be filled with milk, formula, or other liquids that are important for the baby's growth and development. There are glass options designed to help with digestion, teats created to look and feel just like nipples, anti-colic bottles, and bottles made exclusively as an option for breastfed babies.
Using a bottle is a convenient and practical way for parents and caregivers to feed their little ones and help them stay healthy and happy.

OUR PICKS OF THE CROP
14 of the best bottles for feeding babies
To help you find a bottle your baby will take too, we've compiled this list of fab brands available in Australia to help get you started in your search.
In no particular order, here are 14 of the best baby bottle brands currently in Australia for 2023:
Tommee Tippee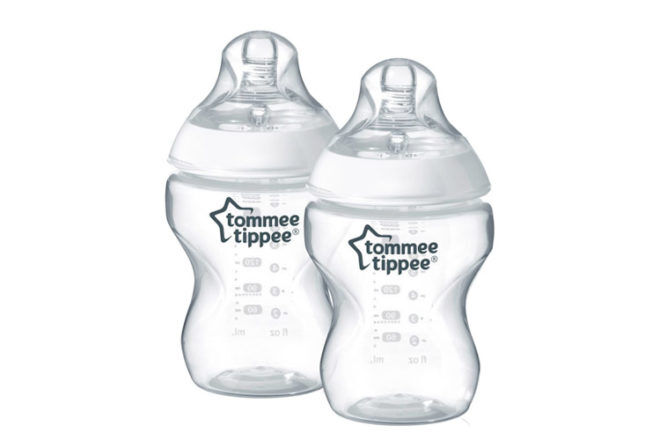 A favourite with mums transitioning their babies from breast to bottle, the Closer to Nature bottles boast a unique, breast-like shape teat for easy latch on and an ergonomic bottle that's easy for bub to hold. The range offers three separate teats, all with different flow rates to keep up with your babe as their feeding develops.
---
BIBS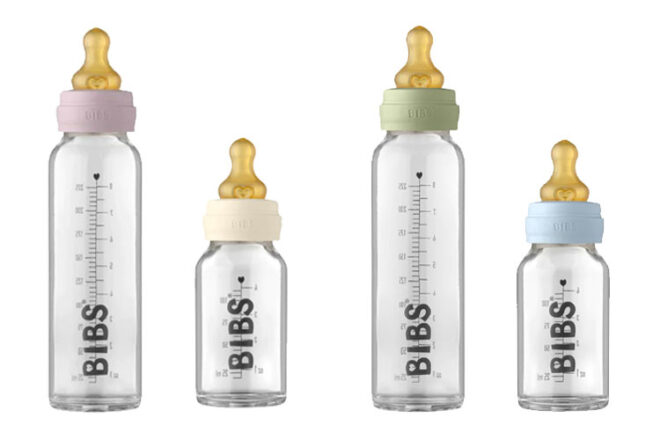 BIBS Baby Bottles are a parent-and-baby-approved masterpiece. Crafted from super-tough borosilicate glass, they are heat resistant and won't release microplastics into the milk. With a round latex nipple for extra comfort and an anti-colic feature, it's a win-win for tiny tummies!
---
b.box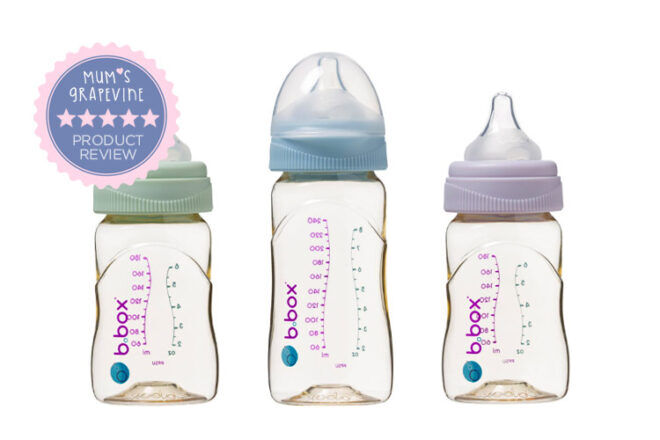 Lightweight and oval-shaped to prevent rolling, these come with the benefits of a glass bottle, but without the weight. Made of ultra-durable medical-grade PPSU, they can withstand years of bottle feeding, washing and sterilising.
---
Omababy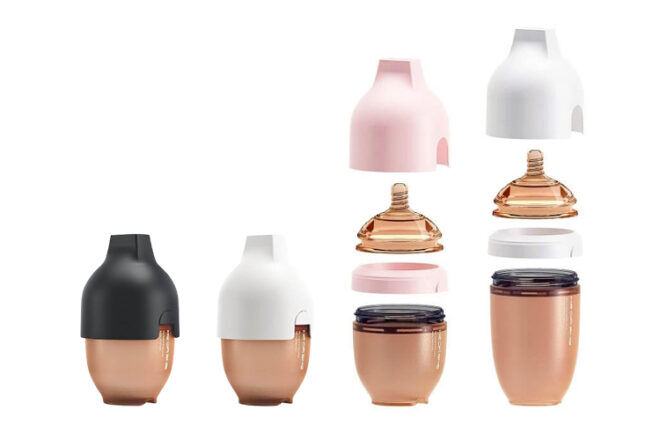 These ingenious anti-colic bottles come equipped with a venting system that helps prevent wind pain in little milk guzzlers. Available in two sizes, they are made of anti-bacterial, BPA-free silicone and come with ultra-soft nipples that mimic the real thing.
---
Dr Browns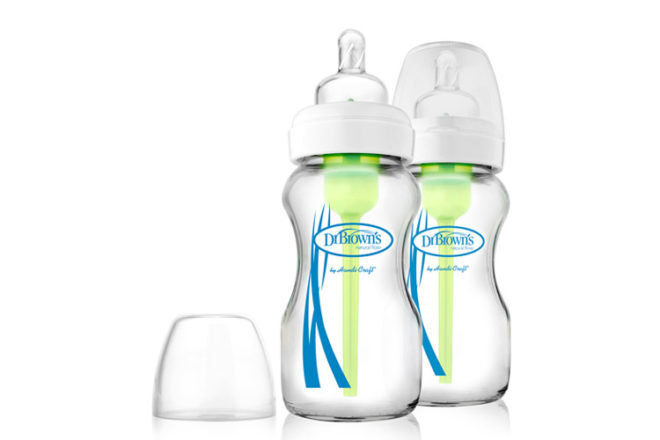 Made from glass, these bottles have an internal vent system that creates vacuum feeding, so babies aren't sucking in tiny bubbles. The clever design not only aids digestion but also helps preserve vitamins in the milk too. As baby's feeding develops, simply remove the vent and continue to use the bottle without.
---
Mininor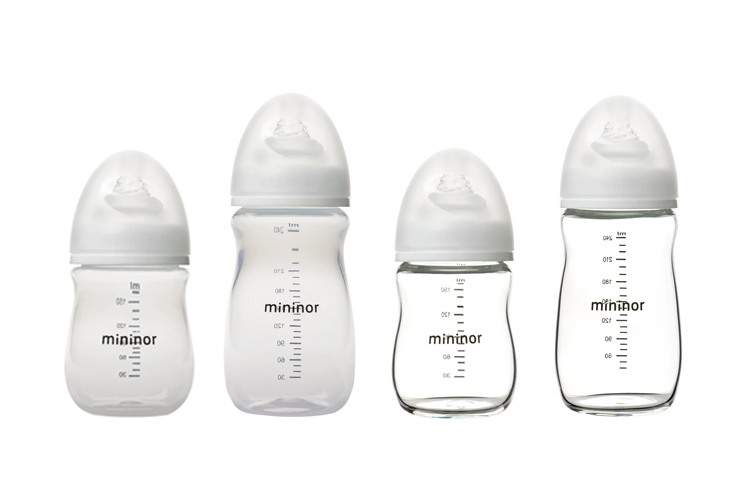 Ergonomically designed, Mininor bottles feature a soft, silicone anti-colic teat that allows baby to use the same technique she would on mumma's breast. The easy-grip lid seals the teat so there are no leaks, and the bottles are available in quality glass or polypropylene.
---
Boon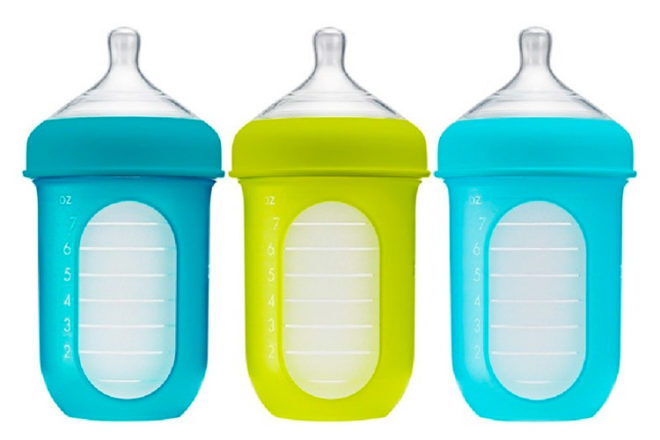 Suitable for babies 3 months old and up, these vibrant silicone bottles feature a revolutionary design perfect for gas-prone tots. The silicone pouch collapses as bubba drinks, squeezing out all the air that causes colic. With no staws or vents, they're simple to clean and assemble. Win-win!
---
Pigeon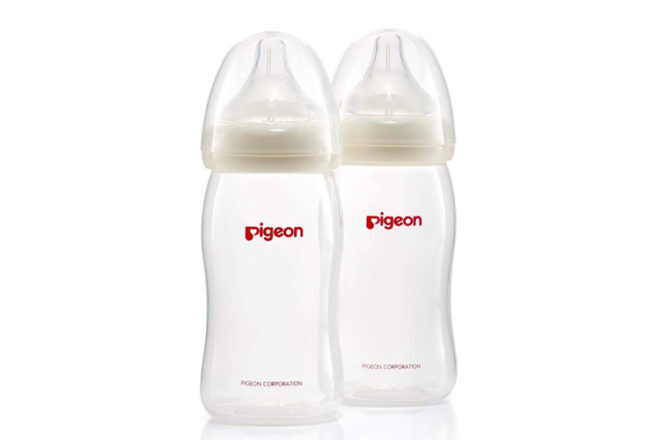 Made from lightweight plastic, the SofTouch bottles are paired with wide neck teats that have a textured surface to mimic that of mum's breast. This not only avoids nipple confusion but assists baby when transitioning between breast and bottle.
---
MAM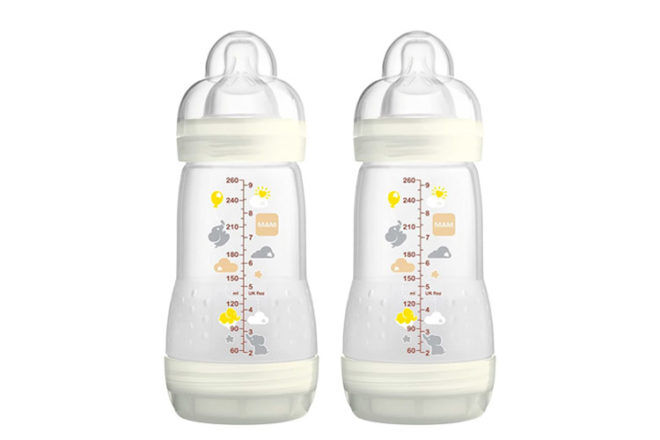 Boasting high praise from mums Australia wide, the innovative bottles from MAM take easy feeding to the next level. Ideal for newborns, there's a clever valve in the base that ensures babies don't swallow air while drinking. There's also a unique self-sterilising function for times when you're feeding on the go. Brilliant.
---
Medela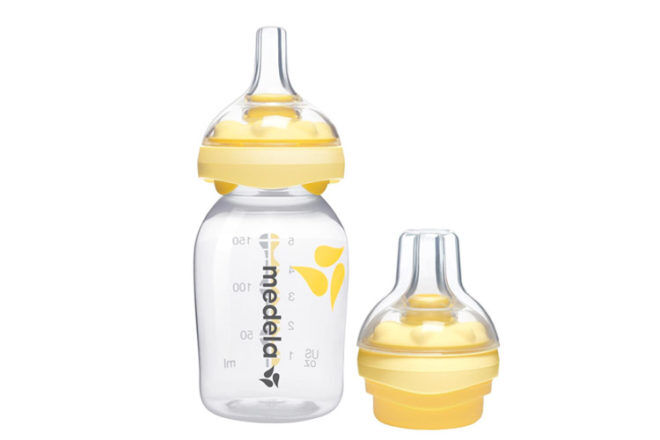 Designed specifically for breastfed babies, the Calma bottle and teat allow baby to suck, swallow and breathe just as they would on the breast. Created in cooperation with breastfeeding experts from the University of Western Australia, the Calma teat lets bub drink to their natural rhythm, remaining calm and settled for each feed.
---
Cherub Baby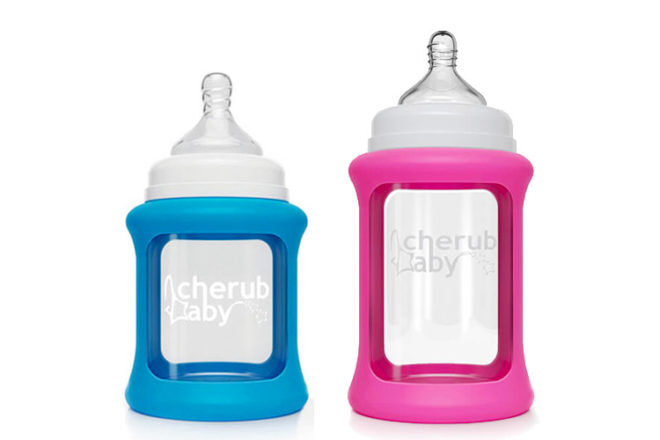 Here's a great option if you are concerned about the temperature of heated milk. The silicone sleeves on these bottles change colour if the liquid inside is too hot for baby. Made from Borosilicate glass, the bottles go from freezer to boiling water with ease and transform into sippy cups and handy storage containers when your babe gets older.
---
Minbie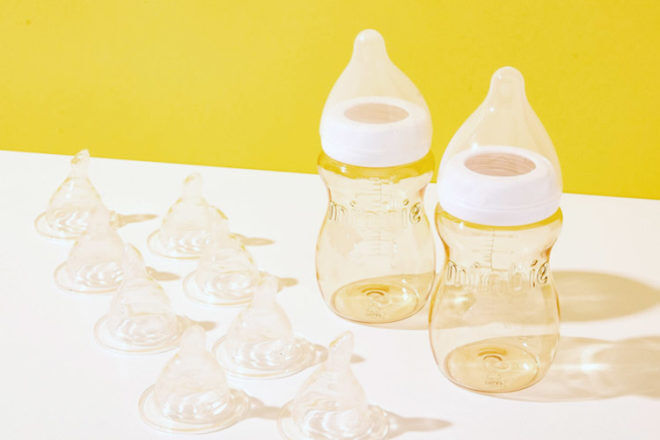 They may look and feel like glass bottles, but these are actually made from lightweight medical-grade PPSU. Designed for years of use and dishwasher cycles, they pair with the revolutionary Minbie teats that have been created to match how newborns feed on the breast.
---
Haakaa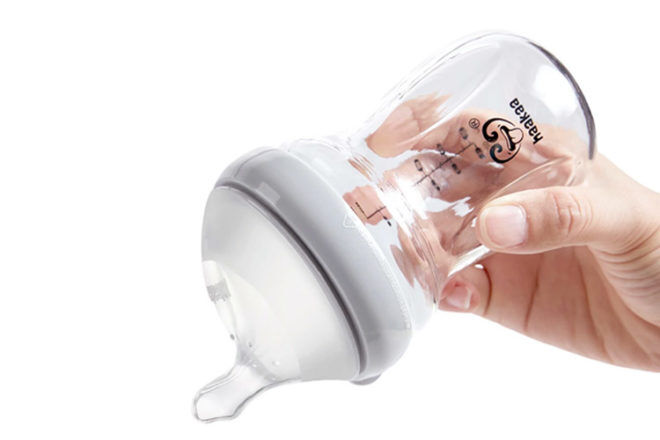 From the makers of one of our favourite breast milk catchers comes this ergonomic glass infant bottle. Featuring an off-centre thumb-shaped teat for natural, upright feeding, they aim to mimic the flex and feel of mum's breast
---
Comotomo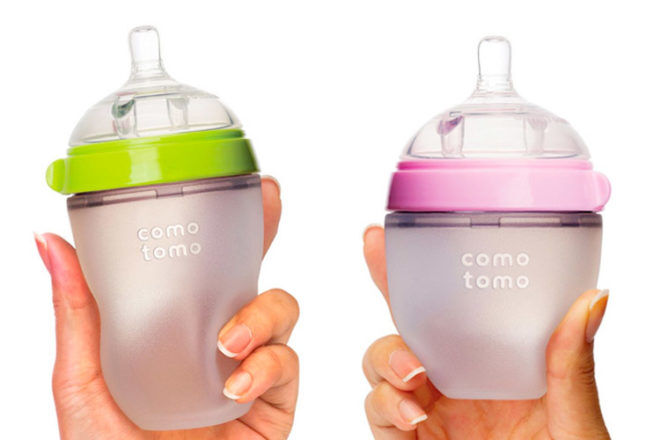 Boasting two vents to eliminate air intake, the super-soft bottles from Comotomo are ideal for mini milk guzzlers. The wide mouth makes the bottle easy to clean and the naturally-shaped nipple helps bub go from breast to bottle with ease.
---
Philips Avent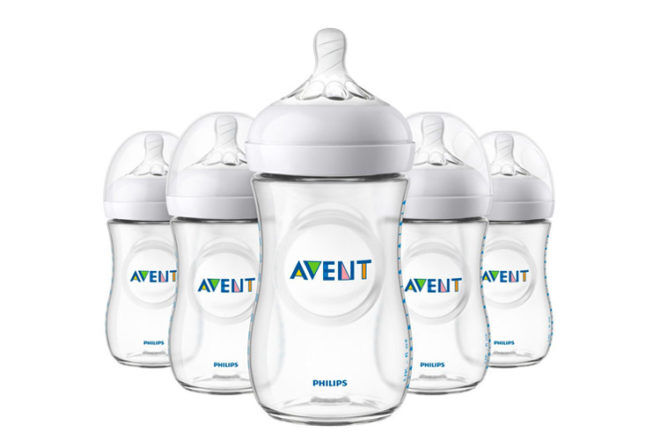 A great choice for mums switching between feeding their bub's expressed milk and breastfeeding, the Avent bottles are easy for bub to grip and hold while drinking. Complete with ultra-soft, flexible teats and anti-colic valves they're designed to reduce colic and discomfort for bottle-fed babes.
---
What size baby bottle will I need?
Feeding bottles come in a variety of sizes for babies of at stages. If you're exclusively expressing and bottle-feeding it may be worth investing in a range of bottles to use throughout the day. If bub is mix-feeding and is only taking one or two bottles a day, you may only need a few small bottles to see you through.
Do babies prefer a particular shaped bottle?
All bottles have been designed with babies in mind, but some are more ergonomically suited to smaller hands than others. If bub tends to grab hold of your breast while breastfeeding, consider a silicone bottle that mimics the texture of your breast or an hourglass-shaped bottle that's easy for them to grip and hold.
Baby teats are constantly evolving. With new technology, there are now bottle teats designed to reduce colic, assist with latching difficulties and ease baby's discomfort when feeding upright.
Are glass bottles the safest for baby?
Glass bottles are naturally free from chemicals like BPA and BPS, which are sometimes found in plastics, which is why some parents prefer them. Glass is also easy to care for, microwave safe for heating breastmilk and suitable for the dishwasher, plus it doesn't absorb funky odours.
---
Know a product we should add to our list? Contact us and let us know, we've been collating Australia's best baby products into lists for over 15 years and we're always happy to support new brands and businesses.
Read this: How to bottle feed a breastfed baby

Ask other mums
Looking for a bottle your baby will suck from and still not sure if any of these are right for you? Join the huge #MGVfam in one of our age-based private Facebook baby groups and ask thousands of other mums with babies the same age as you, which one they recommend.
Click here and be matched to your Mum's Grapevine Facebook groups today!
You should know
At Mum's Grapevine, we're a passionate team of mums with over 15 years of experience using, researching and writing about all things baby and parenting. Our reviews of recommended products, like the ones in this post, may include paid inclusions, but we promise to only feature products that we truly believe in and have used or seen ourselves. We want to ensure that our readers have access to the latest and greatest products in the parenting world, and we're committed to maintaining our high standards of quality and honesty.
Thank you for trusting us to be your go-to source for all things baby-related.